My first music player was WinAmp, it was a really good MP3 player until it became unpopular with their tiny buttons and outdated user interface. Now it is somewhat unofficially dead with no new updates. Although I did not own an iPod, I migrated to iTunes and have been using it for almost 15 years. Now, it is time to hunt for a new music player.
Over the years, iTunes has become bloated with too many features. Back then, it was a music player that syncs to your iPod, now it appears to be a place for backing up your iPhone, a software for them to promote their Apple Music streaming services, a place where you purchase apps, TV Shows, PodCats and more. The user-interface becomes cluttered over the years, not to mention somewhat slow and laggy.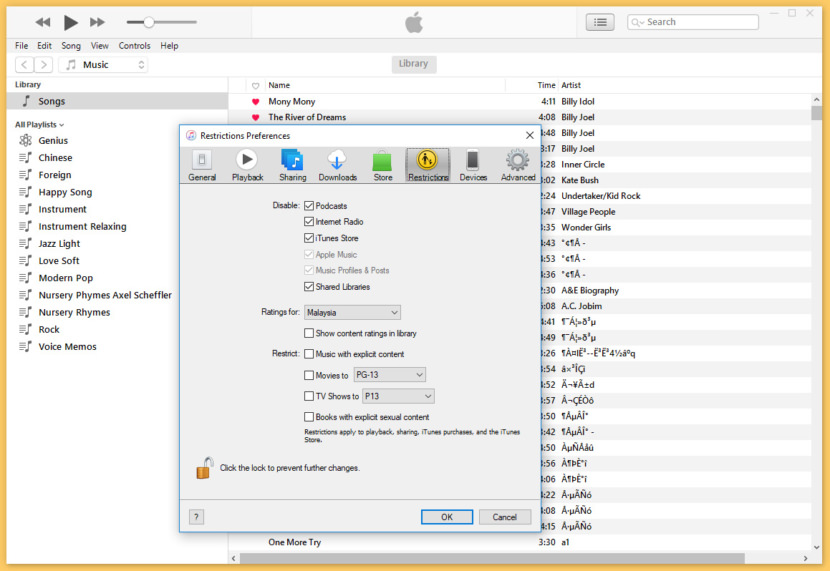 If you only use iTunes for listening to music, to solve this messiness, simply disable all of the unnecessary features under the 'Restriction' tab, which can be found via 'Edit' and then 'Preferences'. By disabling Podcast, Internet Radio, iTunes Store, Apple Music, Shared libraries and more, I've noticed a significant improvement in terms of speed. Here are some Apple iTunes alternatives.
↓ 01 – foobar2000 | Free | Windows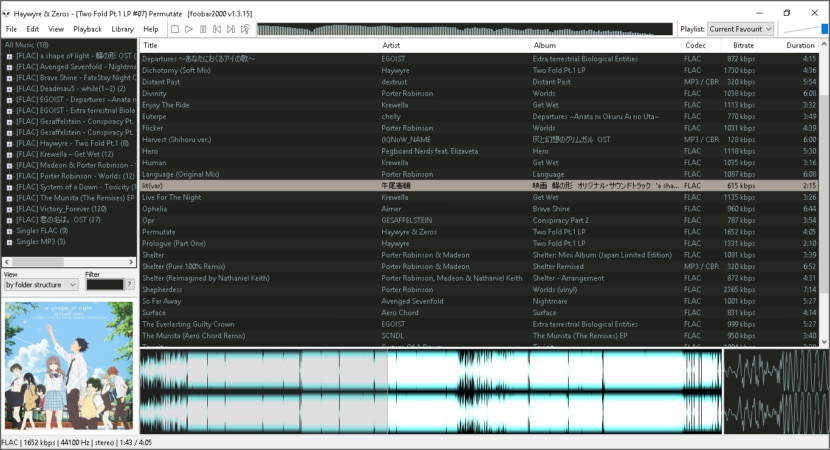 foobar2000 is an advanced freeware audio player for the Windows platform. Some of the basic features include full Unicode support, ReplayGain support and native support for several popular audio formats. It comes with a powerful open component architecture allowing third-party developers to extend functionality of the player, including the ability to fully replace the user interface.
Natively supported ("out-of-the-box") – MP1, MP2, MP3, MP4, Musepack, AAC, Ogg Vorbis, FLAC / Ogg FLAC, Speex, WavPack, WAV, AIFF, AU/SND, CDDA, WMA, Matroska, ALAC, MMS, RSTP, Opus.
Supported through optional components – TTA, Monkey's Audio, MOD, SPC, Shorten, OptimFROG, AC3, DTS, PSF, NSF, XID, XA, TAK, AMR, etc.
Gapless playback.
Support for ripping Audio CDs as well as transcoding all supported audio formats using the Converter component.
↓ 02 – Clementine | Open Source | Windows | macOS | Linux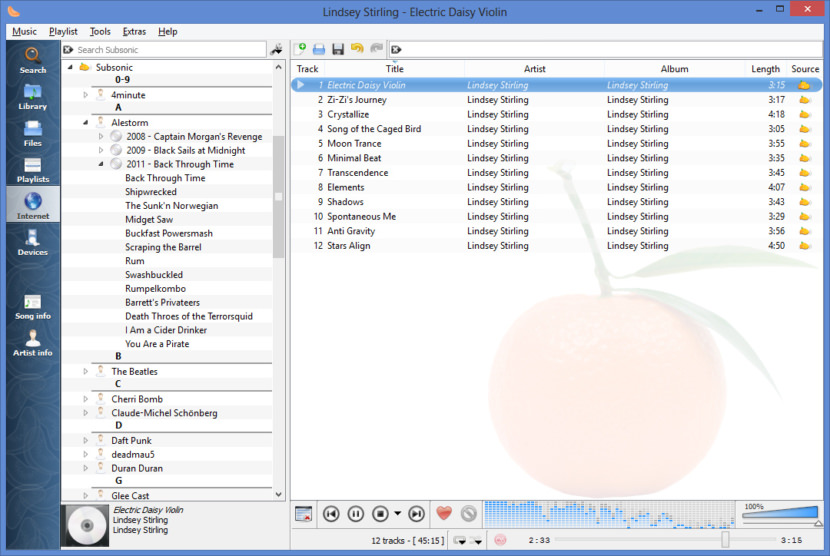 Clementine is a modern music player and library organizer. It is a multiplatform music player. It is inspired by Amarok 1.4, focusing on a fast and easy-to-use interface for searching and playing your music.
Listen to internet radio from Spotify, Grooveshark, SomaFM, Magnatune, Jamendo, SKY.fm, Digitally Imported, JAZZRADIO.com, Soundcloud, Icecast and Subsonic servers.
Search and play songs you've uploaded to Box, Dropbox, Google Drive, and OneDrive
Transcode music into MP3, Ogg Vorbis, Ogg Speex, FLAC or AAC.
Copy music to your iPod, iPhone, MTP or mass-storage USB player.
Download missing album cover art from Last.fm and Amazon.
Fetch missing tags from MusicBrainz.
↓ 03 – MusicBee | Free | Windows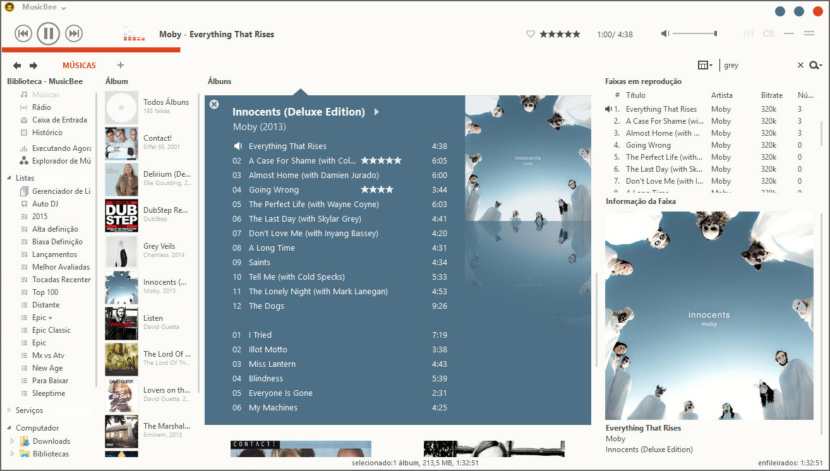 The Ultimate Music Manager and Player. MusicBee makes it easy to manage, find, and play music files on your computer. MusicBee also supports podcasts, web radio stations and SoundCloud integration. Play your music the way you want. Turn your computer into a music jukebox. Use auto-tagging to clean up your messy music library. Enjoy a great music experience with MusicBee. Whether you play your music on an audiophile setup or on a laptop, MusicBee is designed with features to fulfill all your needs.
Fine-tune the sound with the 10-band or 15-band Equalizer and DSP effects
Utilize high-end audio cards with WASAPI and ASIO support
Listen to music without interruption with gapless playback
Upmix stereo to 5.1 surround sound, or resample track to lower bitrate
Use logarithmic volume scaling or normalize volume streaming
Even better, MusicBee supports some WinAmp plugins to enhance your music
↓ 04 – AIMP | Free | Windows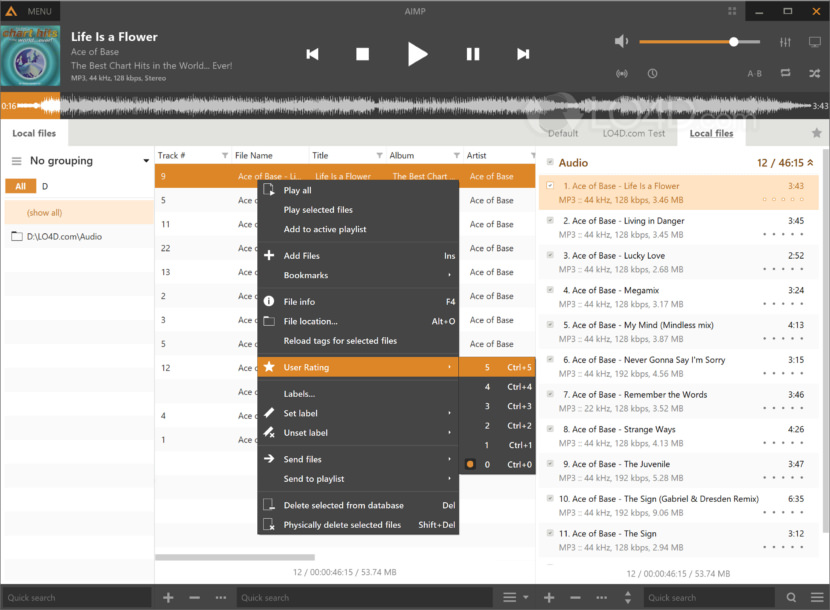 Freeware Winamp-like media player, based on the BASS audio library with support for a large number of formats and playlists. It works with multiple playlists immediately (tabbed window), allows creation of bookmarks and also has a playback queue. Crystal-clear sound, technology of reproduction essentially differs from Winamp and WMP.
↓ 05 – Amarok | Open Source | Windows | Linux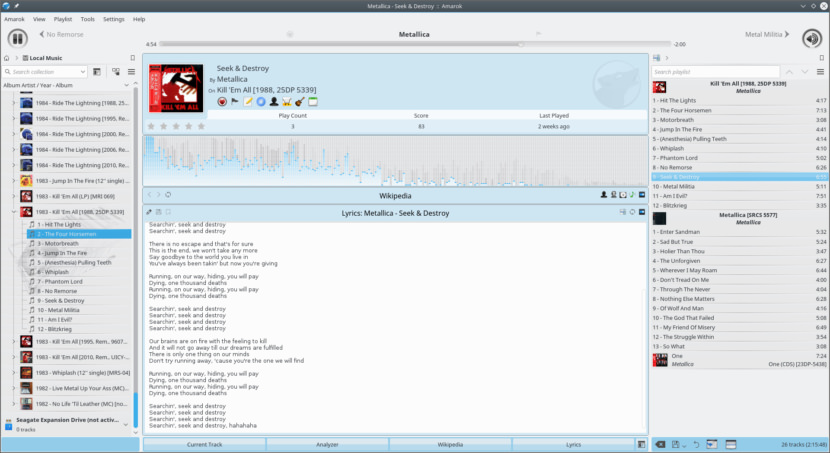 Amarok is a powerful music player for Linux, Unix and Windows with an intuitive interface. It makes playing the music you love and discovering new music easier than ever before – and it looks good doing it! Much of where work has been invested in Amarok 2 is the Web services integration.
Now Amarok can connect to various Web services and access the music directly, greatly expanding the potential number of songs at your fingertips. Thanks to the powerful API, adding additional services can be done with very little effort.
↓ 06 – Audacious | Open Source | Windows | Linux
Audacious is an open source audio player. A descendant of XMMS, Audacious plays your music how you want it, without stealing away your computer's resources from other tasks. Drag and drop folders and individual song files, search for artists and albums in your entire music library, or create and edit your own custom playlists.
Listen to CD's or stream music from the Internet. Tweak the sound with the graphical equalizer or experiment with LADSPA effects. Enjoy the modern GTK-themed interface or change things up with Winamp Classic skins. Use the plugins included with Audacious to fetch lyrics for your music, to set an alarm in the morning, and more.