The best compression High Definition audio format when ripping your CD to digital format is FLAC, not MP3 or AAC. MP3 is a lossy format, which means parts of the music are shaved off to reduce the file size to a more compact level. MP3 is still the most popular format because back then storage was limited, internet speed was 56K and converting will take hours if the quality is too high. If you have a massive CD collection, you should rip the CD to FLAC, not 128 bit, 168 bit, 196 bit or 256 bit mp3.
FLAC stands for Free Lossless Audio Codec, an audio format similar to MP3, but lossless, meaning that audio is compressed in FLAC without any loss in quality. This is similar to how Zip works, except with FLAC you will get much better compression because it is designed specifically for HD audio.
MP3 vs. FLAC, can you hear the difference if it is 320 bit MP3 vs FLAC? The average music listener probably won't be able to hear a huge difference when comparing FLAC to MP3. However, those of you that call yourselves audiophiles would likely consider it sacrilege to listen to anything of lesser quality. The answer depends on your headphone, there will be slight difference if you have a HD headphone, however, you will not notice any difference in sound quality for FLAC if you use a cheap headphone or those earpod by Apple, including Beats Headphones. Without further ado, here are 10 best ways to copy and rip CDs to FLAC format.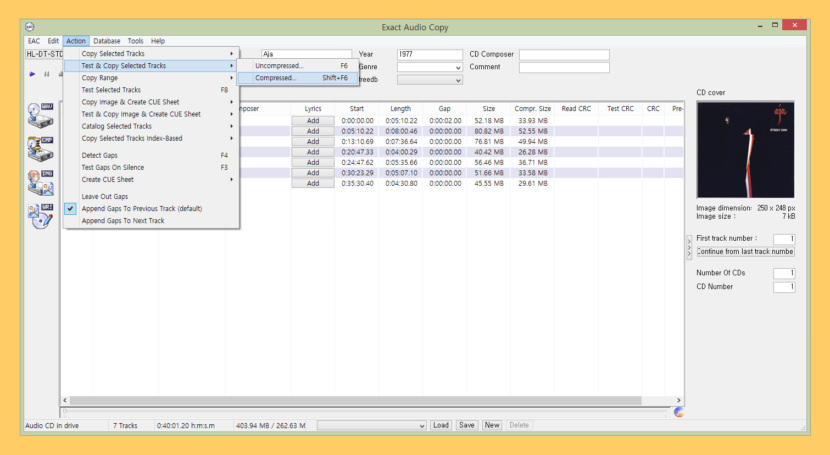 Exact Audio Copy is a so-called audio grabber for audio CDs using standard CD and DVD-ROM drives. The main differences between EAC and most other audio grabbers are. It works with a technology, which reads audio CDs almost perfectly. If there are any errors that can't be corrected, it will tell you on which time position the (possible) distortion occurred, so you could easily control it with e.g. the media player.
With other audio grabbers you usually need to listen to every grabbed wave because they only do jitter correction. Scratched CDs read on CD-ROM drives often produce distortions. But listening to every extracted audio track is a waste of time. Exact Audio Copy conquers these problems by making use of several technologies like multi-reading with verify and AccurateRip.
foobar2000 is an advanced freeware audio player for the Windows platform. Some of the basic features include full unicode support, ReplayGain support and native support for several popular audio formats. It supports audio formats such as MP3, MP4, AAC, CD Audio, WMA, Vorbis, Opus, FLAC, WavPack, WAV, AIFF, Musepack, Speex, AU, SND and more with additional components.
Gapless playback.
Advanced tagging capabilities.
Support for ripping Audio CDs as well as transcoding all supported audio formats using the Converter component.
↓ 03 – fre:ac | Windows | macOS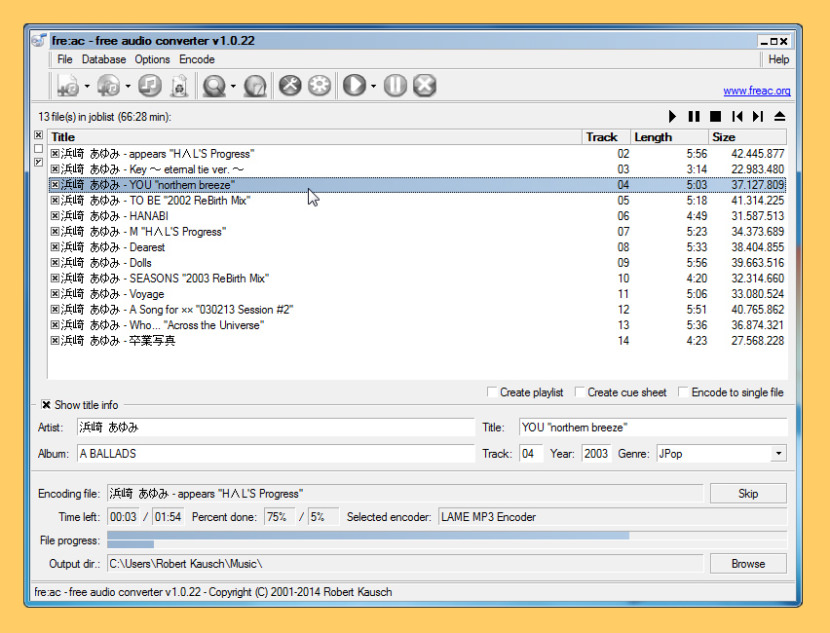 fre:ac is a free audio converter and CD ripper with support for various popular formats and encoders. It currently converts between MP3, MP4/M4A, WMA, Ogg Vorbis, FLAC, AAC, WAV and Bonk formats. With fre:ac you easily rip your audio CDs to MP3 or WMA files for use with your hardware player or convert files that do not play with other audio software.
You can even convert whole music libraries retaining the folder and filename structure. The integrated CD ripper supports the CDDB/freedb online CD database. It will automatically query song information and write it to ID3v2 or other title information tags. Works great on Microsoft's Windows 10 and Apple's macOS.
Converter for MP3, MP4/M4A, WMA, Ogg Vorbis, FLAC, AAC, WAV and Bonk formats
Integrated CD ripper with CDDB/freedb title database support
Multi-core optimized encoders to speed up conversions on modern PCs
Full Unicode support for tags and file names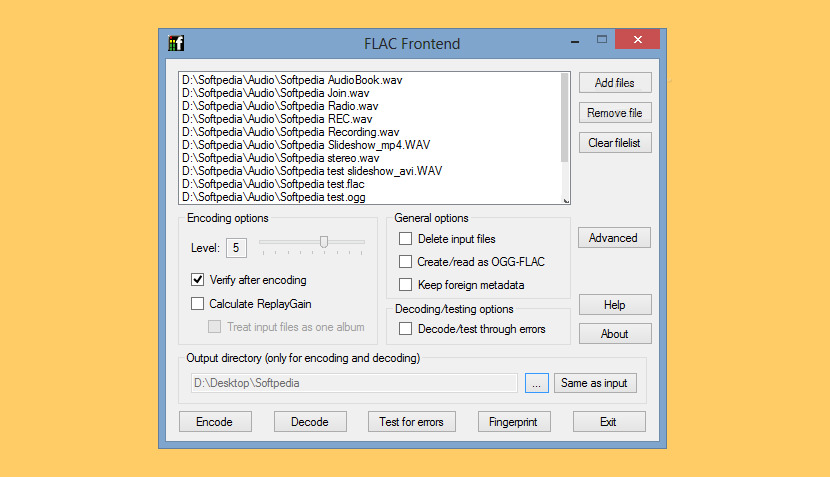 FLAC Frontend is a convenient way for Windows users not used to working with command lines to use the official FLAC tools. It accepts WAVE, W64, AIFF and RAW files for encoding and outputs FLAC or OGG-FLAC files. It is able to decode FLAC files, test them, fingerprint them and re-encode them. It has drag-and-drop support too. It is tested on Windows XP SP3 and Windows 7, but should work with Windows XP SP2 or newer. It requires .NET 2.0 or later.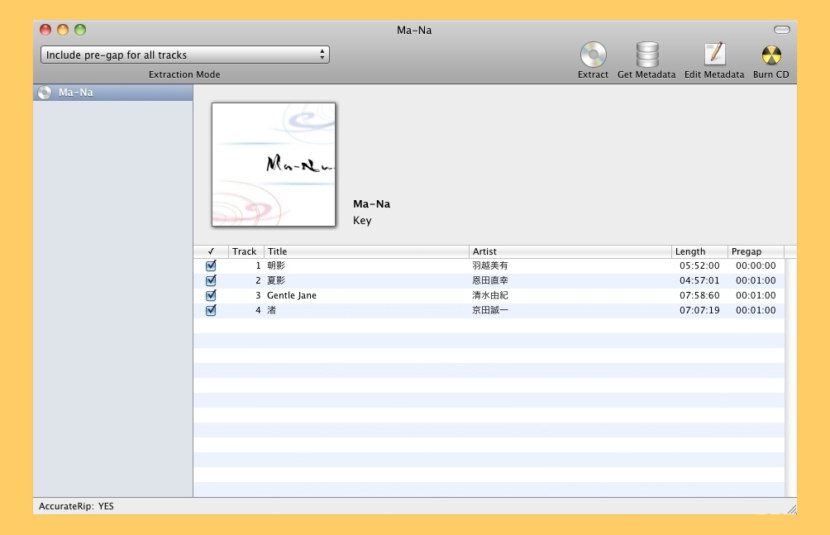 X Lossless Decoder (XLD) is a tool for OS X that is able to decode/convert/play various 'lossless' audio files. The supported audio files can be split into some tracks with cue sheet when decoding. XLD supports the following formats (Ogg) FLAC (.flac/.ogg), Monkey's Audio (.ape), Wavpack (.wv), TTA (.tta), Apple Lossless (.m4a) [10.4 and later], TAK (.tak) [Requires Wine], Shorten (.shn) [SHN v3 only] and AIFF, WAV, etc.
Other formats supported by Libsndfile are also decodable. XLD uses not a decoder frontend but library to decode, so no intermediate files are generated. All of the supported formats can be directly split with the cue sheet. XLD also supports so-called 'embedded' or 'internal' cue sheets.
↓ 06 – Clementine | Windows | Linux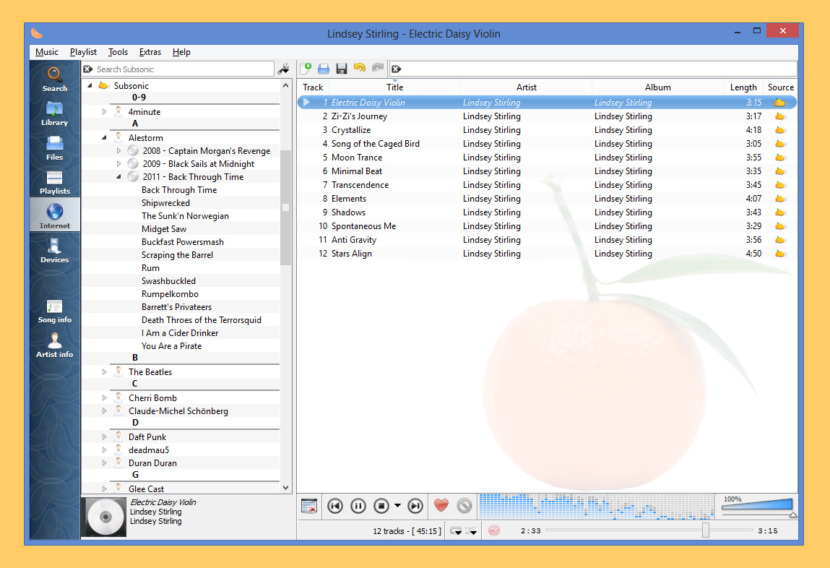 Clementine is a multiplatform music player. It is inspired by Amarok 1.4, focusing on a fast and easy-to-use interface for searching and playing your music.
Visualizations from projectM
Lyrics and artist biographies and photos
Transcode music into MP3, Ogg Vorbis, Ogg Speex, FLAC or AAC
Edit tags on MP3 and OGG files, organise your music
Download missing album cover art from Last.fm
↓ 07 – xACT | macOS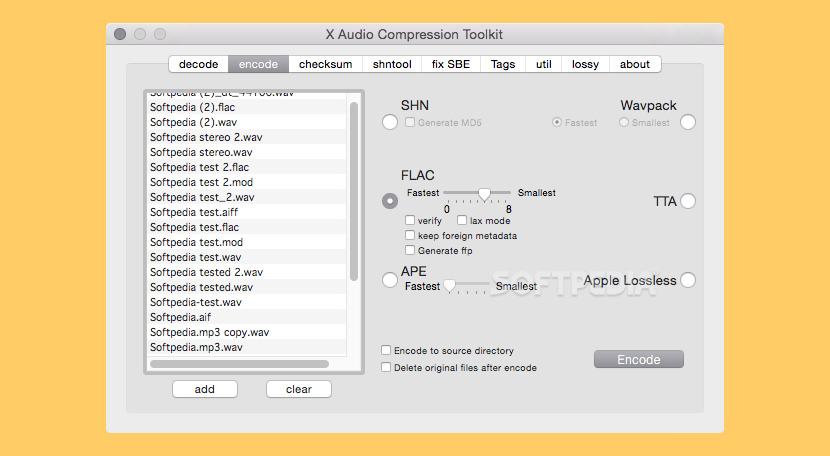 xACT stands for X Audio Compression Toolkit. It is a GUI based front end for the Unix applications Shorten (3.6.1), shntool (3.0.10), monkey's audio compressor (3.99), flac (1.2.1), wavpack (4.60.1), TTA (3.4.1) and cdda2wav 3.0 (with paranoia support). It also uses sox ( 14.3.1), LAME 3.98.4, AtomicParsley 0.9.0 (for AAC tagging) id3tool (1.2a) and mp4v2 1.91. It executes the basic commands of these applications and adds other features to speed up productivity in creation/use of etree.org
↓ 08 – LameXP | Windows | Linux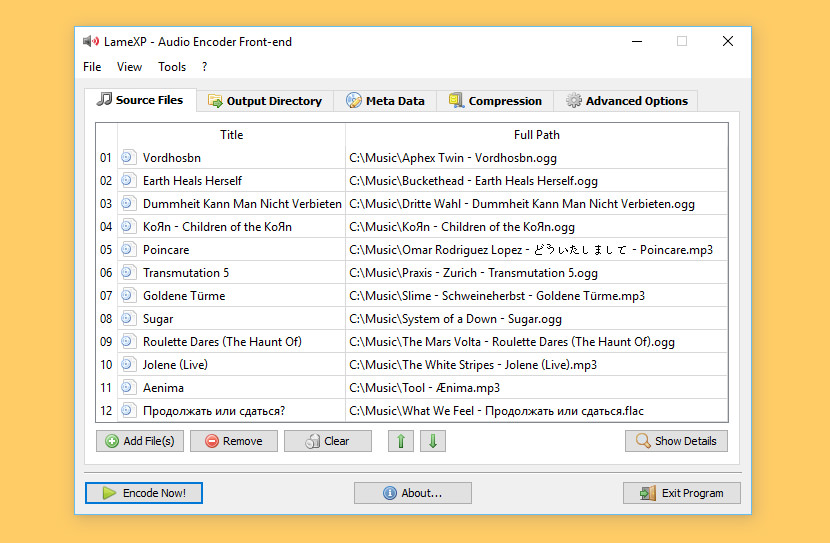 LameXP is a graphical user-interface (front-end) for various audio encoders: It allows you to convert your audio files from one audio format to another one in the most simple way. Despite its name, LameXP is not only a front-end for the LAME MP3 encoder, but supports a wide range of output formats, including MP3, Ogg Vorbis, Opus, AAC/MP4, FLAC, AC-3 and Wave Audio. The number of supported input formats is even bigger! Furthermore LameXP not only runs on Windows XP, but also on Windows 7, 8 and 10 as well as many other operating systems. Currently the following output formats (audio encoders) are supported by LameXP:
Ogg Vorbis by Xiph.org, using the OggEnc2/libvorbis encoder with aoTuV [built-in]
Opus Interactive Audio Codec by Xiph.org and Mozilla, using the Opus-Tools [built-in]
MPEG Audio-Layer III (MP3), using the LAME encoder [built-in]
Advanced Audio Coding (AAC), using Nero AAC or QAAC encoder [separate download]
Free Lossless Audio Codec (FLAC) [built-in]
ATSC A/52 (aka "AC-3"), using the Aften encoder [built-in]
Monkey's Audio (APE), lossless audio compression [built-in]
DCA, using the DCA Enc encoder software (still experimental) [built-in]
Uncompressed PCM / Waveform Audio File (WAV/RIFF)
↓ 09 – CDex | Windows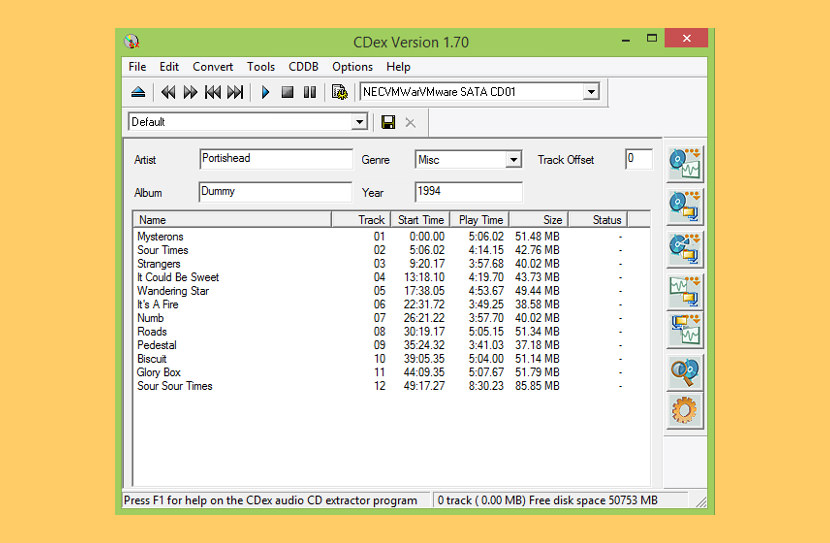 CDex can extract the data directly (digital) from an Audio CD, which is generally called a CD Ripper or a CDDA utility. The resulting audio file can be a plain WAV file (useful for making compilation audio CDs) or the ripped audio data can be compressed using an audio encoder such as MP3, FLAC, AAC, WMA or OGG. In addition, WAV files on the hard drive can be converted to a Compressed Audio File (and vice versa). CDex also supports many audio file tag formats like the ID3V1 and ID3V2 tags, which can be automatically inserted as part of the ripping process. Many encoders are supported, to name a few:
Lame MP3 encoder 3.99.5 – MPEG Audio Layer III (.mp3)
FLAC encoder 1.31 – Free Lossless Audio Codec (.flac)
Ogg Vorbis encoder – Ogg 1.3.2 and Vorbis 1.3.4 (.ogg .oga)
Monkey's Audio encoder – Lossless Audio(.ape)
Microsoft WMA encoder – Windows Media Audio (.wma)
Internal MP2 encoder – MPEG Audio Layer 2 (.mp2)
Yamaha VQF encoder – TwinVQ (.vqf)
Astrid / Quartex AAC encoder
Psytel AAC encoder
External Xing encoder
WAV output encoder
FAAC encoder – Freeware Advanced Audio Coder
FAAD2 decoder
Gogo-no-coda encoder
External musepack encoder
NTT VQF encoder
Windows MP3 encoder (Fraunhofer MP3 encoder)
Windows WMA8 encoder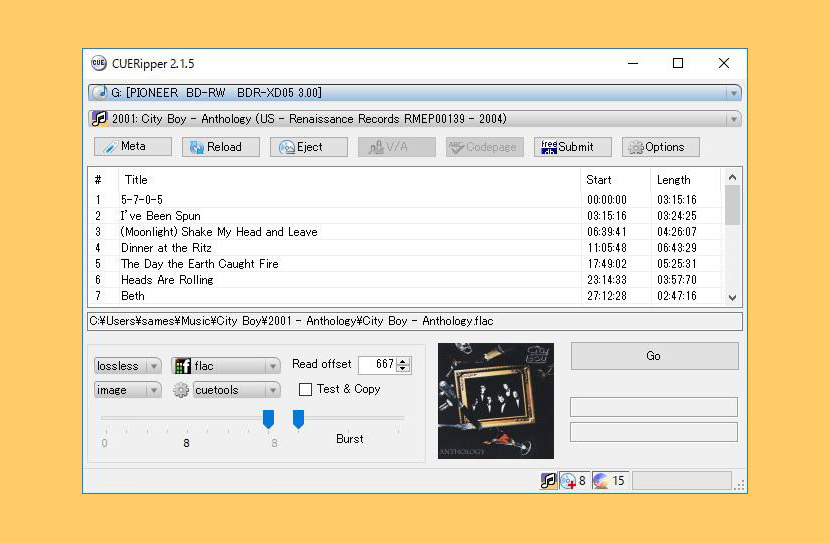 CUERipper is an utility for extracting digital audio from CDs, an open source alternative to EAC. It has a lot fewer configuration options, so is somewhat easier to use, and is included in the CUETools package. It supports MusicBrainz and freeDB metadata databases, AccurateRip and CTDB.