How to play FLAC Lossless Audio Files in iTunes? The answer is you can't. Apple iTunes doesn't support FLAC files, however it is very easy to convert them to Apple's Lossless format known as ALAC. This is unfortunate because iTunes is one of the biggest music players in the market.
See More ▼ 10 Freeware To Rip CDs To FLAC Lossless And MP3 Lossy HD Audio Format
FLAC is short for Free Lossless Audio Compression. It is an open source codec and file format which provides a perfect quality audio file. FLAC files usually contain CD quality audio, but can also support almost any audio data with a wide range of sample frequencies, amount of channels and bits per sample.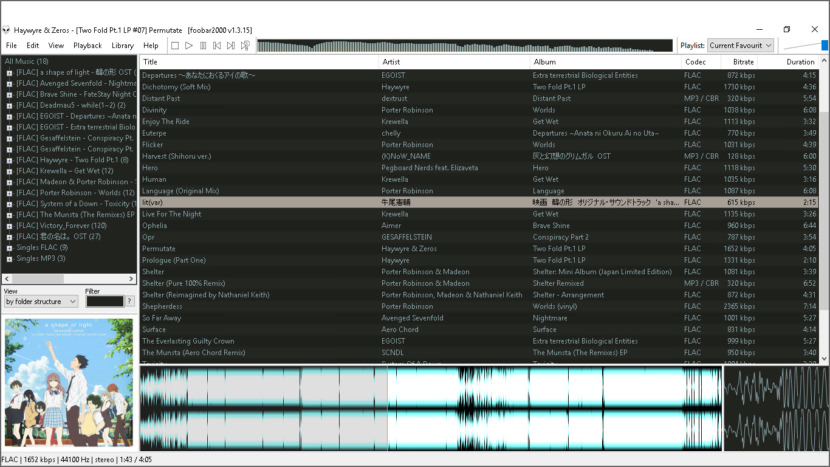 foobar2000 is an advanced freeware audio player for the Windows platform. Supported audio formats: MP3, MP4, AAC, CD Audio, WMA, Vorbis, Opus, FLAC, WavPack, WAV, AIFF, Musepack, Speex, AU, SND… and more with additional components.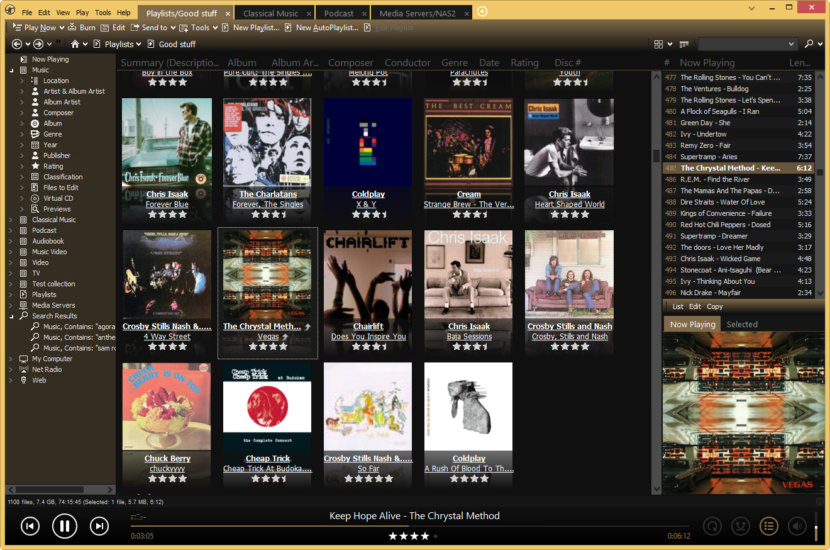 Manage a movie / music library from 100 to 100,000+ audio/video files and playlists*; whether Rock, Classical, Audiobooks, or Podcasts; Movies, Home videos, or TV shows; whether they're located on your hard drive, CDs, or a network. Organize, browse, or search music by Genre, Artist, Year, Rating, etc., and never waste your time trying to find the files you know you have.
MediaMonkey is the movie and music organizer for the serious collector. It supports MP3, AAC (M4A), OGG, WMA, FLAC, ALAC, MPC, WAV, CDA, AVI, MP4, OGV, MPEG, WMV, M3U, PLS, etc.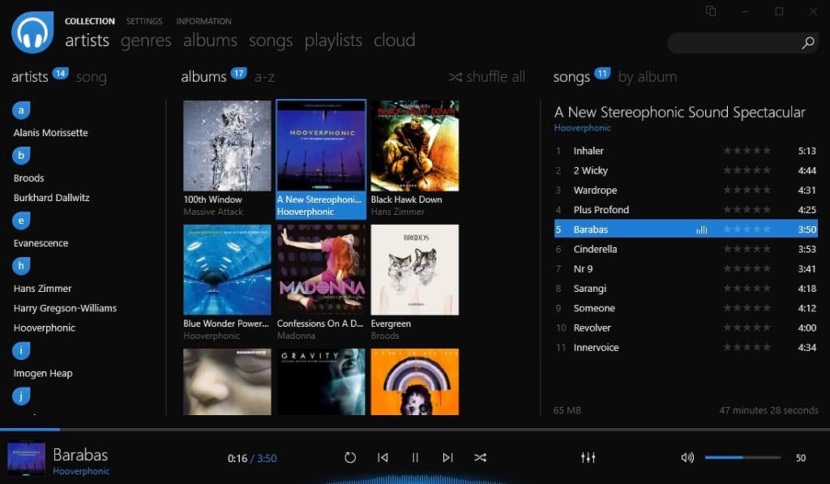 Dopamine is an audio player which tries to make organizing and listening to music as simple and pretty as possible. It can play wav, mp3, ogg vorbis, flac, wma, ape, opus and m4a/aac. Probably one of the most unrated music players they have ever seen that does have many features. A well-designed player that gives you premium experience with features like Audio latency.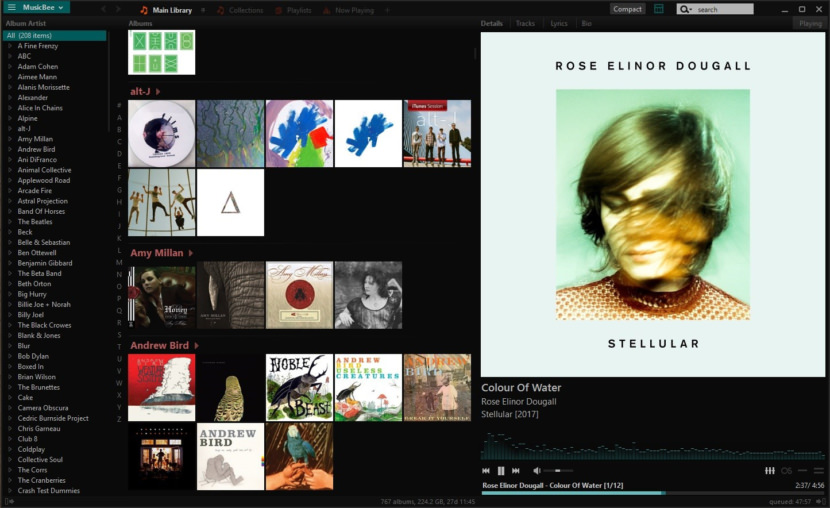 MusicBee makes it easy to manage, find, and play music files on your computer. MusicBee also supports podcasts, web radio stations and SoundCloud integration. Play your music the way you want. Turn your computer into a music jukebox. Use auto-tagging to clean up your messy music library. Enjoy a great music experience with MusicBee.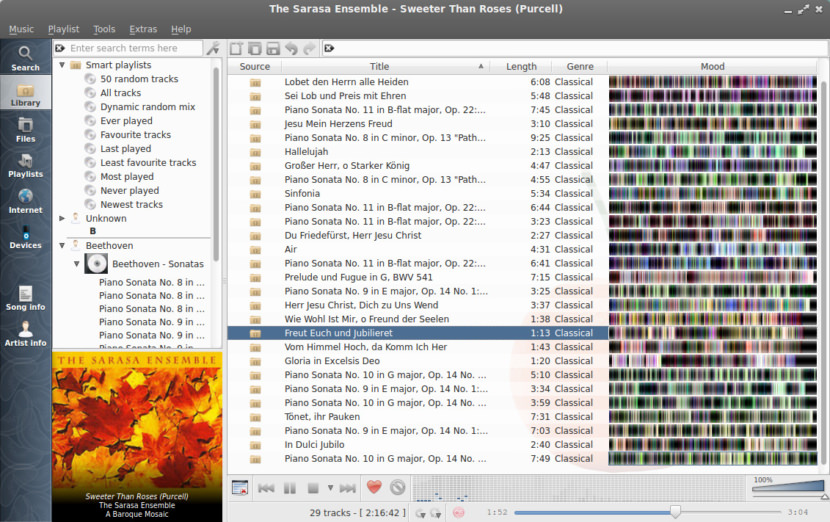 Clementine is a modern music player and library organizer, it is light, simple, and an advanced music player. You can also listen to internet radio from Spotify, Grooveshark, SomaFM, Magnatune, Jamendo, SKY.fm, Digitally Imported, JAZZRADIO.com, Soundcloud, Icecast and Subsonic servers.
Search and play songs you've uploaded to Box, Dropbox, Google Drive, and OneDrive
Create smart playlists and dynamic playlists.
Tabbed playlists, import and export M3U, XSPF, PLS and ASX.
CUE sheet support.
Transcode music into MP3, Ogg Vorbis, Ogg Speex, FLAC or AAC.
Edit tags on MP3 and OGG files, organise your music.
Fetch missing tags from MusicBrainz.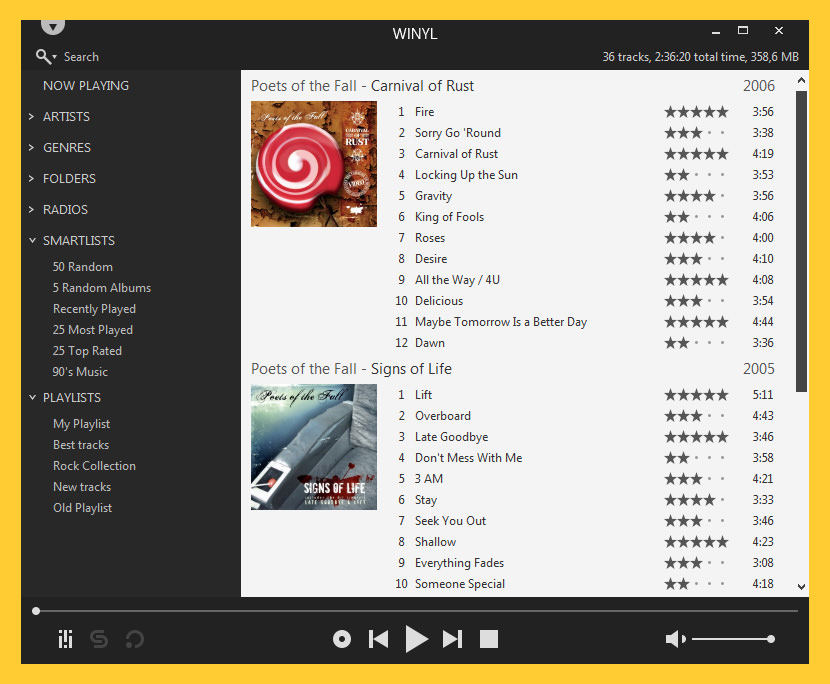 Winyl is a free digital audio player and music library application for organizing and playing audio on Windows. Winyl offers great new ways to organize and enjoy all your music. Listen to music and radio, rate your favorite tracks, create playlists, browse song lyrics, tag music, all of this is very simple in Winyl. Organize music in your audio library with a powerful, intuitive interface.
Manage 100,000+ files in your music collection without sacrificing performance.
Play all popular audio file formats: MP3, OGG, WMA, M4A, MPC, APE, FLAC, etc.
Built-in popular radio stations: Pop, Rock, Classical, Electronic, Comedy, etc.
Song lyrics with automatic retrieving lyrics from the Internet.
Powerful tag editor with support of lyrics, album art and multiple values in tags.
Gapless playback, WASAPI and ASIO audio outputs for best sound quality.
Easy to use smart playlists: dynamic, based on tags and ratings, lists of tracks/albums.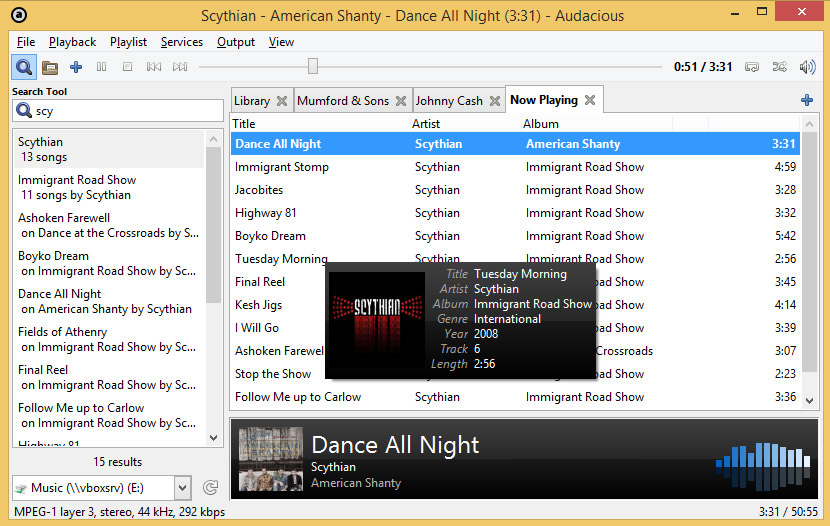 Audacious is an open source audio player. A descendant of XMMS, Audacious plays your music how you want it, without stealing away your computer's resources from other tasks. Drag and drop folders and individual song files, search for artists and albums in your entire music library, or create and edit your own custom playlists. Listen to CD's or stream music from the Internet. Tweak the sound with the graphical equalizer or experiment with LADSPA effects.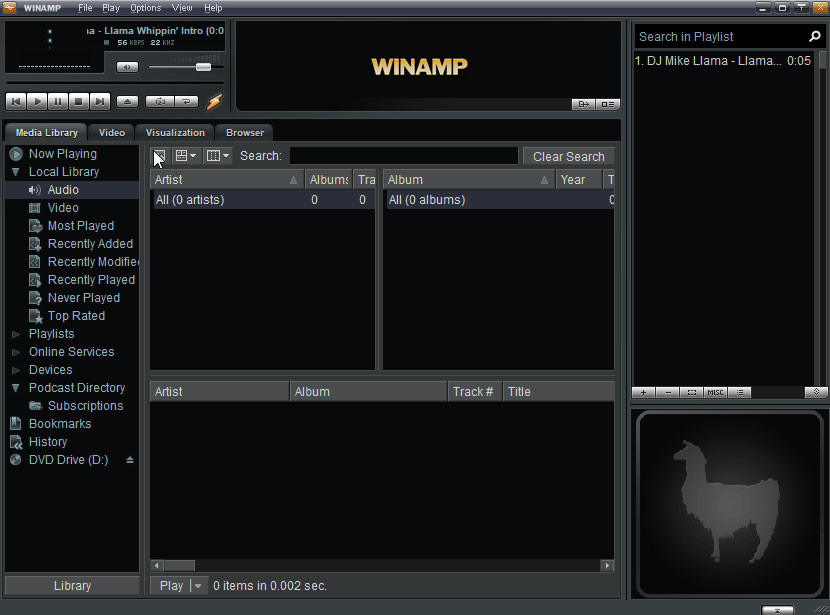 Winamp once was the king of MP3 players, it was eventually dethroned by iTunes. The layout and design of today's Winamp is still the same as it was 20 years ago. However, this doesn't mean it is outdated, nor does this means it lacks the latest features available in other music players.
Winamp may have been around forever, but it hasn't been left behind and is a fully featured music player that's really customizable. A good alternative to iTunes.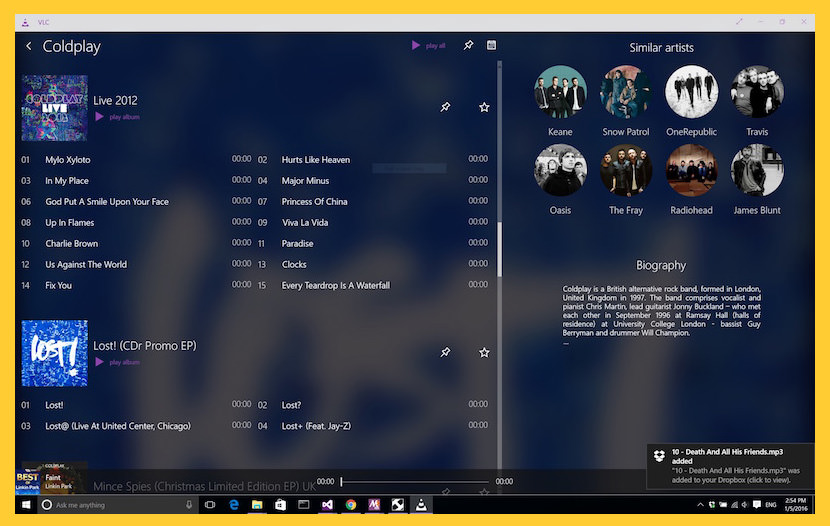 VLC is a free and open source cross-platform multimedia player and framework that plays most multimedia files as well as DVDs, Audio CDs, VCDs, and various streaming protocols. Plays most codecs with no codec packs needed – MPEG-2, MPEG-4, H.264, MKV, WebM, WMV, MP3 and more.