Updated: December 7, 2017 / Home » Computer and Internet Security » Download Antivirus Protection
The new Norton security suits are simply known as Norton Antivirus, Norton Internet Security and Norton 360. It appears that Symantec has decided to drop the 2017 name from the line ups. I suspect the successor to these new line ups would be known as Norton Antivirus 2, Internet Security 2 and 360 v2. Anyway, the key new features.
Don't Click ➤ Free 1 Year Norton Mobile Security Antivirus Protection for Android and iOS
Always up-to-date Product Version – Norton automatically sends you important product and feature updates throughout the year. The latest version installs without you needing to do anything.
5 patented layers of protection – detect and eliminate threats more quickly and accurately than other technologies.
Always Up-To-Date Product Version ensures the latest version installs without you needing to do anything.
Norton Safe Web for Facebook – scans your Facebook News Feed for dangerous links and unsafe posts.
Threat-removal Layer – Targets and eliminates hard-to-remove threats less sophisticated products often miss.
This new Norton antivirus is re-designed from ground up to work with Windows 8.
If you're using Norton 2012, there is no reason to upgrade. However, if you're using any one of the free antivirus by AVG, Avira, Avast or similar, it is a good idea to upgrade your antivirus to a full fledged dedicated antivirus.
Click on the image below to download the 30 days free trial edition. I'll update this page once they made the 90 days trial version available. Remember, do not download any Norton product key, serial number or software from torrent, these 'software' tends to come with virus or trojan because infecting your system by attaching virus to an antivirus software is easier knowing that you do not have antivirus protection. Activation and registration required for the free trial, don't worry, all you need is an email, no credit card required. Below are the product links for the current line of Norton products.
Norton and Microsoft Windows 8 Metro
Norton Studio is a must-have companion for your Norton protection that works within the new user interface of Windows 8. And it's absolutely FREE. This free app will seamlessly integrate any of your Norton products with Microsoft Windows 8 Metro user interface.
How Safe Are You Online? – Symantec's 2017 Internet Security Threat Report
The 2017 Internet Security Threat Report (ISTR) provides an overview and analysis of the year in global threat activity. It is compiled using data from the Symantec Global Intelligence Network, which our global cybersecurity experts use to identify, analyze, and provide commentary on emerging trends in the threat landscape. Symantec discovered more than 430 million new unique pieces of malware in 2015, up 36 percent from the year before. Remarkably, these numbers no longer surprise us. Attacks against businesses and nations hit the headlines with such regularity that we've become numb to the sheer volume and acceleration of cyber threats.
Norton Cybercrime Report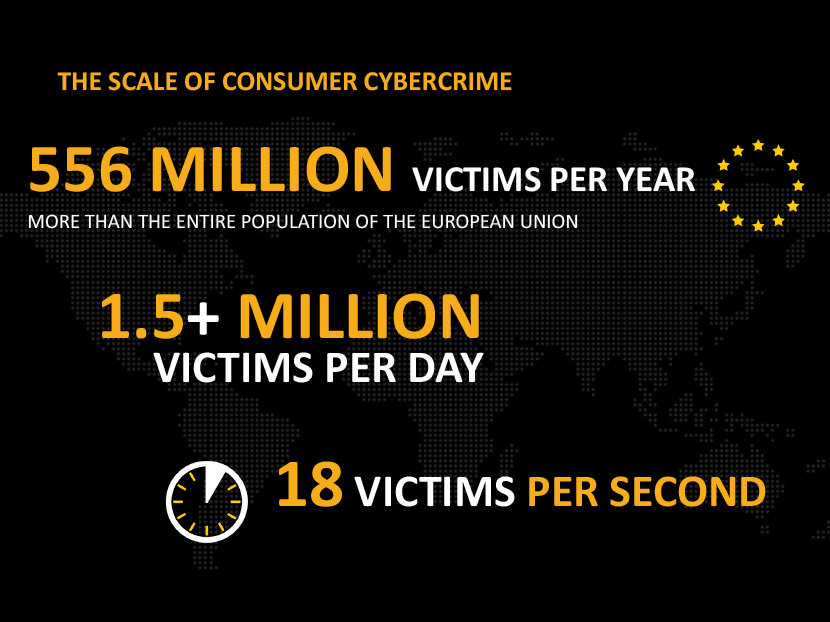 556 million victims per year, more than the entire population of the European union. 1.5+ Million Victims per day. 18 Victims Per second.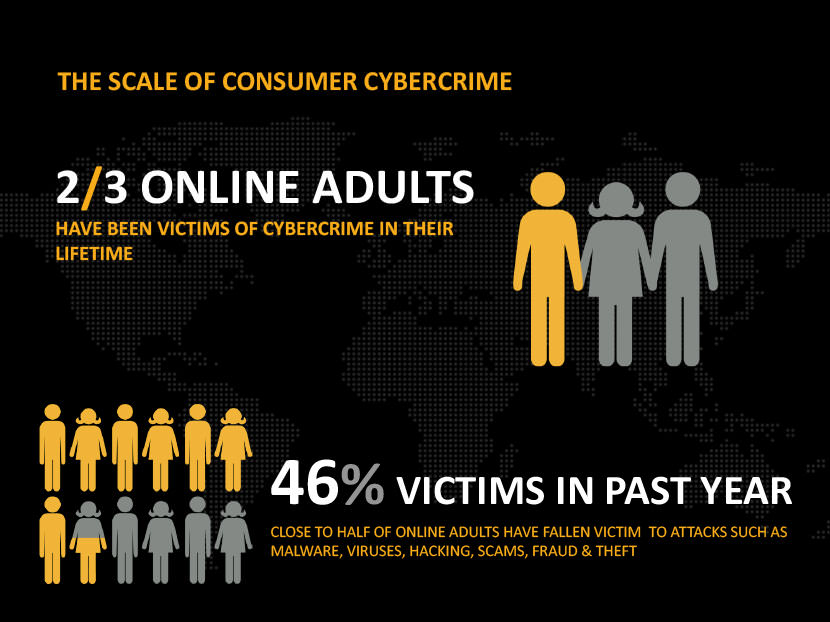 2/3 online adults, have been victims of cybercrime in their lifetime. 46% victims in past year, close to half of online adults have fallen victim to attacks such as Malware, viruses, hacking, scams, fraud & theft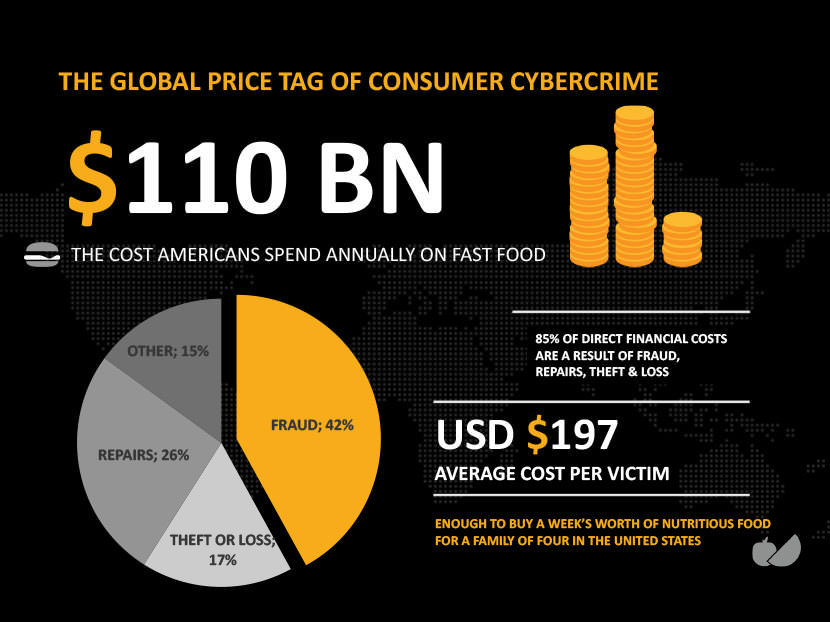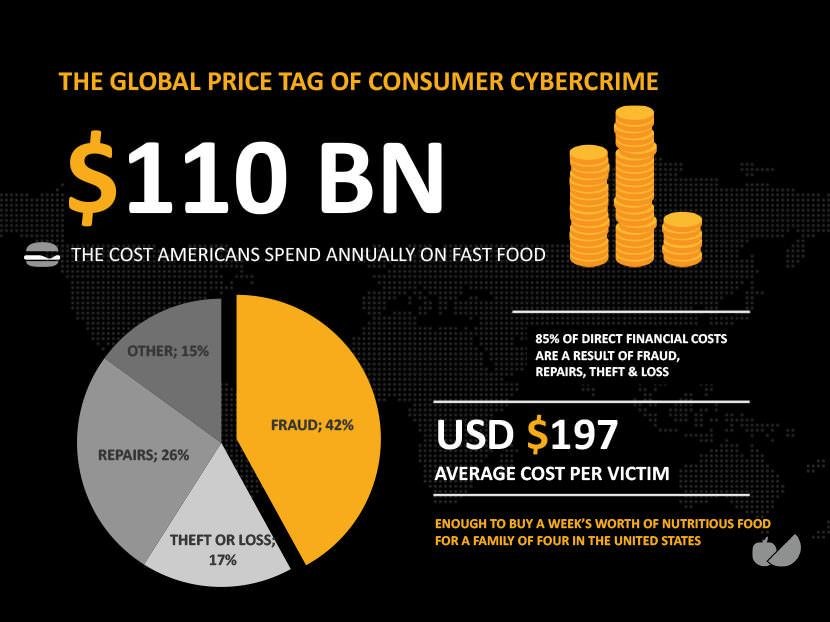 S110 Billion – The cost Americans spend annually on fast food. 85% of direct financial costs are a result of fraud, repairs, theft & loss. USD197 average cost per victim, enough to buy a week's worth of nutritious food for a family of four in the United States.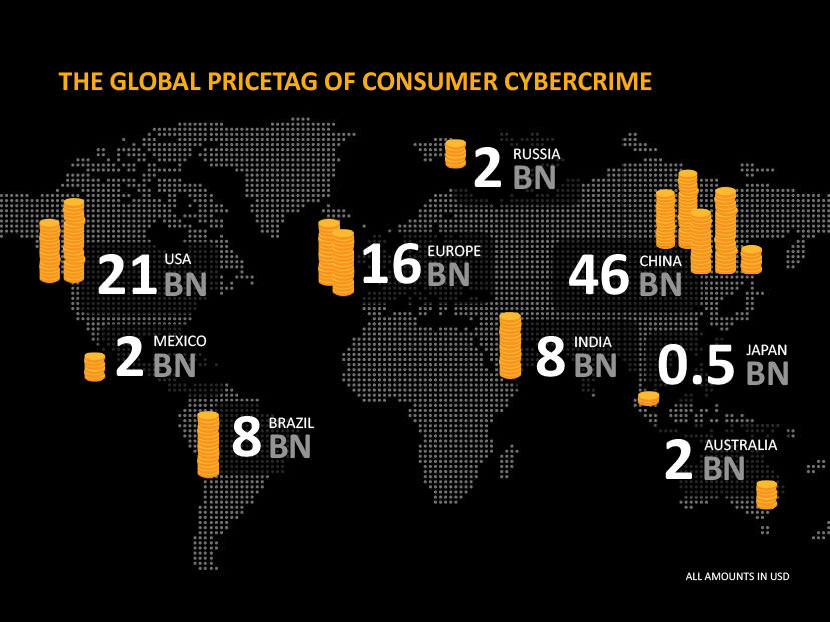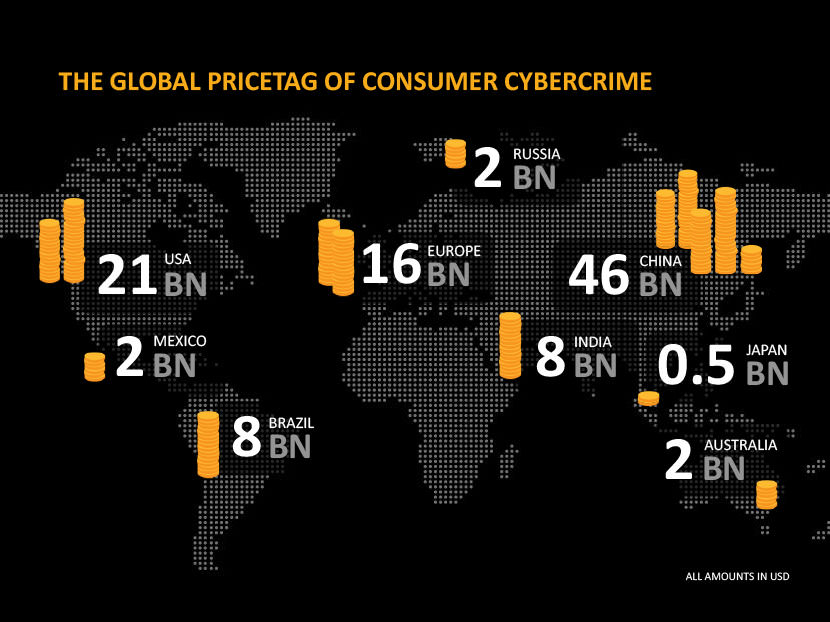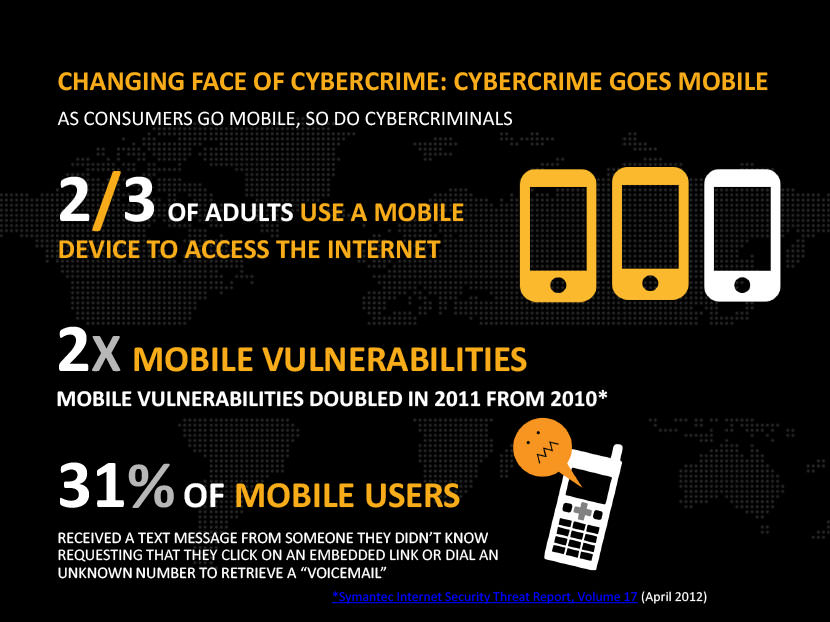 Changing face of cybercrime: Cybercrime goes mobile as consumers go mobile, so do cyber-criminals. 2/3 of adults use a mobile device to access the internet. 2X mobile vulnerabilities , mobile vulnerabilities doubles in 2001 from 2010. 31% of mobile users received a text message from someone they didn't know requesting that they click on an embedded link or dial an unknown number to retrieve a 'Voicemail'.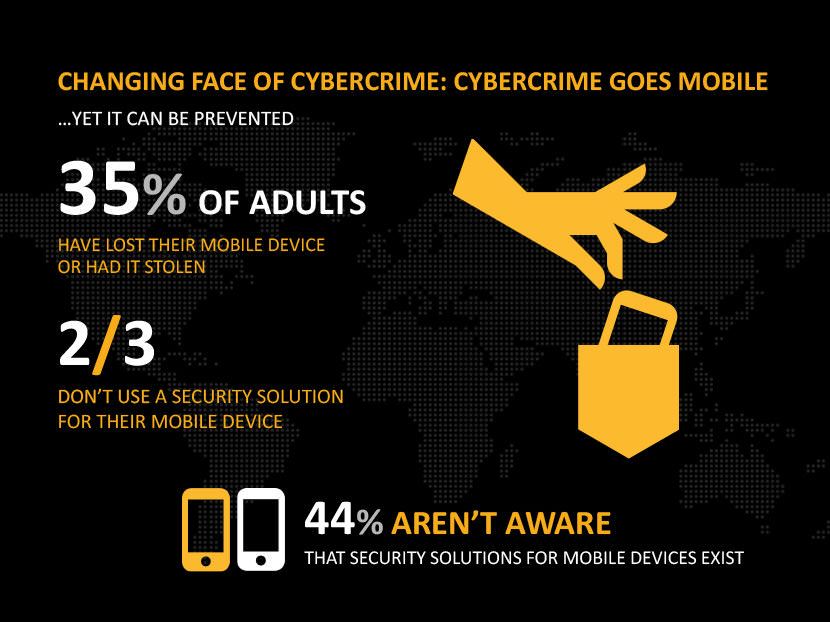 Yet it can be prevented, 35% of adults have lost their mobile device or had it stolen. 2/3 don't use a security solution for their mobile device. 44% aren't aware that security solutions for mobile devices exist.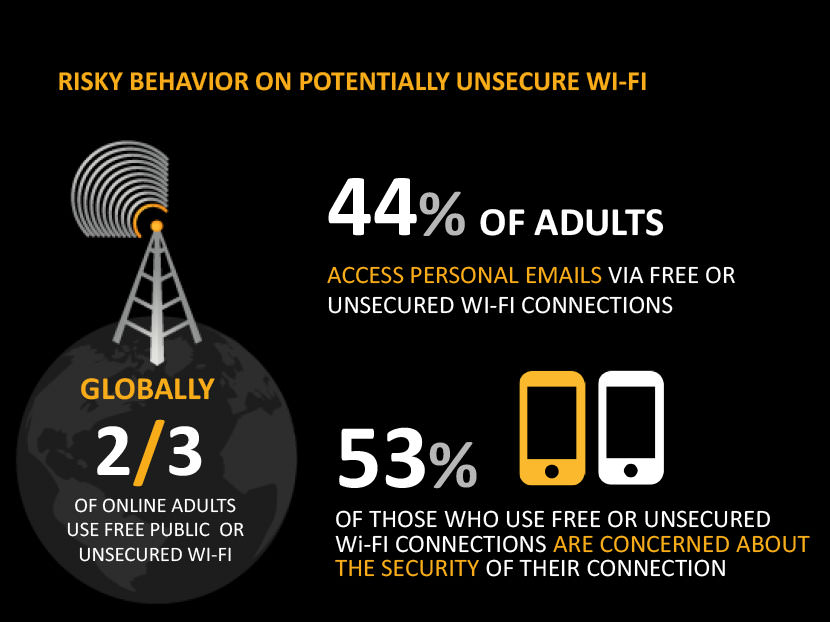 Risky behavior on potentially unsecured Wi-Fi. 44% of adults access personal emails via free or unsecured Wi-Fi connections. 53% of those use free or unsecured Wi-Fi connections are concerned about the security of their connection. Globally, 2/3 of online adults use free public or unsecured Wi-Fi.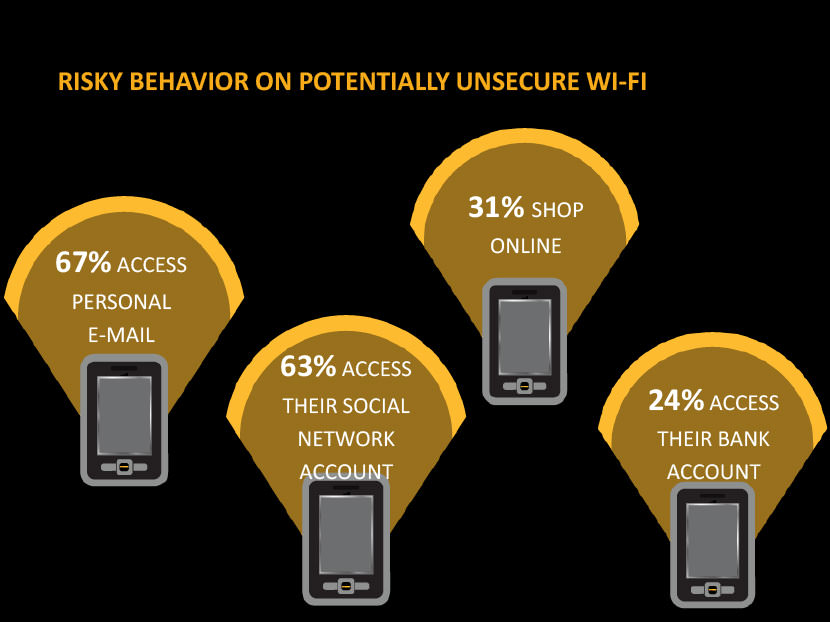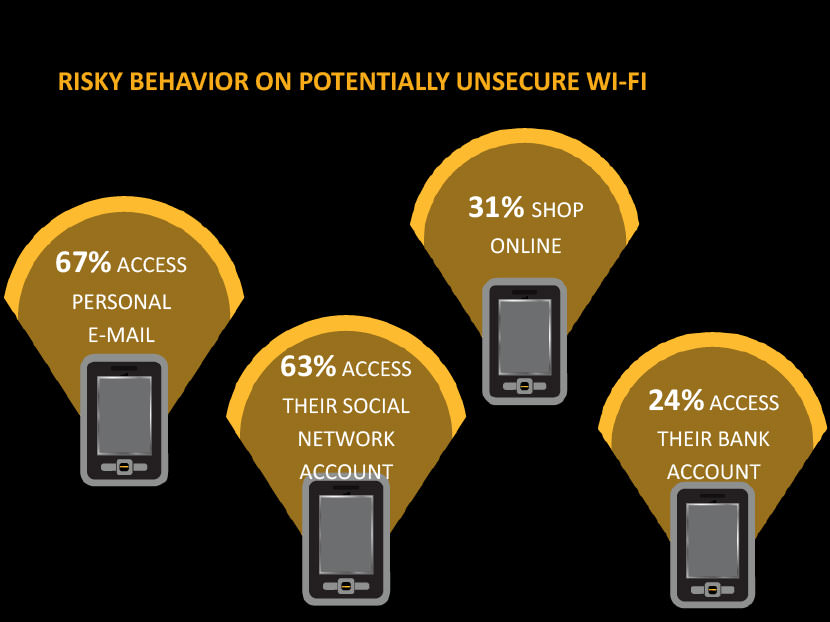 67% access personal email. 63% access their social network account. 31% shop online. 24% access their bank account.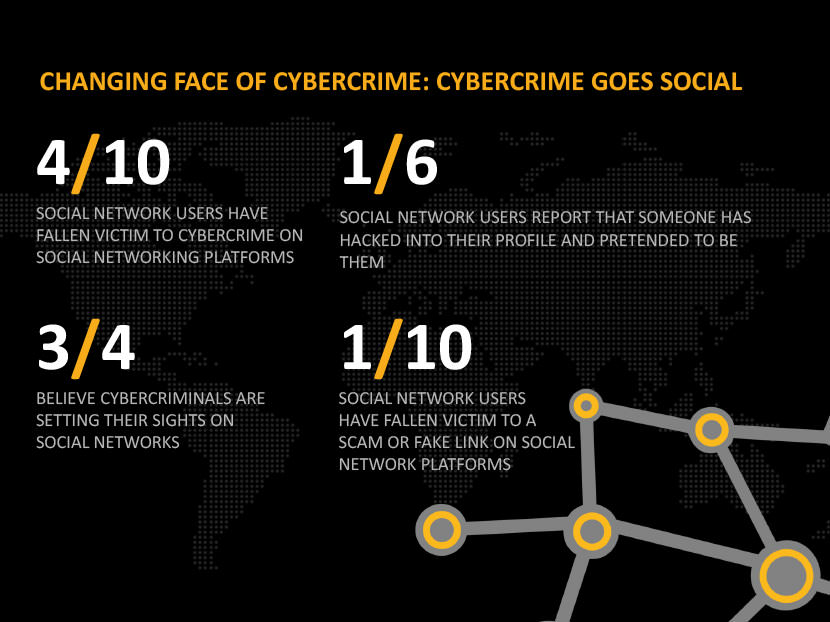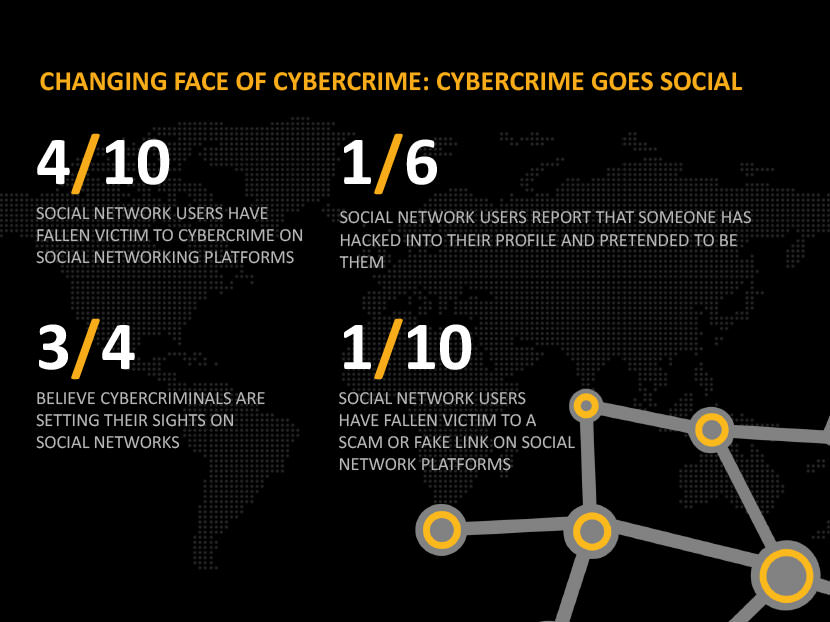 4/10 social network users have fallen victim to cybercrime on social networking platforms. 1/6 social network users report that someone has hacked into their profile and pretended to be them. 3/4 believe cybercriminals are setting their sights on social networks. 1/10 social network users have fallen victim to a scam or fake link on social network platforms.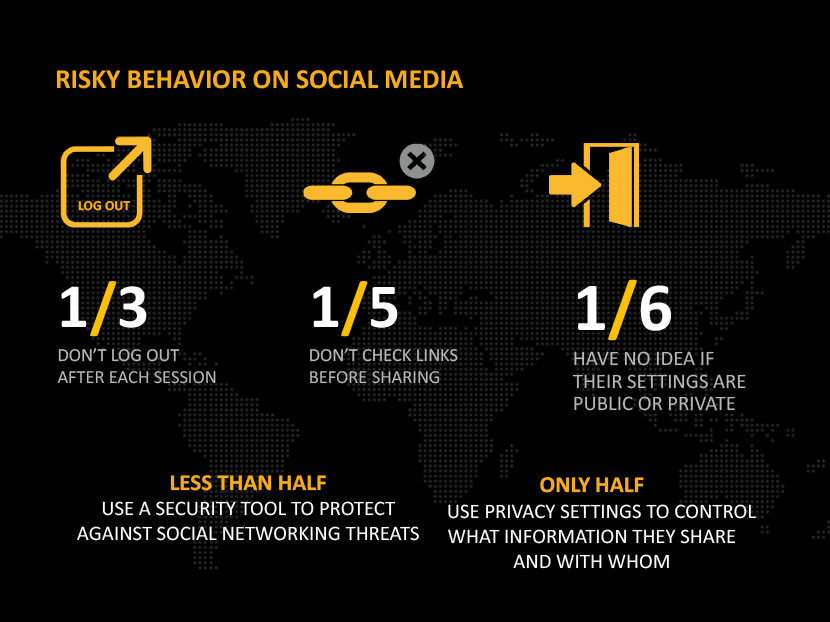 Risky behavior on social media – 1/3 Don't log out after each session. 1/5 Don't check links before sharing. 1/6 have no idea if their settings are public or private. Less than half use a security tool to protect against social networking threats. Only half use privacy settings to control what information they share and with whom.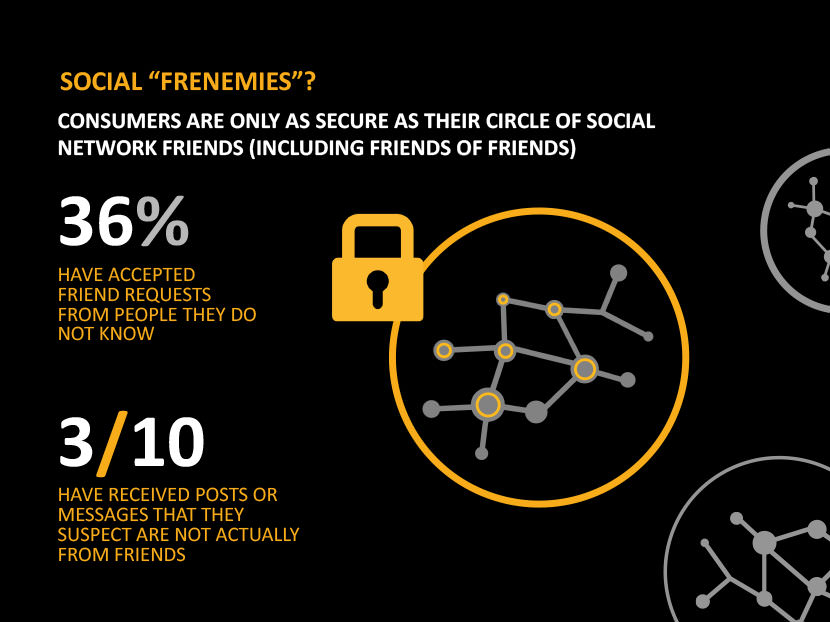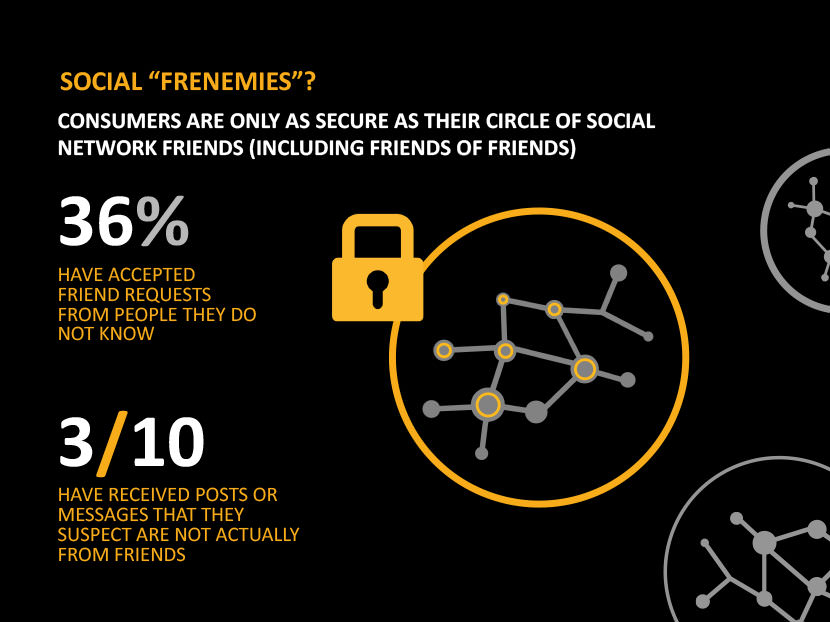 Social Frenemies. Consumers are only as secure as their circle of social network friends (including friends of friends). 35% have accepted friends requests from people they do not know. 3/10 have received posts or messages that they suspect are not actually from friends.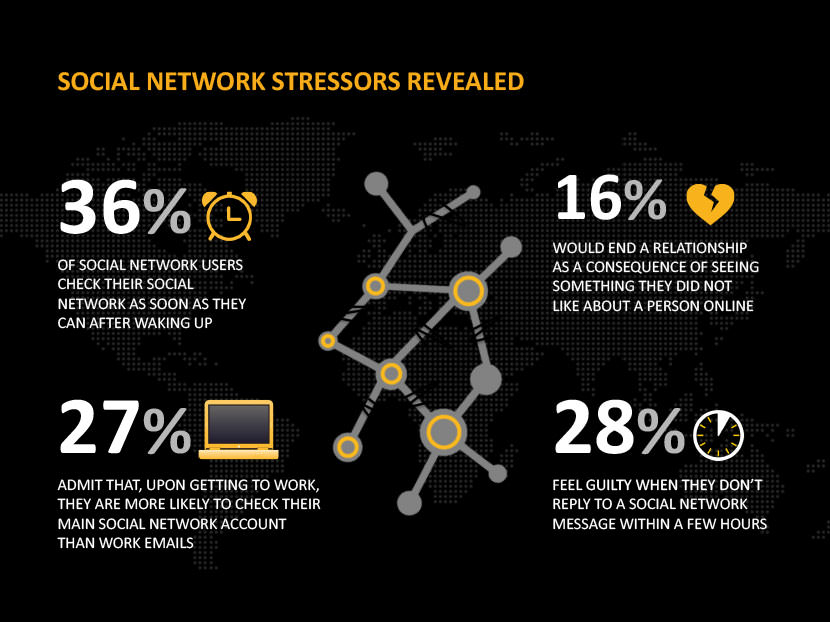 Social network stressors revealed, 36% of social network uses check their social network a soon as they an after waking up. 16% would end a relationship as a consequences of seeing something they did not like about a person online. 27% admit that, upon getting to work, they are more likely to check their main social network account than work emails. 28% feel guilty when they don't reply to a social network message within a few hours.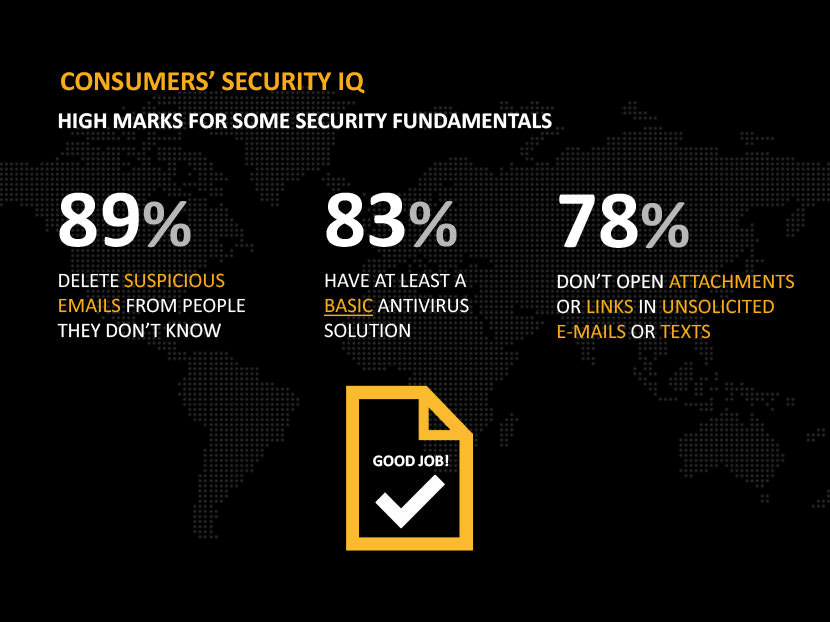 Consumers' security IQ, high marks for some security fundamentals. 89% delete suspicious emails from people they don't know. 83% have at least a basic antivirus solution. 78% don't open attachments or links in unsolicited emails or texts.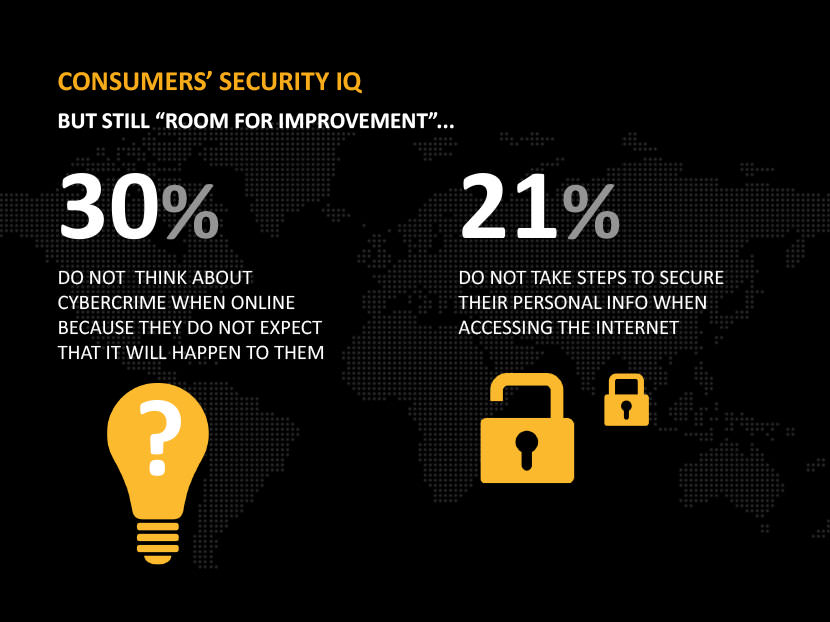 But still 'Room for Improvements' – 30% do not think about cybercrime when online because they do not expect that it will happen to them. 21% do not take steps to secure their personal info when accessing the internet.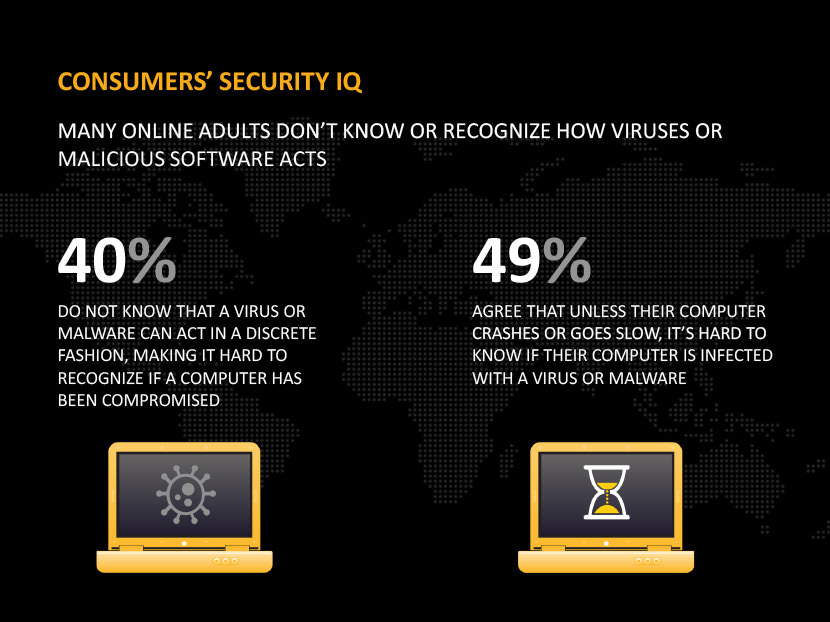 Many online adults don't know or recognize how viruses or malicious software acts. 40% do not know that a virus or malware can act in a discrete fashion, making it hard to recognize if a computer has been compromised. 49% agree that unless their computer crashes or goes slow, it's hard to know if their computer is infected with a virus or malware.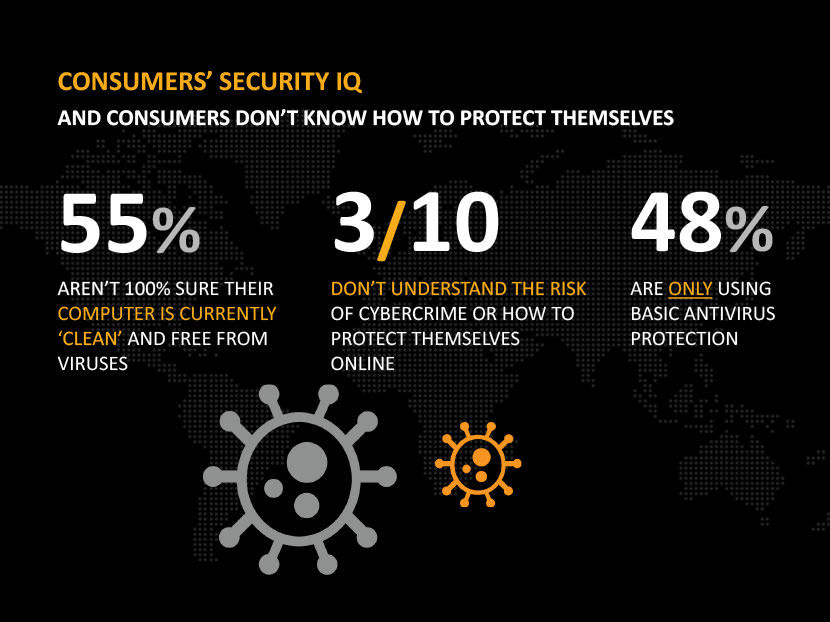 and consumers don't know how to protect themselves. 55% aren't 100% sure their computer is currently clean and free from viruses. 3/10 don't understand the risk of cybercrime or how to protect themselves online. 48% are only using basic antivirus protection.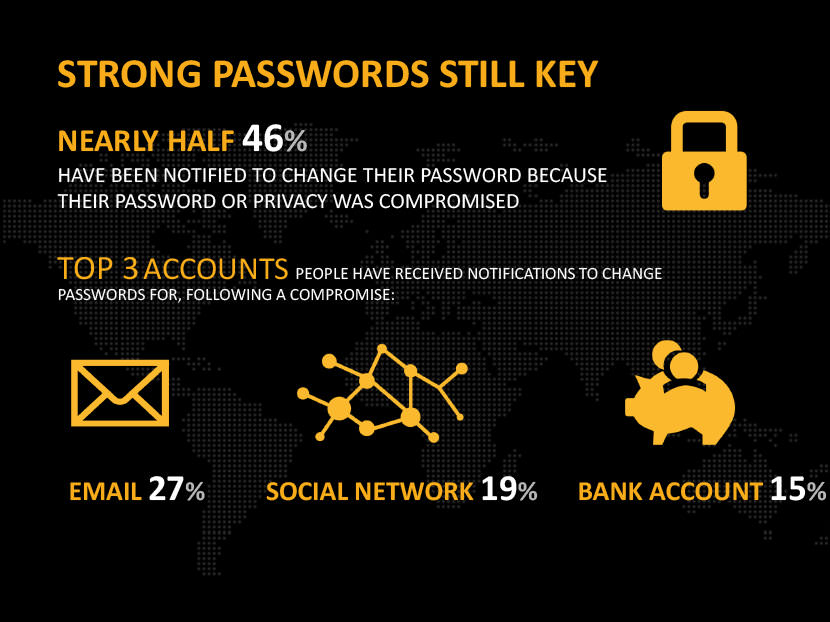 Strong password still key. Nearly half 46% have notified to change their password because their password or privacy was compromised. Top 3 accounts people have received notifications to change passwords for, following a compromise. Email 27%, social network 19%, and bank account 15%.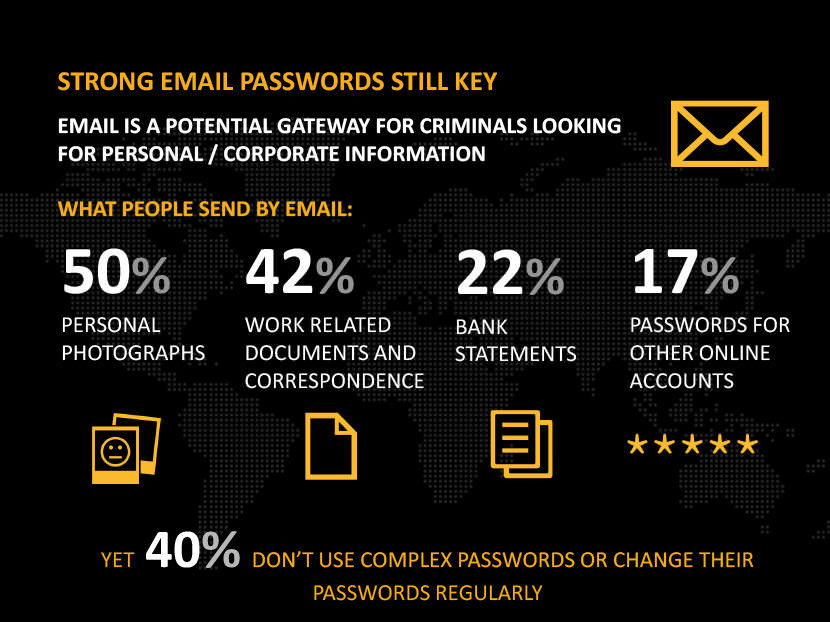 Email is a potential gateway for criminals looking for personal corporate information. What people send by email. 50% personal photographs, 42% work related documents and correspondence, 22% bank statements, 17% passwords for other online accounts. Yet 40% don't use complex passwords or change their passwords regularly.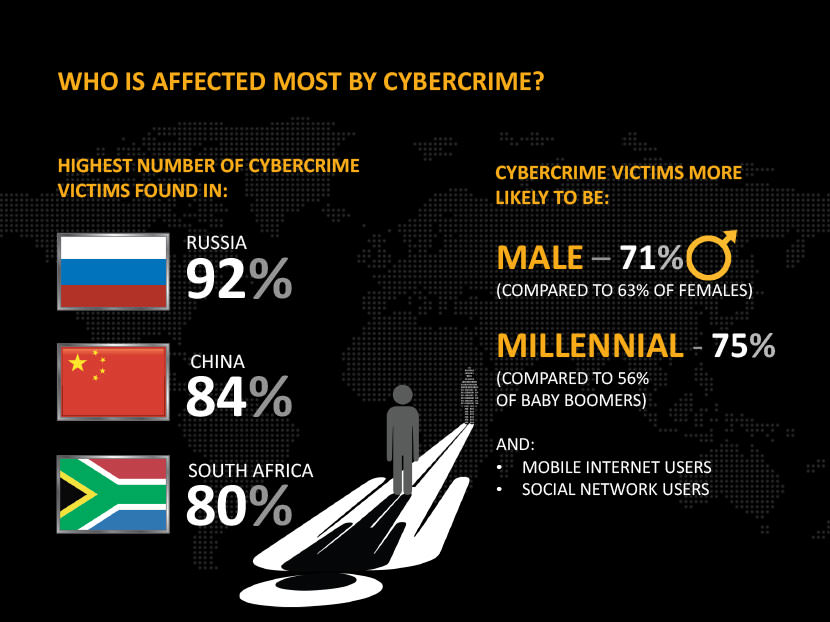 Who is affected most by cybercrime? Highest number of cybercrime victims found in Russia 92%, China 84%, South Africa 80%. Cyber crime victims more likely to be Male 71% compared to 63% of females. Millennial 75% compared to 65% of baby boomers.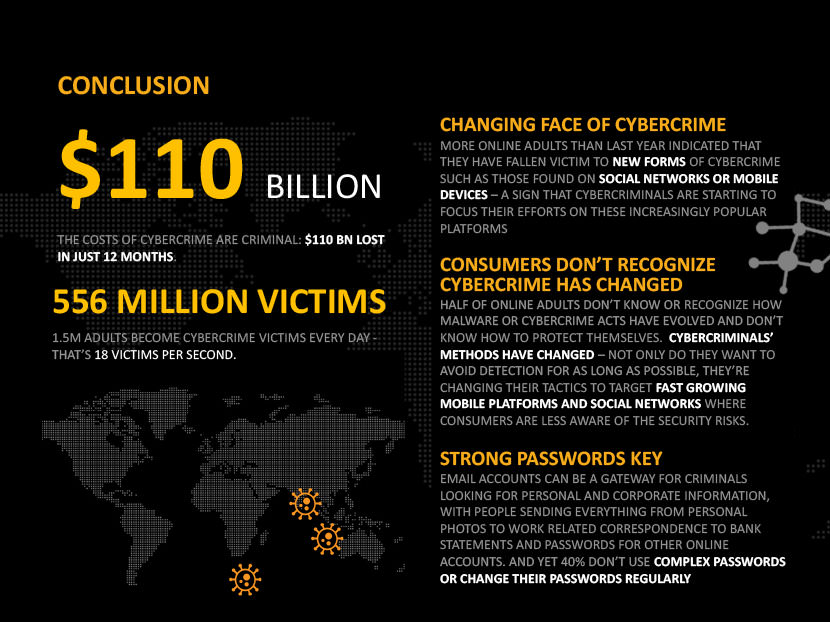 Changing face of cybercrime – More online adults than last year indicated that they have fallen victim to new forms of cybercrime such as those found on social networks or mobile devices. A sign that cybercriminals are starting to focus their efforts on these increasingly popular platforms
Consumers don't recognize cybercrime has changed – Half of online adults don't know or recognize how malware or cybercrime acts have evolved and don't know how to protect themselves. Cybercriminals' methods have changed not only do they want to avoid detection for as long as possible, they're changing their tactics to target fast growing mobile platforms and social networks where consumers are less aware of the security risks.
Strong passwords key – Email accounts can be a gateway for criminals looking for personal and corporate information, with people sending everything from personal photos to work related correspondence to bank statements and passwords for other online accounts. And yet 40% don't use complex passwords Or change their passwords regularly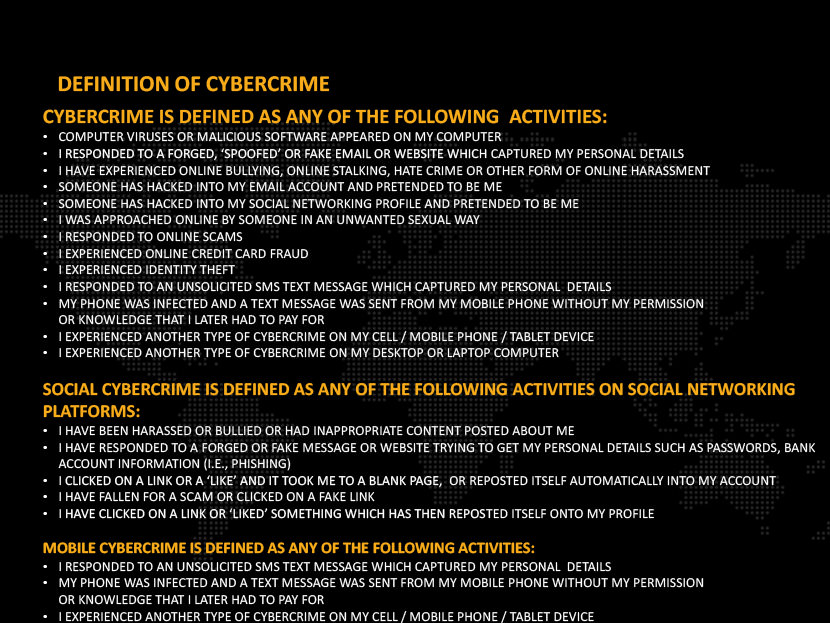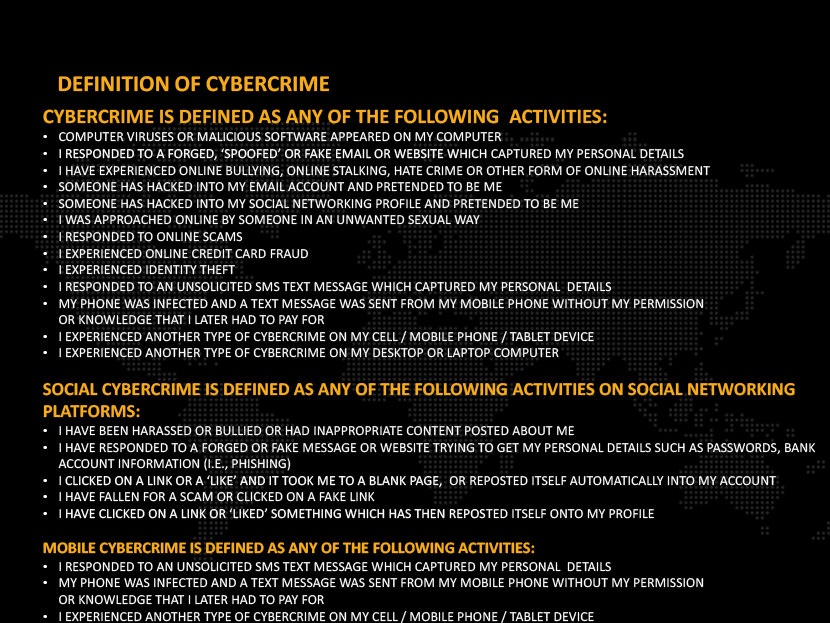 Definition of cybercrime – Cybercrime is defined as any of the following activities:
Computer Viruses or malicious software appeared on my computer
I responded to a forged, 'spoofed' or fake email or website which captured my personal details
I have experienced online bullying, online stalking, hate crime or other form of online harassment
Someone has hacked into my email account and pretended to be me
Someone has hacked into my social networking profile and pretended to be me
I was approached online by someone in an unwanted sexual way
I responded to online scams
I experienced online credit card fraud
I experienced identity theft
I responded to an unsolicited sms text message which captured my personal details
My phone was infected and a text message was sent from my mobile phone without my permission or knowledge that i later had to pay for
I experienced another type of cybercrime on my cell / mobile phone / tablet device
I experienced another type of cybercrime on my desktop or laptop computer social
Cybercrime is defined as any of the following activities on social networking platforms:
I have been harassed or bullied or had inappropriate content posted about me
I have responded to a forged or fake message or website trying to get my personal details such as passwords, bank account information (i.E., phishing)
I clicked on a link or a 'like' and it took me to a blank page, or reposted itself automatically into my account
I have fallen for a scam or clicked on a fake link
I have clicked on a link or 'liked' something which has then reposted itself onto my profile
Mobile cybercrime is defined as any of the following activities:
I responded to an unsolicited sms text message which captured my personal details
My phone was infected and a text message was sent from my mobile phone without my permission or knowledge that i later had to pay for
I experienced another type of cybercrime on my cell / mobile phone / tablet device