If your wifi lags badly, including your Logitech Unifying wireless mouse and keyboard, this is because there is a channel conflict between these wireless devices. There is a possibility that your neighbor's router shares the same channel with your mouse. The only way to find out and resolve this 'lag' is to find out which channel within your work radius is occupied and which is not.
There are a multitude of problems that could be impacting the Wi-Fi and some basic network health questions you have to answer:
Which rooms have good Wi-Fi coverage, and which don't?
Am I on the best channel for good coverage?
What other devices are transmitting in my environment, and are they interfering?
These questions are not always simple to answer. Since Wi-Fi is invisible, it's not so easy to check and see if your fix ended up working. What if you could easily answer these questions in under a minute using software that explained the hard numbers in an easy-to-understand way?
↓ 01 – Vistumbler [ Windows | Free ]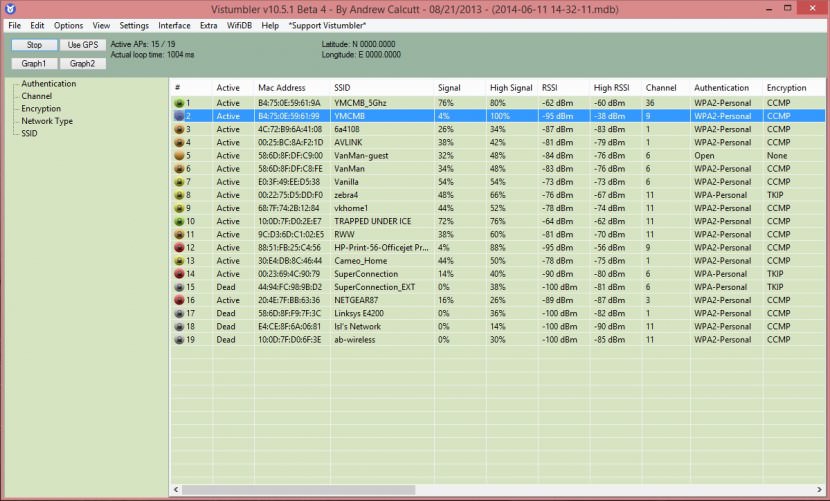 Vistumbler is a free and open-source application that scans wireless networks within range of your Wi-Fi antenna, it tracks signal strength over time, and handles pretty much everything else that other apps of this kind do. What sets Vistumbler apart from the rest is its support for GPS and live Google Earth tracking, which plots hotspots on a map. It supports Windows Vista, Windows 7, Windows 8, and Windows 10.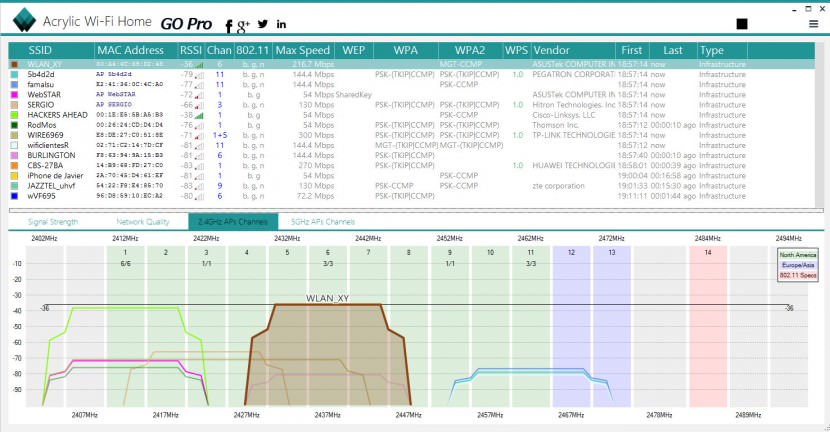 Real-time WLAN information and network analysis. Acrylic WiFi is a Free WiFi scanner that displays WiFi access points and connected devices, shows information of the security mechanisms and obtains generic WiFi passwords thanks to a plugins system. Our WiFi scanner is able to gather information from 802.11/a/b/g/n/ac networks.
Access points: WiFi networks information (SSID/BSSID) and connected users.
Signal level: Signal quality charts for WiFi channels and detected devices.
Inventory: Naming known Wi-Fi devices.
Passwords: WiFi passwords and default WPS Keys (password testing).
Channels: WiFi channel scanner and WiFi networks through channels in 2.4Ghz and 5Ghz.
Security: Network authentication and security details for WEP, WPA, WPA2 and Enterprise (802.1X) WiFi networks.
WirelessNetView is a small utility that runs in the background, and monitors the activity of wireless networks around you. For each detected network, it displays the following information: SSID, Last Signal Quality, Average Signal Quality, Detection Counter, Authentication Algorithm, Cipher Algorithm, MAC Address, RSSI, Channel Frequency, Channel Number, and more.
↓ 04 – NetSpot [ Mac | Freemium ]
NetSpot is the easiest native wireless site survey software for Mac. You need just a few clicks to load your office plan or area map and start a network site survey. Just point to where you are on the map and NetSpot starts measuring wireless signals right away, moves around, and collects Wi-Fi data.
That's it: now you have all the needed info to analyze radio signal leakages, discover noise sources, map channel usage, locate effective access points, etc.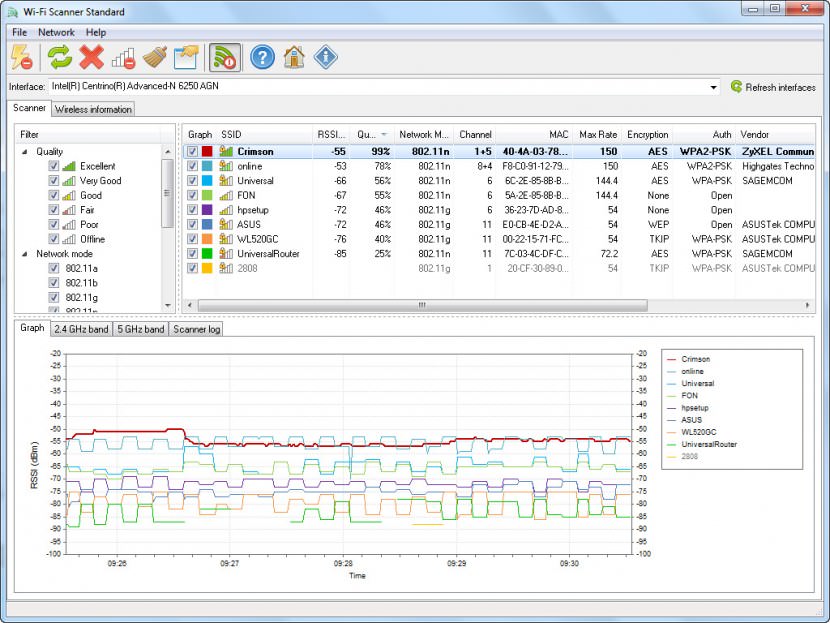 Wi-Fi Scanner is an easy-to-use tool to scan for and analyze 802.11 a/b/g/n wireless networks. Wi-Fi Scanner allows you to easily locate visible wireless networks and its corresponding information. The tool obtains the network name (SSID), signal level (RSSI), MAC address (BSSID), signal quality, channel, maximum data rate, encryption, and much more.
Wi-Fi Scanner is useful for normal access point users who need to find out the signal strength distribution for their wireless network at home, or choose a position for their access point for optimal signal quality.
Using Wi-Fi Scanner, you can evaluate the allocation of wireless networks by channel and select the least congested bandwidth for their access point, allowing them to increase their connection speed significantly.
↓ 06 – NetSurveyor [ Windows | Free ]
NetSurveyor is an 802.11 (WiFi) network discovery tool that gathers information about nearby wireless access points in real time and displays it in useful ways. Similar in purpose to NetStumbler, it includes many more features. The data is displayed using a variety of different diagnostic views and charts. Data can be recorded for extended periods and played-back at a later date/time.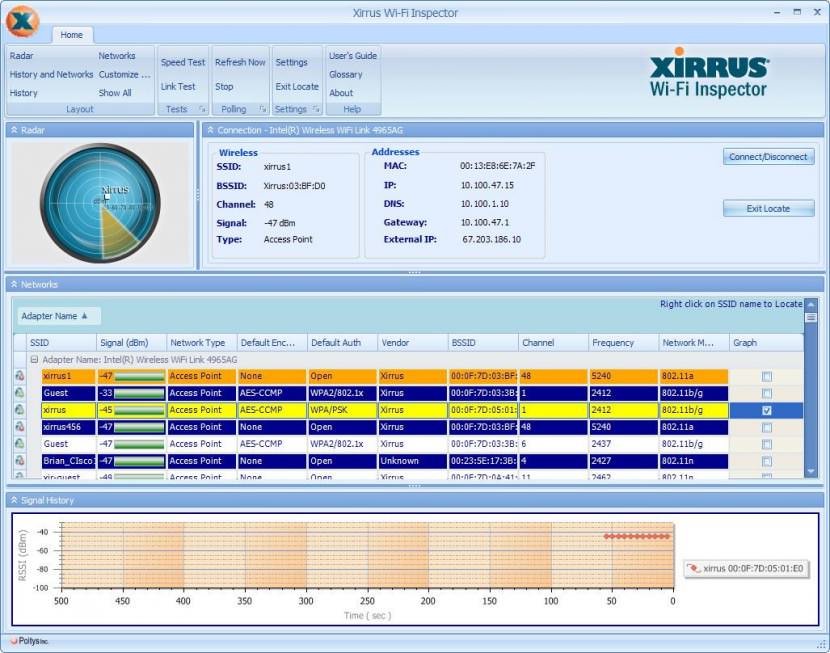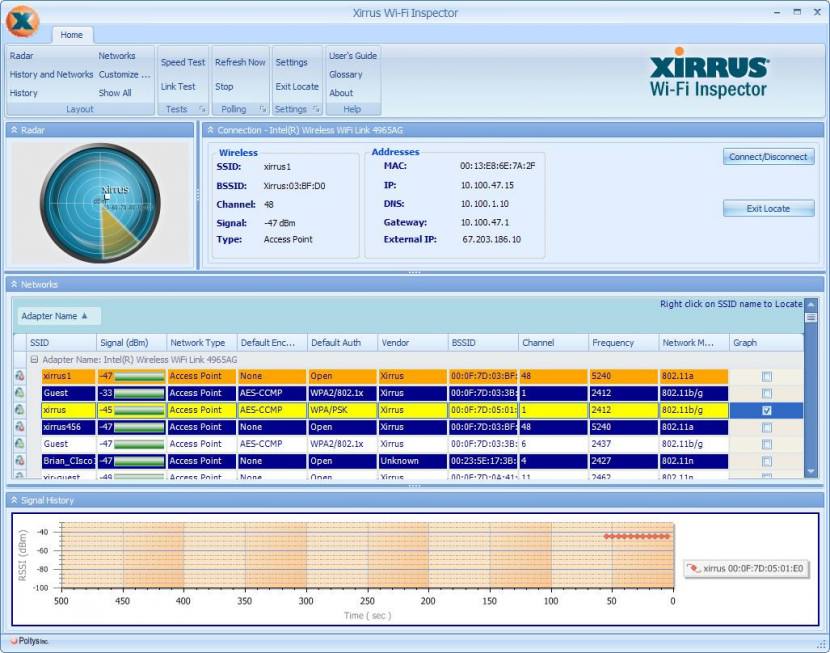 The Xirrus Wi-Fi Inspector is a utility for monitoring Wi-Fi networks and managing the Wi-Fi operation of a laptop. Operating on Windows 7, Vista, or XP, the Wi-Fi Inspector provides detailed information about available Wi-Fi networks, management of a laptop's Wi-Fi connection, and tools to troubleshoot Wi-Fi connectivity issues. It provides a useful tool for anyone deploying and operating Wi-Fi.
↓ 08 – WiFi Analyzer [ Windows 10 Only | Free ]
WiFi Analyzer can help you to identify Wi-Fi problems, find the best channel or the best place for your router/access-point by turning your PC/laptop, tablet or mobile device into an analyzer for your wireless network.
↓ 09 – inSSIDer [ Windows & Mac ]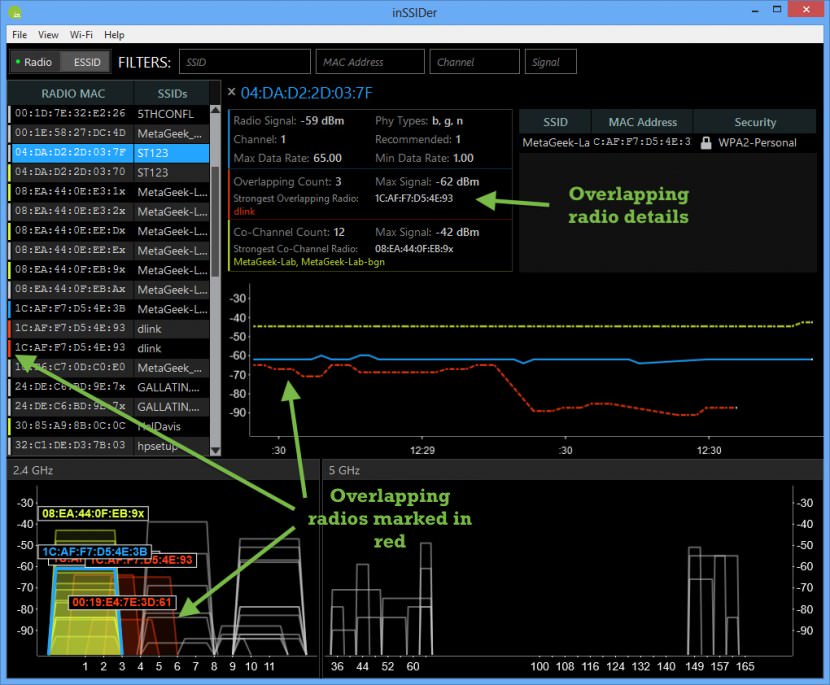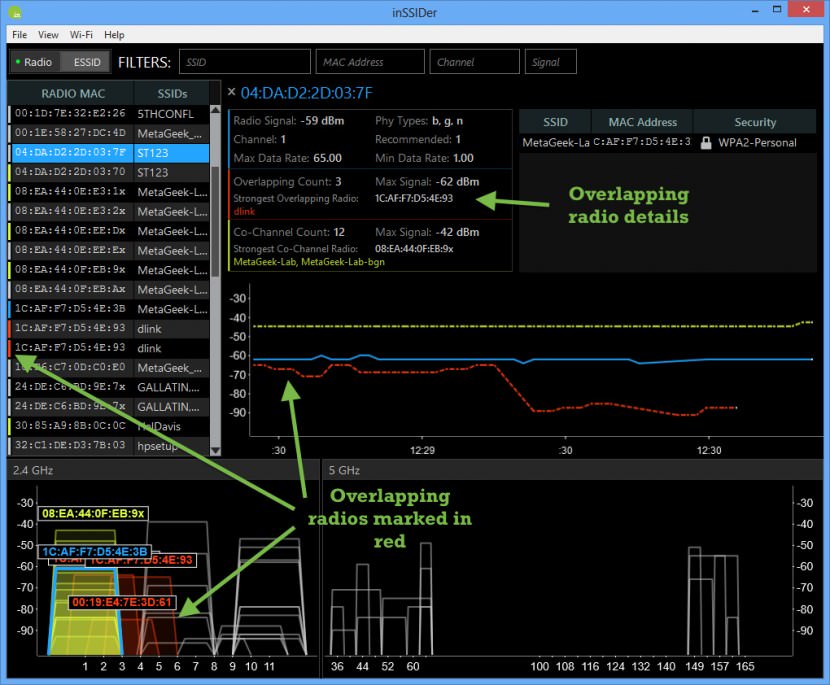 inSSIDer is Wi‑Fi optimization and troubleshooting software that takes Wi‑Fi network discovery to a whole new level. With a quick glance, you'll be able to find poor channel placement, low signal strength, and RF interference in the 2.4 and 5 GHz bands. inSSIDer comes in two versions: inSSIDer Lite (Windows & macOS), a home-use Wi‑Fi scanner, and inSSIDer Office (Windows & in Beta for OS X), which adds extra troubleshooting power like RF spectrum analysis, expert analysis, export to Chanalyzer, and network drilldown, to name a few.
WiFi lives in a noisy space – 2.4 GHz and 5 GHz bands to be exact – and one of the first steps to understanding why your WiFi might not be performing the way you expect is to simply discover all of the networks around you. With inSSIDer Lite, you can quickly see your neighboring networks, as well as critical details about those networks, including channel placement, signal strength, security type, supported data rates, and more.