There are two types of mind mapping brainstorming tools, online and offline. Based on my experience, I prefer the 'open source' offline version as it tends to offer more features, unlimited usage and more control over how I save the files. Those free online mind mapping services usually come with limited and simple features, some of the biggest drawbacks are no images allowed and unable to export the files until you upgrade the service to a paid version.
Blumind and Bookvar used to be popular until they were discontinued by the owners, below are 6 of the best mind mapping maker and creator software available in the market for free. VUE is perhaps the better one among all.
↓ 01 – Obsidian | Free Personal | macOS | Windows | Linux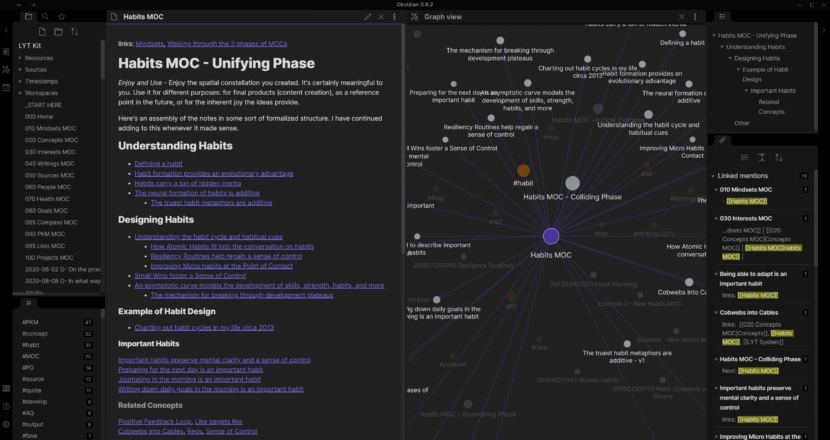 The human brain is non-linear: we jump from idea to idea, all the time. Your second brain should work the same. In Obsidian, making and following connections is friction-less. Tend to your notes like a gardener; at the end of the day, sit back and marvel at your own knowledge graph.
Future-proof format – Obsidian uses Markdown. Markdown is widely used by sites like Reddit and GitHub and not going away anytime soon. Markdown is designed to be human readable. It's not obfuscated by encoding; you can directly edit the source files with Markdown editors, or edit them automatically with scripts.
Total control – Your notes live on your device, period. You can encrypt them or back them up however you want; it's your decision, not ours. Plain text files let you do various sync, encryption, and data processing on top of it. Obsidian plays nice with Dropbox, Cryptomator, and any software that works with plain text files.
Always available – No internet? No problem. Obsidian works completely offline, internet or service issues will never be your problem. Enjoy reading and working on your notes anytime, anywhere.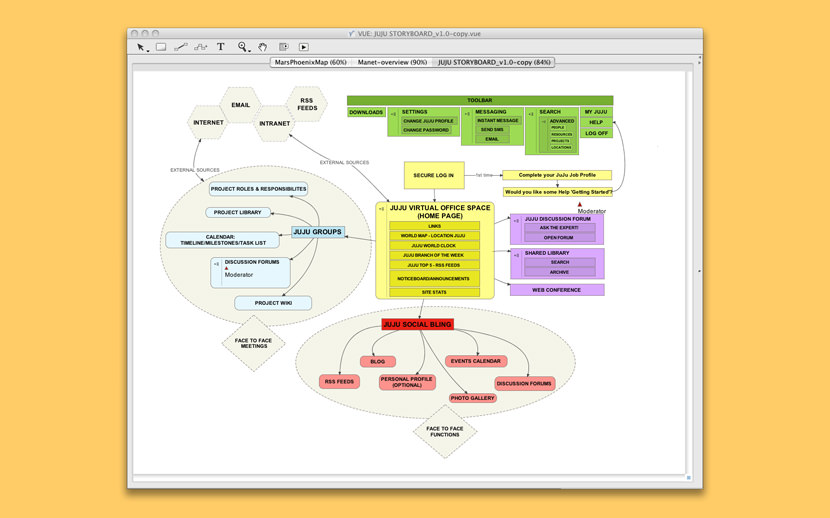 The Visual Understanding Environment (VUE) is an Open Source project based at Tufts University. The VUE project is focused on creating flexible tools for managing and integrating digital resources in support of teaching, learning and research. VUE provides a flexible visual environment for structuring, presenting, and sharing digital information. Works great on Microsoft's Windows 10 and Apple's macOS.
Enhanced Pathways and Presentation Tools – VUE's unique pathways tool now supports the construction of interactive presentations. The pathways tool allows the presenter and audience to focus on specific content while at the same time maintaining a sense of its overall context within a VUE map. VUE authors may also navigate their pathways in a linear or nonlinear fashion, allowing for "just-in-time teaching" and more in-depth exploration of a topic.
Enhanced Pathways and Presentation Tools – VUE's unique pathways tool now supports the construction of interactive presentations. The pathways tool allows the presenter and audience to focus on specific content while at the same time maintaining a sense of its overall context within a VUE map. VUE authors may also navigate their pathways in a linear or nonlinear fashion, allowing for "just-in-time teaching" and more in-depth exploration of a topic.
↓ 03 – FreeMind | Open Source | macOS | Windows | Linux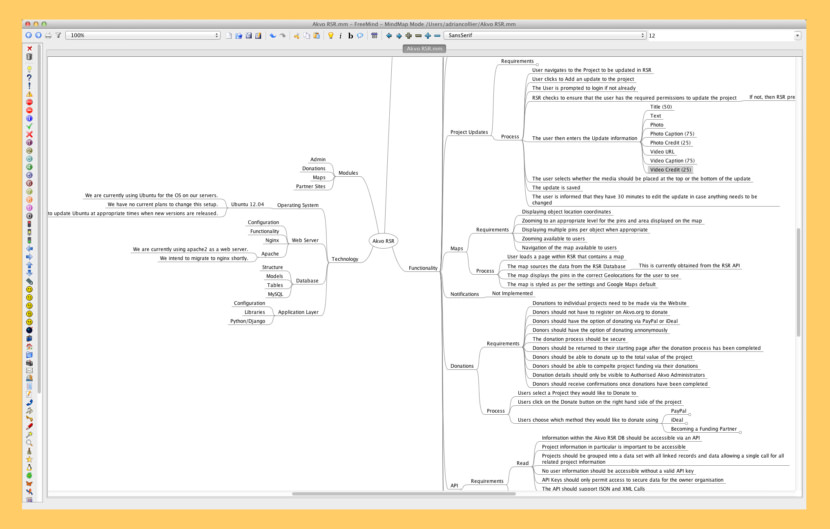 FreeMind is a premier free mind-mapping software written in Java. The recent development has hopefully turned it into a high productivity tool. We are proud that the operation and navigation of FreeMind is faster than that of MindManager because of one-click "fold / unfold" and "follow link" operations.
Fully functional following of HTML links stored in the nodes, be it www links or links to local files.
From very early versions, Freemind supports folding which is its essential property.
Fast one-click navigation, including folding / unfolding on one click and following links on one click at the same time (you don't have to make a choice between fast following of links and fast fold/unfold). You can move the map by dragging the map's background as well as using mouse wheel.
Smart Drag'n Drop, including the possibility to copy nodes or copy style of nodes; dragging and dropping of multiple selected nodes; dropping of texts or list of files from outside
Smart copying and pasting into, including pasting of links from HTML or structuring the pasted content on the basis of the number of leading spaces in a line; pasting of lists of selected files
Smart copying and pasting from, including plain text and RTF (MS Wordpad, MS Word, MS Outlook messages).
Export of map to HTML, with folding (see example)
Find facility, where found items are shown one by one as you do "find next", and the map is unfolded only for the current item.
Possibility to use and edit long multiline nodes; even with newlines
Possibility to decorate nodes with built-in icons, colors and different fonts.
Low costs of risk of switching away to another mind mapping tool, because FreeMind stores maps in XML format. If you have a lot of maps created by FreeMind and you want to switch to another program, writing a conversion program should be easy, especially if that program features Visual Basic scripting facility. Christoph Rissner describes in his article at IICM site his implementation of data exchange between FreeMind and MindManager.
File mode enables you to browse the files on your computer, seeing the folder structure as mind map.
↓ 04 – Mindix | Free | macOS | iOS
Mindix offers a very simple, clean and organized environment to capture ideas and take notes while conducting brainstorming sessions. Mindix allows you to create text and image entries and make connections between them to express ideas and concepts in your mind maps. Mindix has a very simple user interface that allows you to:
Work with multiple maps simultaneously in different windows
Work with text and graphic nodes
Edit maps by copying and pasting nodes
Arrange and freely position the entries via drag & drop
Save maps to your Mac and also iCloud
Export maps to PDF documents or images
Import and export OPML files (outlines)
Change the appearance of the maps with different configurations
↓ 05 – ThinkComposer | Open Source | Windows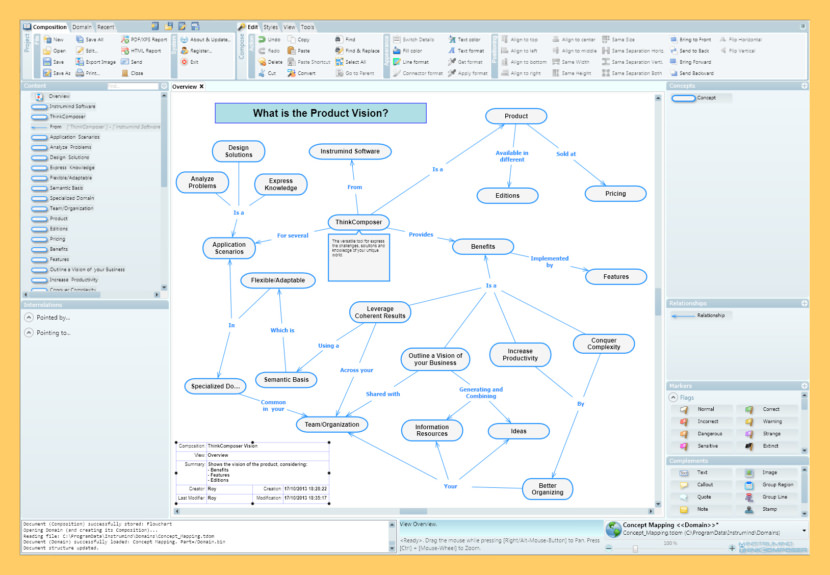 As a professional, student or creative person, you probably work analyzing, creating and exposing entities with complex attributes, relationships and dependencies; struggling to make effective solutions on time, needing to explain and convince an audience; and facing diverse perspectives on different problems.
With ThinkComposer you can apply the power of comprehensive visual documents to get the job done and work better. Your flowcharts, concept maps, models and other kinds of diagrams can be much more than just embedded images in text-docs or presentations, they can represent the insights and knowledge of your very specialized domain or environment.
Capture and develop those bright ideas you have!
Knowledge Organizer Help your mind to organize and visualize complex thoughts!
Presentation Tool Clearly presents your ideas, to be convenient and fully understanded.
Semantic Mapping Define graphic and semantic elements for your specialized domain.
Knowledge Representation Express your solution designs and knowledge with precision.
Productivity Software Improve your productivity and creativity with this easy and flexible tool.
↓ 06 – Freeplane | Open Source | macOS | Windows | Linux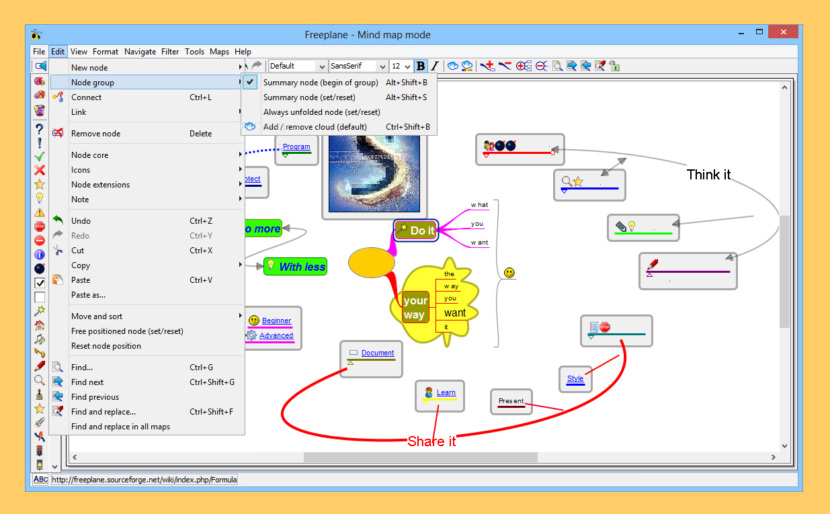 Freeplane is a free and open source software application that supports thinking, sharing information and getting things done at work, in school and at home. The software can be used for mind mapping and analyzing the information contained in mind maps. Freeplane runs on any operating system that has a current version of Java installed. It can be run locally or portably from removable storage like a USB drive.
Freeplane aims for maximum ease and speed of use. Occupying the middle ground between an editor and a diagramming tool, Freeplane allows the user to add content as quickly and naturally as they would in a text editor, yet producing structured content that can be manipulated as easily as a diagram. The workflow is unimpeded by the need to think about and manually place each piece of information; the user can intuitively input content as paragraphs and headings, and easily reorganise at a later stage.
The width and other aspect of each topic (node) can be set independently and a node can be defined to behave independently from the nodes in the tree structure, to be free positionable. The use of adaptable styles makes formatting an easy job and conditional styles make it automatic.
Note taking with freely positionable, unconnected nodes (like post-it's)
Ordering ideas (nodes) into a hierarchy connected by lines (edges)
Classifying nodes with metadata (attributes) and style types (system styles, user defined styles, level styles)
Grouping nodes with visual containers (clouds) and accolade (summary node)
Connecting nodes with dynamic links, free lines (connectors) and labels
Automatically styling nodes (with a bubble, color, edge type, etc.) according to hierarchical level and content (conditional styles, automatic edge color, level styles)
Structuring nodes in terms of content (text, scientific formula, calculation, icon, image and hyperlink) and presentation area (core, details, notes, attributes, images and tooltip)
↓ 07 – Docear | Open Source | macOS | Windows | Linux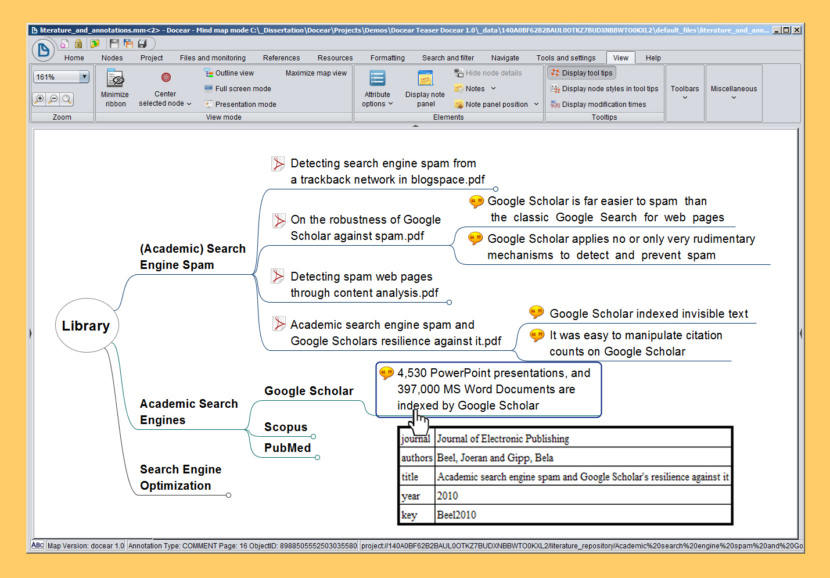 Docear is a unique solution to academic literature management, i.e. it helps you organize, creating, and discovering academic literature. And did we mention that Docear is free, open source, available for Windows, Linux, and macOS, not evil (open data formats such as BibTeX and XML, no registration required, no lock-in), and offers PDF metadata retrieval, free online-backup of your mind-maps, a monitoring function for new files (PDFs, images, etc.), a free MS-Word add-on. Among others, Docear offers:
A single-section user-interface that allows the most comprehensive organization of your literature. With Docear, you can sort documents into categories; you can sort annotations (comments, bookmarks, and highlighted text from PDFs) into categories; you can sort annotations within PDFs; and you can view multiple annotations of multiple documents, in multiple categories – at once.
A 'literature suite concept' that combines several tools in a single application (pdf management, reference management, mind mapping, …). This allows you to draft your own papers, assignments, thesis, etc. directly in Docear and copy annotations and references from your collection directly into your draft.
A recommender system that helps you to discover new literature: Docear recommends papers which are free, in full-text, instantly to download, and tailored to your information needs.
↓ 08 – Sɪᴀ | Free for Personal Use | Windows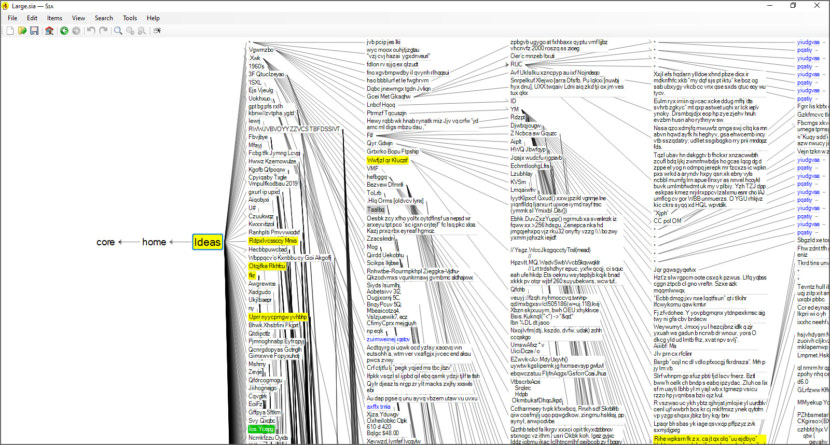 Sɪᴀ has many uses. Any time you want to store information to be found again later. The information is stored as it is structured: lists, trees, items in multiple lists, and items linked together, e.g. Fred — account manager → Barney. Be authoritative with all your information at your fingertips. Sɪᴀ can handle tens of thousands of items, that is hundreds of thousands of words. Sɪᴀ is great for brainstorming and requirements gathering, you can not run out of space. It is also good for mapping out any complex system such as networked software. Sɪᴀ abridged features:
Easy and fast to use, hit space to add a new item. Right click to see options. Drag and drop items.
Powerful, and can store many thousands of items.
If one is ever left without Sɪᴀ one can still read one's information in a web browser,
even if the document is encrypted.
Items can be coloured for clarity.
↓ 09 – Logseq | Open Source | macOS | Windows | Linux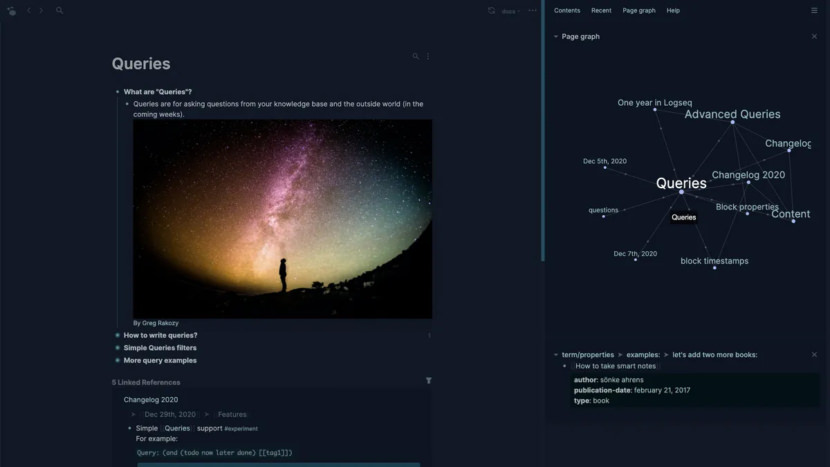 Logseq is a privacy-first, open-source knowledge base that works on top of local plain-text Markdown and Org-mode files. Use it to write, organize and share your thoughts, keep your to-do list, and build your own digital garden. No data lock-in, no proprietary formats, you can edit the same Markdown/Org-mode file with any tools at the same time.