The biggest problem with MacBook on a 128 GB solid-state drive is the lack of space. You will always be bombarded with "Your startup disk is almost full" error. If your macOX is running out of space, the first thing you need to do is to uninstall unwanted apps, remove system features not used frequently and also remove language files not used. This will greatly increase the available disk space.
Related Article 2019 ➤ 5 Freeware To Check Current Battery Capacity Of MacBook, iPhone And Windows Laptop
If you don't feel like spending a bunch of time to find and clean things up manually, you can use these software to safely clean your mac. This is a short term solution to a long term problem. The best option is to upgrade to a larger capacity SSD or move all files to an external hard disk.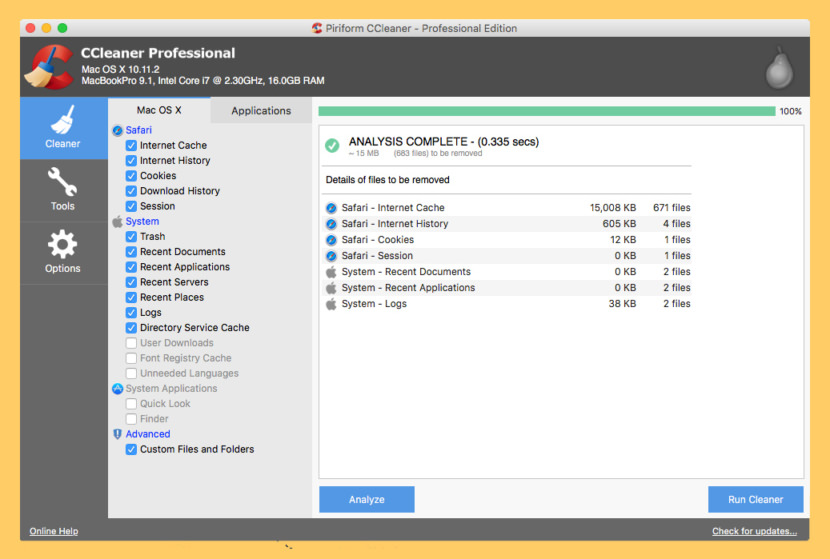 CCleaner is the number-one tool for cleaning your Mac. It protects your privacy and makes your Mac faster and more secure! CCleaner, the most popular temporary-file-deleting tool among Windows geeks, now even has a version for Mac.
Faster Computer – A Mac collects junk and unused files just like a PC. Find and remove these files with the click of a button so your Mac can run faster. Speed up boot times with easy management of Startup items.
Reduce Clutter – Clean your Mac of old clutter. Clear up your recycle bin, temporary files and folders, broken permissions and more. Remove installed programs with the click of a button.
Clean, optimize, and maintain your Mac with the all-new CleanMyMac 3. It scans every inch of your system, removes gigabytes of junk in just two clicks, and monitors the health of your Mac. There's so much to clean on your Mac, and CleanMyMac 3 takes care of all of it. CleanMyMac 3 shows you what to clean, you just have to choose when.
It scans everything on your Mac, including your Mac's system, iTunes, Mail, Photos, Trash bins, and even old folders that have been secretly avoiding you. Plus, it knows exactly what can be safely cleaned from your Mac and what can't. Almost like it's got a brain or something.
When your computer is getting full, BleachBit quickly frees disk space. When your information is only your business, BleachBit guards your privacy. With BleachBit you can free cache, delete cookies, clear Internet history, shred temporary files, delete logs, and discard junk you didn't know was there.
Designed for Linux and Windows systems, it wipes clean thousands of applications including Firefox, Internet Explorer, Adobe Flash, Google Chrome, Opera, Safari,and more. Beyond simply deleting files, BleachBit includes advanced features such as shredding files to prevent recovery, wiping free disk space to hide traces of files deleted by other applications, and vacuuming Firefox to make it faster. Better than free, BleachBit is open source.
Best Mac Cleaners To Free Up Disk Space
Have you ever wondered which Mac cleaner is best? There's hundreds of apps out there that all promise to do the same thing: Clean up your Mac and free up some much needed space. So, before you go unnecessarily deleting all your downloads and precious pictures to free up a little bit of storage, here are my top picks for the best cleaning apps.