Having a mobile friendly site is simply not enough if you are running an WooCommerce ecommerce site or classified directory listing site, a functional mobile app for both Google Android and Apple iOS is a must. Having said that, maintaining 2 different platforms while sharing the same MySQL Database can be confusing, not to mention conflict of data.
🤣😍😂 11 Best Classified Scripts For Posting Auto, Real Estate And Jobs Ads
One of the best ways to get your site published without writing a single line of code is to integrate them via these mobile apps. In other words, these plugins act as a gateway between the 'shell' app and your site. There are free and paid versions, ranging from a few USD per month to thousands of dollars. More often than not, the free plugins come with integrated ads.
↓ 01 – MobiLoud | Paid | Android | iOS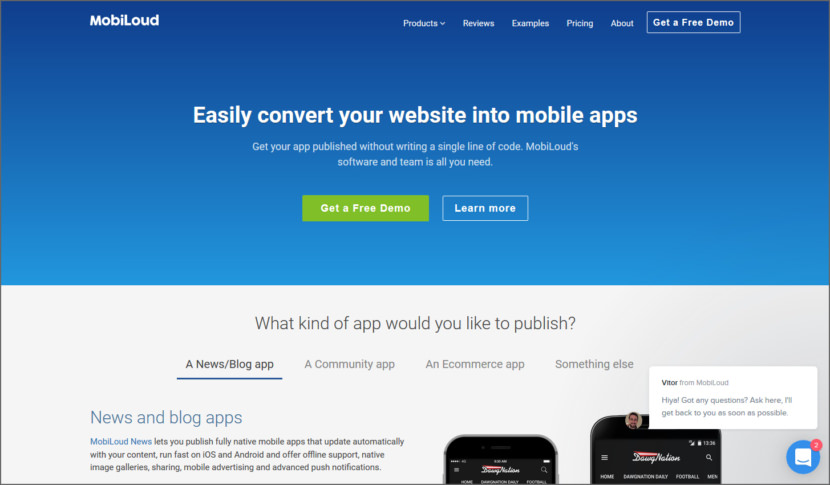 MobiLoud Canvas is our latest product designed to convert any mobile optimized WordPress site into mobile apps, including directory sites, conference and event websites, job portals and more. MobiLoud integrates with WordPress and automatically updates your apps with any changes on your site, so you don't have to worry about maintaining a new channel. Let our experts take care of all the hard work and keep control of all things that matter.
Use your WordPress theme to build your app.
Works with any mobile friendly website.
Responsive themes and Mobile plugins supported.
Push notifications with advanced features.
Configured, built and published for you.
↓ 02 – Worona | Free | Android | iOS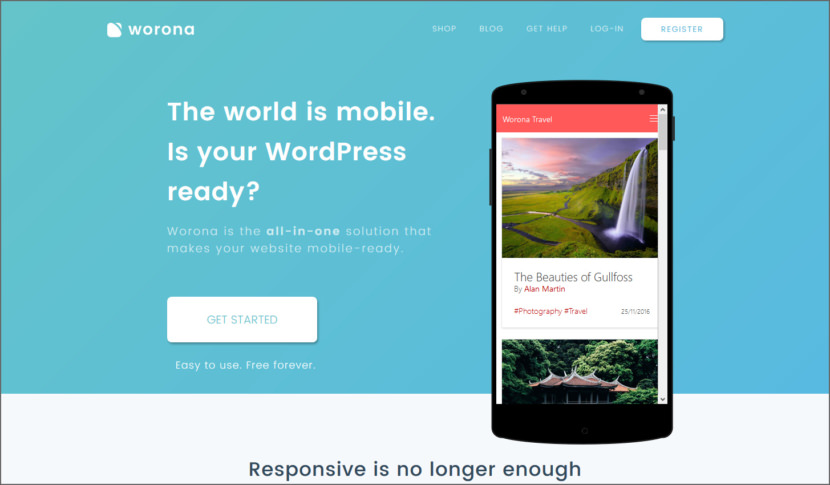 The world is mobile. Is your WordPress ready? Worona is the all-in-one solution that makes your website mobile-ready. Delivering compelling mobile experiences is what makes a difference. Connect your WordPress website to our platform and make it available for all mobile channels in one click. Worona is an open source initiative. The code behind our software is openly shared and available so you can create your own extensions and themes.
Mobile Apps – Easily turn your WordPress into a native iOS or Android app and submit it to the app stores.
HTML5 Web App – Serve an app-like version of your site running on any mobile web browser. Deliver the best mobile web experience.
Google AMP – AMP is a mobile format developed by Google. It allows your content to load instantly at the top of Google Search results.
Facebook Instant Articles – Instant Articles is a solution for publishers who distribute their stories on Facebook and want them to perform better on mobile.
↓ 03 – AppPresser | Paid | Android | iOS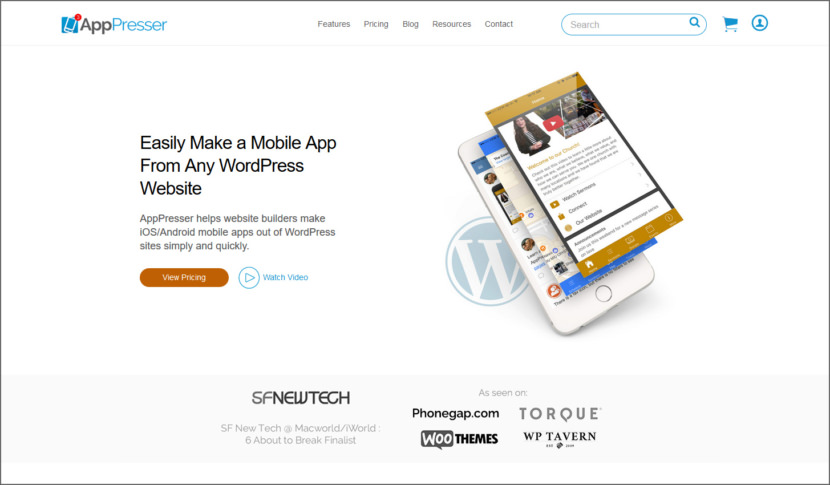 Easily Make a Mobile App From Any WordPress Website. AppPresser helps website builders make iOS/Android mobile apps out of WordPress sites simply and quickly. AppPresser is an app builder that specializes in integrating WordPress. It includes several WordPress plugins and a theme that performs special functions like integration with your favorite custom plugins.
Push Notifications
BuddyPress
WooCommerce
Social Sharing
Geolocation
Camera
↓ 04 – Wapppress | Paid | Android | iOS
WappPress – Most Easy to use and Simple WordPress Plugin to create an Android Mobile App for WordPress site in real time. It is packed with highly useful features like Push Notifications, Admob , custom launcher icon, custom splash screen, instant App build in real time. Its an excellent tool to convert WordPress to a mobile app instantly. iWappPress is the best product available in the market at such an affordable cost. Thousands of people have used our product and are fully satisfied and happy with iWappPress. It is very simple and easy to use, you do not need any coding skills to use it.
↓ 05 – WPAPP.NINJA | Android | iOS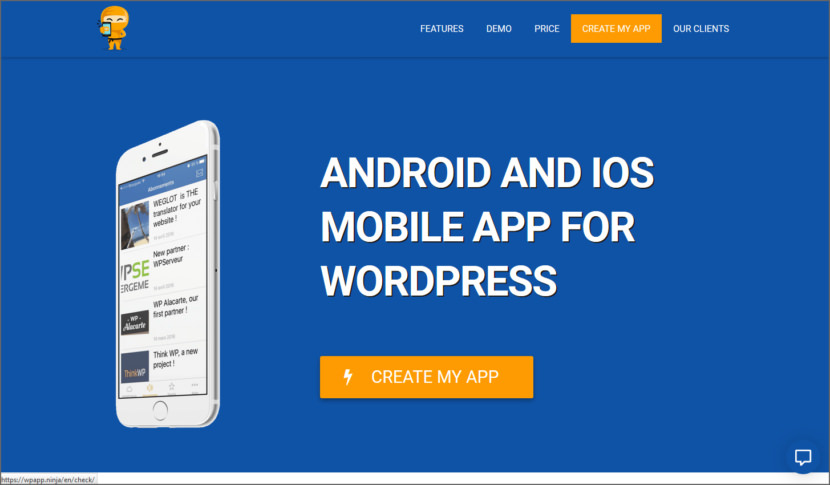 WPAPP.NINJA builds the Android and iPhone-iPad native mobile app of your WordPress site and allows you to publish it on your Google Play and Apple Store.
AUTOMATIC APP UPDATE – When new content is posted on your site, the application is automatically updated, you have absolutely nothing to do. The mobile app is able to display all the contents present on your site, at any time.
SEO BOOST – Our mobile apps are app indexing ready, Google will be able to index the content of the application and make the link between your site and the mobile app. This is a big bonus for your SEO and your overall presence in Google search results.
SEARCH ENGINE – Users can search for your content directly from the mobile app. Directly from the app the users will be able to access all your content in just a few clicks, exploiting the power of the wordpress search engine.
↓ 06 – AppMaker | Paid | Android | iOS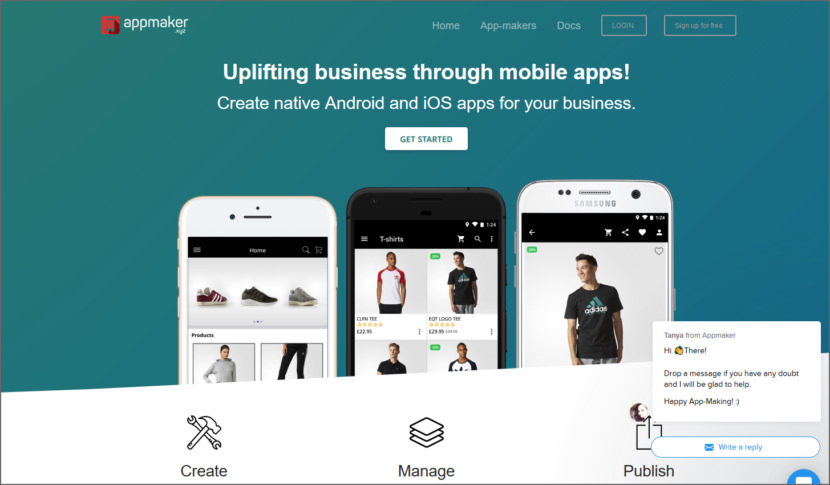 Uplifting business through mobile apps! Create native Android and iOS apps for your business. Blog items aren't just enough! You can customize your app content, navigation flow, widgets etc to make it a unique app of your need.
Push Notification – Send custom push notification to your customers directly from your dashboard. You can engage your user with your offers, new arrivals etc.
Analytics – Turn your customer insights into action. Get the detailed report of your user behavior to improve your business.
Custom menu – You can customize the menu to make the user navigation easy. You can add items that link to page, post, call, email, url etc.
Custom home page – You can customize your app home page the way you want. Manage this from your dashboard and will reflect in your app instantly.
Multi-Language support – Localize your app with any language. You can also have multiple languages and edit each word of the app.
Upload to store – We provide you publishable app files and you can upload to store from your account itself.
↓ 07 – WordApp | Free* | Android | iOS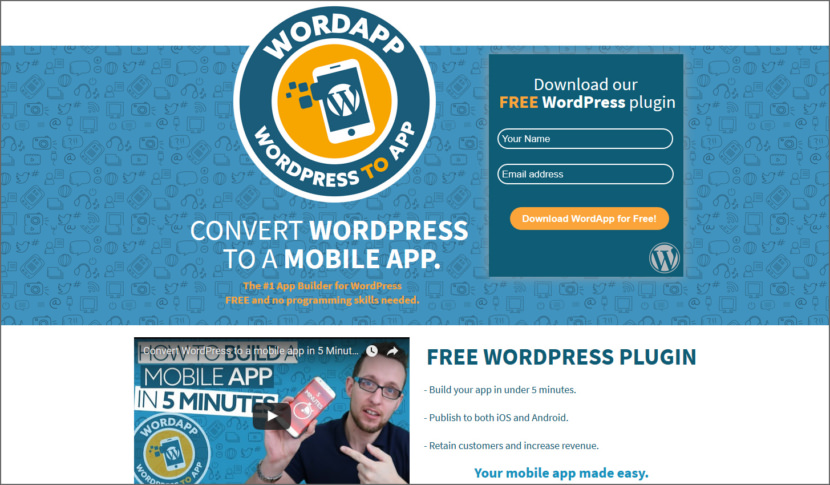 You can make your iPhone app or Android app today. We've built an easy way to make your mobile app with our plugin enhance the power of WordPress and it's 50,000 plugins to make your perfect app. Thousands of people have made their own apps with WordApp. Create your mobile app today! *Most probably comes with integrated ads.