Updated: February 8, 2019 / Home » Computer and Internet Security
One of the easiest way to bypass internet censorship enforced by your government is to change the default ISP DNS. Fortunately, there are many free Public DNS, some are made for performance such as Google DNS and Cloudflare, while others are made for parents in filtering unwanted contents such as Norton.
Related Article 2019 ➤ 5 Free DNS Parental Control For XBox, PlayStation, iPhone, iPad And More
With so many free DNS to choose from, an Automatic DNS Changer enables you to switch between various DNS based on which is the fastest. Below are a complete list of free DNS servers you can use instead of the ones assigned to your by default by your ISP, the best and most reliable will probably be Google and Cloudflare.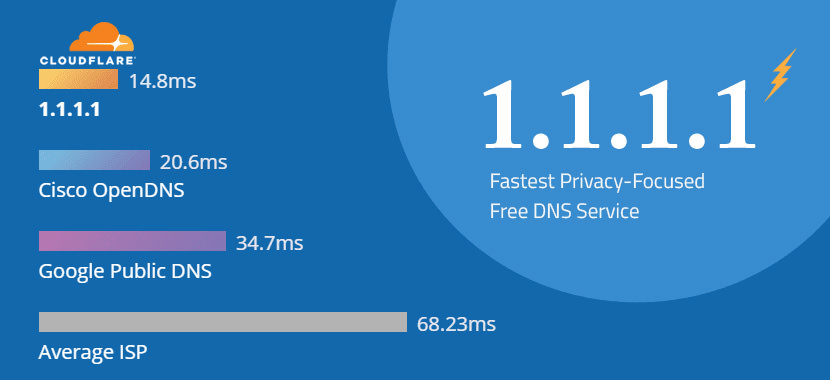 ↓ 01 – Verisign [ Privacy ]
64.6.64.6 / 64.6.65.6
Verisign Public DNS is a free DNS service that offers improved DNS stability and security over other alternatives. And, unlike many of the other DNS services out there, Verisign respects your privacy. They will not sell your public DNS data to third parties nor redirect your queries to serve you any ads. Verisign offers IPv6 public DNS servers as well: 2620:74:1b::1:1 and 2620:74:1c::2:2.
8.8.8.8 / 8.8.4.4
Google Public DNS is a free, global DNS resolution service that you can use as an alternative to your current DNS provider. Why should you try Google Public DNS? You get a faster browsing experience with improved security and get the results you expect with absolutely no redirection. Google also offers IPv6 public DNS servers: 2001:4860:4860::8888 and 2001:4860:4860::8844.
↓ 03 – Quad9 [ Security ]
9.9.9.9 / 149.112.112.112
Quad9 routes your DNS queries through a secure network of servers around the globe. The system uses threat intelligence from more than a dozen of the industry's leading cyber security companies to give a real-time perspective on what websites are safe and what sites are known to include malware or other threats. No personal data is stored. Quad9 also has a secure IPv6 DNS server at 2620:fe::fe.
84.200.69.80 / 84.200.70.40
DNS Watch is optimized for maximum speed – you will not feel any delays when browsing the web. They believe that everyone should have access to an uncensored resolver free of charge. They have no interest in logging DNS queries. That's why all our resolvers are setup to not log any queries. DNS.WATCH also has IPv6 DNS servers at 2001:1608:10:25::1c04:b12f and 2001:1608:10:25::9249:d69b.
8.26.56.26 / 8.20.247.20
Comodo Secure DNS is a domain name resolution service that resolves your DNS requests through our worldwide network of redundant DNS servers. This can provide a much faster and more reliable Internet browsing experience than using the DNS servers provided by your ISP and does not require any hardware or software installation.
208.67.222.222 / 208.67.220.220
OpenDNS also offers DNS servers that block adult content. FamilyShield is a special service offered by OpenDNS distinct from our standard packages. Meant for home users who want to keep their children from seeing inappropriate images.
199.85.126.30 / 199.85.127.30
Norton ConnectSafe is a cloud-based Web filtering service that helps protect you from accessing malicious sites and sites with unwanted or offensive content, based on filtering policies you select. When using Norton ConnectSafe, you get these IP addresses quickly, plus Norton ConnectSafe performs a quick check on each site to make sure that the requested Web site is safe. If the requested Web site is unsafe, you will see a warning that includes information on why we rated the site as dangerous. For blocking malware only, use 199.85.126.30 and 199.85.127.30
↓ 08 – FreeDNS [ No Log ]
37.235.1.174 / 37.235.1.177
FreeDNS is an open, free and public DNS Server. Usually you get the DNS from your access provider and your computer resolves the DNS via DCP automatically. But access provider sometimes implement redirects, so if you enter a web address you don't get the webpage you expected. To avoid this behavior you can use an unrestricted DNS Server.
77.88.8.7 / 77.88.8.3
Yandex.DNS is a free, recursive DNS service. Yandex.DNS' servers are located in Russia, CIS countries, and Western Europe. Users' requests are processed by the nearest data center which provides high connection speeds. Their Family mode, at 77.88.8.7 and 77.88.8.3, or 2a02:6b8::feed:a11 and 2a02:6b8:0:1::feed:a11, which blocks everything that Safe does.
91.239.100.100 / 89.233.43.71
UncensoredDNS is the name of a DNS service which consists of two uncensored DNS servers. The servers are available for use by anyone, free of charge. The 91.239.100.100 address is anycast from multiple locations while the 89.233.43.71 one is physically located in Copenhagen, Denmark. 2001:67c:28a4:: 2a01:3a0:53:53::
156.154.70.1 / 156.154.71.1
Provided free of charge, Free Recursive DNS enables users, families, and small businesses to experience a much more reliable, faster and safer online experience. Simply change your DNS settings and experience the Internet like never before. Family Secure blocks most unfriendly content for kids. IPv6: 2610:a1:1018::3, 2610:a1:1019::3
↓ 12 – Cloudflare [ Performance ]
1.1.1.1 / 1.0.0.1
1.1.1.1 is a partnership between Cloudflare and APNIC. Cloudflare runs one of the world's largest, fastest networks. APNIC is a non-profit organization managing IP address allocation for the Asia Pacific and Oceania regions. For IPv6: 2606:4700:4700::1111 and 2606:4700:4700::1001
45.77.165.194 / 45.32.36.36
As part of our public-benefit mission, we provide free, uncensored Domain Name System (DNS) service to internet users around the world. These public DNS servers are maintained and operated by the Fourth Estate. We don't monitor, record or store logs for any single user's activity and we don't alter, redirect or censor DNS records.