Google Analytics is by far one of the best free analytics in the market, however, the data for their real-time analytic feature is somewhat lacking. For those with hundreds or thousands of traffic per second, using a real time web analytics enables the webmaster the opportunity to see instant response whenever a change is made.
🤣😍😂 20 Methods To Reduce WordPress CPU Usage Without Upgrading Web Hosting Plan
Based on my own experience, a simple change such as moving the sidebar from left to right will see an increase or decrease in pageviews per user, likewise the same goes with the colour of the hyperlinks. Tiny changes that you will not notice until it is too late. If you tweak your website correctly based on the available data, Realtime Website Analytics can easily mean extra income for any commerce website or a more engaging user experience.
↓ 01 – Woopra | Free For 500K Actions/m | Pro For USD999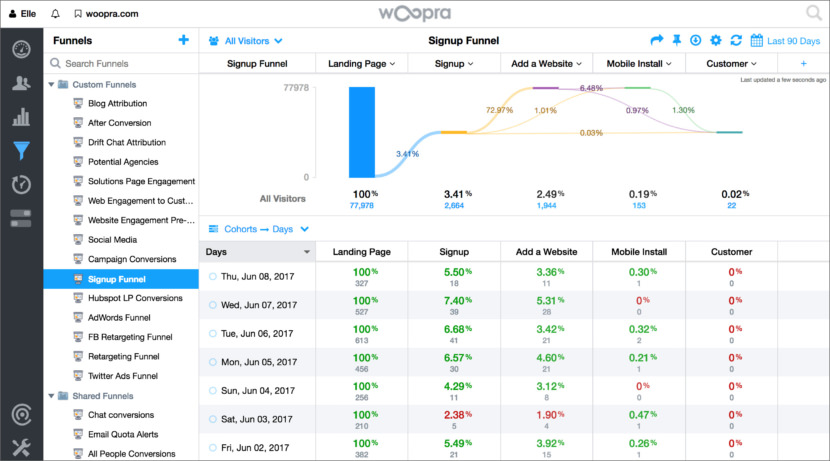 Woopra is the industry's leading fully-integrated Journey Analytics platform that helps organizations to visualize, analyze and experience every touchpoint in the customer journey, empowering data-driven teams to grow and innovate substantially faster. Supporting collaboration across every department, Woopra's approach to data is rooted in understanding the people behind the numbers.
Trigger personalized interactions with built-in automation – Automatically trigger emails, post Slack messages or update Salesforce fields based on user behavior and attributes. Woopra's Triggers help you engage in deep, meaningful customer interactions through the right channels at the right time.
Real-time individual-level analysis – Examine every user and every action they've taken in real-time with People Profiles. See who is making payments, interacting with your website, opening emails and using key product features all within a single platform.
↓ 02 – Hitsteps | Free For 2K Pageviews/m | Paid From USD3/m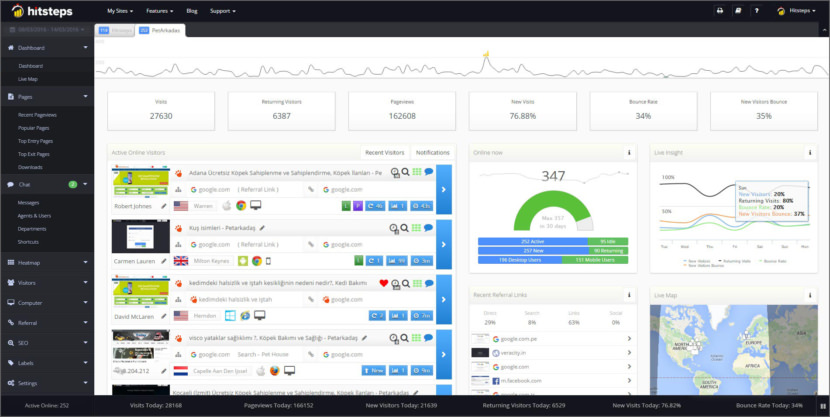 Hitsteps Analytics is a powerful real time visitor management and live chat service. It allows you to monitor visitors' streams and follow each visitor's pageviews to know more about each page they click. It allows you to engage with your visitors using a live chat tool. You'll be provided with detailed information about each visitor such as geolocation, their first visit on your site, referer to your site, their browser, OS and device and much more!
Watch your visitors as they come from referrals, browse through pages, Trigger your specified actions and goals in the funnel, and convert to paid customers. All of your visitors' information and profiles are provided to you in a searchable daterange-enabled report.
Heatmap – What if you put an important button in an obscure location of your website, hoping for leads that never come? Do you want to quickly recognize most hot click sections of your pages, and most obscure places in your pages? Heatmaps allows you to understand which sections of your website is grabbing most attention and getting most of the clicks.
Keyword Analytics, Recent Searches – See what search terms are being used on the search engines to find your web. This is an invaluable tool as it shows you exactly what your web visitors have been searching for. Traffic from search engines is the lifeblood of most websites and blogs. This tool allows you to view the keywords used to reach your web which is ranked by their popularity.
Adblock Detection – We detect if a visitor is using Advertisement blocking features. Some browsers such as Opera offer builtin ad blocking features, some browsers have plugins to enable ad blocking. We detect them and generate reports for you to identify visitors who use ad blocker.
HTTPS Tracking – If you run a secure site using a secure socket layer (SSL), Hitsteps Tracking code will use its HTTPS section to ensure it does not raise any security alerts when visitors use your website.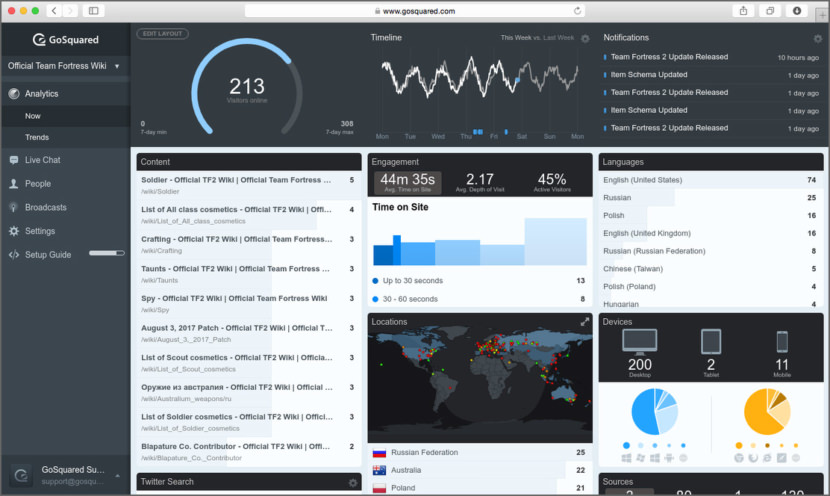 GoSquared Analytics shows you every visitor on your website in real-time. Qualify them as leads with key information such as their traffic source, location, and the pages they're viewing. Understand and optimise your campaigns and website to increase conversion with the fully-featured, powerful, yet easy-to-use GoSquared Analytics.
Track users in real-time – Find the actions people are taking in your app. Track every event triggered by every user, in real-time.
Traffic sources – Instantly see what sites are sending visitors to your site and be ready to join the conversation.
Full visitor journeys – No more guesswork – see the pages viewed and actions taken by each of your visitors in real-time.
↓ 04 – Gauges | USD6/12/48 For 100K/250K/1M Pageviews/m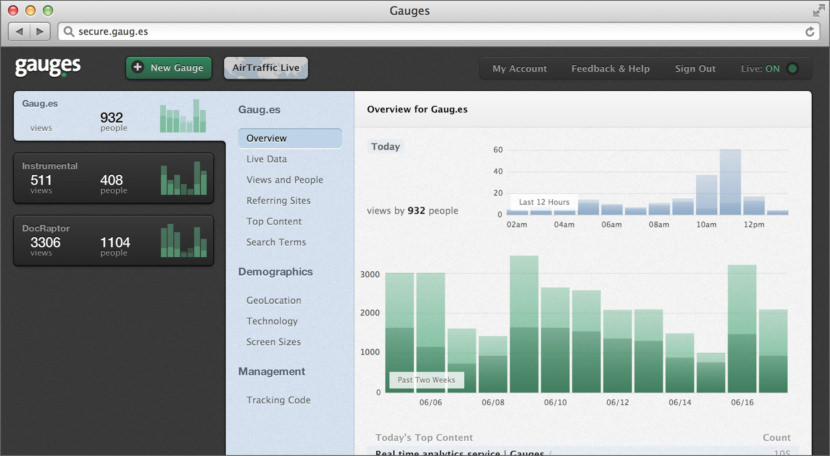 Gauges helps you focus on your most important web traffic stats — in real time. With live site analytics, you access every page view as soon as it comes in! No need to wait for any syncing or refreshing to utilize the website traffic analytics.
You get a visitor, you see the figures change. That's how streamlined it is. Get stronger with accurate results across all your sites, apps, and offline channels. Gauges offer highly accurate web analytics and live data for businesses of all sizes to better understand your customers.
↓ 05 – Clicky | Free For 3K Pageviews/Day | Pro From USD10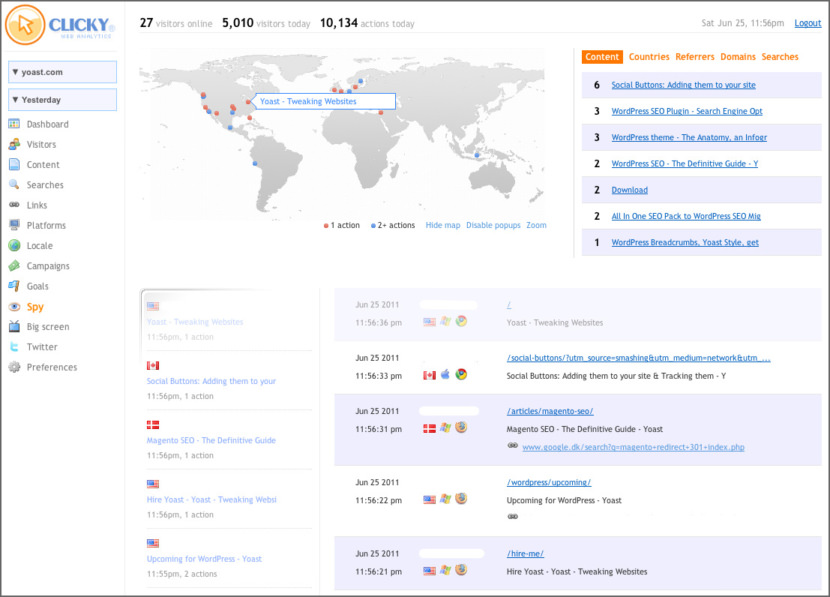 Traffic data for your web site is a veritable gold mine. The problem is accessing that data quickly, easily, and in an interface that just makes sense. The majority of analytics services fail in all regards. You wouldn't be here if your current analytics service met your needs. The good news is that Clicky is different.
Uptime monitoring – Receive alerts when your site goes offline so you can react immediately. Your site's uptime is monitored from 7 locations around the world.
On-site analytics – See how many visitors are on your site and on the page you're viewing. You can also launch heatmaps from the widget, all without leaving your site.
No bots or referrer spam – Our bot detection and blocking is the best in the biz.
↓ 06 – Matomo | Open Source | Cloud From USD7.5/m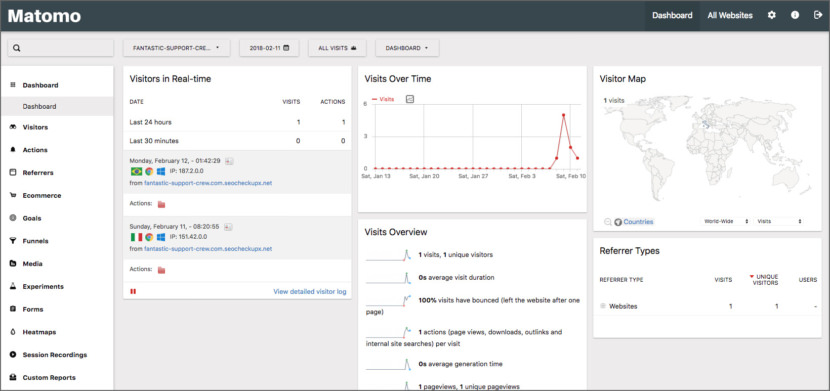 Matomo is the only analytics platform that gives you full control over your data and more. You can install Matomo on your own server at no cost. Matomo, previously Piwik and before that PHPMyVisites, is a downloadable, open-source (GPL-licensed) web analytics software program.
It provides you with detailed reports on your website visitors : the search engines and keywords they used, the language they speak, your popular pages and so much more. Matomo also protects your visitor privacy with advanced Privacy features. When using Matomo for Web Analytics, you ensure that your visitors behavior on your website(s) is not shared with advertising companies.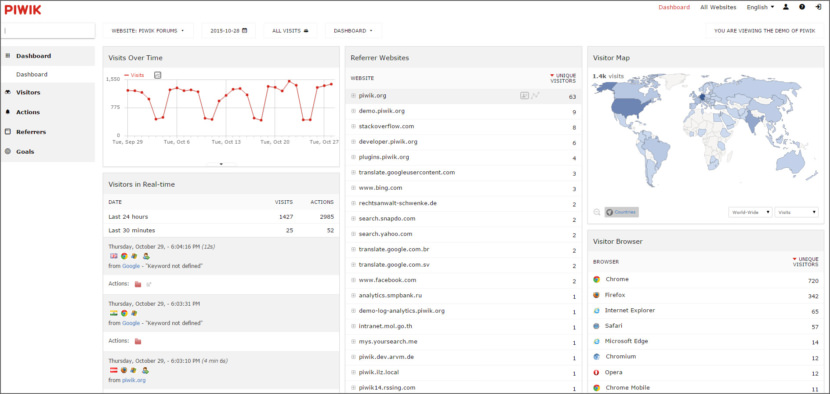 Capture Customer Touchpoints Between Desktop, Mobile and Secure Member Areas While Staying Privacy Compliant. Get 100% data control with Piwik PRO: An on-premises & cloud analytics platform designed for data sensitive industries.
Get the most up-to-date analytics data using Real Time Analytics by Piwik. Request data for "today", "this week", or any other date range including the current day to get the most recent analytics data. Live reports are refreshed every 10 seconds, or you can customize report settings to get them refreshed at intervals of your choice.
Monitor diverse metrics – Piwik Real Time Live! widget gives you information about date, number of actions, time spent on site, country, browser, OS, referrer, and goal conversions.
Investigate individual profiles – The visitor profile displays all previous visits of an individual user, as well as a summary of key information about activity. Drill deeper into your visitors' histories by accessing individual visitor profiles.
Access all visits and actions – Query individual visitor records or retrieve visits from a custom date range using the Live! API. Data can be prepared and exported in a large range of formats for further processing.