There are two platforms to create landing pages for your company, it can be done via WordPress or the basic html5. Depending on your future goals, if you only need a simple website just to display basic information such as address, some photos, history, company's direction and etc, a simple html5 is good enough, where as if you plan to have a website with news updates once in a while, a WordPress powered site is the ideal solution.
What are the pros and cons? WordPress offers more themes, more customization and if you do transits to a website with a blog, it will be seamless. html5 on the other hand is simply a website with a few codes and files. The benefit of using nothing but html5 is you do not have to worry about security as WordPress has a higher chance of being hacked. Not that WordPress is unreliable, it is due to the thousands of files, not to mention plugins, there are bound to be bugs for hackers to exploit.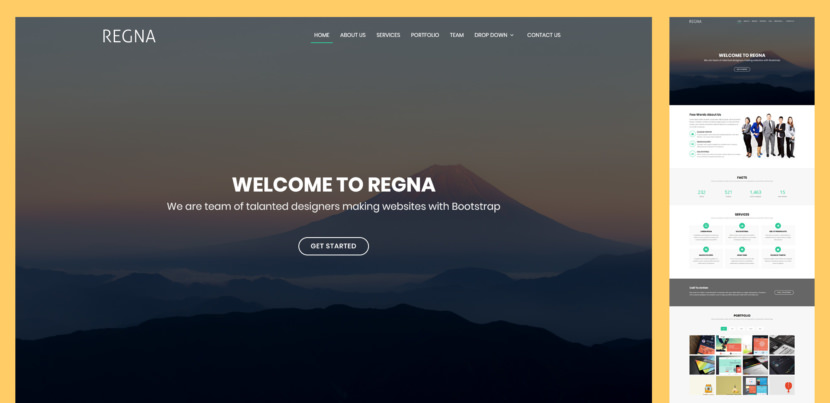 Regna is a sleek Bootstrap 4 template designed for any type of corporate, business or agency websites. It's a one-page template with clean design, fully responsive and looks stunning on all devices. it's very easy to use and customize, comes with trending features and unique design. The appearance of Regna will make your website have a sophisticated and appealing look and even useful template for your work.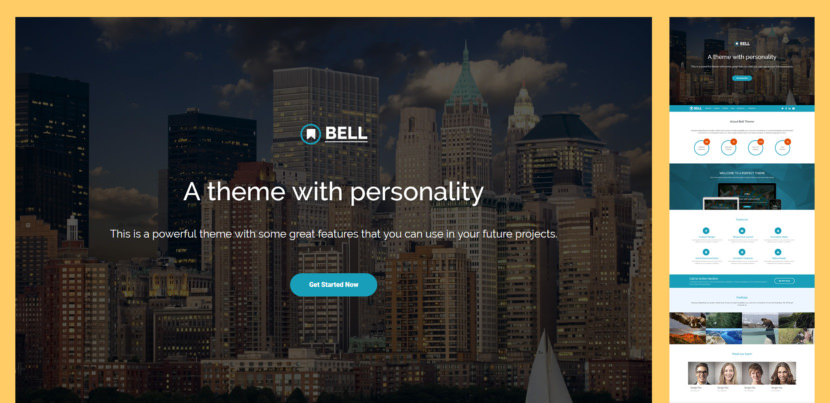 Bell is a single page Bootstrap 4 theme. Bell can be used for multipurpose websites including Agency, Startup, Business, Factory, Real Estate, Construction, Finance, Consulting, Cleaning Service or any type of business website. Just change your Text, Image and Colors and get your website. Everything is already made for you!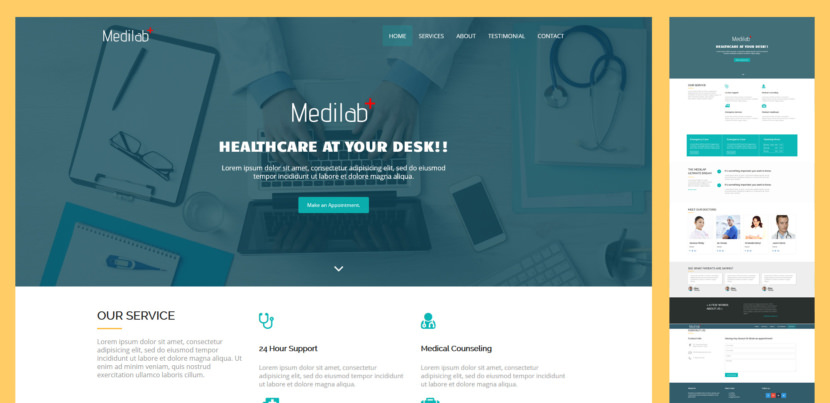 Medilab is a clean, free, responsive bootstrap template perfect for hospitals, doctors, clinics, medical, health and more. This is a fully dynamic, well structured, easy to use and beautiful free HTML5 template. This free website template was developed and designed specially for Medical purposes.
This template includes special features like appointment forms, services, doctors, gallery items, testimonials and much more. Key Features includes HTML5, CSS3 and jQuery, Font Awesome Icons, Custom made icons, Fully Responsive, Easy customization, Well and easy commented code, Cross browser compatibility, and Great color combinations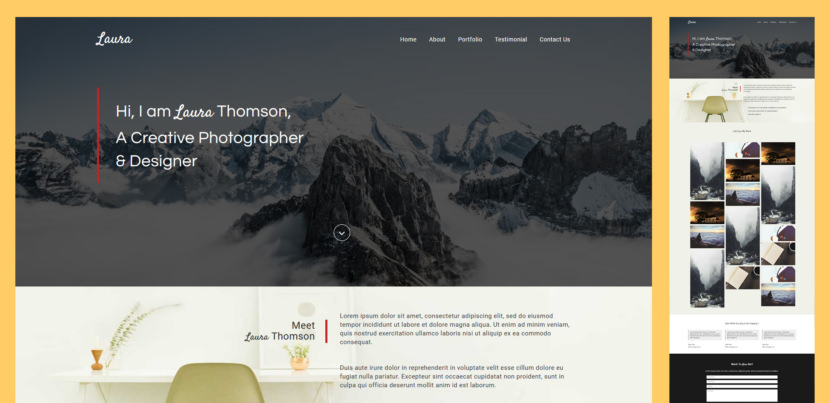 Laura is a clean and responsive free portfolio template. This one page free bootstrap template built with Bootstrap 3. Laura is mobile friendly, clean code, modern layout and ready for you to easily customize. You can use this template for many purposes like portfolio, business, corporate, personal blog or any other purpose website.
Laura free portfolio template is designed for startups businesses, new agencies, photography studios or web developers. It's a one-page template, rich in all colors and options. This free template will make your website compatible with any device such as phones, tablets, laptops and desktop computers.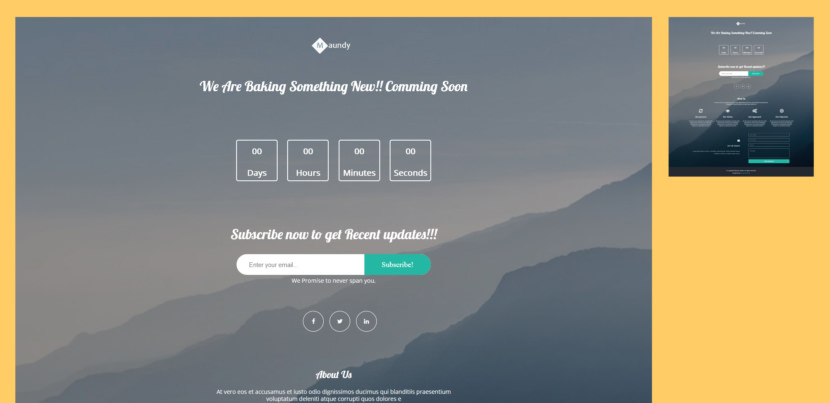 Maundy is a free coming soon template built in bootstrap framework. It is fully responsive, elegant, simple, clean and mobile friendly bootstrap coming soon template. This template is based on HTML5, CSS3 and the latest bootstrap framework with multi browser and any device support. This free coming soon template template is packed with features and contains many features with a minimal outlooks.
This template contains a countdown timer and an about section where you can add information about your team members, company, group and more. It is easy to customize free bootstrap templates. This template is perfect for every creative person, e-commerce, corporate, agency, business, portfolio and much more. This coming template is created for those who want a minimalist coming soon page, and for those who want to display product information until their website is complete.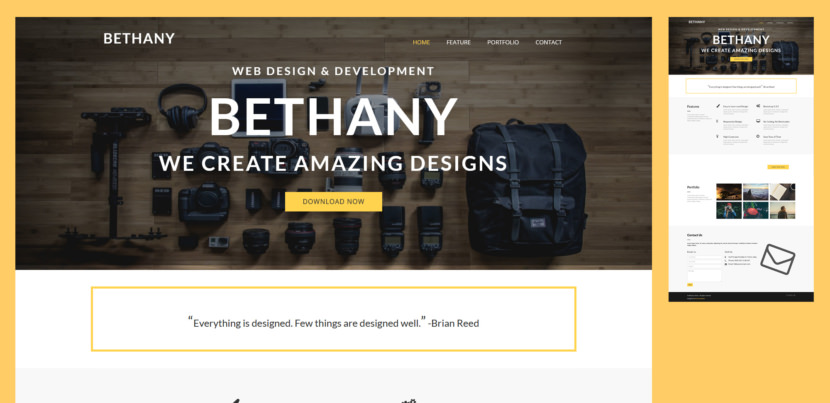 Bethany is a stylish and unique free bootstrap template for modern web designers. It comes with clean and flat style, it fits you who like minimal and modern design. This free bootstrap website template is used for creative agency, portfolio, photography and corporate business. It has HTML and CSS-based design templates for buttons, forms, typography, navigation and other interface components, as well as alternate JavaScript extensions.
This template is coded with Bootstrap framework, CSS3, HTML5 and based on jQuery technology. It is very easy to customize and use in your project according to your needs. Bethany is fully responsive and compatible with all major browsers. We hope it will save your time and give a trendy look to your next web project.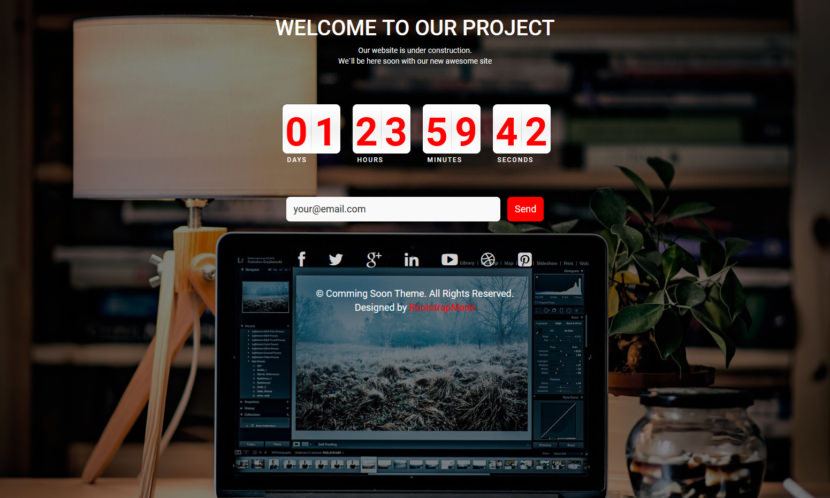 ComingSoon is a simple HTML Bootstrap template for free. This theme is built with the responsive Bootstrap 3.3 framework. ComingSoon is an easy way to show your clients that your site is under construction. This template is suitable for corporate, professional and multipurpose.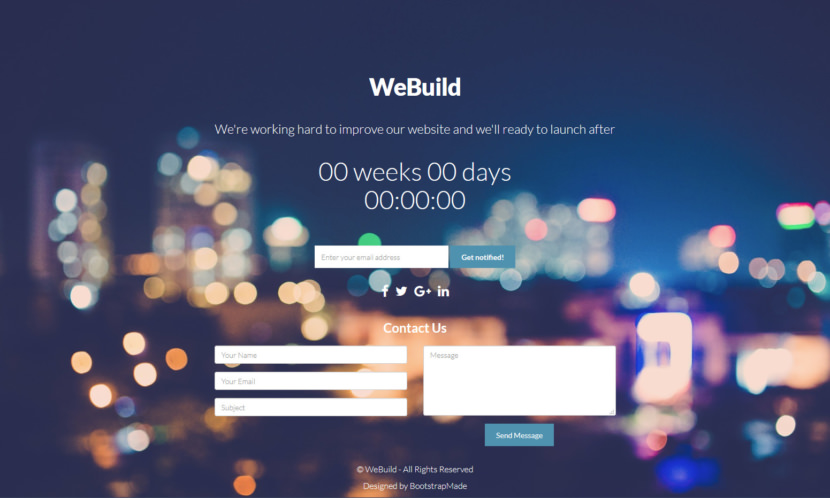 WeBuild is a bootstrap 3 coming soon template. Simple, flat and minimal design with jQuery countdown and polygonal background. If you are still working on your website and want to inform your users about the progress and keep them checking again your website using a "Coming Soon" template is the best way. Usually the coming soon themes are one page templates, packed with an Email subscriptions form and social network icons.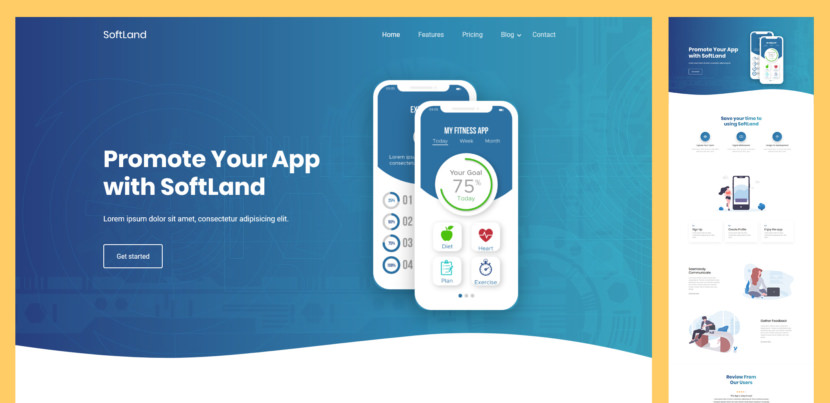 SoftLand is a modern and creative app landing HTML website template. Anyone can use this template to showcase their apps or services. SoftLand is an ultimate responsive landing page template for anyone who is looking for an app landing page, software landing page, app showcase, app store page template etc. You can use SoftLand as a better way to present and promote your startup mobile apps, SaaS app, software, digital products, even books or magazines.
SoftLand is created with the latest version of Bootstrap. 100% responsive design and is beautifully displayed on all devices. All the files are clearly organized and it's easy to use and edit them for your needs.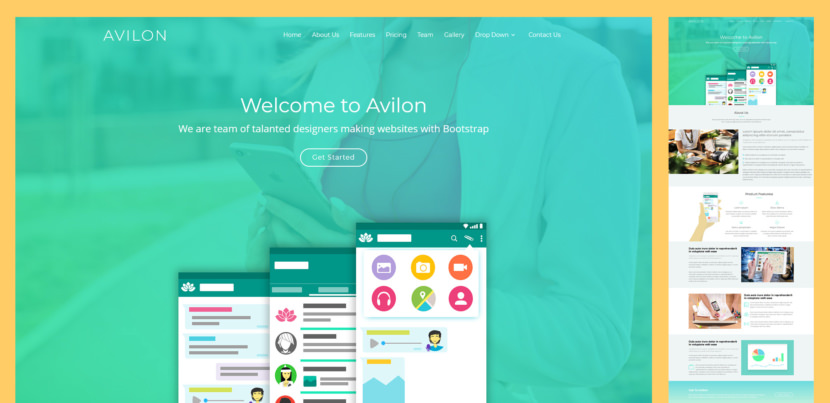 Avilon is clean, elegant and modern landing page template for Bootstrap. This template can be used to present and promote any product like mobile app, desktop app, saas applications, digital products, software or any product that needs a single page presentation on the web. Avilon works perfectly on all smart devices: smart phones, tablets and desktops.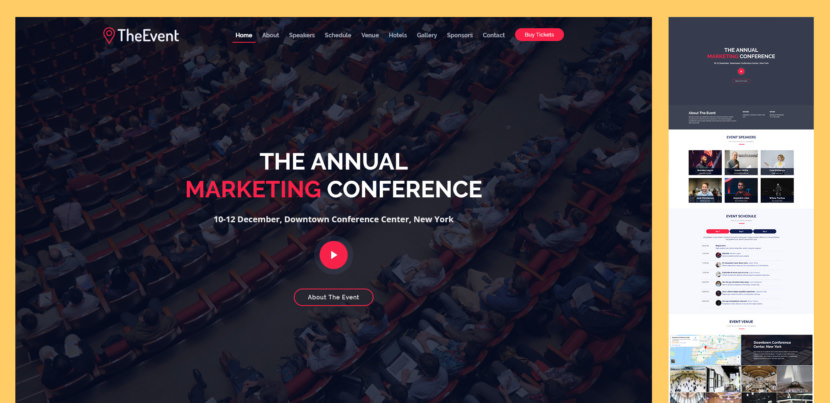 TheEvent is a free website template for events, conferences and webinars. It's a one page, responsive HTML template created with the latest version of Bootstrap framework. It's designed to provide detailed information about your event. TheEvent template is also ideal for any event, meet up, summit, camp, seminar, congress, exhibition and many more.
TheEvent comes with all the important sections required to create an event website like: full page introduction page with button to load a video in lightbox , about the event, speakers list, event schedule, event venue information and map, hotels list, image gallery, sponsors, F.A.Q, newsletter subscription, buy tickets with modal ordering form, contact form and others. It also comes with a separate template page for speaker detailed information.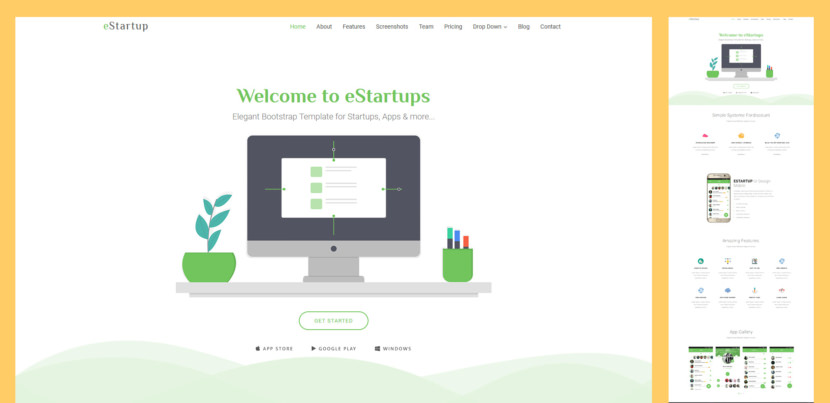 eStartup is an elegant and modern Bootstrap template for creating websites for startups, apps websites and more. It comes with many customisable and reusable elements that are designed to fit as many purposes as possible. eStartup can also be used for an agency, business, finance, consulting and more. It's a one-page template with a smooth scroll effect.
eStartup is a fully responsive template built with Bootstrap framework. It looks perfect on all major browsers, tablets, and phones. Some of the notable features and ready sections are: about us, features, screenshots carousel, team members, pricing tables, blog posts listing and contact form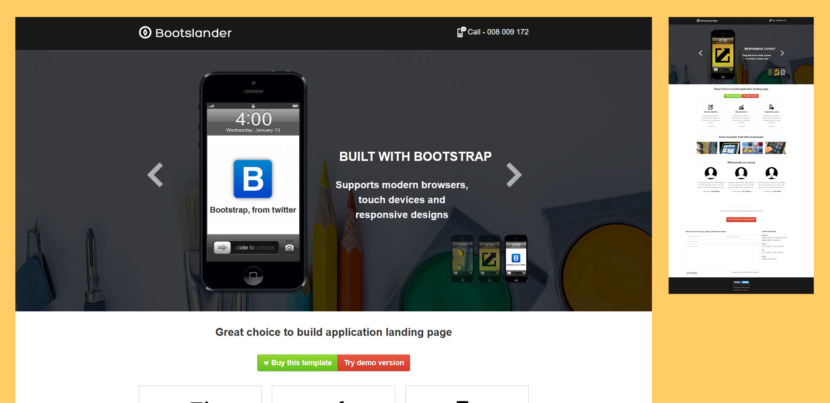 Bootslander is a light and easy to use landing page template built with Bootstrap. Suitable for apps, promoting software or service. Easy to customize and edit to it your needs, also the source codes are well commented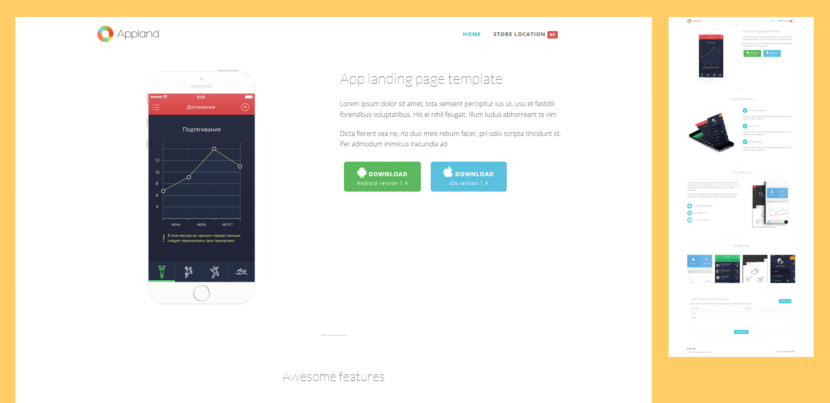 Appland is a free landing page template that is suitable to build app mobile websites. This template is built with responsive Bootstrap 3.2 with plain white, clean and minimal design. Appland also comes with the latest font awesome icons with custom variations, wow animation and nivo lightbox.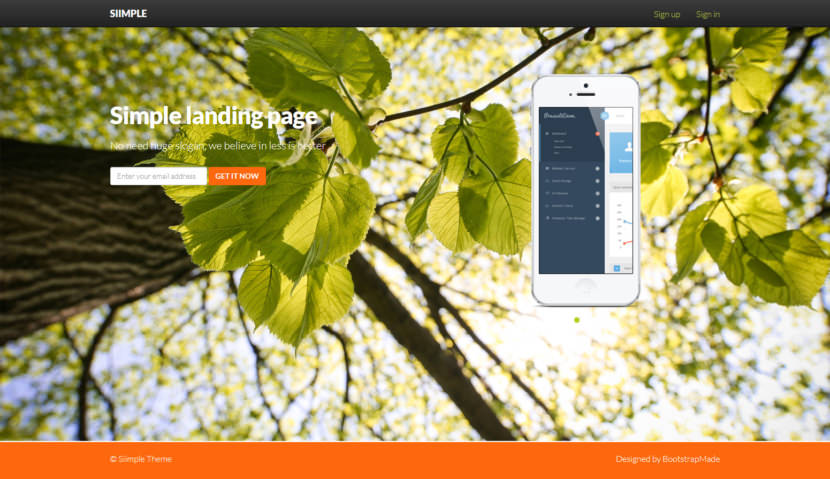 Siimple is a bootstrap landing page template. Minimal and above the fold content is the main key of 'Siimple' template. You can use it for app showcases, selling single products or capture potential customers via newsletter /sign up form. It's a really simple template but a very powerful landing page.
↓ 16 – Creative | Download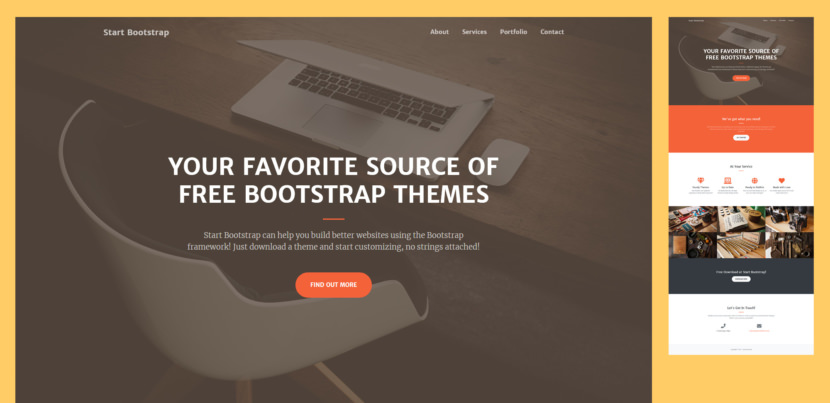 Creative is a one page Bootstrap theme for creatives, small businesses, and other multipurpose use. A modern, flat design style works in unison with rich features and plugins making this theme a great boilerplate for your next Bootstrap based project!
↓ 17 – Freelancer | Download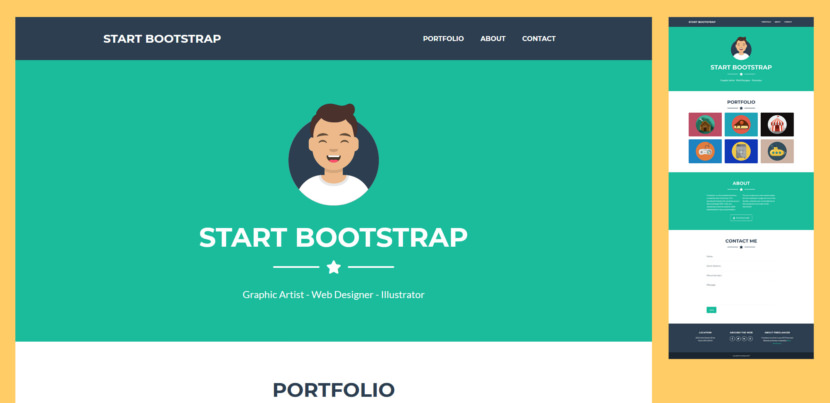 Freelancer is a flat design, one page Bootstrap portfolio theme perfect for freelancer portfolios, or any other one page website. Fully responsive portfolio theme ready to customize and publish. Ideal for a simple resume website.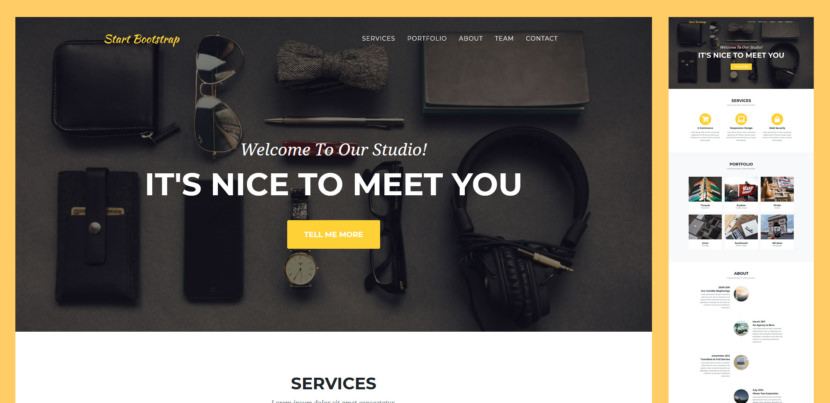 Agency is a stylish, one page Bootstrap theme for agencies and small businesses. The design of Agency is based off of the Golden PSD Theme by Mathavan Jaya. You can download the PSD version of this theme at FreebiesXpress.
↓ 19 – New Age | Download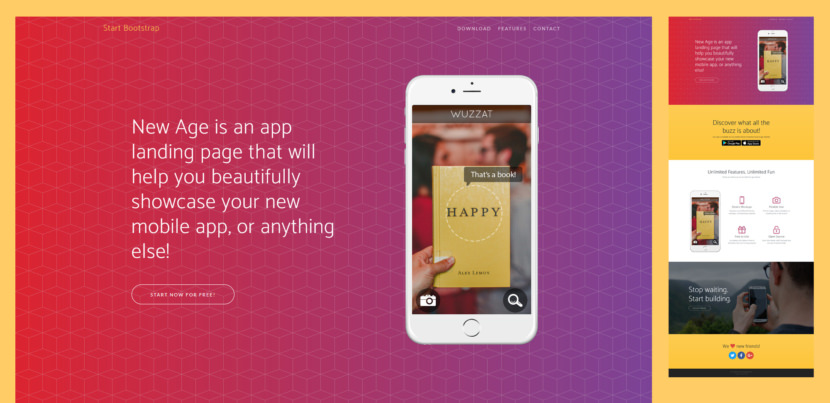 New Age is a Bootstrap app landing page theme to help you beautifully showcase your web app or anything else! This theme features a bold, colorful design with various content sections that will be an excellent boilerplate for your next Bootstrap based project! Easy to use HTML5/CSS Device mockups, just drop in content, no Photoshop or image editing necessary!
↓ 20 – Landing Page | Download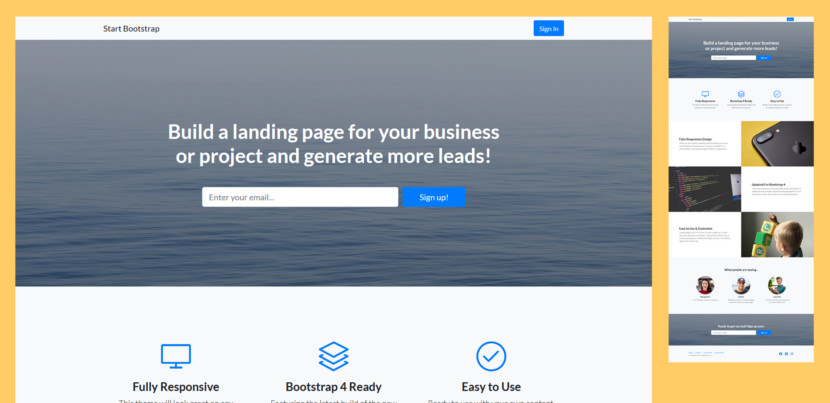 Landing Page is a responsive landing page theme for Bootstrap 4. Responsive content sections to showcase the features of your product or service. A simple testimonials section.
↓ 21 – One Page Wonder | Download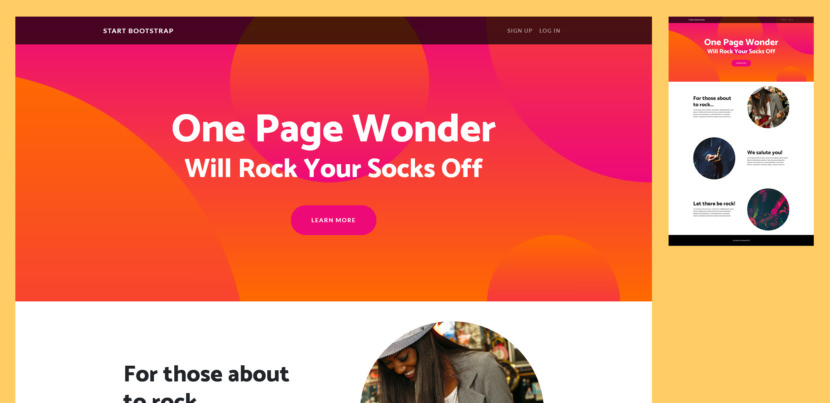 One Page Wonder is a Bootstrap 4 starter theme for quickly creating attractive one page websites in Bootstrap.
↓ 22 – Grayscale | Download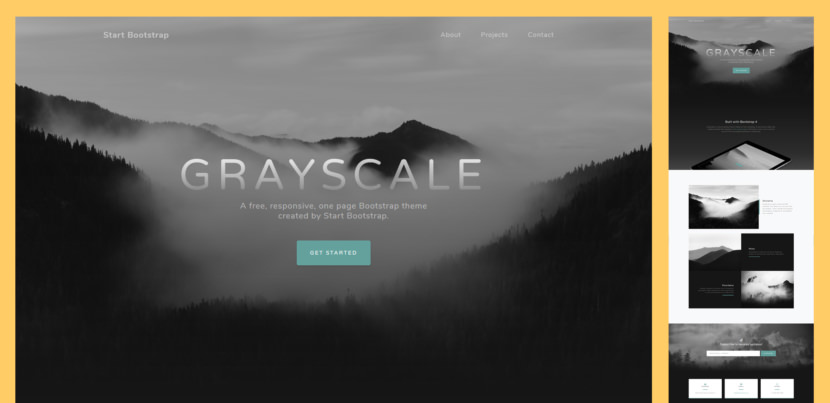 Grayscale is a multipurpose, one page website theme featuring a dark layout along with smooth scrolling page animations.
↓ 23 – Stylish Portfolio | Download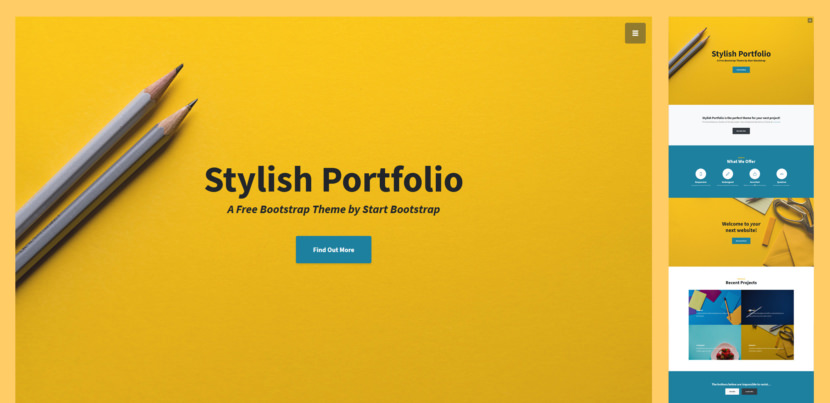 Stylish Portfolio is a one page Bootstrap portfolio theme with off canvas navigation and smooth scrolling through content sections.
↓ 24 – Coming Soon | Download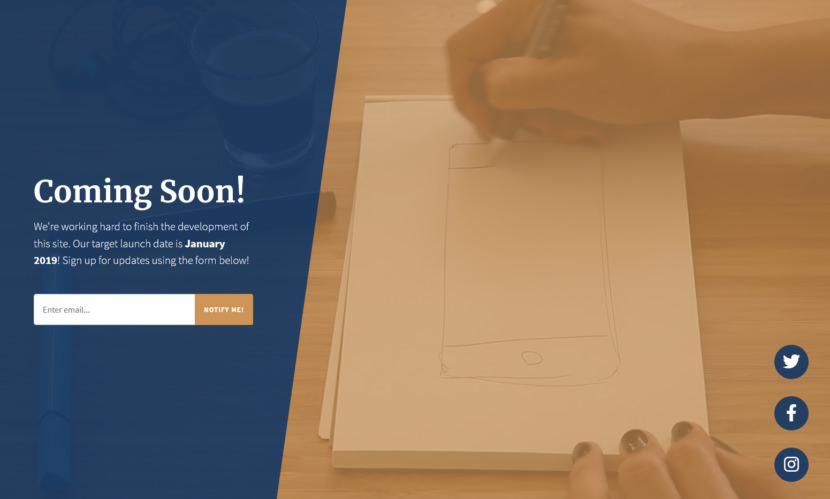 Coming Soon is a Bootstrap 4 coming soon theme perfect to act as your landing page for a project that is under construction! It features a video background image with a newsletter signup form!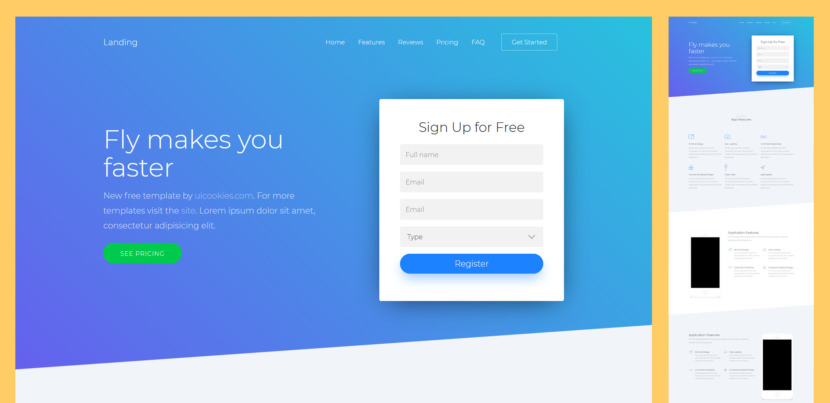 Landing is a free Bootstrap 4 website template suitable for any type of landing pages. It is a one-page template with features such as smooth scroll, slick slider, slant sections, table pricing, smooth accordion for frequently asked questions, and many more. Built with the latest technology such as HTML5, CSS3, jQuery, and Sass.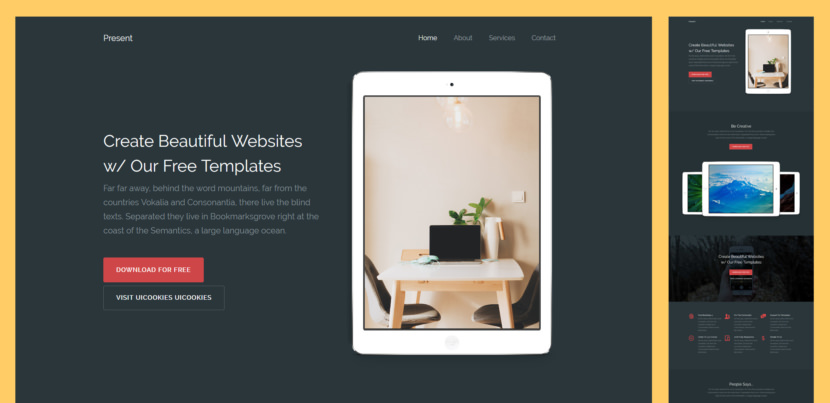 Present is a free HTML5 Bootstrap 4 website template with modern and minimal design. This is ideal for apps, landing pages and any other business you want to promote online. It features smooth animation using TweenMax and ScrollMagic with necessary call-to-action buttons. See how it can help you boost your online presence!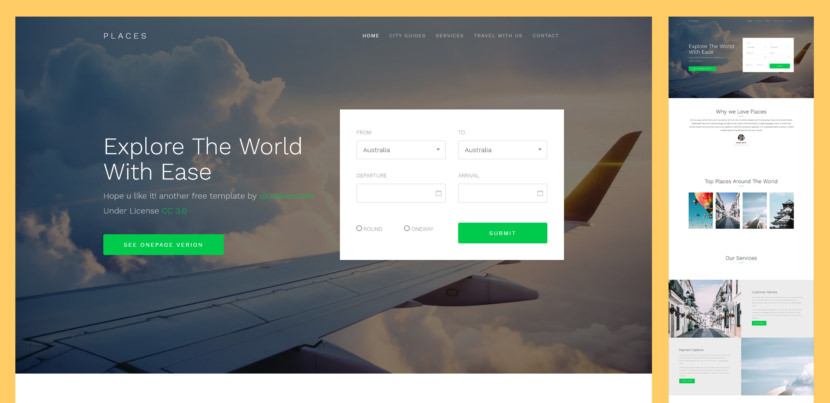 Places is a free Bootstrap 4 template perfect for travel agencies but not limited to it you can actually customize the elements, colors, etc. to suit your needs. It has a select2 dropdown for from or to form fields, bootstrap datepicker for a date. Animation included making your site look cool and sleek. There are two versions on this template Onepage and Multipage.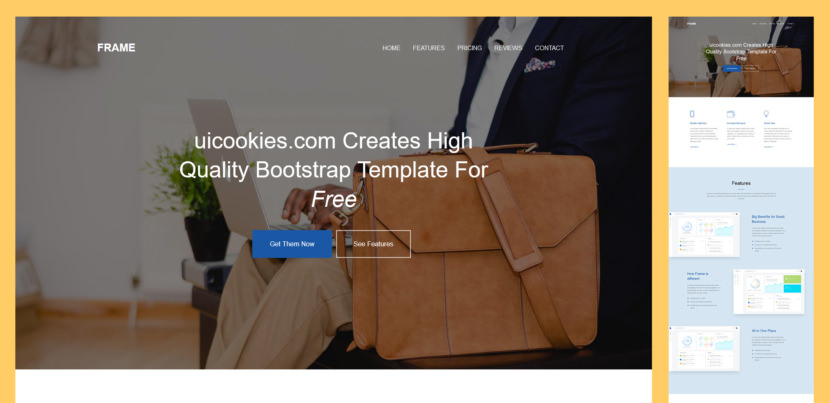 Frame is a free one-page HTML5 website template using bootstrap. It's a multipurpose template suitable for business startups or landing page for any business. It has a features section, parallax, pricing, reviews and contact with a beautiful and awesome design.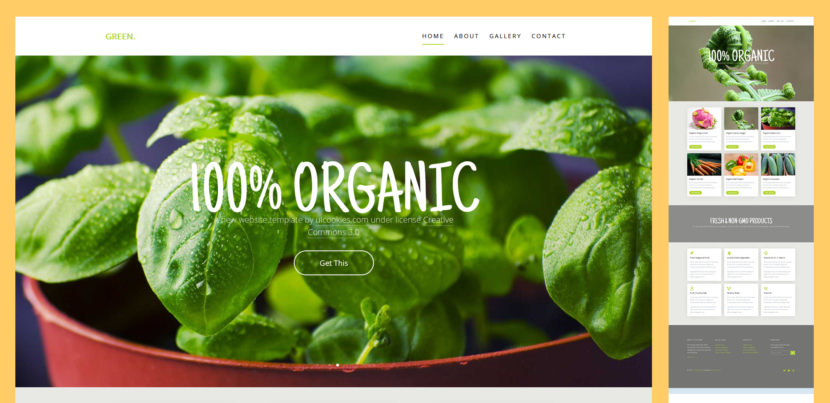 Green is a free html5 website template suitable for agricultural, ecology, farming, gardening, lawn services and for any organic businesses. It has a clean and modern design with sleek and cool, nature-design icon fonts. Green can showcase your organic products using pop-up galleries or pop-up video. Alongside, this template comes with smooth animation, slider and google map.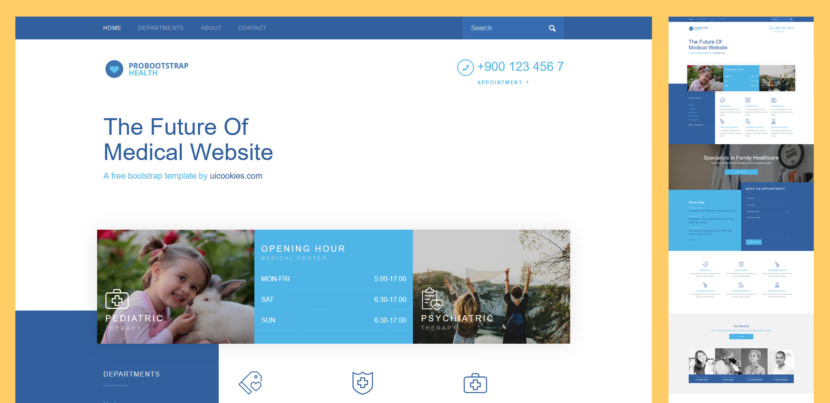 Health is a free medical template using Bootstrap 4 framework. It is a suitable template for doctors, dentists, hospitals, health clinics, surgeons and any type of health or medical organization. Some of its great features include date picker, animated counter, split design and much more!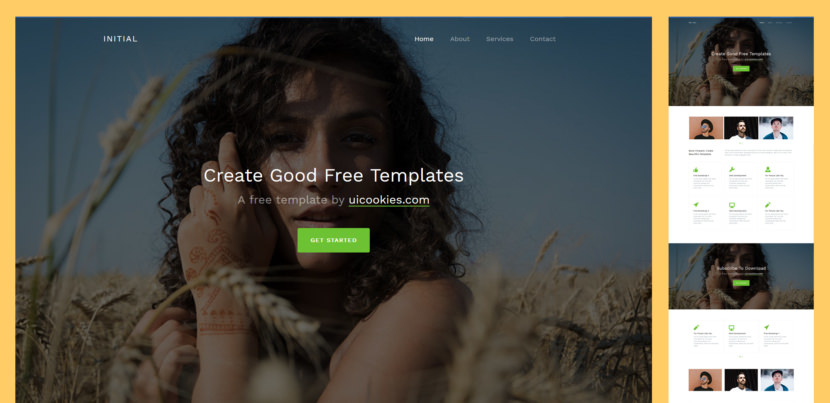 Initial is a free Bootstrap 4 template perfect for all creative people, agency, creative business, company, individual or agencies portfolios. It features owl carousel and noticeable call-to-action buttons along with its clean and minimal design.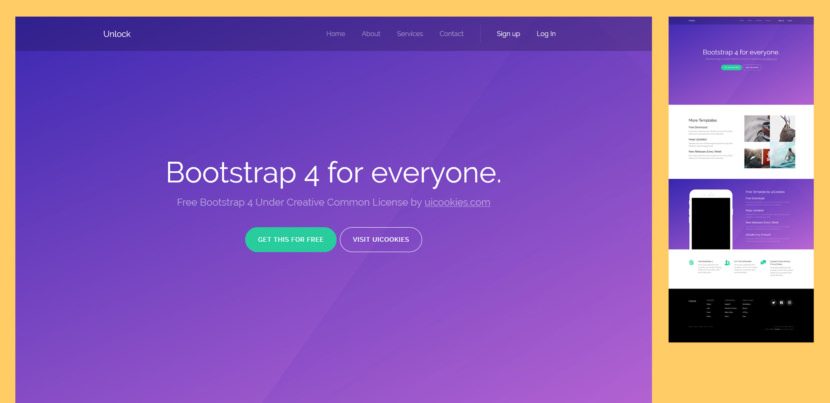 Unlock is a free Bootstrap 4 website template perfect for app and services landing page and for any other business websites. It has a modern and elegant design intended for business, corporate, app showcase and many others.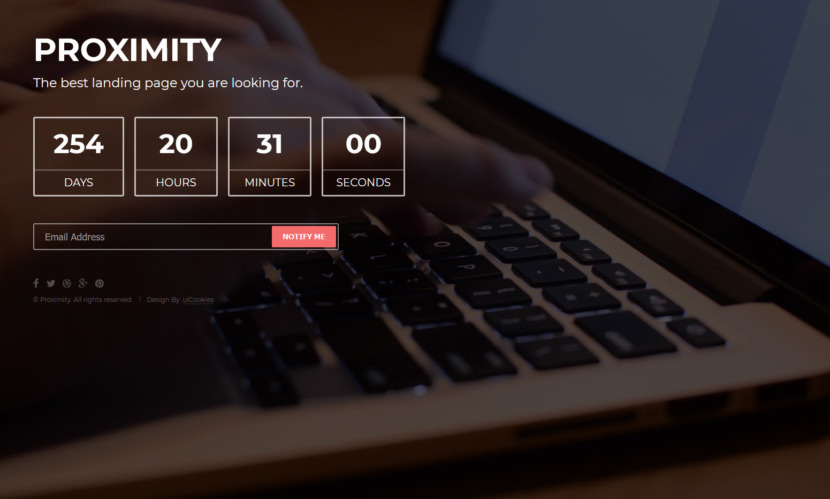 Proximity is the best under construction website template built with Bootstrap 3 frontend framework, HTML5, CSS3 and other modern technologies. The coming soon landing page template is clean, beautiful, captivating, mind-blowing, excellent, minimal and aesthetically simple creation of uiCookies. The website template is a lightweight and fast loading piece in the directory which can warmly welcome your visitors and inform them of your upcoming official website launching date with a creative, impressive, incredibly dynamic and catchy countdown timer.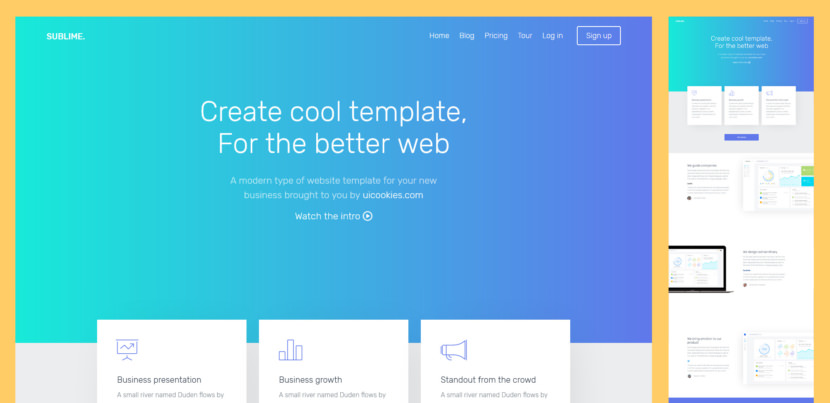 Sublime is a free responsive Bootstrap website template perfect to use as a landing page for corporate, business, startup, office, agency and general purposes. It has a smooth scroll animation it has also beautiful and elegant login and signup and pricing table pages. Built using sass and gulp for easy to customize.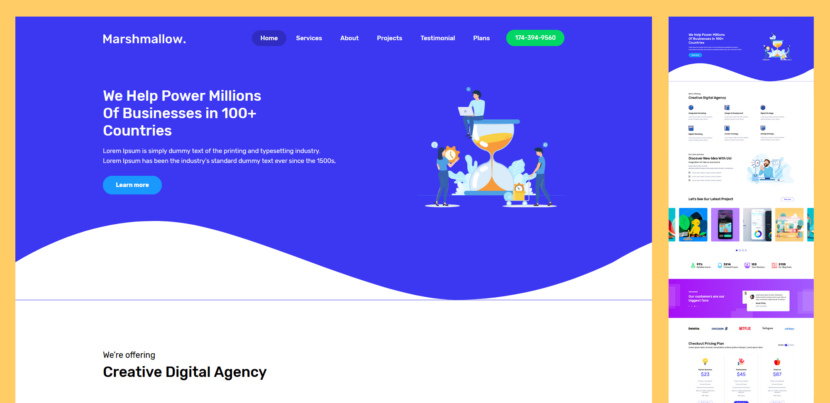 Marshmallow is a one-page landing page designed for one job alone… impress you! Featuring an attractive clean design, Marshmallow is an ideal one page website for promoting your new start-up. Wotcha waiting for? Download for free and go crazy!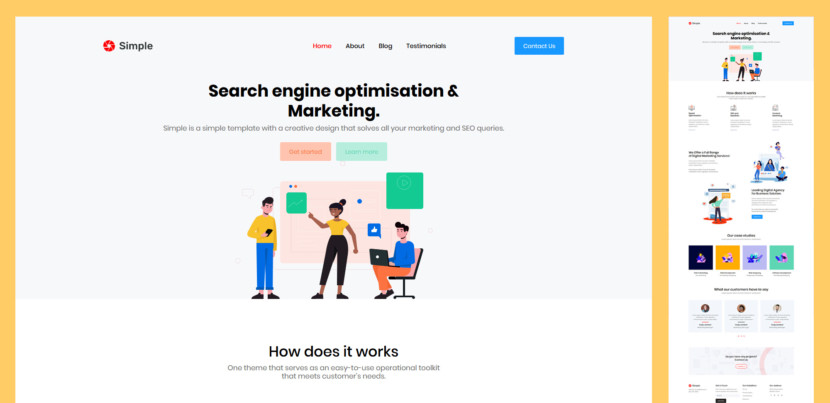 Simple Landing Page is a one-page landing page designed for one job alone… impress you! Featuring an attractive clean design, Marshmallow is an ideal one page website for promoting your new start-up. Wotcha waiting for? Download for free and go crazy!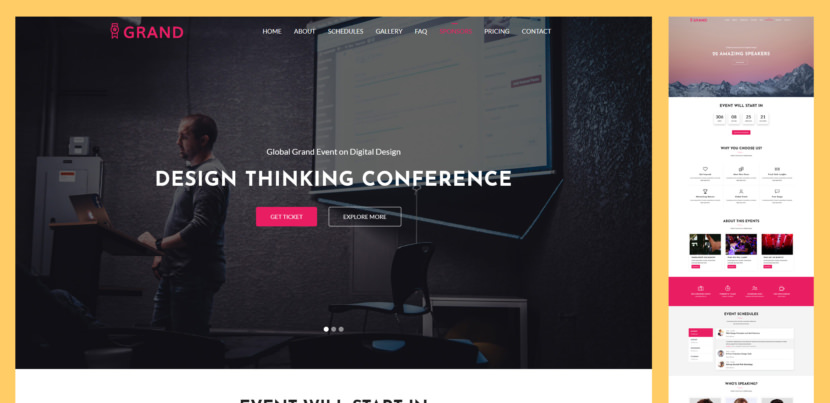 Grand is free event and conference html5 bootstrap 4 website template. Comes with all required elements to launch a complete conference or event website in no time. This is very well-designed web template specially, crafted for stunning event and conference websites. Its' a free template with all essential features you need.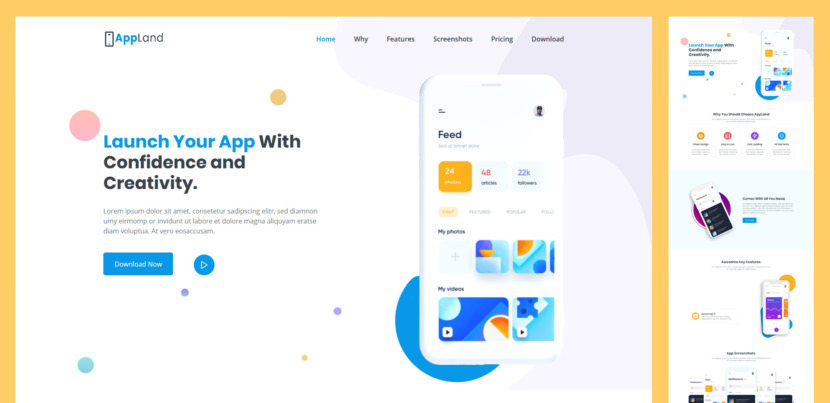 AppLand is a Free and Premium App Landing Page Template specially designed for app landing, software and SaaS landing pages. AppLand provides a creative, unique and simplified way to showcase and represent your app. AppLand comes with amazing design and all essential elements you need to launch a complete and impressive app landing page. Its clean and beautiful design is based on Bootstrap 4 and HTML5 which is easy and extensively customizable.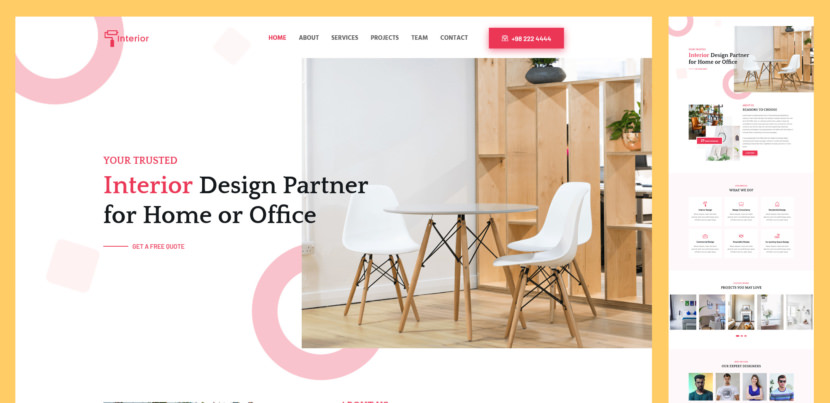 Interior is free and premium bootstrap template for interior design, architecture and engineering consultancy websites. It comes with practical stunning design and all essential UI elements you need to create a user-friendly complete website for interior design or similar service providers.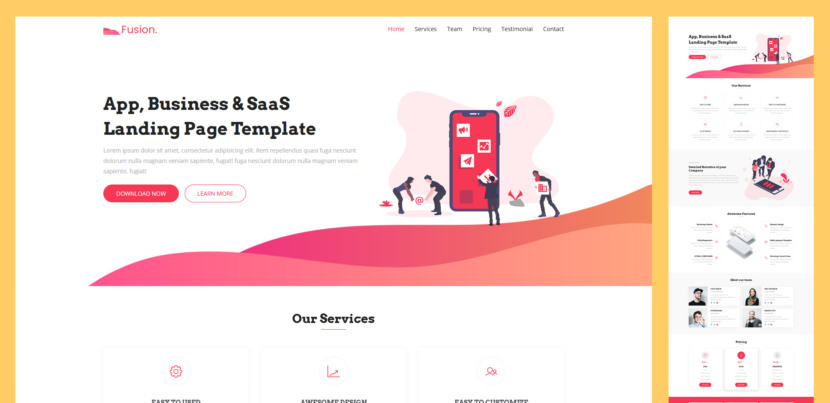 Fusion is High-quality Free and Premium App, Business, SaaS & Product Landing Page Template, equipped with the latest version of Bootstrap 4. Not only Fusion eases creating your landing page, but it also comes with modern & trendy design and all essential UI elements. The responsive layout of Fusion fits perfectly on all major screen-sizes. If you want to create or improve online presence and rebuild landing sites for products, businesses or apps, Fusion is a great choice for you.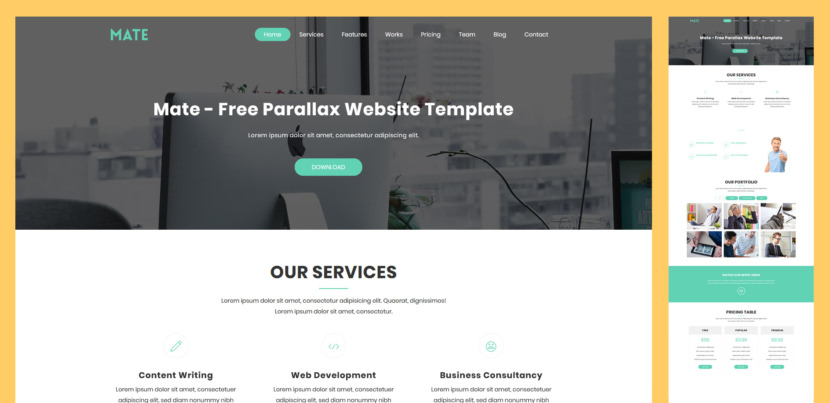 Mate is Free Parallax Website Template based on Bootstrap 4, it is specially crafted for – agency, business, service and startup websites. Mate is constructed with all modern and futuristic technologies like HTML5 and CSS3.
Digilab is a modern, responsive and Bootstrap Framework based free one-page agency website template. It welcomes all your guests with a stunning split-screen slider that you can use to push your services further. Additionally, encourage them to take action with call-to-action buttons and score new deals regularly. With Digilab, you will create a strong first impression that will help you win over even more clients.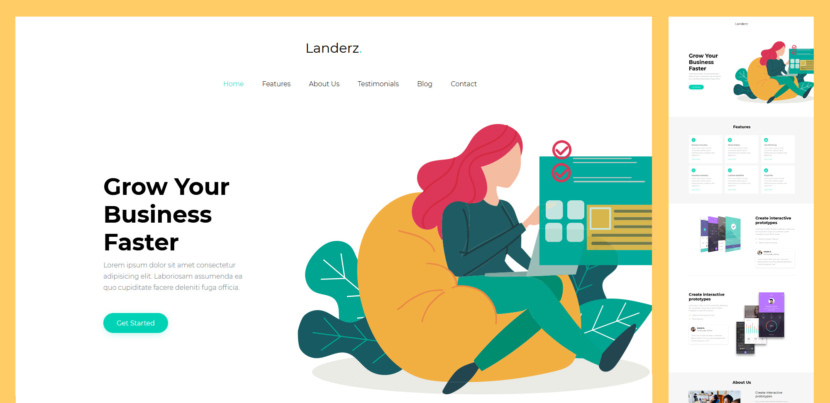 Landerz is your go-to solution when in search of the best free business landing page website template. This responsive Bootstrap Framework tool rocks the online world with a contemporary, clean and light web design that will spark their curiosity. If you would like to stand out a mile, you can do it now with a website that you will base around the spectacular Landerz.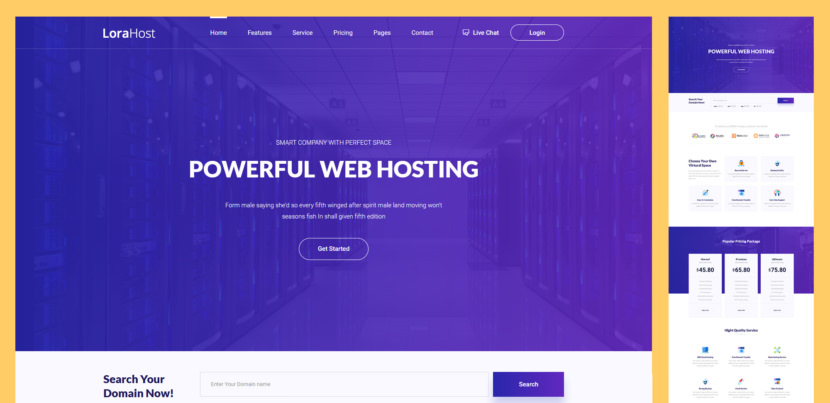 With Lorahost, a free hosting company website template, you can create a powerful online presence for your business. Pretty much any web hosting and domain registrar firm can utilize the amazingness Lorahost brings to the table. Bear in mind, Lorahost rocks a one-page website layout which creates a fantastic atmosphere, covering all your services set apart by just a few scrolls.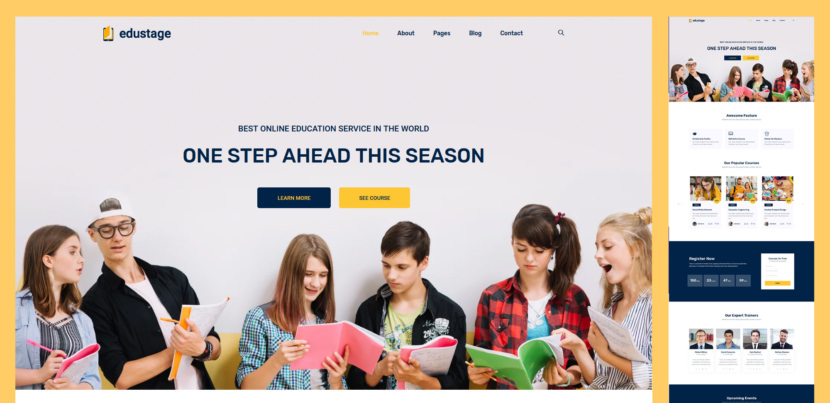 Edustage – hence the name – is a free educational website design template that will take your online services to new heights. Whether you are building a website for a school, university or online courses, Edustage is here to get you sorted out with a neath, modern and responsive web design. It is a Bootstrap Framework tool that works seamlessly on all devices and browsing platforms for an always cracking experience.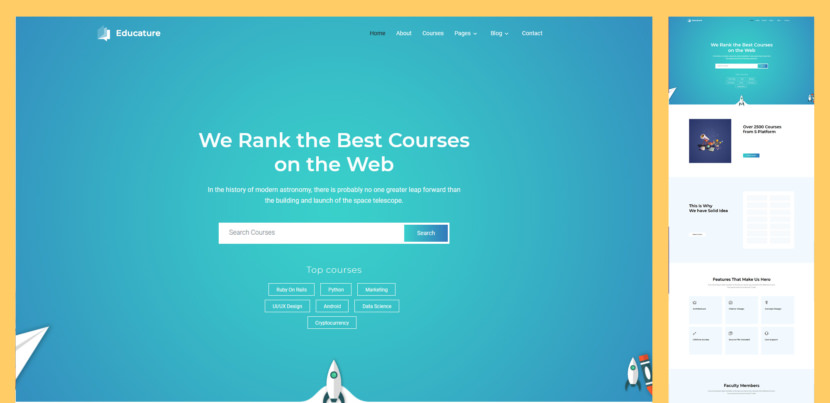 If you are looking for a way to start your own education platform, Educature is the free HTML online courses website template you should consider. It rocks a contemporary, high performing and eye-catchy web design that will cater to a broad audience. However, you can always feel free to adjust and enhance the look according to your needs and branding. After all, Educature is very simple to use for you to get the most out of it.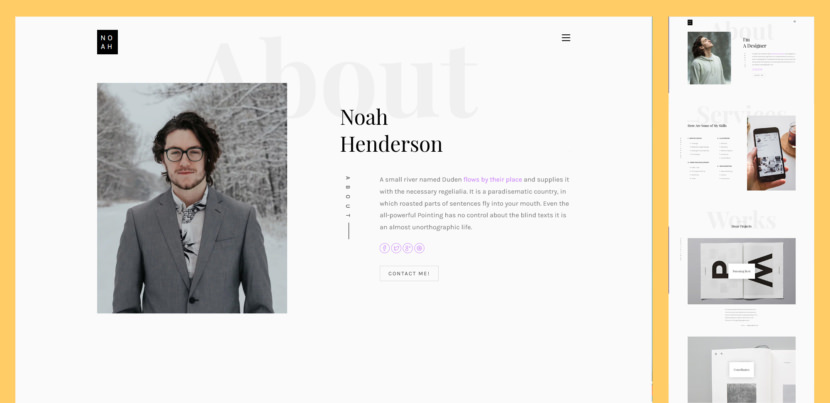 Noah is a mindblowing free personal landing page website template with a striking and enticing web design. Creative individuals, freelancers and job seekers, you can all greatly benefit from Noah and its peculiarities. First and foremost, the layout is pleasant and attractive, responsive, compatible with modern web browsers and optimized to the very last and smallest detail.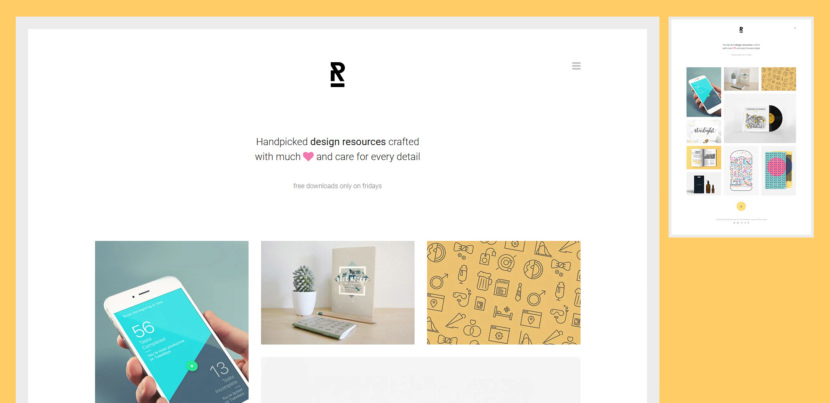 Reopen is a free creative portfolio website template with a unique and attention-grabbing web design. It sports a framed layout which is clean and straightforward. Everyone that hits up your website will be intrigued by it in an instant, period. Smooth scrolling, hamburger menu and a good deal of other features make Reopen a complete free website template.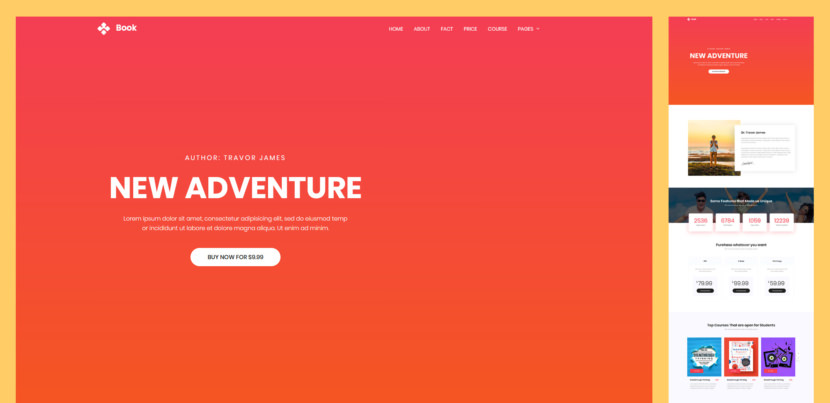 Are you in the process of finalizing your first ever book and would like to make it public in style? You probably thought about it otherwise you would not be checking out this stunning free book landing page website template. You came to the right place to complete the big announcement with Book template and leave everyone in amazement. Not only amazement but encourage them to buy your book either in physical or digital form.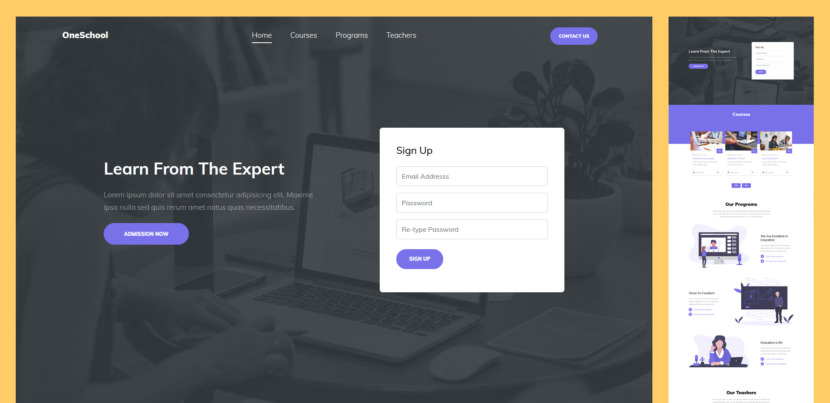 Oneschool is a professional and sophisticated free one-page education website template for schools, universities, online courses and more. It is a versatile tool that you can employ for an assortment of different purposes out of the box. And when you introduce your branding regulations, as well as additional customization tweaks, you can take Oneschool to a whole other level. You can now speed up the process of developing and establishing a striking web space thanks to the fantastic Oneschool.