What is the best web hosting site with quality server / services? I have been blogging for 12 years and during this 12 years journey, I relocated my site to various web hosting companies and this gave me an insight on the pros and cons of various companies. Long story short, if you pay peanuts, you get peanuts services.
🤣😍😂 20 Fastest Professional WordPress Managed Hosting – Focus On Writing, Not Coding
Quality web hosting is not cheap and shared hosting is not fast or reliable enough. However, for beginners, an affordable hosting is a baby step necessary as you slowly build up your traffic and income. There is no such thing as free hosting, the best web hosting solution is not always the most expensive, sometimes a cheap hosting is equally good and reliable.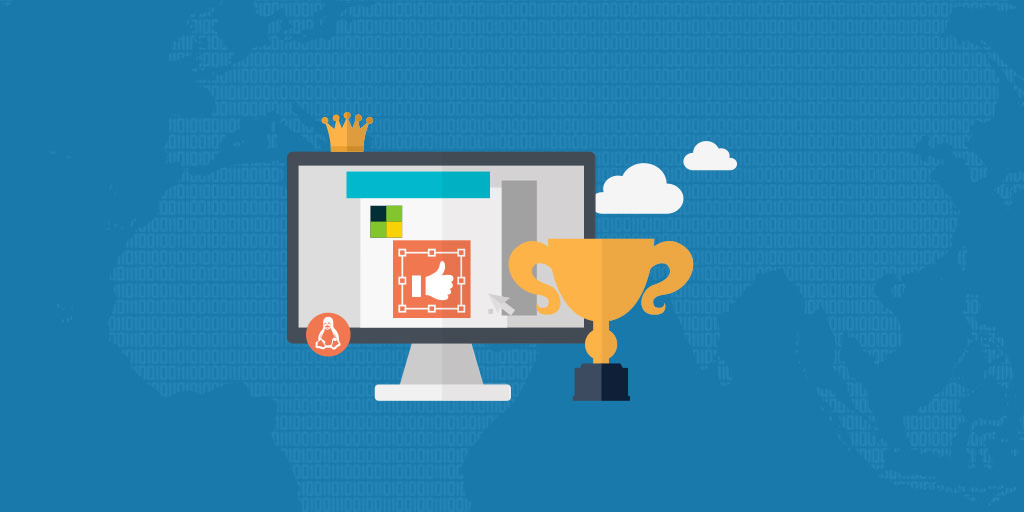 Here are 10 hosting that are affordable and reliable with 99% uptime. Not too cheap to have too many security problems and downtime, not too expensive to break your wallet, just the right spot. These web hosting are highly recommended for WordPress beginners, as usual, always use a cache plugin to reduce the server's load, like all shared hosting, if you overload their server, your account will be suspended for excessive usage.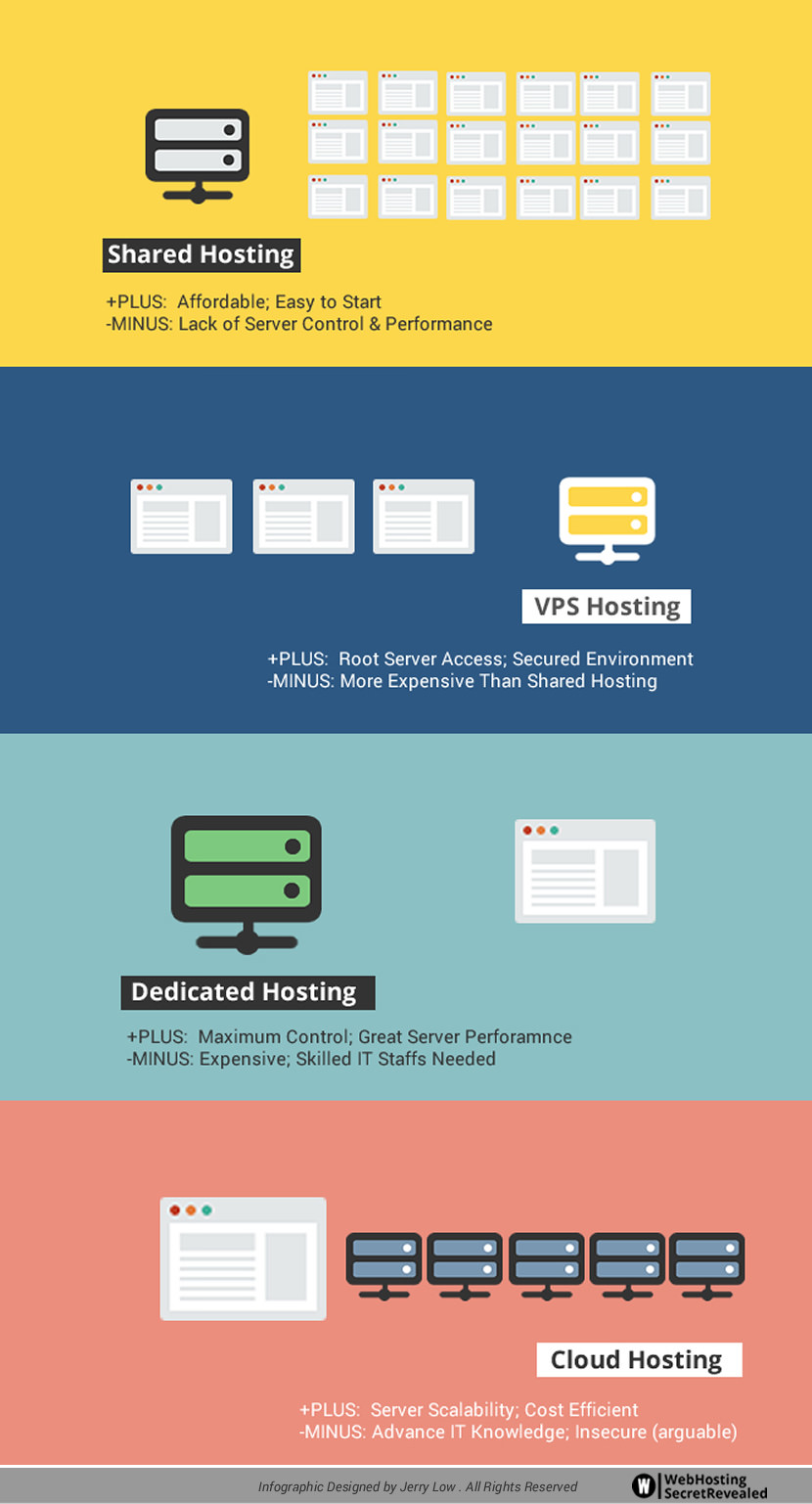 Because speed varies from country to country and configuration of the site and more, we shall compare vs the price and features of each company. Here are some details you should know.
Storage – 10GB, 50GB, 100GB or unlimited doesn't matter. You are unlikely to use more than 100MB, unless you upload videos. So, ignore the storage offered.
Bandwidth – Most web hosting offers unlimited bandwidth, but this doesn't mean you can abuse it. There is a limit but not disclosed, usually you will not exceed the 'hidden' quota unless you host videos or mp3s.
USD5/m | ∞ Sites/Domains | Linux/Windows | ∞ MySQL databases | Unmetered Bandwidth | ∞ Storage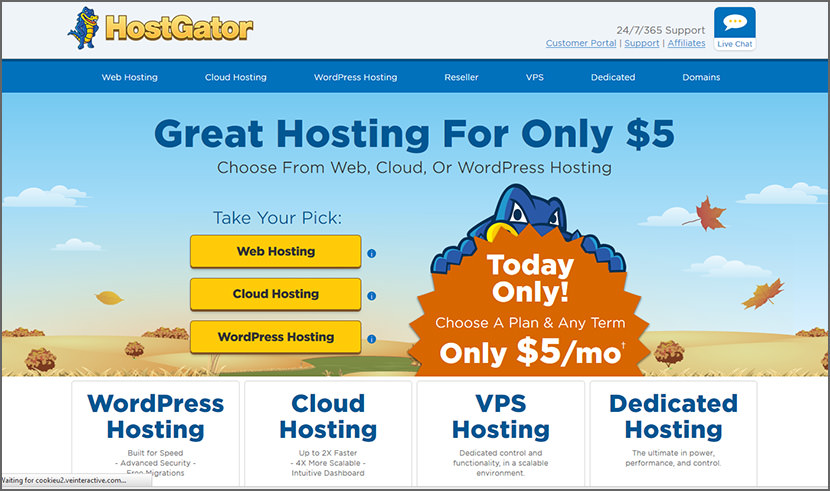 Hostgator has been around since 2002, they are the 3rd largest web hosting company in the world. Founded in a dorm room at Florida Atlantic University by Brent Oxley, HostGator has grown into a leading provider of Shared, Reseller, VPS, and Dedicated web hosting. HostGator is headquartered in Houston and Austin, Texas, with several international offices throughout the globe.
HostGator gives you a vast array of tools to take your idea or business online today! From site building tools and templates, to our one-click application installer, everything you need to launch a website is literally at your fingertips.
USD4.75/m | 1 Site | Linux | 10 MySQL databases | ∞ Bandwidth | 100GB Storage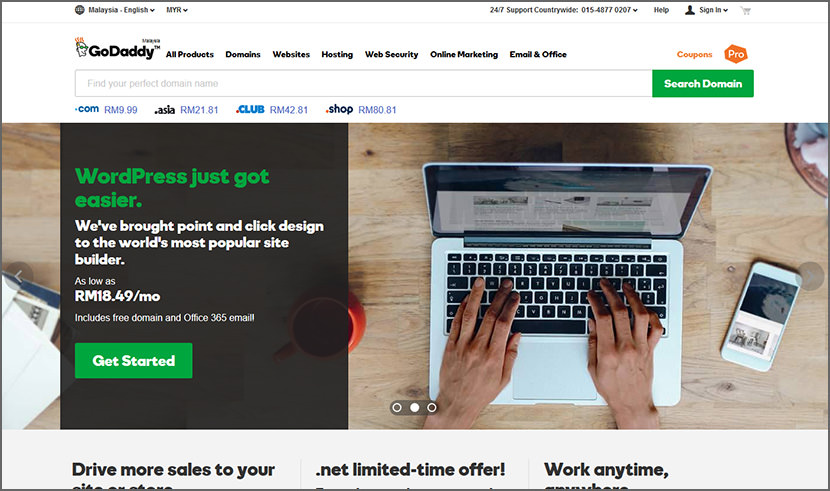 Godaddy is the biggest web hosting company in the world, with a market share of 6%. This does not include their other subsidiaries, such as MediaTemple. GoDaddy powers the world's largest cloud platform dedicated to small, independent ventures. With more than 14 million customers worldwide and more than 63 million domain names under management, GoDaddy is the place people come to name their idea, build a professional website, attract customers and manage their work. Each Linux plan includes
cPanel – Access all the hosting features and settings you need with this industry-standard control panel.
CloudLinux – Keep your site online with truly balanced CPU, RAM and Disk IO limits
Resources on-demand – Get more CPU, RAM, EntryProcesses and I/O with just a click.
Cage FS – Protect your content 24/7 with this virtualized file system.
Free applications – Install over 125 applications on your website with just a click.
What is web hosting? GoDaddy explains the basics of web hosting and why you need it to make your website visible on the Web.
USD8/m | ∞ Sites/Domains | Linux/Windows | 20 MySQL databases | ∞ Bandwidth | ∞ Storage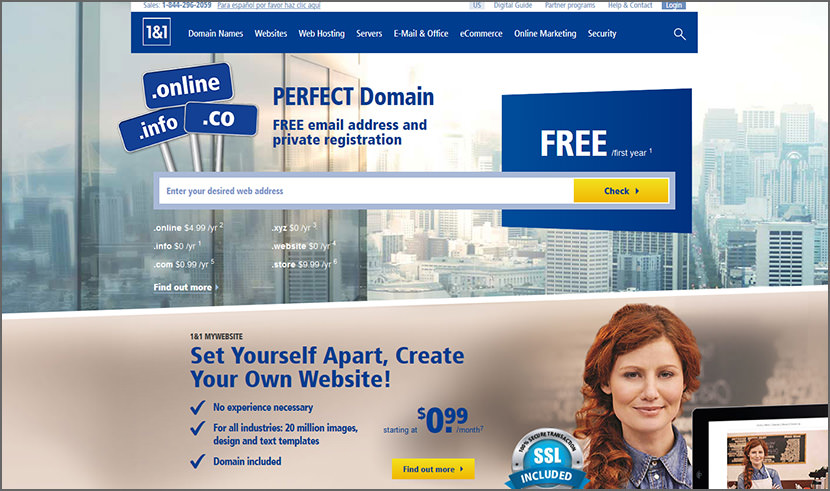 1&1 is one of the world's leading Web hosting providers. 1&1 currently offers a wide range of Web hosting products, including email solutions and high-end servers in 10 different countries including Germany, Spain, Great Britain and the United States.
Known for its comprehensive and affordable Internet products, 1&1's unique business model positions it as a one-stop Internet shop. From domain registration to Web hosting, site creation, technical support and cutting edge technology, 1&1 offers users every available resource to easily and affordably create and maintain an optimal Web presence.
100% Fast – Latest hybrid technology and smart SSD
100% Available – Geo-redundancy and secure
100% Unlimited – Unlimited webspace and traffic
Up to 512 MB PHP Memory Limit
PHP 7 + OPcache
Shared hosting with dedicated IP
DDoS Protection
USD20/m | 100 Sites/Domains | Linux/Windows | 100 MySQL databases | 1TB Bandwidth | 200GB Storage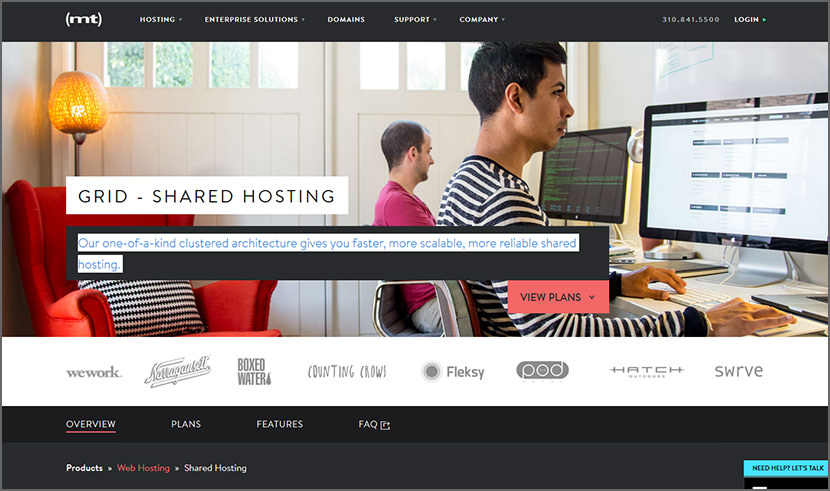 MediaTemple was acquired by GoDaddy in 2013, but it remains independent and is known as one of the more premium shared hosting with very reliable service. Their one-of-a-kind clustered architecture gives you faster, more scalable, more reliable shared hosting, also known as Cloud Hosting.
Versatility – Deploy WordPress, Drupal, ZenCart or any of 20 popular Managed Apps in our catalog. Or use your own custom code. Either way, it's easier than ever to manage your sites — on any size screen — with the Grid's intuitive, fully responsive, custom control panel.
Simplicity – The Grid team takes the headaches out of web hosting. We'll handle software updates and 30 days of automatic daily backups for you. And if you ever run into trouble, you can count on Media Temple's award-winning, US-based, 24/7 support to help solve your problems, fast.
High Performance – On the Grid, your web sites are spread across hundreds of server processors. Add the Grid's scalable bandwidth and burstable MySQL resources, and your sites can handle traffic far beyond what other shared hosting platforms, and even some dedicated servers, can deal with.
Advanced Security – Grid Pro & Agency plans include SiteLock's patented SMART technology for daily malware scans and auto-cleaning of malicious code as soon as it's detected. Grid Agency also comes with SiteLock's web application firewall for an extra layer of security against application vulnerabilities.
Global CDN – Grid Pro & Agency plans include TrueSpeed™ CDN from SiteLock, which uses intelligent caching, content optimization, and a global network of secure data centers to make your sites load faster than ever, no matter where your visitors are connecting from.
USD12/m | ∞ Sites/Domains | Linux/Windows | ∞ MySQL databases | Scale-able Bandwidth | ∞ Storage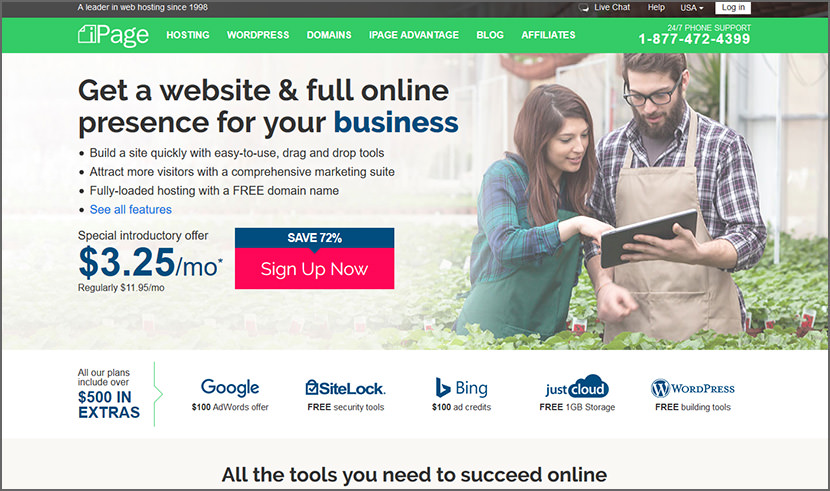 They're not just a hosting company. iPage is proudly empowering small businesses to create an online presence for today's market. Web hosting is a very complicated subject and a highly-technical industry. At iPage, they pride themselves on eliminating the complications and simply providing you with a great experience.
As for all that technical stuff, don't worry about it; they've got it handled for you. They've been hosting business, personal, social, and non-profit websites for well over 10 years now. They've got the tools, process, and expertise to help you take your idea online today.
USD9/m | 1 Sites/Domains | Linux/Windows | n/a MySQL databases | Unmetered Bandwidth | 50GB Storage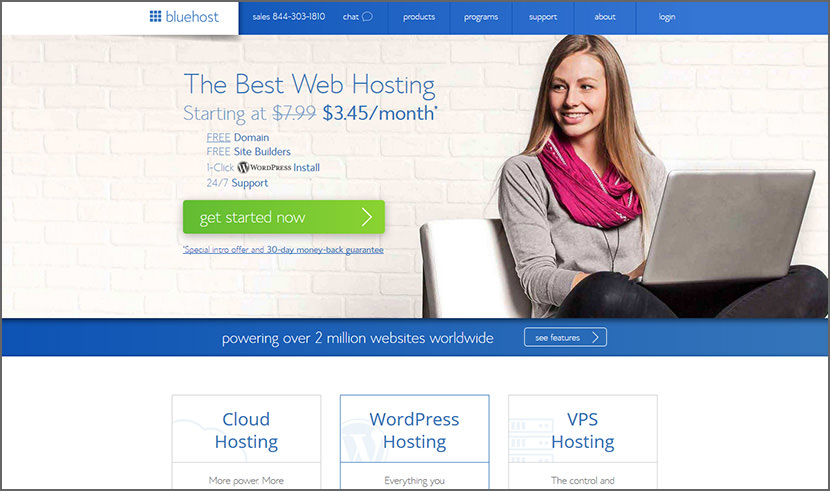 Bluehost is a leading web solutions services provider. Since our founding in 2003, Bluehost has continually innovated new ways to deliver on our mission: to empower people to fully harness the web. Based in Orem, Utah, we provide comprehensive tools to millions of users throughout the world so anyone, novice or pro, can get on the web and thrive.
Backups – We automatically create daily, weekly, and monthly backups of your entire account. Easily restore your complete data with the click of a mouse, or use our optional PRO backup service to restore specific files and databases.
Resource Protection – Our technology identifies websites using excessive resources and temporarily re-assigns them to isolated systems. This defends your website performance and mitigates the risk normally associated with shared servers.
Scalability – Start with what you need and move to more powerful options as your website grows. Our custom technology makes it easy to upgrade your account to VPS or dedicated servers in just a click.
USD5/m | ∞ Sites/Domains | Linux/Windows | ∞ MySQL databases | ∞ Bandwidth | ∞ Storage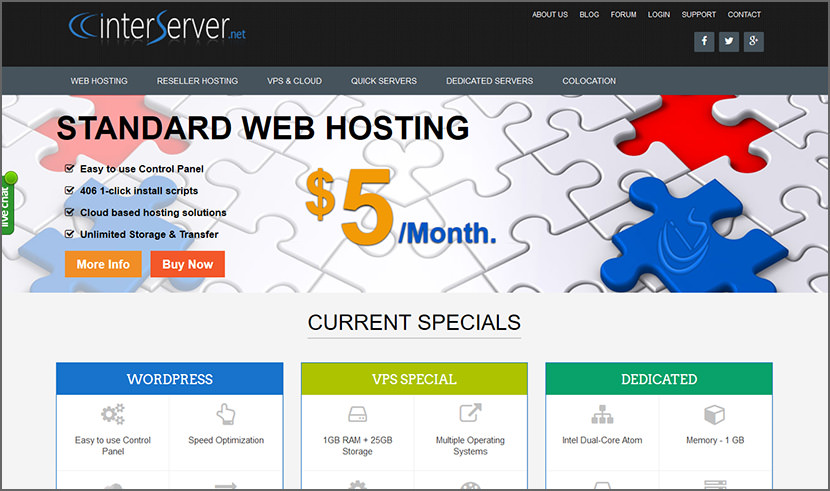 Interserver was started in 1999 with the purchase of a single domain name and a virtual hosting reseller account. The main objective was to focus on affordable prices while maintaining a high level of service and support.
Now in 2015 Interserver owns and operates two data centers located in Secaucus, N.J. providing services such as virtual hosting, cloud VPS, quick servers, dedicated servers and colocation. One thing that has remained the same over the last 17 years is our mission to provide quality service at affordable rates to all of our tens of thousands of customers worldwide.
SSD SQL Offloading – SQL Databases stored on Ultra-Fast SSD Drives.
50% Server Capacity – We load our servers to only 50% capacity. This leaves a large buffer for our customer's websites to grow without performance issues and server colocation.
SSD Enhanced Servers – Hardware raid 10 servers with SSD Drive Caching.
USD2.25/m | 1 Sites/Domains | Linux/Windows | 1 MySQL databases | ∞ Bandwidth | 15GB Storage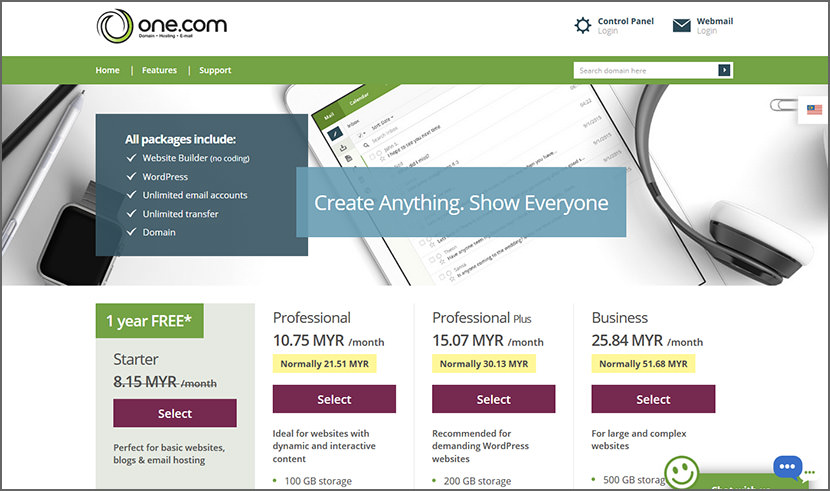 Award-winning web hosting for both individuals and business users. Whether it's your first website or you are an advanced user, a One.com web hosting package gives you everything you need. Create your website with our Website Builder (no coding) or publish your own WordPress website.
One.com has challenged the traditional web hosting industry by providing every service needed for our customers right from the start, such as mail hosting and website hosting with gallery, blog, PHP, MariaDB database and free customer support 24/7, 365 days a year. This gives you access to a product bundle where your server space needs are all you need to consider while choosing a subscription.
USD4/m | ∞ Sites/Domains | Linux/Windows | ∞ MySQL databases | ∞ Bandwidth | ∞ Storage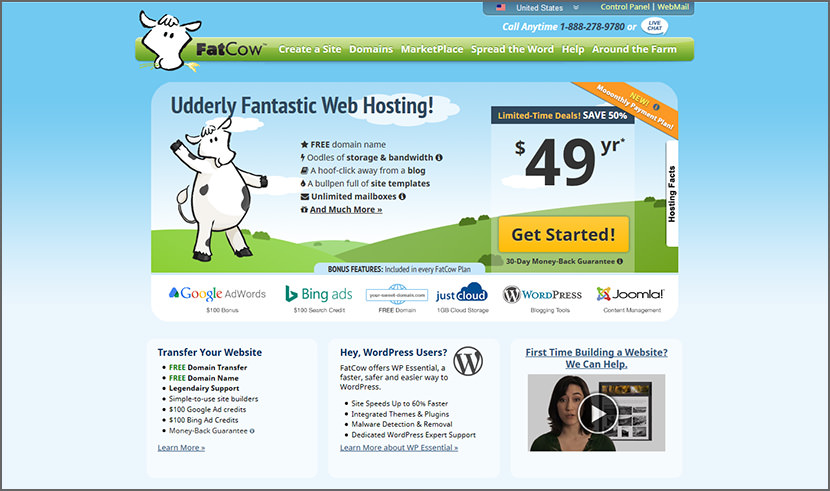 Just like our company, The Original FatCow Web hosting plan is a different breed beefed up with everything you'll need to build a successful online presence—before the cows come home. And to help you every step of the way, we've corralled a great team of folks in the Friendly Moo Crew Support Team.
USD8/m | ∞ Sites/Domains | Linux/Windows | ∞ MySQL databases | ∞ Bandwidth | ∞ Storage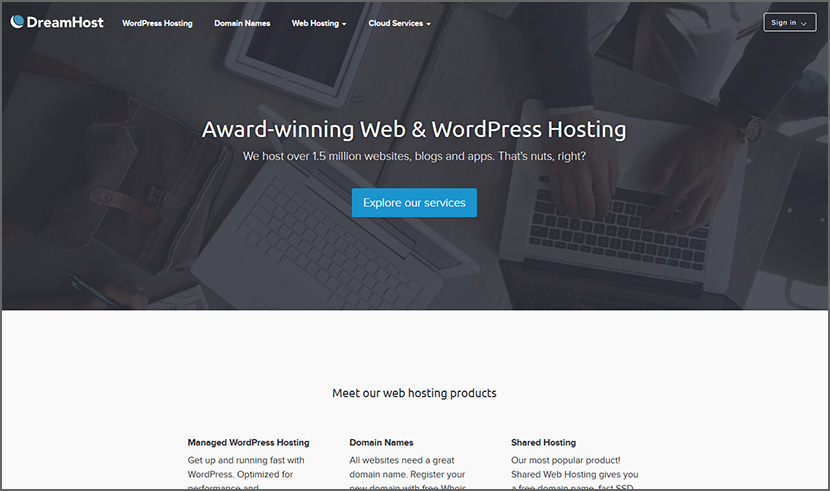 DreamHost is the 10th biggest web hosting company in the world. It all began in the year 1997. The scene was a college dorm room. Four friends with a love of technology, open-source software, and a strong desire to help people get online banded together to create DreamHost.
Built on open-source technology with a commitment to customer success, DreamHost provides domain registration, web hosting and cloud services to 1.5 million sites, blogs and applications, and supports over 400,000 web designers, developers, content creators, small businesses and entrepreneurs with the power of the Open Web.
Supercharge your MySQL database – Enhance the performance of your shared hosting by enabling MySQL VPS during checkout. This optional add-on service gives your site's database its own isolated server. Dedicated resources mean faster page loads—and happier website visitors! Get started with a one-week free trial.