Before you sign up with a free wordpress hosting, remember to read this article and understand the pros and cons. These are based on my own personal experience, thus they are valid and reasonable. Back when I started blogging 10 years ago, I was a poor student with not much money to spare, thus anything free is good. I started off using blogspot and gradually I upgraded to GoDaddy Shared Hosting and eventually a Semi-Dedicated hosting with MediaTemple. Below are the disadvantages of using free WordPress Hosting Providers.
Most free hosting doesn't come with support.
Most of them will insert a pop up ad, hidden links or etc.
You may not own the content due to the T&C.
Most of them are slow, if not, the server will be down frequently.
Because it is free, security patches for the server will be slow, thus open to hacking.
No backups allowed, this is to lock you in, forcing you to upgrade to their 'shared hosting'.
Risk of getting banned or suspended account any time without reason, there is nothing you can do because it is free hosting.
Most doesn't allow your own domain, you are forced to use their sub-domain. Bad for SEO when you want to upgrade.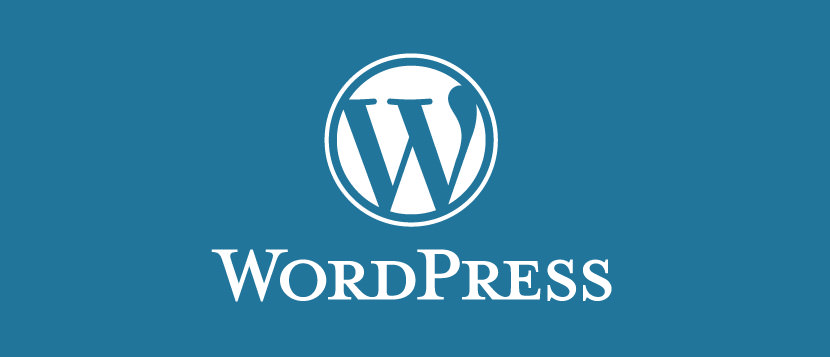 Is it worth using a free secure WordPress Hosting? The answer depends. Put it this way, they have to make money one way or the other, therefore inserting pop-up ads just for your visitors while hiding it from you is the best solution. Nothing is free! If money is not an issue, always subscribe to a shared hosting. I highly recommend you to use WordPress.com or Blogspot.com, they allow you to perform a 301 redirect when you want to move to a shared hosting. If you're looking into purchasing a hosting service, do check out these hosting services.
↓ 01 – 000webhost | Own Domain Available
000webhost.com ($0.00 webhost) is a world leader in providing first class FREE web hosting services with no advertising & without any costs! Millions of 000Webhost users are our proof. Simply sign up and you're ready to go. No credit cards are required! Unlike other free web hosts we do support PHP and MySQL with almost no restrictions. Curl, GD2, Zend, XML, fopen(), PHP sockets, Ioncube Loader, .htaccess & other PHP features are fully supported! Absolutely NO banners or ads!
No ads & no hidden costs
Feature-rich Cpanel with PHP & MySQL
100 GB (100,000 MB) of bandwidth!
Almost endless 1500 MB disk space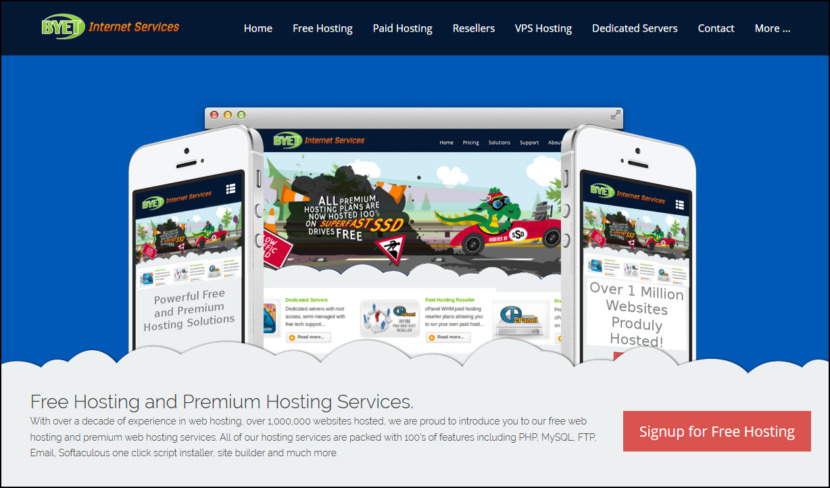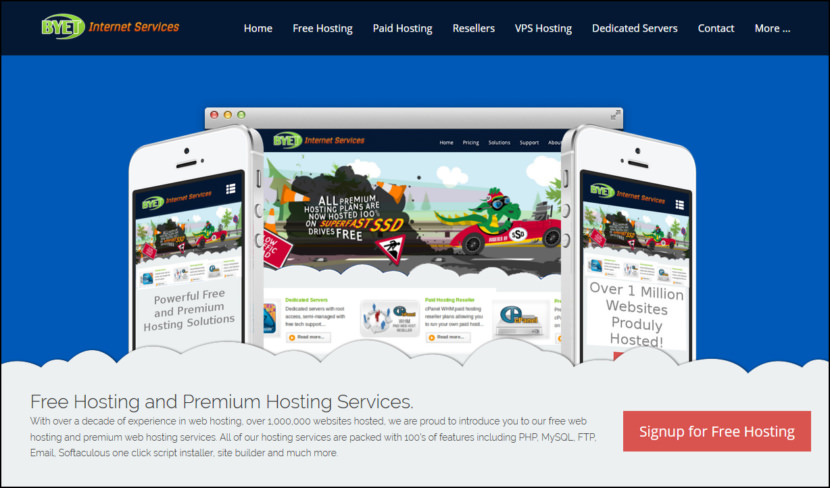 Byet gives you the choice of your sub domain. You can stick with yoursite.byethost.com, or you can pick from another 7 great names we have available. With MySQL, PHP, FTP, VistaPanel (our specially designed control panel) and other features, you can host heaps of scripts with no worries. Adding your own domain registered at any domain registrar is just a few clicks and is hosted on your free Byet account!
Along with all this, we provide free FTP, PHP 5.4, MySQL and our very popular feature: The Automatic Script Installer (Like Fantastico) You can install many popular scripts such as PHPbb2 and PHPbb3, WordPress, Zen-Cart, osCommerce, MyBB, UseBB, MyLittle Forum, 4images, Coppermine, SMF, Joomla, e107, XOOPS, PHP Wind, CuteNews, Mambo, WikiWig and many more! No need to wait a long time uploading files, Softaculous Script Installer deploys your files in seconds! You can find our Automatic Script Installer in the Vistapanel.
1000 MB (one gigabyte!) Disk Space
50 GB monthly transfer
MySQL databases & PHP Support
Addon domain, Parked Domains, Sub-Domains
No ads!
https SSL on all free hosting domains. (self signed certificate)
↓ 03 – AwardSpace | Own Domain Available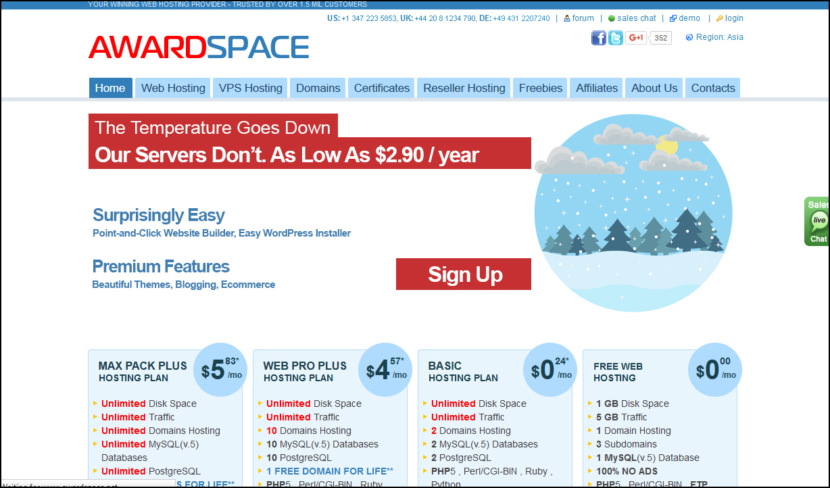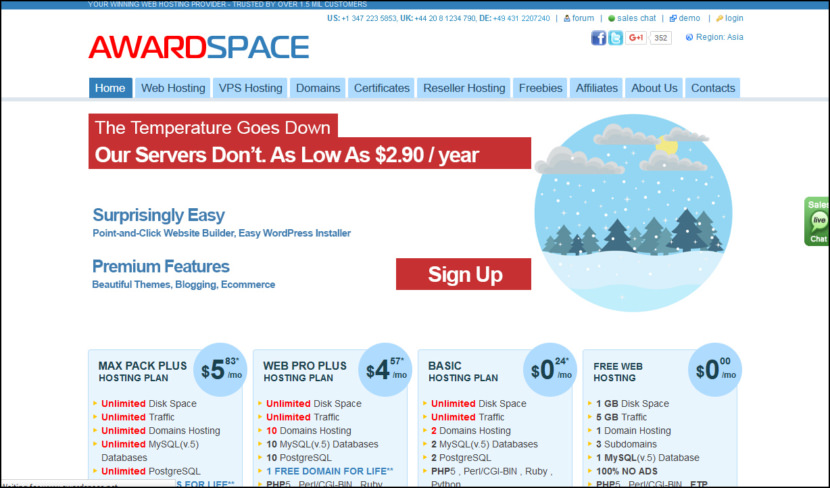 A pioneer in the free web hosting industry with more than 10 years experience, AwardSpace.com relies on free hosting to grow their customer base.
1 GB Disk Space
5 GB Traffic
1 Domains Hosting
3 Subdomains
1 MySQL(v.5) Databases
100% NO ADS
PHP 5, Perl/CGI-BIN
Free Web Hosting No Ads. No text links. No annoying pop-ups. No annoying banners. No mandated forum posting. Your web site will be 100 percent ad FREE forever! With PHP 5, MySQL, FTP, File Manager, POP E-Mail, Hotlink Protection, free sub-domains, free domain hosting, Cron Jobs, SSH Console, DNS Zone Editor, Custom Error Pages, Password Protected Directories/Folders, Website Statistics, FREE Online Support and many more features not offered by other free hosts.
User Advertising Allowed
Bandwidth 200 GB traffic
20 GB space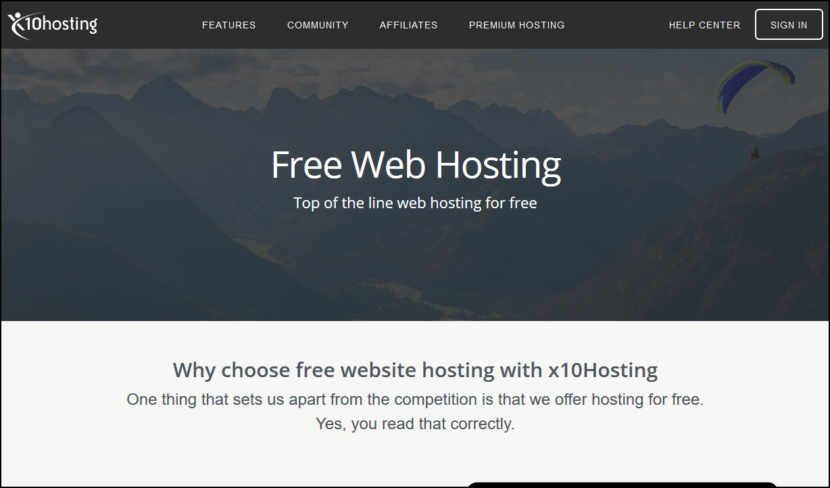 Our free web hosting is powered by top of the line enterprise hardware arranged into a flexible private cloud, providing immensely stable and blazing fast performance. We provide you with a full web hosting account and the latest versions of PHP, MySQL, and cPanel. We also offer a one-click web software installation and an easy to use website builder! We've been around for a long time and we're here to stay. Rest assured that we know how to provide a stable, high-performance web hosting service that isn't going to close overnight.
Unmetered bandwidth and disk space
cPanel control panel, FTP, e-mail, and MySQL
100% Pure Cloud SSD Servers
↓ 06 – Freehostia | Own Domain Available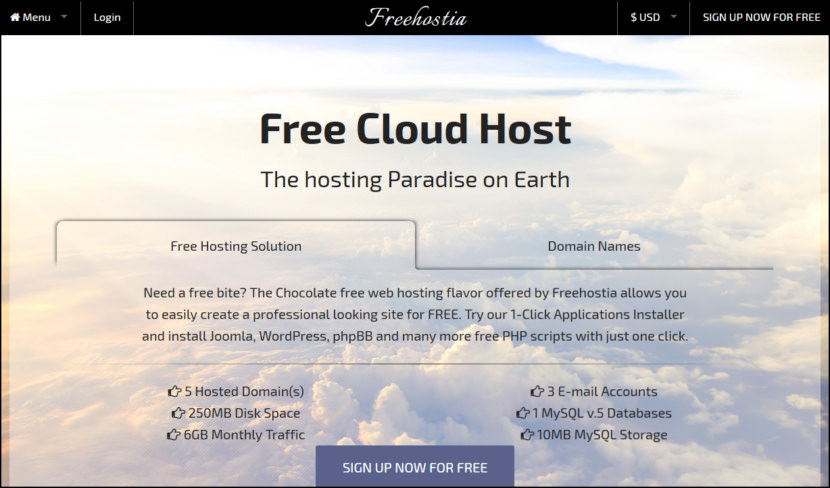 Need a free bite? The Chocolate free web hosting flavor offered by Freehostia allows you to easily create a professional looking site for FREE. Try our 1-Click Applications Installer and install Joomla, WordPress, phpBB and many more free PHP scripts with just one click.
5 Hosted Domain(s)
250MB Disk Space
6GB Monthly Traffic
3 Email Accounts
1 MySQL v.5 Databases
10MB MySQL Storage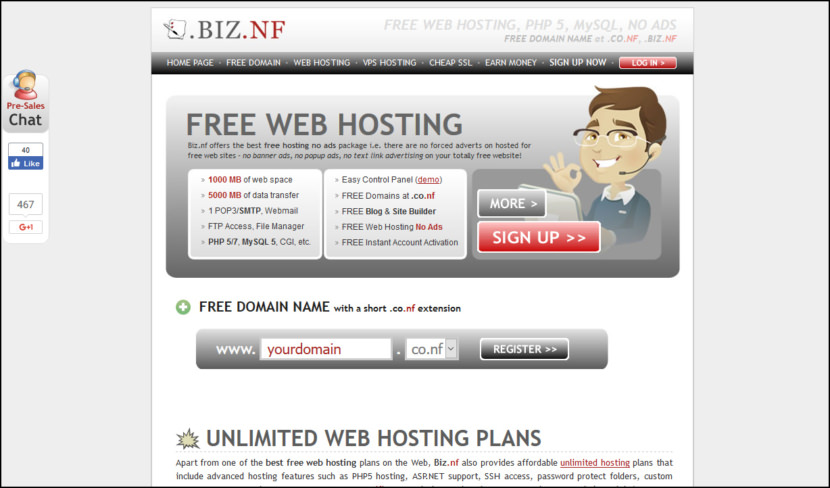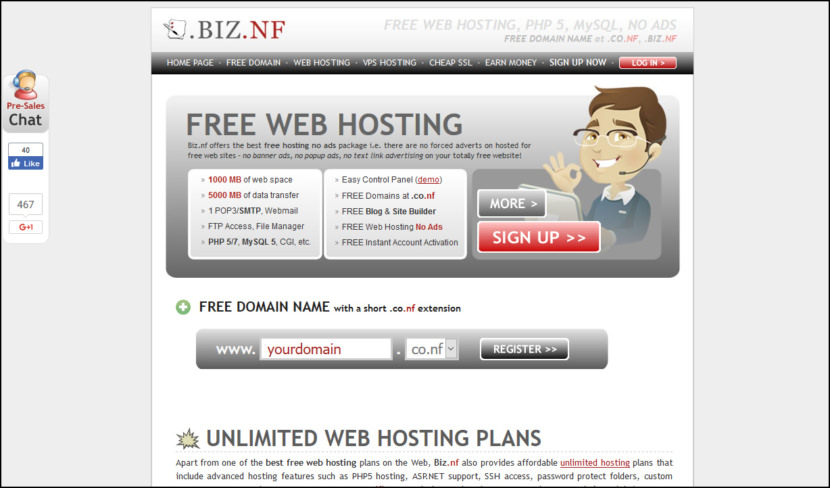 Apart from one of the best free web hosting plans on the Web, Biz.nf also provides affordable unlimited hosting plans that include advanced hosting features such as PHP5 hosting, ASP.NET support, SSH access, password protect folders, custom MX, CNAME, A records, error 404 pages, SSL certificate, anti-virus and anti-SPAM protection, Crontab (cron jobs) support, catch-all & email forwarding, free site building tools, etc. And those are up to 70% faster than free web site hosting plans.
1000 MB of web space
5000 MB of data transfer
1 POP3/SMTP, Webmail
FTP Access, File Manager
PHP 5/7, MySQL 5, CGI, etc.
FREE Web Hosting No Ads
↓ 08 – Hostinger | Own Domain Available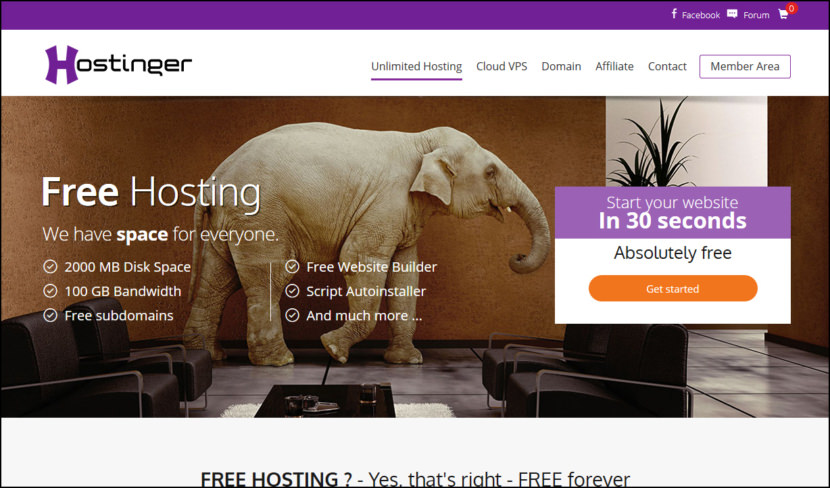 Reliable servers. No ads on your website. You can upgrade anytime with 99.9% uptime guarantee. Every account has 2000 MB disk space and 100GB bandwidth that is enough to use for personal websites. Growing rapidly? You can also upgrade to Premium or Business hosting services anytime you want. Hosting accounts are set up on dedicated servers with Intel Xeon processors, 24GB RAM and SSD drives. All servers are connected with a connection up to 1000 Mb/s for fast access, advanced data centers are located in the United States and Europe.
2000 MB Disk Space
100 GB Bandwidth
5 Addon Domains
PHP 7.0 support
Zend Optimizer
No ads or banners
↓ 09 – Free Hosting | Own Domain Available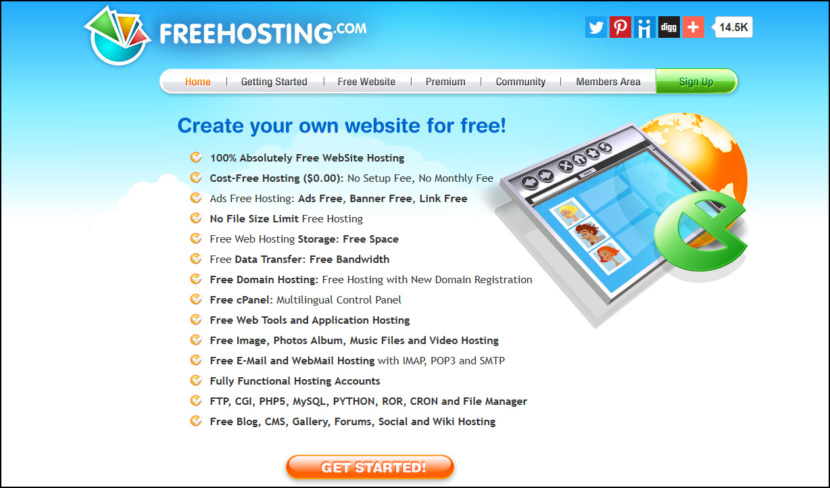 Free Hosting offers you what other free website services out there simply cannot. We give you the full range of tools and resources you need for creating all kinds of websites. Our service is about giving you everything you need. You can host your own domain. Your site can contain frames and we do not limit upload file size. We provide banner free and any ad free hosting. Unlike other hosting providers we allow Streaming Audio/Video, Shockwave and Flash.
Ads Free Hosting: Ads Free, Banner Free, Link Free
Free Data Transfer: Free Bandwidth
Free cPanel: Multilingual Control Panel
Free EMail and WebMail Hosting with IMAP, POP3 and SMTP
FTP, CGI, PHP5, MySQL, PYTHON, ROR, CRON and File Manager
Free Blog, CMS, Gallery, Forums, Social and Wiki Hosting
↓ 10 – Zymic [ Discontinued ]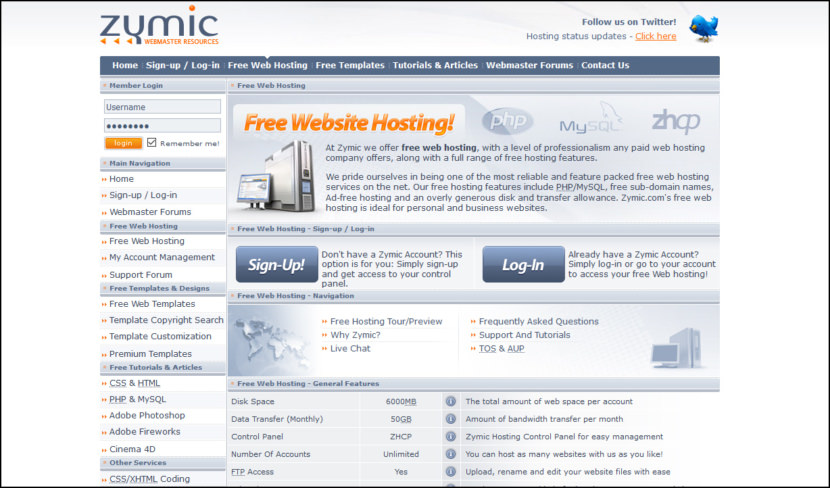 At Zymic we offer free web hosting, with a level of professionalism any paid web hosting company offers, along with a full range of free hosting features. We pride ourselves in being one of the most reliable and feature packed free web hosting services on the net. Our free hosting features include PHP/MySQL, free sub-domain names, Ad-free hosting and an overly generous disk and transfer allowance. Zymic.com's free web hosting is ideal for personal and business websites.
60GB storage
50Gb monthly data transfer
3 MySQL Database
Free global CDN by CloudFlare
Pre-configured W3 Total Cache plugin