Are you a journalist, blogger or whistle-blower that needs to publish your article on the internet without having the corrupt authority from tracking you down? Freedom of speech is a key part of human rights, these hosting providers listed below have either hosted whistleblowing sites or encourage users to use their service to speak up without fear. Anonymous web hosting refers to hosting services that allow the identity of the website owner to be kept confidential. This can be accomplished by several means, including using an offshore jurisdiction that offers privacy protection, using a third-party service to register the domain name, or using anonymous payment methods.
See More ▼ 10 Best Free WordPress Hosting With Own Domain And Secure Security
Wikileaks is a good example of a whistleblowing site that exposed the government's wrongdoing. This also means the web hosting must be secure, stable and anonymous, this is to ensure no paid hackers are able to penetrate the server and steal your personal information. Without further ado, here are some of the best Anonymous Offshore Web Hosting that respect and protect your privacy.
Anonymous web hosting has both advantages and disadvantages. On one hand, it offers privacy and protection to individuals and organizations who may be concerned about the public exposure of their personal information or website content. On the other hand, it also provides a platform for illegal activities such as cybercrime, hacking, and hosting of malicious or harmful content.
It's important to note that even with anonymous hosting, the authorities may still be able to track down the website owner if they are deemed to be engaged in illegal activities. Additionally, anonymous hosting may not provide the same level of reliability, security, and technical support as other, more mainstream hosting providers. In summary, anonymous web hosting can be a good choice for those who value privacy, but it's important to carefully weigh the potential benefits and drawbacks before making a decision.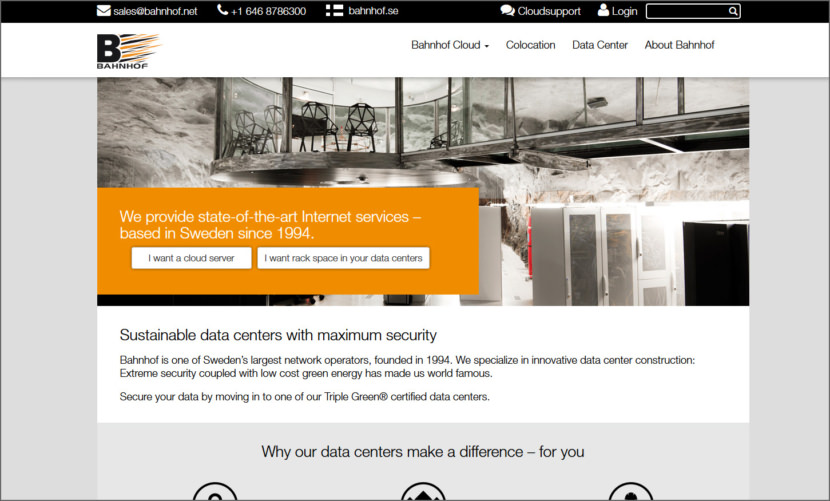 Bahnhof is Sweden's oldest and one of the largest independent national Internet providers. They combine personalized service and local commitment with solid technical experience and knowledge. They are a hosting provider and residential ISP that is the role model for how a responsible company should act.
Bahnhof is based in Sweden, which has some of the strongest press freedom laws in the world. They have hosted Small WikiLeaks iconWikiLeaks and Small The Pirate Bay iconThe Pirate Bay in their nuclear bunker called White Mountain (which looks like something from out of a James Bond movie) and are known as a free speech ISP.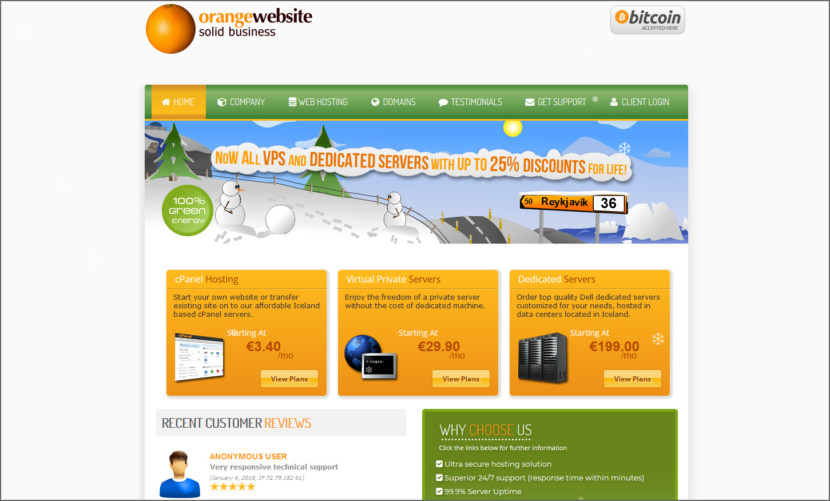 OrangeWebsite is an Iceland-based offshore hosting provider that focuses on privacy and freedom of speech. The owner of OrangeWebsite is said to be an anarchist that strongly supports freedom of speech, and both he and the company itself were strongly against the SOPA and PIPA legislations.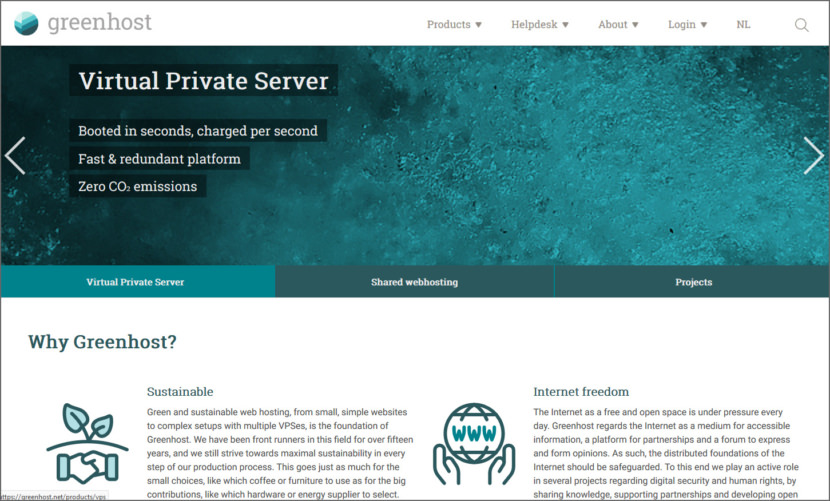 The Internet as a free and open space is under pressure every day. Greenhost regards the Internet as a medium for accessible information, a platform for partnerships and a forum to express and form opinions. As such, the distributed foundations of the Internet should be safeguarded. To this end they play an active role in several projects regarding digital security and human rights, by sharing knowledge, supporting partnerships and developing open source applications in-house.
Greenhost values data privacy and will do the most it can to protect data and privacy on their platform. Guaranteeing data privacy is leading in their decision making. Greenhost hasn't logged any data since 2009, and have urged other hosting providers to do the same.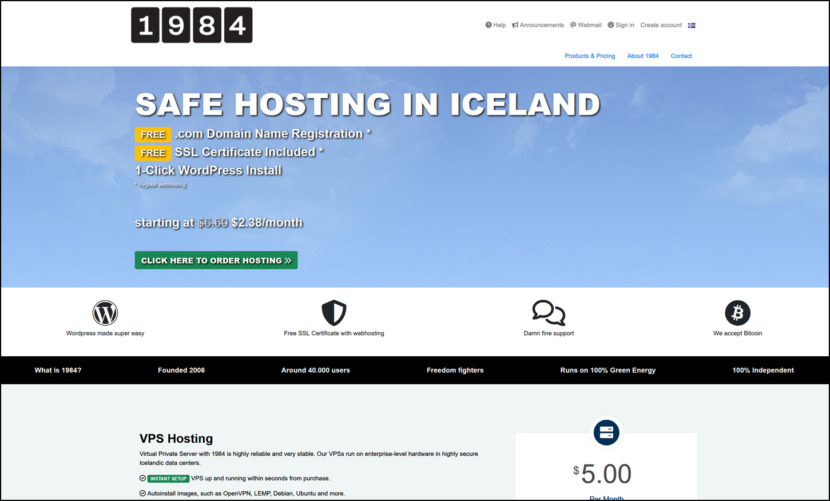 The 1984 Hosting Company was established in 2006 by a couple of Free Software and civil rights enthusiasts. They have since grown to become Iceland's biggest web hosting company by far. Their goal is to offer high quality web hosting and VPS services at a competitive price, always respecting and protecting the civil and political rights of their customers. They only use green energy from renewable, sustainable sources and they always choose free software. Let's elaborate a bit on those three pillars of their company's approach:
AlexHost is an Offshore DMCA Ignored Hosting. If you want to create a website protected from arbitrary deletion, hosting ignored by the DMCA is what you need. While many hosting companies advertise that they allow content protected by DMCA (Digital Age Copyright Law), your actual reaction is important when website removal notices arrive. Some hosting companies give in, avoid legal battles and simply disconnect their website from the air.
Offshore hosting is defined as hosting a website, application, or data on servers located outside your country. Insecure hosters are a common source of vulnerability for your website. They do not offer adequate security measures, which may result in data loss or hacking incidents. Other than that, there are chances of getting exposed to harmful malware and viruses. To avoid such situations, you need to go for a trustworthy web host provider that ensures maximum protection of your assets against cyber-attacks and malware threats at every stage of its life cycle.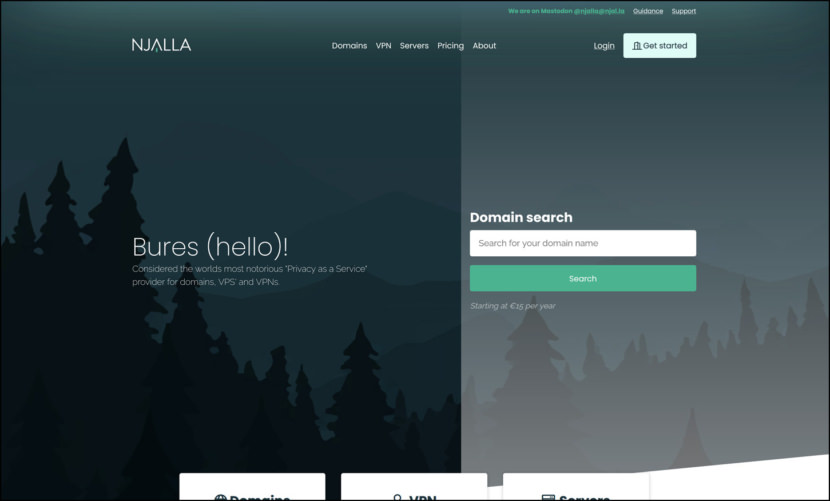 Njalla was started because they couldn't find a domain name service that they wanted to use themselves. They care about privacy, and it needs to be simple and flexible. They believe privacy is an important piece of democracy and that they all should have the right to be anonymous.
For instance, when you register a domain name in their system, they can register with their own data. They will be the actual registrant of the domain — it's not an ownership by proxy as found with all other providers. However, you will still have full control over the domain name. You can either use their information (and their nameservers) or you can go with your custom data. And you can move at any time. Simple, flexible.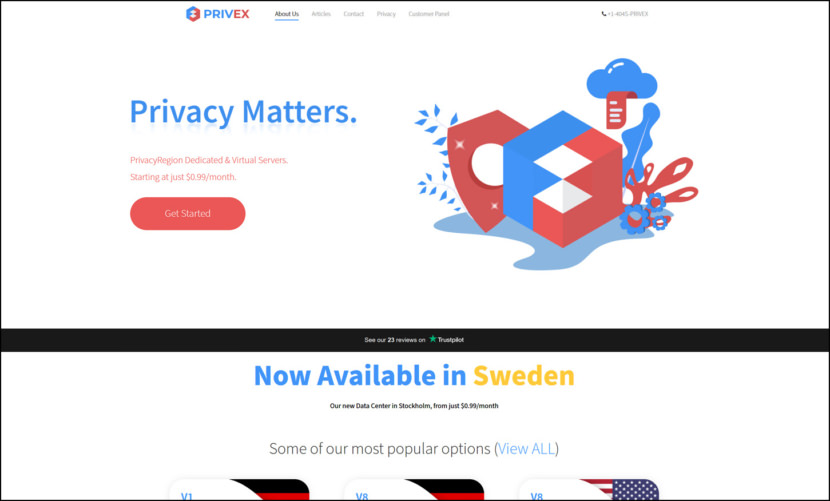 They are Privex Inc. A small technology company that currently focuses on affordable privacy-minded infrastructure, primarily Dedicated and Virtual (VPS) Servers available in various regions of the world. Privex Inc was founded in early 2017 in the small country of Belize.
Privex was created to solve an ever-growing problem in the world – privacy has now become a commodity rather than a right, and the price of privacy minded services is much higher than that of normal services. Many companies handle your information as if it were their property; to be auctioned off to the highest bidder, or handed over to Government Agencies for their unlawful and invasive surveillance programs.
Unfortunately, the few companies that care about your privacy generally charge massively inflated premiums that many people can't afford, or they would rather sacrifice their privacy to save money. They wanted to change that. Their two slogans are Privacy is Affordable and Privacy Matters, because they believe privacy is a human right; you shouldn't have to pay extra to keep your personal data safe.
8. FlokiNET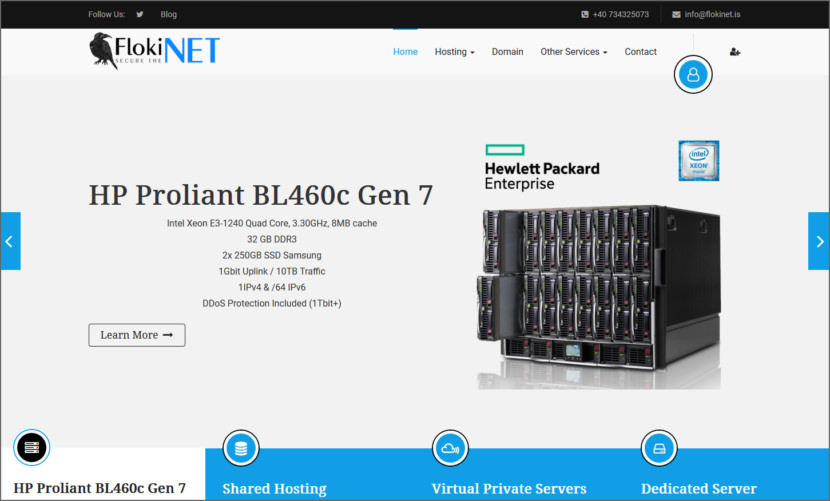 [ Discontinued ] FlokiNET was established in 2012 in Iceland to provide a safe harbor for freedom of speech, free press and whistleblower projects. Us at FlokiNET guarantee that they will always offer their services without requiring personal information and they will never give third parties access to any data.
Your local government forces you to provide an imprint on your blog? You don't want to be molested because you publish something controversial? FlokiNET provides autonomous, incorruptible and flexible solutions, optimized to help you to spread your ideas!
Their staff uses only end to end communication encryption systems (OTR, Jabber, PGP EMails, Cryptophones)
All workstations are preboot encrypted (AES 256 bit)
Their Office locations are secured by electronic locking systems and armed guards
Free whois protection for your domains (with exception of some domains where whois protection is not possible, .de for example)
Their law department will take care of your abuse mails, legal proceedings and support you in uncomfortable situations
9. DataCell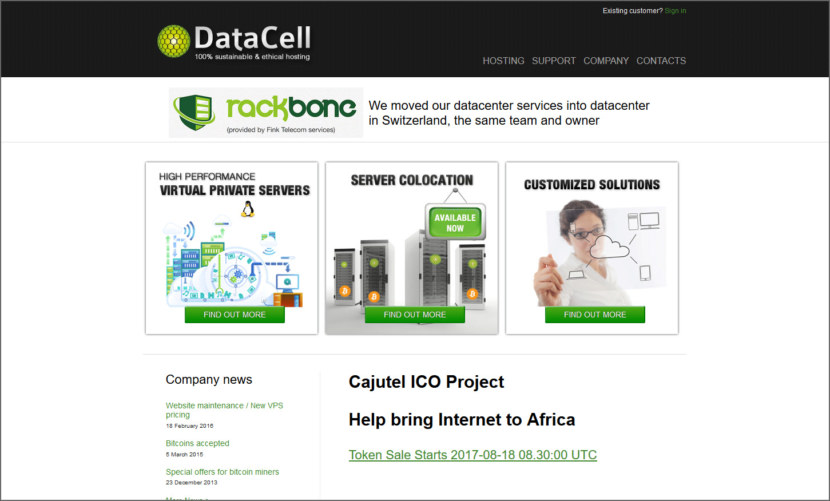 [ Discontinued ] DataCell is an Icelandic hosting provider that WikiLeaks used in the past. Their data connections to the Internet are protected by state-of-the-art encryption, preventing eavesdropping and surveillance by third parties and rogue governments. DataCell operates their own data center in Switzerland.
Their data protection policy is in line with the European Data Protection directive. The Icelandic Modern Media Initiative is working towards providing a safe environment for investigative journalism and this makes Iceland a favorable location to host your websites, especially for journalists.