The Premium DNS infrastructure offers improved security and faster resolution than the standard infrastructure. And since your information is distributed across DNS servers around the world, customers connect to the closest server location for a quicker response. Premium DNS makes sure your site is always available by using the Anycast global network, which provides multiple layers of redundancy. Your DNS records are distributed on servers throughout the U.S., Europe and Asia. So, if one server should go down, your website will still be online.
🤣😍😂 13 Free Public DNS Servers For Family, Performance, Security And Parental Control
Here is a list of notable best managed premium DNS providers. A managed DNS provider offers either a web-based control panel or downloadable software that allows users to manage their DNS traffic via specified protocols such as: DNS Failover, Dynamic IP addresses, SMTP Authentication, and GeoDNS. Is it worth getting premium DNS? In short, the benefits of premium DNS include larger resources, improved security, and faster performance. However, while the features provided by premium DNS are great for enterprise and big companies with millions of visitors per hour, however they don't make much difference for a small website or app.
All DNS providers are tested every minute from 200+ locations around the world. The table above is a screenshot taken from the DNSPerf website. Less is faster. Do note that not all of the following DNS provider offer DNS services. Some are bundled together with their hosting plan, thus not available unless you move your hosting.
Akamai Edge DNS is a global, highly scalable domain name system (DNS) service offering security, resilience from DDoS events, and high DNS responsiveness. Edge DNS is a cloud-based DNS solution that provides 24/7 DNS availability, improves DNS responsiveness, and has the resilience to defend against the largest DDoS attacks. Built on a globally distributed anycast network, it can be implemented as a primary or secondary DNS service, replacing or augmenting existing DNS infrastructure as needed.
Guarantee 24/7 availability by leveraging Akamai's scalable, globally distributed platform
Achieve faster, more reliable resolution with zone apex mapping and thousands of servers worldwide
Defend against DDoS attacks with the capacity to absorb them and maintain user access
Prevent DNS forgery and manipulation with Akamai DNSSEC (optional add-on)
Simplify DNS infrastructure management with Akamai Control Center and Edge DNS APIs
Control costs with pricing based on the number of zones, not requests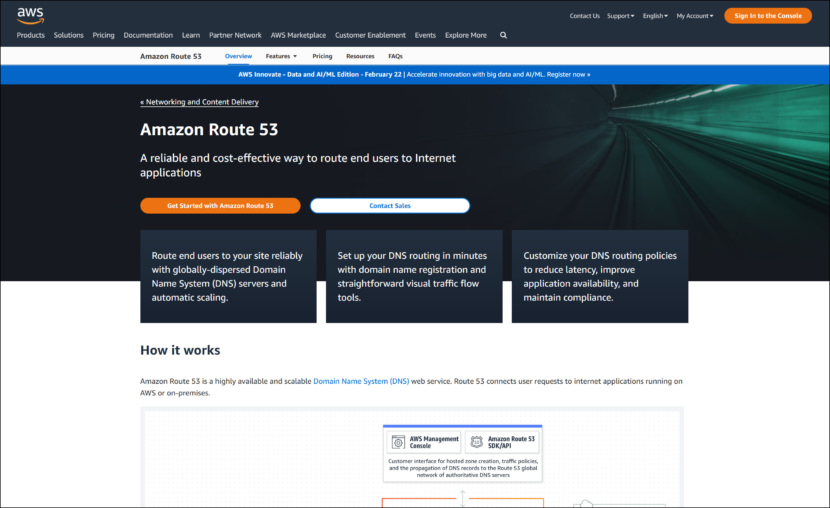 Amazon Route 53 is a highly available and scalable Domain Name System (DNS) web service offered by Amazon Web Services (AWS). It provides domain registration services and routing traffic on the internet to the right resource, such as web servers or email servers. Route 53 is designed to give developers and businesses an extremely reliable and cost-effective way to route end users to Internet applications.
Route end users to your site reliably with globally-dispersed Domain Name System (DNS) servers and automatic scaling.
Set up your DNS routing in minutes with domain name registration and straightforward visual traffic flow tools.
Customize your DNS routing policies to reduce latency, improve application availability, and maintain compliance.
Protect your recursive DNS queries within the Route 53 Resolver. Create domain lists and build firewall rules that filter outbound DNS traffic against these rules.
Route end users to a particular endpoint that you specify based on the end user's geographic location.
Automatically route your website visitors to an alternate location to avoid site outages.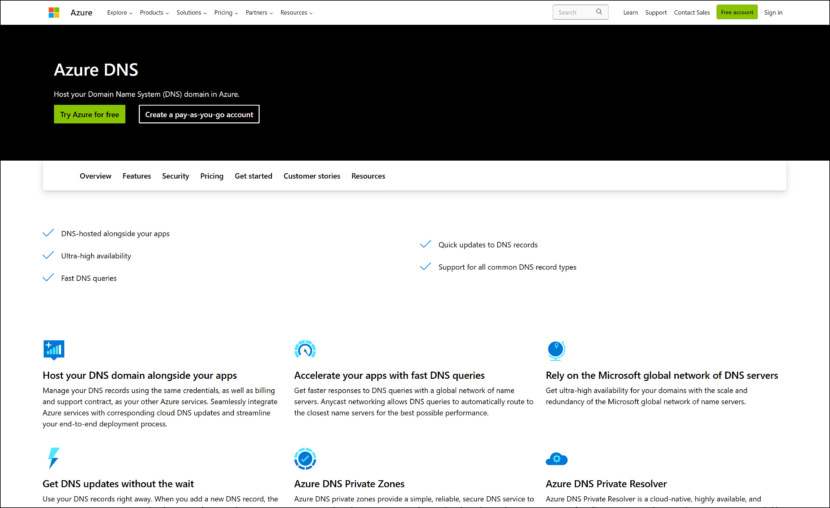 Azure DNS is a hosting service for DNS domains that provides name resolution by using Microsoft Azure infrastructure. By hosting your domains in Azure, you can manage your DNS records by using the same credentials, APIs, tools, and billing as your other Azure services. DNS domains in Azure DNS are hosted on Azure's global network of DNS name servers. Azure DNS uses anycast networking. Each DNS query is answered by the closest available DNS server to provide fast performance and high availability for your domain.
Accelerate your apps with fast DNS queries, get faster responses to DNS queries with a global network of name servers. Anycast networking allows DNS queries to automatically route to the closest name servers for the best possible performance. Get ultra-high availability for your domains with the scale and redundancy of the Microsoft global network of name servers.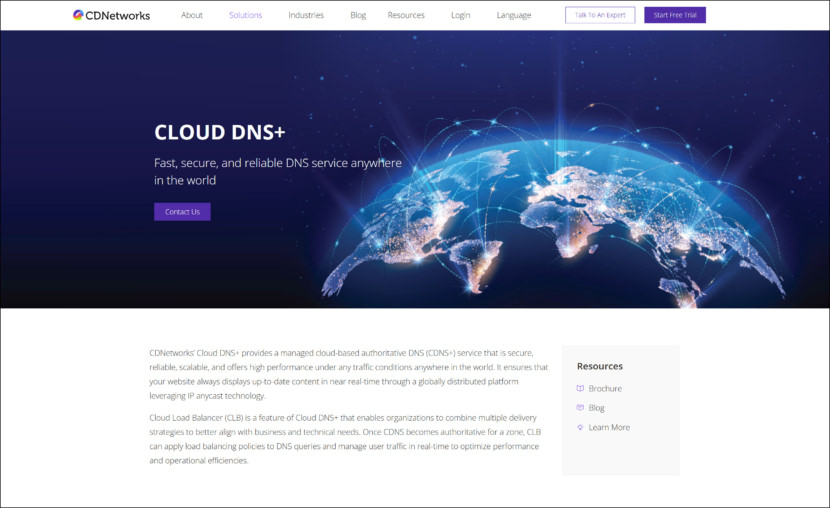 CDNetworks' Cloud DNS+ provides a managed cloud-based authoritative DNS (CDNS+) service that is secure, reliable, scalable, and offers high performance under any traffic conditions anywhere in the world. It ensures that your website always displays up-to-date content in near real-time through a globally distributed platform leveraging IP anycast technology.
Cloud Load Balancer (CLB) is a feature of Cloud DNS+ that enables organizations to combine multiple delivery strategies to better align with business and technical needs. Once CDNS becomes authoritative for a zone, CLB can apply load balancing policies to DNS queries and manage user traffic in real-time to optimize performance and operational efficiencies.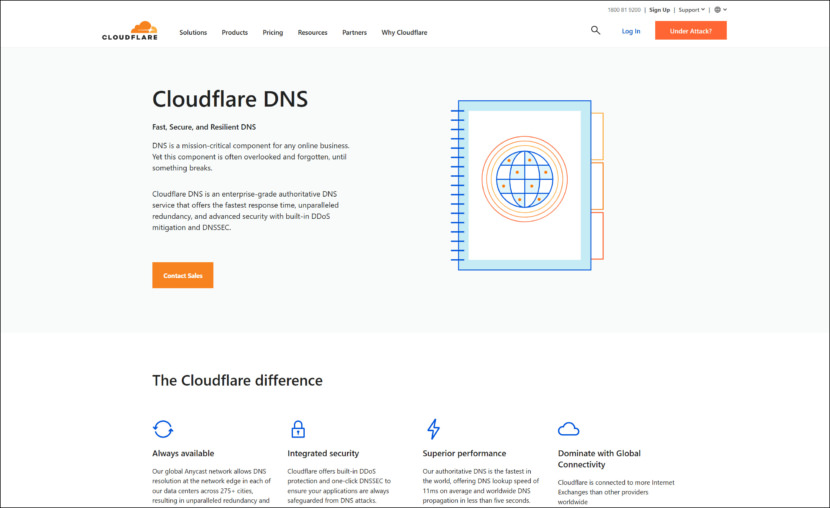 DNS is a mission-critical component for any online business. Yet this component is often overlooked and forgotten, until something breaks. Cloudflare DNS is an enterprise-grade authoritative DNS service that offers the fastest response time, unparalleled redundancy, and advanced security with built-in DDoS mitigation and DNSSEC.
Unlimited and Unmetered DDoS Mitigation – Relieve your organization from the costs and stress of DDoS attacks against your DNS. With Cloudflare Managed DNS, you get unlimited and unmetered mitigation against DNS-based DDoS attacks. Our network capacity is 23x bigger than the largest DDoS attack ever recorded.
One-Click DNSSEC – Cloudflare Managed DNS comes with built-in DNSSEC to protect your users from on-path attacks that can spoof or hijack your DNS records. DNSSEC adds an additional layer of security at every level in the DNS lookup process. The best part — you can easily deploy DNSSEC at the click of a single button.
Global and Local Load Balancing – With Cloudflare Load Balancing, you can reduce latency and improve application availability by steering traffic away from unhealthy origins and dynamically distributing it to the most available and responsive server pools. Our load balancing solution leverages Cloudflare's global Anycast network and supports all protocols from HTTP(S) to TCP and UDP.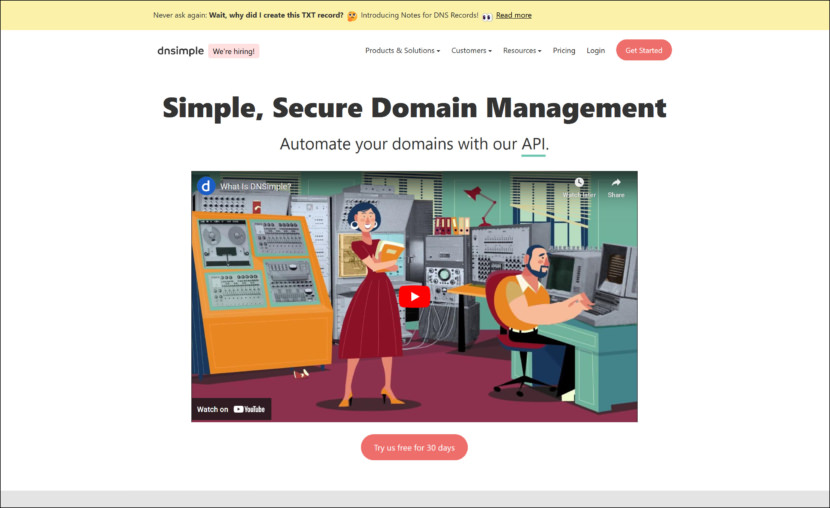 DNSimple is a domain name management service that provides a simple and easy-to-use interface for managing domain names and DNS records. It offers domain registration, as well as DNS hosting services for managing DNS records, such as A, CNAME, MX, and TXT records. DNSimple also provides advanced features such as domain auto-renewal, two-factor authentication, and API access. The service aims to simplify the process of managing domains and DNS, making it accessible to individuals and organizations of all sizes.
Anycast DNS – Faster sites. Reduces latency by advertising the same IP from different locations.
Secondary DNS – Add redundancy to your zones by having them replicate to other DNS providers.
Unlimited queries – No monthly query limits on your DNS records.
SSL Automation – With Let's Encrypt™, we provide a fully automated way to request, renew, and install your next single-name or SAN SSL certificate for free.
Multi-layered DDoS defense – Reduce the risk of your application being down due to DDoS attacks.
ALIAS records – A virtual record that provides CNAME-like behavior on apex domains.
Email Forwarding – Forward any email from your domain to your existing inbox.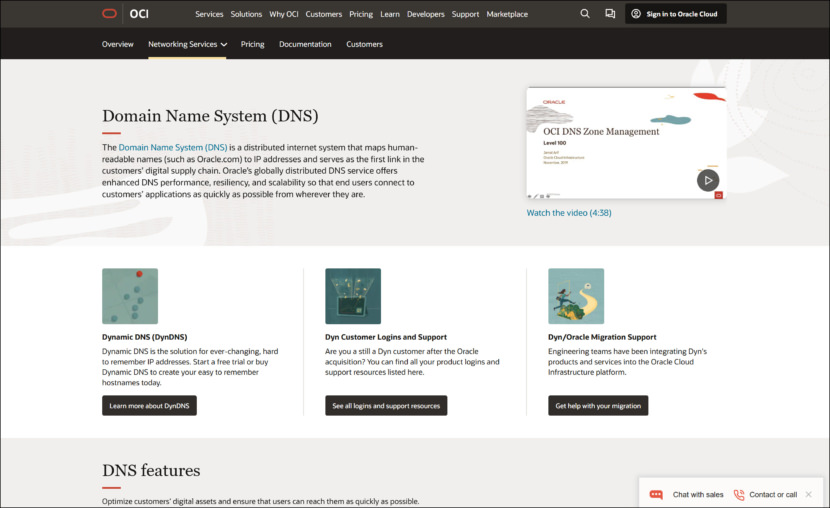 The Domain Name System (DNS) is a distributed internet system that maps human-readable names (such as Oracle.com) to IP addresses and serves as the first link in the customers' digital supply chain. Oracle's globally distributed DNS service offers enhanced DNS performance, resiliency, and scalability so that end users connect to customers' applications as quickly as possible from wherever they are.
DNS responsiveness – Customers leverage industry-leading DNS query response times (less than 30 milliseconds) to optimize their application and digital asset performance. Propagate new or modified DNS records globally in under a minute.
Supported records – Oracle supports 27 common DNS resource record types, including A, AAAA, CNAME, DNSKEY, MX, NS, PTR, SOA, and TXT.
Authoritative DNS – Customers manage DNS updates and domain names via Oracle's standards-based Authoritative DNS service, which provides low-latency global DNS resolution for web-based properties and automatic translation of domain names into IP addresses.
Secondary DNS – Setting up a secondary DNS as a redundant complement to the customer's primary DNS service ensures critical applications remain available and that end users can reach applications faster.
Dynamic DNS – Dynamic DNS is the solution to an ever-changing, hard to remember IP address. Create an easy-to-remember hostname and stay connected to your IP-compatible device. You get 30 hostnames per purchase.
DDoS protection – DDoS protection is an always-on detection and mitigation platform for common DDoS volumetric attacks. The service protects against common layer 3 and 4 attacks like SYN floods, UDP floods, ICMP floods, and NTP Amplification attacks. DDoS Protection is included with all Oracle Cloud Infrastructure (OCI) accounts and no configuration or monitoring is required. Monitoring is provided around the clock for malicious activity and delivered at no extra cost.
Global anycast network – Anycast addressing optimizes DNS performance, enabling consistent user experiences across the globe. Within an anycast network, DNS requests are answered by the point of presence (PoP) closest to the user making the request—ensuring the fastest possible DNS performance.
↓ 08 – easyDNS | 26 PoPs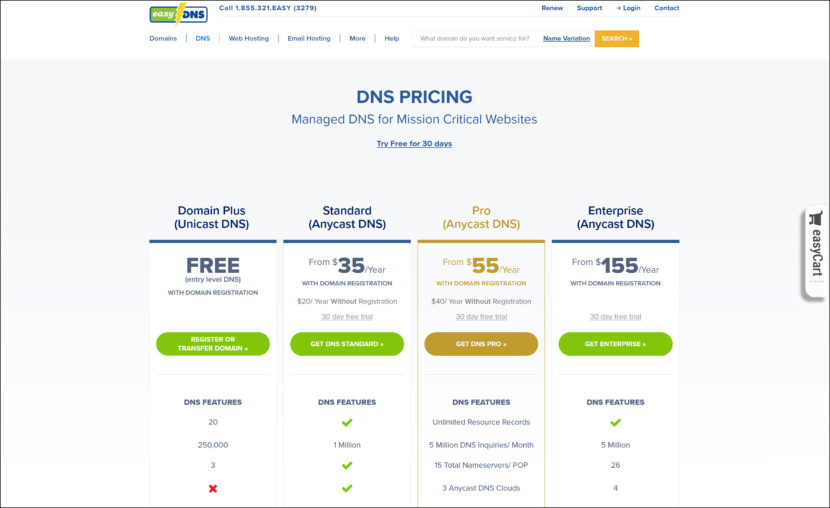 EasyDNS is a Canadian-based domain name management service that provides domain registration and DNS hosting services. It allows users to manage domain names and DNS records through a web interface or API. EasyDNS offers features such as DNS record management, email forwarding, URL forwarding, and WHOIS privacy protection. The company is known for its robust and reliable infrastructure, as well as its commitment to privacy and security. EasyDNS aims to provide businesses and individuals with an easy-to-use, yet powerful, platform for managing their domain names and online presence.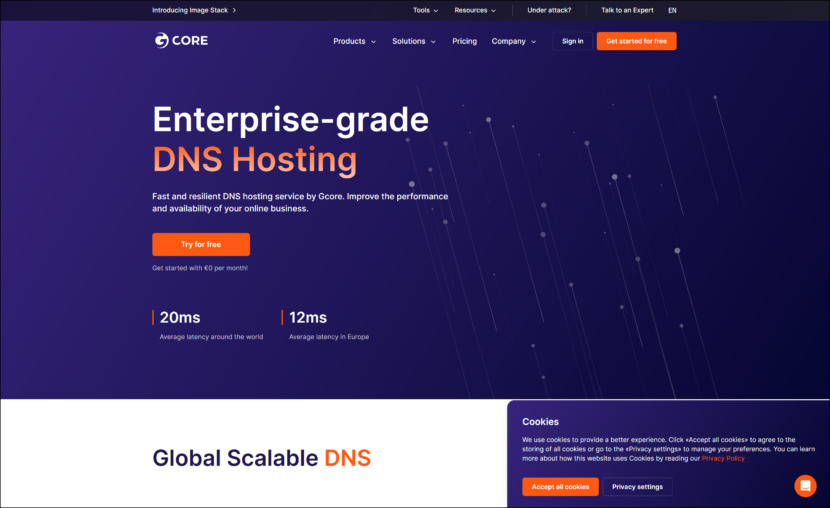 Enterprise-grade DNS Hosting. Fast and resilient DNS hosting service by Gcore. Improve the performance and availability of your online business. With their DNS hosting, you can achieve greater performance for your online services by employing a GeoDNS mechanism able to give custom DNS answers based on the client's geographical location — for example, to send users from Asia to an Asian server, and European users to a European one.
Wildcard DNS support
TTL within 20 seconds
Extended API
Two-factor authentication
DevOps tooling
Advanced and simplified UI
Advanced analytics
Zero-latency updates
Google Cloud DNS is a scalable, reliable, and managed Domain Name System (DNS) service offered by Google Cloud Platform. It allows users to host and manage their domain names, as well as configure and serve authoritative DNS records for their domains. With Cloud DNS, users can easily manage their domains, delegate subdomains, and route Internet traffic to their applications and services. The service is built on the same infrastructure that powers Google's globally distributed network, providing low latency and high reliability for users around the world. Google Cloud DNS integrates with other Google Cloud services, making it a convenient solution for customers who want to manage their domains and applications in one place.
100% availability and low latency – Use Google's infrastructure for production quality and high-volume authoritative DNS serving. Your users will have reliable, low-latency access from anywhere in the world using our anycast name servers.
Automatic scaling – Cloud DNS can scale to large numbers of DNS zones and records. You can reliably create and update millions of DNS records. Our name servers automatically scale to handle query volume.
End-to-end domain management – Use Cloud Domains to register and manage domains in Google Cloud and automatically set up DNS zones for your domains.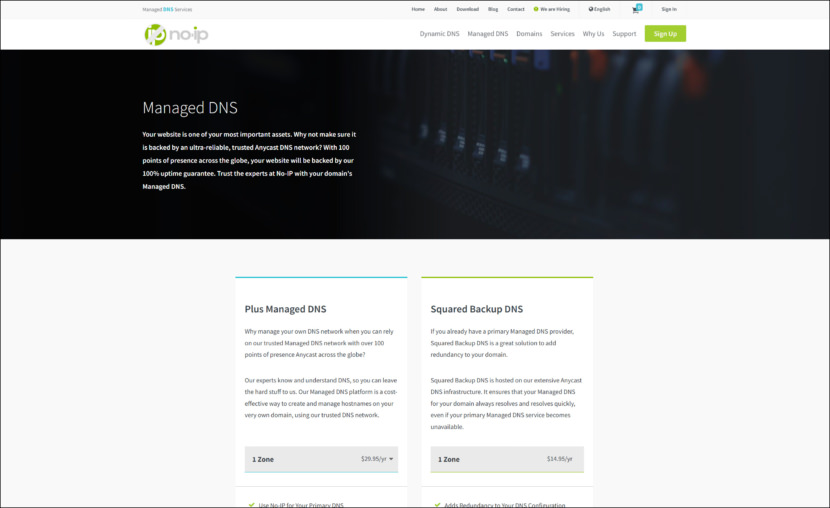 Your website is one of your most important assets. Why not make sure it is backed by an ultra-reliable, trusted Anycast DNS network? With 100 points of presence across the globe, your website will be backed by our 100% uptime guarantee. Trust the experts at No-IP with your domain's Managed DNS.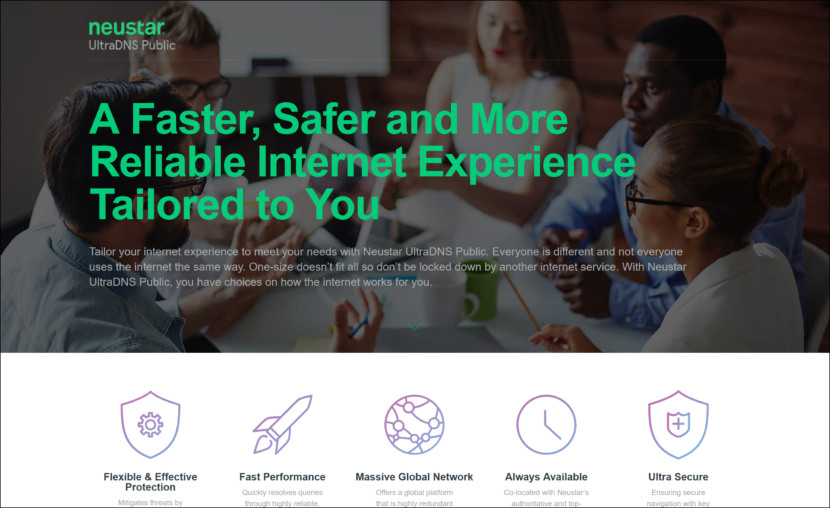 UltraDNS is a managed Domain Name System (DNS) service provided by Neustar, a technology company that specializes in identity resolution and security solutions. UltraDNS is designed to provide customers with a scalable and highly available DNS infrastructure for their domain names and online applications.
The service offers a range of features such as traffic management, load balancing, security, and analytics. With UltraDNS, customers can manage their domain names and DNS records through a web interface or API, and receive 24/7 technical support from the Neustar team. UltraDNS is widely used by large enterprises, government agencies, and other organizations that require a highly reliable and secure DNS infrastructure for their online operations.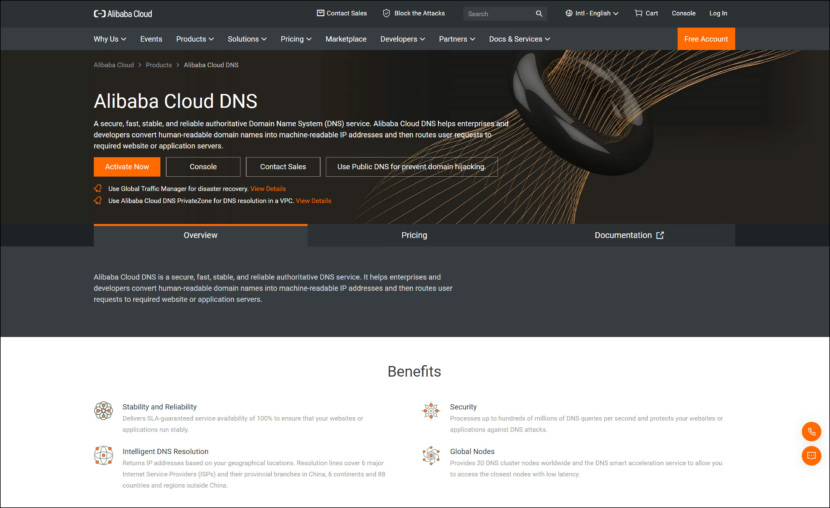 Alibaba Cloud DNS is a domain name management service provided by Alibaba Cloud, the cloud computing arm of Alibaba Group. It provides customers with an easy-to-use platform for managing their domain names and routing Internet traffic to their applications and services. Alibaba Cloud DNS offers features such as domain registration, DNS record management, and traffic management. With its high availability and low latency, Alibaba Cloud DNS is designed to provide customers with a reliable and cost-effective way to manage their domain names and online presence.
The service is integrated with other Alibaba Cloud products, making it a convenient solution for customers who want to manage their domains and applications in one place. Alibaba Cloud DNS is a secure, fast, stable, and reliable authoritative Domain Name System (DNS) service. Alibaba Cloud DNS helps enterprises and developers convert human-readable domain names into machine-readable IP addresses and then routes user requests to required website or application servers.
Stability and Reliability – Delivers SLA-guaranteed service availability of 100% to ensure that your websites or applications run stably.
Security – Processes up to hundreds of millions of DNS queries per second and protects your websites or applications against DNS attacks.
Intelligent DNS Resolution – Returns IP addresses based on your geographical locations. Resolution lines cover 6 major Internet Service Providers (ISPs) and their provincial branches in China, 6 continents and 88 countries and regions outside China.
Global Nodes – Provides 20 DNS cluster nodes worldwide and the DNS smart acceleration service to allow you to access the closest nodes with low latency.