Just having a hard to guess password is not enough to secure your email, as witnessed in USA's 2016 Presidential Election, it started with a single spear phishing email; a personalized, targeted hacking attempt sent to an employee at the Democratic Congressional Campaign Committee. Once inside the DCCC network they were also able to gain access to the DNC using malware on employee's computers.
🤣😍😂 3 Free Email Backup Software For Gmail & Self Hosted Email Archiving Solutions
If you are sending sensitive information, using a secure, encrypted and 2-factor login email service provider will solve many of your potential troubles. These services don't collect or sell your data, don't scan your emails for keywords in order to sell directed advertisements, and don't allow any government agencies to access server data, helping to keep your data and privacy protected as much as possible.
Here are our top 10 secure email providers that you can use for messaging and communicating with confidence. Each email provider offers a high level of security and great features that can benefit you over other standard email services. To further protect and safeguard your personal data from prying eyes, use a VPN to encrypt your data when using email services.
ProtonMail is an easy to use secure email service with built-in end-to-end encryption and state of the art security features. Our goal is to build an internet that respects privacy and is secure against cyberattacks. ProtonMail is the top-most rated secure email provider right now. It not only provides secure email messaging service but also gives users the ability for quick setup and ensures that the user stays safe from email scammers.
Swiss Privacy – ProtonMail is incorporated in Switzerland and all our servers are located in Switzerland. This means all user data is protected by strict Swiss privacy laws.
End-to-End Encryption – All emails are secured automatically with end-to-end encryption. This means even we cannot decrypt and read your emails. As a result, your encrypted emails cannot be shared with third parties.
Anonymous Email – No personal information is required to create your secure email account. By default, we do not keep any IP logs which can be linked to your anonymous email account. Your privacy comes first.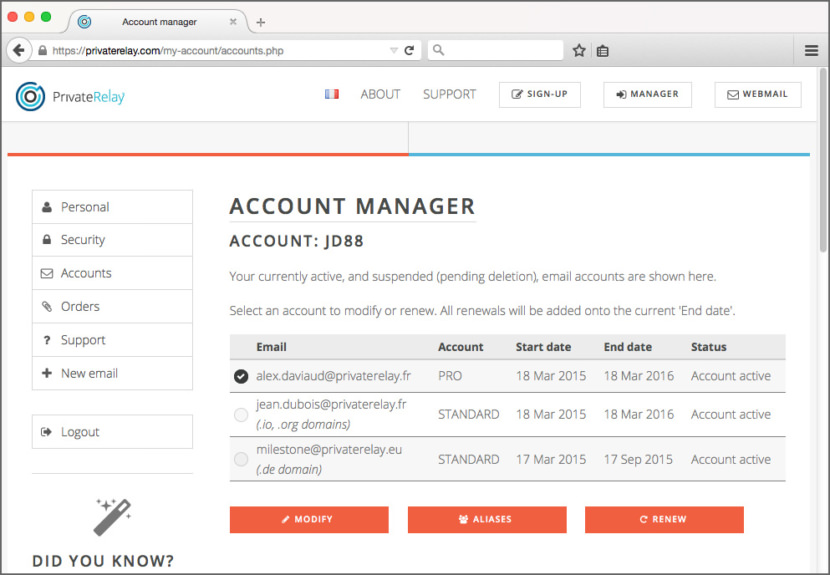 Personal data is private, and should stay that way. Liberate yourself from free providers by choosing to be the client, not the product. No data sharing, selling or user profiling and we directly manage all our servers which are located in France. Their systems use 'Exchange', not just plain IMAP / CalDAV, which automatically synchronises and alerts of new email.
Email – A feature rich web client and full mobile support, which automatically downloads and alerts of new email.
Contacts – All your contacts managed and updated in one place, accessible on your desktop and also when on the go.
Calendars – Meetings, appointments, events and birthdays all with reminder alerts and managed with ease.
Tasks – Task management couldn't be easier with priorities and progress classification.
Encrypted data – Data passing between you and our servers is fully encrypted, keeping your data safe.
Sharing – A collaborative solution where contacts and calendars can be shared with friends and colleagues.
Synchronised – Seamless synchronisation between each of your devices.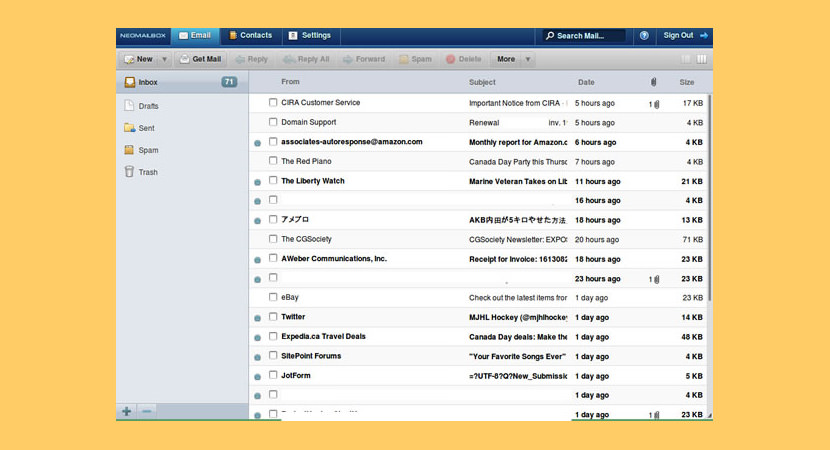 To protect yourself, your family and your organization from the serious and growing risks of profiling, identity theft and privacy invasion online you need strong security for your email. Neomailbox has been providing secure and reliable email services for over 15 years, enabling thousands of individuals and organizations to protect their privacy online.
Offshore Secure Email – Fast, secure, reliable email service with IP anonymity, spam and virus protection, unlimited disposable addresses.
Anonymous Surfing – Surf the web in privacy without revealing your IP address, via an encrypted tunnel to our servers in Switzerland.
Offshore Privacy Combo – Combines Offshore Secure Email and Anonymous Surfing for complete online privacy protection.
Secure – An email infrastructure designed with multi-level security to protect and defend your critical communications.
Professional – Use your own domain name for your email, and enable flexible messaging for your organization, free from ads and distractions.
Unlimited Addresses – Every Neomailbox account includes unlimited disposable email addresses, so you can vanish from spammers' sights whenever you like.
Private – Unlimited aliases, SSL and OpenPGP encryption, and IP address protection put you in control of your information.
Mailfence is an encrypted email service based on the OpenPGP standard that offers end-to-end encryption and digital signing. Privacy is a right, not a feature. This is the founding principle of the Mailfence service. After the 2013 global mass surveillance revelations by Edward Snowden, it became evident that online privacy is threatened. Therefore, we decided to launch a highly secure email and collaboration service which respects the privacy of users.
No tracking – No ads, no spams, no trackers, no solicitations, no backdoor, free from government surveillance.
Privacy protection – State of the art security features protect your email privacy at all times.
Legal protection – Belgian privacy protection law is strong. Only local judges can request information and they must have a court order. It rarely happens.
Encryption – Encryption happens in the browser. It is impossible for anyone (including us) to read your emails along the line. Fully interoperable with any OpenPGP service.
Kolab now is a Switzerland-based open-source encrypted email service that is focused on providing small and medium-sized enterprises with secure email services and a complete online office suite. Enjoy the world's best privacy legislation and terms of service that put you first. All of this with a feature set that is complete to allow you to run your entire business collaboration.
Tutanota offers an open webmail service that is very easy to use. Their intuitive design enables everybody to send secure messages. All the encryption is taken care of automatically in the background. The developers of Tutanota declare that they do not use PGP in the encryption because for them the encryption of the matter is also important. Therefore they have developed a proprietary solution based on AES and RSA that encrypts attachments, text and subject. They do not record IPs or email addresses, which are deleted.
Encryption made easy – Tutanota automatically encrypts all your data on your device. Your mails as well as your contacts stay private. You can easily communicate with any of your friends end-to-end encrypted.
Open source and forever free – Tutanota is licensed under GPL v3 – essential to any encryption service. Open source enables security experts to verify the code that protects your mails.
CounterMail is a secure and easy to use online email service, designed to provide maximum security and privacy without any unnecessary complexity. You can access your email account at any time, from anywhere in the world. Your account will always be encrypted and anonymous. CounterMail's encryption works automatically and transparently, it requires no specialized computer skills or knowledge. If you are comfortable using services like Hotmail or Gmail, you will be comfortable using CounterMail's secure email!
PGP-encrypts all unencrypted email inside your account
Anonymous email headers
Portable and secure email from any browser
With Hushmail, you don't need additional email providers because they integrate the encryption component seamlessly with their email service. You are able to send and receive emails as with any regular email service, but you also have the option to encrypt your emails for extra protection. The encryption is automatic between Hushmail users. For everyone else, you can manage it with a checkbox located on the Compose screen of our webmail or Hushmail for iPhone app.
Easy encryption – Encryption between Hushmail users happens automatically, so you don't even have to think about it. When emailing people who don't use Hushmail, our on-demand encryption is easily managed with a checkbox.
Multiple layers of security – We have a proven track record of providing industry-standard OpenPGP encryption to protect the contents of the email, ensuring its security, privacy, and authenticity.
Two-step verification – This layer of security prevents unauthorized access to your Hushmail account by using a two-stage process to authenticate your identity from any device we don't recognize.
Posteo is an independent email provider based in Berlin. They offer anonymous and sustainable email accounts, address books and calendars. Their service is completely ad-free and self-financed. Posteo was founded in 2009. They want to provide an impetus for greater security, privacy and sustainability on the internet, and offer alternatives.
Posteo is for all who have had enough of companies that collect data, inboxes polluted with advertising and all-pervasive surveillance on the internet. It's also for those who find it important to act sustainably in terms of both ecology and economics.
All saved data can be encrypted at the click of a button
Comprehensive encryption
Two-factor authentication (TOTP) available
Ad-free website, ad-free email account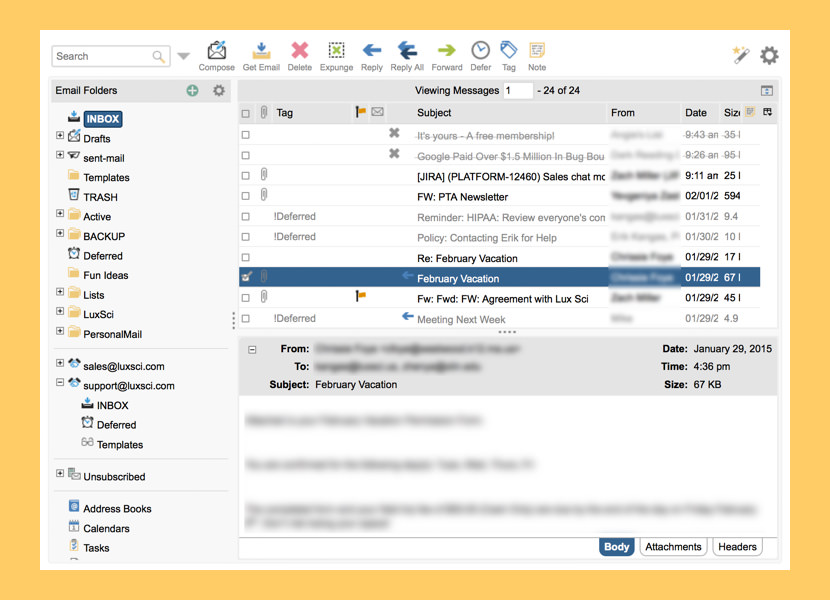 LuxSci is the only secure email provider based in the USA. They are offering users, and business professionals a full email-based productivity suite while keeping security and anonymity their top priority. It supports end-to-end encryption and doesn't require any setup to install.
PGP and S/MIME
End-to-end email encryption
Secure TLS-Only Email Forwarding
Protected, Secure Logins
Uses SMTP TLS and other secure systems
Runbox offers professional email services and we are dedicated to providing reliable and secure solutions to individuals and businesses. They have been doing this for almost 15 years, and spend every day of the year improving our services and providing support for our customers. Runbox uses two-factor authentication and with no external tracking cookies, it is almost impossible for scammers to hack into any Runbox email account.
Create email aliases to use different email addresses with just one account
Powerful and reliable in processing and storing a large amount of data.
Professional management of emails such as spam filtering, customized sorting, forwarding, etc.
↓ 12 – SCRYPTmail [ USA ] | USD2/month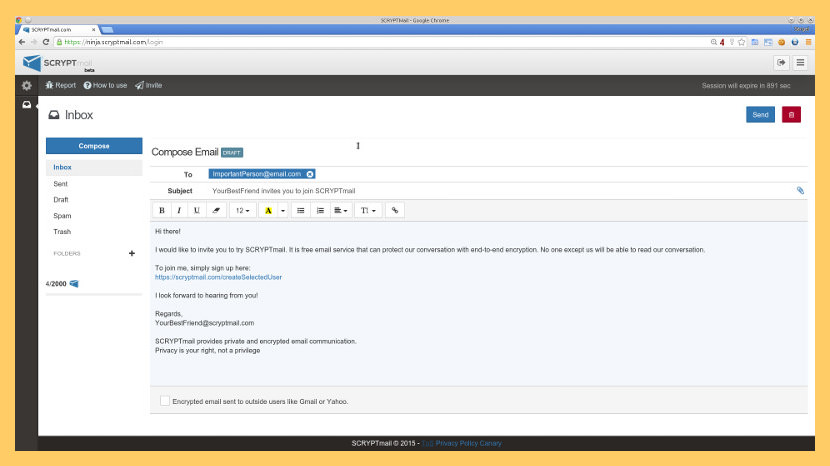 SCRYPTmail is an encrypted email service with a focus on security and user privacy. With SCRYPTmail, you can send encrypted emails and files of any type (doc, zip, mp3, etc.) to people who don't even have a SCRYPTmail account. You can also send an email to multiple people at the same time, and it will BCC to each of them so you never leak your recipients.
Unlike many services out there, SCRYPTmail is a true front-end encrypted service so clear text information is never sent over the network. As an extra security layer, we also encrypt email metadata so if our database ever gets compromised, an attacker can not learn who to talk to.