When it comes to online degrees, many are skeptical, however, there is another alternative, which is online certificates which differ from a full time degree. These free courses are offered by reputable companies and universities for free, they are simple courses and at the end of the day, some of these online courses give you a simple free certificate for completing it.
See More ▼ 45 Free Modern Resume / CV Templates – Minimalist, Simple & Clean Design
With more than thousands of courses to pick from, discover courses, materials, & teaching resources you have to identify to up-skill. Knowledge and skills are what makes you stand out from your colleagues. without further ado, here is the complete list of most of the free online courses, some come with certificates to enhance your resume.
With Free Certificate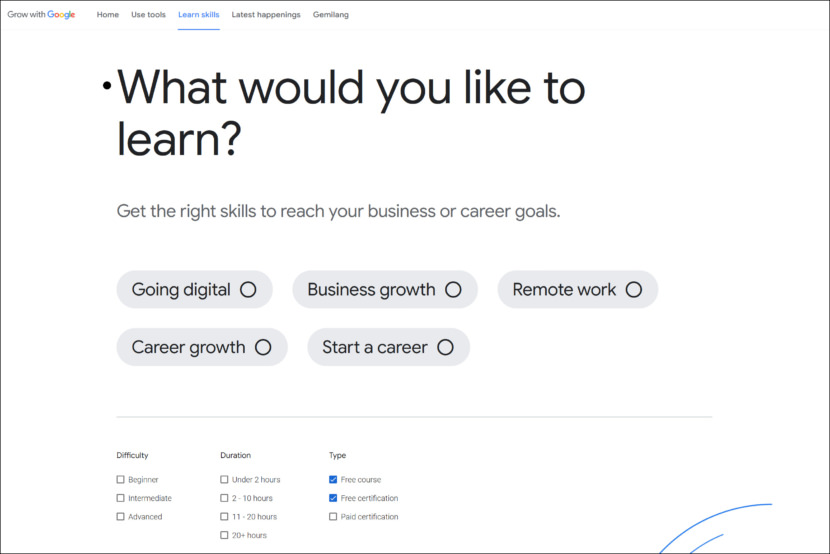 Earn certificates in 3-6 months through flexible, self-paced, online training that can lead to desired careers in high-growth fields. Google Career Certificates are completely online, so there is no need to show up to a classroom in person. You can access your instructional videos, readings, and assignments anytime and anywhere via web or your mobile device.
Cybersecurity Certificate
Data Analytics Certificate
Digital Marketing & E-commerce Certificate
IT Certificate
Project Management Certificate
UX Design Certificate
With Free Certificate
freeCodeCamp is a community of people from all around the world who are learning to code together. You will learn to code by building dozens of projects, step-by-step, right in your browser, code editor, or mobile app. You will also earn free verified certifications along the way.
You will learn the skills most developers use on the job: HTML, CSS, JavaScript, Python, Linux, Git, and SQL, and more. You'll also learn how to use powerful libraries for web development, mobile app development, data science, and artificial intelligence. Earn free verified certifications with freeCodeCamp's core curriculum:
Responsive Web Design Certification
JavaScript Algorithms and Data Structures Certification
Front End Development Libraries Certification
Data Visualization Certification
Relational Database Certification
Back End Development and APIs Certification
Quality Assurance Certification
Scientific Computing with Python Certification
Data Analysis with Python Certification
Information Security Certification
Machine Learning with Python Certification
College Algebra with Python Certification
Foundational C# with Microsoft Certification
With Free Certificate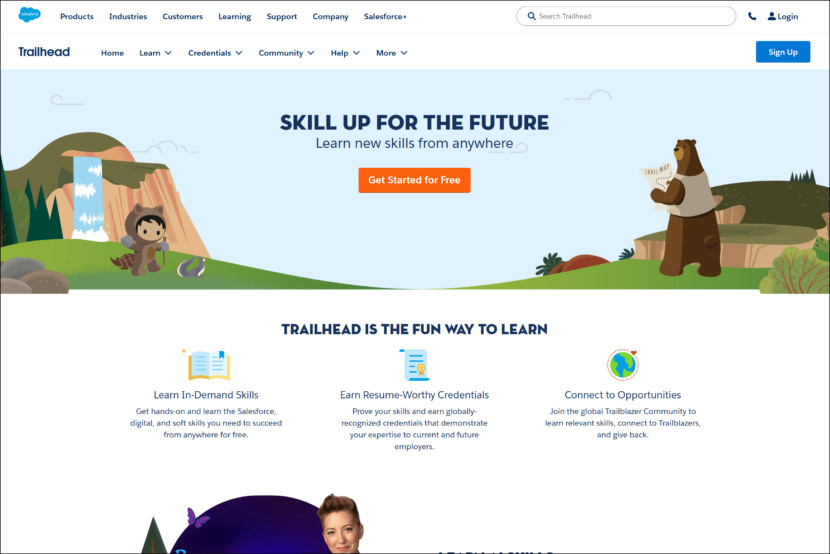 Salesforce credentials grow your resume and highlight your skills. Prove your hands-on experience with Salesforce and get a competitive edge that leads to new opportunities. Prove your skills and earn globally-recognized credentials that demonstrate your expertise to current and future employers. The following Salesforce certificate are available after you completed the online courses:
Salesforce Administrator
Salesforce Developer
Salesforce Technical Architect
Salesforce Marketer
Salesforce Consultant
With Free Certificate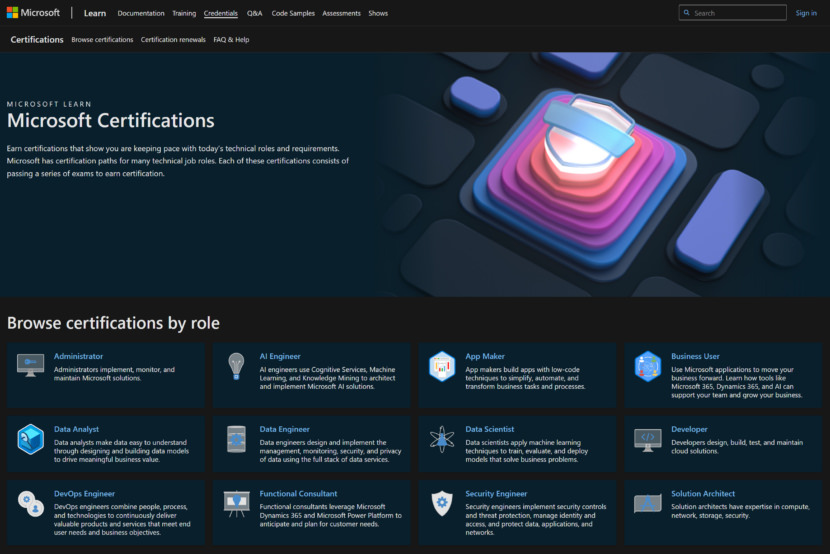 Earn certifications that show you are keeping pace with today's technical roles and requirements. Microsoft has certification paths for many technical job roles. Each of these certifications consists of passing a series of exams to earn certification.
Microsoft understands everyone has different learning preferences so they provide certifications and training options throughout your certification journey. With Microsoft Learn, anyone can master core concepts at their speed and on their schedule. Whether it's a single module to learn about a core task or exploring a topic fully through a collection of related modules.
Administrator – Administrators implement, monitor, and maintain Microsoft solutions.
AI Engineer – AI engineers use Cognitive Services, Machine Learning, and Knowledge Mining to architect and implement Microsoft AI solutions.
App Maker – App makers build apps with low-code techniques to simplify, automate, and transform business tasks and processes.
Business User – Use Microsoft applications to move your business forward. Learn how tools like Microsoft 365, Dynamics 365, and AI can support your team and grow your business.
Data Analyst – Data analysts make data easy to understand through designing and building data models to drive meaningful business value.
Data Engineer – Data engineers design and implement the management, monitoring, security, and privacy of data using the full stack of data services.
Data Scientist – Data scientists apply machine learning techniques to train, evaluate, and deploy models that solve business problems.
Developer – Developers design, build, test, and maintain cloud solutions.
DevOps Engineer – DevOps engineers combine people, process, and technologies to continuously deliver valuable products and services that meet end user needs and business objectives.
Functional Consultant – Functional consultants leverage Microsoft Dynamics 365 and Microsoft Power Platform to anticipate and plan for customer needs.
Security Engineer – Security engineers implement security controls and threat protection, manage identity and access, and protect data, applications, and networks.
Solution Architect – Solution architects have expertise in compute, network, storage, security.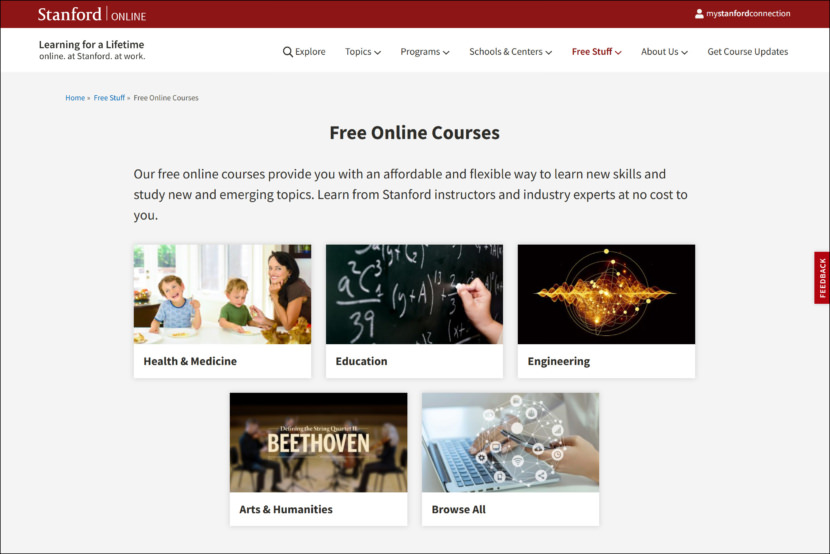 Their free online courses provide you with an affordable and flexible way to learn new skills and study new and emerging topics. Learn from Stanford instructors and industry experts at no cost to you.
You can gain access to a world of education through Stanford Online, the Stanford School of Engineering's portal for academic and professional education offered by schools and units throughout Stanford University. Their robust catalog of degree programs, credit-bearing education, professional certificate programs, and free and open content is developed by Stanford faculty, enabling you to expand your knowledge, advance your career, and enhance your life.
Artificial Intelligence
Business & Management
Innovation & Entrepreneurship
Artificial Intelligence
Cybersecurity
Data Science Statistics
Data Mining
Design Thinking & Creativity
Energy & Sustainability
Chemical Engineering
Civil & Environmental Engineering
Electrical Engineering
Materials Science & Engineering
Health & Medicine
Humanities & Sciences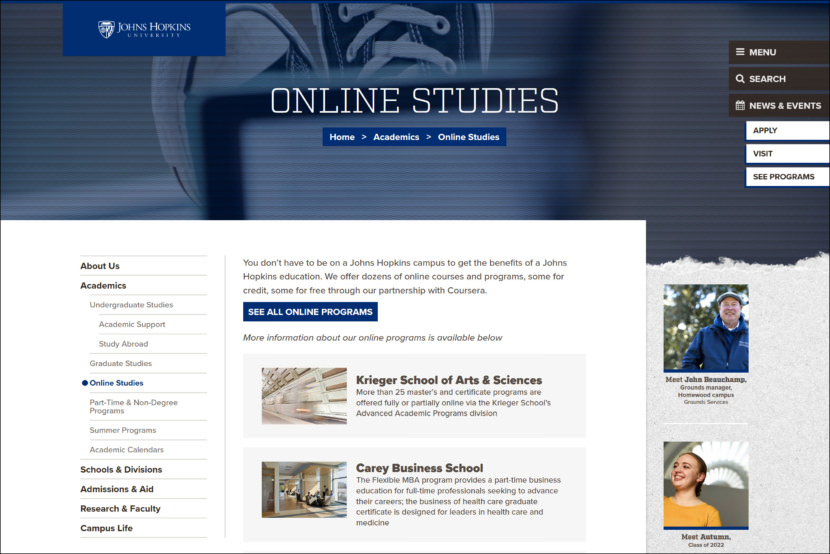 You don't have to be on a Johns Hopkins campus to get the benefits of a Johns Hopkins education. They offer dozens of online courses and programs, some for credit, some for free through their partnership with Coursera.
Johns Hopkins University faculty and students study, teach, and learn across more than 400 programs in the arts and music, the humanities, the social and natural sciences, engineering, international studies, education, business, and the health professions.
Krieger School of Arts & Sciences – More than 25 master's and certificate programs are offered fully or partially online via the Krieger School's Advanced Academic Programs division
Carey Business School – The Flexible MBA program provides a part-time business education for full-time professionals seeking to advance their careers; the business of health care graduate certificate is designed for leaders in healthcare and medicine
School of Advanced International Studies – Explore the world of international relations through innovative graduate courses and degree programs offered online.
School of Education – Doctoral, master's, and certificate programs offered fully online, plus a selection of professional development courses
Whiting School of Engineering – More than 140 online courses are available via Johns Hopkins Engineering for Professionals, including programs in computer science, cybersecurity, environmental engineering, and information systems engineering
School of Medicine – The Department of the History of Medicine offers an online master's and certificate in the History of Medicine, as well as individual courses for credit
School of Nursing – Online prerequisites for health professions—including anatomy, biostatistics, microbiology, and physiology—plus master's programs and certificate options
Bloomberg School of Public Health – Offering online degree programs, courses, certificates, and training, plus an expanding portfolio of free online courses via OpenCourseWare, Coursera, and iTunes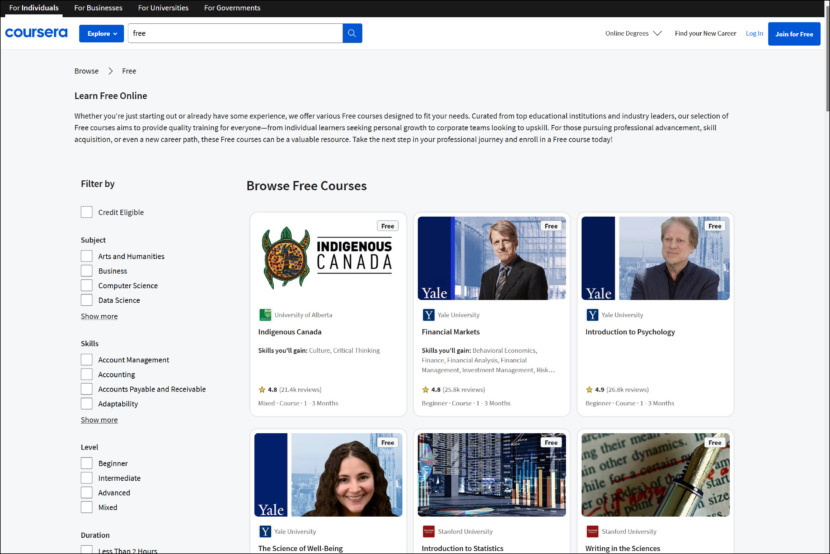 Whether you're just starting out or already have some experience, they offer various Free courses designed to fit your needs. Curated from top educational institutions and industry leaders, their selection of Free courses aims to provide quality training for everyone—from individual learners seeking personal growth to corporate teams looking to upskill.
For those pursuing professional advancement, skill acquisition, or even a new career path, these Free courses can be a valuable resource. Take the next step in your professional journey and enroll in a Free course today! In summary, here are 10 of their most popular free courses:
Indigenous Canada: University of Alberta
Financial Markets: Yale University
Introduction to Psychology: Yale University
The Science of Well-Being: Yale University
Introduction to Statistics: Stanford University
Writing in the Sciences: Stanford University
Business Analytics with Excel: Elementary to Advanced: Johns Hopkins University
Organizational Analysis: Stanford University
Introduction to Generative AI: Google Cloud
Private Equity and Venture Capital: Università Bocconi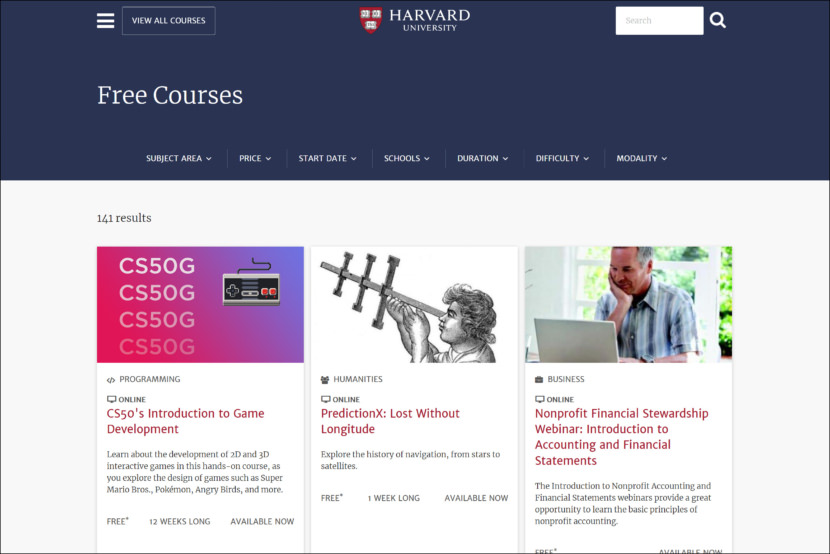 Harvard Online creates fully online courses that learners can take from anywhere in the world. Better Your Career, Your Community & The World. Award-Winning Faculty, 100% Online Course.
Art & Design
Business
Computer Science
Data Science
Education & Teaching
Health & Medicine
Humanities
Mathematics
Programming
Science
Social Sciences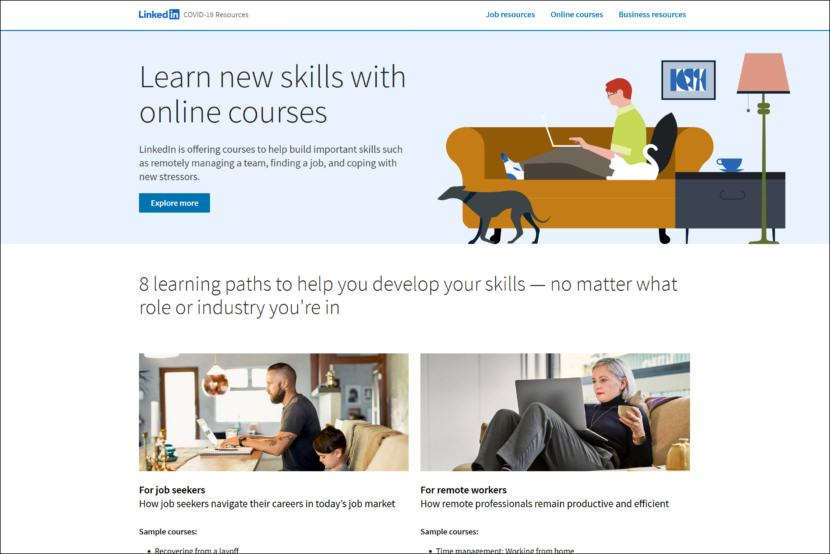 LinkedIn is offering courses to help build important skills such as remotely managing a team, finding a job, and coping with new stressors. These learning paths are designed to help you develop your skills — no matter what role or industry you're in.
A MOOC is your gateway to the most interesting contents at a top university. Study according to your schedule! The acronym MOOC stands for Massive Open Online Course. MOOCs are open online courses which can accommodate an unlimited number of participants. MOOCs are typically available for a specific period (e.g., one academic term or year), during which students can participate in the course flexibly according to their own schedule.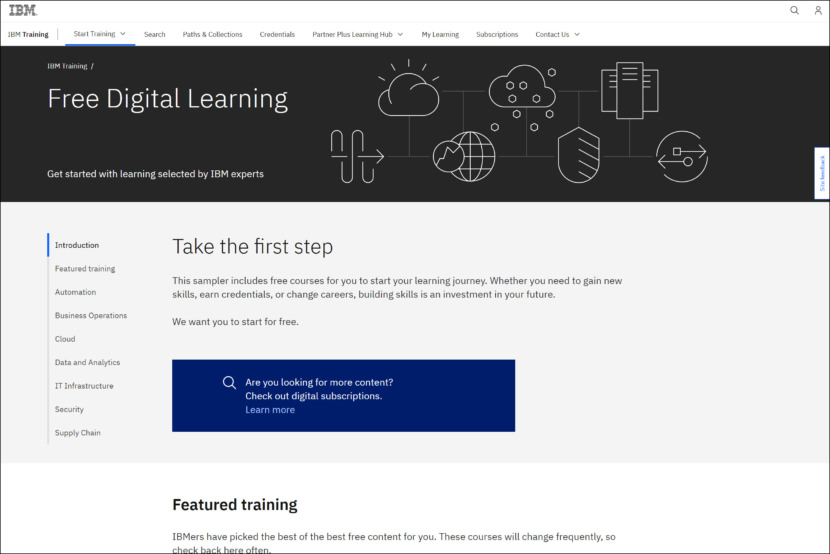 This sampler includes free courses for you to start your learning journey. Whether you need to gain new skills, earn credentials, or change careers, building skills is an investment in your future. IBMers have picked the best of the best free content for you. These courses will change frequently, so check back here often.
Automation – IBM Automation provides capabilities to tackle operational challenges. Main advantages include domain-specific features to automate IT and business workflows, and foundational capabilities providing intelligent, real-time, event-driven flows to automate across business & IT.
Business Operations – IBM Asset Management includes Maximo, TRIRIGA, Engineering Lifecycle Management, and Weather offerings. Each of these offerings have high impact usage in managing assets in asset intensive industries, managing complex product and software development, and weather analytics.
Cloud – IBM has created a full curriculum to support all Cloud job roles with both learning and certifications. Start here with free training to gain basic knowledge or jump into a role-based learning path.
Data and Analytics – Follow IBM's AI Ladder to modernization. Collect, organize, analyze, and infuse data by learning about Cloud Pak for Data and how it can be used by Data Scientists, Developers, Solution Architects, and Administrators. Learn how to use Watson Studio, Watson Assistant, and more!
IT Infrastructure – Delivering technical content for every phase of the client journey. Here you will find courses focused on educating IBM Systems clients, BPs and IBMers. They provide hands-on labs to increase the retention and value of training.
Security – Gain new security skills and an introduction to cybersecurity, as well as sampling of 2,000+ free self-paced courses available on the Security Learning Academy. Students can learn how to complete a task or obtain a digital credentials across all IBM Security products.
Supply Chain – Supply Chains are invariably the lifeline of any business today. IBM Supply Chain solutions include their B2B Collaboration & Order and Inventory Management offerings, helping organizations increase efficiency and visibility of the supply chains and simplify supplier management.
Ready to begin, change, or propel your career? Cisco Networking Academy offers certification-aligned courses in topics like cybersecurity, networking, and Python. Learn on your own time with self-paced courses from industry experts. Collect badges and prepare for industry-recognized certifications.
Learn topics like networking, cybersecurity, and programming through courses backed by learning science and Cisco expertise – and prepare for certifications and job-ready skills that will set you up to work anywhere.
Networking
Cybersecurity
Internet of Things
Programming
Infrastructure Automation
OS & IT
Packet Tracer
Data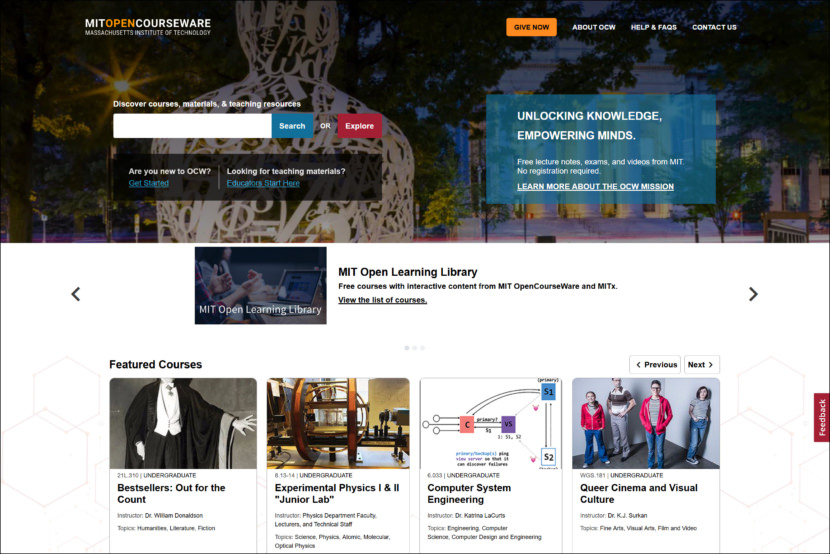 MIT OpenCourseWare is a free and open collection of material from thousands of MIT courses, covering the entire MIT curriculum. Freely browse and use OCW materials at your own pace. There's no signup, and no start or end dates.
MIT OpenCourseWare offers a completely self-guided experience with published content from MIT courses that is open all of the time and licensed for download, remix, and reuse, but does not offer certificates nor interaction with teachers and learners. OCW offers course content and materials related to a wide range of collections. Below are some topics available for you to explore:
Aeronautics and Astronautics
Biology
Comparative Media Studies/Writing
Earth, Atmospheric & Planetary Sciences
Economics
Electrical Engineering & Computer Science
Global Languages
Linguistics & Philosophy
Management
Materials Science and Engineering
Mathematics
Mechanical Engineering
Nuclear Sciences & Engineering
Physics
Urban Studies and Planning
Harvard-MIT Program in Health Sciences and Technology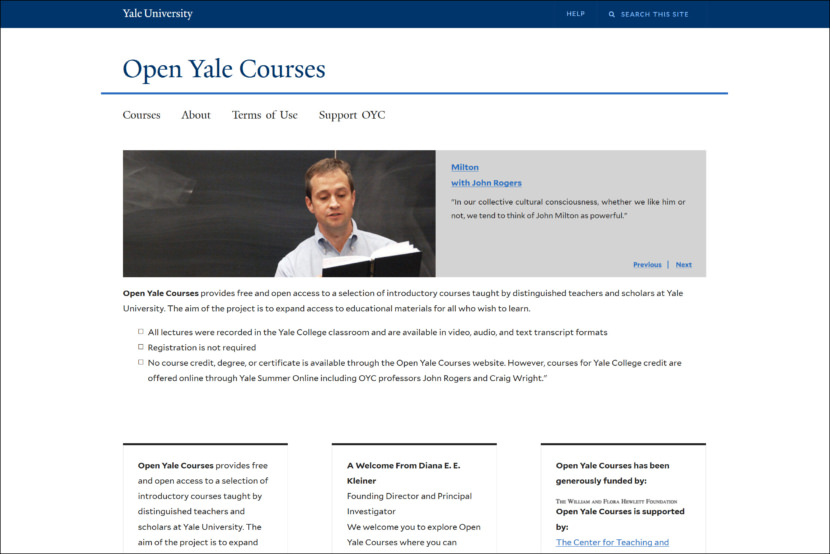 Open Yale Courses provides free and open access to a selection of introductory courses taught by distinguished teachers and scholars at Yale University. The aim of the project is to expand access to educational materials for all who wish to learn. All lectures were recorded in the Yale College classroom and are available in video, audio, and text transcript formats.
Open Yale Courses provides free and open access to a selection of introductory courses taught by distinguished teachers and scholars at Yale University. The aim of the project is to expand access to educational materials for all who wish to learn. No course credit, degree, or certificate is available through the Open Yale Courses website.
Ancient History
Architecture
Art History
Biology
Chemistry
Child Study
Ecology and Evolutionary Biology
Economics
Education Studies
Environmental Studies
Finance
Health
History of Science and Medicine
Humanities
Law
Leadership
Literature
Medicine
Music
Nursing
Personal Development
Philosophy
Physics
Political Science
Psychology
Public Health
Religious Studies
Science
Social Science
Sociology
U.S. History