↓ Sponsored Links / Updated: March 6, 2015 / Home » Computer & Internet Security » Antivirus Protection » Free Antivirus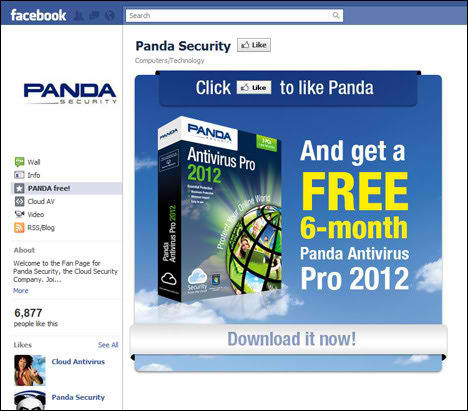 Are you searching for Panda Antivirus Pro 2012? Look no further, Panda Security is giving away genuine 6 months worth of Panda Antivirus Pro 2012 full version license key and serial number. All you have to do is visit their Facebook fanpage, click the 'Like' button and download the freebies giveaway antivirus. Alternatively, you might like Panda Cloud Antivirusfor Windows 7.
No slogan, no competition, no catchline to come up with. Just join their fanpage and you're entitled to the internet security protection software. Alternatively, for those without Facebook, you can download Panda Antivirus Pro 2012 via this link (70.1 MB)free license.
I am not a big fan of Panda Security, probably because I am old school and believe that all antivirus are more or less the same. The best antivirus is none other than your own browsing and computing behavior. Practice proper precautions when installing software, especially those from torrents and suspicious websites.
Having said that, this doesn't mean a person with good computing habit doesn't need an antivirus. Security software like Panda Antivirus Pro 2012 is a must if you're into online banking and more. Especially the firewall feature that comes bundled into most antivirus software.
3 Features of Panda Antivirus Pro 2012
Panda SafeCD – clean all types of malware from your computer if you cannot start Windows
USB vaccine – Prevents viruses that exploit the Windows Auto Run feature to automatically run multimedia files in removable (CD, DVD or USB) drives.
Firewall – Neutralizes network viruses and prevents possible intrusions or attacks by hackers trying to enter your PC through the Internet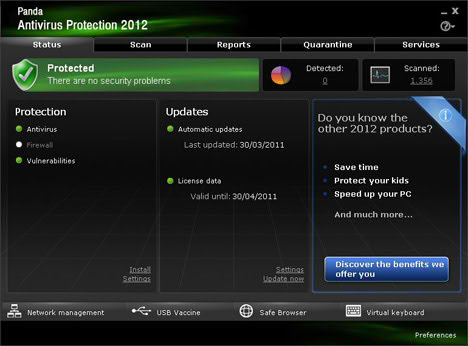 If you're uncertain, let me assure you that Panda Antivirus Pro 2012 six months free license is as good as any other security software.