At the time of writing, Garmin is the biggest GPS Navigator maker in the world, followed by TomTom. If you have been using a dedicated Garmin or TomTom GPS Navigator for your entire life and decided not to upgrade the device, here are the app version available for your smartphones.
Related Article 2019 ➤ 4 Free Offline Turn-By-Turn Navigation Apps For Driving With Android And iOS Smartphones
Personally, I find Garmin and TomTom devices reliable and easy to navigate, this is because the texts are large and graphics are simple, unlike other GPS apps maker where they tend to cramp as much information they possibly can on such a tiny screen.
After all, Garmin is well known for making GPS devices for pilots and the military, thus simple user interface and importance of displaying key information at such a small screen. Their user interface is designed to be used at a distance, while others like Google Maps have more of the 'desktop' or 'laptop' view point – tiny text with tons of information or lack of it. Works great on Android 8.0 Oreo / Android 9.0 [ Popsicle, Pancakes or Pie ] smartphones such as Samsung Galaxy, Huawei Mate, Oppo, Vivo, XiaoMi, Nokia, and also Apple's iOS iPhone.
Smartphone vs. Dedicated GPS
The million dollar question, which is more accurate? Mobile phones use a combination of three systems to determine their absolute position:
GPS / A-GPS
Wifi triangulation
Cell tower triangulation
In the middle of nowhere, with no 3G or 4G cell signal (including A-GPS), you will not see a difference between cellphone and handheld GPS performance.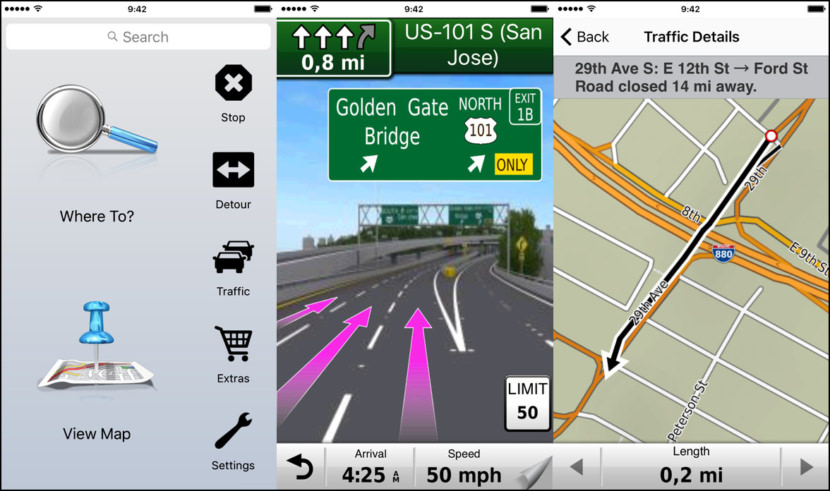 Due to the failure of Garmin Navigator App for both iOS and Android, Garmin rewrote the entire GPS app for smartphone. Due to the fragmentation of Android OS system, it is exclusively for iOS only. Garmin StreetPilot Onboard is a one-time purchase that gives your iPhone® or iPad® the best GPS navigation — even when you don't have cell coverage. Maps are saved on your device, so you can look up addresses and millions of points of interest (POIs), such as gas stations, restaurants and ATMs, without wireless coverage. It's like having a nüvi personal navigator on your Apple® device.
Designed exclusively for your iPhone or iPad, the StreetPilot Onboard app turns your Apple device into a premium GPS navigator with turn-by-turn, voice-prompted directions that speaks street names and automatically calculates a new route if you get off track.
Install the latest maps for your purchased coverage area directly on your phone
Enjoy GPS navigation even when there is no cell coverage available
Get voice-prompted, turn-by-turn directions including street names
Receive millions of preloaded POIs, including gas stations, restaurants and ATMs, along with Quick Search shortcuts to access your most common searches
Place calls directly from search listings
See 3-D buildings and landmarks
Know the correct lane before it's too late with lane guidance and photoReal™ junction view
Receive integrated Speedwatch red-light and speed cameras (as available), including user-generated alerts
Use via points to enable interim stops along a route
View speed limits for most major roads with the ability to report speed limit changes or errors
See traffic conditions with live photographic images of the road ahead with the optional photoLive traffic camera service
Find nearest address, intersection, emergency services, including hospitals, police stations, gas stations and auto services with Where Am I? feature
See exit services such as restaurants, gas stations and lodging available at exits along your route
Create a route with multiple stops in advance with automatic or manual ordering of destinations
Navigate to contacts in your address book
Customize what appears on the moving map with configurable vehicle icons
Configure display to show arrival time, time or distance to destination, direction of travel, elevation and more
View route overview, turns list and turn-by-turn detail to help keep you on track
See a trip log that shows you where you've been
Enjoy super-fast map drawing and panning
Receive continuous navigation during an active call
Navigate in both portrait and landscape mode
Access real-time traffic information, photoLive traffic cameras and fuel pricing as optional services
View the current weather conditions and see a 5-day forecast for your current location or destination
↓ 02 – TomTom GPS Mobile | USD18 for 1 year | USD42 for 3 years | Android | iOS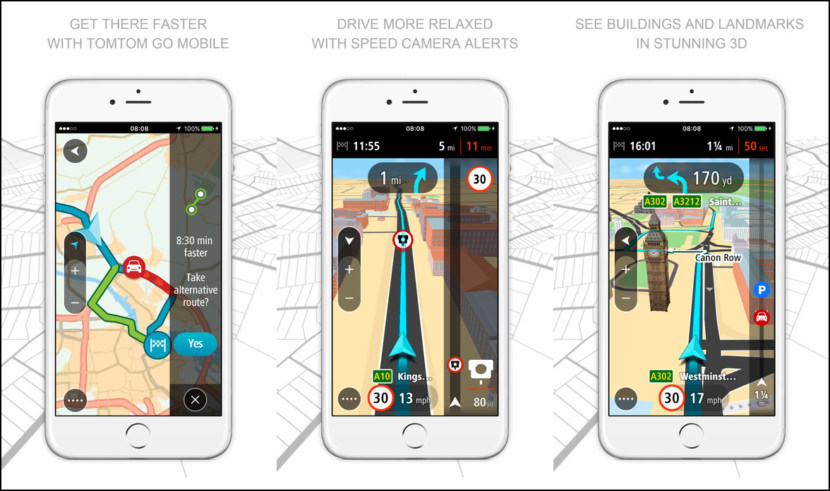 Somewhat expensive when there are so many free alternatives. The TomTom GO Mobile app is a sleek combination of the latest TomTom car navigation technology and world-class traffic information. You will always choose the best route available based on accurate, real-time traffic information that gets you to your destination faster, every day.
Offline navigation you can rely on – Maps are stored on your device, so you don't need internet access or data roaming to plan a route. With coverage of more than 150 countries you can drive to endless destinations.
Drive more relaxed with Speed Camera alerts – Get timely alerts for fixed and mobile speed cameras. Join our community of millions of drivers sharing speed camera locations in real-time.
See buildings and landmarks in stunning 3D – With 3D Maps, you'll always know exactly where you are.
Insanely accurate traffic information – We're passionate about traffic so you don't need to be. Get highly accurate traffic information, in real-time.
How Does GPS Work?
Fourth segment of NASA Sci Files The Case of the Technical Knockout explaining how GPS receivers work with satellites to determine an exact location. This segment explains the concept of trilateration in two and three dimensions.
The Evolution of GPS