Casual drivers don't use a dedicated Garmin or TomTom GPS Navigator anymore, with the birth of better smartphones, it doesn't make any sense to buy a device with 1 function when an Android smartphone or iPhone can perform the same task for free. Google Maps is the most informative map app, and Waze is possibly the best when it comes to driving. Unfortunately, Waze doesn't offer an offline feature because it defeats the purpose of the app – avoiding traffic by finding the least congested route.
See More ▼ 6 Best Dash Cam App for Android Smartphone [ Pros & Cons ]
For those without a mobile internet connection, why waste precious money prepaid for mobile data when there are so many offline turn by turn navigation apps? There are many good Apple Maps and Waze alternatives. Here are some of the best GPS offline navigation apps without internet connection for Google Android Smartphone and Apple iOS iPhone.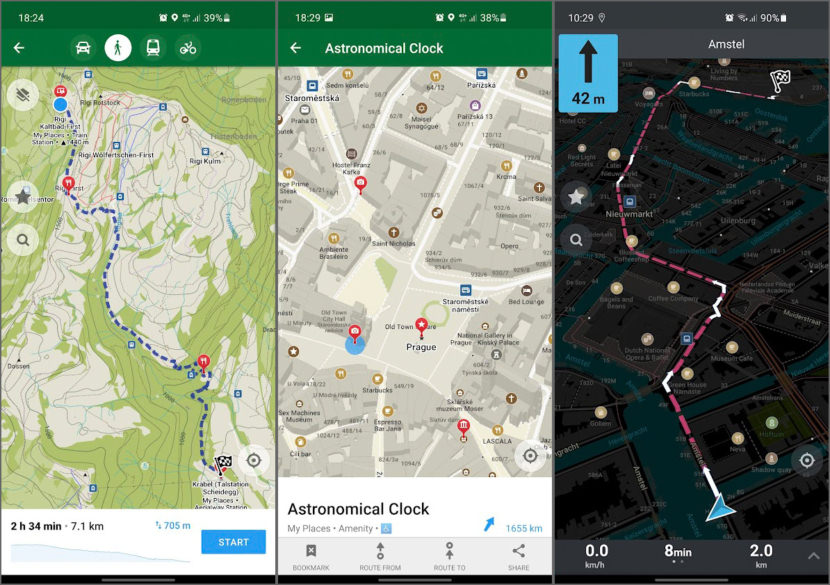 Organic Maps is an Android & iOS offline maps app for travelers, tourists, hikers, and cyclists based on top of crowd-sourced OpenStreetMap data and curated with love by MapsWithMe founders. Organic Maps is an indie community-driven open-source project.
Detailed offline maps with places that don't exist on other maps
Cycling routes, hiking trails and walking paths
Contour lines, elevation profiles, peaks and slopes
Turn-by-turn walking, cycling and car navigation with voice guidance
Fast offline search on the map and bookmarks
Dark mode to protect your eyes
Google Maps requires no introduction. Offline Maps is now available for Google Maps and requires no internet or data connection, simply select the area and download it. The maps will expire after 30 days, all you have to do is re-download it.
If you're going where the Internet is slow, mobile data is expensive, or you can't get online, you can save an area from Google Maps to your phone or tablet and use it when you're offline. Note: Downloading offline maps isn't available in some regions because of contractual limitations, language support, address formats, or other reasons.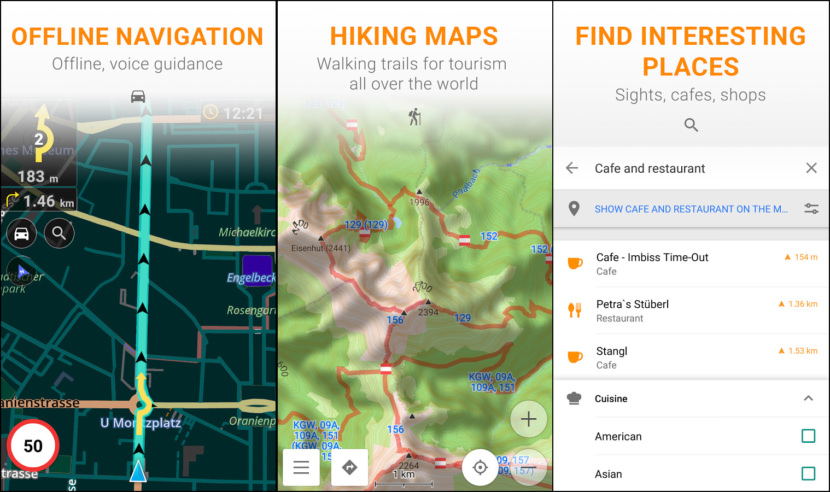 OsmAnd Maps is a map application with access to the free, worldwide, and high-quality OpenStreetMap (OSM) data. All map data can be stored on your device's memory card for offline use. All the main functionalities work both online and offline (no internet needed). Enjoy voice and optical navigator, viewing POIs (points of interest), creating and managing GPX tracks, using contour lines visualization and altitude info (through plugin), a choice between driving, cycling, pedestrian modes, OSM editing and much more.
Works totally offline (no roaming charges when you are abroad) but also has a (fast) online option
Turn-by-turn voice guidance (recorded and synthesized voices)
Carry highly detailed, fully offline maps of any region world wide on your device!
Unlimited free map downloads, directly from the app (download limit 7 map files in the free version)
Always up-to-date maps (updated at least once a month)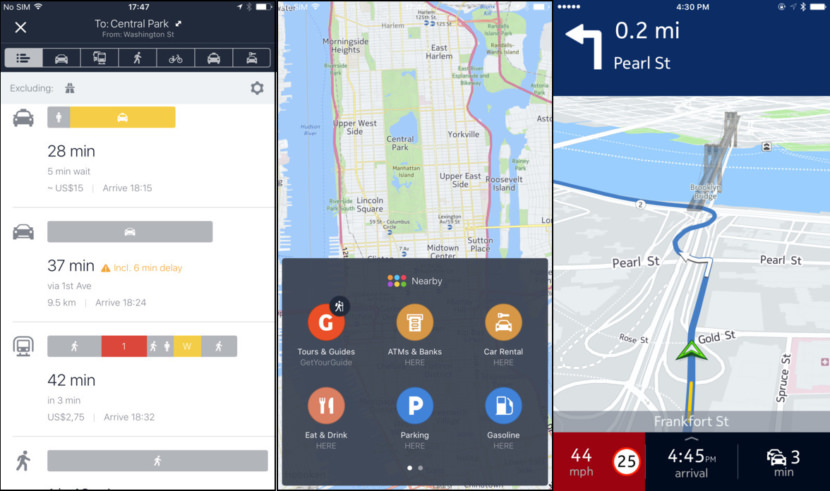 HERE WeGo is a free app that makes city navigation effortless. With detailed routes, turn-by-turn guidance and information about every way of getting around, it's the only app you need to get through the city. HERE WeGo offers transport information in 1300 cities around the world including: New York City / NYC, San Francisco / SF, London, Berlin, Munich, Paris, Barcelona, Madrid, Rome, Milan, Vancouver, Toronto, Sydney, Melbourne and many more.
Get to where you need to go via subway / metro / underground, bus, bike, train, tram, or ferry. HERE WeGo has offline maps of the United States, the United Kingdom, Germany, France, Spain, Italy, Canada, Australia and more than 100 other countries around the world. Download the map you want and you're set!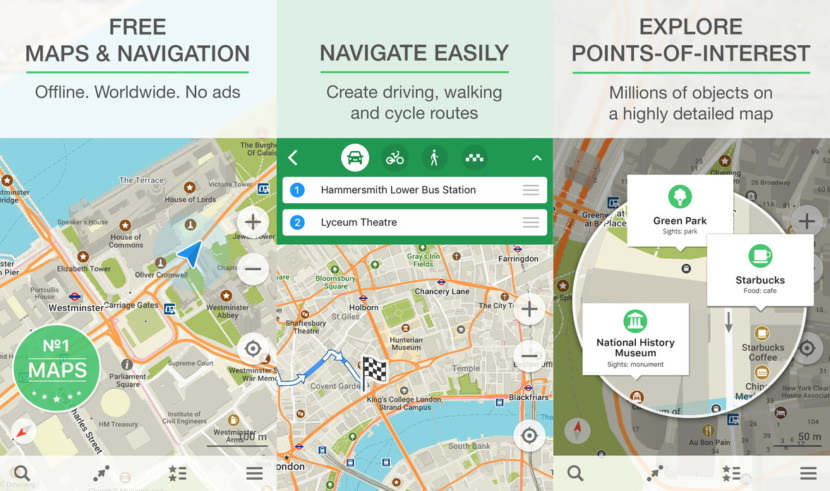 Free, fast, detailed and entirely offline maps with turn-by-turn navigation – trusted by over 50 million travelers worldwide. MAPS.ME offers the quickest offline maps of all the countries of the world. Travel with full confidence: wherever you are, MAPS.ME addresses all your offline mapping needs. Need a map of London or a map of New York? A map of Paris or Rome? Any country, any place, from the largest cities to small villages, in MAPS.ME!
Offline Maps – Save mobile data; no internet is required.
Free Forever – All maps inside and all features are free. Always were and will always be.
Navigation – Use driving, walking and cycle navigation anywhere in the world.
Incredible Detailed – Directions to points of interest (POIs), hiking trails and places missing from other maps.
Up-To-Date – Maps are updated by millions of OpenStreetMap contributors daily. OSM is an open-source alternative to Google Maps and Apple Maps.
Fast And Reliable – Offline search, GPS navigation along with optimized maps to effectively save memory space.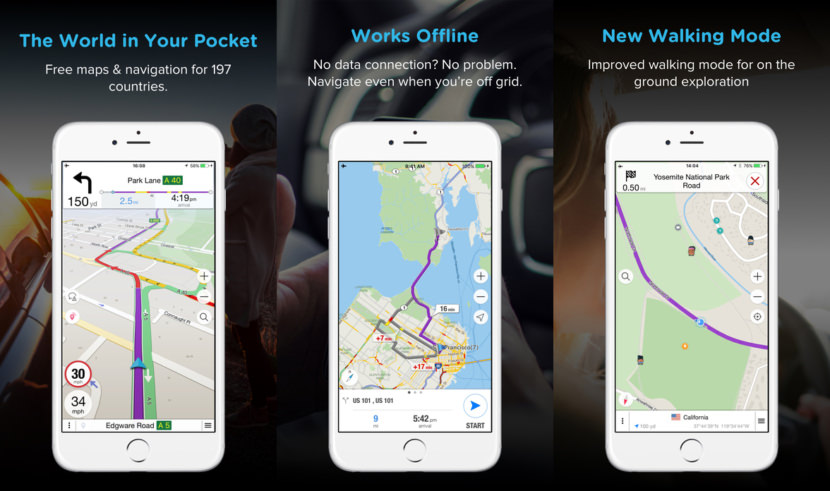 Navmii World is the world's leading navigation app for drivers, giving you free access to maps and navigation for every country, now in a single app. All maps, map updates and features are completely free. Offline maps for reliable navigation at home or abroad without an internet connection. Trusted by over 24 million drivers worldwide.
Turn-by-turn voice-guided navigation
197 countries available (download one, multiple or all)
GPS navigation
Offline maps
7. Yandex.Maps | Free with Ads | Android | iOS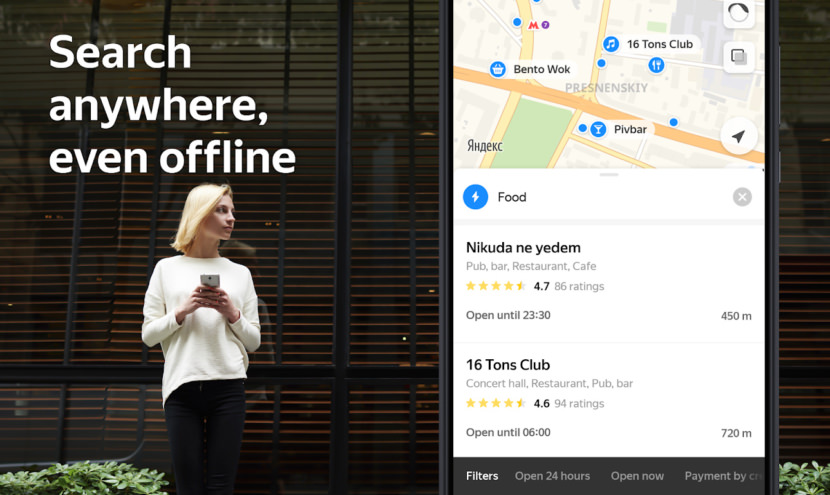 Find the addresses you need or the best places nearby even when you're offline with Yandex.Maps. Get detailed information on organizations and routes there on foot, by car, by bicycle or on public transport along with current traffic jam information. Search places and addresses even when you're not connected with offline maps.
Download maps to get driving directions and voice navigation when you are not connected to the internet.
Save space on your device using more compact maps (Moscow, for example, only takes up 159 MB).
Browse а selected region's offline database of organizations with office hours, service information and other details.
Get maps for over 2000 cities in Russia, Armenia, Belarus, Estonia, Georgia, Kazakhstan, Latvia, Turkey and Ukraine.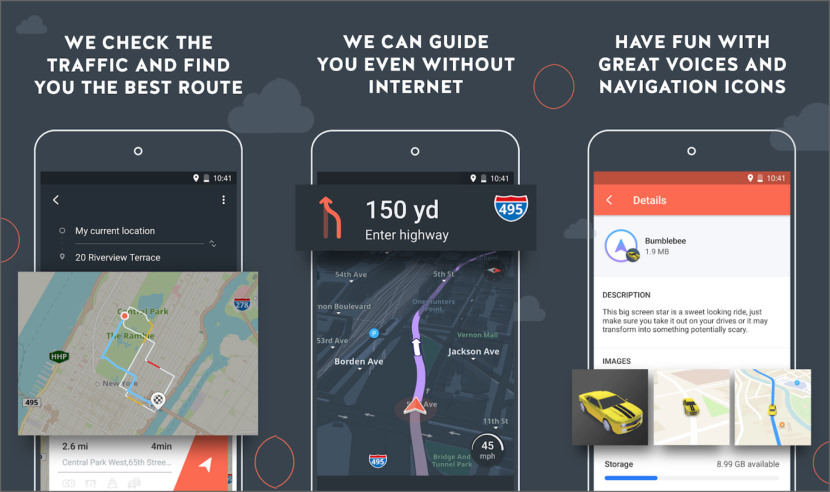 Karta GPS is an offline map app with a solid interface for finding and interacting with relevant local spots. It offers driving directions with full voice, turn-by-turn details. Offline maps are provided by OpenStreetMap and enhanced by Karta Software Technologies, with guarantee of the latest data available and free updates forever.
Beat the traffic – Their live traffic service finds faster routes and avoids traffic jams.
Safety cameras alert – Know when you are approaching a speed-controlled zone.
Enriched OpenStreetMap (OSM) maps – Free to download and use at any time.
Automatic rerouting as traffic conditions change on the road.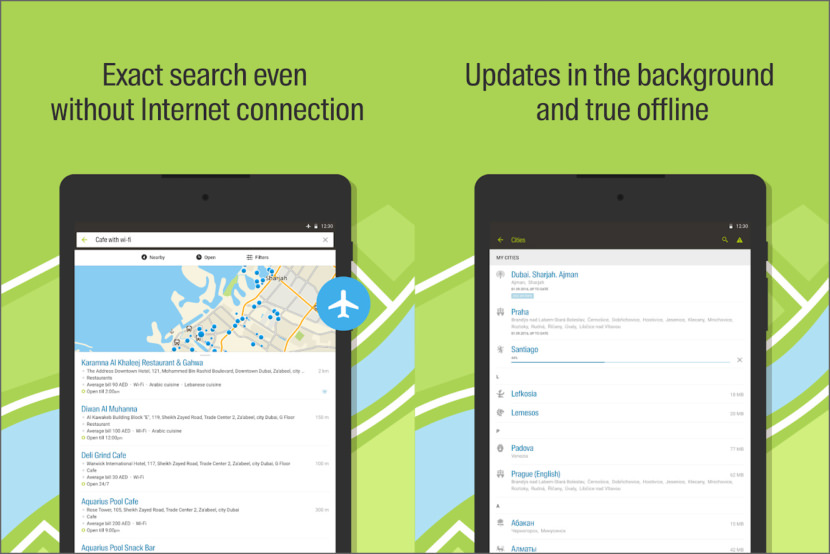 2GIS provides 3D-maps of 180+ cities, contacts of 1.5 million companies, car routing and public transport routes and more! 2GIS is a complete and up-to-date directory of organizations with detailed cities' maps. 2GIS provides verified information only. The app can operate offline even without a mobile data plan!
75 major metro areas available for download – UAE (Dubai), Cyprus (Lefkosia, Lemesos), Czech Republic (Prague), Chile (Santiago), Moscow, St. Petersburg, Novosibirsk, Abakan, Arkhangelsk, Astrakhan, Barnaul, Belgorod, Biysk, Blagoveshchensk, Bratsk, Bryansk, Cheboksary, Chelyabinsk, Chita, Gorno-Altaisk, Irkutsk, Ivanovo, Izhevsk, Kaliningrad, Kaluga, Kazan, Kemerovo, Khabarovsk, Kirov, Kostroma, Krasnodar, Krasnoyarsk, Kurgan, Kursk, Lipetsk, Magnitogorsk, Makhachkala, Naberezhnye Chelny, Nizhnevartovsk, Nizhny Novgorod, Nizhny Tagil, Novokuznetsk, Omsk, Orenburg, Penza, Perm, Prague, Rostov-on-Don, Ryazan, Samara, Saratov, Smolensk, Sochi, Stary Oskol, Stavropol, Sterlitamak, Surgut, Syktyvkar, Tolyatti, Tomsk, Tula, Tver, Tyumen, Ufa, Ulan-Ude, Ulyanovsk, Uralsk, Veliky Novgorod, Vladimir, Vladivostok, Volgograd, Vologda, Voronezh, Yakutsk, Yaroslavl, Yekaterinburg, Yoshkar Ola, Almaty, Astana, Bishkek, Dnepropetrovsk, Karaganda, Kiev, Odessa and Uralsk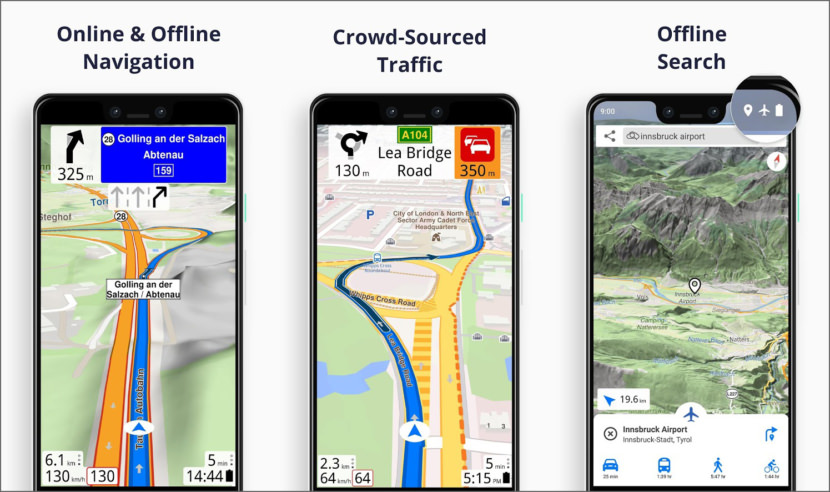 Magic Earth is a free turn-by-turn navigation app with downloadable maps and speed cameras alerts. It uses OpenStreetMap, it's not just free, it also features high quality routes, lane information, speed limits and road signs, and crystal clear instructions.
Download maps to your phone and save big on mobile internet costs, navigate reliably even if you don't have network coverage, or download only the region that you need. Or your entire country. Free and without giving up your privacy. With all the information stored on your iPhone, you don't need to wait while map tiles download.
11. TomTom GO Navigation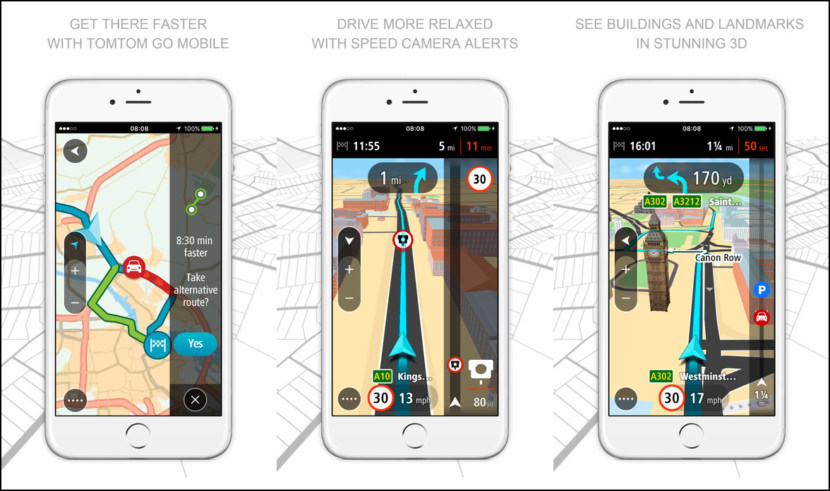 [ Not Free ] Somewhat expensive when there are so many free alternatives. TomTom GO Mobile is the navigation app with offline maps, and precise traffic and speed camera alerts. These help save time and money and let you drive new roads in over 150 countries. Whether you're a commuter or a scenic driver TomTom GO Mobile makes you feel like you're in the priority lane.
Connect to a wealth of information; both stored and online. Offline maps are stored locally, and help you save your data costs. When connected you can share your arrival time and benefit from the latest input from a community of millions.
Offline navigation you can rely on – Maps are stored on your device, so you don't need internet access or data roaming to plan a route. With coverage of more than 150 countries you can drive to endless destinations.
Drive more relaxed with Speed Camera alerts – Get timely alerts for fixed and mobile speed cameras. Join their community of millions of drivers sharing speed camera locations in real-time.
See buildings and landmarks in stunning 3D – With 3D Maps, you'll always know exactly where you are.
Insanely accurate traffic information – We're passionate about traffic so you don't need to be. Get highly accurate traffic information, in real-time.
12. Garmin StreetPilot Onboard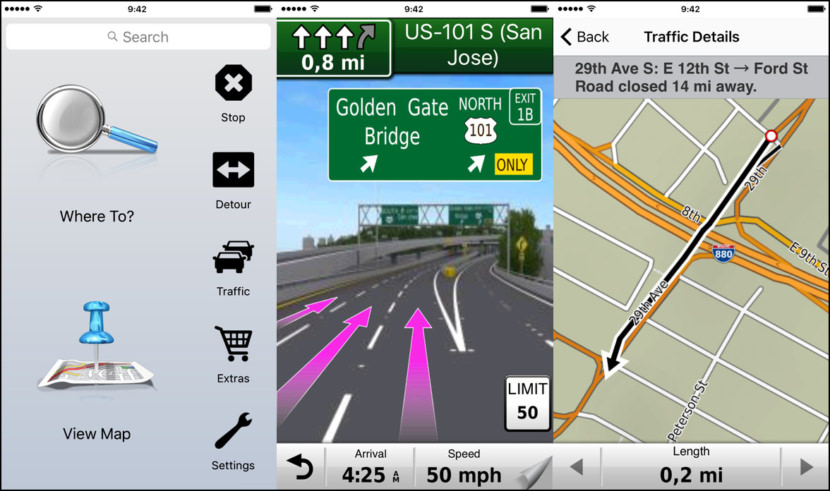 [ Discontinued ] Due to the failure of the Garmin Navigator App for both iOS and Android, Garmin rewrote the entire GPS app for smartphones. Due to the fragmentation of the Android OS system, it is exclusively for iOS only. Garmin StreetPilot Onboard is a one-time purchase that gives your iPhone® or iPad® the best GPS navigation — even when you don't have cell coverage.
Maps are saved on your device, so you can look up addresses and millions of points of interest (POIs), such as gas stations, restaurants and ATMs, without wireless coverage. It's like having a nüvi personal navigator on your Apple® device.
Designed exclusively for your iPhone or iPad, the StreetPilot Onboard app turns your Apple device into a premium GPS navigator with turn-by-turn, voice-prompted directions that speaks street names and automatically calculates a new route if you get off track.
Install the latest maps for your purchased coverage area directly on your phone
Enjoy GPS navigation even when there is no cell coverage available
Get voice-prompted, turn-by-turn directions including street names
Receive millions of preloaded POIs, including gas stations, restaurants and ATMs, along with Quick Search shortcuts to access your most common searches
Place calls directly from search listings
See 3-D buildings and landmarks
Know the correct lane before it's too late with lane guidance and photoReal™ junction view
Receive integrated Speedwatch red-light and speed cameras (as available), including user-generated alerts
Use via points to enable interim stops along a route
View speed limits for most major roads with the ability to report speed limit changes or errors
See traffic conditions with live photographic images of the road ahead with the optional photoLive traffic camera service
Find nearest address, intersection, emergency services, including hospitals, police stations, gas stations and auto services with Where Am I? feature
See exit services such as restaurants, gas stations and lodging available at exits along your route
Create a route with multiple stops in advance with automatic or manual ordering of destinations
Navigate to contacts in your address book
Customize what appears on the moving map with configurable vehicle icons
Configure display to show arrival time, time or distance to destination, direction of travel, elevation and more
View route overview, turns list and turn-by-turn detail to help keep you on track
See a trip log that shows you where you've been
Enjoy super-fast map drawing and panning
Receive continuous navigation during an active call
Navigate in both portrait and landscape mode
Access real-time traffic information, photoLive traffic cameras and fuel pricing as optional services
View the current weather conditions and see a 5-day forecast for your current location or destination
How GPS Works?
The Global Positioning System, or GPS, is pretty amazing and chances are, it's playing a much greater role in your life than you realize. Anthony explains how GPS works and tells you about some pretty cool upgrades coming soon.