Finally, Apple released the much anticipated smartwatch. Unfortunately, the design is ugly. Not only is the watch 'fat', I don't see a need to read messages or view stuff on my watch when my smartphone is in my pocket.
Anyway, Apple's latest toy is called Apple Watch, not iWatch. Given a choice, I say the Moto 360 by Motorola is impressive.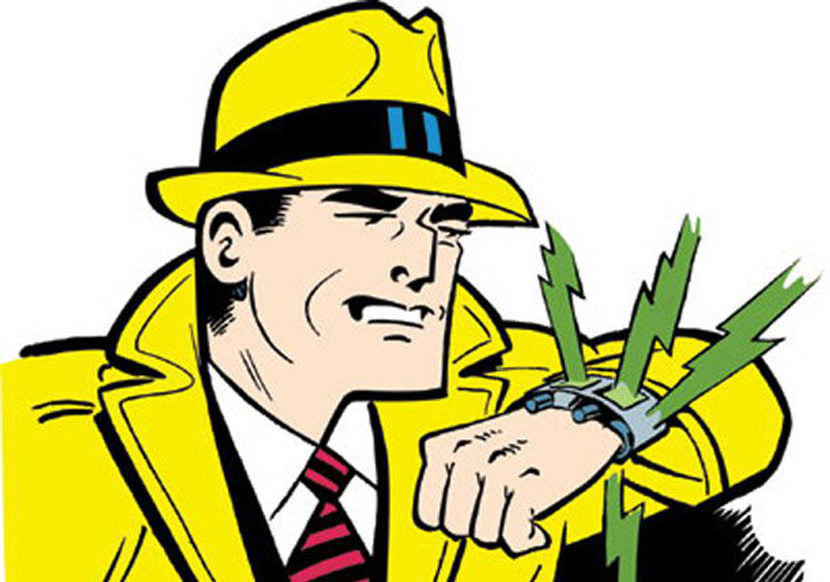 Oddly, I still find the first generation square iPod nano a much more beautiful watch + ipod. Understandably it is nothing more than an mp3 player with a LCD screen, none the less it is still beautifully crafted. As shown in the images below, these are 1st Gen iPod Nano with third party straps.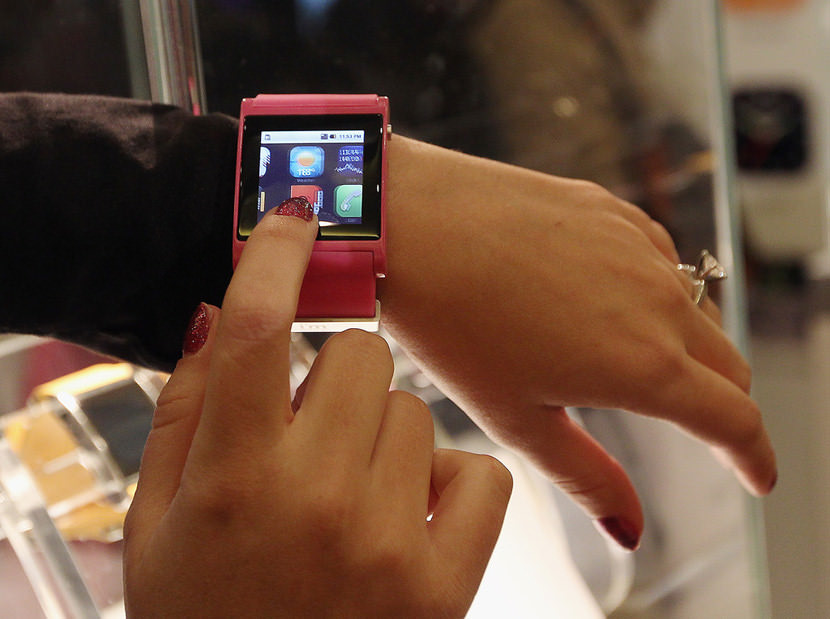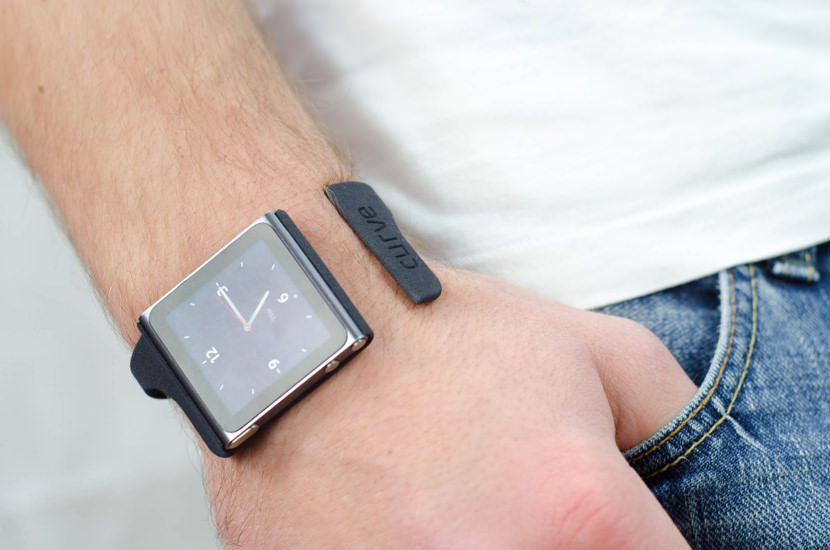 Comparison of 5 Smartwatches
Sony
SmartWatch 3

Samsung
Gear Fit

Samsung
Gear 2

Motorola
360

Apple
Watch

Thickness
9 mm
11.95mm
10mm
11.5 mm
n/a
Weight
45 gram
27 gram
294 gram
60 gram
n/a
CPU
1.2GHz quad-core
ARM Cortex A7
180 MHz
ARM Cortex M4
1.0 GHz
Dual-core
1GHz
TI OMAP™ 3
Apple S1 Processor
Memory
512MB
-
512MB
512MB
n/a
Storage
4GB RAM
-
4GB RAM
4GB RAM
n/a
OS
Android 4.X
Android Wear
Proprietary RTOS
Tizen
Android 4.X
Android Wear
iOS
Display
1.6" TFT e-paper
320×320
1.84" AMOLED display
128 x 432
1.63" AMOLED display
320 x 320
1.56" Backlit LCD
Gorilla Glass 3
320 x 290
Sapphire display
Sensors
Ambient light sensors
Accelerometer
Compass
Gyro
GPS
Heart rate Sensor
Accelerometer
Gyro Sensor
Heart rate Sensor
Accelerometer
Gyro Sensor
Heart rate sensor
Ambient light sensor
Heart rate sensor
GPS
Accelerometer
Camera
-
-
2MP
-
-
Audio Video
-
-
AAC, M4A, MP3, OGG
-
n/a
Connectivity
Bluetooth v4.0
NFC
microUSB
Bluetooth v4.0
Bluetooth v4.0
USB 2.0
Micro USB 2.0
Wifi
Bluetooth 4.0
3.5 mm mini jack
NFC
Apple Pay
Wifi
Bluetooth 4.0
Battery
420mAh
210mAh
300mAh
320mAh
n/a
Typical Usage
2 days
3 - 4 days
2 - 3 days
n/a
n/a
FM Radio
-
-
-
-
-
Features
Water resistant

Water resistant
Water resistant
Water resistant
Wireless Qi charging
Water resistant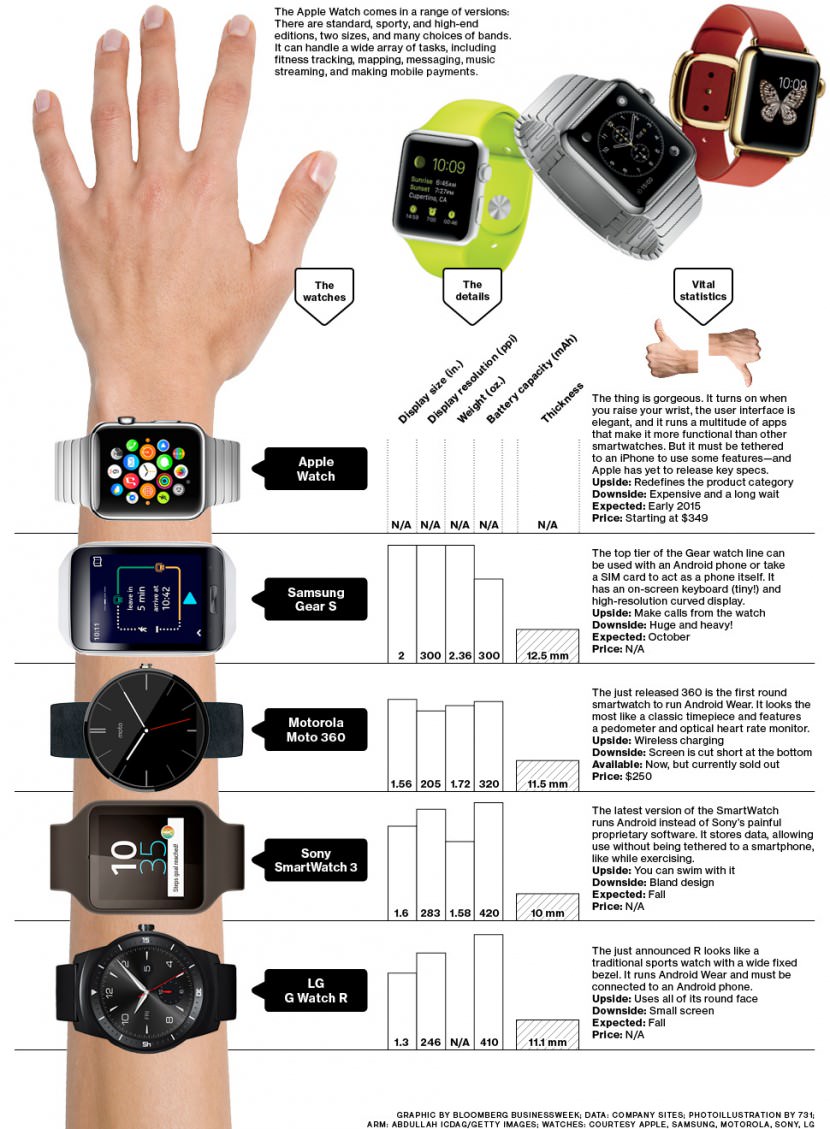 Sony SmartWatch 3
Introducing SmartWatch 3, the newest SmartWear accessory from Sony. SmartWatch 3 is a combined state-of-the-art SmartWatch and life logging accessory powered by Android Wear. It acts as a second smartphone screen and measures 1.6" with a 320×320 transflective display, comes with NFC, uUSB and is waterproof IP68 rated.
Samsung Gear 2 & Samsung Gear Fit
The next generation of Gear devices: Samsung Gear 2 with increased connectivity, customization and control, and Gear Fit that blends style, fitness and convenience.
Motorola Moto 360
At the time of writing, according to Bloomberg, the Moto 360 is the best smartwatch available in the market. Motorola has unveiled its first Android smartwatch, the Moto 360. The gadget's buzziest attribute is its round screen, contrasting with the boxy shape of most smartwatches released to date. Businessweek's Sam Grobart reviews the new smartwatch.
Apple Watch
Apple Watch is the most personal product Apple has ever made, because it's the first one designed to be worn. Narrated by Jony Ive, Senior Vice President, Design at Apple.