Here are 6 Internet Download Accelerator Alternatives. How Download Manager Works? Common connection without download manager is when data is delivered via one channel and from one source only. Downloading data with a download manager is when data is delivered in multi-channels and from several parallel sources or same source, depending on if the software offers cloud capabilities.
Related Article 2019 ➤ 10 Free Internet Download Manager ( IDM ) For Apple macOS X
Benefits of IDM:
Download large GB files with pause and resume, no need to worry about disconnection when it is 99% downloaded.
Download images from sites that disable right clicks.
To control the downloading speed so that it doesn't effect other people when they surf the internet.
Faster downloads.
The biggest difference between downloading with and without Internet Download Manager is the ability to pause and resume any downloads. Ideal in situation where the files are 4 or 5GB, such as Windows 10, Linux Ubuntu and macOS.
It is a powerful modern download accelerator and organizer for Windows and Mac. Free Download Manager allows you to adjust traffic usage, organize downloads, control file priorities for torrents, efficiently download large files and resume broken downloads.
FDM can boost all your downloads up to 10 times, process media files of various popular formats, drag&drop URLs right from a web browser as well as simultaneously download multiple files! Our internet download manager is compatible with the most popular browsers Google Chrome, Mozilla Firefox, Microsoft Edge, Internet Explorer and Safari.
BitTorrent support – Download files using BitTorrent protocol.
Resuming broken downloads
Adjusting traffic usage
Video downloading from popular websites
↓ 02 – uGet Download Manager | Linux | BSD | Android | Windows | macOS | No Adware
uGet is a VERY Powerful download manager application with a large inventory of features but is still very light-weight and low on resources, so don't let the impressive list of features scare you into thinking that it "might be too powerful" because remember power is good and lightweight power is uGet!
FTP Login & Anonymous FTP – supports downloading from anonymous FTP as well as login support via Username & Password for private/protected FTP servers.
CLI / Terminal Usage Support – ability to use a command line or terminal to download files.
User Agent Control – modify the user agent a server sees to ensure downloading when servers have odd restrictions.
Multi-Protocol – support for downloading files through HTTP, HTTPS, FTP, BitTorrent* & Metalink*
↓ 03 – Internet Download Manager | USD 30 | Chrome | Firefox | Safari | Opera | Edge | No Adware
Internet Download Manager (IDM) is a tool to increase download speeds by up to 5 times, resume and schedule downloads. Comprehensive error recovery and resume capability will restart broken or interrupted downloads due to lost connections, network problems, computer shutdowns, or unexpected power outages. Simple graphic user interface makes IDM user friendly and easy to use.Internet Download Manager has a smart download logic accelerator that features intelligent dynamic file segmentation and safe multipart downloading technology to accelerate your downloads. Unlike other download managers and accelerators Internet Download Manager segments downloaded files dynamically during download process and reuses available connections without additional connect and login stages to achieve best acceleration performance.
Internet Download Manager supports proxy servers, ftp and http protocols, firewalls, redirects, cookies, authorization, MP3 audio and MPEG video content processing. IDM integrates seamlessly into Microsoft Internet Explorer, Netscape, MSN Explorer, AOL, Opera, Mozilla, Mozilla Firefox, Mozilla Firebird, Avant Browser, MyIE2, and all other popular browsers to automatically handle your downloads. You can also drag and drop files, or use Internet Download Manager from command line. Internet Download Manager can dial your modem at the set time, download the files you want, then hang up or even shut down your computer when it's done.
Video grabber – Internet Download Manager can record and download FLV videos from popular sites like MySpaceTV, and Google Video.
IDM works with Microsoft ISA, and FTP proxy servers.
Antivirus checking makes your downloads free from viruses and trojans. IDM can automatically run a scanner on download completion, like AdAware, Avast, Spybot, AVG Anti-Virus, McAfee, Norton Internet Security, Norton 360, SpywareBlaster, CCleaner and others to protect users from harmful downloaded files.
↓ 04 – EagleGet | Windows | Chrome | Firefox | Opera | IE | May Contain Adware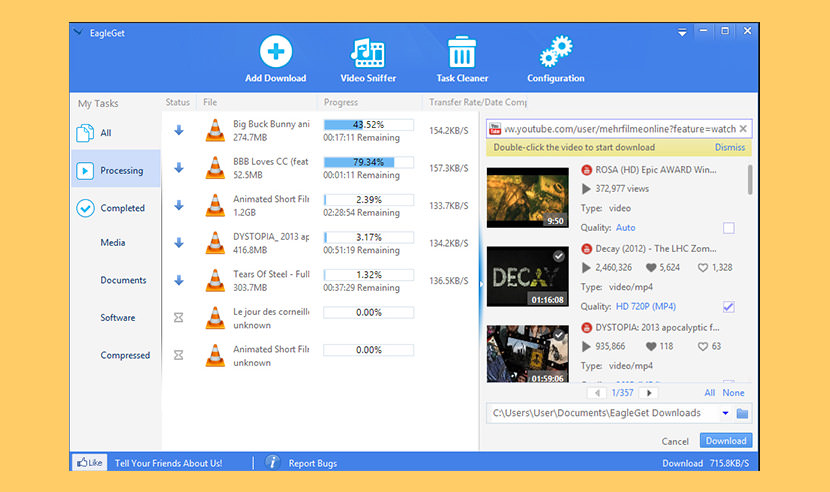 EagleGet (in short E.G) is a freeware download manager, accelerator and media grabber for Microsoft Windows operating system. If you are someone who downloads a lot of stuff from the internet, be it songs, videos, documents, archives, softwares, images, then EagleGet is that application for you. EagleGet let's you to pause and resume broken or interrupted downloads due to network problems, lost connections, power failure and unexpected computer shutdowns.
EagleGet is a free all-in-one download manager; it can be integrated to Chrome, IE, Firefox, Opera, offering support for HTTP, HTTPS, FTP, MMS and RTSP protocol as well as popular online video websites.
Automatically detects media contents on any website. The unique ad-free Media Grabber & Video Sniffer batch download HD videos with a single click. Media format conversion is also possible by installing proper component.
Contains automatic malware checker and file integrity verifier, the features that protecting users from virus attack as well as ensuring the downloaded file is genuine from the original.
↓ 05 – Xtreme Download Manager | Windows | Chrome | Firefox | Opera | IE | With Adware
Xtreme Download Manager is a powerful tool to increase download speed up-to 500%, save streaming videos from YouTube, Metacafe, DailyMotion, Google Video or any other website, resume broken/dead downloads and schedule downloads. XDM seamlessly integrates with Microsoft Edge, Firefox, Chrome, IE, Opera, Safari and all popular browsers, to take over downloads and saving streaming videos from web.
XDM uses sophisticated dynamic segmentation algorithm, data compression and connection reuse to speed up the download process.
Xtreme Download Manager supports HTTP, HTTPS and FTP protocols, firewalls, proxy servers, automatic proxy scripts, file redirects, cookies, authorization etc.
Works with all version of all browsers. XDM can integrate with any browser (Microsoft Edge, Firefox,Chrome,Internet Explorer,Opera,Safari or any other program trying to download a file from Internet)
XDM can save videos from YouTube, Daily Motion, Metacafe or other popular video sharing sites.
Works with Windows ISA, supports Auto proxy, NTLM, Kerberos authentication.
Supports HTTP,HTTPS,FTP protocols with Authentication,Proxy Servers, Cookies, Redirection etc.
DAP 10 is the new powerful version of the world's most popular download accelerator and manager- Download Accelerator Plus (DAP). In DAP 10, Speedbit has reinvented what a download manager should be. The new DAP 10 platform consists of the core DAP download acceleration engine, streamlined and optimized for powerful efficiency and ease of use. On top of that powerful core, DAP now carries its features as add-ons, allowing you to choose and customize your download experience. As usual, avoid cracking it, not only it is illegal, it is not safe.
Video Preview – Play audio & video files as they download, don't wait for your content to finish downloading.
Download Security – Antivirus integration, security alerts from leading anti-viruses, know if the file you downloaded is safe before you open it!
Videos Convert – Convert YouTube videos to any format, free Video Converter with the fastest conversion speed
Persepolis is a Download Manager and a GUI For aria2. It's written in Python. Persepolis Download Manager is utility for download easier and faster with Small aria2 iconaria2 and improved it.
It supports HTTP(S) & FTP.
Persepolis configures aria2 automatically for maximum speed and it have a GUI for using easier.
You can adjust start time and end time for downloads.
Download queue
Multi segment
Persepolis can shutdown system after download.
Persepolis can download video from Youtube, Vimeo, DailyMotion, … very easy. Just paste the link and download video or just sound of the video with your desire quality.
↓ 08 – DownThemAll [ Discontinued ] | Mozilla Firefox | No Adware
DownThemAll (or just dTa) is a powerful yet easy-to-use Mozilla Firefox extension that adds new advanced download capabilities to your browser. DownThemAll lets you download all the links or images contained in a webpage and much more: you can refine your downloads by fully customizable criteria to get only what you really want. DownThemAll is all you can desire from a download manager: it features an advanced accelerator that increases speed up to 400%, it allows you to pause and resume downloads at any time and, last but not least, it's fully integrated into your favorite browser!
Have all the files you want with just one click.
Have your page spidered with a single click.
Selecting the files you want to download can be even faster, once you've set your personal inclusive filters.