Updated: August 11, 2018 / Home » Quotes [ Top Tumblr Inspirational, Love & Life ]
15 short and simple quotes from the movie series – A Game of Thrones. From what I read, this is the most watched, most downloaded and most pirated TV Series in history. The Game of Thrones Season 5 is now on air, and like all previous series, I look forward to more death and sorrow. My favorite character is Tyrion Lannister for he appears to be the smartest.
Related Article ➤ 12 A Game of Thrones Quotes By George RR Martin

Never forget what you are. The rest of the world will not. Wear it like armor and it can never be used to hurt you.

When you tear out a man's tongue, you are not proving him a liar, you're telling the world that you fear what he might say.

There is only one God and his name is death, and there is only one thing we say to death – Not today.

Paint stripes on a toad, he does not become a tiger.

A lion doesn't concern himself with opinions of sheep.

A mind needs books just like a sword needs whetstone.

The things we love destroy us every time.

It doesn't matter what we want, once we get it we want something else.

Any man who says I am the king is no true king.

The only true wisdom is knowing that you know nothing.

They can live in my new world or they can die in their old one.

Different roads sometimes lead to the same castle.

It's hard to put a leash on a dog once you've put a crown on its head.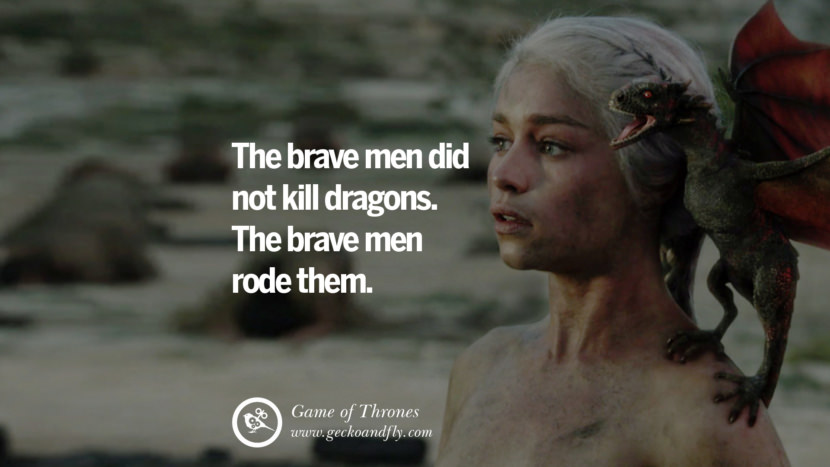 The brave men did not kill dragons. The brave men rode them.
Game of Thrones Season 5: Trailer