Robert Kuok Hock Nien (traditional Chinese: 郭鶴年; simplified Chinese: 郭鹤年; pinyin: Guō Hènián, born 6 October 1923), is a Malaysian Chinese billionaire businessman. According to Forbes his net worth is estimated at $12 billion in 2015, making him the richest person in Malaysia. When Kuok senior died in 1948, Kuok and his two brothers and a cousin Kuok Hock Chin founded Kuok Brothers Sdn Bhd in 1949.
🤣😍😂 74 Inspiring Quotes For Entrepreneur When Starting Up A Business
For those in the dark, he is the founder of Shangri-La Hotels, he once controlled 5% of the global sugar market and also owns one of the biggest palm oil companies in the world – Wilmar International in Singapore and its subsidiary PPB in Malaysia. Without further ado, here are 15 eye opening quotes by Robert Kuok on business, success, and working hard.
Unlike others, his success is largely based on merit and not through government handouts and cronyism. It is precisely because of the huge growing China market that he decided to move his international operating base to Hong Kong from Malaysia. With his age catching up on him, there are one too many rumors on his death.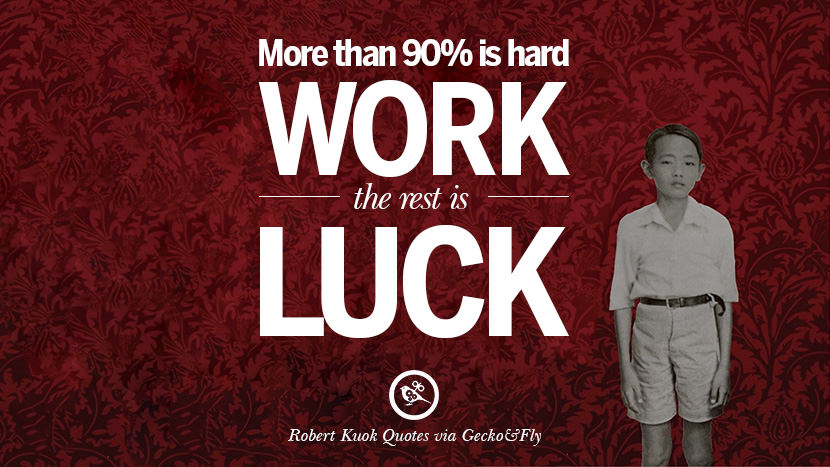 More than 90% is hard work, the rest is luck.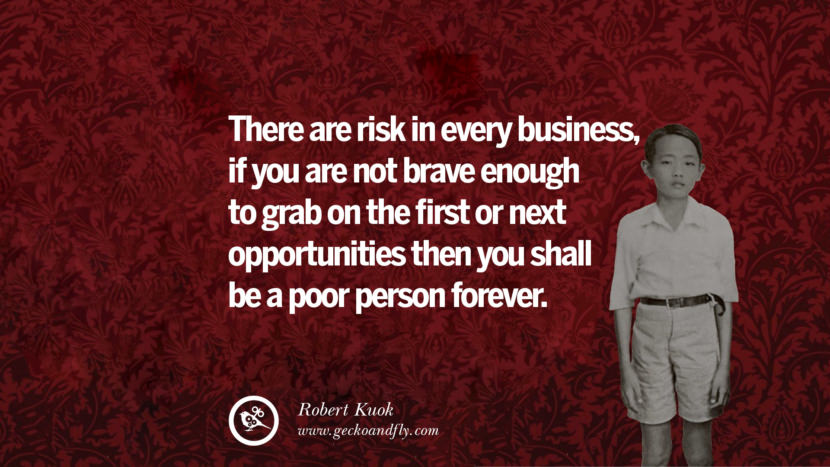 There are risk in every business, if you are not brave enough to grab on the first or next opportunities then you shall be a poor person forever.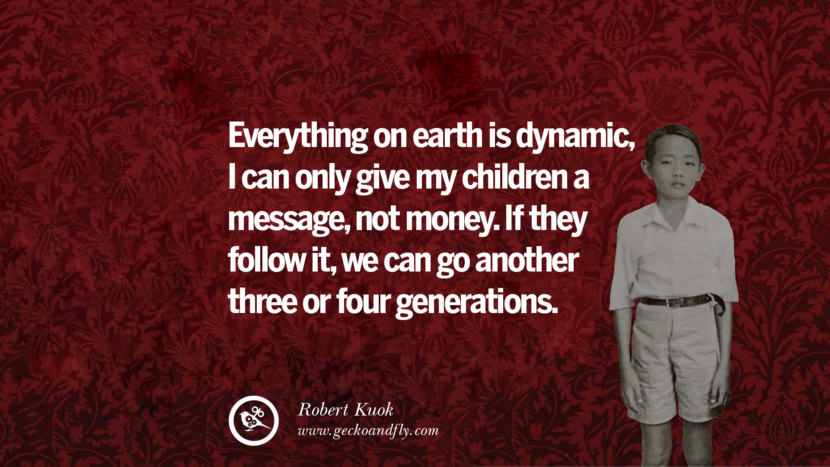 Everything on earth is dynamic, I can only give my children a message, not money. If they follow it, we can go another three or four generations.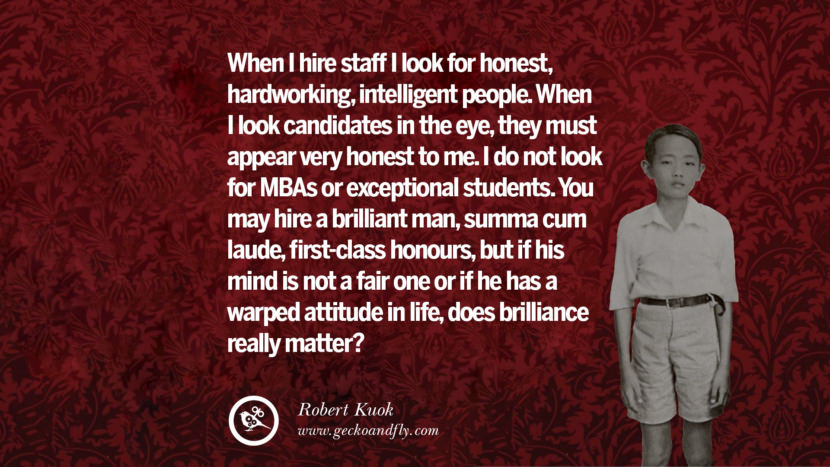 When I hire staff I look for honest, hardworking, intelligent people. When I look candidates in the eye, they must appear very honest to me. I do not look for MBAs or exceptional students. You may hire a brilliant man, summa cum laude, first-class honours, but if his mind is not a fair one or if he has a warped attitude in life, does brilliance really matter?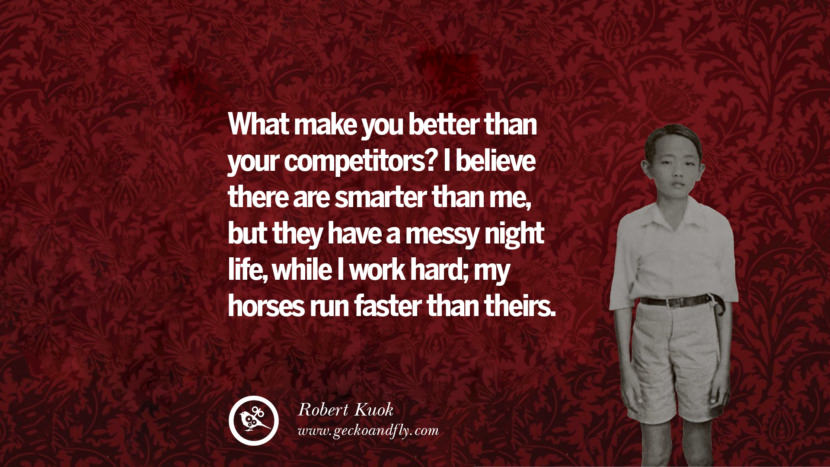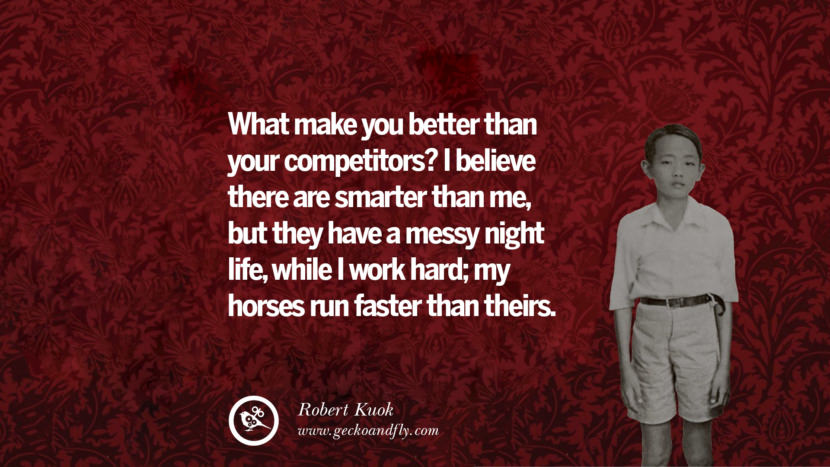 What makes you better than your competitors? I believe they are smarter than me, but they have a messy night life, while I work hard; my horses run faster than theirs.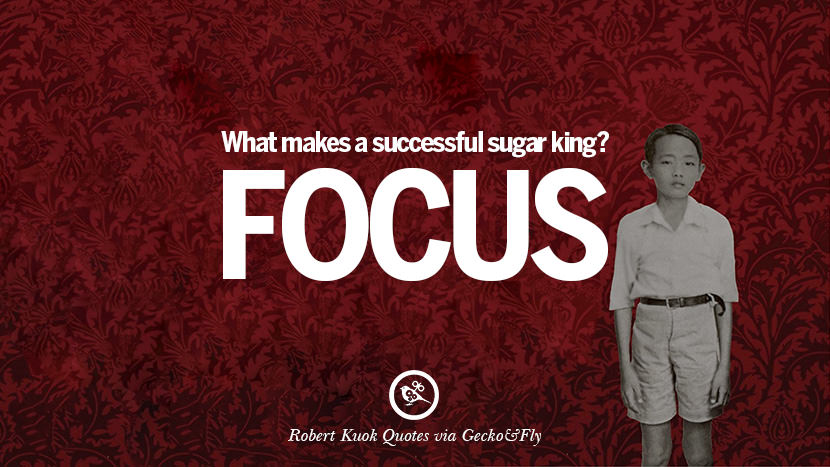 What makes a successful sugar king? Focus.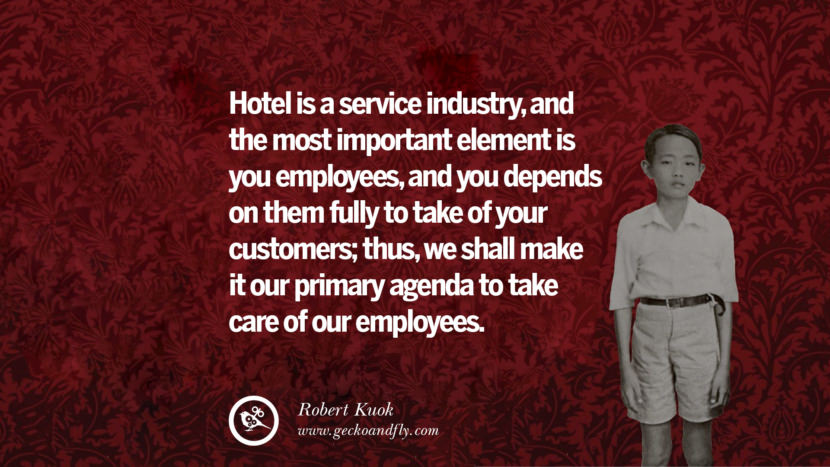 Hotel is a service industry, and the most important element is you employees, and you depends on them fully to take of your customers; thus, we shall make it our primary agenda to take care of our employees.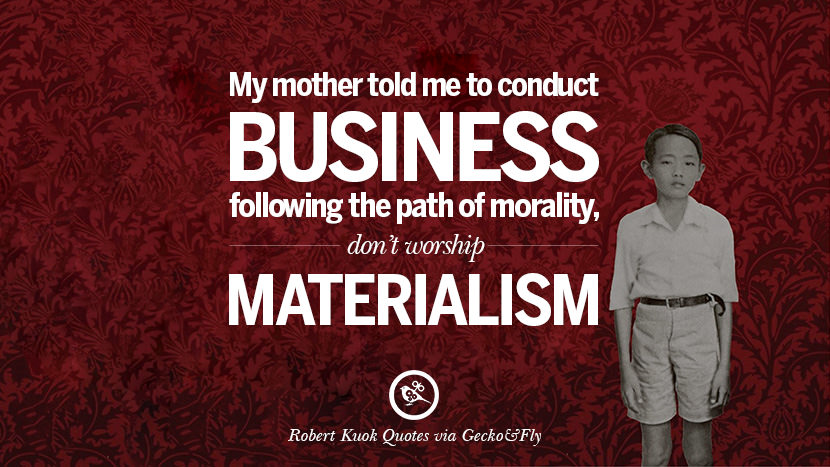 My mother told me to conduct business following the path of morality, don't worship materialism.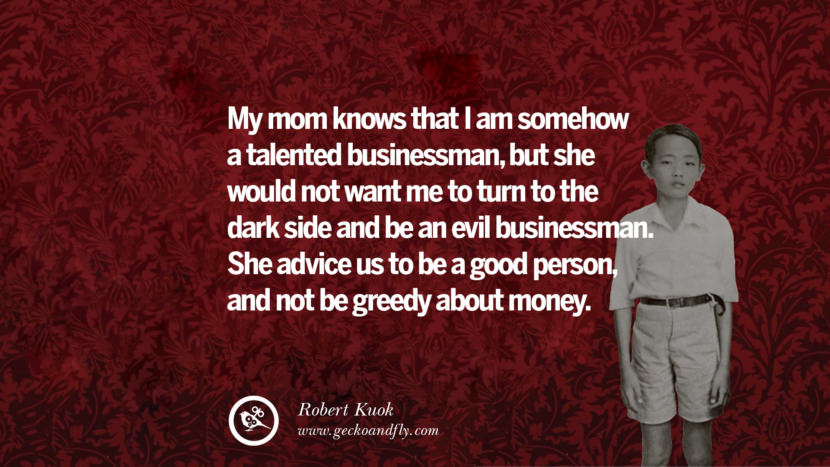 My mom knows that I am somehow a talented businessman, but she would not want me to turn to the dark side and be an evil businessman. She advises us to be a good person, and not be greedy about money.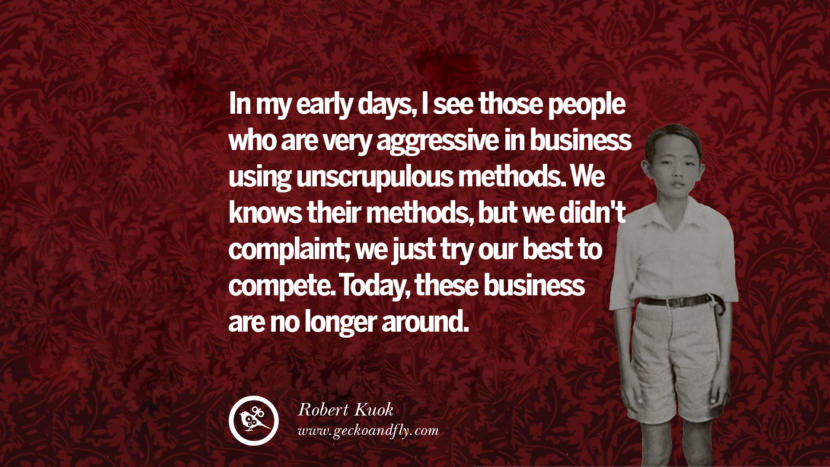 In my early days, I saw those people who were very aggressive in business using unscrupulous methods. We knew their methods, but we didn't complain; we just tried our best to compete. Today, these businesses are no longer around.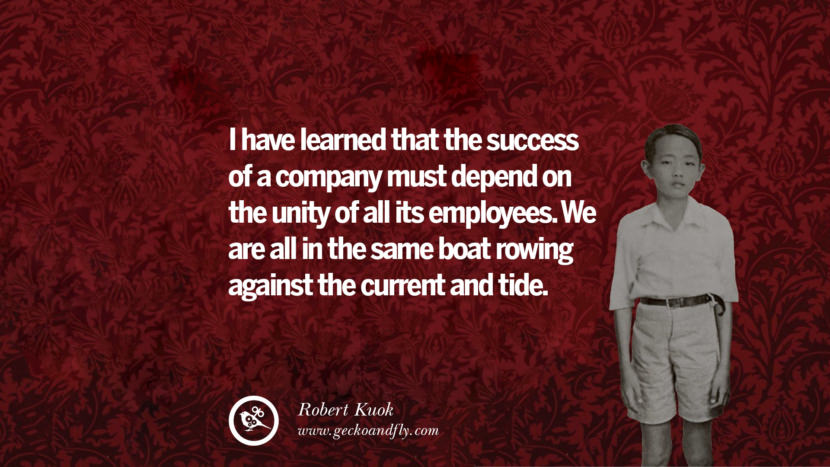 I have learned that the success of a company must depend on the unity of all its employees. We are all in the same boat rowing against the current and tide.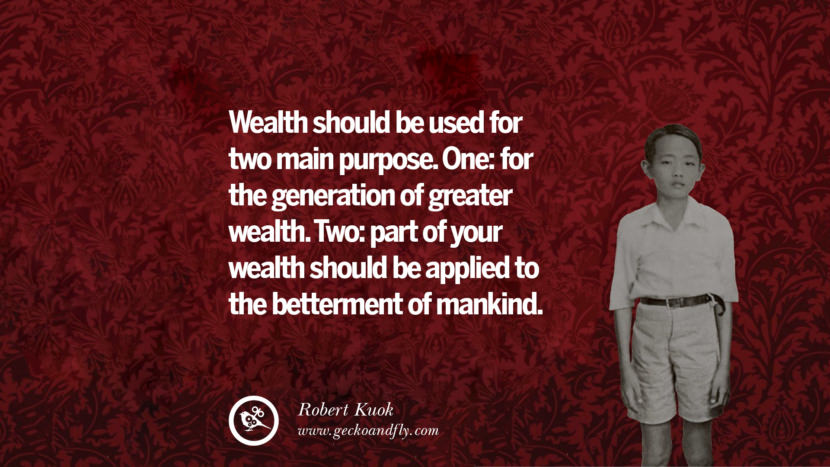 Wealth should be used for two main purposes. One: for the generation of greater wealth. Two: part of your wealth should be applied to the betterment of mankind.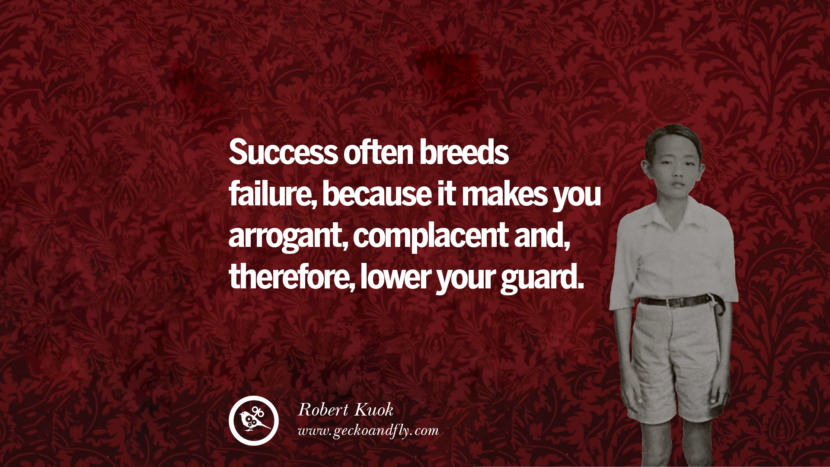 Success often breeds failure, because it makes you arrogant, complacent and therefore lower your guards.

Be humble; be straight; don't be crooked; don't take advantage of people.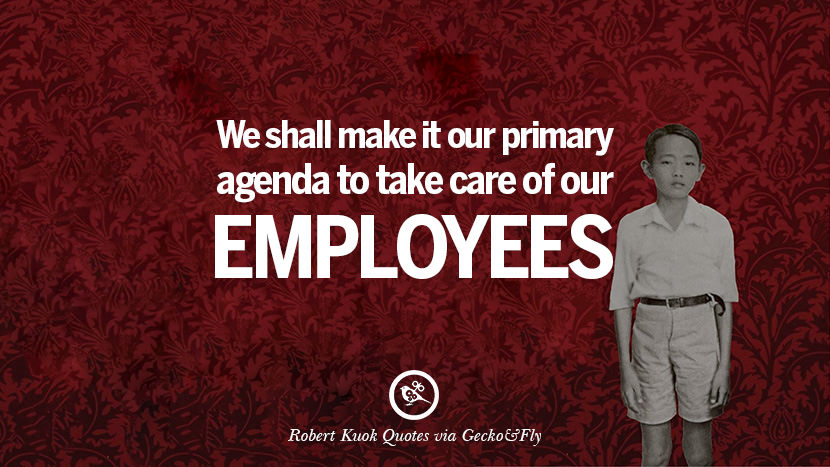 We shall make it our primary agenda to take care of our employees.
Robert Kuok Interview (with English subtitle)
Kuok is media-shy; most of his businesses are privately held by him or his family. Apart from a multitude of businesses in Malaysia, his companies have investments in many countries throughout Asia.
Robert Kuok A Memoir [ Biography Book ]
Robert Kuok is one of the most highly respected businessmen in Asia. But this legendary Overseas Chinese entrepreneur, commodities trader who made his first million on the London sugar market, hotelier of the Shangri-la chain, and property mogul has maintained a low profile and seldom shed light in public on his business empire or personal life. That is, until now. In these memoirs, the 94-year-old Kuok tells the remarkable story of how, starting in British Colonial Malaya, he built a multi-industry, multinational business group. In reflecting back on 75 years of conducting business, he offers management insights, discusses strategies and lessons learned, and relates his principles, philosophy, and moral code.
Kuok has lived through fascinating and often tumultuous times in Asia – from British colonialism to Japanese military occupation to post-colonial Southeast Asia and the dramatic rise of Asian economies, including, more recently, China. From his front-row seat and as an active participant, this keen, multi-cultural observer tells nearly a century of Asian history through his life and times. Readers interested in business, management, history, politics, culture and sociology will all enjoy Robert Kuok's unique and remarkable story.
p.s. For those searching for his pirated eBook in PDF, I strongly recommend you to buy the original physical hard cover. It is a book worth 'investing' in.