As the old saying goes, Liar liar pants on fire, and remember that no relationship is perfect, and there is this saying – The perfect boyfriend doesn't drink, doesn't smoke, doesn't cheat…and doesn't exist. Joke aside, the reason why students cheat in an exam is because they value grades more than learning. The same goes in a relationship, the reason he or she lied is probably because you cannot accept the truth and lying is the easier way out than arguing.
If you suspect your other half is cheating on you, you might be interested on using these 7 free apps to spy and track their iOS or Android Smartphone. These apps come with GPS location, stealth camera recording and whatsapp screenshots.
The key to a successful relationship is not to catch your partner lying, it is to understand why he or she lies and move on. Without further ado, here are 60 of the best quotes about lying, lies, and liars. They are crafted to fit perfectly with your instagram, facebook and twitter, you can always share them on your social media as a hint to your partner. Good luck!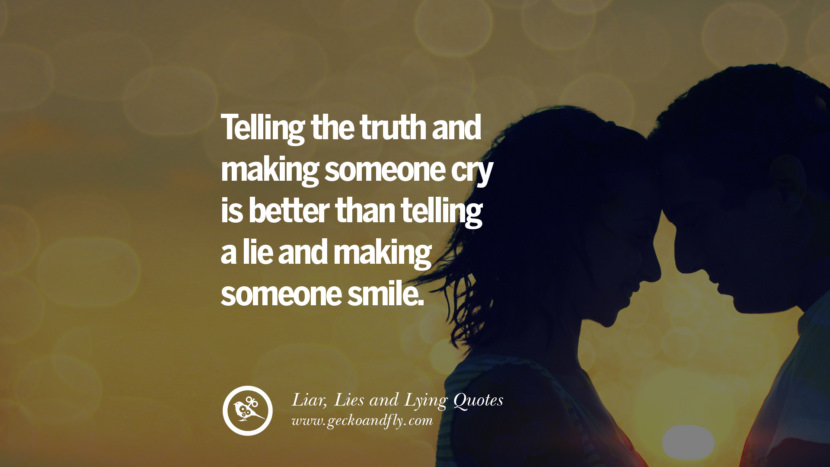 Telling the truth and making someone cry is better than telling a lie and making someone smile.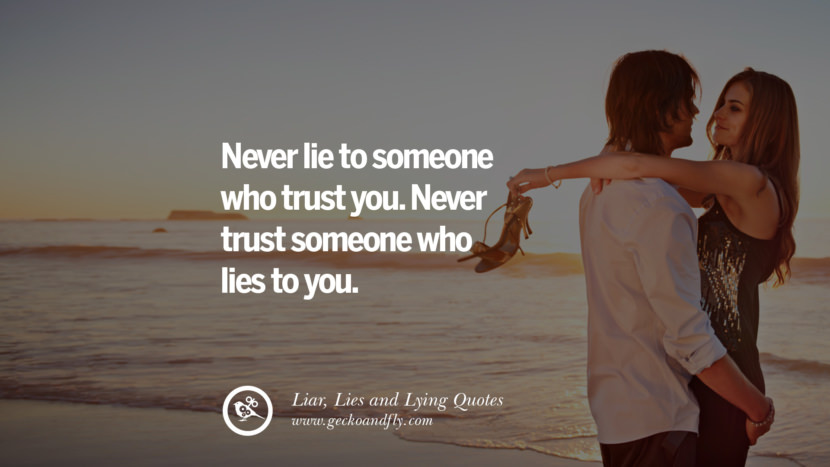 Never lie to someone who trusts you. Never trust someone who lies to you.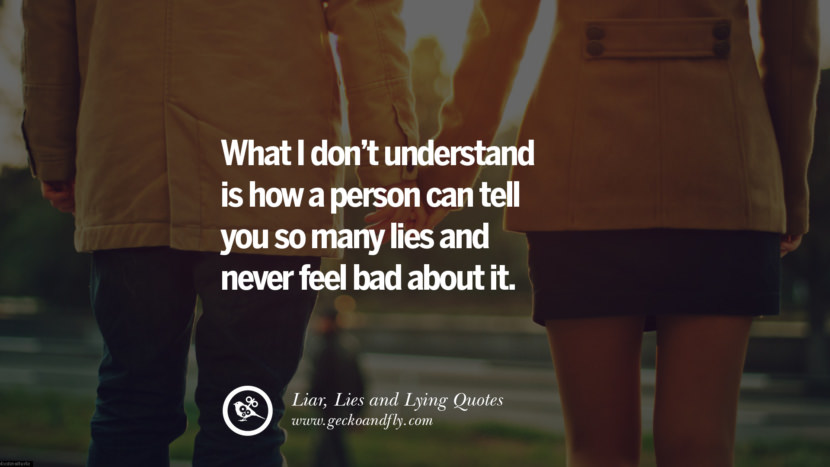 What I don't understand is how a person can tell you so many lies and never fell bad about it.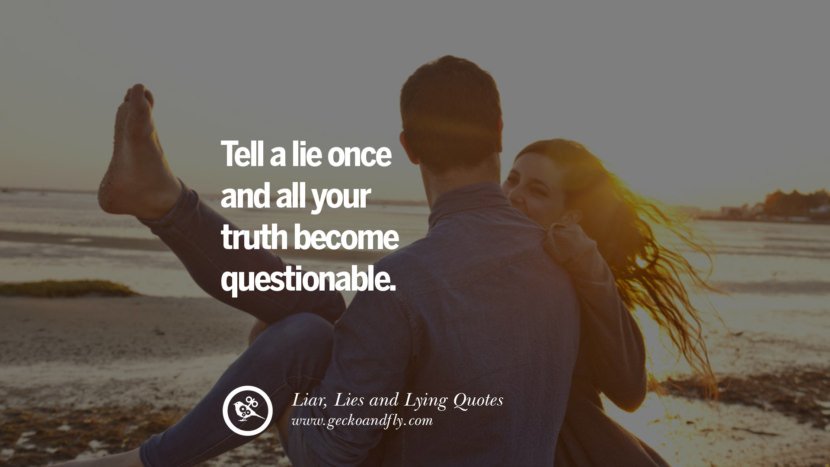 Tell a lie once and all your truth become questionable.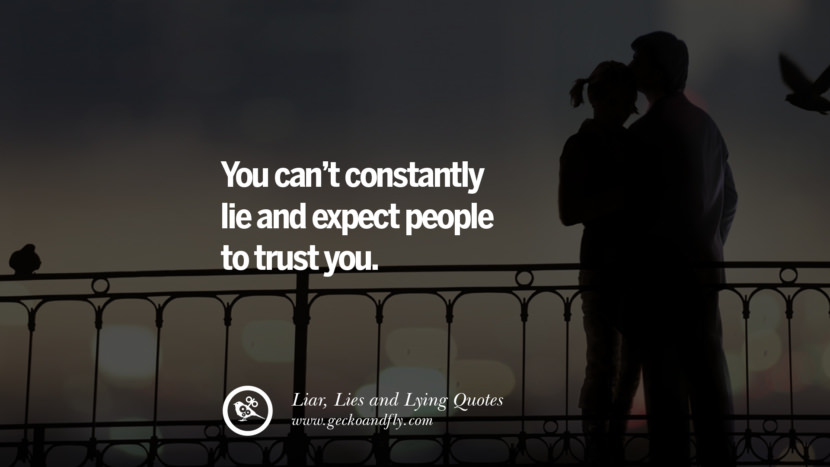 You can't constantly lie and expect people to trust you.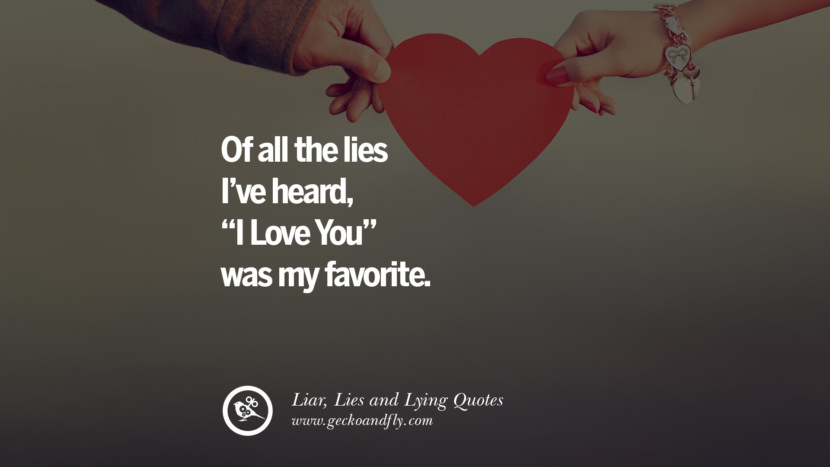 Of all the lies I've heard, "I love you" was my favorite.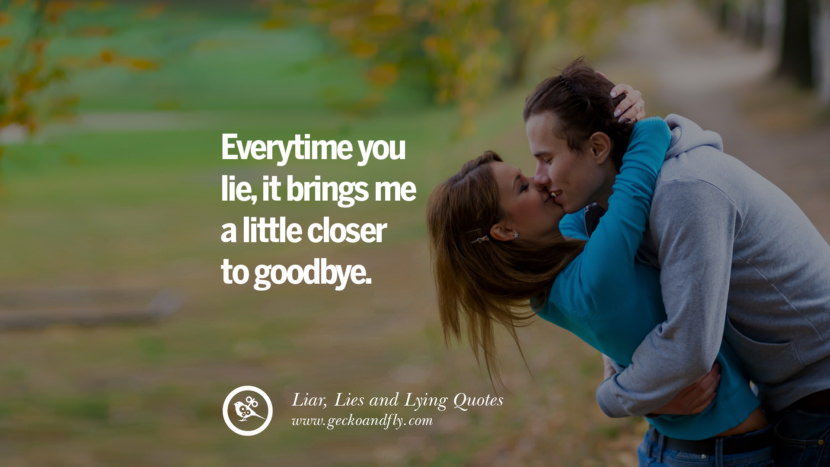 Everytime you lie, it brings me a little closer to goodbye.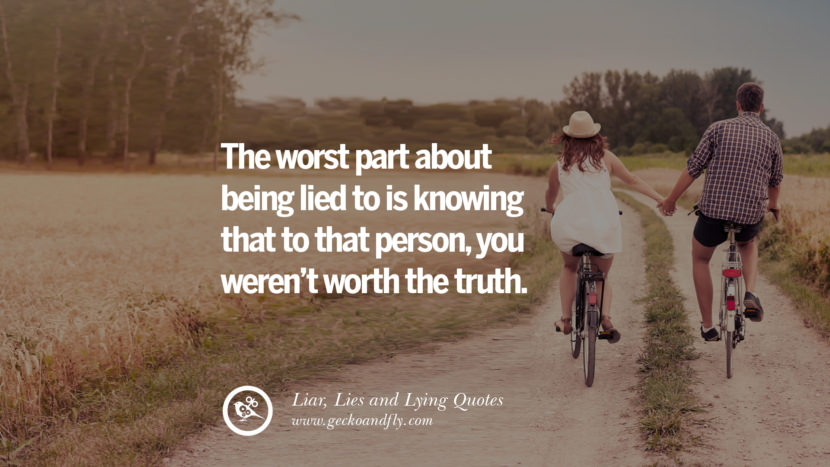 The worst part about being lied to is knowing that to that person, you weren't worth the truth.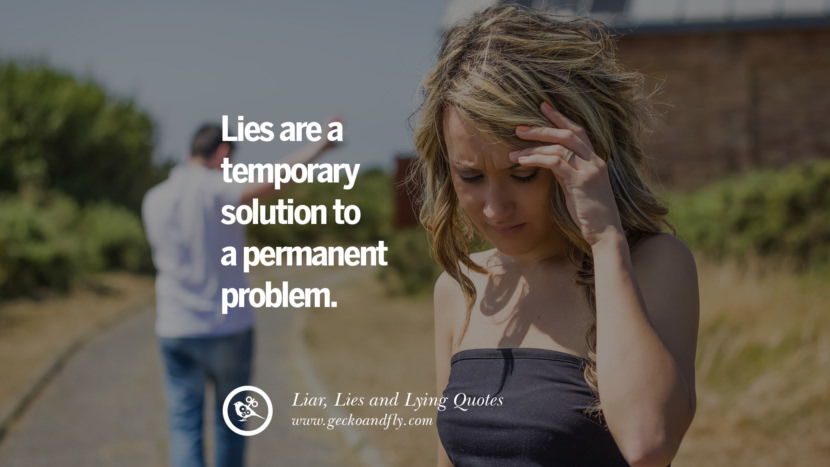 Lies are a temporary solution to a permanent problem.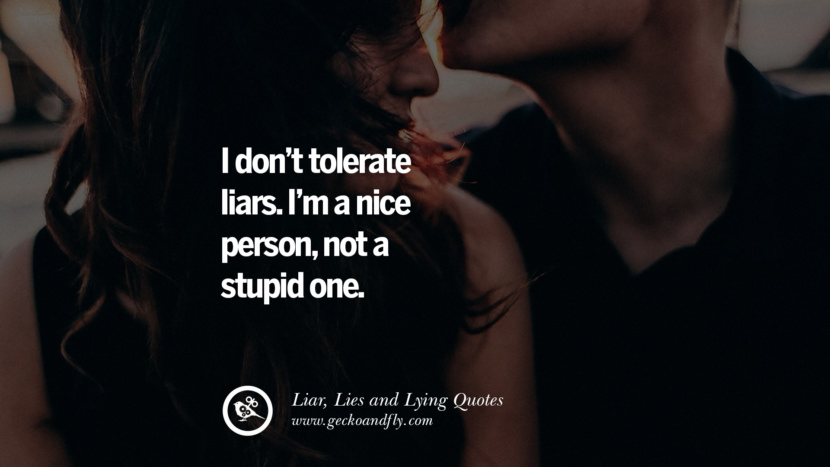 I don't tolerate liars. I'm a nice person, not a stupid one.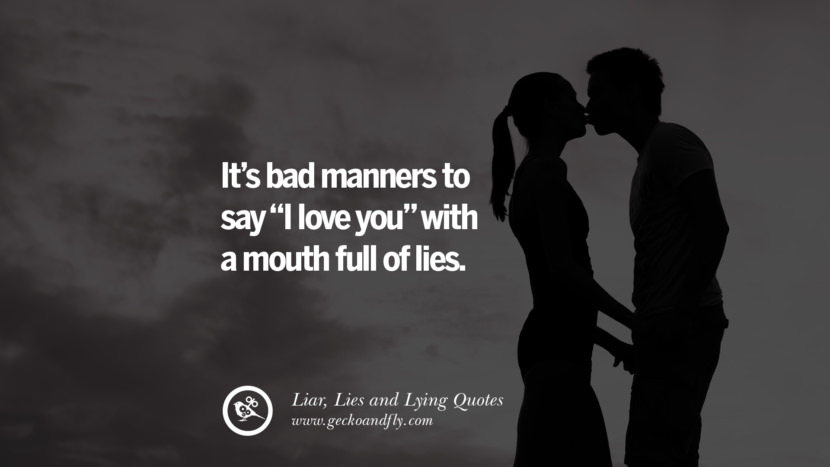 It's bad manners to say "I love you" with a mouth full of lies.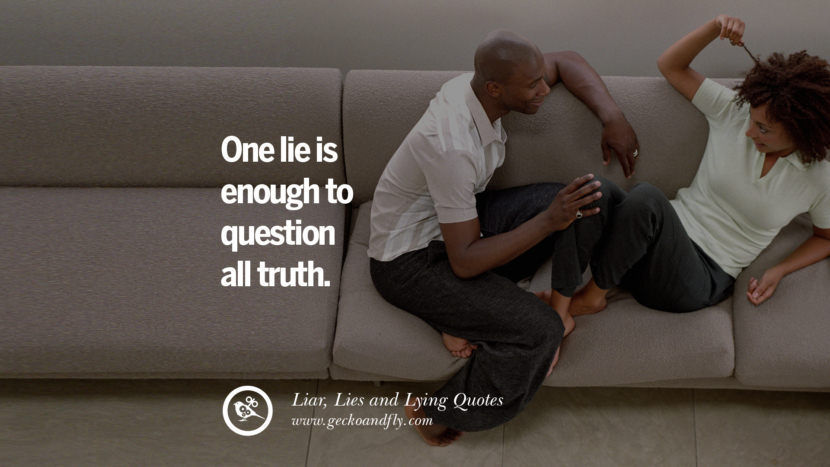 One lie is enough to question all truth.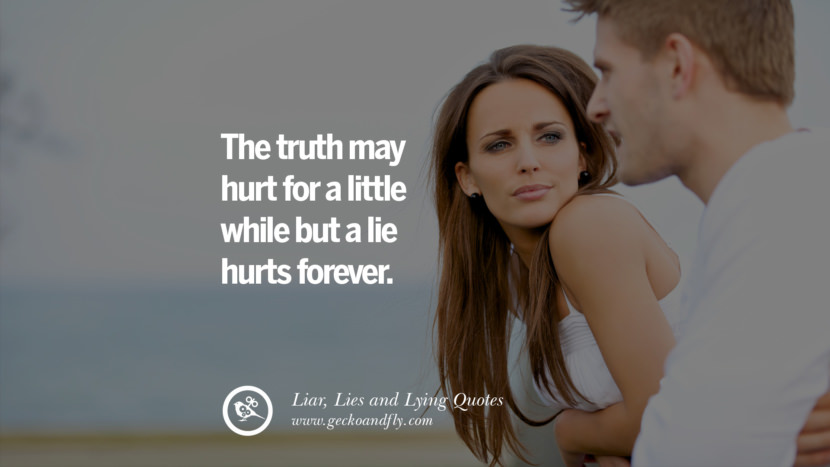 The truth may hurt for a little while but a lie hurts forever.

I'm not upset that you lied to me, I'm upset that from now on I can't believe you anymore.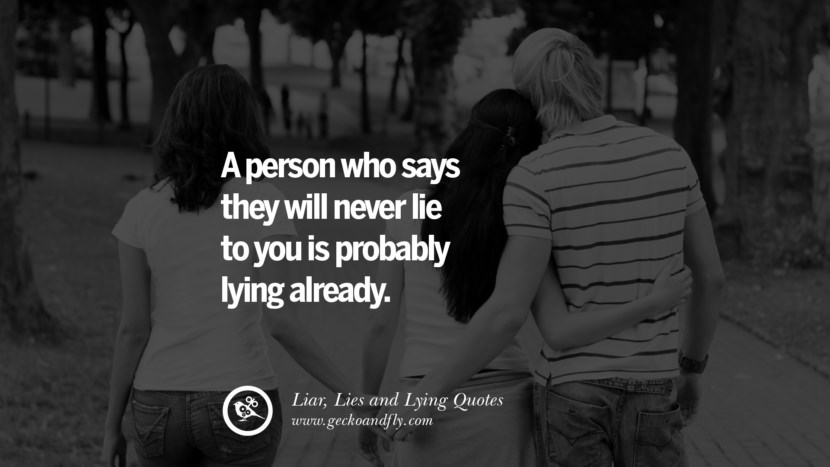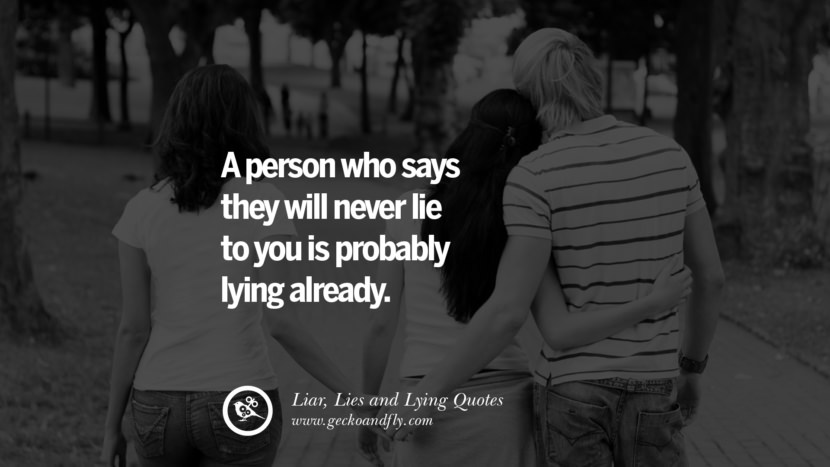 A person who says they will never lie to you is probably lying already.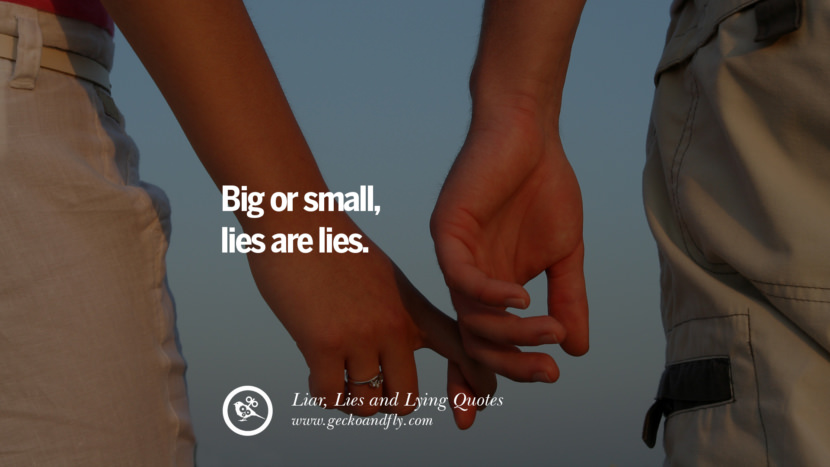 Big or small, lies are lies.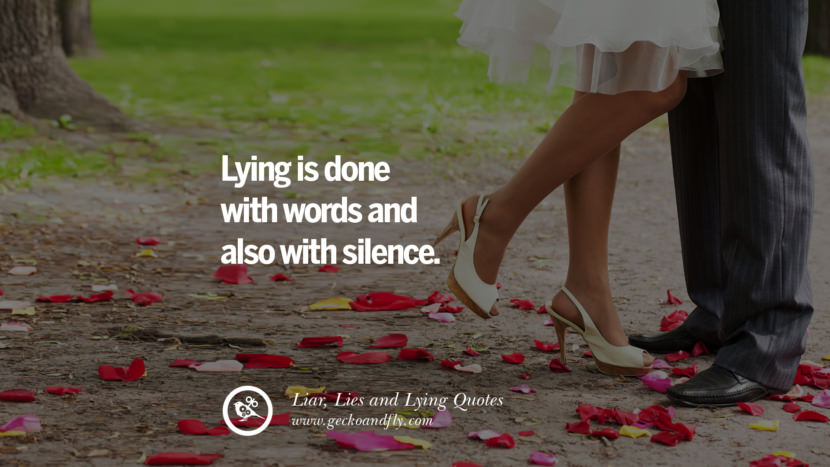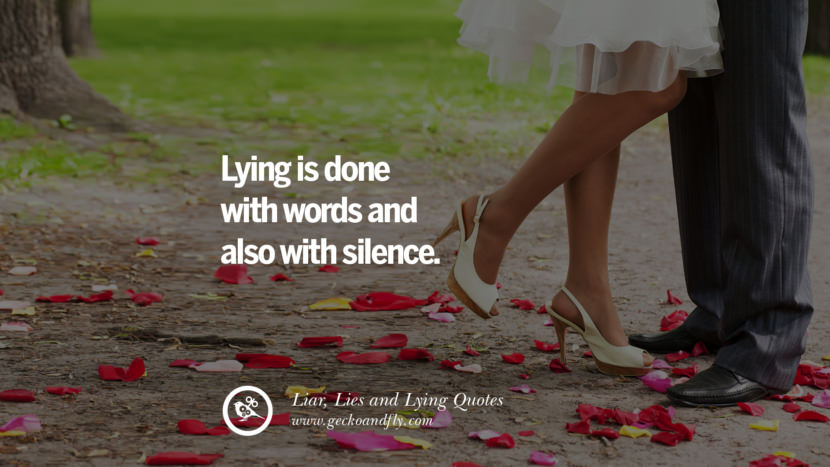 Lying is done with words and also with silence.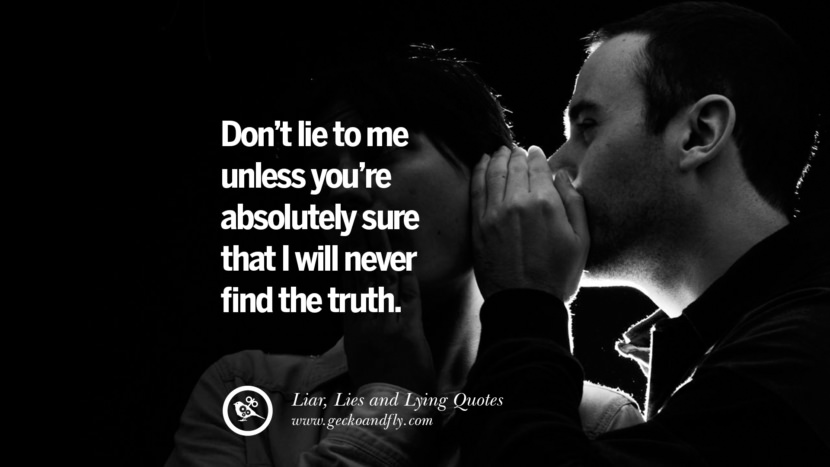 Don't lie to me unless you're absolutely sure that I will never find the truth.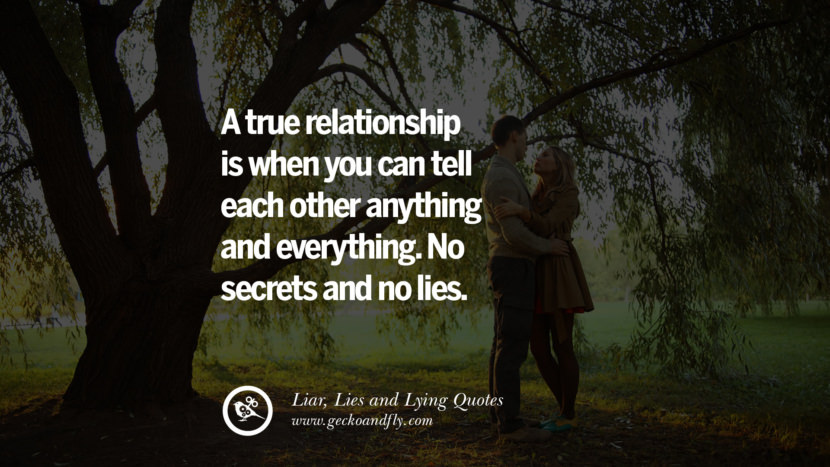 A true relationship is when you can tell each other anything and everything. No secrets and no lies.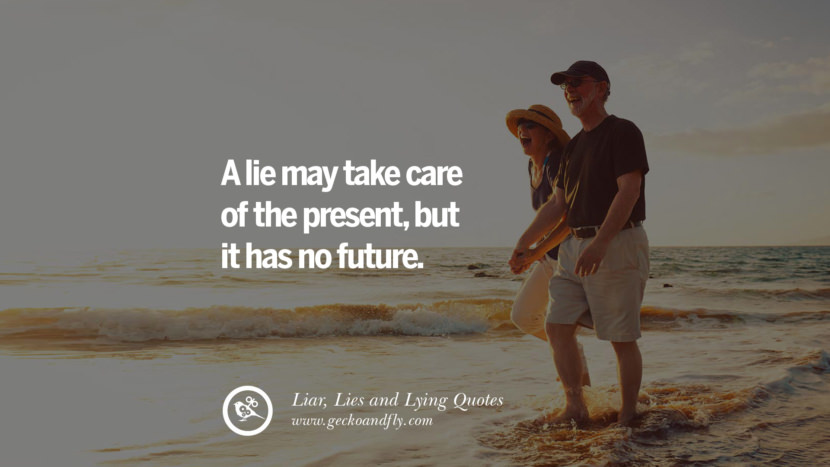 A lie may take care of the present, but it has no future.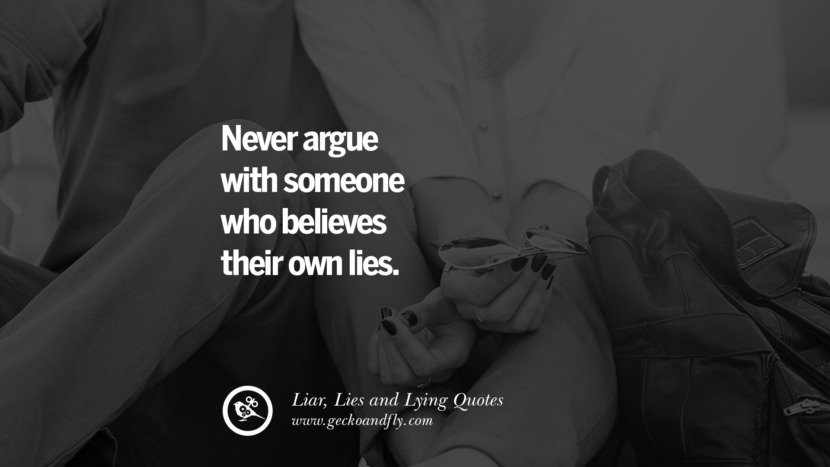 Never argue with someone who believes their own lies.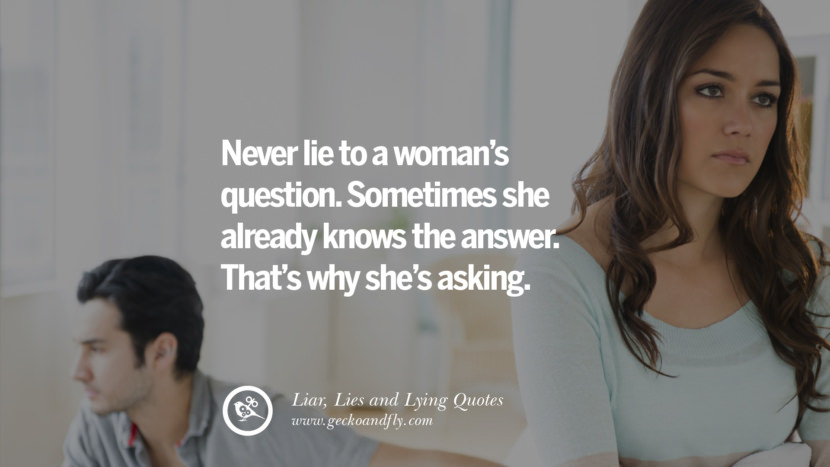 Never lie to a woman's question. Sometimes she already knows the answer. That's why she is asking.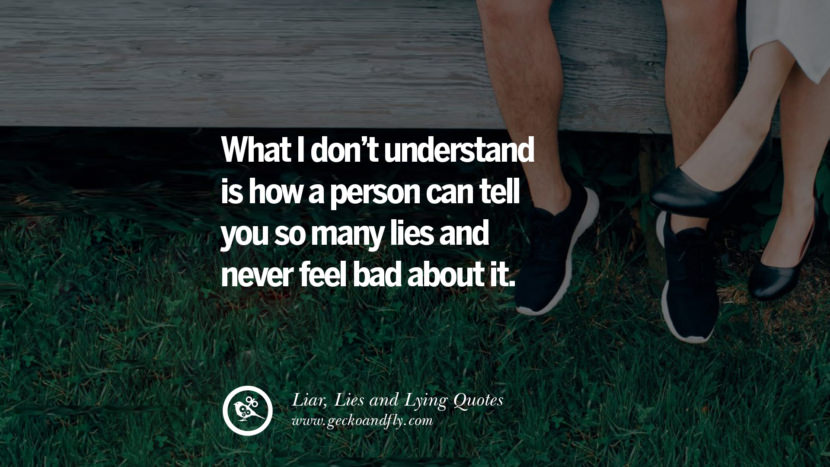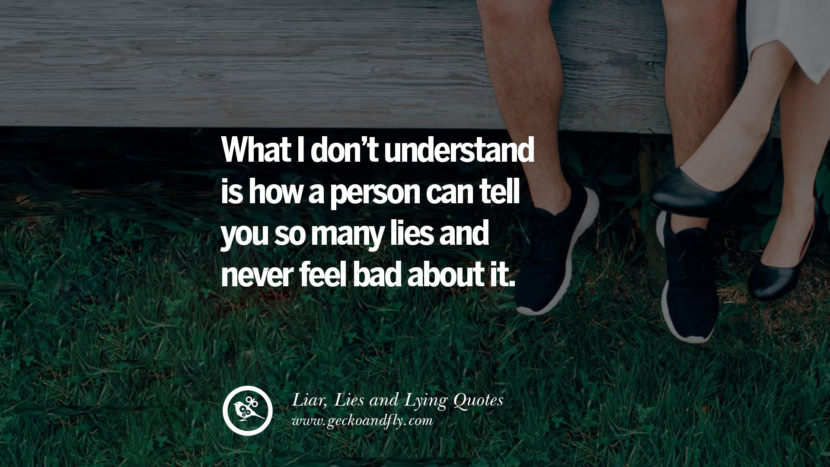 What I don't understand is how a person can tell you so many lies and never feel bad about it.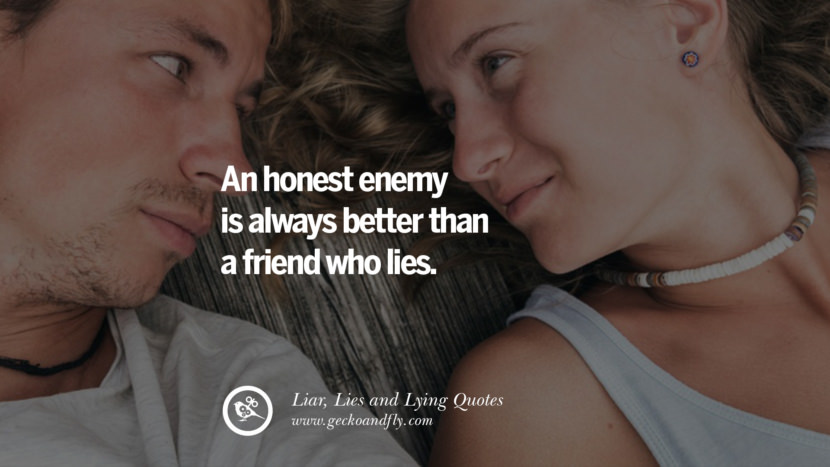 An honest enemy is always better than a friend who lies.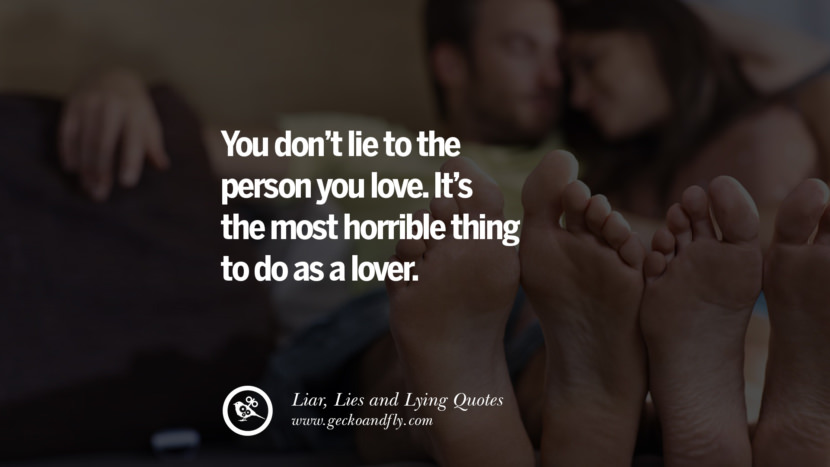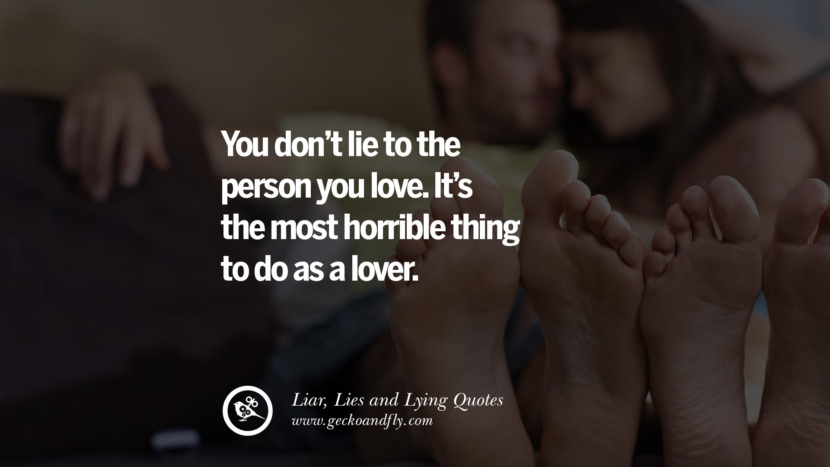 You don't lie to the person you love. It's the most horrible thing to do as a lover.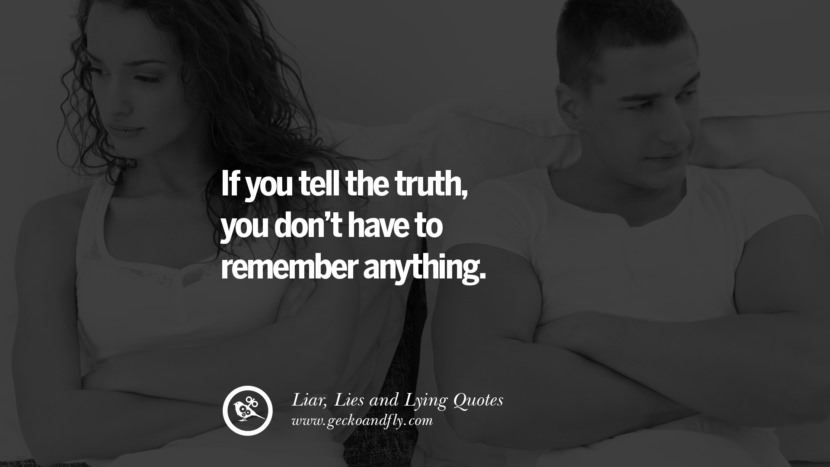 If you tell the truth, you don't have to remember anything.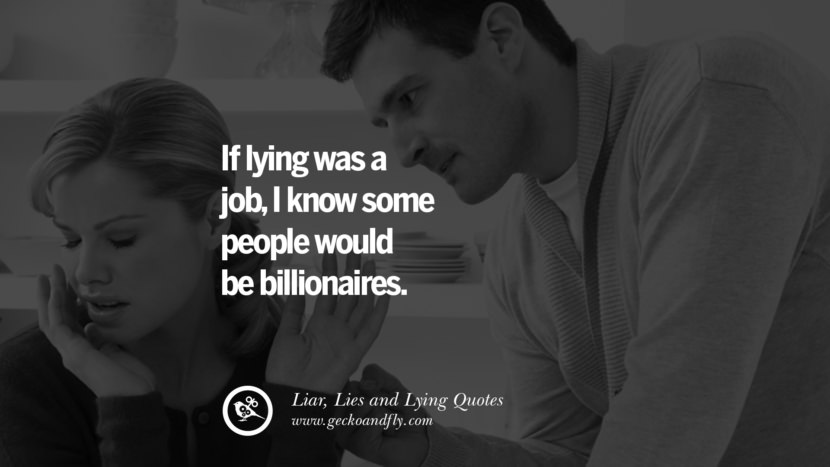 If lying was a job, I know some people would be billionaires.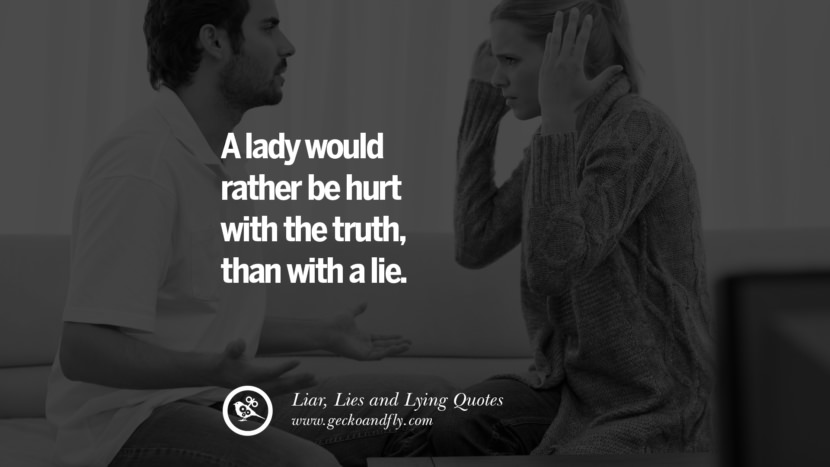 A lady would rather be hurt with the truth than with a lie.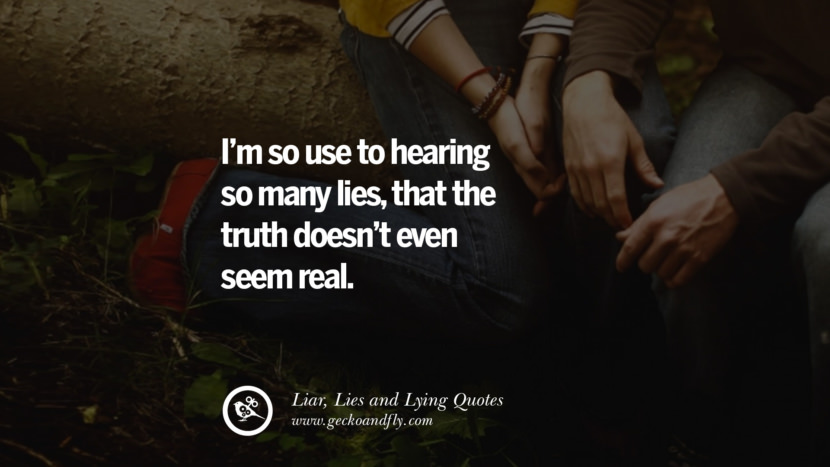 I'm so use to hearing so many lies, that the truth doesn't even seem real.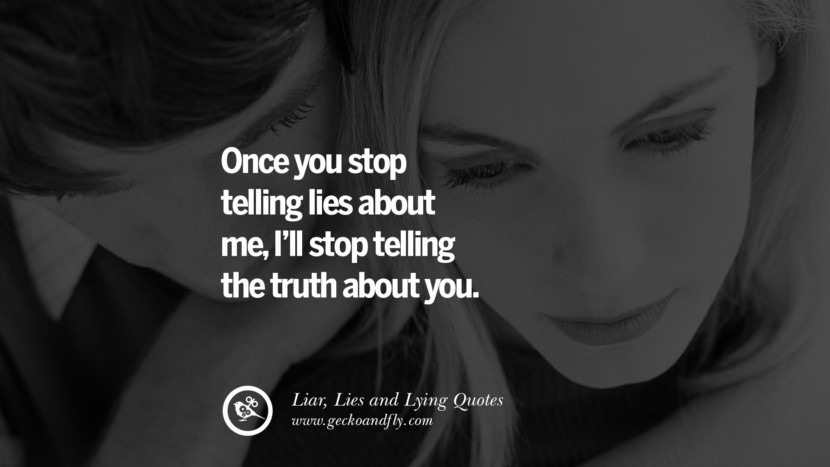 Once you stop telling lies about me, I'll stop telling the truth about you.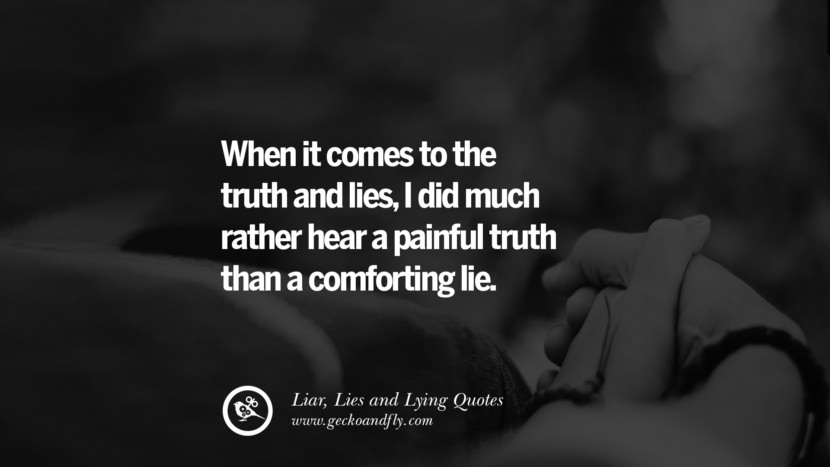 When it comes to the truth and lies, I did much rather hear a painful truth than a comforting lie.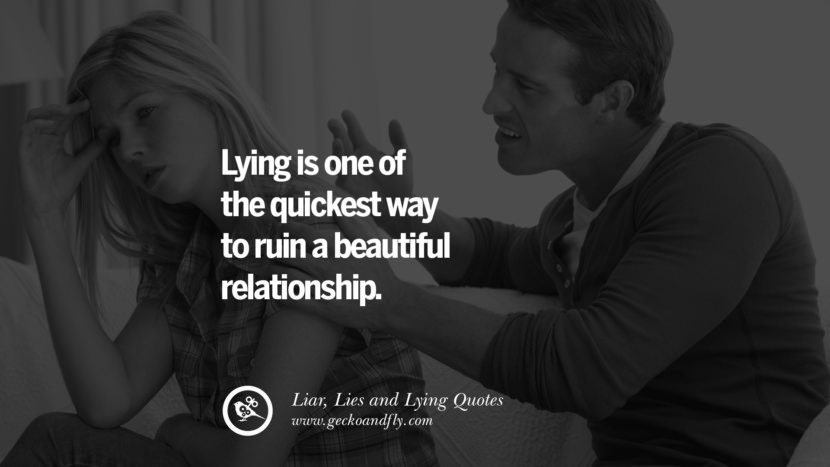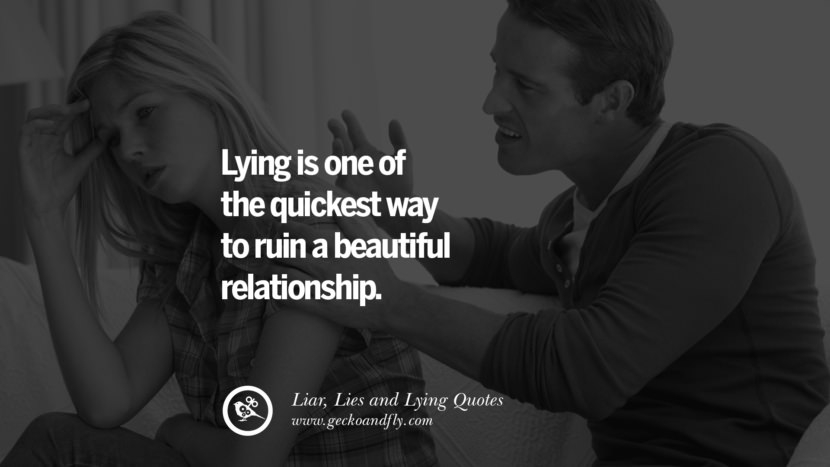 Lying is one of the quickest way to ruin a beautiful relationship.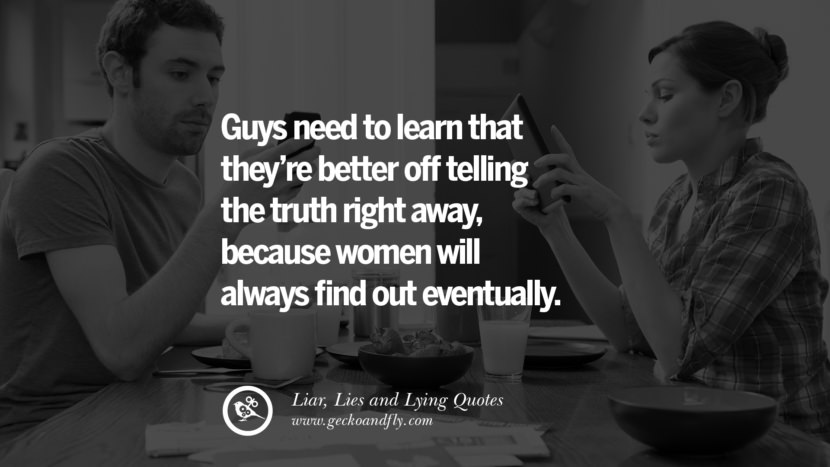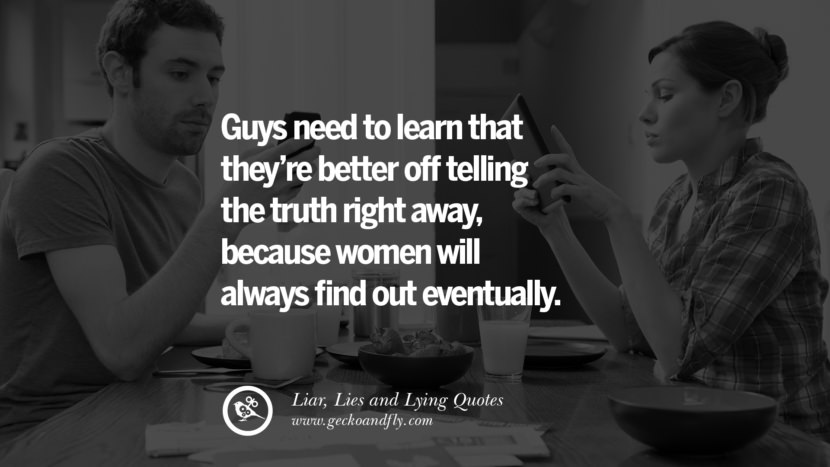 Guys need to learn that they're better off telling the truth right away, because women will always find out eventually.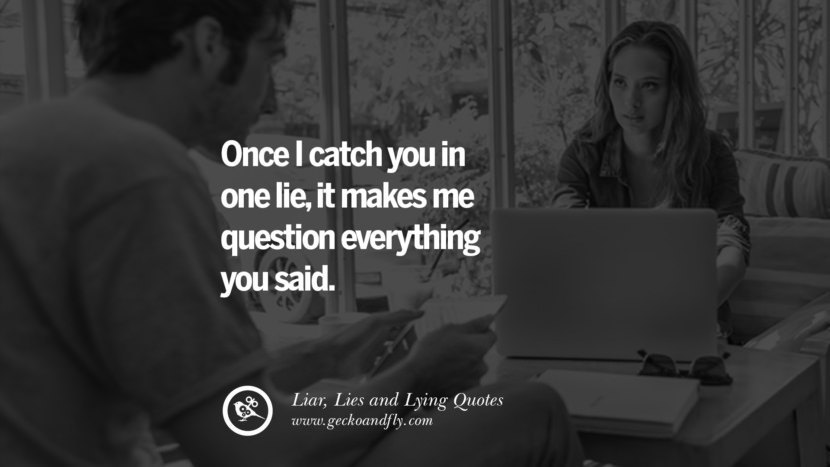 Once I catch you in one lie, it makes me question everything you said.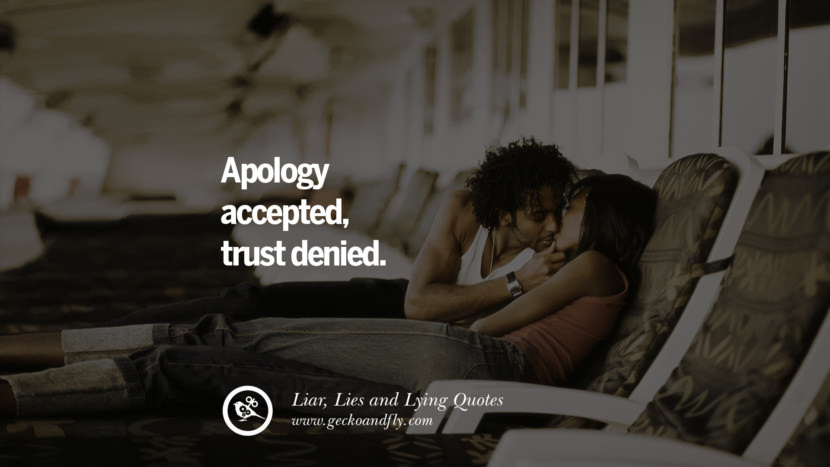 Apology accepted, trust denied.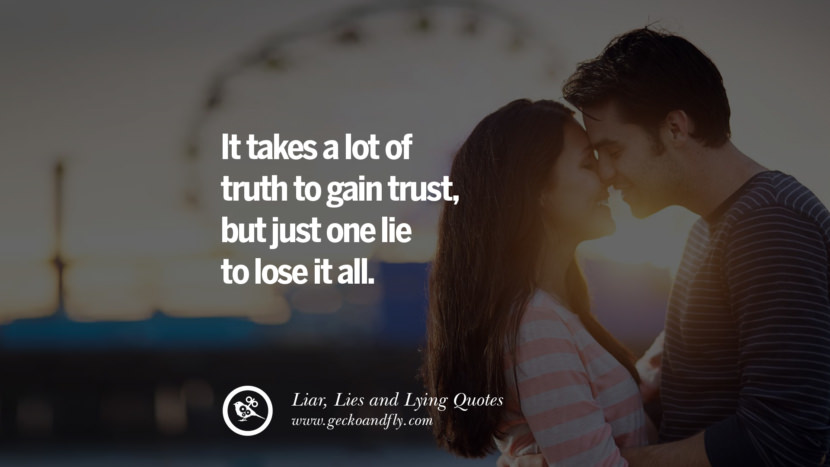 It takes a lot of truth to gain trust, but just one likes to lose it all.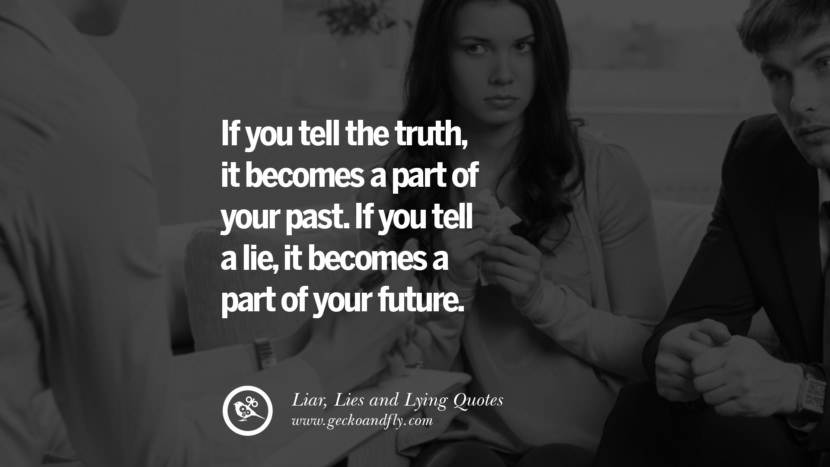 If you tell the truth it becomes a part of your past. If you tell a lie, it becomes a part of your future.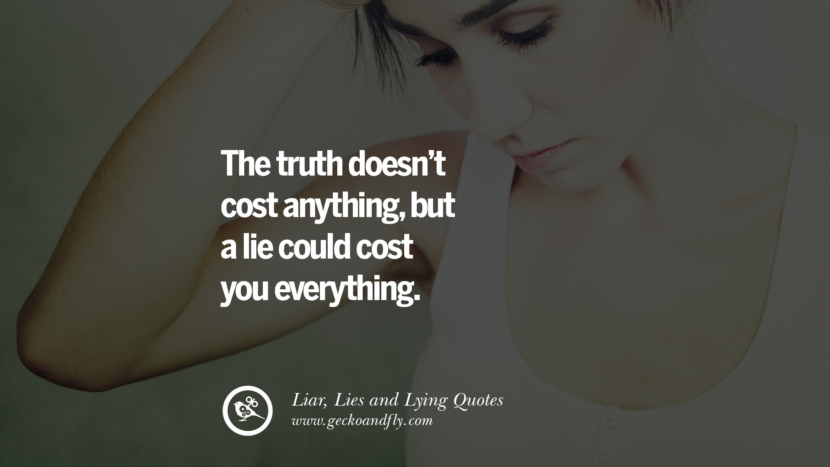 The truth doesn't cost anything, but a lie could cost your everything.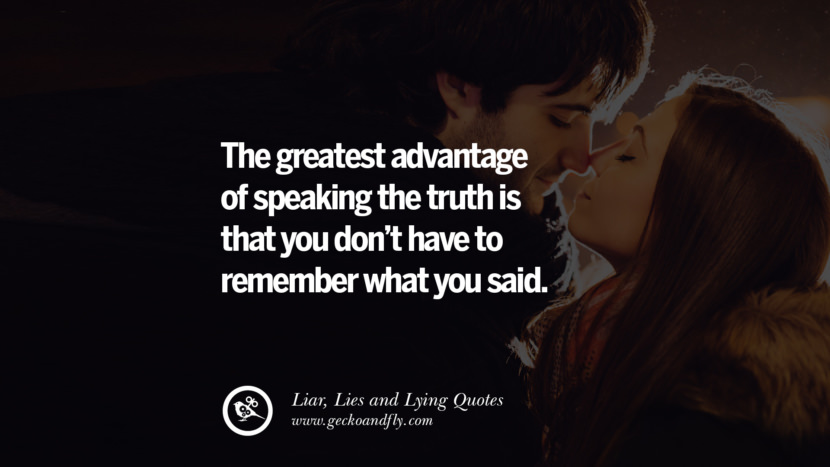 The greatest advantage of speaking the truth is that you don't have to remember what you said.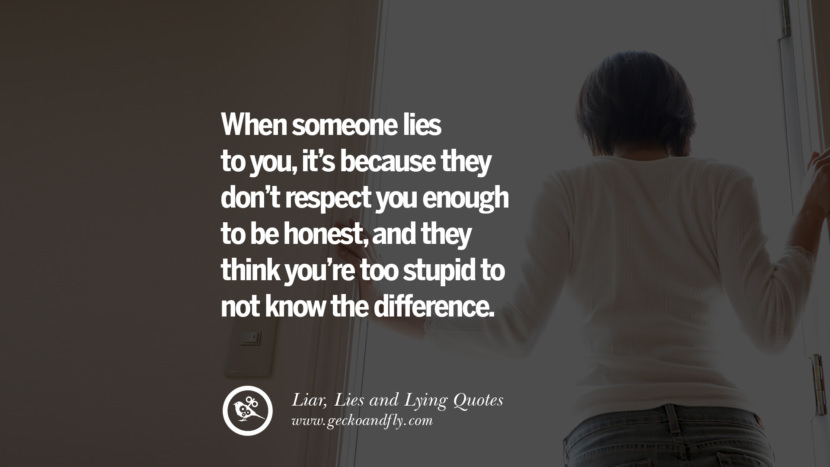 When someone lies to you, it's because they don't respect you enough to be honest, and they think you're too stupid to not know the difference.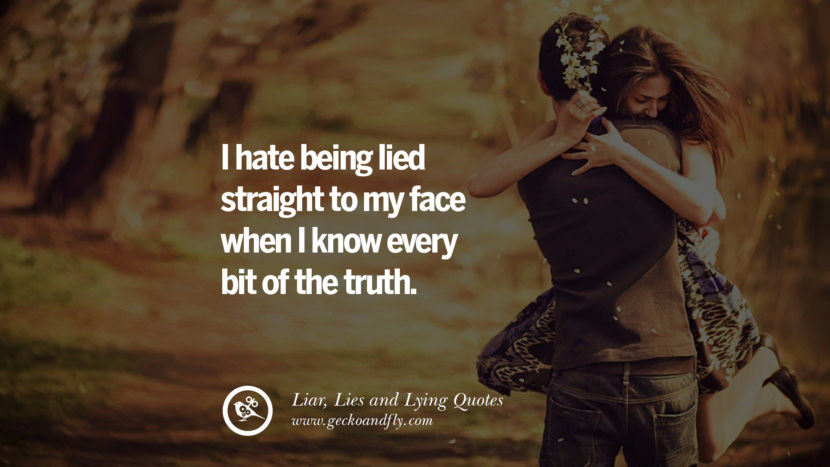 I hate being lied straight to my face when I know every bit of the truth.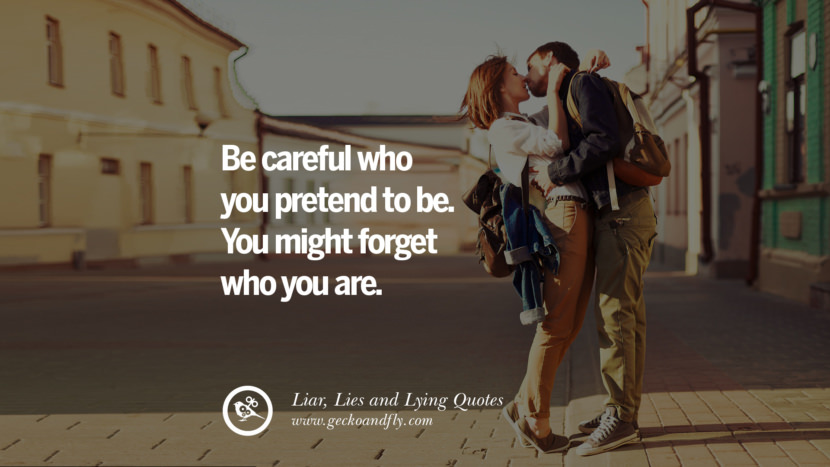 Be careful who you pretend to be. You might forget who you are.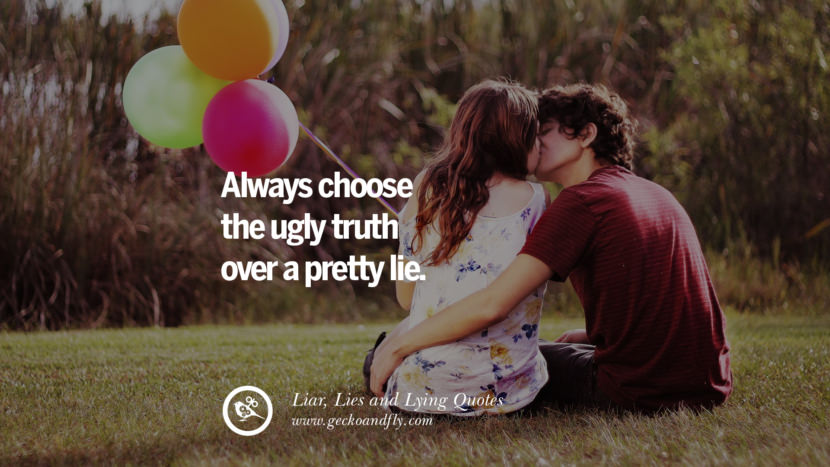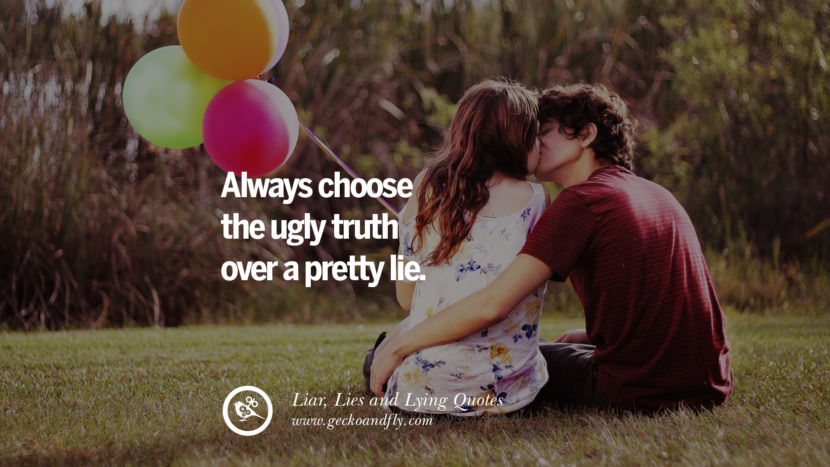 Always choose the ugly truth over a pretty lie.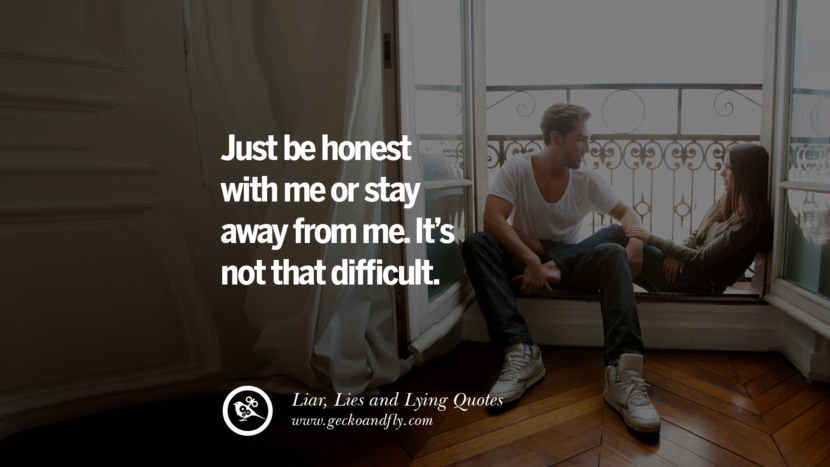 Just be honest with me or stay away from me. It's not that difficult.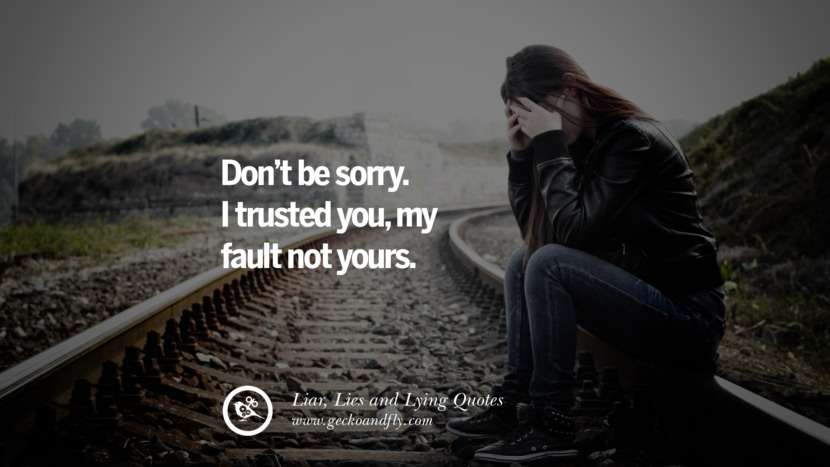 Don't be sorry. I trusted you, my fault not yours.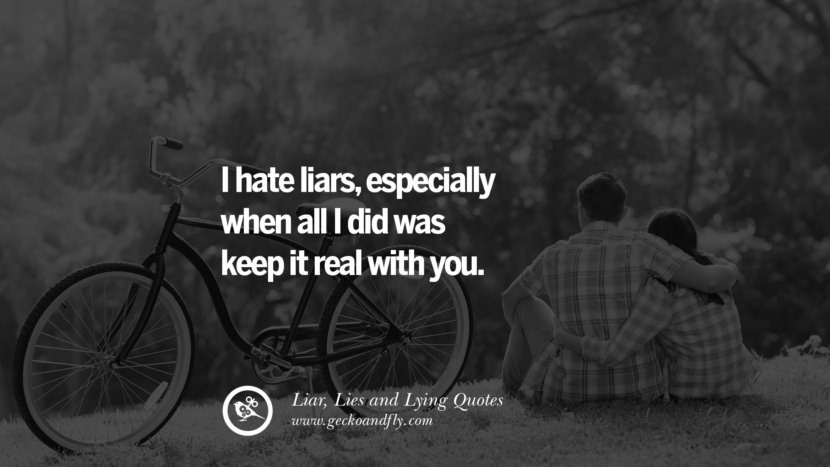 I hate liars, especially when all I did was keep it real with you.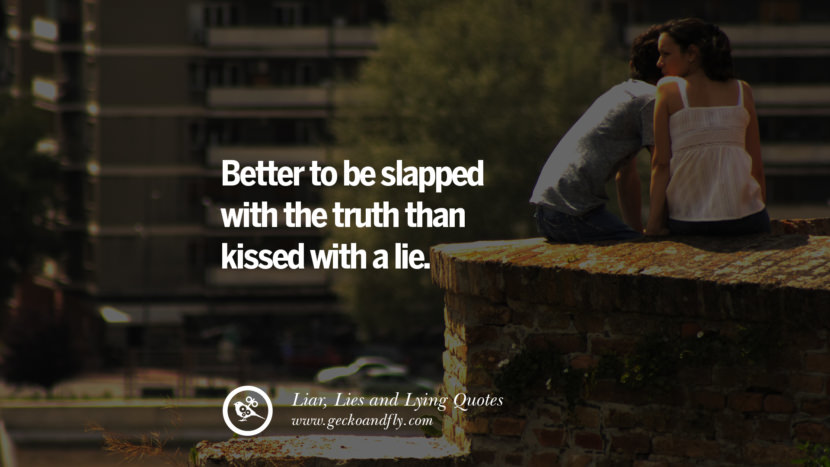 Better to be slapped with the truth than kissed with a lie.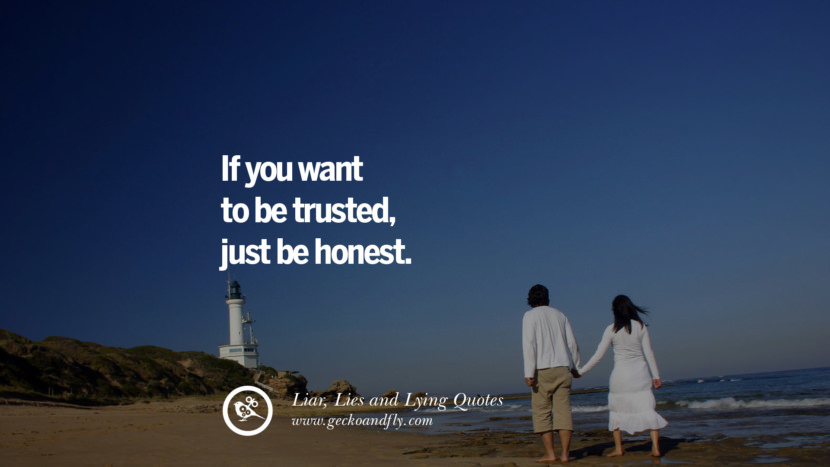 If you want to be trusted, just be honest.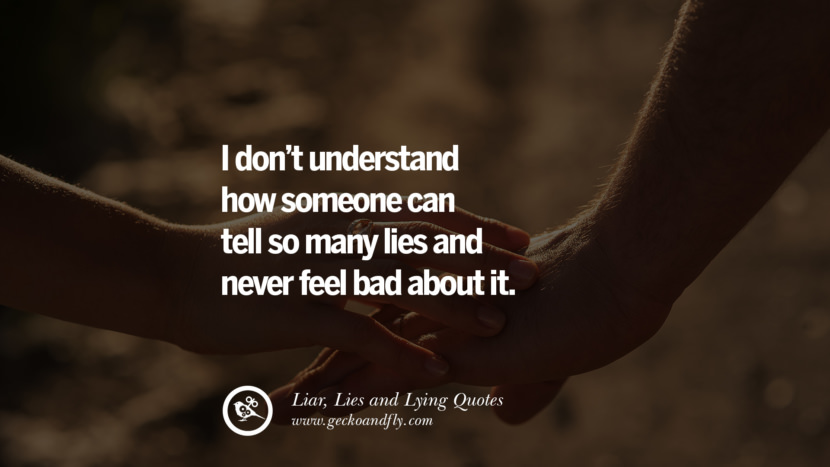 I don't understand how someone can tell so many lies and never feel bad about it.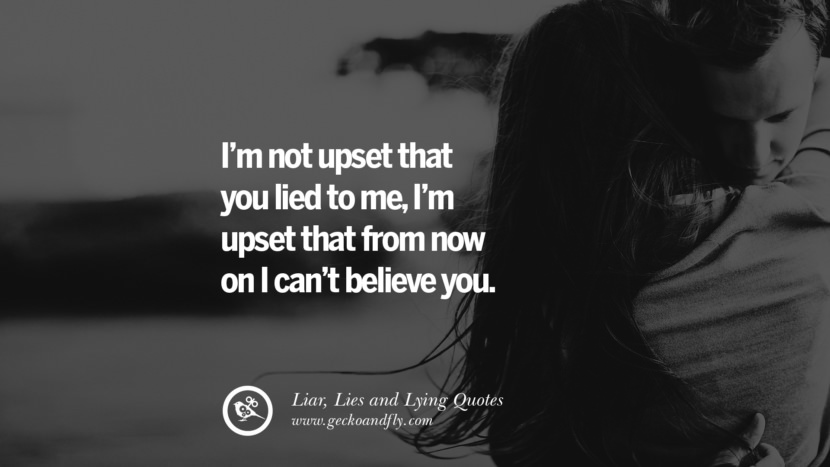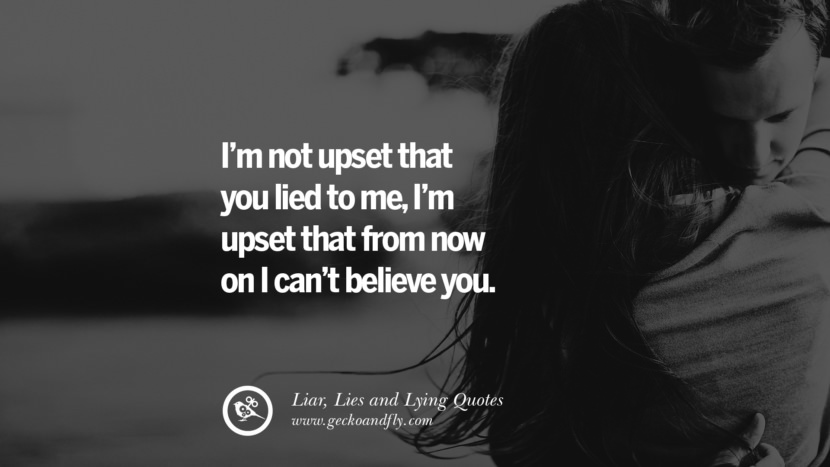 I'm not upset that you lied to me, I'm upset that from now on I can't believe you.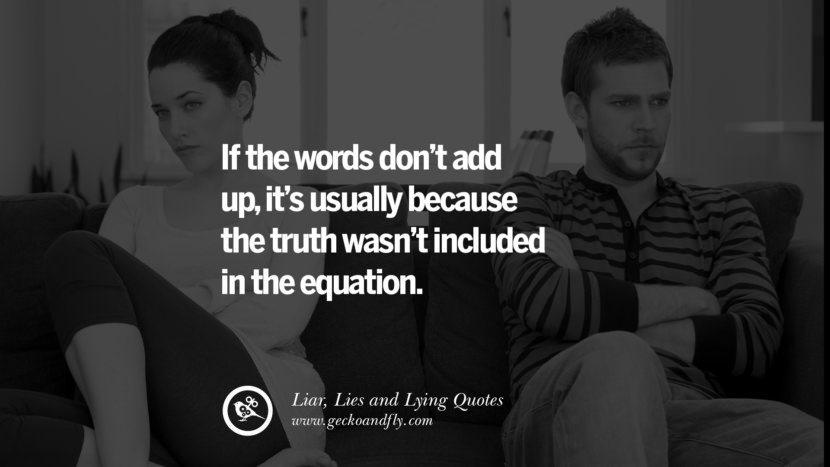 If the words don't add up, it's usually because the truth wasn't included in the equation.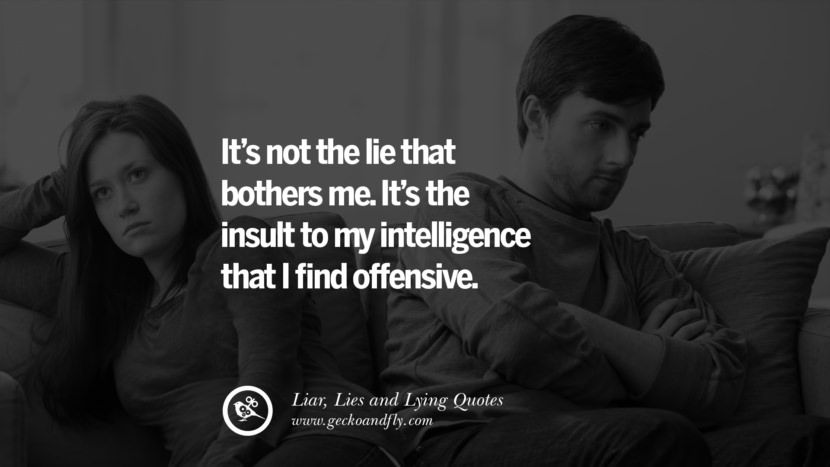 It's not the lie that bothers me. It's the insult to my intelligence that I find offensive.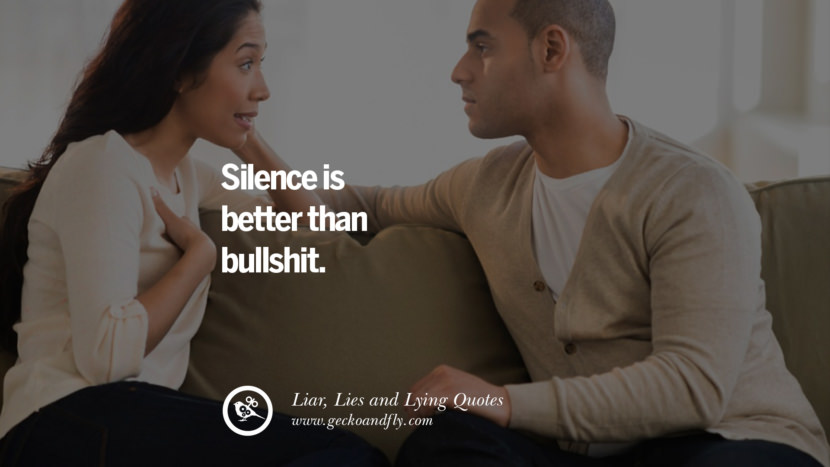 Silence is better than bullshit.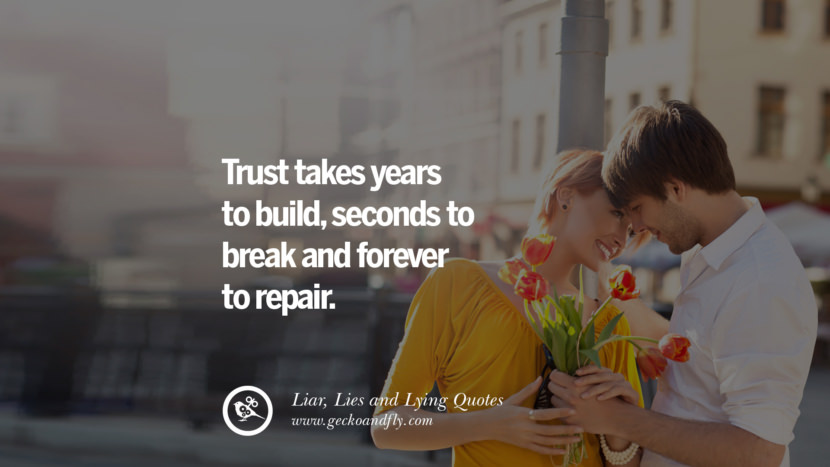 Trust takes years to build, seconds to break and forever to repair.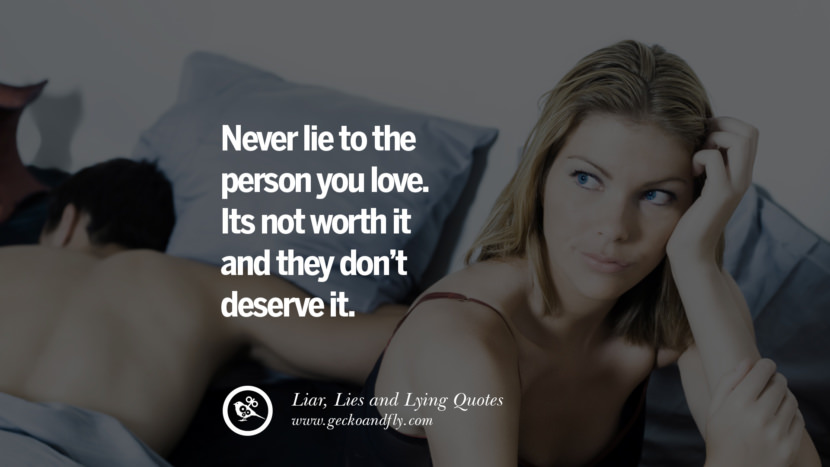 Never lie to the person you love. Its not worth it and they don't deserve it.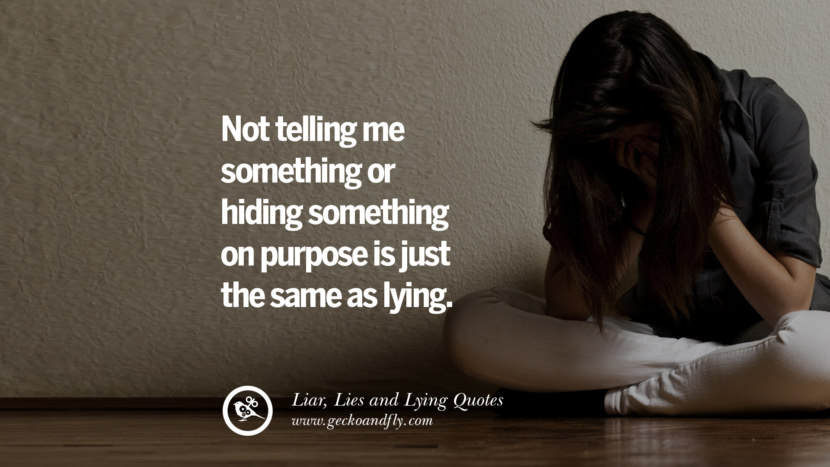 Not telling me something or hiding something on purpose is just the same as lying.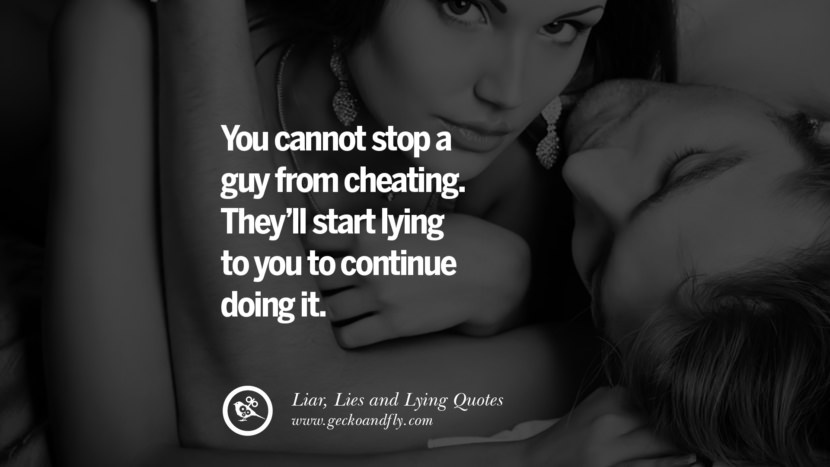 You cannot stop a guy from cheating. They'll start lying to you to continue doing it.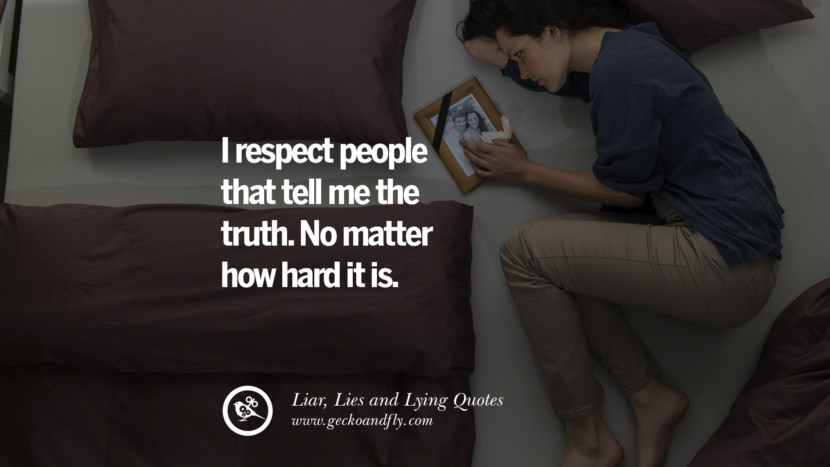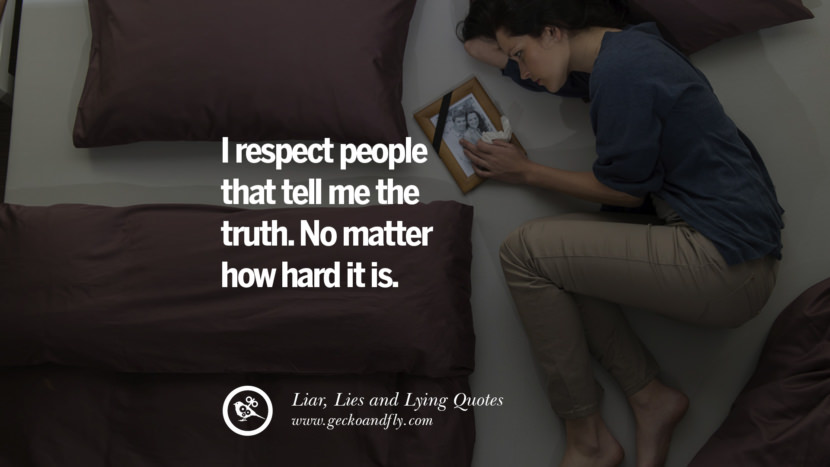 I respect people that tell me the truth. No matter how hard it is.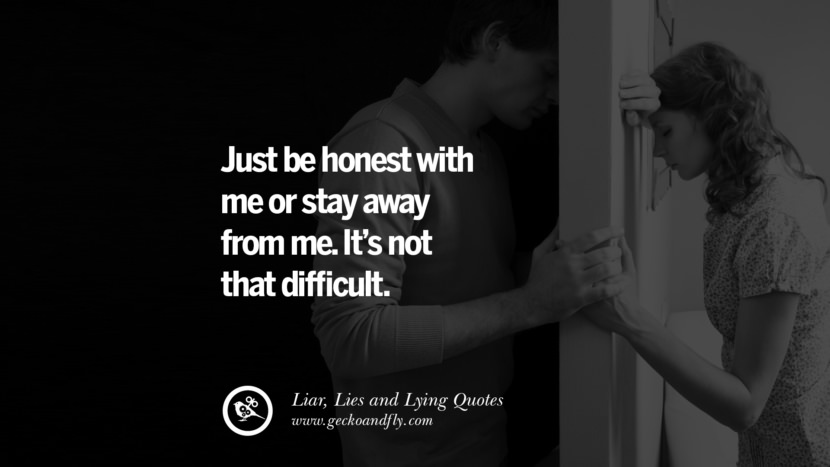 Just be honest with me or stay away from me. It's not that difficult.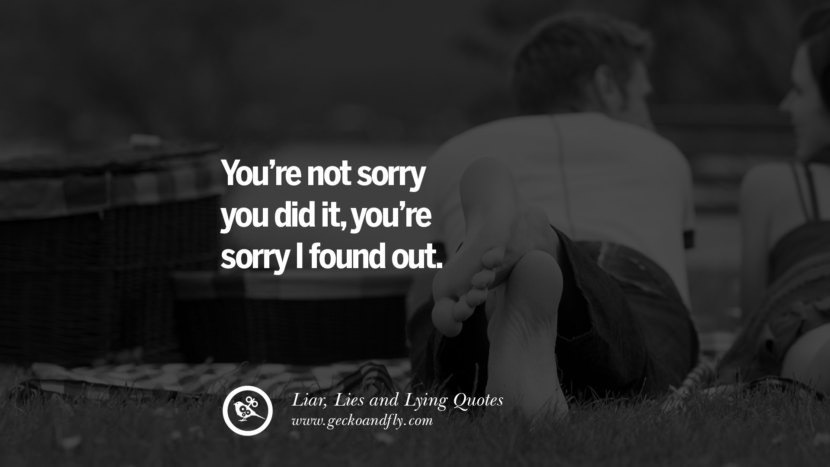 You're not sorry you did it, you're sorry I found out.