You can take screenshots directly in Windows and paste them onto Microsoft Paint, having said that, if you are looking for something feature rich, you will need a third party tool. Why pay for a software when there are plenty of open source and freeware available? After going through a number of these screen capturing tools, we've shortlisted these 10 tools and tricks as the best for your daily productivity.
See More ▼ 11 Free Software for Video Capturing, Game Broadcasting and Online Streaming
Microsoft Edge Browser
Surprisingly the best screen capture tool for websites is none other than Microsoft Edge in Windows 10. What makes Edge the best is with a click on a button, you have the screen captured and a 'pen' tool to scribble. Pros: It's a built-in function that is easily accessible. Cons: Annotating options are limited and it captures only the visible things.
Microsoft Edge is the only browser that lets you take notes, write, doodle, and highlight directly on webpages. Then you can save and share your handiwork in all the usual ways. Make notes on recipes, send your partner "subtle hints" about birthday gifts, or just draw mustaches on celebrities—the web is your canvas.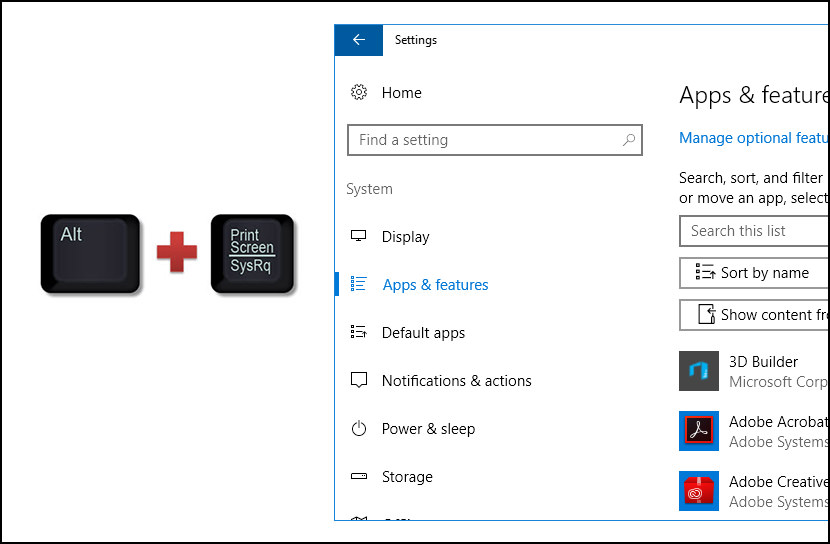 The other method is none other than the 'Print Screen' button. Hit the 'Print Screen' button and 'Paste' it to an image editor such as Photoshop. To capture a perfect window without the background, use the combination "Alt+Print".
If you're looking for something powerful yet free, ShareX is the answer. It is free, open source, lightweight and free from advertisements! It comes with advanced screenshot capture, screen recorder, file sharing and productivity tool with features such as capturing screenshots including full screen, window, monitor, region, freehand, scrolling, and more. It also contains tools like a screen color picker, an image editor, a ruler, a DNS changer, a QR code generator, a directory indexer and more.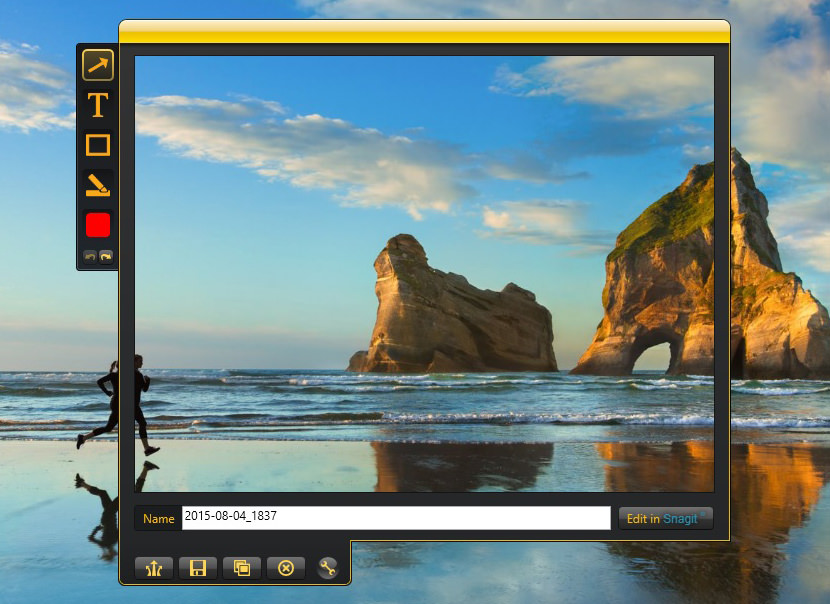 Jing is a computer service that lets you capture basic video, animation, and still images, and share them on the web. The always-ready program that allows you to instantly capture images and videos—then share them with anyone. Jing is a great tool for adding basic visual elements to all of your online conversations.
Capture what you see – Capture an image of what you see on your computer screen with Jing. Simply select any window or region that you want to capture, mark up your screenshot with a text box, arrow, highlight or picture caption, and decide how you want to share it.
Record what you're doing – Select any window or region that you would like to record, and Jing will capture everything that happens in that area. From simple mouse movements to a fully narrated tutorial, Jing records everything you see and do. Jing videos are limited to five minutes for instant, focused communication.
Send your video or screenshot – Send your screenshots and videos all over the web. As soon as you're done with your screen capture or screen recording, it's ready to upload to Screencast.com and share through IM, email, social media, and more.
You can use the Snipping Tool to capture a screenshot, or snip, of any object on your screen, and then annotate, save, or share the image. Simply use a mouse or tablet pen to capture any of the following types of snips:
Free-form Snip. Draw an irregular line, such as a circle or a triangle, around an object.
Rectangular Snip. Draw a precise line by dragging the cursor around an object to form a rectangle.
Window Snip. Select a window, such as a browser window or dialog box, that you want to capture.
Full-screen Snip. Capture the entire screen when you select this type of snip.
After you capture a snip, it's automatically copied to the mark-up window, where you can annotate, save, or share the snip.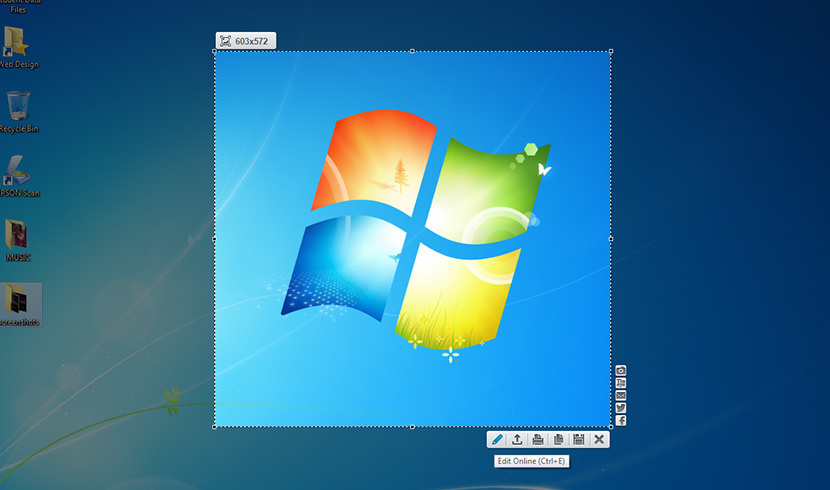 Lightshot – easy screenshot tool, is screen capture tool for Windows that works very much like the Snipping tool in Windows Vista and 7, with the added advantage of automatically uploading it online for sharing or editing. Available also as Firefox addon, Chrome extension and IE addon besides Desktop application.
Fast screenshot of selected area – Their app allows you to select any area on your desktop and take its screenshot with 2 button-clicks.
Easy-to-use application – Simple and intuitive user interface makes your work with the app easier and faster.
Share screenshots via Internet – Upload your screenshot to the server and get its short link right away.
Powerful editors – You can edit screenshots instantly when taking them or later using a powerful online editor.
Similar image search – Find similar images. Select any image on your screen and find dozens similar images.

Lightscreen is a simple tool to automate the tedious process of saving and cataloging screenshots, it operates as a hidden background process that is invoked with one (or multiple) hotkeys and then saves a screenshot file to disk according to the user's preferences.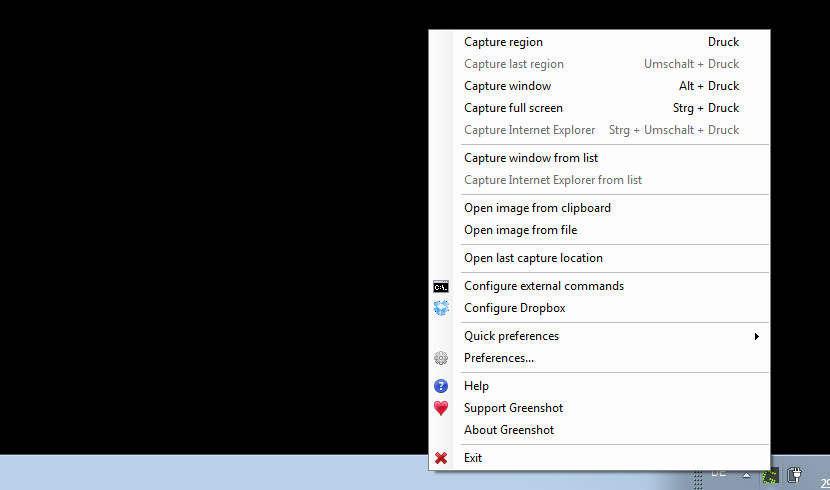 Being easy to understand and configurable, Greenshot is an efficient tool for project managers, software developers, technical writers, testers and anyone else creating screenshots. Greenshot is a light-weight screenshot software tool for Windows with the following key features:
Quickly create screenshots of a selected region, window or fullscreen; you can even capture complete (scrolling) web pages from Internet Explorer.
Easily annotate, highlight or obfuscate parts of the screenshot.
Export the screenshot in various ways: save to file, send to printer, copy to clipboard, attach to email, send Office programs or upload to photo sites like Flickr or Picasa, and others.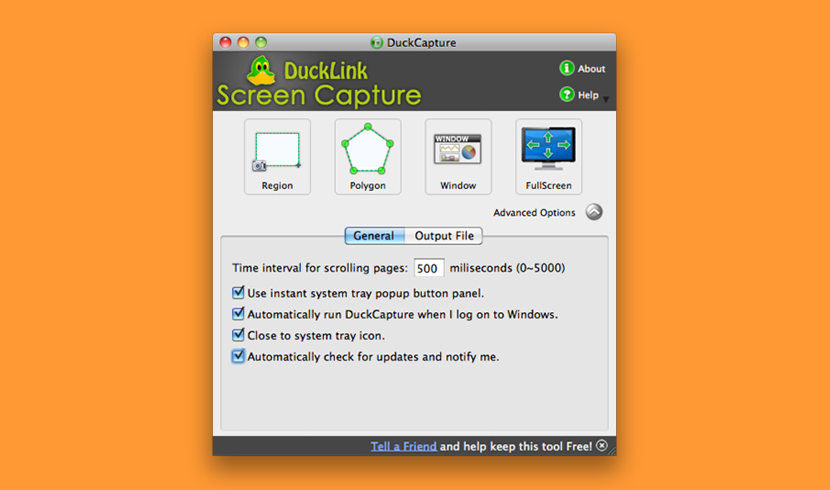 DuckCapture allows you to capture a window or region on your screen, or the contents of a tall web page that scrolls. You can change your captured area or add more areas to one image, add annotations. When finished, you can save to file, copy to clipboard or print out directly.
DuckCapture comes with four capture modes that make screen capture easy! Capture a window on your screen, region of your screen, or the contents of a tall web page that scrolls. You can easily edit, and share a screenshot. Don't waste time cropping your captures. DuckCapture is exactly what you need.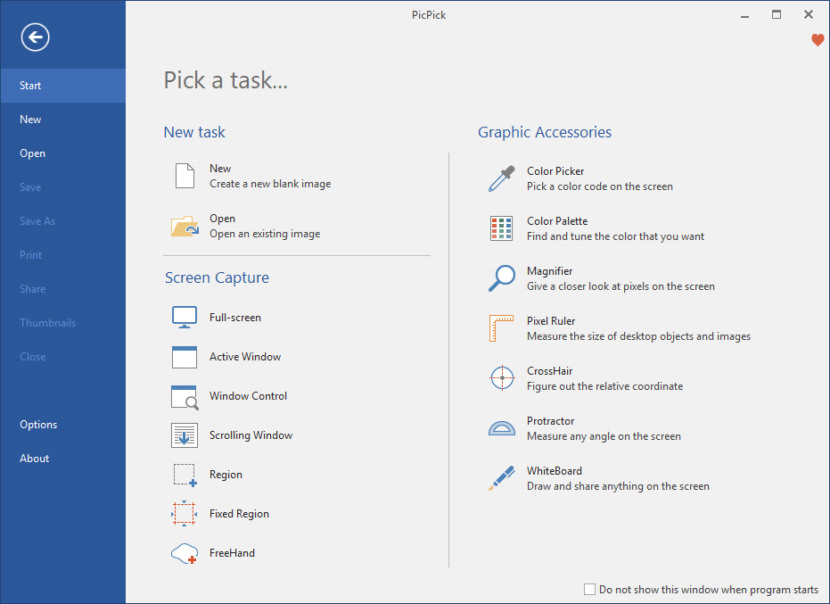 Specially designed for the home user and aiming at giving as much flexibility as possible during the work. It even includes some features never to be found in Photoshop. PicPick, besides being a very easy to use image editor, also sports graphic capture options and a set of hotkeys and options some similar editors would envy.
Capture anything – Take screenshots of an entire screen, an active window, the scrolling windows and any specific region of your desktop, etc.
Edit your images – Annotate and highlight your images: text, arrows, shapes and more with the built-in image editor that includes the latest Ribbon style menu.
Enhance with effects – Easily add effects to your images: drop shadows, frames, watermarks, mosaic, motion blur, brightness control and more.
Share everywhere – Save, share, or send your images via Web, email, ftp, Dropbox, Google Drive, SkyDrive, Box, Evernote, Facebook, Twitter and more.
Graphic Accessories – Variety of graphic design accessories including color picker, color palette, pixel ruler, protractor, crosshair, magnifier, whiteboard.
Customizable setting – With highly advanced settings, you can customize hotkeys, file naming, image quality, and many other options that fits your needs.
11. Shutter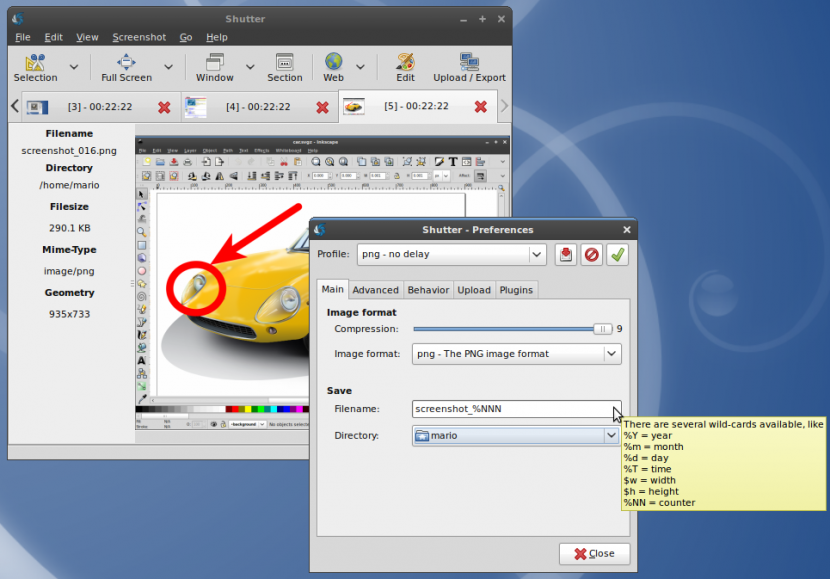 [ Discontinued ] Shutter is a feature-rich screenshot program for Linux based operating systems such as Ubuntu. You can take a screenshot of a specific area, window, your whole screen, or even of a website – apply different effects to it, draw on it to highlight points, and then upload to an image hosting site, all within one window.
Capture – Shutter allows you to capture nearly anything on your screen without losing control over your screenshots (tabbed interface).
Edit – Especially if you are taking screenshots for writing tutorials or manuals you need to edit the image, e.g. highlighting some part of it. With Shutter you don't need to open an external graphics editor like GIMP, because Shutter ships with its own built-in editor.
Share – They all spend much of their time in forums, wikis, chats etc. From time to time they need to do some screenshots and upload them so they can share them with other people.
Plugins – Shutter ships with a great variety of plugins that allow you to add impressive effects to your screenshots.