Personally, I prefer the UltraWide Screen Monitor over the dual screen. When it comes to gaming, I can utilize the entire screen without having black bars running across the screen. However, some prefer dual screen setup for working purposes.
See More ▼ 12 Tools To Split Your Monitor's Screen In Windows And macOS
The Dual Monitor or Multi-Display settings in Microsoft Windows 10 are pretty basic. If you are looking for something featured rich, below is the complete list of tools that further enhance your dual monitor setup experience.
Multi Monitor via 1 OS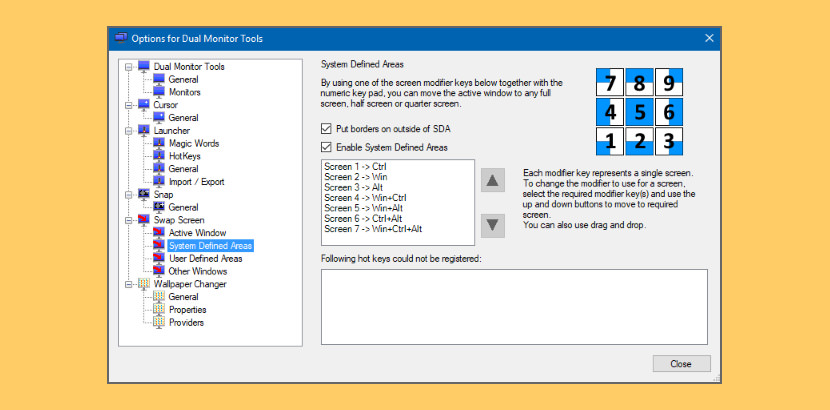 Dual Monitor Tools is a software package for Windows users with dual or multiple monitor setups. It has hotkeys for moving windows around, restricting mouse/cursor movement between screens, application launcher, wallpaper creator and changer and a screen capture tool.
Allows you to quickly move windows between monitors.
Launch applications to start on a particular monitor.
Provides some of the new Windows hotkeys.
Lock cursor onto a monitor, or provide resistance to moving between monitors.
Create wallpaper with different images on each monitor or spanning multiple monitors.
Change wallpapers periodically.
Capture images from the primary monitor and display them on the secondary monitor.
Multi Monitor via 1 OS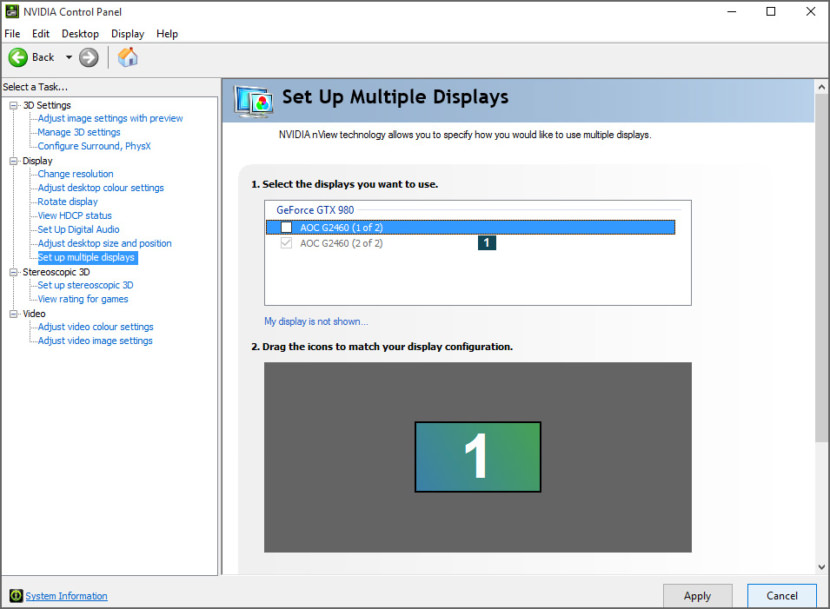 Effectively manage your desktop with NVIDIA nView. Using NVIDIA nView Desktop Management Software, professionals have maximum flexibility and unprecedented control of a single or multiple display environments. nView provides the right set of tools to navigate through their system's information reducing lost time while maximizing productivity.
Intuitive interface for easy display management
Customizable desktop by various usage models
Robust IT management tools for easy deployment and maintenance
Tested compatibility with industry-leading business applications
Proven stability — over millions of enterprise installations
Multi Monitor via 1 OS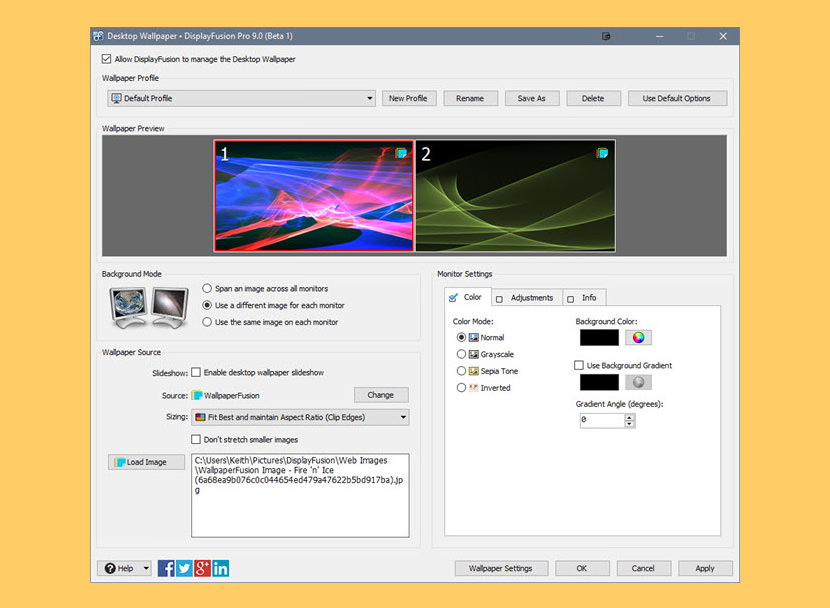 DisplayFusion will make your multi-monitor life much easier! With powerful features like Multi-Monitor Taskbars, TitleBar Buttons and fully customizable HotKeys, DisplayFusion will make managing your multiple monitors easy. Every DisplayFusion download comes with a free 30 day Pro trial license key! Once the trial expires, it will revert to the limited free version.
DisplayFusion will make your multi-monitor life much easier! With powerful features like Multi-Monitor Taskbars, TitleBar Buttons and fully customizable HotKeys, DisplayFusion will make managing your multiple monitors easy.
Multi-Monitor Taskbars Keep your windows easily organized by adding a Taskbar to each of your monitors.
Easily use stunning wallpaper images from many online sources, or use images from your own collection.
Focus on the task at hand, by automatically dimming unused monitors and application windows.
The Triggers feature allows you to listen for events, like window creation, window focus, desktop unlock, system idle and more. Then you can run preset commands or custom scripts to manipulate that window, or anything else you can imagine.
Multi Monitor via 1 OS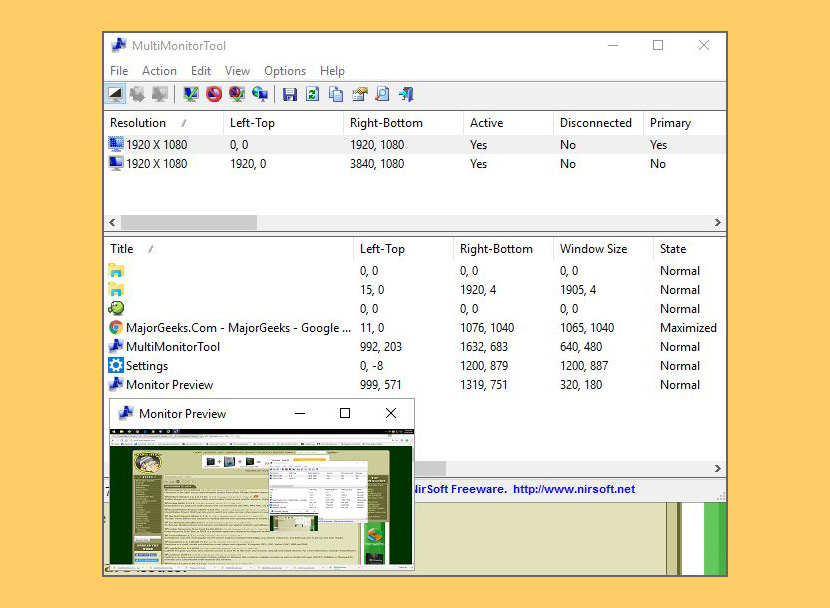 MultiMonitorTool is a small tool that allows you to do some actions related to working with multiple monitors. With MultiMonitorTool, you can disable/enable monitors, set the primary monitor, save and load the configuration of all monitors, and move windows from one monitor to another.
You can do these actions from the user interface or from command-line, without displaying user interface. MultiMonitorTool also provides a preview window, which allows you to watch a preview of every monitor on your system.
Multi Monitor via 1 OS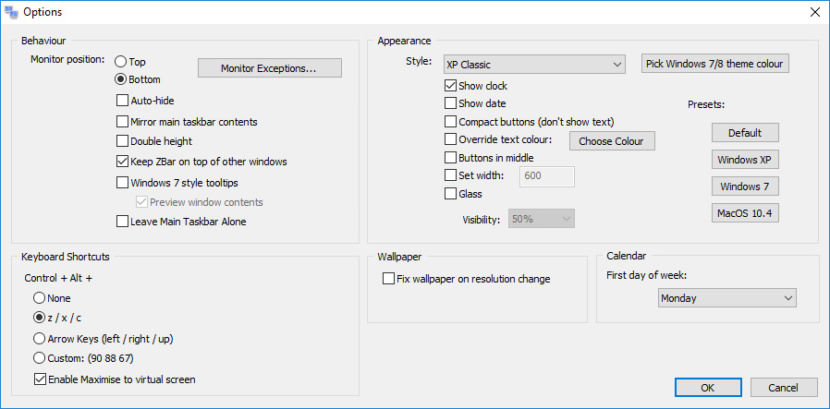 ZBar is a utility for those who use multiple monitors. If you have a single screen, then there's nothing to see here. Move on. If you have two or more monitors, then Windows only puts the task bar at the bottom of one of those monitors, and although you can move windows to the second monitor, the task bar button for those windows still lives at the bottom of the primary monitor.
Put a taskbar across the top or bottom of all non-primary screens with one or two rows of buttons, in six styles, with an optional clock
Provide keyboard shortcuts to move windows one screen along
Organise your desktop wallpaper one image per screen or one image across all screens
Display a six month calendar, last month, this month, and four months ahead
Control 2 Computers With 1 Mouse/Keyboard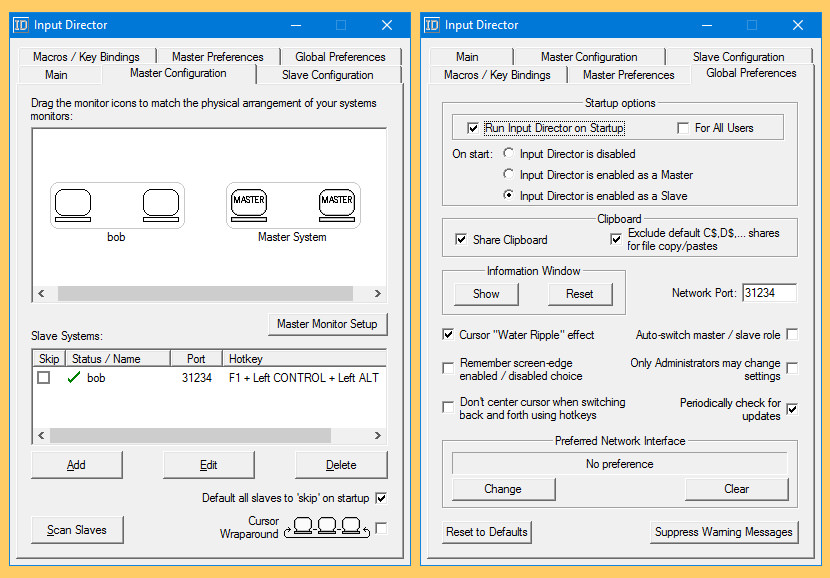 Input Director enables the control of multiple Windows systems using the keyboard/mouse attached to one computer. Switch control between systems either by hotkey or by moving the cursor to the screen edge on one computer for it to appear on the next one.
Input Director supports a shared clipboard – copy on one computer, switch control, and paste. Input Director is compatible with Windows 10, Windows 8/8.1, Windows 7, Windows 2008, Windows Vista, Windows 2003 and Windows XP(SP2). The systems must be networked.
Control 2 Computers With 1 Mouse/Keyboard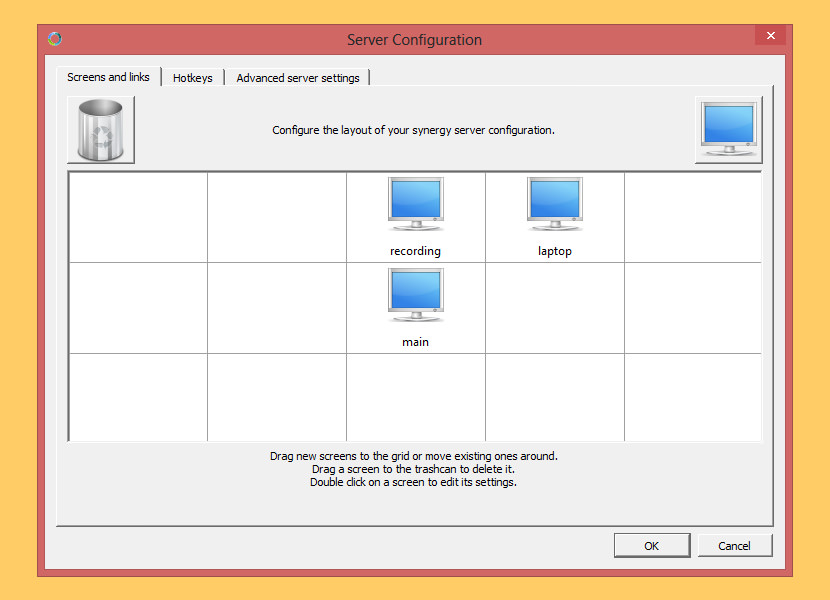 Synergy is a software download that shares one mouse and one keyboard between multiple computers. Simply move your mouse between your computers effortlessly. You can even copy and paste between computers. Synergy works on Windows, macOS, Linux, and Raspberry Pi. You only need a regular Ethernet or WiFi network connection, and no special hardware. It works like magic.
Mouse and Keyboard Sharing – Share your mouse and keyboard between Windows, Mac and Linux computers
Clipboard Sharing – Copy and paste text and images between all of your computers
Screensaver Sync – Activate the screensavers for all of your computers at the same time
Hot Keys – Customizable key bindings to other keys and specific actions