How do you quickly and securely dispose of used computers hard disk and SSD drives? SSD is gradually replacing HDD as the main storage device, because SSD is different from HDD, there are some minor challenges of erasing SSDs, unlike HDD, SSD must constantly move data around the drive to ensure all blocks are worn at an equal rate. Leave no trace behind – rely on these 5 bootable SSD erasers to securely erase the entire SSD drives, making the data unrecoverable while maintaining the health of the SSD.
😭 😍 😂 15 Freeware To Securely Erase All Data From HDD Hard Drive Preventing Recovery
Most manufacturers supply software for their solid state drives in order to update firmware and perform tasks like secure erase. Some people might find the eraser performance somewhat unsatisfying. Personally, I believe these tools are good enough, I suspect only pedophiles and crazy people with home made videos would want a military grade hard disk eraser. Without further ado, here are 5 bootable tools to securely wipe clean your SSD for macOS, Microsoft Windows, Linux and etc.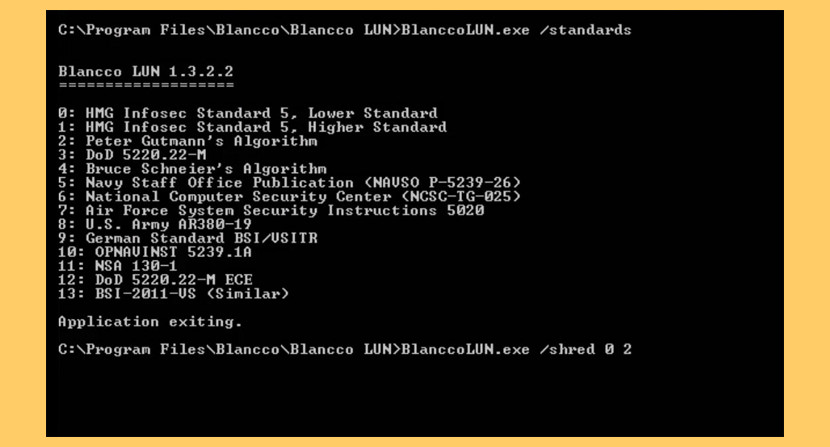 Blancco Drive Eraser allows organizations to securely erase sensitive data from HDDs and complex SSDs in desktop/laptop computers and servers. Through our patented SSD erasure process and technology, organizations now have a secure method to handle end-of-life storage devices – regardless of underlying technology – in a cost-effective, secure and eco-friendly manner.
Erases data permanently from multiple HDDs/SSDs simultaneously
Automates the process to remove system BIOS free locks
Capable of RAID dismantling and pass through
Roots out drives that give false positives about internal erasure processes
Ensures compliance with state, federal and international data privacy regulations and guidelines, including ISO 27001 and ISO 27040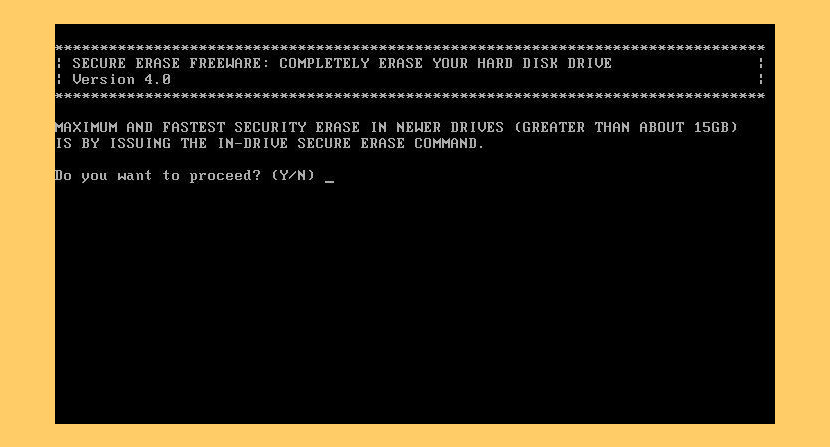 HDDerase.exe is a DOS-based utility that securely erases "sanitizes" all data on ATA hard disk drives and SSD in Intel architecture computers (PCs). It offers the option to run the drive internal secure erase command, security erase unit, based on the ATA specification by the T13 technical committee. To run the utility make a floppy, recordable CD-R, or USB DOS bootable disk; then copy HDDerase.exe to the bootable media.
Reboot the computer with the floppy, CD-R, or USB inserted, and type "hdderase" at the system DOS prompt. Make sure to set the correct priority boot order in the system BIOS, such as first boot floppy, CD-R, or USB depending on which media is used to run HDDerase.exe. HDDerase.exe must be run from an actual DOS environment and not a Windows based DOS command prompt environment.

Secure Erase by Parted Magic works with both SSD (Solid State Drives) and HDD (Hard Disk Drives). Important Secure Erase information can be discovered by hovering your mouse over the second column so information could be displayed about your device. Modern computers will "freeze" the disk at boot. Press the sleep button to overcome this. The computer could be placed into a sleep mode to unfreeze them. Pressing any key or the power button could wake it up.
United States Department of Defense Standard 5220.22-M
Germany BSI Verschlusssachen-IT-Richtlinien (VSITR) Standard
Bruce Schneier's Algorithm
Peter Gutmann's Algorithm
Royal Canadian Mounted Police DSX Method
↓ 04 – WipeDrive | USD30 | Bootable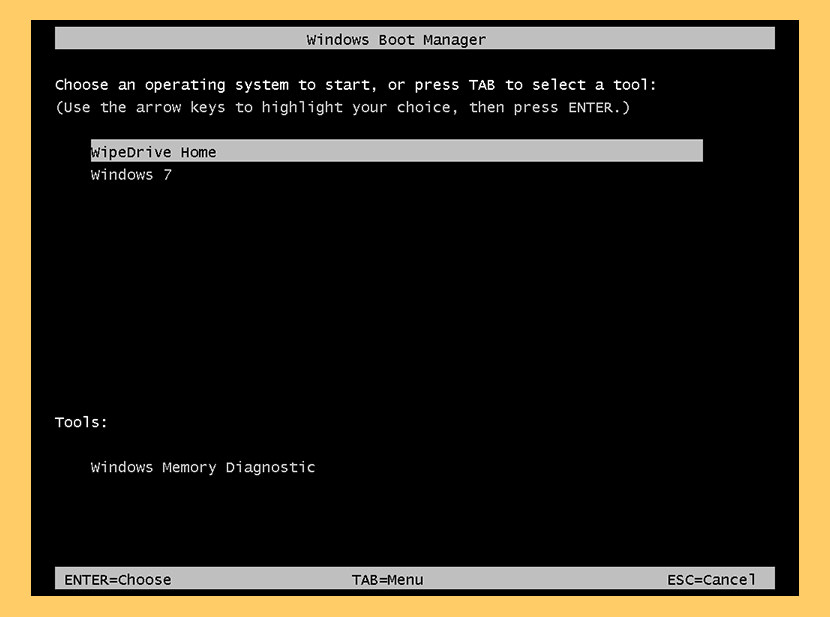 WipeDrive completely erases ALL hard drive or external storage information including your personal data, programs, viruses and malware. Using WipeDrive's military grade wiping technology your data will be impossible to recover even with the most sophisticated tools. WipeDrive is used, approved and used exclusively by the Department of Defense and the U.S. Air Force, and is a trusted provider for many Fortune 100 companies including GM and Humana. Now the exact same wiping technology is available to the public.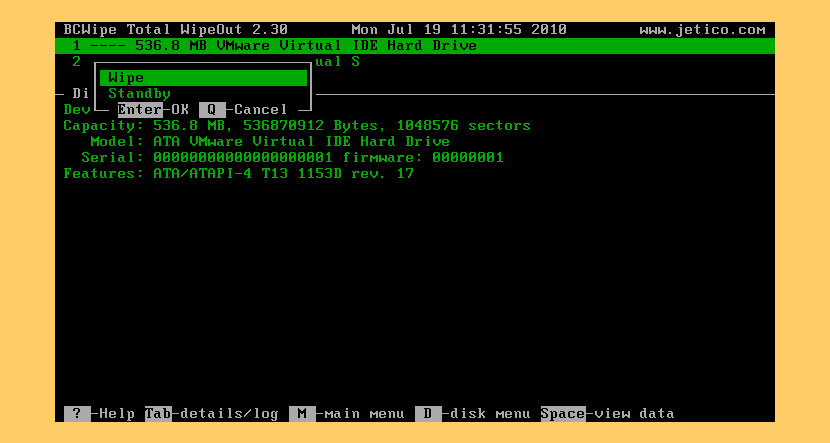 If you fail to completely eliminate private data before disposing of your PC, laptop or external hard drive – you may as well hand your personal information to a stranger. BCWipe Total WipeOut will protect your hard drive data in these cases – Wipe hard drives before you sell, dispose or donate used computers Hard drives with sensitive information fail under warranty and must be sent back to the manufacturer. Works great on Microsoft's Windows 10 and Apple's macOS.
Run from a Bootable Disk (CD/DVD or USB flash drive)
Traditional Hard Drives; Solid State Drives (SSD); Hybrid Drives (SSHD)
Support for TRIM on SSD
Wipe IDE, SATA, SAS, SCSI, PCI-E and Removable Drives