With the popularity of Facebook, BB also known as Bulletin Board or Forum is a dying platform. Because Facebook is the most popular social media where people logs into it a number of times per day, this makes the user engagement experience better because the replies are faster, attracts more participants and most important of all, people are simply too lazy to sign up for a new message board forum, let alone keying in their long password just to reply to a simple conversation.
See More ▼ 10 Cheap Yet Reliable Shared Web Hosting For WordPress
Forum is dying but not dead, it will gradually cater to a niche market and because only serious users will take the trouble to participate, the conversation tends to be more serious with informative replies and better problem solving answers. For instance, troubleshooting for softwares, hosting scripts, bugs, games strategies etc. Without further ado, here are 4 minimalist modern, simple and clean looking discussion boards that don't spot the usual thick blue theme. Alternative for phpBB, Simple Machines Forum, MyBB, and vBulletin.
Demo Forum | Ruby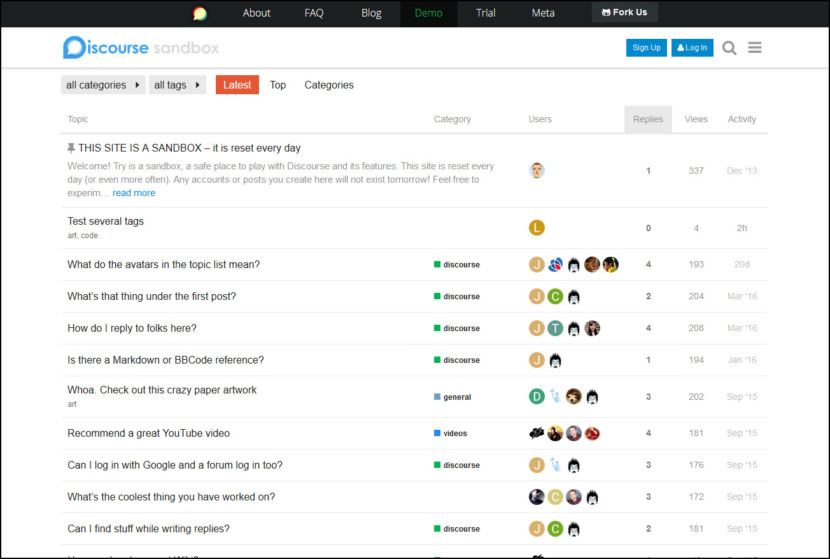 Discourse is a from-scratch reboot, an attempt to reimagine what a modern Internet discussion platform should be today, in a world of ubiquitous smartphones, tablets, Facebook, and Twitter. Discourse pares all the complexity away and puts just the essential stuff on screen – the conversations you care most about, based on your participation.
All the modern amenities you'd expect from a big social website like Twitter or Facebook are present in Discourse. Mention someone by @name. Paste in a link or an image, and they make it awesome on your behalf. Simple quoting and linking of replies and topics. Reply wherever you are, online or via email.
Demo Forum | PHP & MySQL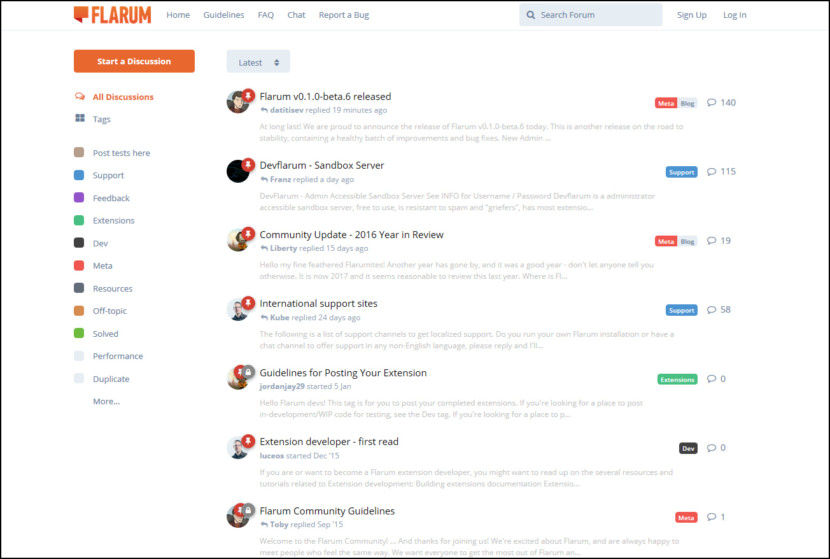 Forums made simple. Flarum is the next-generation forum software that makes online discussion fun. It's simple, fast, and free. Flarum is the combined successor of esoTalk and FluxBB. It aims to be:
Fast and simple – No clutter, no bloat, no complex dependencies. Flarum is built with PHP so it's quick and easy to deploy. The interface is powered by Mithril, a performant JavaScript framework with a tiny footprint.
Beautiful and responsive – This is forum software for humans. Flarum is carefully designed to be consistent and intuitive across platforms, out-of-the-box. It's backed by LESS, so theming is a cinch.
Powerful and extensible – Customize, extend, and integrate Flarum to suit your community. Flarum's architecture is amazingly flexible, prioritizing comprehensive APIs and great documentation.
Free and open – Flarum is released under the MIT license.
Demo Forum | NodeJS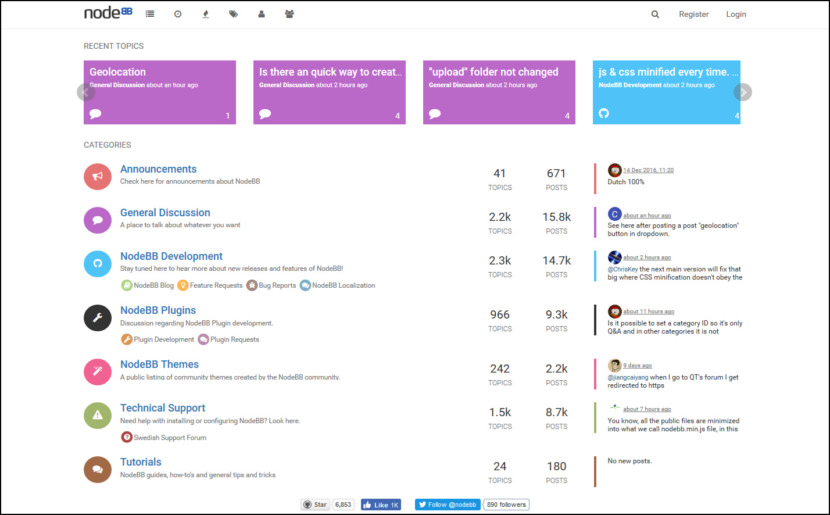 NodeBB is next generation forum software. It's powerful, mobile-ready and easy to use. A community forum allows you to engage and retain customers, keeping them interested and up-to-date with your latest product or service. NodeBB integrates into your existing website and social media networks, allowing you to maximize your outreach and establish close relationships with your users. By being available to respond to customer feedback, you generate a rapport with the consumer which can generate additional sales.
Mobile Responsive – NodeBB is mobile-first, allowing for a perfect experience no matter what device or resolution it's viewed on.
Internationalization – NodeBB's user interface has built-in localization support, with over 50 languages actively translated.
SEO – Enhance the visibility of your community with human-readable URLs, semantic HTML with embedded microdata, and more.
Social Integration – NodeBB makes it simple to share content to Facebook, Google, and Twitter, bringing more visitors to your community.
Real-time Streaming – Interact with your user base faster than ever before with instant notifications, streaming posts, and real-time chats.
Analytics – NodeBB's Analytics Dashboard has real-time graphs and tools to help you find out what content your users enjoy most.
Demo Forum | PHP & MySQL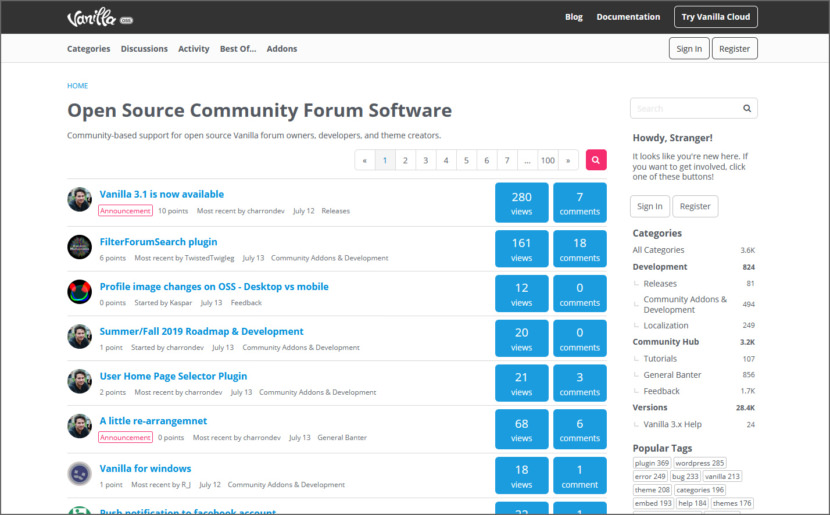 Vanilla provides standards-compliant, multi-lingual, theme-able and pluggable community forum software that powers discussion forums on 800,000 sites. It's available in two editions: an open source and self-hosted version and an optimized cloud hosted version with premium features. No matter your objective, your success depends on a great user experience. Vanilla is a re-imagining of how community engagement should be done, and users love it.
SSO from WordPress – Let members SSO from your WordPress site to Vanilla, no coding required.
Social logins – Users can register directly to the forum using their LinkedIn, Facebook, Twitter, Google or Steam, Disqus, or OpenID credentials. Of course, they can also register directly using the registration form.
Demo Forum | PHP & MySQL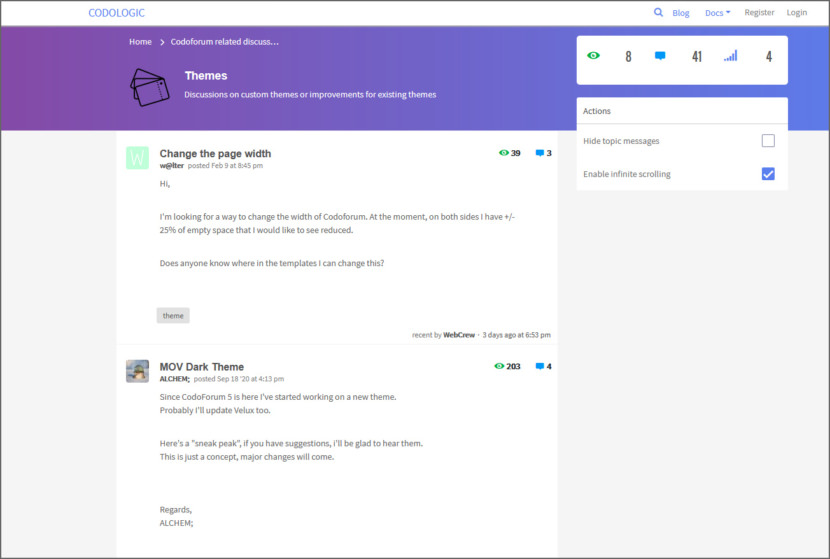 Say goodbye to the old, cluttered and cumbersome forum interfaces. Their Forum software has a fresh UI which is simple, clean and impressive with a fast and secure engine underneath. No more separate apps or websites for mobile devices. Codoforum provides a free layout structure that is fully responsive, which can not only spread throughout large screens but also squeeze into tiny devices.
Our WYSIWYG shows live preview as you type. It recognizes Markdown as well as BBCode if you are coming from another forum script. Images and other rich content can be easily embedded, files can be attached and code blocks are prettified.
Demo Forum | PHP & MySQL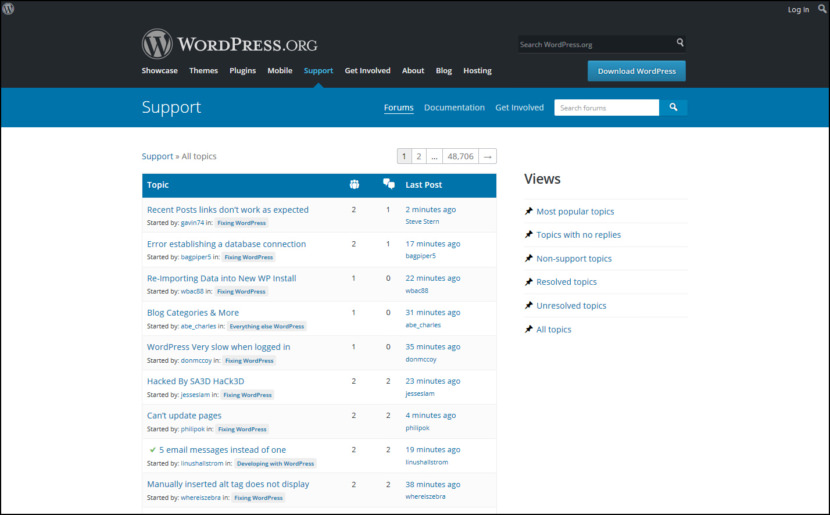 bbPress is forum software with a twist from the creators of WordPress. Easily setup discussion forums inside your WordPress.org powered site. Have you ever been frustrated with forum or bulletin board software that was slow, bloated, and always got your server hacked? bbPress is focused on ease of integration, ease of use, web standards, and speed. We're keeping things as small and light as possible while still allowing for great add-on features through WordPress's extensive plugin system. What does all that mean? bbPress is lean, mean, and ready to take on any job you throw at it.