With today's high performance SSD and the build in automatic defrag feature in Microsoft Windows 10, it is not necessary to perform a manual defrag task. There are only 2 good reasons to use these tools, they are because you are running an older Windows with Hard Disk and you are a performance freak where a 1% speed gain is essential.
Related Article 2019 ➤ 7 Free Windows PC Junk Files Cleaner With Disk Space Analyzer And Cleanup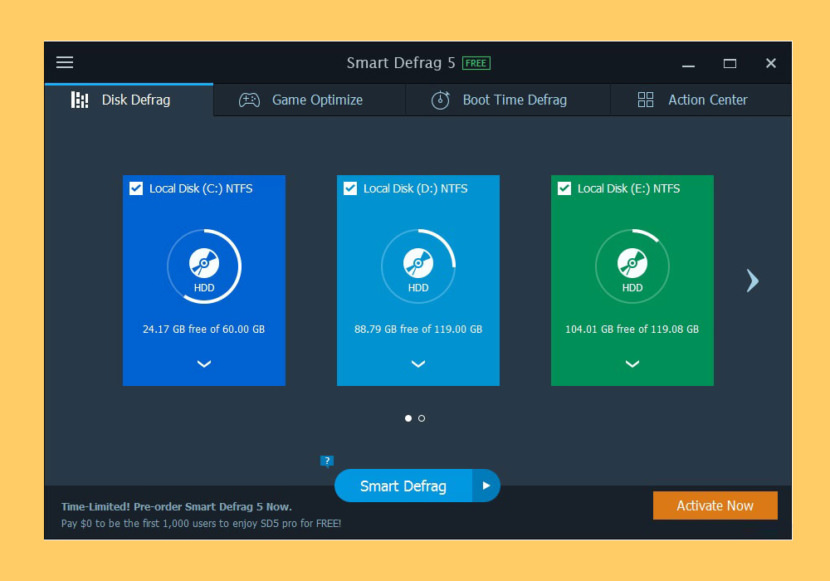 Smart Defrag is a reliable and intelligent disk defragmenter with 7,000,000+ Users. Enjoy Better PC Performance with Ultra-fast, Stable, Efficient Defrag Engine compared to Microsoft build in defrag system. Smart Defrag supports deep defragment, defragmentation of multi-volumes, it optimizes file placement and have the option to automate your defragmentation for you. Works great on Microsoft's Windows 10 and Apple's macOS.
Disk fragmentation is generally the main cause of slow and unstable computer performance. In order to accelerate your hard drive for faster data access and outstanding disk performance, Smart Defrag 5 provides efficient defragmentation technology to hard drives and SSD using multi-threading defragging whilst also consolidating free space and defragging large files. Then you can enjoy faster game launching speed, copy files in half the time, etc.
↓ 02 – Defraggler | Free / USD25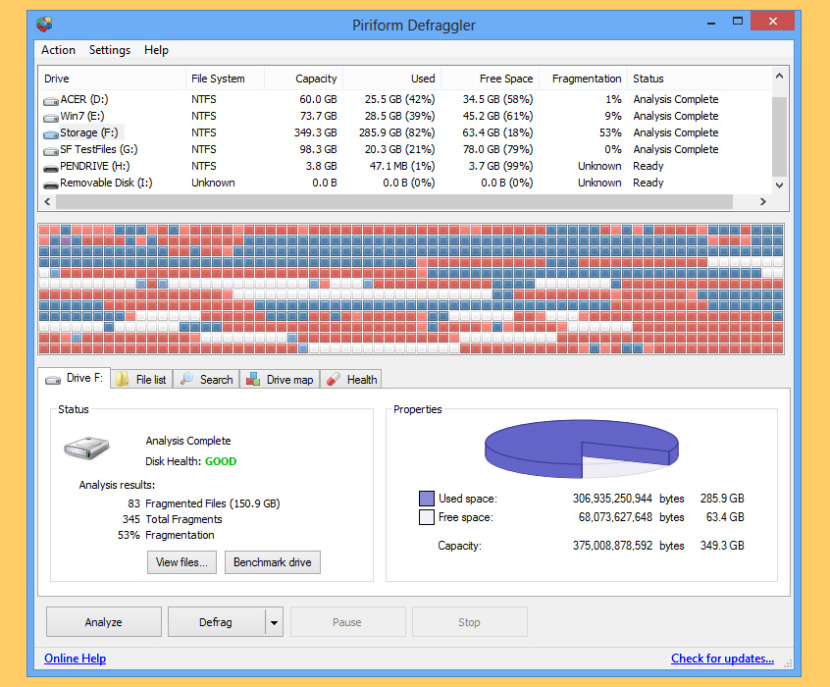 Speed up your PC with quick & easy defragmentation. Defrag entire hard drives or individual files. Works with HDD and SSD and supports NTFS and FAT32 file systems! It differs from other defrag tools on the market, by enabling you to quickly and simply defrag the files you want to, without having to process the whole drive. You can defrag only if the computer is idle for a definable time, so Defraggler does not slow down the computer if you work on more important tasks. Defraggler also lets you defragment multiple drives on the same PC, using different schedules.
Faster Computer – Defraggler speeds up your PC by assembling fragmented files on your machine and organizing them more efficiently. Defraggler does the hard work, so your computer doesn't have to.
Safe and Secure – Defrag with confidence. Defraggler uses the same techniques as Windows to read and write files, so your files will never be damaged.
Defrag free space – Defrag free space on your drive and not just your files. A proactive solution that helps prevent defragmentation before it occurs.
Full customization – You have full control over which drives, folders and files you defrag. Or simply use the default settings and let Defraggler do the work for you. Simple enough for every day users and flexible enough for advanced users.
Scheduled defragmentation – Defragment while you sleep – and wake up with a faster PC. Set Defraggler to run daily, weekly or monthly.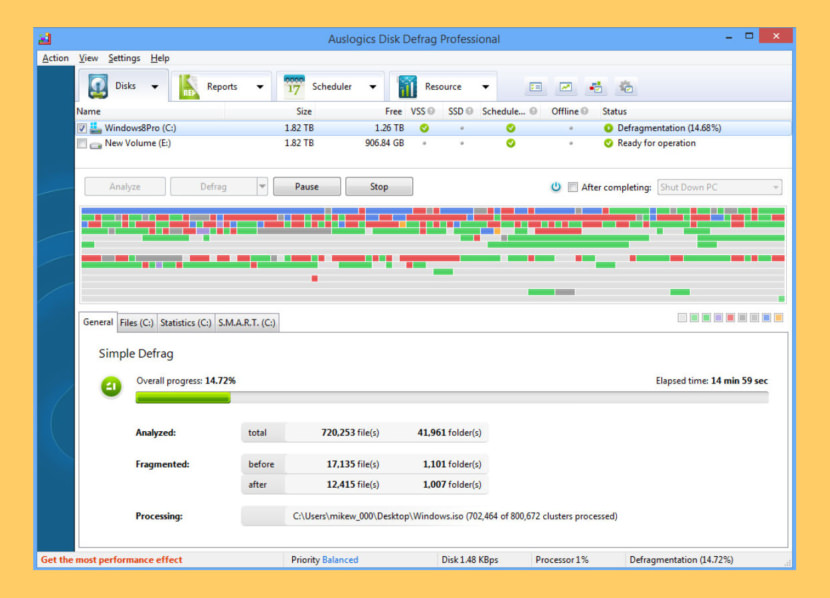 Compact and fast defragmenter with over 11,000,000 users worldwide. It will improve your PC's performance by defragmenting and re-arranging files on your disk. Disk fragmentation leads to system slowdowns, PC crashes, slow startup and shutdown and sometimes to system failures. Auslogics Disk Defrag is designed for fast optimization of todays modern hard disks. Get the maximum performance out of your expensive hardware investments.
Ultra-fast engine – One of the fastest defraggers in the world, Disk Defrag often takes less than 10 minutes to defragment an average-size hard drive.
Absolutely FREE – This program is totally free with no functionality or term limitations for either home or commercial use. Free regular updates included.
Works the way you want – You can use the default settings for convenient one-click defrags or customize program operation and appearance to fit your needs.
Industry-acknowledged quality – Exclusive Auslogics technology is proven safe and effective in multiple tests, used by PC manufacturers and recommended by experts.
↓ 04 – Anvi Ultimate Defrag [ Discontinued ] | Free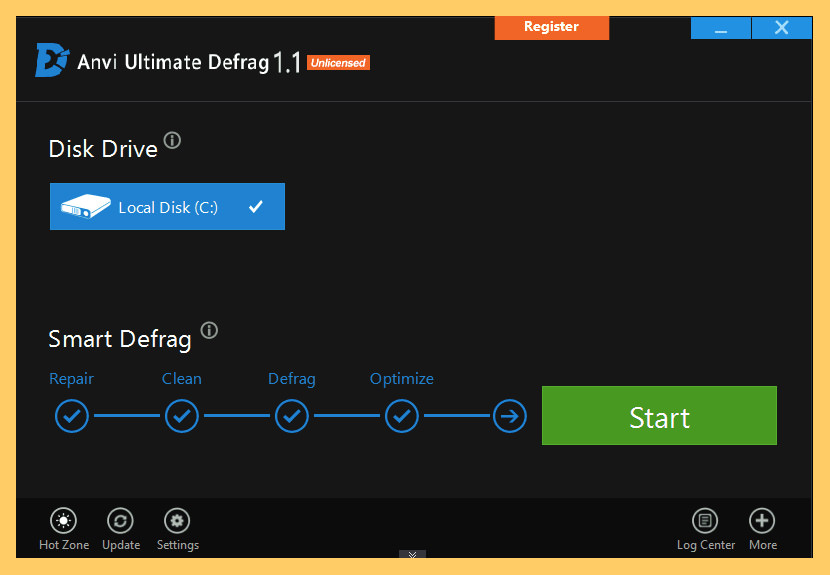 Anvi Ultimate Defrag provides a ultimate solution to ultimately optimize your computer disk. It is easy to use, light to install and efficient to defrag. It functions by repairing disk errors, cleaning up junk files, defragging and optimizing the hard disk drive volumes to maintain and optimize disk performance.