The best business card scanner apps for iPhone and Android are the one you find most user friendly, thus we've listed 9 of the best business card scanners for smartphones. Unfortunately, none of them are 100% free. The closest you get to a free is from Microsoft Office Lens with OneNote.
🤣😍😂 6 Virtual Phone Number App For iOS And Android Smartphones
If you are looking to slim down your wallet and minimize the waste all of us produced by passing out business cards, we've got a list of what we believe are the best business card reader apps for Apple iPhone and Google Android smartphones. Most of them come with a free trial, give it a try and purchase the one you find best suits your daily needs. I highly recommend the one that syncs across the web (browser) and app.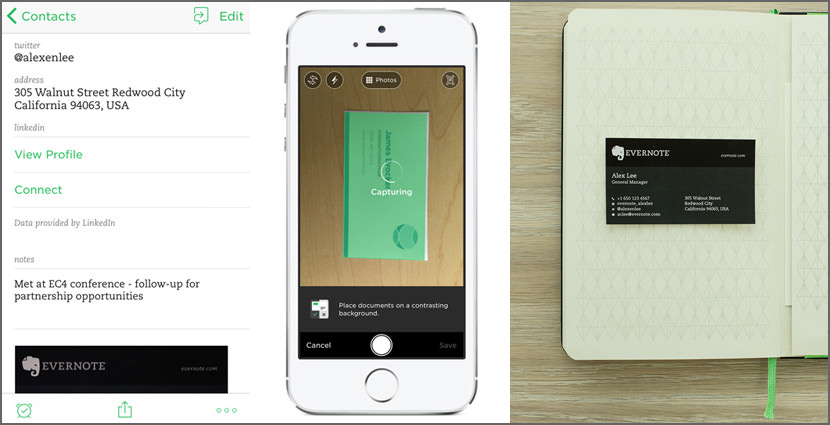 Evernote makes it easy for you to remember more about the people you meet. The business card camera captures the clearest possible images of your business cards and saves everything into a contact note. Business card scanning is an Evernote Premium feature. Basic and Plus users can get 1 year of business card scanning for free when they connect Evernote and LinkedIn.
↓ 02 – ABBYY Business Card Reader | Web Browser | Free (15 Languages) / Paid (25 Languages)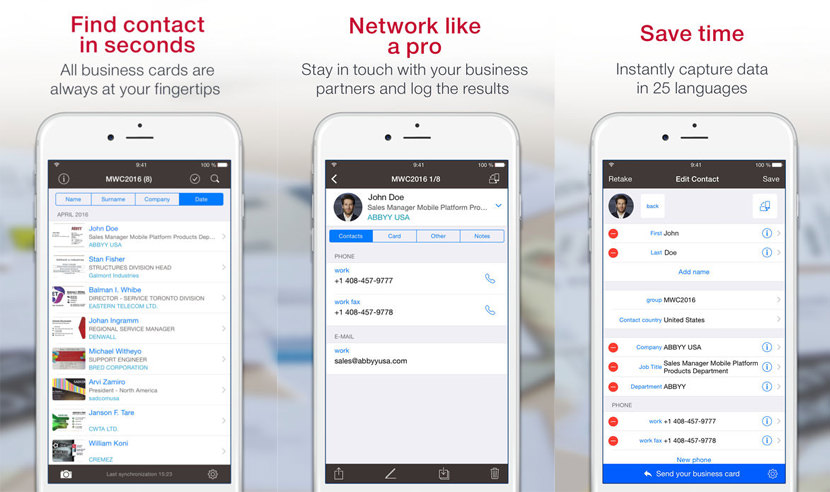 ABBYY Business Card Reader easily & simply captures & stores contact from business cards in 25 languages to your smartphone. The recognized data can be saved in either your smartphone's Contacts or in the app's own digital storage. Fast, easy and accurate. Use your smartphone to scan business cards and save all the data to your contact list.
Multilingual cards too – BCR supports up to three languages in one card. Supported languages are – Czech, Chinese (Simplified), Chinese (Traditional), Danish, Dutch, English, Estonian, Finnish, French, German, Greek, Japanese, Indonesian, Italian, Korean, Norwegian (Bokmal), Norwegian (Nynorsk), Polish, Portuguese (Portugal), Portuguese (Brazil), Russian, Spanish, Swedish, Turkish and Ukrainian.
The free version is ad-supported and provides 15 card recognitions. Enable Premium Account to get unlimited functionality, unlimited business card recognition, export to Excel, automatic backup and no ads.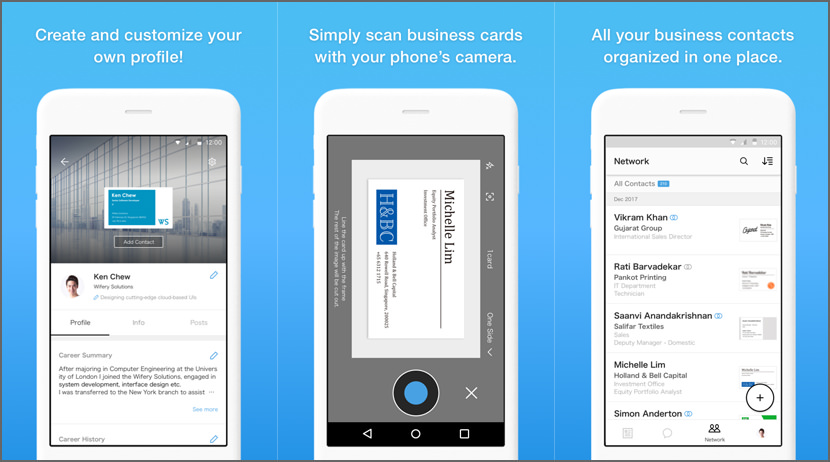 Eight is the ultimate business card organizer and professional social network platform. Used by almost two million people in its native Japan, Eight is a super convenient and completely free-to-use app, helping you to make the most out of your professional network.
Digitization is done by real people, not by computers, giving you accurate data every time.
Search your network for who you want, when you want, and contact them straight from the app.
Keep your network seamlessly organized with notes and tags on profiles.
The standard version is completely free to use. Purchase Eight Premium for various additional benefits including the ability to export your data.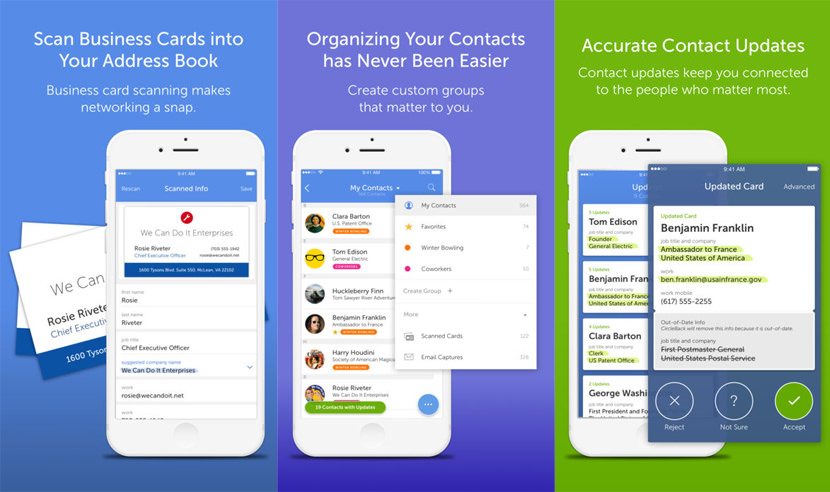 Saving new connections has never been easier. ScanBizCards offers the absolute best in business card scanning, follow-up, and CRM export. CircleBack is the only address book manager that updates your contacts intelligently, discovers new contacts in your Google, Microsoft, and Exchange inboxes, cleans up duplicates, and allows you to scan business cards and save them as contacts. Packed with everything you need to stay organized while building and maintaining productive professional relationships, CircleBack makes it easier than ever to keep connections alive and get stuff done.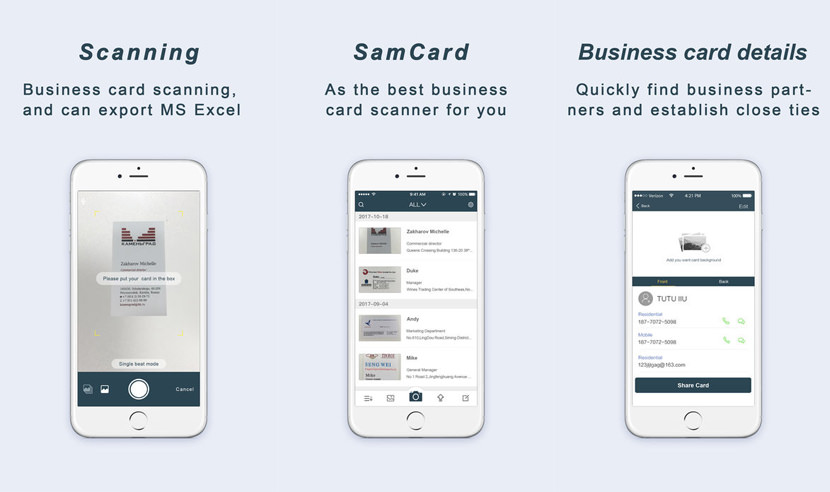 Snap a photo of the business card with an iPhone camera and all the information (Name, Job Title, Company, Department, Tel. …) is automatically recognized and go to iPhone Contacts. SamCard is a fantastic visiting card reader with high recognition accuracy and speed.
Anti-shake photo shooting
Display the corresponding image when editing business card
Auto-detect text orientation
Auto-rotate card images
Shoot both vertically and horizontally.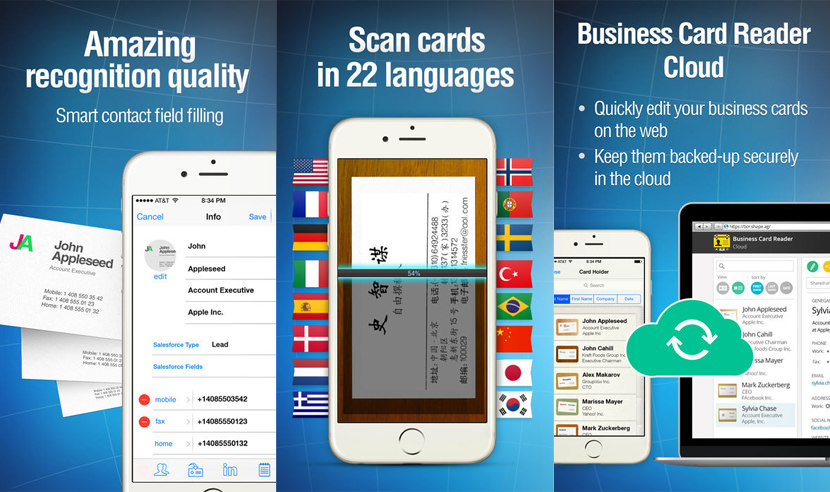 Save time and scan unlimited business cards, instead of manually typing them in. BCR integrates seamlessly with Salesforce, Evernote, Excel, VCard, and others, while recognizing business cards in 22 languages. Recognizes business cards in English, French, German, Spanish, Italian, Danish, Dutch, Greek, Norwegian, Portuguese, Swedish, Turkish, Chinese, Japanese and Korean.
Business Card Reader takes a picture of a business card, 'reads' it using text recognition technology and automatically fills in appropriate contact information fields in the iOS address book, which can be easily checked and edited.
↓ 07 – Wantedly People | Web Browser | Unlimited Bulk Cards Scanning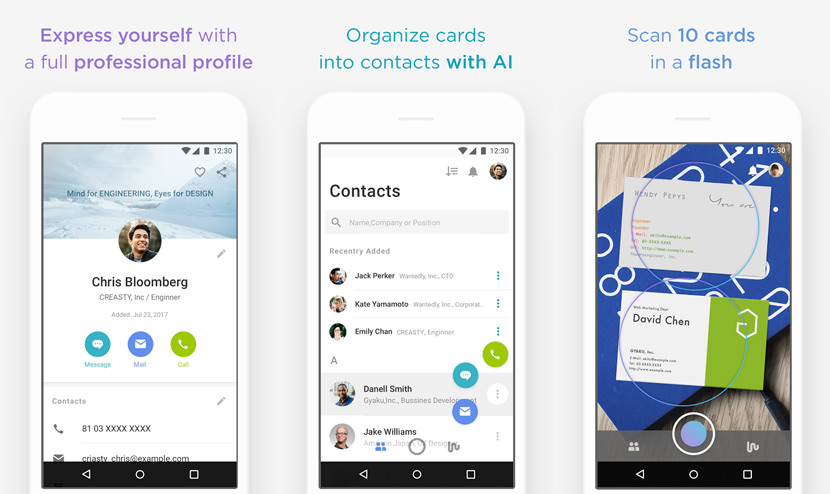 Even with 100 cards, you'd only need 5 minutes, because this speedy app scans 10 at a time. Scatter out your cards, tap a button, and watch them transform into digital contacts.Spend less time organizing and start a conversation right away.
Scan up to 10 business cards at once. No other app scans multiple cards at once, in any way you scatter them. Wantedly People captures them all in a matter of seconds.
Turn physical cards into phone contacts. Let the app do the hard work for you. OCR (optical character recognition) detects and analyzes text on cards to instantly create new contacts. Powered by AI (artificial intelligence), the app improves in accuracy with each card it scans.
Express yourself through a full professional profile. You're more than what your card says. Say what you can't fit in those few square inches through a Wantedly profile complete with a self introduction, work history, education, achievements, projects, social media links, and more.
Search contacts by name, as well as company and job position. So no worries if you forgot someone's name.
↓ 08 – CamCard | Web Browser | Integrate-able with Salesforce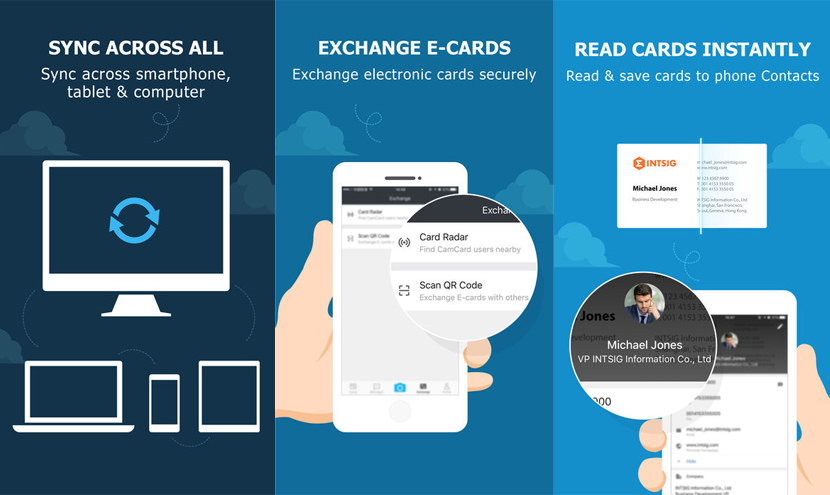 CamCard is the easiest app to manage and exchange business cards, the perfect fit for sales people, entrepreneurs, business developers or marketing experts, and anyone who want to be one. Use CamCard to capture all your business cards, and all the contact information can be quickly & accurately read and saved to your smartphone. Features
Scan and store your business cards, never miss a card
Exchange ecards with people nearby
Add notes & reminders to contacts
Get contact updates. Be the first one to say congrats
Enrich your profile to tell people more about yourself
Search contacts' company news to start a good conversation
Navigate to contact addresses in Map
Access contact information across multiple devices
Manage contacts from all over the world with 17 recognition languages
↓ 09 – Full Contact | Web Browser | Powerful Contact Management Tools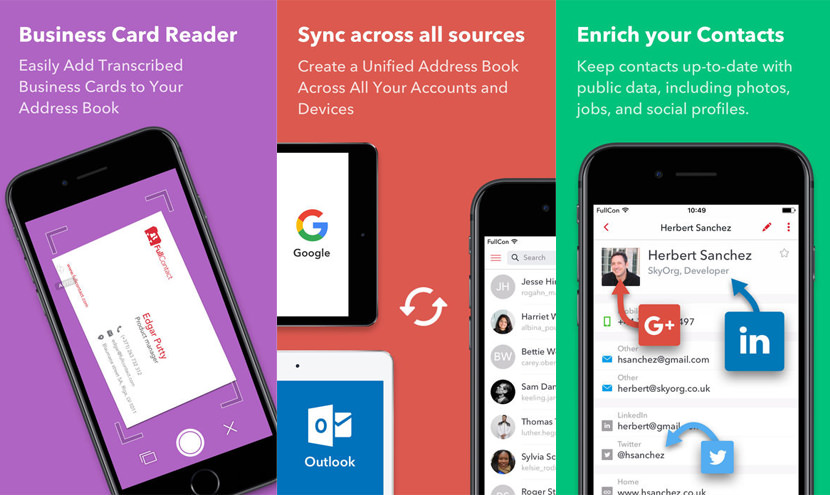 FullContact is an address book designed to let you focus on your relationships, not your contact management. Truly multi-platform, it syncs your connections across your iOS, Mac, PC, and other mobile devices, as well as your Gmail, Exchange, Office365, Twitter and other accounts.
Consolidate your contacts from across the web – Combine Google Contacts, Microsoft Exchange / Office 365 contacts, your phone's address book, and social media profiles to get a complete view of your connections.
Sync your contacts – Updates made on one platform can be synced back to all your FullContact apps and related devices. It's your information, wherever you are and whatever you are using.
Backup your address book – Never lose your connections when you lose your phone again. Your contacts are backed up in the cloud and can be accessed from anywhere.
Merge Duplicate Contacts – Automatically de-dupe your contacts and save yourself the hassle of wondering which entry is correct.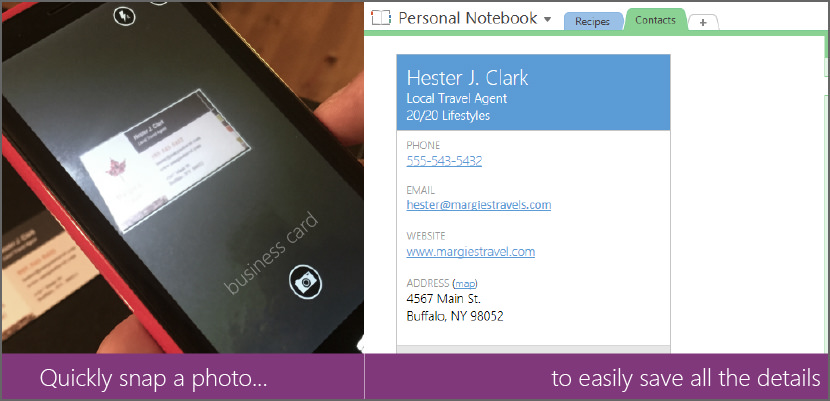 You've already been able to scan documents and whiteboards with Office Lens, and now you can scan business cards in its new Business Card mode! Office Lens is like having a scanner in your pocket. Like magic, it will digitize notes on whiteboards or blackboards. Always find important documents or business cards. Sketch your ideas and snap a picture for later. Don't lose receipts or stray sticky notes again!
Business Card mode can extract contact information and save it into your address book and OneNote. This feature works best with the following business cards: English, German, Spanish and Simplified Chinese. Support for more languages is coming soon.