Undeniably, Google Forms is one of the most used online surveys and forms. It is free, easy to set up and simple. The only drawback is the lack of design, not that it is bland, it is simply too technical. The user interface is easy to understand but the outdated design makes the whole process of participating in the survey torturing.
See More ▼ 7 Free Powerpoint Alternatives – For Online Cloud, Android And iOS
There are Google Forms templates available online, however, they are mostly badly designed. Without further ado, here are some beautifully crafted online forms and surveys, the best Google Forms alternatives. Create stunning embeddable forms for recruiting, market research, surveys and more.
100% Free and Unlimited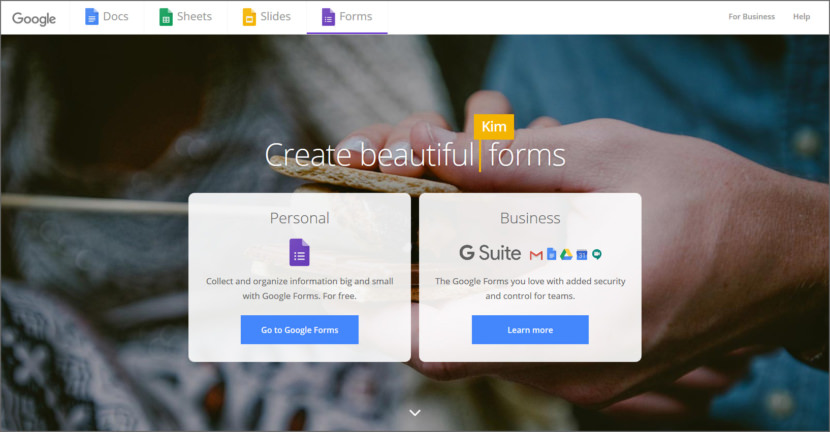 Google Forms is a survey administration app that is included in the Google Drive office suite along with Google Docs, Google Sheets, and Google Slides. Forms features all of the collaboration and sharing features found in Docs, Sheets, and Slides.
Get answers fast – Plan your next camping trip, manage event registrations, whip up a quick poll, collect email addresses for a newsletter, create a pop quiz, and much more.
Survey with style – Use your own photo or logo, and Forms will pick just the right colors to complete your own unique form, or choose from a set of curated themes to set the tone.
Create or respond on the go – Forms is responsive, so that means it's easy (and beautiful) to make, edit, and respond to forms on screens big and small.
Organized & analyzed – Responses to your surveys are neatly and automatically collected in Forms, with real time response info and charts. Or, take your data further by viewing it all in Sheets.
By Automattic WordPress | Unlimited polls and surveys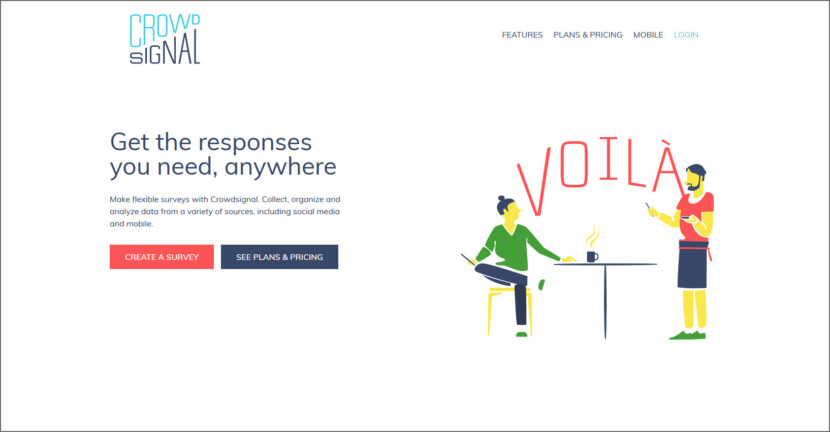 Get the responses you need, anywhere. Make flexible surveys with Crowdsignal. Collect, organize and analyze data from a variety of sources, including social media and mobile. You control every aspect of your surveys so that you can customize your surveyors` experience to match their brand. Create in any language, change colors, add images, branch questions, and more.
Easy Editing – Construct surveys in no time with an intuitive editor. Choose from 14 question types, add quizzes, polls, images, HTML elements and much more.
Powerful Reporting – See your results in real time. Create filters to analyze your data and reports to share it. Export to Excel, PDF, CSV, Google Docs, and XML.
Works Everywhere – Embed polls and surveys in your website and emails. Easily connect other services, like WordPress, Facebook, Twitter, Weebly and more.
100 responses/month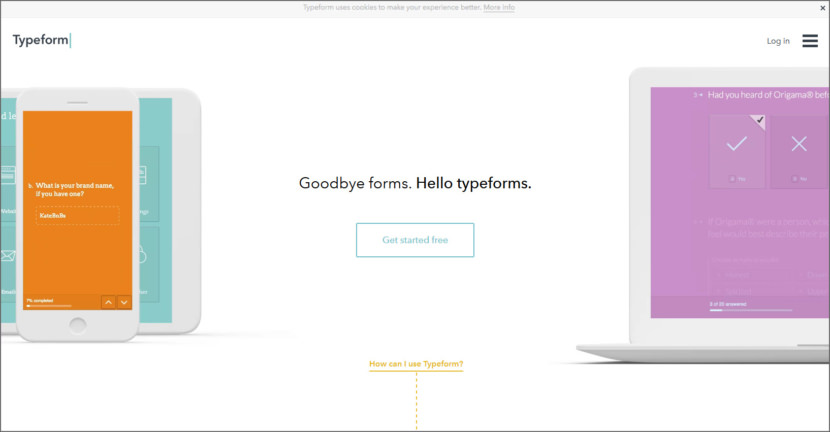 Create beautiful, next-generation online forms with Typeform, the form survey builder that makes asking questions easy and human on any device. Try it for free! How good is Typeform? Its main software creates dynamic forms based on user needs. Typeform's software has been used by Apple Inc., Airbnb, Uber and Nike, Inc. That's how good it is.
Unlimited Question and Engagements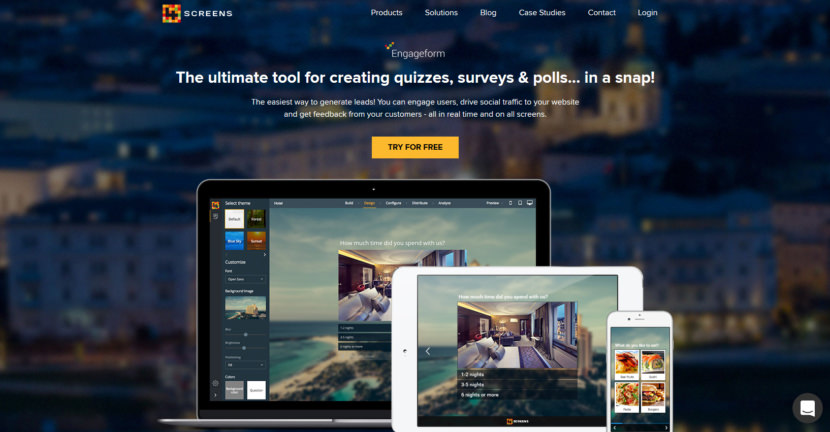 With Engageform you can create quizzes, polls & surveys in only a few minutes. Publish them and they will look amazing on all sorts of screens. The easiest way to generate leads! You can engage users, drive social traffic to your website and get feedback from your customers – all in real time and on all screens.
Unlimited Surveys | 10 Questions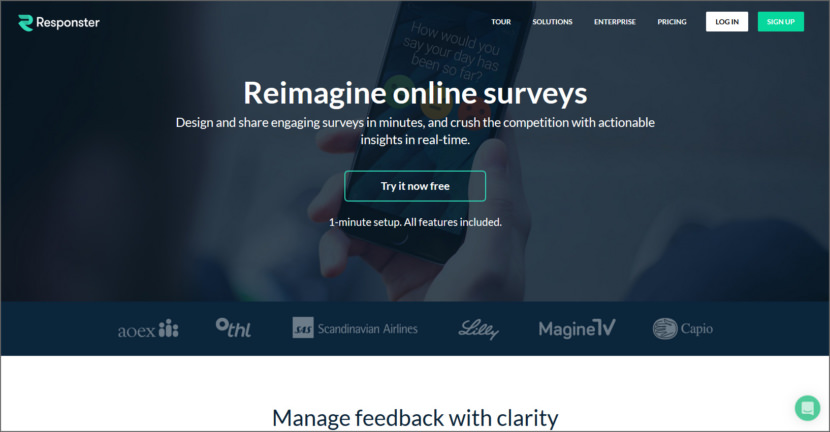 Customer feedback, employee engagement, lead followup – Responster is the survey creation tool with businesses in mind. Beautiful, cross-platform surveys can be easily created in a drag and drop builder, and survey results are automatically uploaded and visually organized in your dashboard, with easy export to Excel or PDF capability.
Unlimited Surveys | 10 Questions | 100 Responses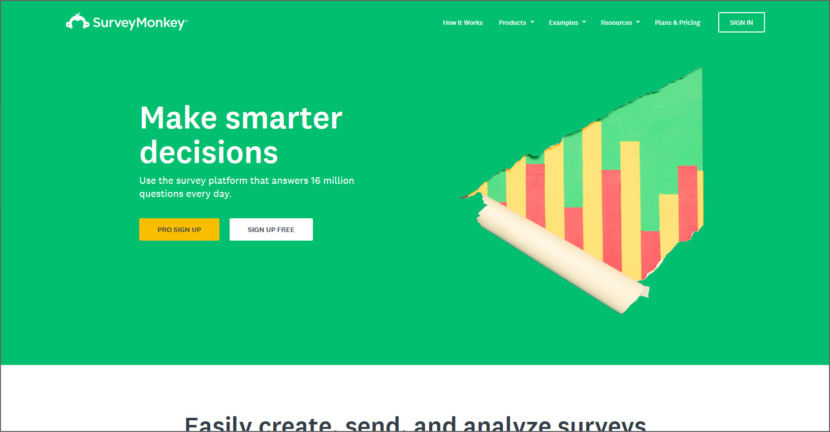 It is really quick and easy to design a professional looking, professional acting survey questionnaire. It's equally quick to give you the results.It's easy to get your data and it's easy to analyze results. SurveyMonkey gives you a powerful tool to learn what customers (and employees) want from you – and does it in about 80% less time.
Unlimited Forms | 500 Entries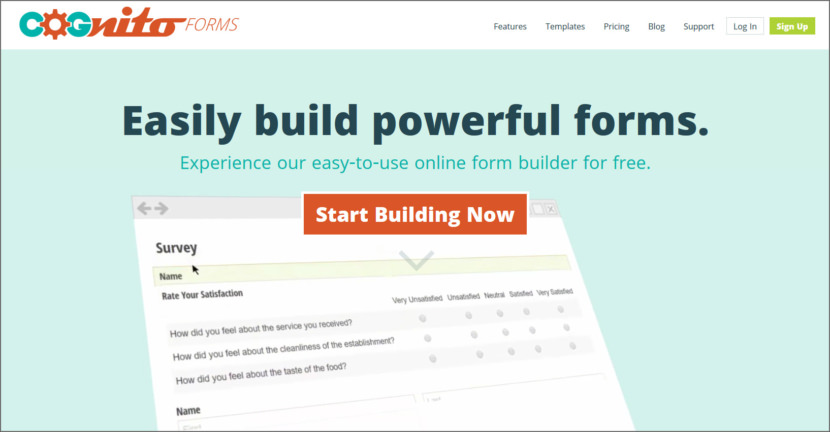 Cognito Forms is an easy drag and drop form builder that creates intuitive and responsive online forms. Forms can be quickly created from scratch or from dozens of prebuilt templates. Forms can be shared as links or embedded seamlessly into any website. Entries can be easily managed from a computer or any mobile device. Forms can capture payment via seamless integration with Stripe. No monthly fee and only 1% of transactions for payment-enabled forms. Generate custom PDF and Word documents using simple and powerful Word-based templates.
Unlimited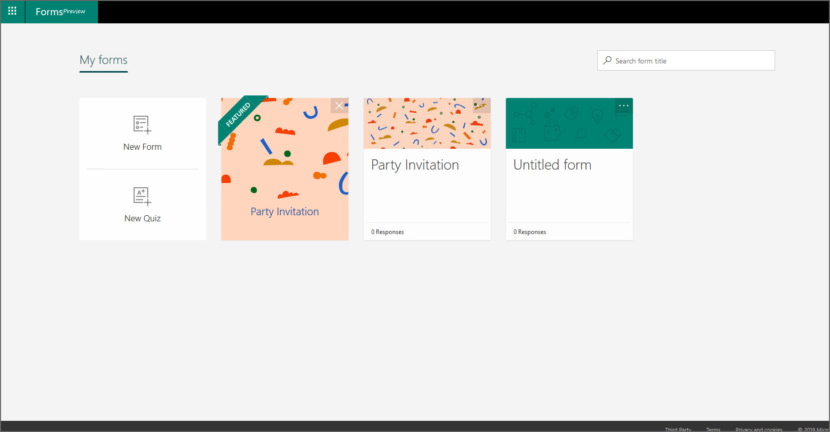 Microsoft Forms is an online survey creator, part of Office 365. Released by Microsoft in June 2016, Forms allow educators to create surveys and quizzes with automatic marking. The data can be exported to Microsoft Excel. With Microsoft Forms, you can create surveys, quizzes, and polls, and easily see results as they come in.
9. Dislack
1 Forms & 100 Submissions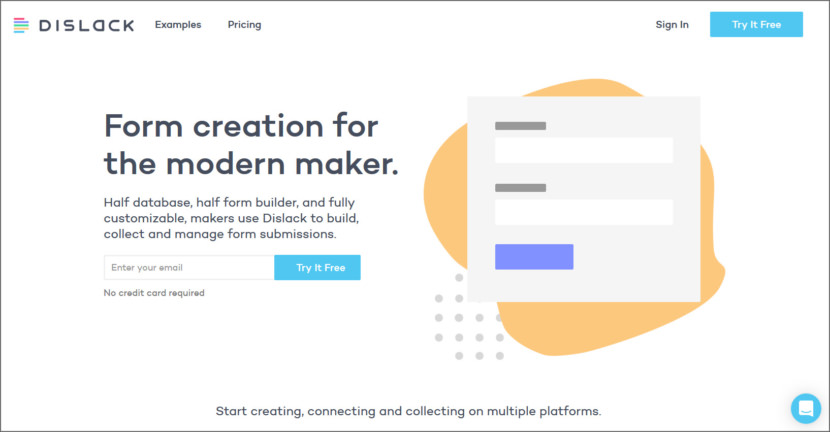 [ Discontinued ] Form creation for the modern maker. Half database, half form builder, and fully customizable, makers use Dislack to build, collect and manage form submissions. Start creating, connecting and collecting on multiple platforms.
Create – Use their form builder to make all the forms you need. Looking for something more advanced, use their endpoints and code your own.
Collect – Review all your forms and submissions on one dashboard. Use your data for lead generation, newsletters or growing your network.
Connect – Integrate your favorite apps to Dislack and make your creations endless. Your only limit is your imagination.