Throughout the years, Windows have evolved. There was a time where you had to download ACDSee to browse images, or WinZip to compress or decompress a file. Today, these features are built into Windows. The Copy and Paste feature in Microsoft Windows on the other hand remained the same, just 1 task at a time with no management feature or history.
🤣😍😂 8 Free Microsoft Sticky Note Alternatives With Advance Features
To overcome those limitations, we can use third-party Clipboard managers as they provide us more functionality. They can store history, provide security with encryption and much more. Here are some of the best Clipboard manager alternatives for Windows.
↓ 01 – Windows 10 Clipboard | Windows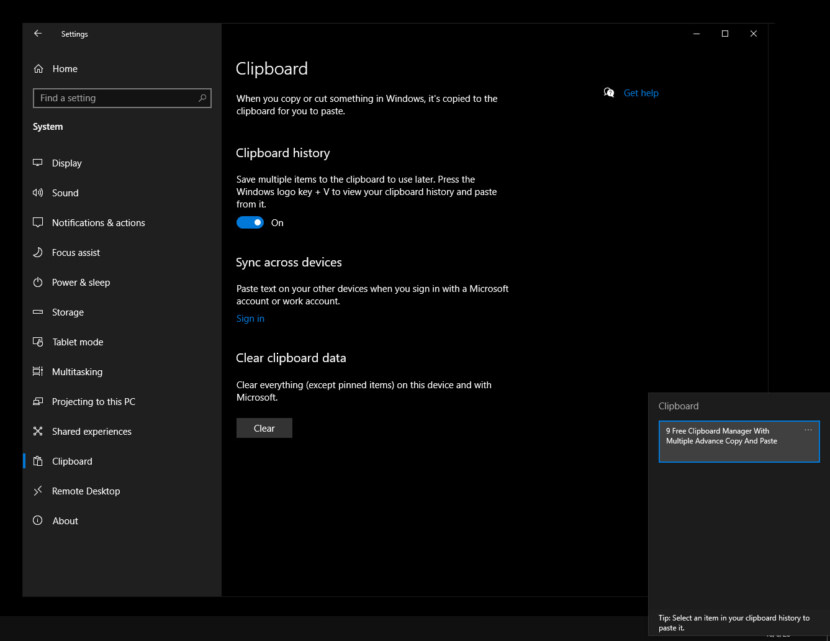 Copy images and text from one PC to another with a cloud-based clipboard. Not only can you paste from your clipboard history, but you can also pin the items you find yourself using all the time.
To Enable Clipboard – You can activate the Windows built-in Clipboard Manager under Settings via Home->System->Clipboard, then enabling Clipboard History.
To get to your clipboard history – Press Windows logo key + V. You can also paste and pin frequently used items by choosing an individual item from your clipboard menu.
↓ 02 – 1Clipboard | Windows | macOS
A universal clipboard managing app that makes it easy to access your clipboard from anywhere on any device. 1Clipboard is managerial clipboard software that enables you to approach clipboards at any place on any device. You are able to sync easily via Google drive, only you are required to have a Google account and you are ready to go. Although it is a strain with Google Drive yet you can use it "Offline" and it is not required sync you just need to switch setting on and off.
Able to open-source With Built, shows modern web technologies
1Clipboard and its core are grow with the new technologies like Angular.js Node.js, Electron and other proven open projects that are being improved
Star and save your favorites
Just mark as favorite to speedily access your clipboard for future use
Show Clipboard history
Able to Keep track of everything you copy into clipboard over the system
Able to Search your past
Able to quickly search the list of previous clipboard items and able to copy any of them
↓ 03 – Ditto | Windows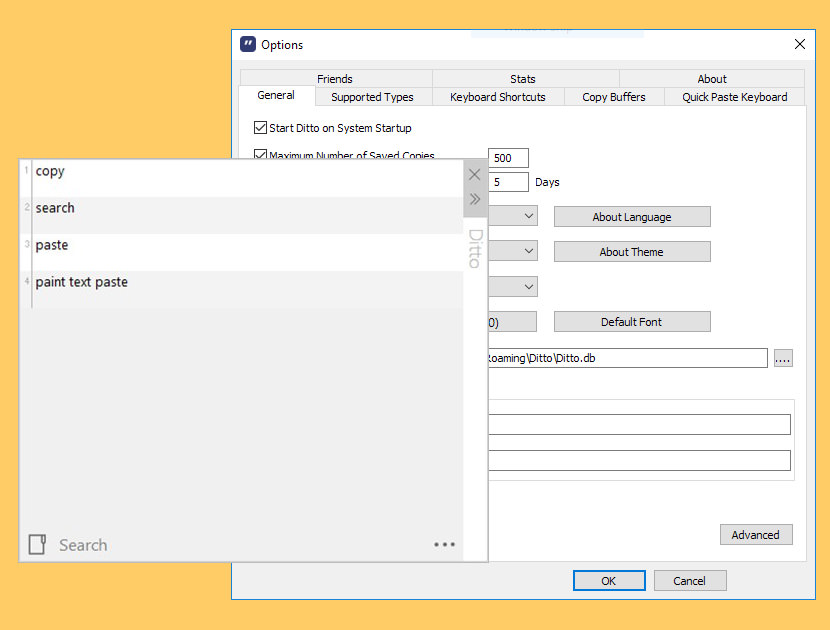 Ditto is an extension to the standard windows clipboard. Ditto is an extension to the standard Windows clipboard. It saves each item placed on the clipboard allowing you access to any of those items at a later time. Ditto allows you to save any type of information that can be put on the clipboard, text, images, html, custom formats.
Search and paste previous copy entries
Keep multiple computer's clipboards in sync
Data is encrypted when sent over the network
Accessed from tray icon or global hot key
Select entry by double click, enter key or drag drop
Paste into any window that accepts standard copy/paste entries
Display thumbnail of copied images in list
↓ 04 – CopyQ | Windows | macOS | Linux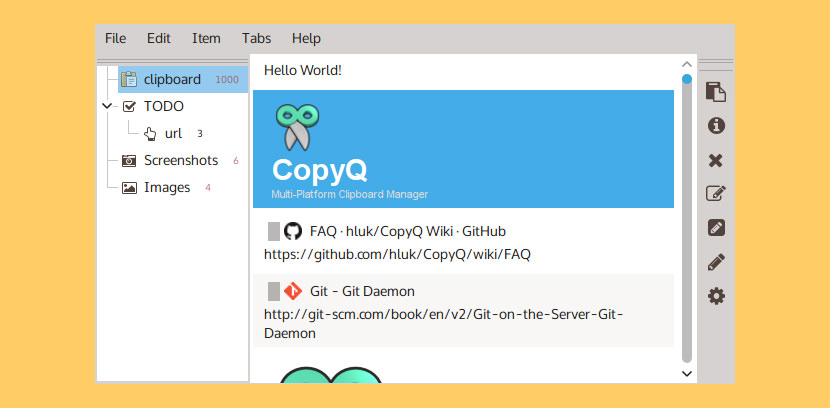 Clipboard manager with searchable and editable history. It's possible to save plain text, images, HTML and other formats, use plugins, filter out content by text, data format or window from which it is copied, use multiple tabs, control application using command-line interface and scripting, assign system-wide shortcuts, paste item into application just by selecting it in tray menu and more.
Store text, HTML, images or any other custom formats
Quickly browse and filter items in clipboard history
Sort, create, edit, remove, copy/paste, drag and drop items in tabs
Add notes or tags to items
System-wide shortcuts with customizable commands
Paste items with shortcut or from tray or main window
Fully customizable appearance
Advanced command-line interface and scripting
Ignore clipboard copied from some windows or containing some text
Support for simple Vim-like editor and shortcuts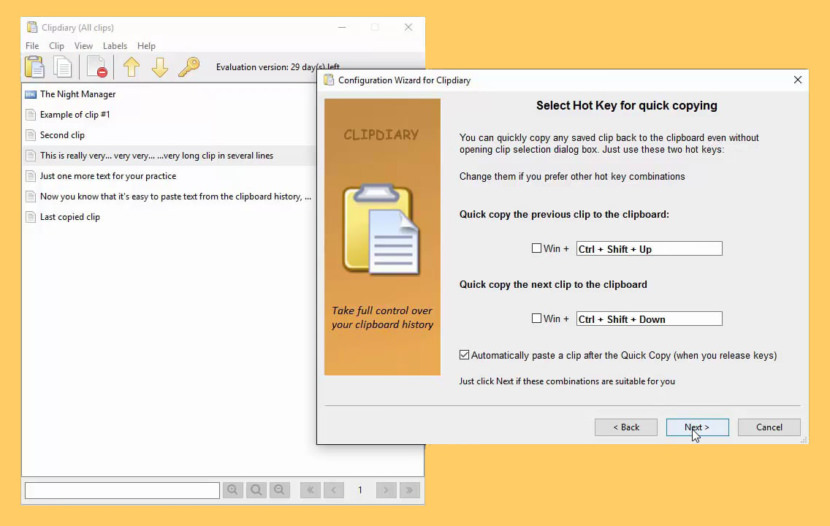 Clipdiary clipboard manager saves the complete clipboard history. With this windows clipboard manager you can reuse everything you were once copying – text, pictures, html links and even files! Their clipboard manager automatically launches at Windows startup and then stores in its database every piece of data that goes to the clipboard. Clipdiary can log clipboard history and store data in various formats: plain text, RTF, HTML, images (BMP), files, and so on. For example, if you make a series of screenshots, Clipdiary automatically saves them all for you!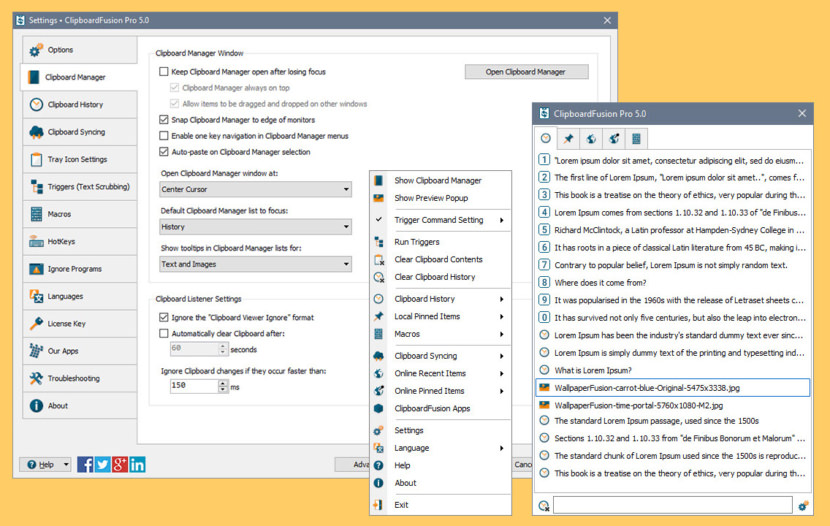 ClipboardFusion makes it easy to remove clipboard text formatting, replace clipboard text or run powerful macros on your clipboard contents! You can even sync your clipboard with other computers and mobile devices. ClipboardFusion's basic functionality is free for you to use on your personal computer, no strings attached. If you would like to take advantage of Clipboard Syncing and more advanced Trigger actions, check out our Pro licences.
Remove Clipboard Formatting – ClipboardFusion scrubs text copied to the clipboard so that it can be pasted into different applications without formatting. It can be done automatically or with a customizable HotKey.
Replace Clipboard Text – ClipboardFusion can replace clipboard text with pre-defined strings. Maybe you want to replace all '&' symbols with their HTML equivalent, & – it's up to you!
HotKeys – Quickly access ClipboardFusion by setting up customizable key combinations you can press at any time. ClipboardFusion is always at your fingertips!
Use Powerful Macros – Create your own macros using C# in the integrated editor to perform completely customized transformations on your text. The power of the macros is only limited by your imagination. Also, be sure to check out the premade Macros, created by other members of the ClipboardFusion community.
Security is Everything – Security is EverythingEverything you send or receive using the Clipboard Syncing feature is encrypted using 256bit encryption.
↓ 07 – ClipClip | Windows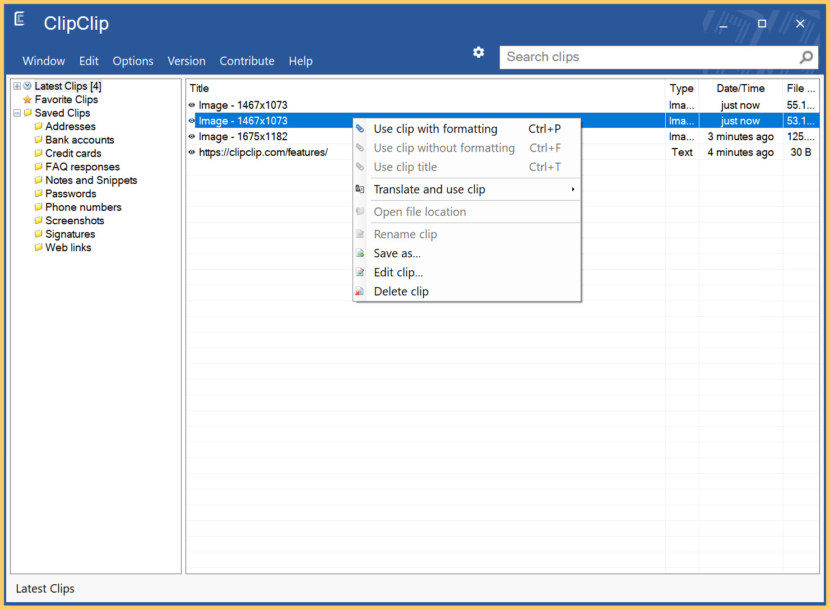 ClipClip is free clipboard management software for Windows that will revolutionise the way you copy and paste. ClipClip makes it possible to copy multiple texts, images or files to your clipboard. You can then browse or search through these Latest Clips, or convert them to Saved Clips so you can assign a title and organise them into folders for later re-use.
Multiple Clipboard Entries & Folders
Search Clipboard History
Drag & Drop Clipboard Organization
Clipboard Editor
Google Drive Integration
Multiple Root Folders
Instant Google Translate
↓ 08 – ArsClip | Windows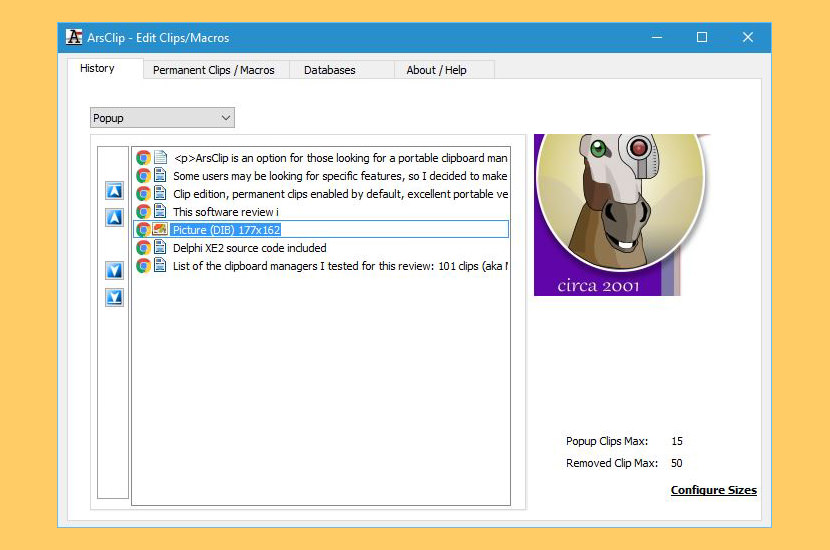 ArsClip is a freeware "clipboard manager" utility. ArsClip monitors the clipboard and keeps track of the entries. Pasting is done by using a triggered popup window. This window can be triggered by a hotkey, holding right-click, a special trigger window, and other methods. ArsClip used to be barebones, but I think I can safely say that it has become a nicely featured and highly configurable program, due to user feedback. The program now specializes in copy-and-paste automation tasks.
Permanent Clips/Macros for copying and pasting automation
Picture, RichText, File Copy, Unicode, HTML support
Highly configurable
Win7 Jumplist support
Optional Clipboard Bar — clipboard viewer
Optional Global Clipboard to shares clips with other Windows and Android devices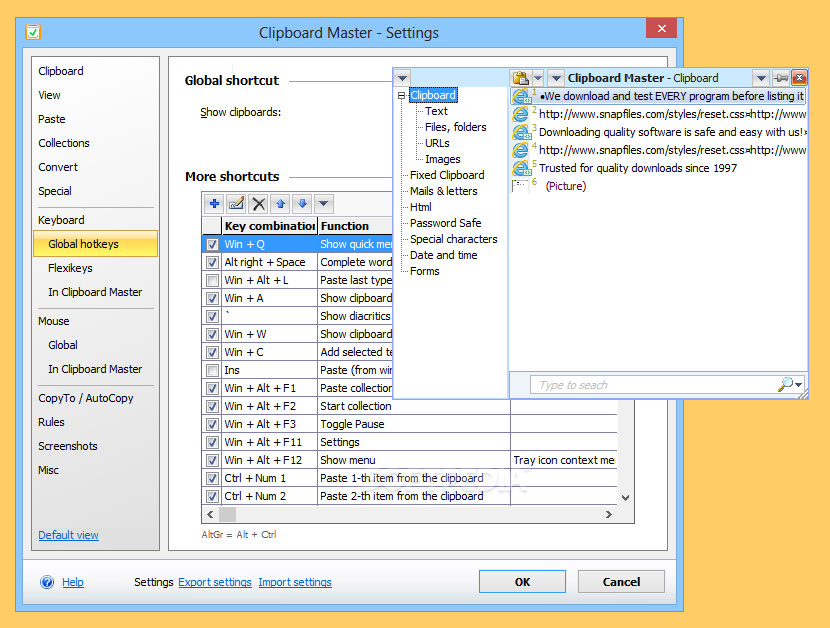 With the free program Clipboard Master, you can copy, paste, collect, organize and store not only text, but images, files and folders as well. It works in all Windows programs. In contrast to Windows, Clipboard Master features a multi-clipboard that you can also use to access previous copies. Clipboard Master stores up to 10,000 entries. Text, images, files and folders that you copy in Windows or a Windows program are automatically added to the Clipboard Master multi-clipboard. The new entry is always added to the top of the list. You can comfortably use all entries in all other programs.
Text Templates – Clipboard Master offers a wide variety of predefined salutations and greetings for letters and emails, special characters and HTML code for programmers. Clipboard Master provides intelligent text templates that can automatically add the current date or a specific name.
Screenshot Tool – With Clipboard Master, you can comfortably create screenshots that are stored directly in your Clipboard Master clipboard or are opened directly in your image processing program. As screenshots are placed on the Clipboard Master clipboard, all Clipboard Master functions such as collecting, organizing, storing, conducting individual or multiple pastes are also available for the screenshots.
Password Safe – Clipboard Master offers an integrated password safe that allows you to securely store, manage and quickly access your passwords. You can use these for log-in forms on websites and log-in dialogs in Windows programs.
↓ 10 – ClipCube [ Discontinued ] | Windows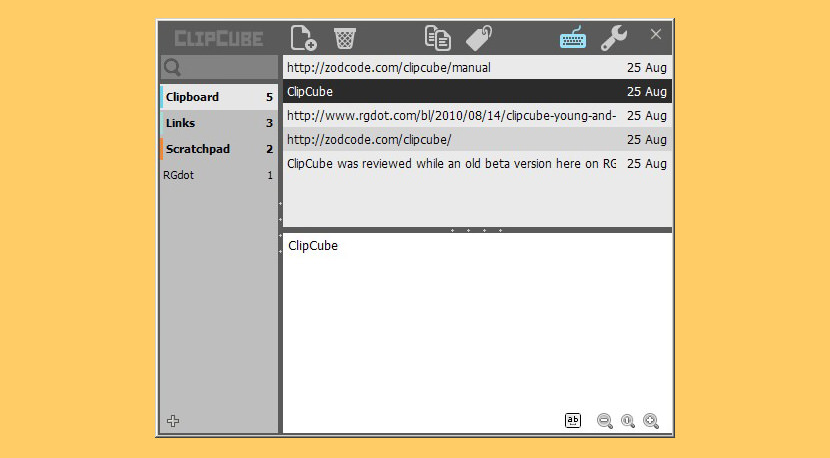 ClipCube is a compact note taking app with integrated clipboard history. It keeps all text fragments at your fingertips, which can be organized and searched. ClipCube strives to make life easier for those who deal with lots of text. It has an intuitive interface, and fits in a pocket: a self-contained program that does not need installation.