What causes a stock price to go up? Earnings growth, if a company is able to grow their earnings long term, then the stock price will rise accordingly. Not every company follows this rule, such as Tesla, where people invest based on potential earnings growth in 10 to 20 years time. As an investor (not trader), I am not keen on such stocks as they can be highly volatile and speculative in the short term.
See More ▼ 28 Investment Advises By Warren Buffett On Wealth Management
Do you know why you cannot sleep well and have anxiety after investing in a company? This is because you are uncertain and not confident in the company, you are not investing but gambling. If you were to invest in Berkshire Hathaway by Warren Buffett or a S&P500 ETF, I am very certain you won't be having sleepless nights. This is because you know 10 years down the road you won't be losing money. The best investment strategies are:
Buy what you know and understand.
Do your homework.
Find a well managed company with good earnings growth.
Invest long term by buying and holding it.
Do dollar cost averaging.
Watch the video above, possibly the best investment video you'll ever watch. Peter Lynch talks about how to be a great investor. Lynch managed the legendary Fidelity Magellan Fund where he achieved annualized returns of nearly 30%. He is the author of several best selling investing books including One Up On Wall Street.
Regional Sales & Segment Data
What I like about this site is it shows where the revenue comes from. For example, sales per business and sales per region. This is important as it gives you an idea which segment contributes the biggest share of revenue. As for sales per region, a strong or weak US dollar will determine future growth. It also shows the list of directors and their connection to other companies.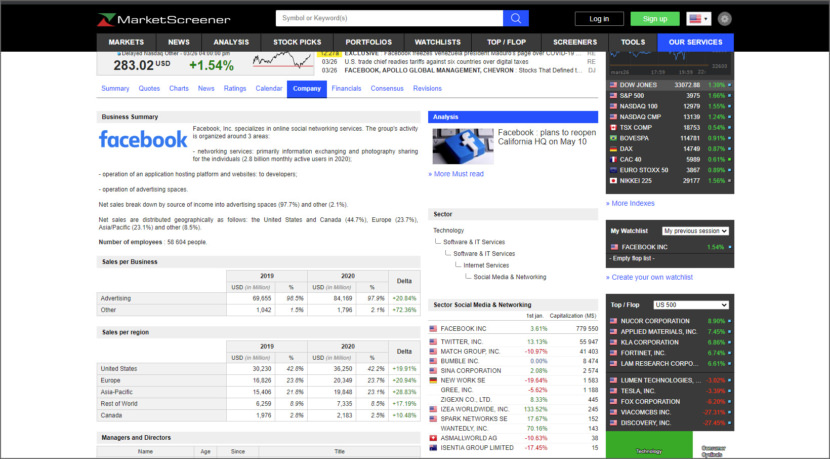 A.I. Analysis
This site is powered by Snowflake A.I., an artificial intelligence software owned by Warren Buffett which is used by Simply Wall St to analyze stocks and their potential performance. What I like about Simply Wall St is the overall summary it provides to the end user, such as cash flow issues, potential future growth and earnings, company ownership, debt to assets and more.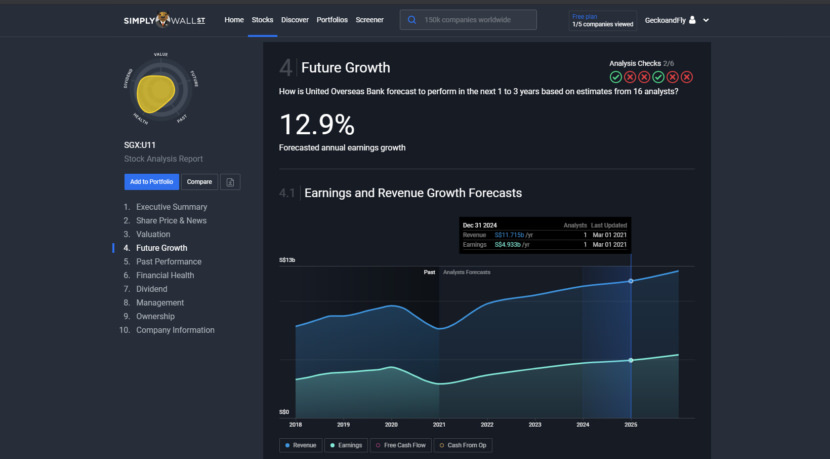 Charts / Signals
TradingView is perhaps the most used chart analyzing platform, it comes with many free stock screeners. I am not a trader but I do follow the chart movement for good entries while doing dollar cost averaging.
The best chart to follow is none other than Price Volume, anything else such as MACD and RSI are all lagging signals, meaning to say it simply tells you what happened, Price Volume on the other hand signals what is about to happen, for example if volume and price increases with minimal price movement upwards, this means big money is buying up the stock quietly with huge volume. Best screen filter to use before entering are: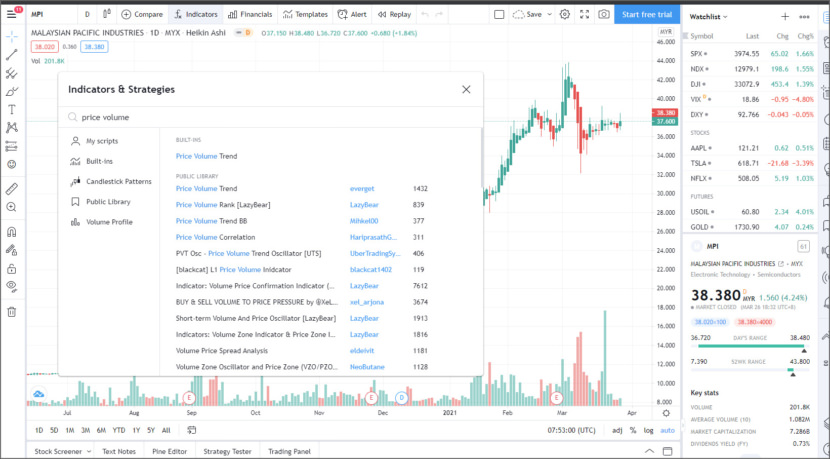 Discussion / Forum
SeekingAlpha is the best place to find information on USA stocks. The Analysis section is the best as various analyzers will publish their opinions and users are allowed to drop comments. When it comes to investing, it is important to listen to every opinion, including those you do not agree with. While a majority of comments can be toxic and hollow, some comments can be a gem, the goal is to filter what is toxic and be open minded to new ideas.