This pandemic driven recession is a once in a lifetime event, never before in human history where the entire global economy grinds to a halt, not even during both World Wars or the last Pandemic.
See More ▼ 12 A.I. Robo-Advisor [ USA ] With Good Performance & Returns
In order to save the global economy, governments all over the world went into money printing mode to contain the virus and save the economy. Because the United States is the reserve currency, this has a major implication on the global economy when they flooded the world with so much cheap money. As shown in the chart below, the M2 money supply skyrocketed, this doesn't mean hyperinflation is coming, it simply means the money supply increase dramatically and they will see pockets of inflation in commodities, stock market, bonds, bitcoins, properties, gold and more.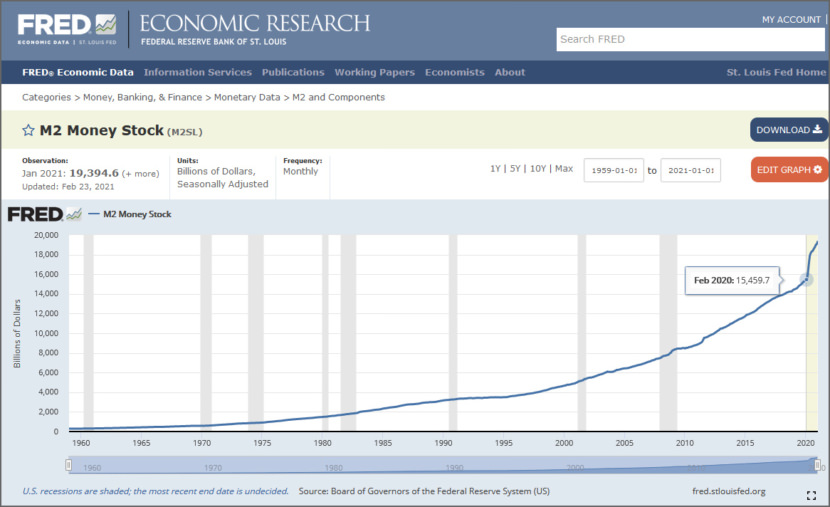 Some choose property investment as their preferred investment, while others choose the stock market. Personally, I prefer the stock market due to the liquidity, it is also a double edge sword as you are likely to lose your investment faster. Anyway, here are some online software powered by artificial intelligence, giving you a summary on if a stock is worth investing. Do note that these are still A.I. in the early age and investing is an art, these software are not 100% accurate.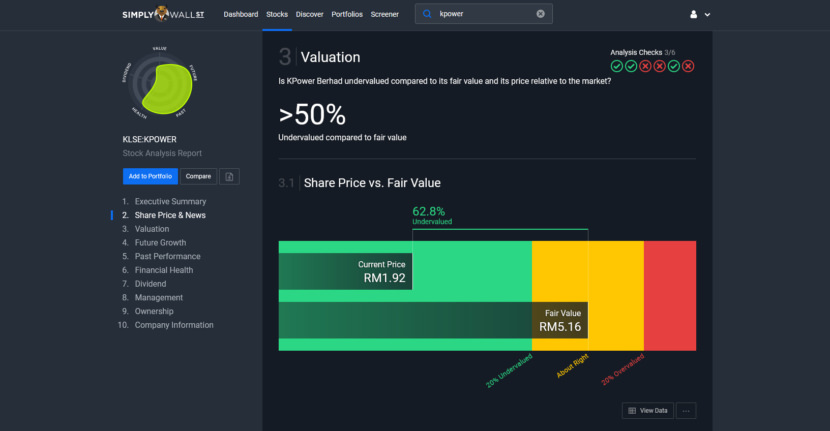 Powered by Snowflake AI, a company Warren Buffett invested in, Simply Wall St has a very unique, exhaustive analysis on every listed stock worldwide at your fingertips. Save countless hours trawling through reports and remove emotion from your decisions. Discover opportunities aligned with your investment style. Their Snowflake AI will automatically estimate stock fair value based on future expected cash flows.
Stock Screener – Quickly narrow down company stocks with their unique snowflake screener. Advanced filters allow you to screen by popular metrics such as price ratios, growth forecasts, past performance, financial health plus much more.
Investing Ideas – Explore their range of pre-made filters to find investment opportunities that match your current strategy. Fine-tune these within the screener to find exactly what you are looking for.
Track your portfolio performance & strategy – Keep track of your capital gains, dividends and the impact of currency across your holdings. Understand a top level view of your diversification, weighting and overall performance.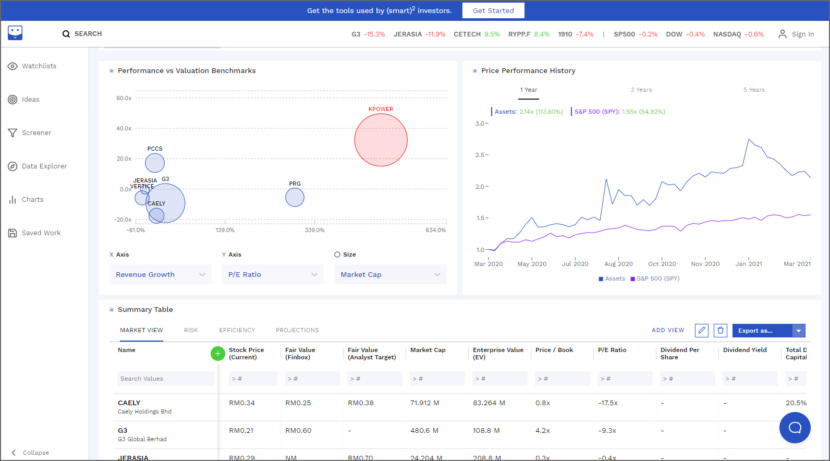 Finbox is an online equity research platform designed for value investors who are serious about fundamental analysis. Here's a quick overview of some of their tools. Accurate, up-to-date information on publicly traded companies around the world. Finbox takes a no-nonsense approach to help you get results.
Fair Value Estimates – Margin of safety is not a new expression by any means but calculating it can often be painful and time consuming. Their Fair Value estimates will kick-start your research and help you figure out the true intrinsic value of a stock. Unlike research that's released to serve client interests, finbox.io's Fair Value estimates are unbiased. They use their technology to apply complex valuation models to thousands of companies everyday to calculate their Fair Value.
Pre-Built Valuation Models – Their pre-built valuation models help investors dig deeper into calculating the fair value of a stock. Simply type in any ticker in the menu bar and the following models will populate directly in your web browser
Stock Screener – Screen over 250 metrics related to valuation, risk, efficiency, financials and forecasts. Some of the screeners are finbox.io fair values, Ben Graham formula fair values, Piotroski F-Scores, Altman Z-Scores, Cost of Capital (WACC), Cost of equity (using CAPM), and more.
Stock card gives you a bird's-eye view of a company. It simplifies the process of analyzing and guides you in the right direction to make an important investment decision. It is an excellent service that helps a novice investor narrow down choices for investment in a timely and logical way!
Unlimited stock research – More than 15,000 U.S. – listed stocks available
Real-money portfolios and stock picks – Well-researched stock picks and regularly updated portfolios by successful investors
Strategy-based stock evaluations – Proprietary algorithm used to score stocks based on buy-and-hold, dividend, and speculative investment strategies