If you are looking for a new cash account brokerage firm to begin investing in the Bursa stock market, this is the right place. We've shortlisted 7 of the best cash account brokerages in Malaysia. Why cash and not margin? When it comes to margin debt, Buffett told CNBC , "Even if your borrowings are small and your positions aren't immediately threatened by the plunging market, your mind may well become rattled by scary headlines and breathless commentary. And an unsettled mind will not make good decisions."
See More ▼ 7 Malaysian Robo Advisors – SEC Approved & Higher Than FD Return
When it comes to stock investing, my advice is to always invest with your own cash. Never borrow money from friends or family to invest and most important of all, avoid margin accounts unless you are very confident in what you are doing. The reason is stock market can be very volatile and unpredictable, margin accounts when drawn are not free, there is an interest on the amount used, furthermore, if the stock price collapsed, you are forced to top up or risk having the bank force sell your shares at a loss, and the paper loss will be converted into debt which you have to service.
How to invest and which is the best strategy? Time in the Market vs Timing the Market. Over a longer period of time, quality stocks held on tend to outperform any kind of aggressive strategy for timing the market. Have you seen a billionaire trader? There is a reason why most billionaires are business owners and long term investors such as Warren Buffet. It has already been proven that missing the 20 best days could cut your return by more than half.
10K for RM5 fees | 10K – 100K for 0.08% fees | 100K more for 0.05% fees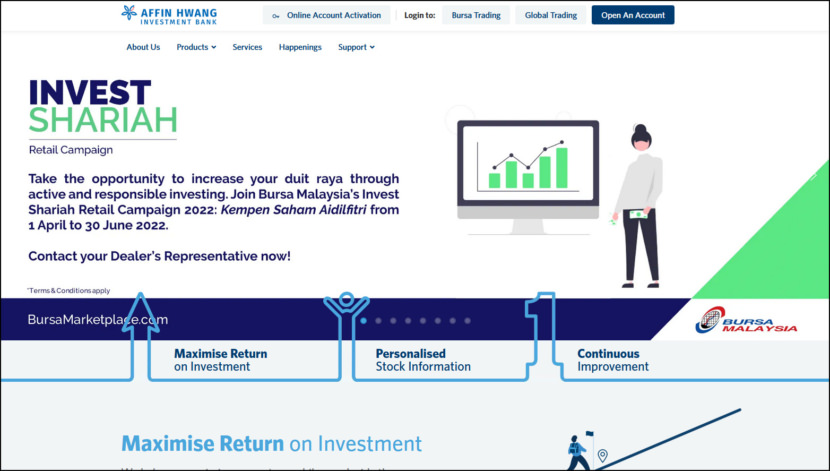 Affin Hwang Investment Bank Berhad ("AHIBB") is a leading investment banking, securities, asset management and trustee group in Malaysia. Founded in 1970, AHIBB currently offers all advisory and capital markets services, serving the full client spectrum of corporates, investment institutions, retail clients, high net worth individuals and capital markets counter-parties.
With eInvest Go, you can open a cash upfront trading account* and trade shares listed on Bursa. The trades are made fully online in a secure, easy-to-use platform and in a mobile app. Some key Highlights of eInvest Go:
Fully online CDS and trading account opening process
Fast account approval process within 1 business day, subject to AHIBB's approval
Low brokerage fees from min. of RM5
FREE Premium Stock Screener – Powered by MorningStar®
Extensive research coverage
Minimum RM8 or 0.05% fees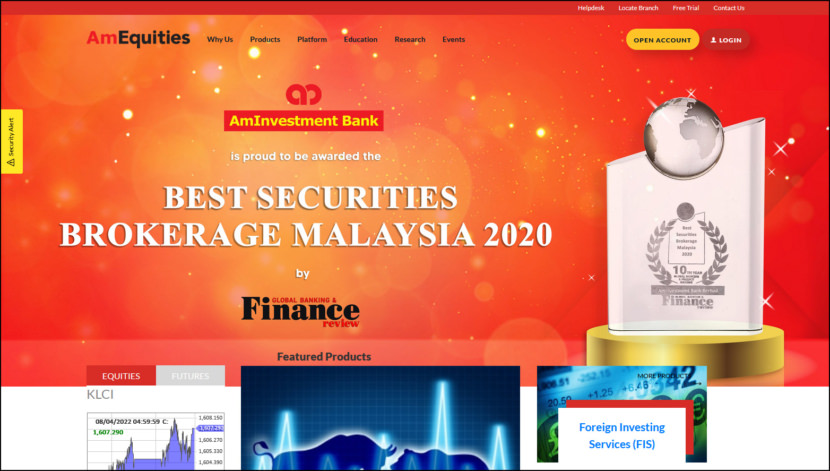 At AmEquities, they believe in an all-rounded experience for their customers. From their professionally licensed advisors to their efficient helpdesk support team, they are ever-ready to assist you with any queries via phone and live chat. Their new and enhanced AmEquities platform is eager to serve you across all your investment needs.
On the education front, they provide seminars and trainings as well as regular coverage of the latest financial landscape by their industry experts. At the same time, their digital touch points provide constant notifications to keep you updated.
Minimum RM8 or 0.10% fees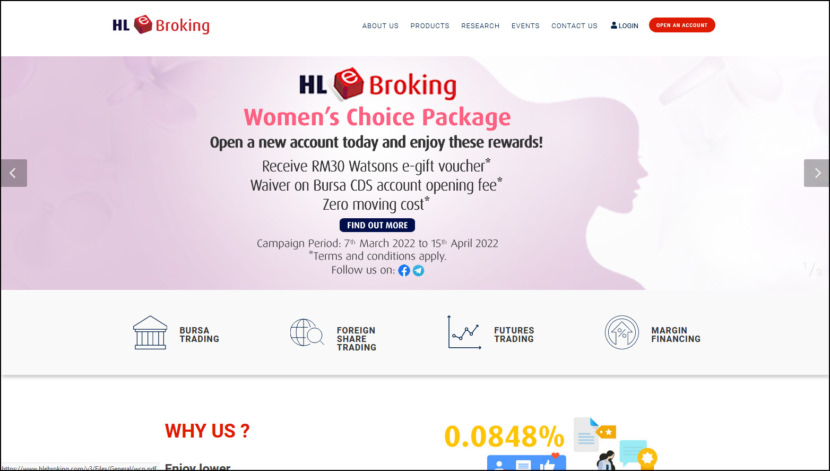 HLeBroking is an online share trading portal from Hong Leong Investment Bank. Specially designed with the customer in mind, HLeBroking offers all the services of a conventional broker and more, with a range of exciting features that allow customers to trade with better margins. HLeBroking also provides customers with information to assist them in their investment decisions and strategies.
HLeBroking provides privileges such as lower minimum brokerage fees, from as low as 0.08%*, real time stock quotes, market information and futures prices, access to news powered by Dow Jones and HLeChart powered by Nextview. Aside from giving customers lower rates and higher profits, HLeBroking also allows customers to trade on foreign stock exchanges in US, UK, Singapore, Hong Kong, Shanghai, Australia and Thailand with competitive rates and real time price quotes*.
Minimum RM12 or 0.10% fees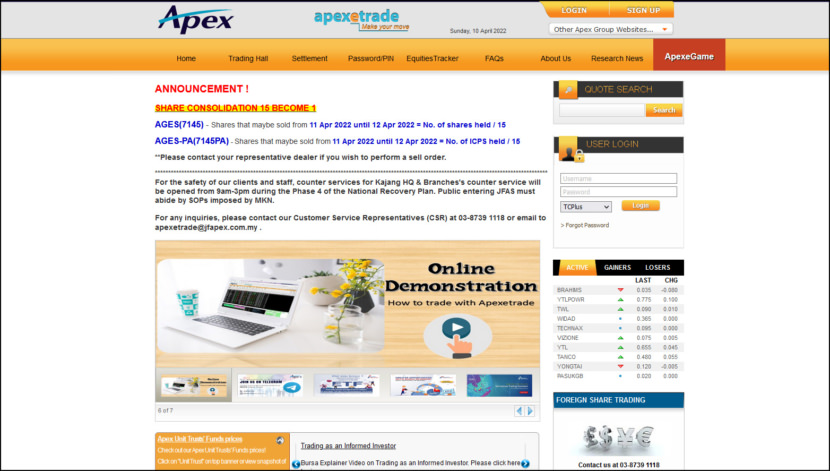 Originally a stock broking company as a member of the Kuala Lumpur Stock Exchange (KLSE) in 1979 under the name of Lim and Hszieh Sendirian, the company turned private on 15 March 1985, becoming Apex Securities Sdn Bhd. On 2 May 1991, Apex Securities was acquired by AEHB as part of its restructuring process and KLSE listing.
JFAS is licensed by the Securities Commission Malaysia to deal in securities, clearings, derivatives, and the provision of investment advice. At JFAS, they provide a comprehensive suite of stockbroking related services for all your business needs, including but not limited to:
Share trading of Bursa, the LEAP Market, Foreign Markets, and Derivatives/Futures
Share Margin Financing and IPO Financing
Nominee and Custodian Share Services
Underwriting and Placement of Securities
Minimum RM8 or 0.10% fees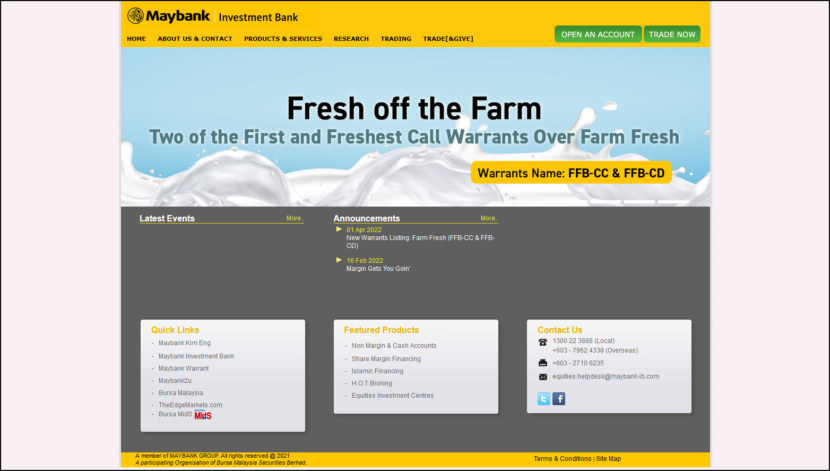 Maybank Investment Bank Berhad (Maybank IB) is the fully-owned investment banking arm of Maybank, Malaysia¡¯s flagship financial services player. The recent acquisition of Kim Eng Holdings Limited (Kim Eng) by the Maybank Group has resulted in the combined entity of Maybank IB and Kim Eng, known regionally as Maybank Kim Eng.
0.08% < 50k | 0.05% > 50k | Intraday 0.08% | Minimum: RM8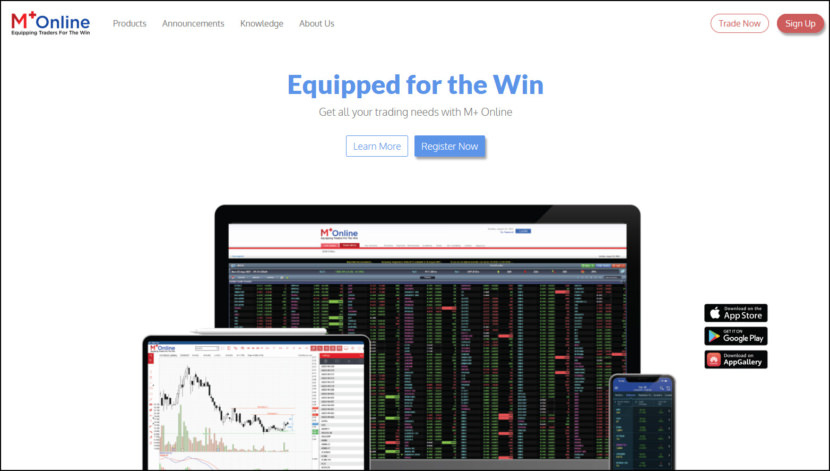 With more than 50 years of experience in the industry, and over 100 awards won, M+ Online provides the best platform to equip you to win on your trading journey. Trade with an ease of mind; all your funds, trades and portfolio are in safe hands. Get assistance from their line of experienced and professional Dealer Representatives.
Low brokerage rate, better profit
No settlements required (auto settlement with cash in trust account)
3 Market Depth
Basic Charts & Tools
Dealers' Support
0-1k: RM7 | 1-10k: RM9 | 10-100k: 0.10% | >100k: RM 100 | Minimum RM 7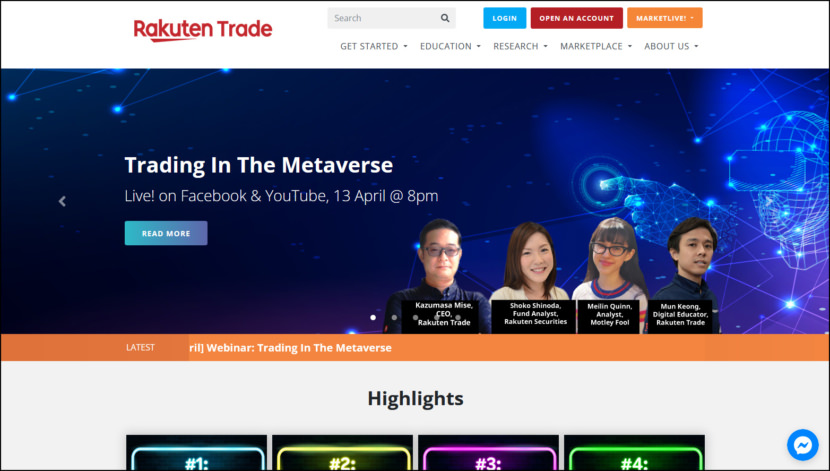 Cash Upfront trading operates like a debit card allows you to trade using only your available cash in the account. This means that your trades from this account are fully funded by the deposits you make into your cash upfront account while the remaining balance is placed in a Trust account held by Kenanga Investment Bank. They accept cash deposits into your account via Internet Banking.
Trade both Malaysia and U.S. shares under the same account.
Trade based on the available cash you have now.
Trade and pay brokerage rates from as low as RM7 to a maximum of RM100.
You will always know your actual cash/portfolio position.
Available cash balance will earn interest at 1.00% per annum.