Which app is best for language learning? It really depends from one person to another, learning a new foreign language is not easy, made even worse if the new language does not share a similar root. For example, it is easier for a native English speaker to learn German or French as both share the same a great deal of vocabulary.
🤣😍😂 4 Best Free Apps With Live Camera Translate, Offline Text And Voice Translation
What's the quickest way to learn a new language? There are many ways such as watching foreign movies, reading their comic books, using an app, etc. But nothing beats taking some risks and speaking the language whenever you can. In today's modern world where we have the internet, one can easily go online and chat with strangers on Skype.
↓ 01 – Babbel | USD6.29/month for 1 year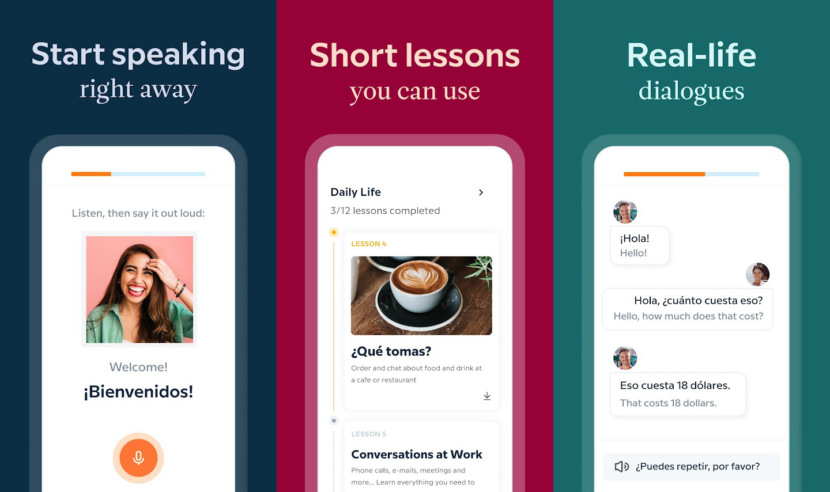 Millions of people are learning languages with Babbel — the language app built by language experts. Why Babbel? Our short, interactive lessons rethink old-school language education to get you speaking a new language with confidence! Learn 14 new languages such as Spannish, French, Italian, German, Portuguese, Russian, Polish, Turkish, Norwegian, Danish, Swedish, Dutch, Indonesian, and English.
With Babbel, you'll be on your way to mastering the ultimate goal of language learning — having real-life conversations with confidence. Whether you need a Spanish learning app or a French learning app, you've always wanted to learn Italian, you're looking to dive into German language learning or improve your English, Babbel is the choice of millions of people looking to enhance their language education.
↓ 02 – Memrise | USD5.00/month for 1 year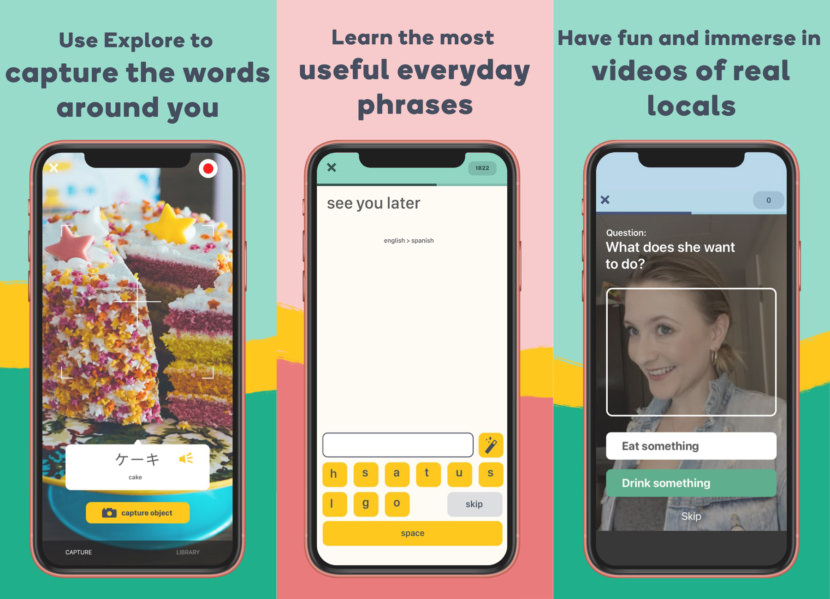 Learning a language isn't hard. Short Lessons. Real-life phrases. Get everything you need to go from learning to speaking, fast, with Memrise. Join over 60 million people and start learning a language with Memrise, the easiest way to learn a language.
You can learn Spanish (European Spanish and Mexican Spanish), French, German, Italian, Japanese (Romaji and Kanji), Korean, Chinese, Portuguese (European Portuguese and Brazilian Portuguese), Russian, Dutch, Swedish, Norwegian, Polish, Turkish, Danish, Icelandic, Mongolian, Slovenian, Yoruba and English (British English and American English).
↓ 03 – Duolingo | In-app purchases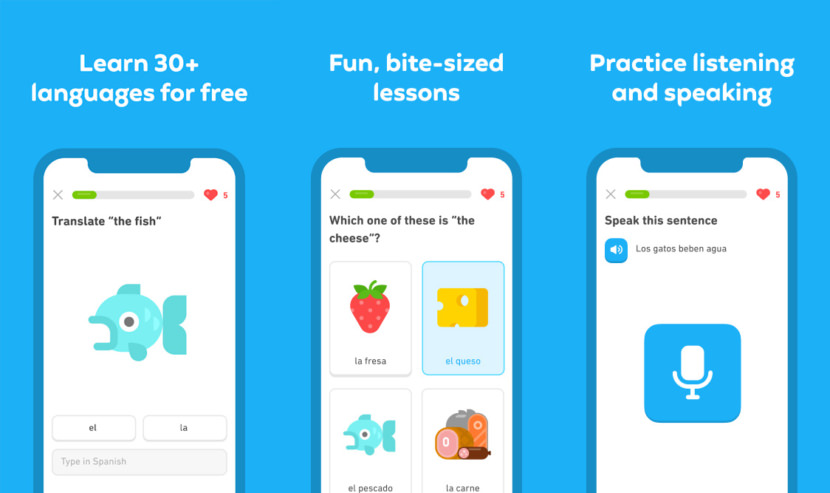 Learn a new language with the world's most-downloaded education app! Duolingo is the fun, free app for learning 35+ languages through quick, bite-sized lessons. Practice speaking, reading, listening, and writing to build your vocabulary and grammar skills.
Designed by language experts and loved by hundreds of millions of learners worldwide. Every language course is free. Learn Spanish, French, German, Italian, Russian, Portuguese, Turkish, Dutch, Irish, Danish, Swedish, Ukrainian, Esperanto, Polish, Greek, Hungarian, Norwegian, Hebrew, Welsh, Arabic, Latin, Hawaiian, Scottish Gaelic, Vietnamese, Korean, Japanese, English, and even High Valyrian!
Duolingo is fun and effective. Game-like lessons and fun characters help you build solid speaking, reading, listening, and writing skills.
Duolingo works. Designed by language experts, Duolingo has a science-based teaching methodology proven to foster long-term language retention.
Track your progress. Work toward your language learning goals with playful rewards and achievements when you make practicing a daily habit!
Join the community. With 300+ million learners worldwide, you're part of a language community on Duolingo.
↓ 04 – Mondly | In-app purchases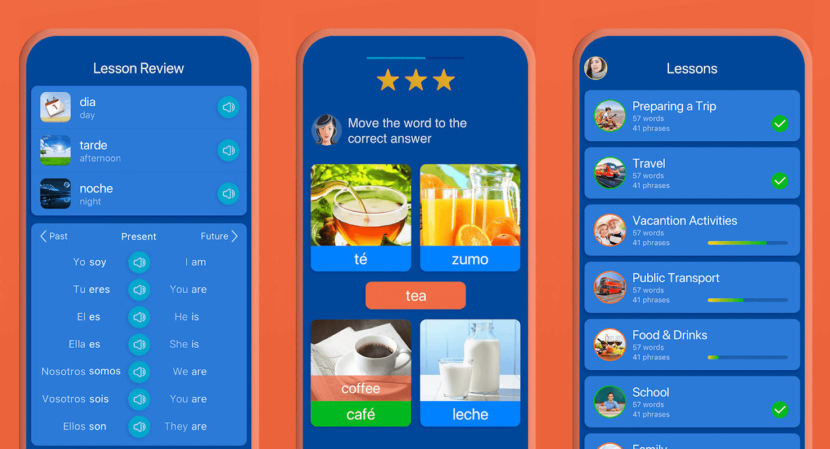 Learn languages with free lessons daily with Mondly. In just minutes you'll start memorizing core words, form sentences, learn phrases and take part in conversations. Fun language lessons improve your vocabulary, grammar and pronunciation like no other language learning app. Beginner or advanced learner, traveler or business professional with a tight schedule? The app works great and dynamically adjusts to your needs.
More than 1000 language combinations so you can learn from your native language
50 topics to prepare you for the most common situations
36 vocabulary builders to install words fast
41 real conversations to give you fluency
Grammar features & conjugation tables to shortcut your progress
Quick Daily Lessons for constant improvement
↓ 05 – Speakly | EUR5.83/month for 1 year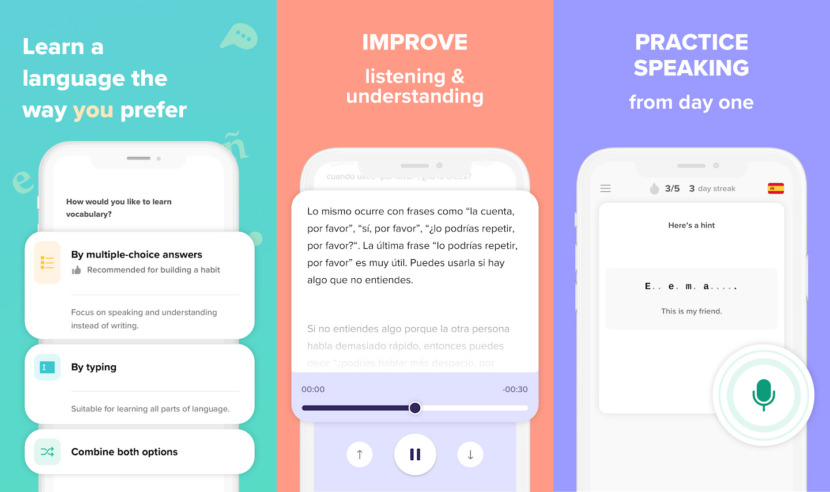 With just a few minutes per day, you will be able to speak English, Spanish, French, Italian, German, Finnish, Russian, and Estonian with confidence! If you want to learn a language to speak with your peers—be them friends, coworkers, or neighbors— while traveling, studying, or living abroad, you will enjoy studying with Speakly!
Speakly combines science and computational algorithms to teach you the 4,000 most statistically relevant words of your target language in order of their importance. This will make the learning process 4 – 5 times faster than traditional methodologies.
Speakly uses spaced repetition to push newly learned information into your long-term memory in the most efficient way imaginable. This ensures that you remember everything you've learned.
Speakly allows you to practice real-life situations right from your smartphone or computer. This will build your confidence when speaking a foreign language in your everyday life.
With Speakly, you will go from absolute beginner to a confident speaking level in just a few months of studying.