How to Get US Number Free from Any Country? The short answer is yes, but just for incoming calls. For outgoing calls, you will have to pay a small monthly subscription fee together with calling rates per minute. Anyone get a US number from outside the of USA? They can receive a virtual phone number with a US extension.
🤣😍😂 16 Virtual SIM Phone Number Apps For iOS And Android Smartphones
VoIP vendors offer their services at affordable rates. Also, you get many additional facilities like unlimited free video calling, call routing, auto call recording, etc. What is a virtual USA phone number? A virtual number is a phone number that is not tied to one specific telephone line or location. Instead, a virtual number uses the cloud as a gateway to direct calls. This allows you to forward, redirect, and route calls from all across the world to any number or device of your choosing, without the need to purchase additional costly hardware.
↓ 01 – OpenPhone | USD13/User/Month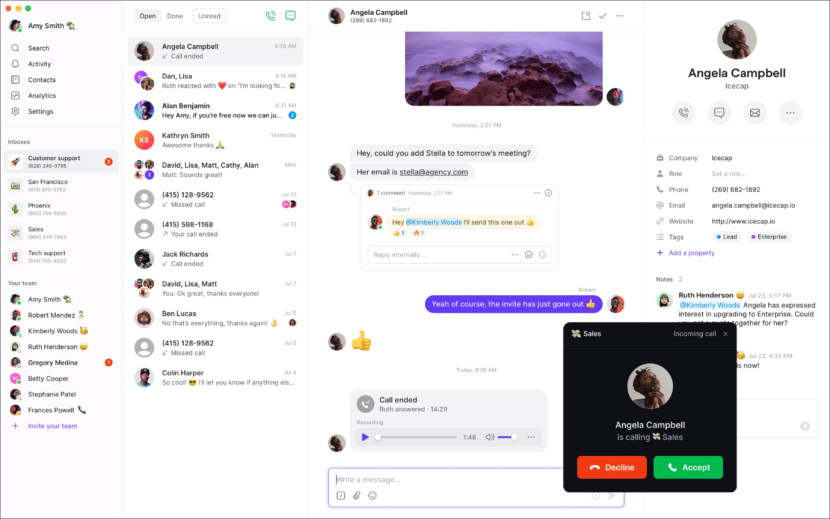 The all-in-one phone system for teams. Your business calls, texts, and contacts in one delightful app. Work anywhere, across all your devices. OpenPhone is the best business phone for you. It comes with powerful calling, messaging, and productivity tools to supercharge your business. Also, it comes with a lightweight CRM to easily manage your contacts.
Using the internet, OpenPhone allows you to make unlimited calls and texts for a low price and it doesn't use any minutes from your phone plan! Local and toll-free numbers. Get US, Canadian, or North American toll-free numbers instantly.
↓ 02 – CallHippo | USD16/User/Month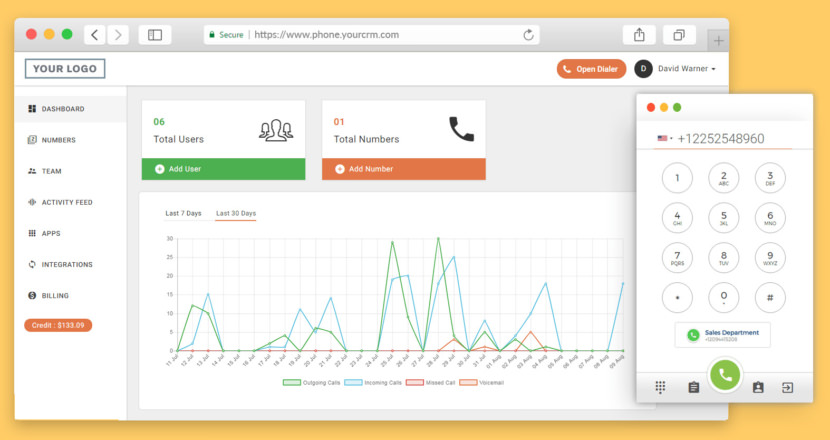 CallHippo is the leading virtual phone system that assists in increasing agent productivity, automating workflows, tracking team performance, and reducing communication costs. With CallHippo, you can buy a business phone system and have it up and running in less than 3 minutes from anywhere in the world. Powered by robust features, CallHippo's powerful commercial phone system is one of the most comprehensive solutions for all your business communication needs.
Call Scribe – Allow users to see call transcription of recorded calls.
Voicemail Transcription – Get Voicemail in the text format in your inbox.
Call Tracking Insights – It includes Incoming call source analytics with google ads and google analytics integration. Dynamic number insertion.
Custom Caller ID – It allows you to display any number you want while making outbound calls.
Hide Numbers From Agent – Safeguard your contact's identity and calling data by masking number.
Dashboard User – Invite user as an dashboard user. Dashboard user can access webapp.
CNAM – CNAM stands for Caller ID Name. With CNAM feature, caller can identify your incoming calls by your business name . This is available for USA and Canada calling.
Whatsapp Business – Everything you need to notify, chat & engage your users via whatsapp all in one place. Get green tick on your number and communicate with your client.
Website Call Button – Your visitors can click on the Website Call Button Widget and you will receive a call on your number.
SMS Services – SMS in the United States and Canada will follow the A2P guidelines and A2P charges will be applicable.
↓ 03 – RingCentral | USD20/User/Month
Meet the world's leading cloud phone system — reimagined with powerful intelligence, workflow automation, video, messaging, and more. RingCentral is so much more than a business phone system. Meet the business phone of the future. Set up in minutes and never drop a call again. You can get local, toll-free, local, or international business phone numbers along with your VoIP phone systems.
Cloud VoIP – More than a business phone service, cloud VoIP is a reliable communications platform that eliminates the need for on-premise hardware. RingCentral provides reliable, high-quality phone service anywhere you have internet access.
Virtual PBX – Advance your communications with the industry leader in hosted PBX. RingCentral features a virtual PBX that has all the benefits of a traditional PBX system—auto-attendant, advanced call routing, virtual extensions, etc.—without the expensive landlines and limitations of hardware such as physical boxes, trunks, and switches.
Calling and Mobility – Our calling features have been designed to give you a flexible, mobile, and powerful cloud phone system. Choose from a variety of available phone numbers including local and toll-free numbers, install our apps on your desktop computer, smartphone, or tablet, and improve communications with call forwarding, call flip, device switching, enhanced business SMS and more.
↓ 04 – Nextiva | USD22/User/Month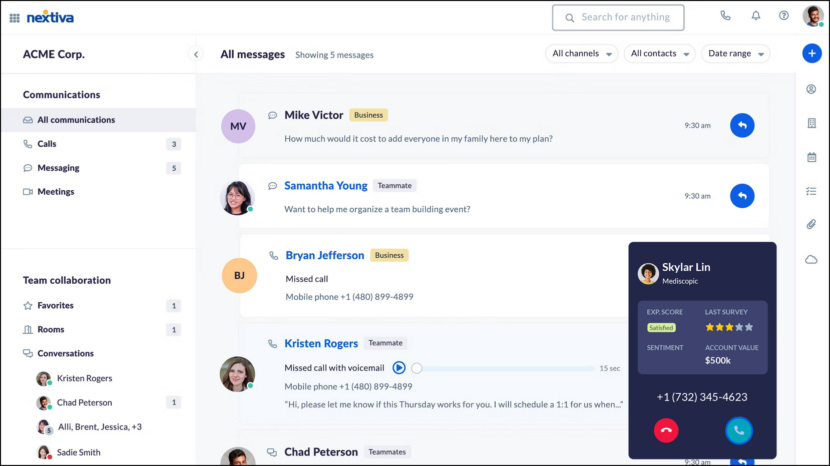 All conversations in one place with phone, SMS, video, and email together with customer experience and productivity tools. Nextiva lets anyone work from home and the office using its secure business communications platform. Your team can use VoIP desk phones or virtual softphones to stay in touch. Here are several features that are essential to a hybrid workforce:
Cloud PBX — Manage your company's phone service, including call routing, over an internet connection while keeping your staff productive.
Conference calls — Dial in to connect multiple people from any phone line to participate in a conference call. Hold meetings even when people work remotely.
Screen sharing — Deliver a live presentation to team members and customers for real-time collaboration.
Team messaging — Chat with team members for a faster response than an email across any desktop or mobile device.
Phone presence — See when another person is busy, on a call, on their mobile phone, or available for more efficient communication.
Video meetings — Meet over a video conference using a trusted VoIP solution to add a deeper emotional connection.
HD phone calls — Be heard clearly with excellent call quality. HD voice gives you twice the sound quality of an analog phone call.
Unified communications — Unified Communications as a Service (UCaaS) consolidates separate channels across the enterprise into a shared platform for voice, video, chat, and collaboration.
CRM integrations — Even though Nextiva's virtual phone system is powerful, it integrates nicely with others using APIs. Dial contacts faster and bridge the gap between your CRM and office phone system.
Toll-free phone number — Achieve a trusted, national presence with a toll-free business phone number to direct calls to your team easily. Incoming phone calls can be routed to your office phone or cell phone any way you want.
Advanced features — Instantly adjust call management telephony features like call recording, call logs, on-hold music, call queues, auto attendants, call transfers, call forwarding, caller ID, and more.
↓ 05 – Telzio | USD50/Month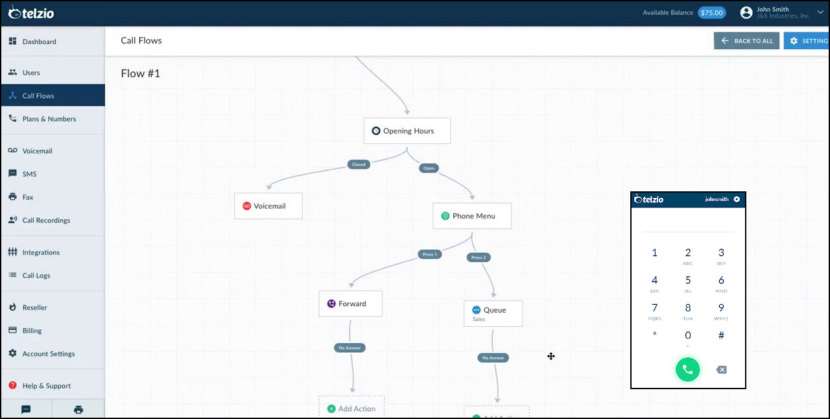 From startups to enterprises, companies worldwide rely on Telzio for mission-critical phone services. Easy to deploy, manage, and scale. Upgrade your organization's communication capabilities with a scalable cloud solution, and manage it all through a modern, user-friendly interface. Ideal for Small Business and Enterprise.
Telzio is both HIPAA and GDPR compliant. In addition, you have control over the retention of your data and can automate the deletion of call logs, recordings, texts, and faxes to comply with your company's security policies. Join the thousands of emergency service providers that rely on Telzio for critical services. You get full transparency and live system status updates, as well as peace of mind.
Local Number Plan – Flexible month-to-month plans for local phone numbers. Includes a bundle of minutes and text messages based on your usage. Minutes can be used for inbound calls from anywhere and outbound calls to United States, Canada, and Mexico. All incoming text messages on local US numbers are included at no charge. Unlimited extensions are included, and more phone numbers can be added for $1 per month.
Toll Free Number Plan – Flexible month-to-month plans for toll free phone numbers. Includes a bundle of minutes and text messages based on your usage. Minutes can be used for inbound calls from anywhere and outbound calls to United States, Canada, and Mexico. Unlimited extensions are included, and more toll free numbers can be added for $5 per month.
Texting Messaging – For local phone numbers, all incoming text messages are free of charge. For sending text messages from local numbers, bundles starting at 250 messages for $13. For texting on toll free numbers, pricing starts at 250 messages for $24, which includes both incoming and outgoing messages.
Custom Caller ID Name – Registration of your business name as it appears in the caller ID on an incoming call, also known as CNAM. One-time setup fee of $15 to register your caller ID in the national databases.
911 Emergency Calling – Registration of your physical location with local emergency telephone dispatch operations. Monthly fee of $1 per month per phone number.
411 Directory Service – Registration of your business in the 411 directory.
↓ 06 – Ringblaze | USD15/User/Month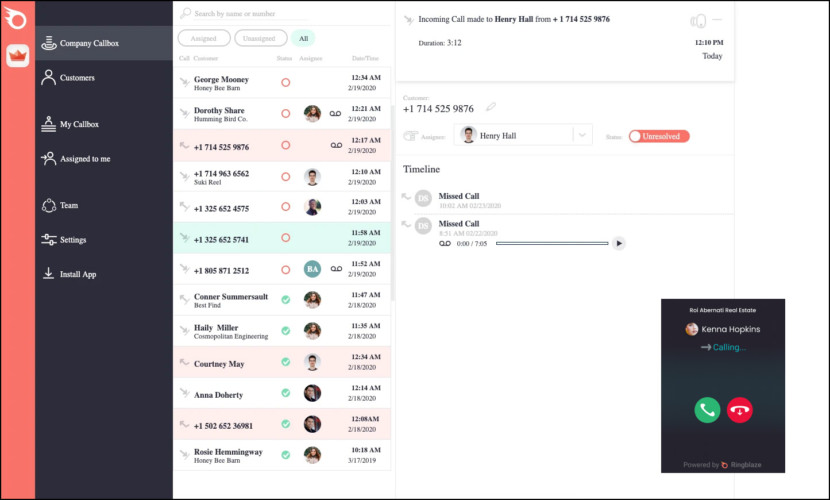 Reinvented phone system for happy teams and customers that takes care of everything you really need. Create US, Canadian or International Phone Numbers. Ringblaze keeps you connected and engaged with your customers all over the world. No need to worry about missed calls or poor connections.
They even offer an integrated reporting system, which can provide a smart analysis of the work your team is doing. Track growth trends and forecast your future. Use a dedicated business number to contact your customers. Expand your company's global footprint by registering phone numbers in 200+ countries and territories.
↓ 07 – Sideline | USD10/User/Month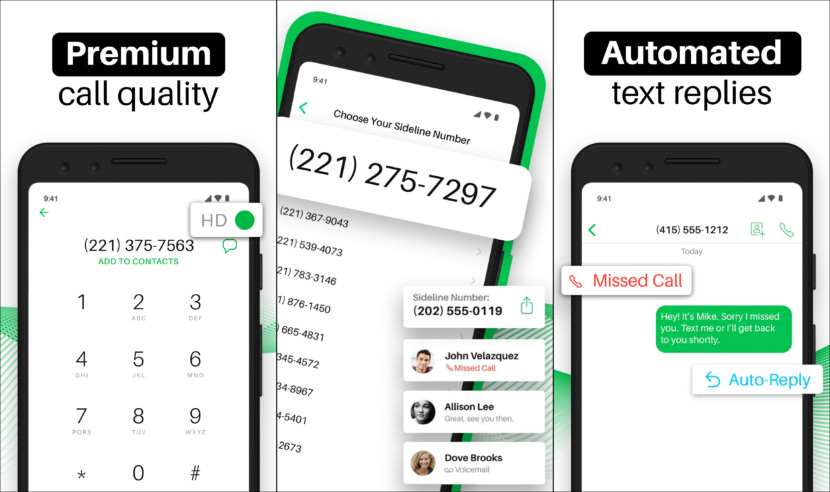 Your other number is calling. With patented technology, the Sideline app gives you a second phone number that's just as reliable as your first. Sideline works with your existing carrier network (not VoIP) to deliver great call quality anywhere your phone has service.
Set up a Sideline number and enjoy all the benefits of having a second line today. With Sideline, you can use your new mobile number for private texting, text chat, contact management, and more. We created Sideline to help streamline your communications by bringing you a second phone number with a complete set of features.
Create a new local number, send unlimited texts, and set up your own custom voicemail as you would with your existing phone line. Use mobile phone tools that help keep your conversations organized and help make sure you never miss what's important. Your Sideline second phone number also includes convenient features like Auto-Reply, text reminders, and coordinated number management that can help you control your conversations on any device.
See which number is ringing – Custom caller ID makes it clear which number is ringing so it's easy to prioritize calls and answer accordingly.
Protect your privacy – With your primary number separate, Sideline lets you stay safe and anonymous whenever you need to.
2nd Number – Get a second phone line for calls, texts, voicemail, and more.
Avoid Spam – Sideline detects spam calls, telemarketers, and potential fraud so you can easily avoid them.
Auto-Reply – Send an automated text reply to any missed calls or messages.
↓ 08 – KrispCall | USD12/User/Month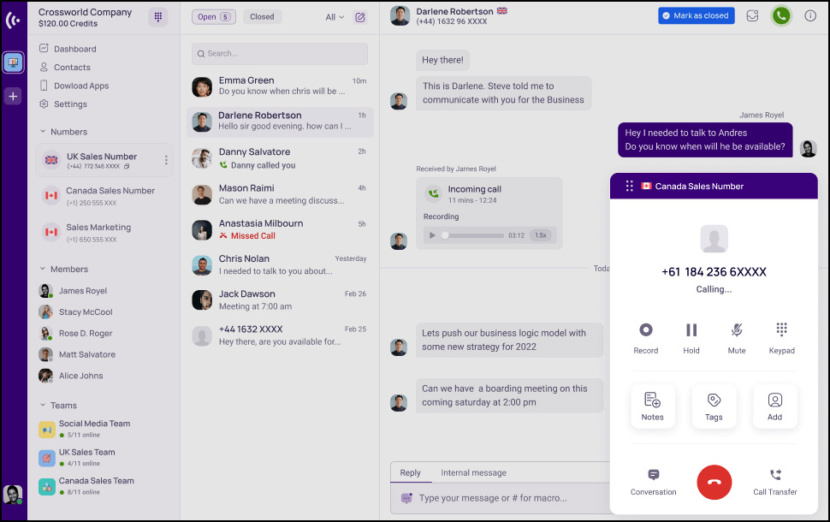 Get US Virtual Phone Number Instantly. Establish trust with customers in United States and conveniently connect with them from inside and outside the nation using an American virtual phone number. Using US virtual phone numbers from KrispCall is an effective way to establish a local presence in USA.
Getting a US virtual phone number with KrispCall is quite simple. You can make and receive calls online instantly after signing up to KrispCall. Choose your number, make payment & start making calls. It's that easy. For step-by-step directions, check the video alongside.
Get as many as American virtual phone numbers for your business.
Enhanced calling features with 24/7 customer support.
Inbound and Outbound calls from anywhere and any device.
High Flexibility & Scalability with Colombian Virtual Phone Numbers.
Facilitate with features like Advanced IVR, intelligent call routing, virtual attendant, call-to-widget and much more
Get a cheap US phone number from anywhere in United State of America states and territories instantly with KrispCall. Register your nearest location USA phone number for residential or business online within a minute.
Alabama, Alaska, Arizona, Arkansas, California, Colorado, Connecticut, Delaware, Florida, Georgia, Hawaii, Idaho, Illinois, Indiana, Iowa, Kansas, Kentucky, Louisiana, Maine, Maryland, Massachusetts, Michigan, Minnesota, Mississippi, Missouri, Montana, Nebraska, Nevada, New Hampshire, New Jersey, New Mexico, New York, North Carolina, North Dakota, Ohio, Oklahoma, Oregon, Pennsylvania, Rhode Island, South Carolina, South Dakota, Tennessee, Texas, Utah, Vermont, Virginia, Washington, West Virginia, Wisconsin, and Wyoming.
↓ 09 – Aircall | USD30/User/Month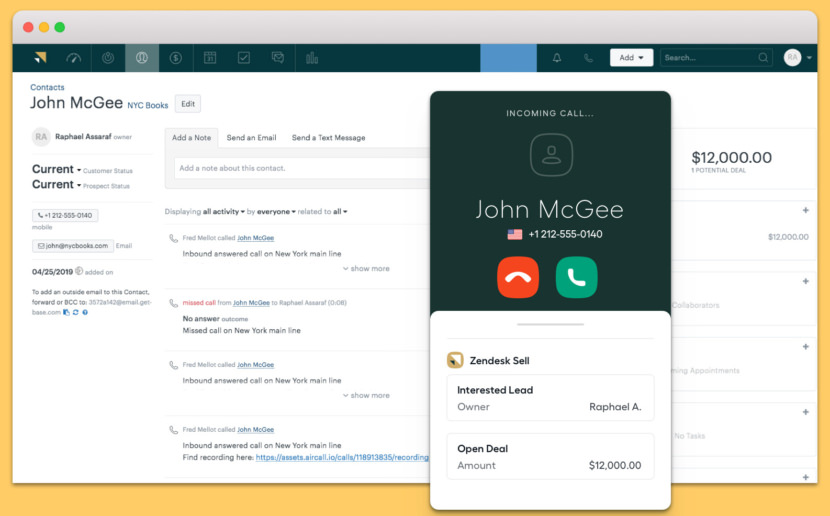 Establish a reputable global presence without needing physical offices worldwide with Aircall's cloud-based international phone numbers. Build trust with your international customers and prospects by using local phone numbers in their locations.
International phone numbers appear as local phone numbers to customers regardless of whether the company the numbers are linked to has a physical presence in the customer's area of residence. An international number carries the same country code as its corresponding area of business operations. Ideal for the following industries:
Education
Healthcare
Real Estate
Technology
Professional Services
Legal
Retail
Recruiting
Automotive
Aircall's Computer Telephony Integration (CTI) for Salesforce Lightning & Salesforce Classic empowers your support agents, sales reps, and entire team to streamline their workflows and increase productivity.. Connected to your Business Tools and integrate them with other 3rd party apps.
Salesforce
Intercom
Hubspot
Zendesk
Zoho
Microsoft Dynamics
Shopify
Help Scout
Gorgias
Zapier
Front
Slack
Kustomer
Freshdesk
monday.com
Copper
Pipedrive
noCRM.io
Re:amaze
Happy Fox
↓ 10 – CloudTalk | €25/User/Month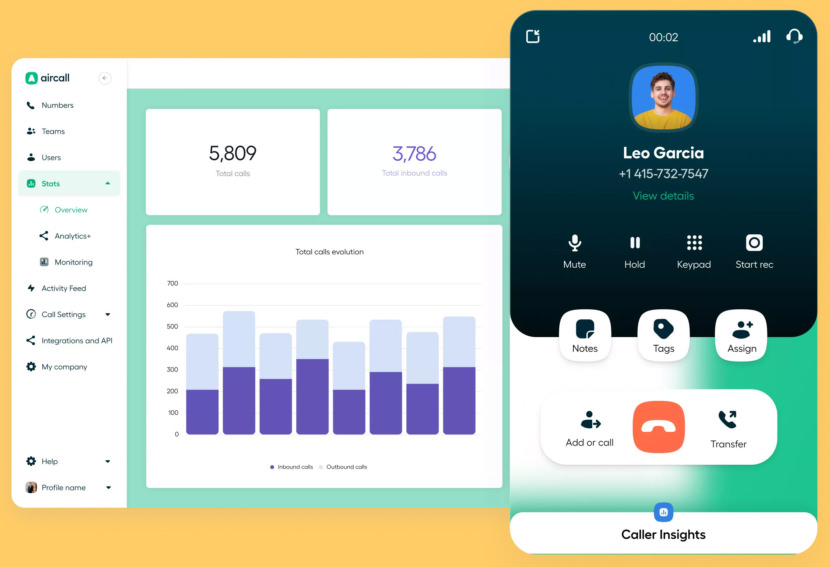 Get a Virtual Phone Number for the United States. Look like a local from virtually anywhere in the world with an international phone number from CloudTalk. Numbers starting at just $6. International numbers allow you to conduct business in a foreign country as if you were a local. They can drastically reduce costs related to international telephony because they allow you to avoid extremely high international calling fees.
VoIP services let you operate with a virtually unlimited amount of international numbers for countries all across the world – something integral to the global growth of any business.
A local number is a telephone number whose digit structure contains geographic information tying it to a particular city or region. Available codes for the United States: 212 (New York City), 312 (Chicago), 323 (Los Angeles), and many more.
The mobile numbers that CloudTalk offers are not linked to SIM cards and can be used in the same way as local numbers and national numbers. Available codes for the United States: 202, 234, 470, 484, 760, 803, 804, 929, and more.
CloudTalk is a VoIP business calling solution used by customer service and sales teams. It automates workflows and provides managers with the built-in analytics they need to optimize performance and increase calling efficiency. Get International Phone Numbers
Bahrain Phone Number
Bangladesh Phone Number
Cambodia Phone Number
China Phone Number
HongKong Phone Number
Indonesia Phone Number
Israel Phone Number
Japan Phone Number
Myanmar Phone Number
Malaysia Phone Number
Pakistan Phone Number
Philippines Phone Number
Singapore Phone Number
Singapore Toll Free Number
South Korea Phone Number
Sri Lanka Phone Number
Taiwan Phone Number
Thailand Phone Number
Turkey Phone Number
Ukraine Phone Number
Vietnam Phone Number
Ghana Phone Number
Uganda Phone Number
South Africa Phone Number
Austria Phone Number
Belgium Phone Number
Bulgaria Phone Number
Czech Republic Phone Number
Denmark Phone Number
Estonia Phone Number
France Phone Number
Germany Phone Number
Greece Phone Number
Hungary Phone Number
Ireland Phone Number
Italy Phone Number
Latvia Phone Number
Luxembourg Phone Number
Malta Phone Number
Mexico Phone Number
Netherlands Phone Number
Norway Phone Number
Poland Phone Number
Portugal Phone Number
Romania Phone Number
Russia Phone Number
Serbia Phone Number
Slovakia Phone Number
Spain Phone Number
Sweden Phone Number
Switzerland Phone Number
UK Phone Number
UK Toll Free Number
United States Phone Number
US Toll Free Number
Belize Phone Number
Canada Phone Number
Canada Toll Free Number
Costa Rica Phone Number
Panama Phone Number
New Zealand Phone Number
Argentina Phone Number
Brazil Phone Number
Chile Phone Number
Colombia Phone Number
Peru Phone Number