Why waste money on expensive hardware and wiring? If you operate a SME (Small to Medium Enterprise) business, a virtual phone system is always better than a traditional landline. The advantages of Virtual PBX Phone System is cost, mobility, and effectiveness.
See More ▼ 12 Virtual SIM Phone Number Apps For iOS And Android Smartphones
Imagine rewiring your office when it is time to expand? or the need to spend extra money on wiring to future-proof it not knowing if you will be using it. VirtualPBX also allows you to bring your number anywhere whenever you travel, this allows maximum effectiveness and a boost in productivity.
The other advantage is proper archiving on the cloud or desktop PC, every call and SMS are recorded for future references. If you need to change any settings, it can be done via a simple and user friendly interface, no need to call up the technician.
Virtual / Cloud PBX vs. Hosted PBX
Virtual PBX does not replace your existing outbound phone service, but will be an additional expense on top of it. It is best suited for small offices / home offices. The system is limited and will have to be replaced if the business grows, for instance, it does not route outbound calls and internal calls are most likely not free.
Hosted PBX replaces your current phone company, routes calls through a router, and most likely uses IP phones Minimizes OPEX and results in major CAPEX savings. It is a professional enterprise-grade phone system that suits businesses of all sizes.
It offers enterprise-grade features such as call forwarding, unified messaging (voicemail to email), call hold, find me/follow me, three-way conference, auto attendant and more. Results in increased productivity, efficiency, flexibility and mobility.
Initial cost. Buying an office PBX / mini-PBX is not the same as buying a microwave on credit and paying for it in small parts for several years. Purchase, delivery, installation of automatic telephone exchange is a very, very expensive part of the budget of the company.
Setting up and supporting PBX requires constant servicing of at least two specialists in the company staff. This is a permanent item of expenses that does not guarantee, at the same time, uninterrupted operation of the equipment.
Modernization of PBX also requires serious money. Try to pick and combine modules released a couple of months ago and a sample of 2008. The task becomes very non-trivial.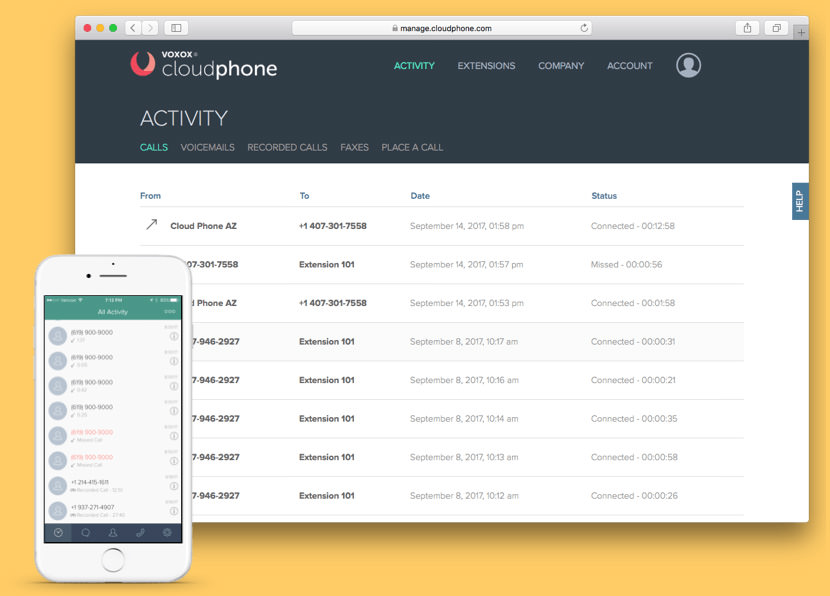 CloudPhone is an affordable, flexible, professional, Web-based phone service that can be used as an alternative to a much more costly on-site PBX system. CloudPhone enables small businesses to quickly, easily, and affordably set up business phone numbers without having to purchase hardware or establish expensive contracts with local carriers. All the features of a professional business phone system with none of the costs.
Virtual Receptionist – The Virtual Receptionist is the center of automation for your virtual phone system. It answers, routes, and manages your calls for you so your company always sounds professional (even if it's just you and your web guy in your garage). Easily add more numbers or extensions from your management portal and control when and how your calls are routed and answered.
Business SMS – Two-way business SMS helps your company stay connected efficiently and effortlessly. Send and receive messages instantly from your business number at no additional cost. Between 200 to unlimited monthly text messages are available based on your monthly calling plan.
Virtual Phone Numbers – CloudPhone enables small businesses to quickly, easily, and affordably set up virtual phone numbers without having to purchase hardware or establish expensive contracts with local carriers. Both toll free and local numbers are available and you can have multiple numbers on a single account.
Enhanced Voicemail – Your voicemails are automatically transcribed before they are delivered, so not only can you listen right from your email, you can also READ your messages. Yes, that's right, now you can read your voicemail just like email. Customize your voicemail greetings for a more personalized experience.
Intelligent Call Routing – Simply route your virtual phone number to your smartphone, or you can route your virtual phone number to multiple locations. Ring several extensions simultaneously, or ring them in a specific order to ensure important calls don't get missed. Call screening and other advanced call settings are also available to you.
Greetings, Faxes, & more – Customize your greeting messages, receive inbound faxes, and easily manage account settings online. CloudPhone can do many things, all through an award winning interface.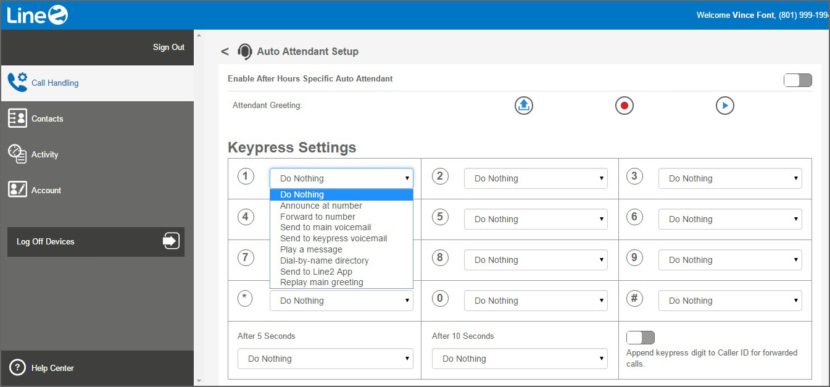 Line2 is an app that works as your business phone system across all mobile carriers as well as Wi-Fi. Line2 service runs in the cloud and on any internet connected device. Add multiple lines and scale your business. Need Line2 for your growing team? Easily add, remove, re-assign, and manage additional lines at any time as your business evolves. Each one comes loaded with the same features as your main line.
Auto attendant, "Press '1' for sales, press '2' for support…"
Online faxing included with each line
Port your number over for free
Forward, screen, or block calls
Group calling and messaging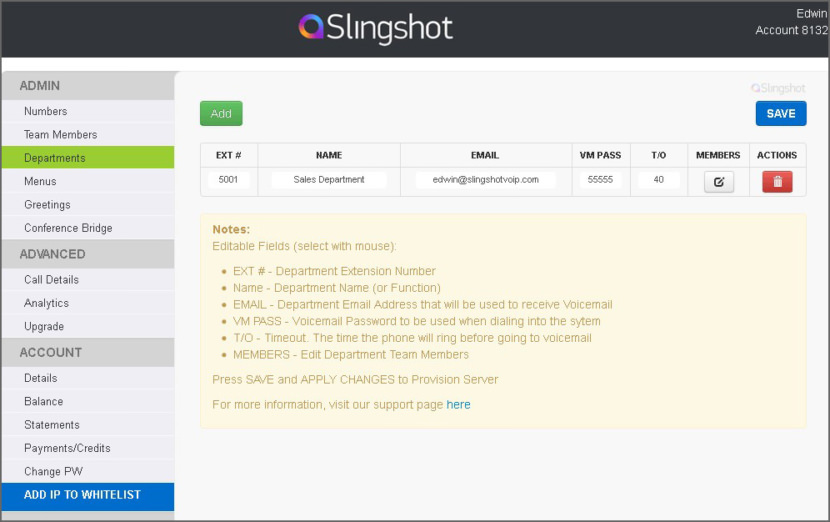 Slingshot VoIP is a cloud-based communications provider that specializes in business VoIP service. Their platform delivers carrier-grade services including virtual PBX solutions that cater to small and medium sized companies.
Slingshot bridges the gap of neglect and poor customer service that lies between traditional telecommunication carriers and hardware vendors, where finger-pointing and passing the buck is the common explanation for technical problems. Slingshot offers a simple, reliable, one-stop shop for all business communication needs combining technologies of both the telecom providers and the hardware vendors.

Talkroute turns ANY Phone into a Virtual Phone System! Talkroute is a virtual PBX phone system dedicated to giving entrepreneurs and small business owners the tools they need to run their business efficiently, professionally and cost-effectively. 100% cloud-based with a wide range of highly customizable features, Talkroute makes it easier than ever for entrepreneurs and small business owners to run their business anytime, from anywhere.
Extensions for Departments & Staff – Whether you have 1 employee or 100, you can create Extensions for everyone. Create single digit department extensions and multi digit employee extensions.
Local & Toll Free Virtual Numbers – You may choose as many Toll Free and Local numbers as you need. Talkroute numbers can be added, removed, or transferred at any time. Now it is easier than ever to establish both a local and national presence.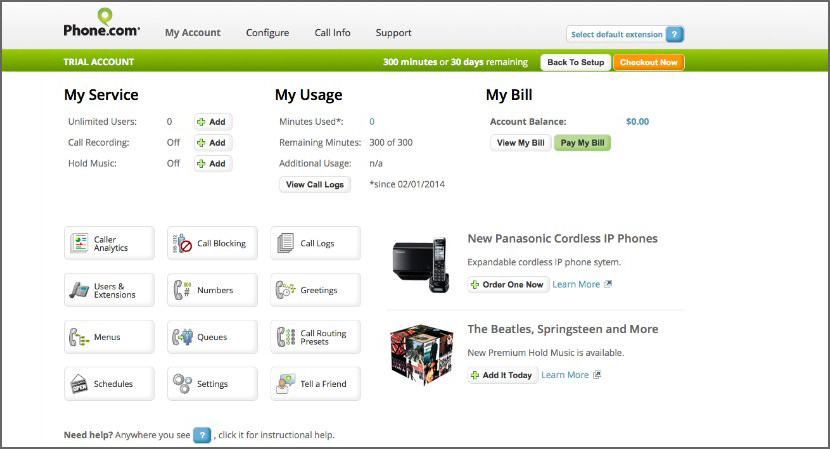 The #1 Affordable Business VoIP Phone Service. Flexible, cost-effective communications & collaboration solutions for small business and entrepreneurs. Enjoy business voip phone service packed with features to help your company become more efficient, mobile, and productive.
Phone.com grows with your small business by providing no cost user extensions (with voicemail), virtual faxing, advanced call routing, toll free or local phone numbers and incredibly priced phone service, all backed by their award-winning support based in the USA.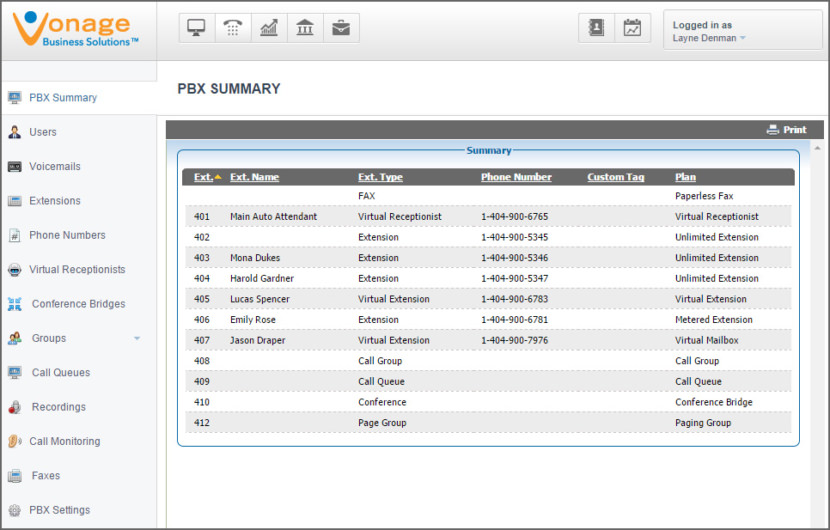 Upgrade your business phone system with a cloud PBX system from Vonage, priced efficiently to keep business expenses down. If you're switching from a traditional phone service, you're probably familiar with the on-premise PBX—the closetful of wires at your business.
The Vonage service is hosted in the cloud, so they manage the cloud PBX (aka, virtual PBX or IP PBX) off site for you. So there's never a need to install PBX equipment at your location, or schedule technician visits for upgrades or maintenance. As a result, you eliminate PBX installation and equipment costs, and the need to pay for service appointments at your office. They manage the system for you and administer all upgrades virtually.
Access to over 40 business critical features like Virtual Receptionist, Call Recording, Call Flip, Call Forwarding, Mobile Apps, and more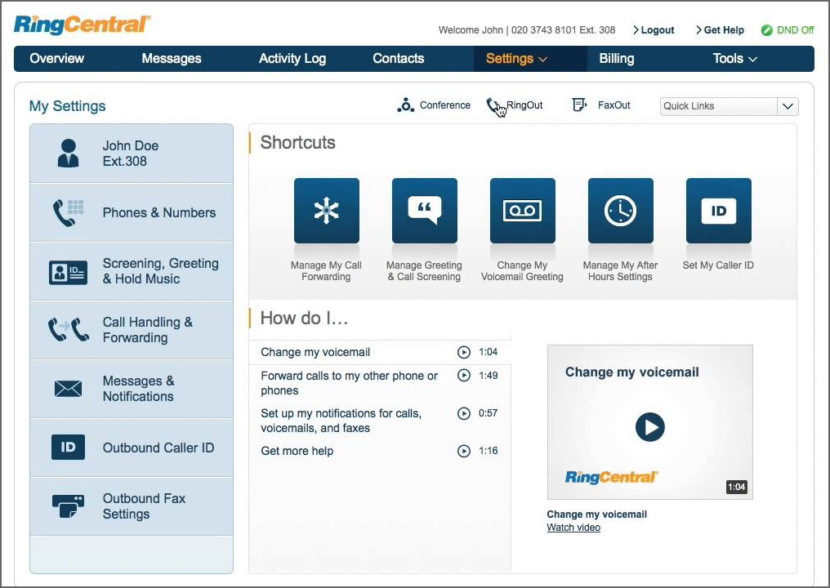 An early innovator of cloud communications, RingCentral saw a new way to revolutionize business PBX using the power of the cloud. They developed a virtual PBX (also known as cloud, hosted, or IP PBX) solution, which has all of the benefits of traditional PBX—voice, fax, voicemail, extensions, conferencing, paging, intercom calling, etc.—without the expense and limitations of hardware such as trunks and switches.
And with RingCentral Office®, virtual PBX now offers key advantages over legacy systems. Advanced PBX features such as complete mobile integration, business SMS, and online meetings with screen sharing enable businesses to compete in the new world of work.
Maximize uptime and safeguard your data.
Lower overall costs and increase ROI.
Connect multiple locations and mobile and remote workers.
Choose a solution that can flexibly adapt and scale to business needs.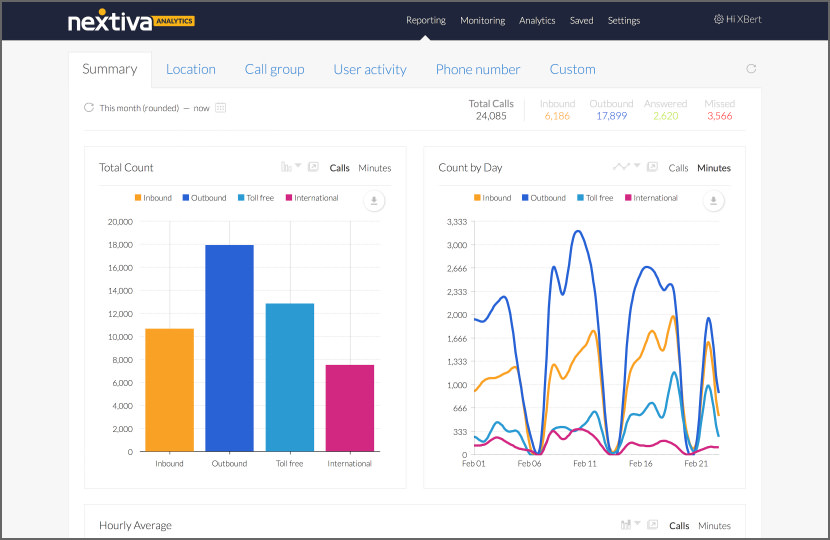 Nextiva is a comprehensive cloud service provider that offers a wide range of services from cloud PBX platforms and virtual faxing to backups for multiple devices, platforms and hosted call centers. For its PBX platforms, Nextiva offers three packages with low costs and no set-up fees plus a series of standard benefits.
Nextiva VoIP phone systems are built with the features you need to communicate seamlessly, no matter where your people are located. Conduct productive face-to-face meetings even when you can't be in the same room using the Nextiva App, available for Office. Get complete mobile collaboration capabilities, including video conferencing and screen sharing.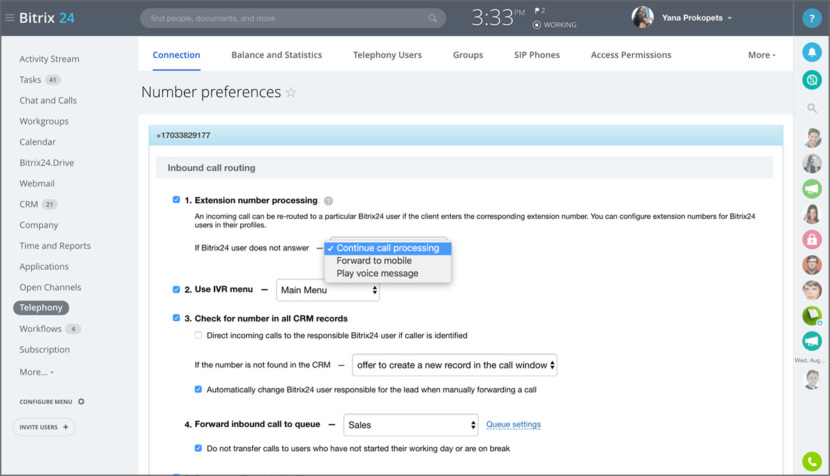 Bitrix24 is virtual PBX software created specifically for small business needs. If you use your phone to sell actively, receive orders, run a call center or offer customer support, this free cloud PBX will give you more tools than most paid competitors. Here's what you get.
Bitrix24 is a fully featured free virtual PBX that comes with greetings, voicemail, call queuing, ability to record phone calls and save them as mp3 files. It supports unlimited internal employee extensions, call waiting, ability to put callers on hold or transfer them to another agent. You can also forward calls to your mobile number automatically, if they don't get answered by your agents.
If you need virtual PBX to sell or manage existing clients via phone, you'll need a CRM system. Which is included in Bitrix24 free of charge! Importing calling lists or your current customer database takes only a minute. Bitrix24 supports both incoming and outbound calls to/from inside CRM, lets you see client info during call and add notes while you are talking.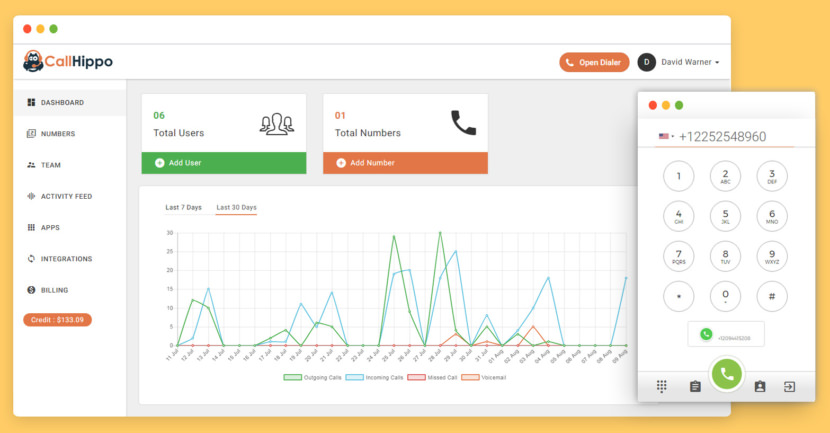 CallHippo is an on-demand Voice-over-Internet Protocol (VoIP) Service Provider. CallHippo allows startups and businesses to buy instant local support numbers from over 50+ countries around the world. With their easy to use interface and robust backend architecture any business can set up their call center within less than 3 minutes. CallHippo implements cloud computing into the world of telephony.
Get Local Phone Numbers – Get phone numbers in over 58 countries and look local to your customers.
CallHippo – Virtual Phone System
Team Collaboration (Manage Team) – Manage your calls, clients and teammates instantly. All in one place.
Call Recording – Record every call on each of your numbers to better monitor your performance as a team.
Call Analytics – Track your phone support performance. Measure the % of missed calls, call load of each teammate, etc.
Call Forwarding – Each user can choose to have calls forwarded to several phones, to remain reachable even on-the-go.
Ring All – All users associated with a number will receive a call at the same time, and any one of the users can start a conversation.
Voice Mail – Receive voicemails by email in your inbox. Play them directly from your email.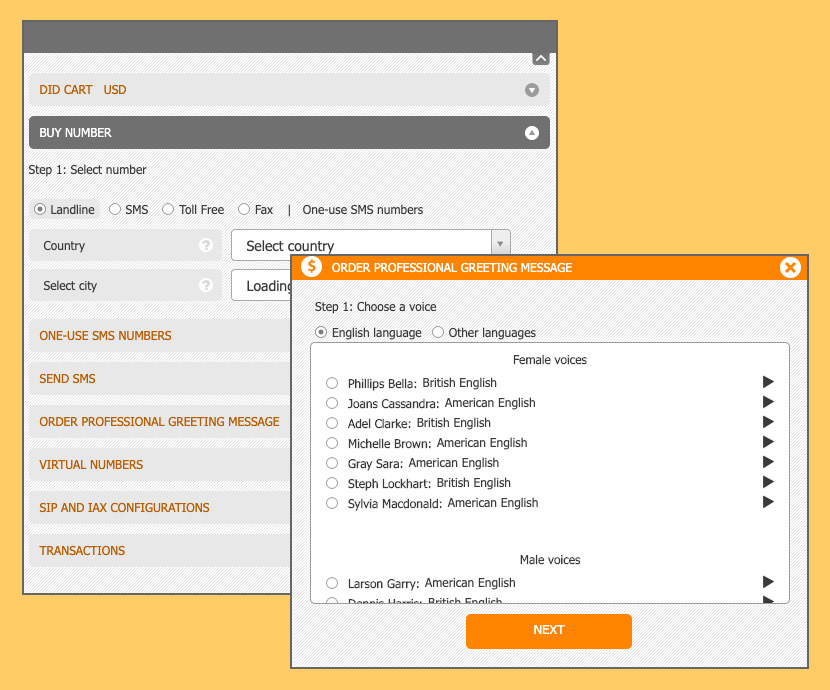 Cloud PBX gives you an opportunity to enjoy all benefits of an office PBX without limitations. The Virtual PBX service package includes the following features – Call forwarding to mobile and landline numbers of any country and to SIP devices (softphones and mobile apps) as well; Setting up complex routing schemes for incoming calls according to the client's scenario; and IVR electronic greeting and voice menu.
Record IVR greetings and IVR tree – Interactive voice messaging (IVR) is a message that a user hears when making a call to your company. For example: "Good morning, you called …. To contact …. Press 1 … " Both a client and HotTelecom can record this voice message. The service is provided in the following languages: Russian, English, French, Spanish.
PBX conference call – Simultaneous communication of three or more users.
Musical accompaniment of a call on hold.
Black and white lists of numbers (blacklist and whitelist). Filter contacts by their quality.
Conversation recording feature – All incoming calls to certain destinations will be recorded and sent in the form of audio files to the customer's email.
Conditional call forwarding – Consecutive or simultaneous redirection of calls to three or more directions. When specifying a consecutive call forwarding, an incoming call will be redirected to the next direction after a certain period of time. For example, after 15 seconds of the call.
Scheduled call forwarding – Set up a forwarding rule based on the time or day of the week. For example, from Monday to Friday after 19:00 p.m., a voice greeting sounds saying that the customer's order has been accepted and the manager will contact him during business hours.