Updated: May 25, 2017 / Home » Desktop Computer Software » Chat Messenger
UPDATE: the Gizmo offer expires, but fear not. How to get free Skype call credit and make unlimited free calls to mobile & land line phones? At the time of writing, Skype is offering an amazing call package where you get unlimited world wide calls worth $14 free for an entire month, meaning to say for $14 flat you get to make calls to both smartphones and landlines.
See Also ➤ Make Free VoIP Internet Phone Calls [ US ] Via Google Gmail Voice
One month of free unlimited¹ calls, worth €10.49.
Calls to mobiles in seven countries – Canada, Guam, Hong Kong S.A.R. China, Puerto Rico, Singapore, Thailand and United States.
Unlimited calls to landlines in over 40 countries – Argentina, Australia, Austria, Belgium, Chile, Croatia, Czech Republic, Denmark, Estonia, Finland, France, Germany, Greece, Hungary, Ireland, Israel, Italy, Japan, South Korea, Luxembourg, Malaysia, Netherlands, New Zealand, Norway, Poland, Portugal, Russia (Moscow and St. Petersburg only), Slovakia, Spain, Sweden, Switzerland, Taiwan, United Kingdom and Venezuela.
Call when you want, day and night, seven days a week.
No obligation — try it for a month and cancel at any time.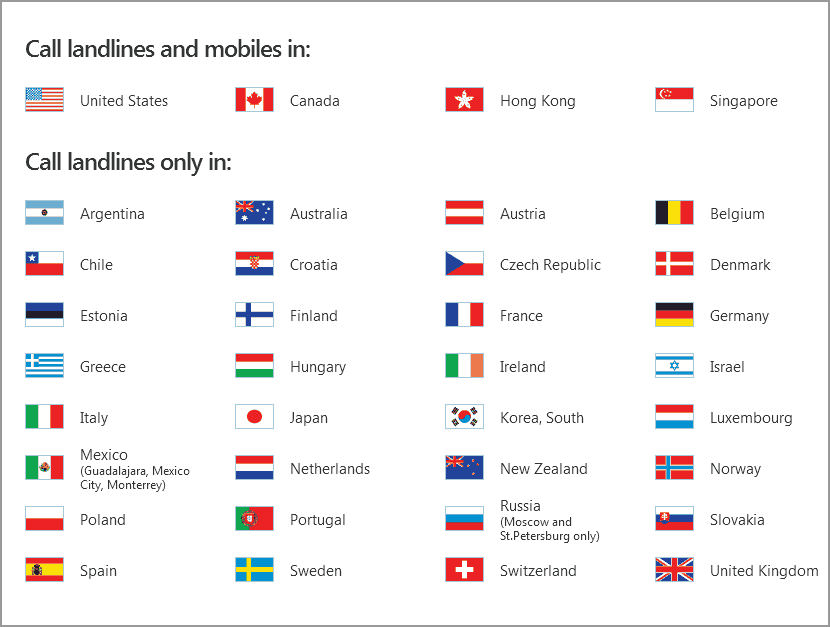 Call landlines and mobiles in:
United States
Canada
Hong Kong
Singapore
Call landlines only in:
Argentina
Australia
Austria
Belgium
Chile
Croatia
Czech Republic
Denmark
Estonia
Finland
France
Germany
Greece
Hungary
Ireland
Israel
Italy
Japan
Korea, South
Luxembourg
Mexico (Guadalajara, Mexico City, Monterrey)
Netherlands
New Zealand
Norway
Poland
Portugal
Russia (Moscow and St.Petersburg only)
Slovakia
Spain
Sweden
Switzerland
United Kingdom
Cheap calls to landlines and mobiles – the magic of Skype
Make cheap calls to friends and family anywhere in the world! International calling on Skype is avaialble for a fraction of the price of a standard call and mobile chat is also available.
Previous Article: Well, I wonder how true this can be. Gizmo call claims that you can make free calls to anywhere around the world, to any landlines or mobiles. Now let me see, could it be that you are indeed making free calls but your friend on the other end has to pay to pick up the call. Is it possible? Nothing is free so Skype is still my favorite program. If you happen to have any idea how that thing works, do drop a comment, I would love to know.