What is Paper Gold Investment? Unlike physical gold, investing in paper gold, also known as Gold IRA, is another way of investing in gold without holding the physical gold itself. What is the difference between Gold IRA vs physical gold? Gold IRA provides tax advantages and professional custodian assistance, while physical gold offers direct ownership and potential for higher returns.
🤣😍😂 5 Official PAMP & Perth Mint Retailers – Buy Real Physical Gold Bars
Not everyone wants to keep a physical gold bar in their house due to fear of theft or fire. Gold IRA comes with the tax-deductible or tax-deferred benefits of standard IRA accounts; They are also not taxed at the IRS' capital gains rate. However, some are skeptical on the existence of paper gold. In the event of a US dollar collapse, will you be able to withdraw your gold? Will the institution honor the gold you own? or will they be confiscated for the greater good?
Physical gold belongs to you and the government has no knowledge of it, there is no way the government can confiscate them. Without further ado, here are some Gold IRA for those predicting a collapse of the US dollar. My suggestion is to invest some in Gold IRA for the liquidity and tax benefit, and some in physical gold in the event that society collapse and gold becomes the next currency like the good old days.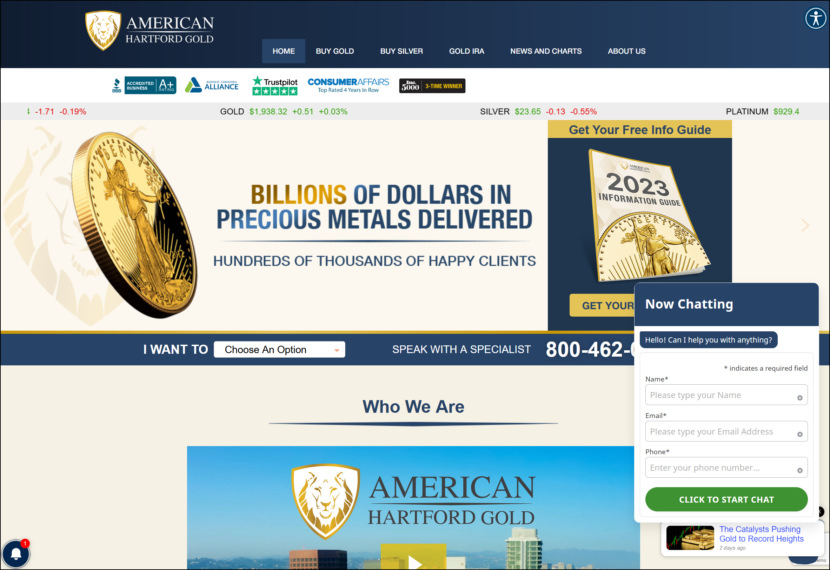 American Hartford Gold has built its reputation by helping individuals and families protect their wealth with precious metals. They've delivered over billions of dollars in Gold & Silver and have an A+ Rating with the BBB and hundreds of positive reviews.
American Hartford Gold is dedicated to helping individuals and families invest in precious metals. This includes Gold, Silver and Platinum in both bars and coins. They provide both physical delivery to one's doorstep or inside of a retirement account like an IRA, 401K or TSP. American Hartford Gold helps clients achieve greater security for their future by adding "safe haven" assets to their portfolio.
100% FREE IRA Rollover – FREE storage, maintenance & insurance for up to 3 years.
Buyback Commitment – Hassle free process to buy back your precious metals with no fees.
Free Shipping – We deliver physical gold and silver to your front door, registered and insured at no additional cost to you.
Minimum cash investment $5,000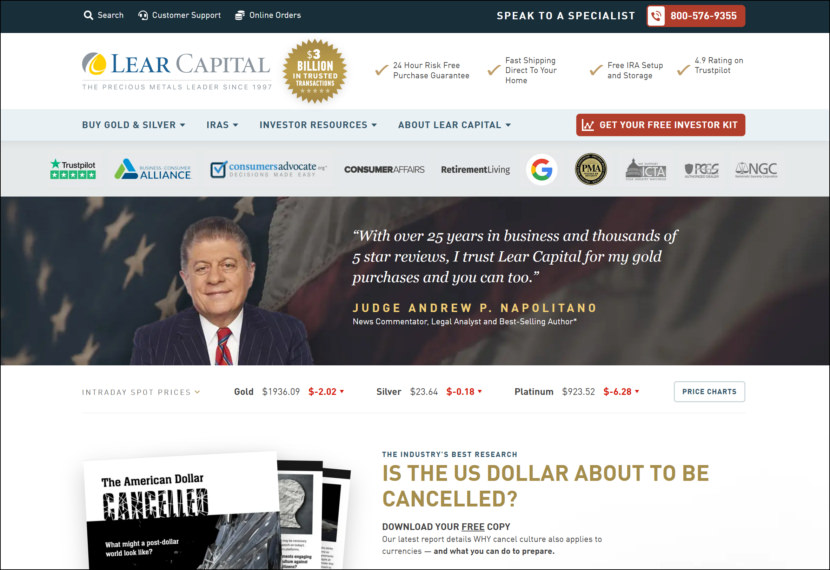 Whether inflation, war, disaster or bubbles, gold has been a top performer. And to make it even better, Lear offers all precious metals investors a 24-hour "Risk-Free Investor Pledge". They send you an invoice fully guaranteeing the price and quantity of your metals, if after reviewing it for 24 hours you decide it's not the best metals position for you, they release the purchase with no obligation from you to pay.
Since 1997, Lear Capital has helped individuals diversify into physical gold and silver. With more than 90,145 customers, they've earned a AAA rating from the Business Consumer Alliance, and are a top-rated precious metals IRA dealer. Lear has unparalleled expertise in the precious metals industry.
With the Lear Advantage IRA, you get a Self Directed IRA backed by the fortifying power of physical precious metals including Gold, Silver and Platinum Metals. In addition, you will also get the following:
Free IRA Set-up and Storage
Free Gold & Silver Guides
Price Match Guarantee
24-Hour Risk-Free Purchase Guarantee
Real-Time Metals Pricing
Free Evaluation on Metals From Others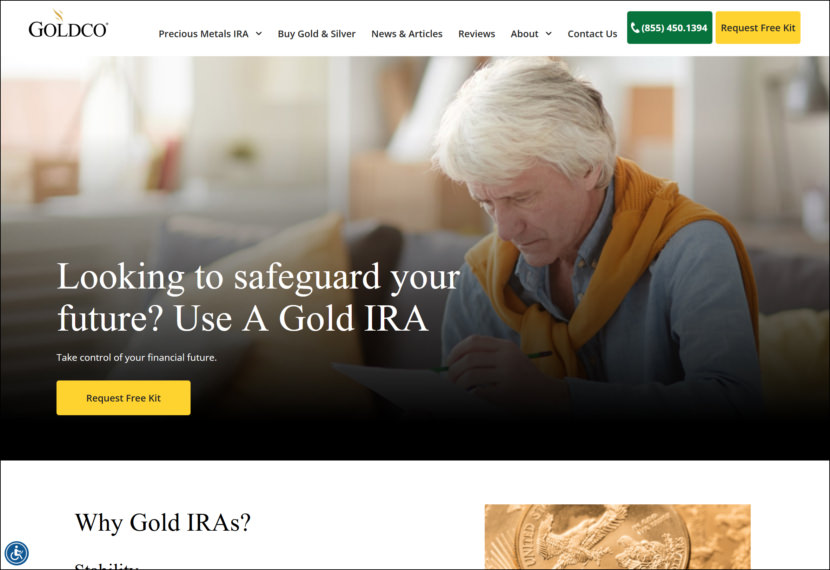 Goldco's mission is to provide individuals with solutions to protect their wealth. Whether you want to invest in gold, silver, or other precious metals, Goldco will help you each step of the way. Our products and services can offer you the peace of mind that comes from knowing that your hard-earned assets are securely invested in precious metals.
Goldco offers almost every precious metal product available, and when it's time, they'll even buy back your precious metals at the highest price, with our Goldco Highest BuyBack Guarantee. With established relationships with mints around the world such as New Zealand Mint, The Perth Mint, Royal Dutch Mint, Royal Canadian Mint, US Mint, Goldco, East India Company of London, and Royal Mint. They can help you find exactly what precious metals products you're looking for.
Gold Wright Flyer
Gold Washington Monument
Gold Australian Sea Turtle
Gold Independence Hall
Gold American Bald Eagle
Gold Phoenix
Gold Liberty
Gold Valor
Gold Australian Striped Marlin
Gold Freedom
Gold Freedom & Hope
Gold Lucky Dragon
Gold Australian Saltwater Crocodile
Gold British Lunar Series
Gold Maple Leaf
Gold Military Guinea
American Gold Buffalo
Gold American Eagle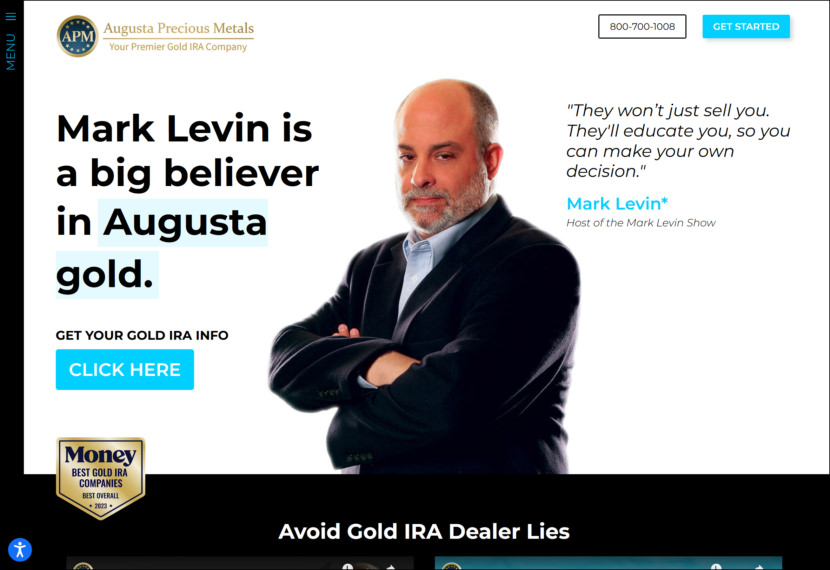 When you choose Augusta, you get much more than precious metals products and services. You gain access to our entire team of gold and silver professionals for the life of your account. Augusta helps interested investors diversify retirement savings with a precious metals IRA.
At Augusta Precious Metals, the precious metals professionals in our education department are led by an on-staff Harvard-trained economic analyst. They show investors how an Augusta Precious Metals IRA can add diversity to their savings and how these assets have been a stable hedge during times of economic transition.
You can choose a depository convenient for you from several locations in U.S. cities. At the time of this writing, storage facilities are available in Los Angeles, CA; Salt Lake City, UT; Nampa, ID; Las Vegas, NV; Shiner, TX; Dallas, TX; South Fargo, ND; Wilmington, DE, Bridgewater, MA; New Castle, DE; and New York, NY. Please ask us for a current list.
When considering precious metals, savers typically think of gold. Many overlook silver, believing it doesn't offer as much value. However, silver has outperformed gold during certain precious metals bull markets sparked by some of the worst economies in history.
American Silver Eagle
Canadian Silver Maple Leaf
Austrian Philharmonic Silver
Silver Round
America The Beautiful Cumberland Gap
America The Beautiful Fort Moultrie
America The Beautiful Effigy Mounds
Canadian Silver Blessings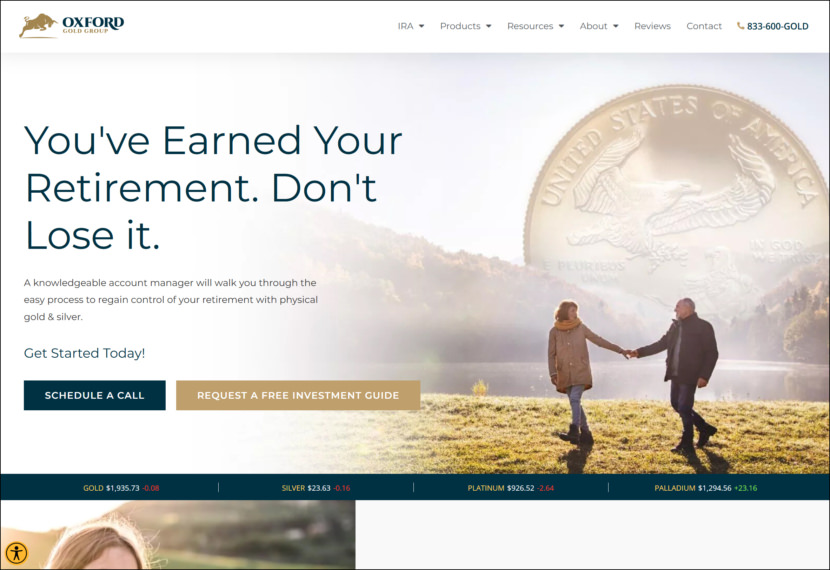 Oxford Gold Is the top-rated precious metals company in America, with the most knowledgeable advisors in the industry. They will walk you through our easy process to regain control of your retirement with physical gold & silver.
At the Oxford Gold Group, they believe that everyone should have the ability to enjoy retirement and feel confident in their investment decisions. With their Precious Metals Investment Guide, you'll learn everything you need to know about investing in precious metals.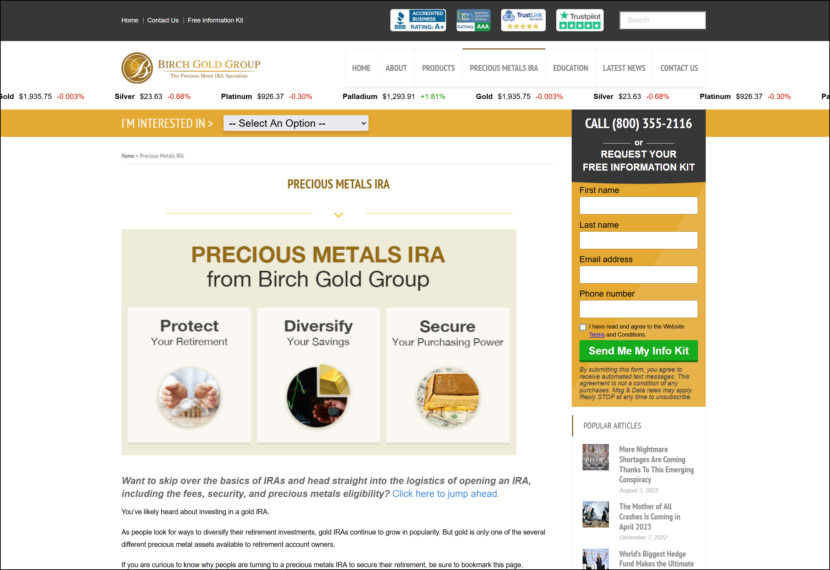 The precious metals eligible for placement within an IRA, such as a gold Roth IRA or similar IRA, have proven track records over thousands of years. These are the metals that transcend government influence — they are tangible and cannot be printed like paper money or stored as a number on a computer file.
What are the benefits of placing precious metals in an IRA? Investing in precious metals can be a great way to diversify your savings. By placing precious metals in a precious metals IRA, you can also enjoy unique benefits, including:
Diversify your retirement savings — This is worth repeating: don't put all your eggs in one basket. Diversification will help to safeguard your savings.
Limited supplies could result in future gains — Precious metals are finite; that's what makes them precious. And as silver and gold continue to be used in medical and industrial sectors, there will be sustained demand for them.
Secure your purchasing power — Longtime investors in gold and silver have seen their holdings maintain their purchasing power. As the U.S. dollar declines, the value of precious metals usually goes up.
Hedge against inflation: The value of precious metals isn't dependent on government policies, which means metals like gold and silver tend to hold value better and protect you from inflation. Precious metals have intrinsic value, meaning their price is based as much on their inherent utility as on their popularity.
Tax benefits: Placing your precious metals in a precious metals IRA can offer unique tax benefits, depending on the type of IRA. Traditional precious metal IRAs offer tax-deferred growth, while Roth precious metal IRAs offer tax-free growth.
Converting to a precious metals IRA is simple — Jumping through a bunch of hoops is not required. All it takes is an eligible 401(k) or an IRA (or other less common retirement accounts) to easily transfer to an IRA backed by gold, silver or other precious metal assets.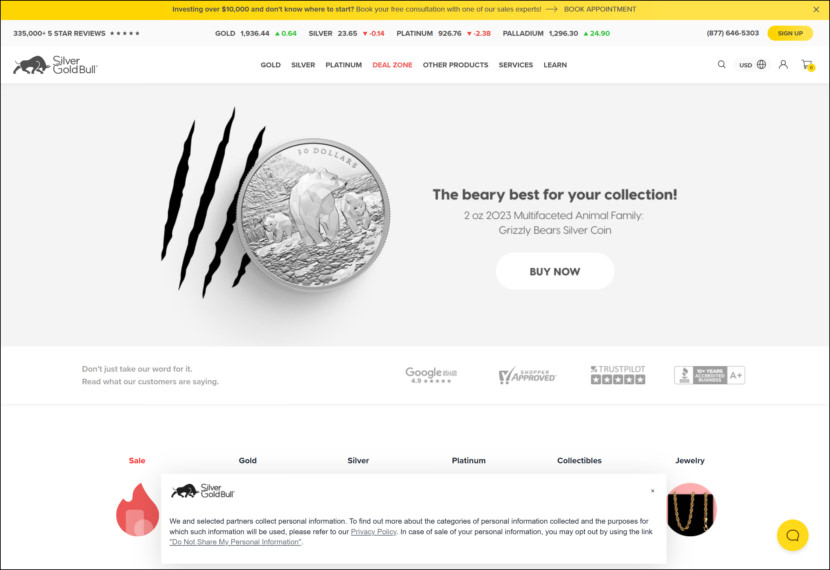 Gold is forever. It is beautiful, useful, and never wears out. Small wonder that gold has been prized over all else, in all ages, as a store of value that will survive the travails of life and the ravages of time. Any bullion produced by an LBMA or COMEX-approved mint is eligible to be held in your precious metals IRA. This includes gold, silver, platinum, and palladium.
Metals purchased within an IRA must be delivered to a registered & approved storage facility. Popular storage options include Brink's Salt Lake City & The Delaware Depository. Metals held within your IRA are held in fully insured storage vaults across the USA. You can choose your storage location when you open your IRA account with the custodian.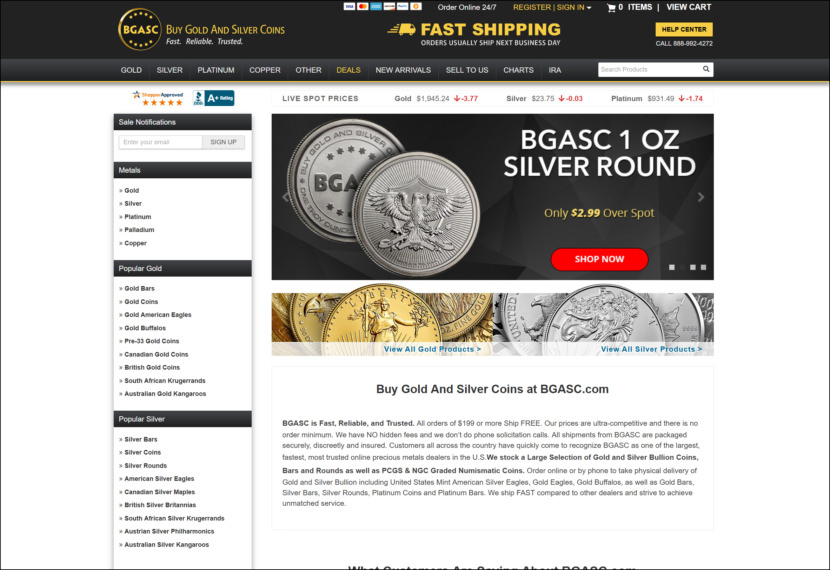 BGASC is Fast, Reliable, and Trusted. All orders of $199 or more Ship FREE. Their prices are ultra-competitive and there is no order minimum. They have NO hidden fees and we don't do phone solicitation calls. All shipments from BGASC are packaged securely, discreetly and insured.
Customers all across the country have quickly come to recognize BGASC as one of the largest, fastest, most trusted online precious metals dealers in the U.S.We stock a Large Selection of Gold and Silver Bullion Coins, Bars and Rounds as well as PCGS & NGC Graded Numismatic Coins.
Order online or by phone to take physical delivery of Gold and Silver Bullion including United States Mint American Silver Eagles, Gold Eagles, Gold Buffalos, as well as Gold Bars, Silver Bars, Silver Rounds, Platinum Coins and Platinum Bars. They ship FAST compared to other dealers and strive to achieve unmatched service.
They can offer you the same essential precious metals products we sell all over the country – directly. You get to avoid high prices and deal with people who've been in business for nearly 100 years combined. A Precious Metals IRA is an Individual Retirement Account that consists of gold, silver, and platinum rather than stocks, bonds, and other funds.
BullionMax has a current minimum order requirement of $299 for IRA purchases, but there is no maximum amount that a customer can purchase for their IRA investment. Keep in mind, however, that annual contributions beyond the maximum allowable will not receive IRA tax benefits.
Real vs. paper assets. With precious metals IRAs, you actually own the metals kept by your custodian. With an ETF, you are not able to take physical possession of the metals, which are considered a paper security, unless you own more than $100,000 worth of the funds' shares. The money you have invested in an ETF can be lost if that ETF were to be valued at zero and your investment would be gone. Through the BullionMax IRA program, you are able to physically take possession of your precious metals and you own something that has never been worth zero. There are various gold bullion bars available. Examples include:
Credit Suisse Gold Bars
PAMP Suisse Fortuna Gold Bars
Sunshine Mint Gold Bars
RMC Gold Bars
Valcambi Gold Bars
Perth Mint Gold Bars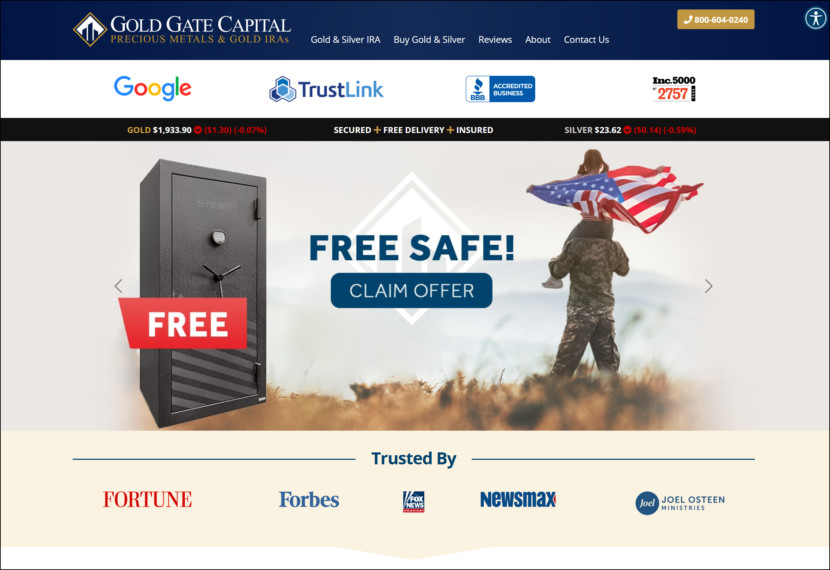 At Gold Gate Capital, they want to make it simple for you to enjoy the advantages of physical gold or silver ownership. Owning precious metals could be a significant component of your entire retirement savings plan. President Ronald Reagan once famously said, "Inflation is as violent as a mugger, as frightening as an armed robber, and as deadly as a hitman." It was his way of bringing home the devastating impact rising inflation can have on you and your family.
The good news is, gold and silver are classic inflation hedges that hold their value during inflationary times and can even provide substantial profits. While gold and silver bullion are great choices for your Precious Metals IRA, you can also include gold and silver coins if you prefer.
American Gold Eagle – With an iconic design and 1 oz of U.S. Gold, the American Gold Eagle combines the best aspects of collectibility and bullion investment appeal, which has made it America's preferred Gold coin.
Silver American Eagle – With 1 oz of pure U.S. Silver and a beautiful patriotic design, the Silver American Eagle has become the most popular bullion coin in the United States.
Gold Canadian Maple Leaf – Canadian Gold Maple Leafs are considered to be one of the most beautiful Gold coins in the world. Since its release in 1979, the 1 oz Gold Maple Leaf has appealed to both investors and collectors alike for its beauty and purity.
Silver Austrian Silver Philharmonic – The Silver Philharmonic is the only annually minted Silver Bullion coin denominated in euros. These Silver coins are rapidly gaining worldwide popularity with their .999 purity and beautiful design featuring instruments of the Vienna Philharmonic.
Gold Rose Crown Shield – The Gold Rose Crown Shield is a quarter-ounce gold coin in brilliant uncirculated condition. It's one of the world's most respected gold coinages in history carrying with it a reputation of trust and purity.
Silver Rose Crown Shield – The Rose Crown Shield 1.25 ounce silver coin in Brilliant Uncirculated Coin. It's one of the world's most respected gold coinages in history carrying with it a reputation of trust and purity.