Should you buy an iPad tablet for your toddler? As a person from the tech industry, personally I hate the iPad, nothing personal, but when compared to a laptop or desktop, a tablet is nothing but a consuming device. What I meant by that is you literally cannot do much on an iPad other than to consume, be it movies or games. Yes, some productivity tools do exist but it is limited.
🤣😍😂 5 Free Android Game Booster Apps – Faster & Smoother Games
A laptop or desktop on the other hand was build from the ground up to 'create'. When a child grows up using an iPad or any tablet, he or she will know nothing but consuming medias. I remember growing up as a kid exploring the computer, opening up and looking at the motherboard and rams, swapping hard disks. Tinkering with Windows to make it 'faster', tweaking files to cheat on games. With a tablet, gone are the days or exploring, experimenting, breaking things, it is just nothing but touching and consuming.
This is why buying your child a cheap used 2nd hand laptop makes more sense. Even a Google Chromebook makes more sense. Yes, many games are not available on Chromebook platform, but if you start him early on a laptop, he will get used to the laptop, keyboard and mouse layout instead of a touch based tablet format. This is where html5 basic games comes in handy for these old and slow dell, asus, hp, acer, lenovo, MSI, samsung, Sony laptops, who knows, they might eventually stumble onto the world of coding.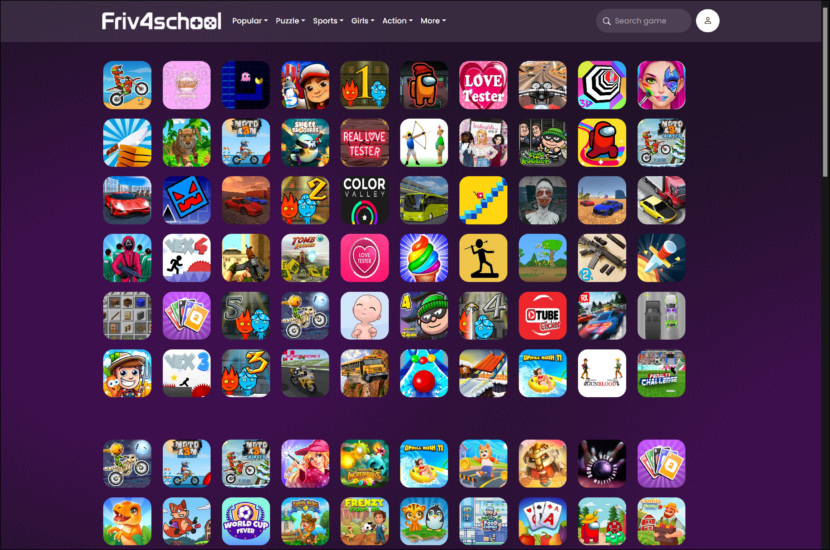 Friv4school is an online friv game for school students and is designed to be entertaining and fun. It is fun and can even be rewarding as they help develop critical reading, writing, logic, linguistics, math, and other skills while playing online. They have collected thousands of the best friv4school games for both pc and mobile devices.
What type of games does Friv4school have? Car games, Creative games, Girl's games, Fireboy and Watergirl, Shooting games, Stories, and more. They have games available for all ages and we have made sure only to keep games that are fun and easy to play, that way you can enjoy them longer without stress. The more you play friv4school games, the more skills and knowledge you can develop. The possibilities are endless! Play games on your school free wifi where steam console is blocked, just to kill time.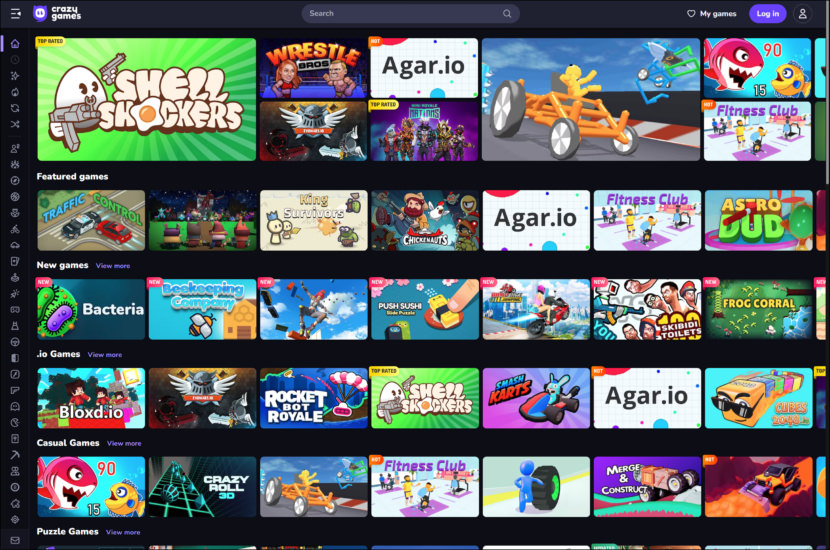 CrazyGames features the latest and best free online games. You can enjoy playing fun games without interruptions from downloads, intrusive ads, or pop-ups. Just load up your favorite games instantly in your web browser and enjoy the experience.
You can play our games on desktop mobile devices. That includes everything from desktop PCs, laptops, and Chromebooks, to the latest smartphones and tablets from Apple and Android.
You'll find the main categories like clicker, driving games, and shooting games at the top of any page, but there's also a range of subcategories that will help you find the perfect game. Popular tags include car games, Minecraft, Fireboy and Watergirl, 2-player games, horror, and mahjong. CrazyGames has over 7000 fun games in every genre you can imagine. Some of our most popular games are:
Shell Shockers
Bullet Force
Uno Online
Drift Hunters
Moto X3M
Smash Karts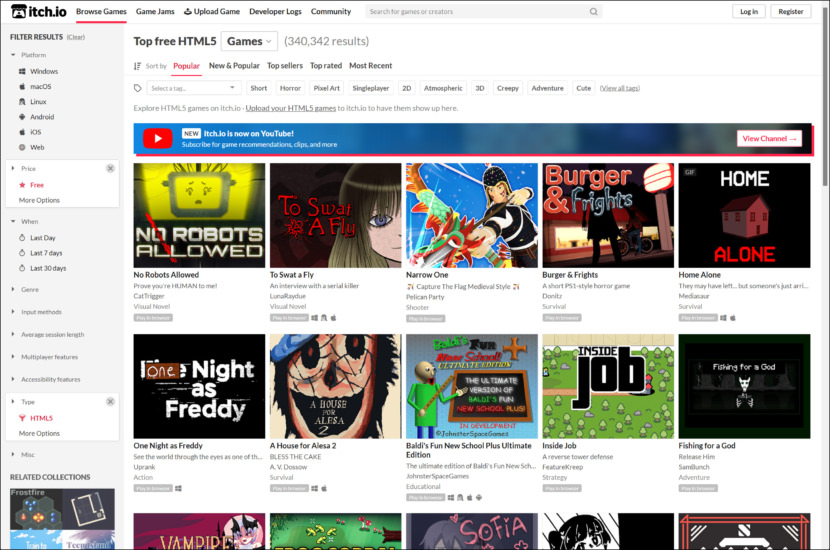 itch.io is an open marketplace for independent digital creators with a focus on independent video games. It's a platform that enables anyone to sell the content they've created. As a seller you're in charge of how it's done: you set the price, you run sales, and you design your pages. It's never necessary to get votes, likes, or follows to get your content approved, and you can make changes to how you distribute your work as frequently as you like.
itch.io gives creators the tools to make smart choices about how they distribute their content. Creators have access to detailed analytics and about how people discover, download, or play what they've created. Our creator dashboard gives easy access to data about what uploads resonate the most or what links drive the most attention.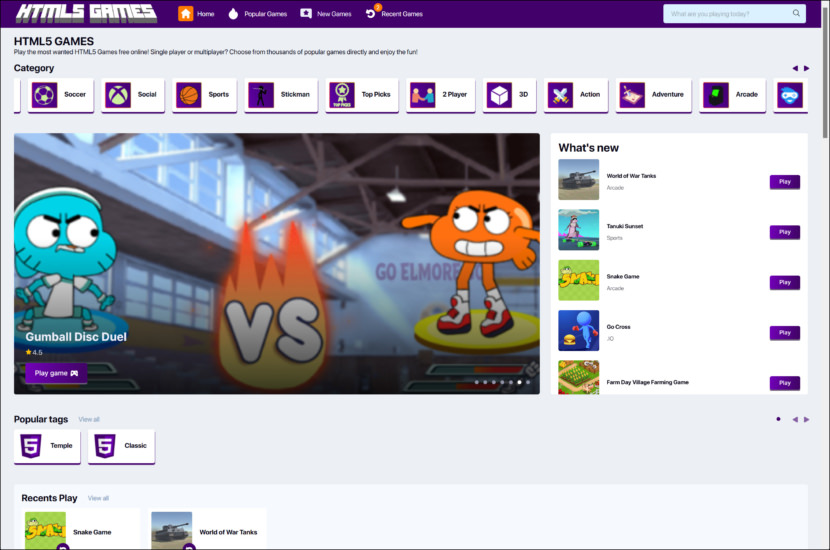 Play the most wanted HTML5 Games free online! Single player or multiplayer? Choose from thousands of popular games directly and enjoy the fun! Choose from thousands of popular games directly in your browser and enjoy the fun! You can enjoy the most-played games in your browser, no downloads required!
Join their community! Single player or multiplayer? That's your choice! You can play HTML5 games every time. Relax with simple jigsaw puzzles like Wordscape or take part in a shooting battle in Funny Shooter 2! Check out some of our most popular games. Play best html5 games unblocked only on our site, we add only crazy games every day for you and for your friends which you can play at school full unlocked and spent an awesome time here.
Jetpack Joyride
Geo Dash 2
Drift Hunters
Parkour Block 3D
Basketball Stars
Moto X3M Pool Party
Impossible Car Stunt
Fireboy and Watergirl
Vex 5
Penalty Kick Online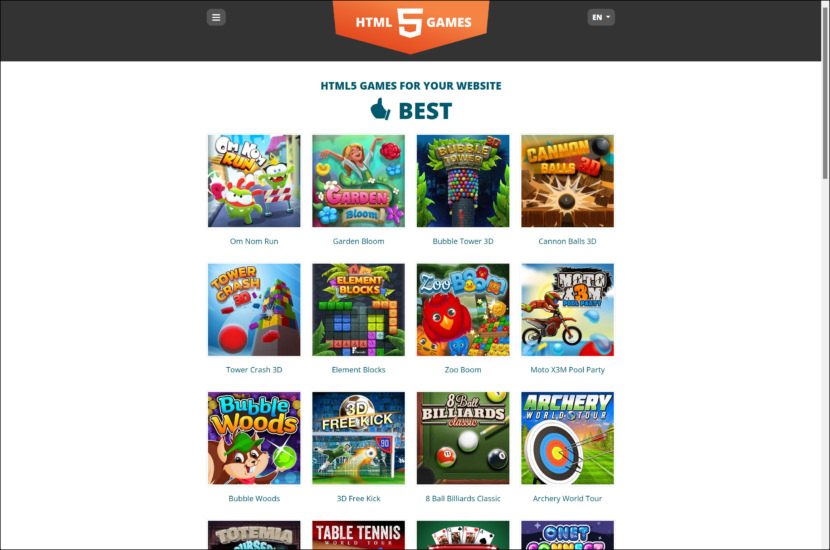 Html5games.com is the definitive source for free games to be played in your mobile or stationary browser. With HTML5 you no longer have to chose between games you can only play either on your PC or on your mobile phone or tablet. Their games are cross-platform, which means you can play on any device you like, wherever you are and whenever you want. They feature only the best games available on the market, 100 percent free and tested by their dedicated content team.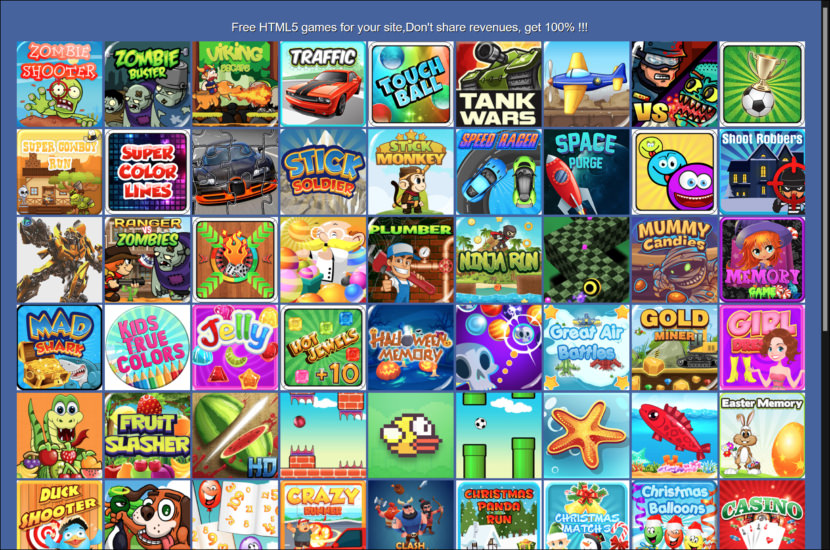 Free HTML5 games is a site where you get to play or embed games onto your own site. They are ad-free games organization, and if you also support ad-free games, you can upload and publish your own games without ads. The downside is they have limited games, but enough games to keep your young child entertained for hours such as snake, fruit ninja, sonic, mario brothers, diamond rush, and more.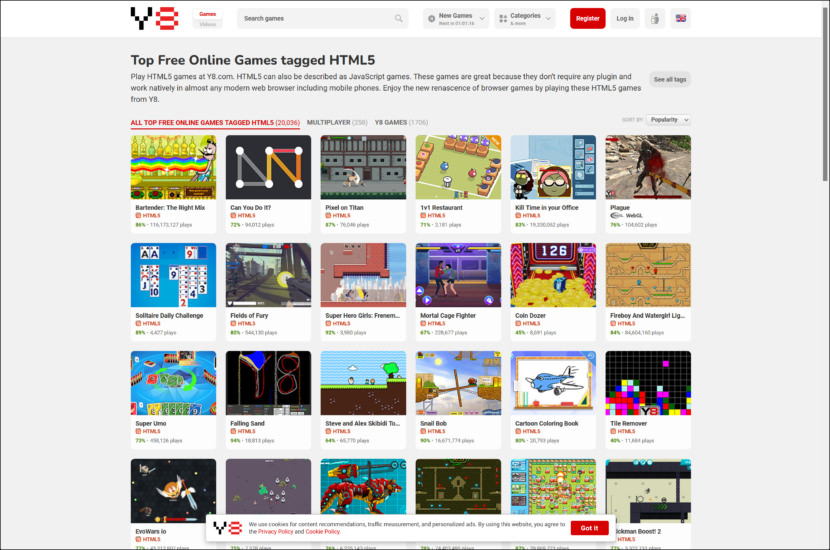 Play HTML5 games at Y8.com. HTML5 can also be described as JavaScript games. These games are great because they don't require any plugin and work natively in almost any modern web browser including mobile phones. Enjoy the new renascence of browser games by playing these HTML5 games from Y8.
The early DHTML games were very simple. Some examples of the games back then were Tic-Tac-Toe and Snake. As games made with this technology use the open standard of HTML5, these relatively ancient games are still playable today in a modern web browser.
These technologies have moved to the forefront of browser games because they don't require plugins and are safer to play than older technologies. HTML5 games also support mobile devices and the capability has improved to support complex 2D and 3D games right in a browser. Recommended HTML5 Games
8 Ball Pool
Box Tower
My Cute Dog Bathing
Food Tycoon
Angry Bird Online
Bomberman Online
Plants and Zombie Online
Imposter Online
Snake and ladder
They have thousands of online games that you can play in single or multiplayer mode. They also work on your favorite mobile devices. Try them out on a laptop, a smartphone, or a tablet. There's something here for players of all ages so, no matter how old you are, you'll find something fun to play!
No Downloads, No Subscriptions – Just Click and Play! You can dive straight into the excitement of your favorite titles without any downloads or subscriptions. All you need to do is just click on a game to begin playing it! Start with games created by us, which include: Fireboy and Watergirl, Troll Face Quest, Uphill Rush, and Bob the Robber. They also have other popular titles like: Scary Maze, Ludo Legend, Shell Shockers, The Impossible Quiz, and many more!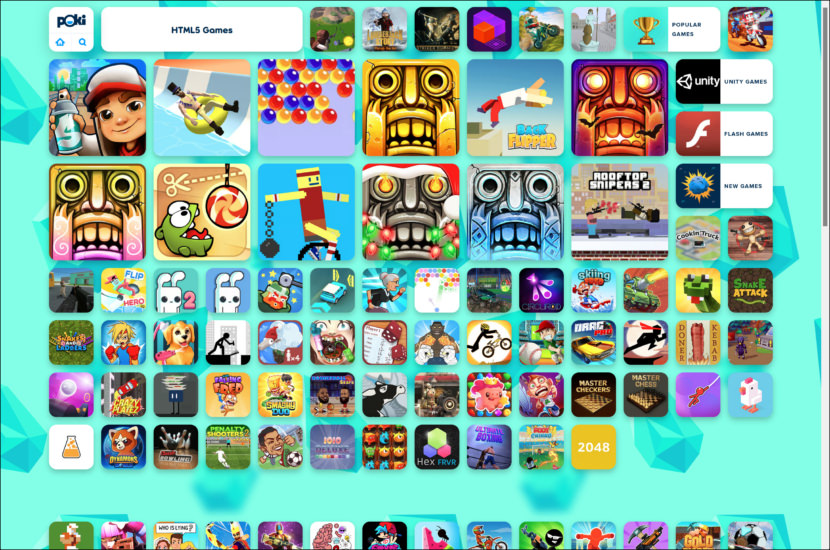 Their HTML5 games are playable on all devices! You can enjoy a relaxing puzzle, play cards, or compete in arcade competitions on your tablet, mobile phone, and desktop computer. We have totally free Mahjong titles, Sudoku challenges, and variations of solitaire. Try a bubble shooter game on your iPhone, or match colored tiles on your Android tablet. All genres are available on all devices!
Have fun with famous game series like Sir Coins-a-Lot, Andy's Golf, and Slacking! Each of our HTML5 games is cross-device playable for entertainment at home, with friends, or while traveling. Immerse yourself in the action in mere seconds, and don't stop until you set a high score! You can share your progress with friends, and even compete with them instantly!
What are the best free HTML5 Games online?
Aqua Thrills
Backflipper
Tingly Bubble Shooter
Temple Run 2
Temple Run 2: Frozen Festival
Temple Run 2: Spooky Summit
Temple Run 2: Holi Festival
Temple Run 2: Frozen Shadows
Rooftop Snipers 2
Archer Master 3D: Castle Defense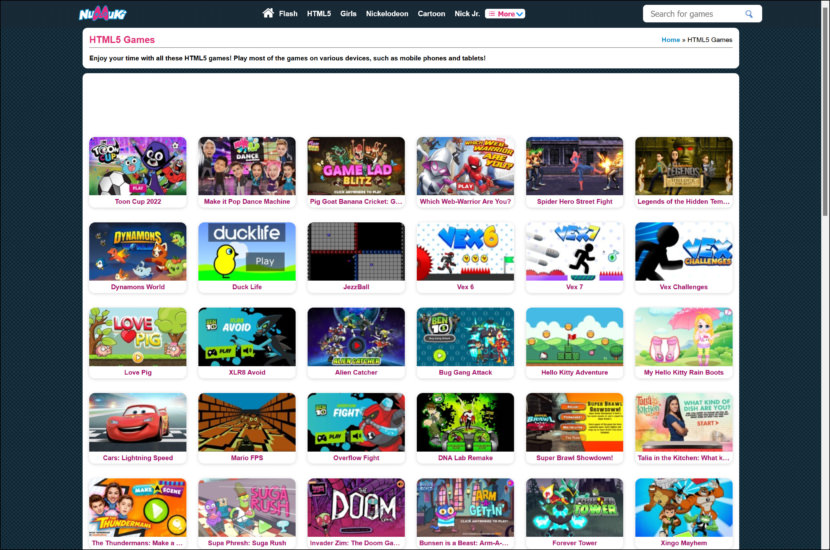 Enjoy your time with all these HTML5 games! Play most of the games on various devices, such as mobile phones and tablets! For instance, one quite a popular game suitable for all ages is Disney: Drop Zone. You have to choose a Disney show and start making combos of at least three items, then watch them pop. Fill up the star meter to activate more minigames!
If you are a fan of adventure games, then you might try one such as Gravity Falls: Take Back the Falls game. Dipper and Mabel's city is in danger! Move around and kick enemies until you manage to defeat all the evil mutant minions! Another great action game is Ben 10: Power Surge. Play the game and help Ben 10 and his aliens with his attempt to get his uncles RV, Rustbucket, back from the villain Billy Billions! Following the same trend, you might also want to try Teen Titans Go: Tower Lockdown game.
For all Disney TV Series followers, such as Sofia the First or Doc McStuffins, there's something for you too! Play A Day at Royal Prep game and get to study Enchanted Science, Enchanted Art and other magical subjects along with Sofia the First and her friends! Or play Doc's World Game and find out all you need to know about founding your clinic for toys and stuffed animals!
Just rely on Dottie's experience! If you are a fan of Descendants, then you should play Isle of the Lost Rush game. Run at high speed while avoiding all the obstacles! Complete the tasks in each level and don't forget to collect the coins! The most popular HTML5 Games are:
Create your own Web Warrior
Hello Kitty: Restaurant
Good Hair Day
Ninjago Skybound
Disney Junior Puzzles
Jessie: Smarte Couture
Nick Jr.: Sticker Pictures
Nick Jr.: Music Maker
Hello Kitty: Xmas Dinner
Ultimate Hero Clash 2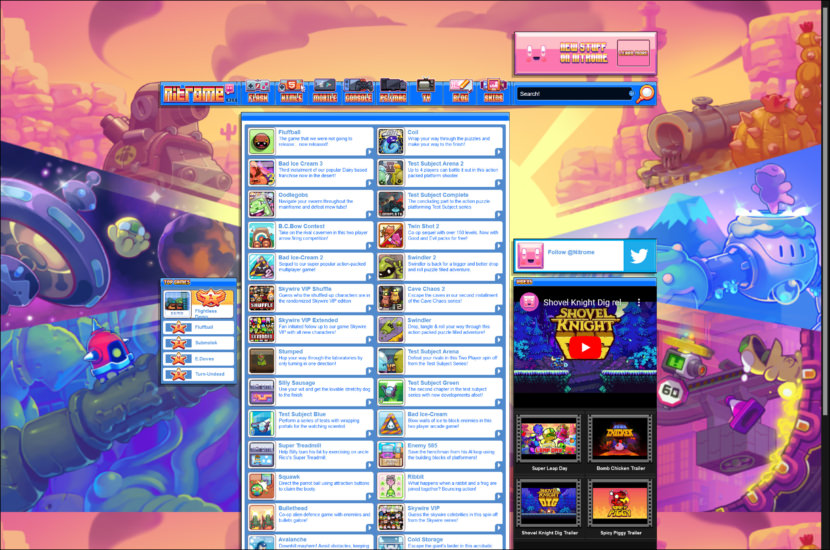 The games being in HTML5 brings some additional benefits. More ideas may be added over time but added today is the ability to play these games on mobile browsers! Please note: You may require a newish phone for the games to run full speed and there are some limitations from the games not being designed with mobile in mind.
That said we think the results were well beyond our expectations. We worked closely with Poki to design virtual control overlays that can be configured on a per game basis. Need more than one button check, d-pad or analogue stick check. Time to talk a little more about the HTML5 versions. They are not ports! The games are running off the exact code of the original games pulled directly from the original flash files.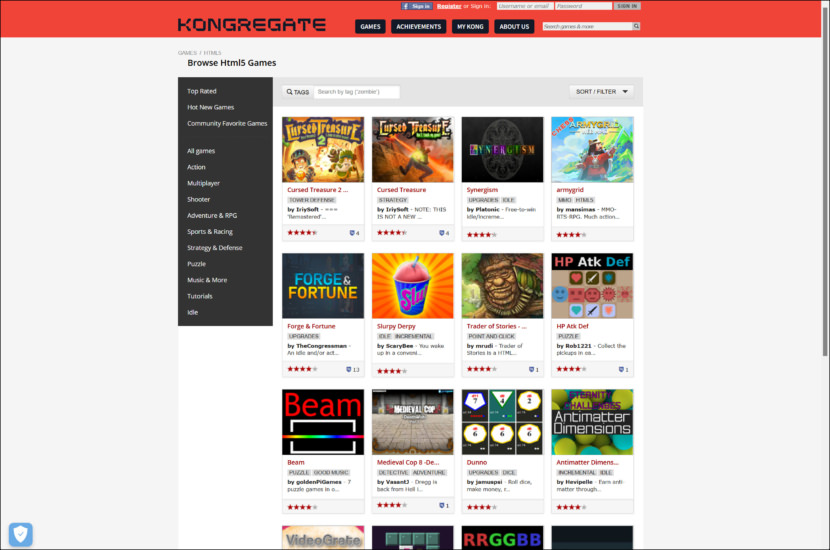 Kongregate is home for everyone. They are a pioneering web platform and game developer with a community-driven spirit focused on bringing fun to the world. Kongregate was founded as a web gaming destination, bringing millions of creators and players from across the globe together, and grew to include developing our own games across platforms. Some of our top games include the uber popular collectible card game Animation Throwdown, battle royale shooter Surviv.io, & retro rpg Bit Heroes!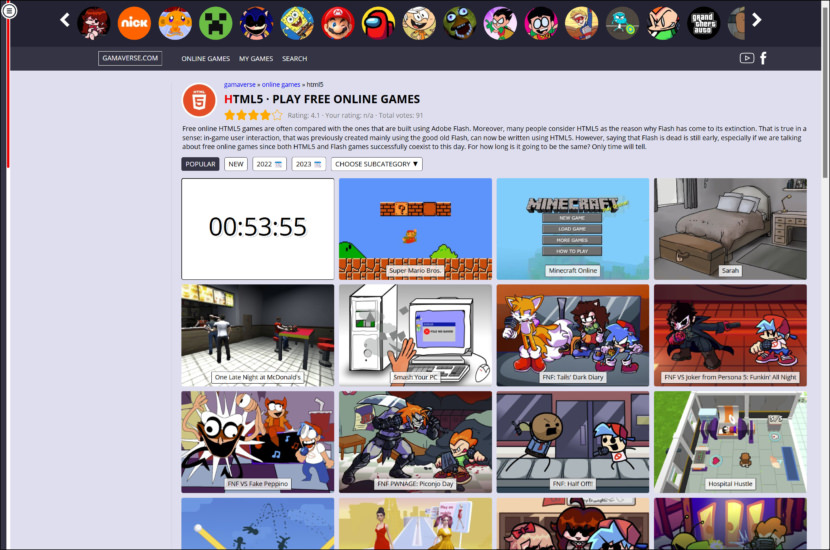 Free online HTML5 games are often compared with the ones that are built using Adobe Flash. Moreover, many people consider HTML5 as the reason why Flash has come to its extinction. That is true in a sense: in-game user interaction, that was previously created mainly using the good old Flash, can now be written using HTML5.
There are tons of free online games out there on the Internet, so what's so special about gamaverse.com? Well, just like you, they are avid gamers ourselves, which means that they love playing free online games without downloading and installing them. Each game you'll find here had been played by them before it was added to their library because the quality is their top priority when it comes to selecting games. So look no further, take a comfy seat, grab a cup of tea and dive into the endless world of free online games!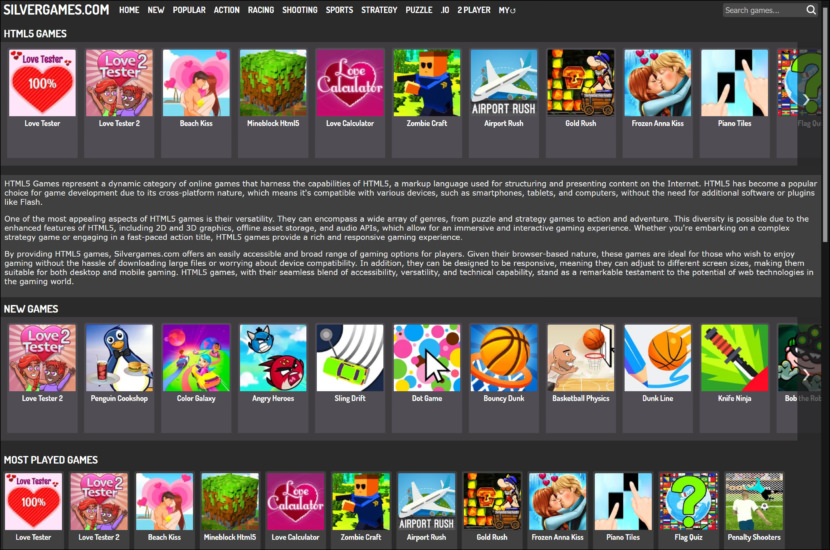 HTML5 Games represent a dynamic category of online games that harness the capabilities of HTML5, a markup language used for structuring and presenting content on the Internet. HTML5 has become a popular choice for game development due to its cross-platform nature, which means it's compatible with various devices, such as smartphones, tablets, and computers, without the need for additional software or plugins like Flash.
One of the most appealing aspects of HTML5 games is their versatility. They can encompass a wide array of genres, from puzzle and strategy games to action and adventure. This diversity is possible due to the enhanced features of HTML5, including 2D and 3D graphics, offline asset storage, and audio APIs, which allow for an immersive and interactive gaming experience. Whether you're embarking on a complex strategy game or engaging in a fast-paced action title, HTML5 games provide a rich and responsive gaming experience.
By providing HTML5 games, Silvergames.com offers an easily accessible and broad range of gaming options for players. Given their browser-based nature, these games are ideal for those who wish to enjoy gaming without the hassle of downloading large files or worrying about device compatibility.
In addition, they can be designed to be responsive, meaning they can adjust to different screen sizes, making them suitable for both desktop and mobile gaming. HTML5 games, with their seamless blend of accessibility, versatility, and technical capability, stand as a remarkable testament to the potential of web technologies in the gaming world.
Crazy 2048 Balls
World's Biggest Pac-Man
Onslaught! Arena
Biolab Disaster
CrossCode
Nintendo Super Treasure Arena
Gods Will Be Watching
Cookie Clicker
BrowserQuest