Some forum doens't allow their use to upload photos, maybe this is because they can't monitor all of the images uploaded to their server or to save cost. This is where these temporary image file sharing services come into handy. They allows you to upload photos and more often than not, they will delete it after a certain period or when it received no access.
🤣😍😂 12 Free Encrypted & Decentralized Messenger For iOS And Android
Anyway, most of these image file sharing sites provides you with a permanent link for sharing the image, ideal for uploading and sharing images with strangers. Do note that these are not anonymous services, your IP is tracked and do not upload illegal images as they will report you to the FBI and local authorities.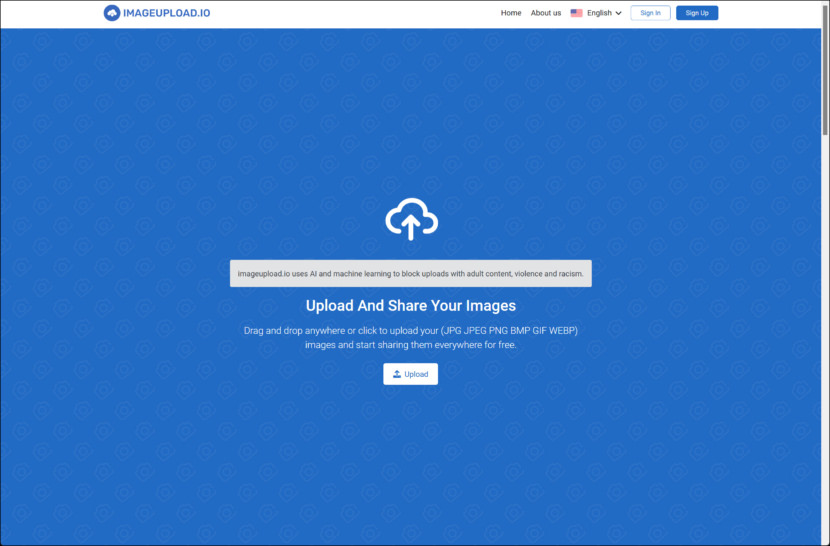 imageupload.io is an online storage website that offering an easy solution for managing and sharing your digital content. We provide premium features such as "One Time Links" and "Multi Uploads" for free to everyone. Drag the image files into the box to upload images or select them by clicking on the box. You can upload many images with a single upload. You can share all images as a gallery with your friends.
Privacy – Password protect your uploaded images and give access to certain people only, full privacy for your images. All password protected images are secured with a private tunnel.
Duration – Set the duration of the uploaded images from 1 hour to unlimited. You can easily decide when they will expire. You don't need an account to upload images for unlimited duration.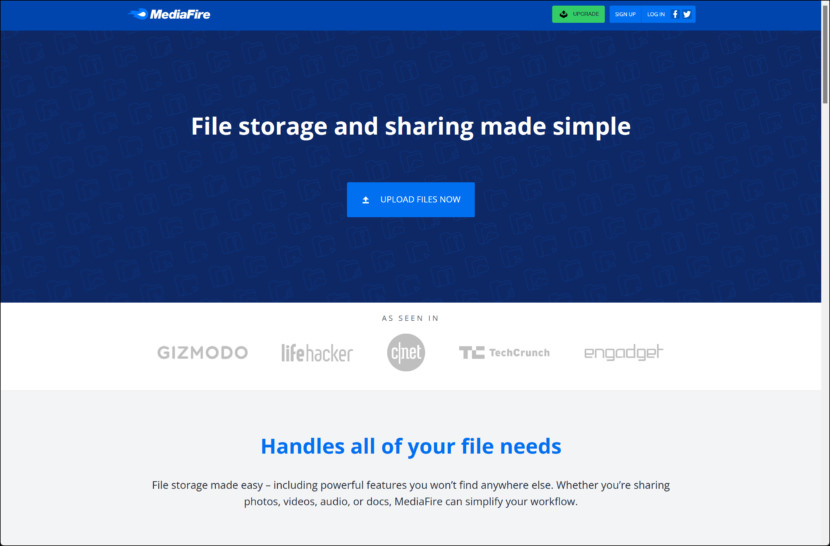 File storage made easy – including powerful features you won't find anywhere else. Whether you're sharing photos, videos, audio, or docs, MediaFire can simplify your workflow. Upload, download, view, and organize your files with ease and simplicity using MediaFire for Android, BlackBerry, Windows, iPhone, or iPad. Whether it's your music collection, home videos, your resume, or your important work docs, have them in your pocket whenever you need them.
Share – Share through email, link, or social network. Unlimited ad-supported downloads with no wait times.
Collaborate – Store and share any file type. Share folders of project files. Easily email large files.
Store – 10GB for free. Up to 50GB free with bonuses. Store all your photos, audio, and videos.
Access – Always have your important files with you. Never forget your work at home. View, manage, and share from anywhere.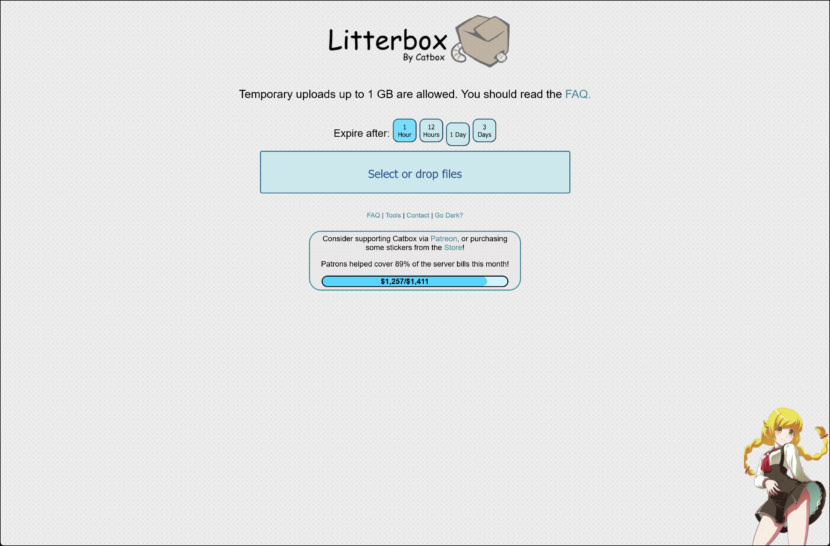 Temporary file storage, so you don't have to waste my disk space, or if you just want to upload something anonymously but have it deleted after a while. The following file types are currently not allowed: .exe, .scr, .cpl, .doc*, .jar. You cannot use Catbox for commercial services without prior approval. Examples include as a CDN, image host for your business/ecommerce site, or a source for videos that are streamed on sites other than files.catbox.moe directly.
Postimage was founded in 2004 to provide message boards with an easy way to upload images for free. Postimage is a very simple, fast and reliable free image service. It's perfect for linking to auctions, message boards, blogs and other websites. Postimage guarantees maximum uptime and performance so that your image will be here whenever you need it. There is no registration or login; all you have to do is submit your picture. With continuous upgrades and dedicated staff Postimage is the #1 solution for Free Image Hosting.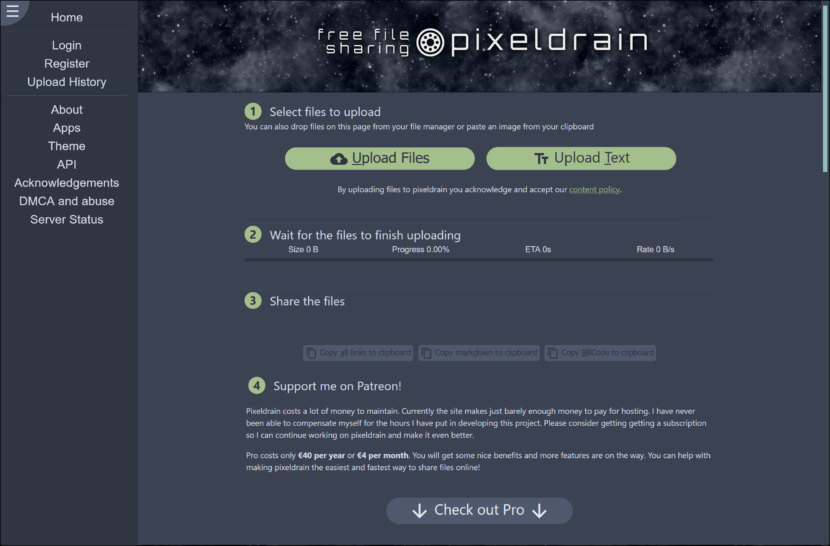 Pixeldrain is a file sharing website built for speed and ease of use. You can upload files you want to share online to our servers and we will hold on to them for at least two months. During this time anyone with the link will be able to download your files. Pixeldrain is built to be as fast as possible, so you don't have to do any unnecessary waiting when downloading files.
An account is not required to use pixeldrain, but it enables some useful features. With a pixeldrain account you can access your files and albums on all your devices. You can also rename and delete files you have uploaded. And create and reorder albums you have created.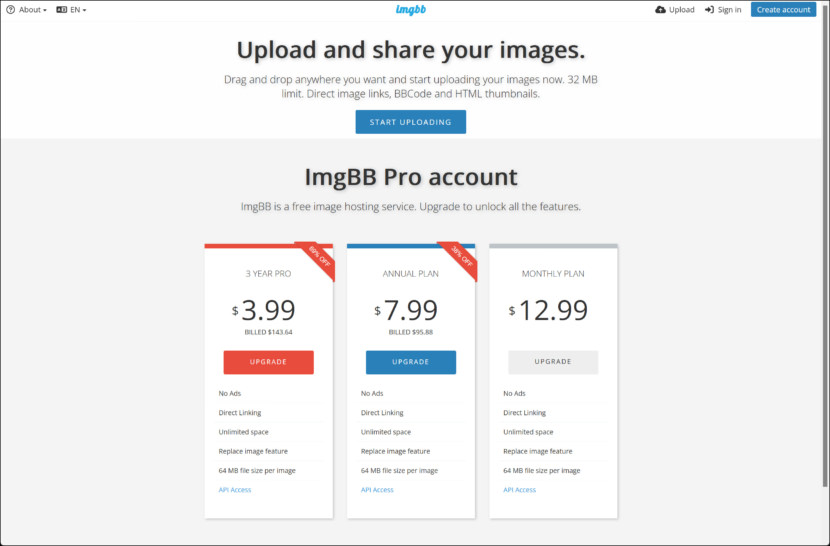 Upload and share your images. Drag and drop anywhere you want and start uploading your images now. 32 MB limit. Direct image links, BBCode and HTML thumbnails.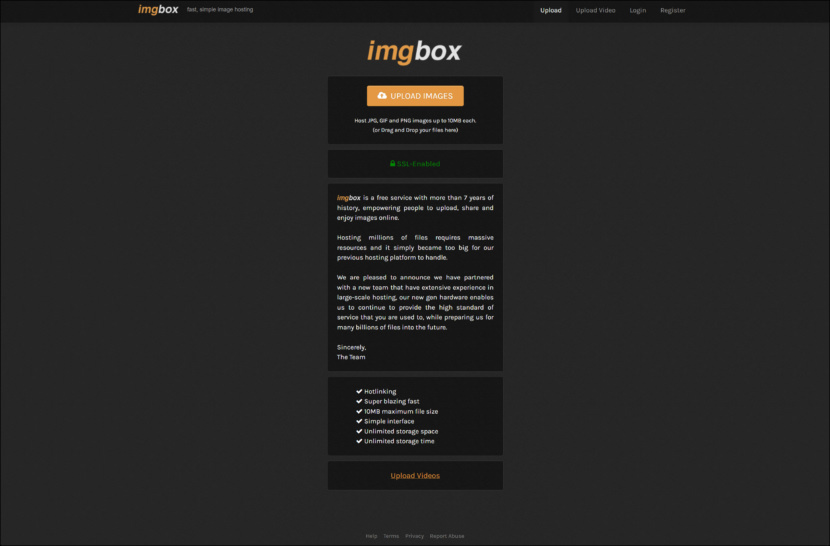 imgbox is a free service with more than 7 years of history, empowering people to upload, share and enjoy images online. Hosting millions of files requires massive resources and it simply became too big for our previous hosting platform to handle. Host JPG, GIF and PNG images up to 10MB each.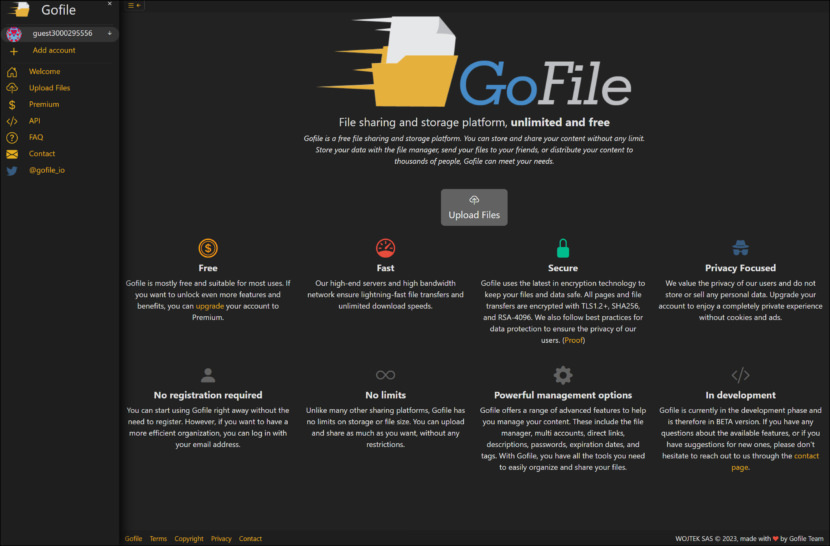 Gofile was created to provide a simple and feature-rich platform for file sharing that is free and unlimited in its capabilities. We identified a need for a platform that met these criteria and set out to build Gofile to fill that gap. Gofile offers a free service that is suitable for most users. For those who wish to access additional features, you may upgrade your account from your profile page.
Secure – Gofile uses the latest in encryption technology to keep your files and data safe. All pages and file transfers are encrypted with TLS1.2+, SHA256, and RSA-4096. We also follow best practices for data protection to ensure the privacy of our users.
No limits – Unlike many other sharing platforms, Gofile has no limits on storage or file size. You can upload and share as much as you want, without any restrictions.
Privacy Focused – We value the privacy of our users and do not store or sell any personal data. Upgrade your account to enjoy a completely private experience without cookies and ads.
No registration required – You can start using Gofile right away without the need to register. However, if you want to have a more efficient organization, you can log in with your email address.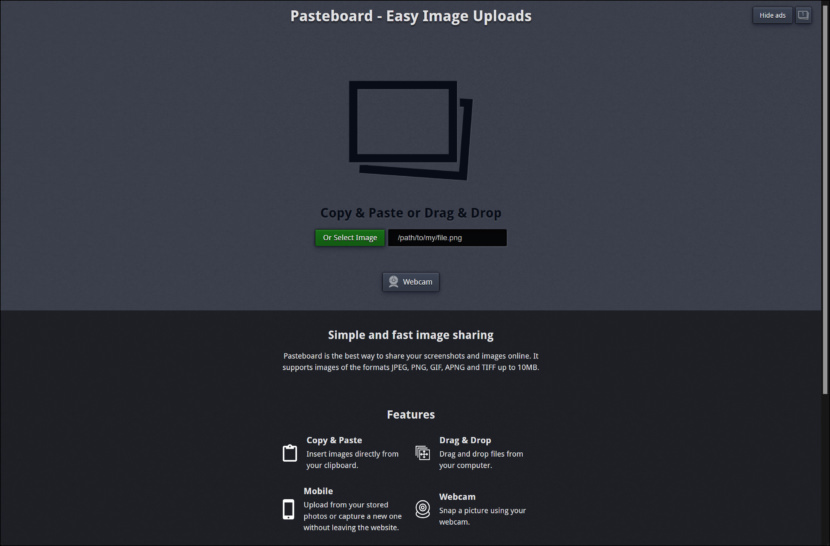 Pasteboard is the best way to share your screenshots and images online. It supports images of the formats JPEG, PNG, GIF, APNG and TIFF up to 10MB. Snap a picture using your webcam.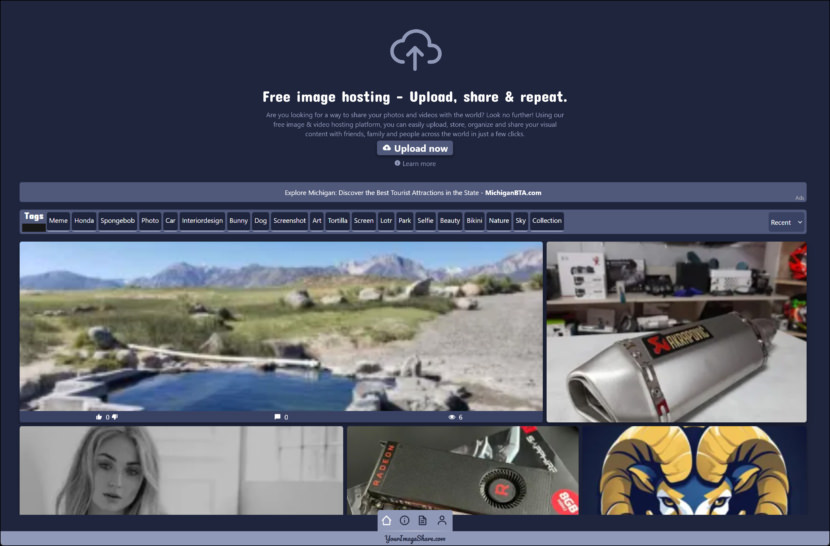 Are you looking for a way to share your photos and videos with the world? Look no further! Using our free image & video hosting platform, you can easily upload, store, organize and share your visual content with friends, family and people across the world in just a few clicks.
You can upload up to 99 images or videos at a time, the maximum size of all uploads should be under 200 MB. Need more than that? Just start the upload process again – unlike other image and video hosting providers out there we offer free, unlimited storage space and we only limit the number of files that can be uploaded in one run and their total size as a way to prevent browser errors and ensure system reliability.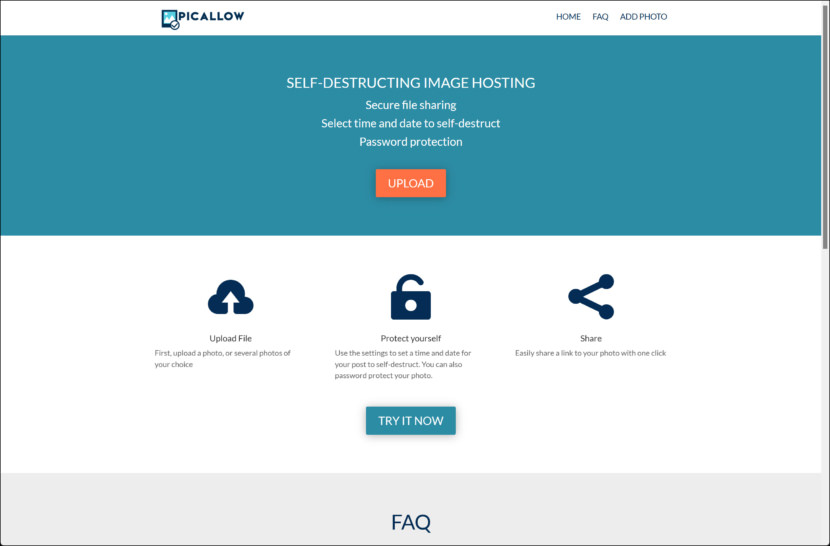 Picallow is a service that allows you to temporarily host pictures on the internet that don't last forever. By hosting a picture on Picallow, you are able to share it with others, knowing that the link you provide them will self-destruct at the time of your choosing.
Nothing on the internet is ever fully secure. Picallow provides certain measures of security that make our service somewhat safer than sharing your personal photos on other platforms, such as email or WhatsApp.
When you upload your photo to Picallow, you are able to select a time and date of your choosing for your post to self-destruct. Once that occurs, your photo is no longer accessible at the link you are generating. Picallow also gives you the option to password protect your photo, to help restrict your photo to your intended audience.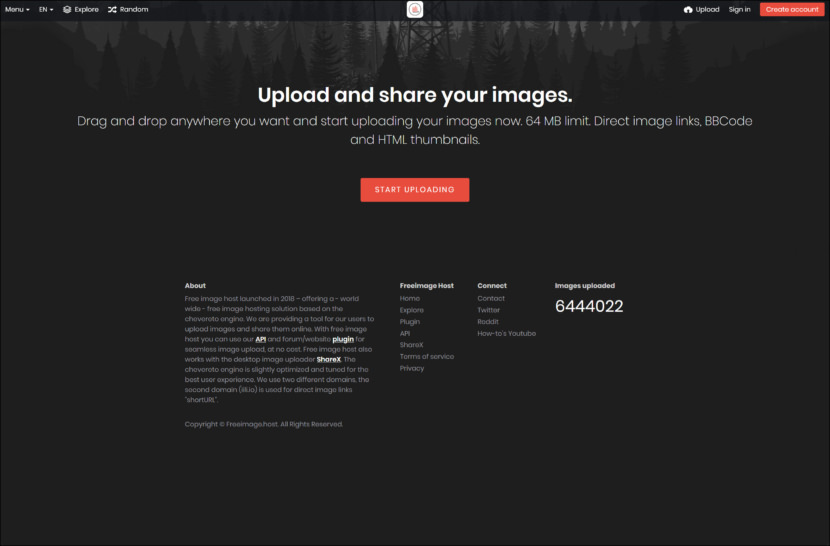 Free image host launched in 2018 – offering a – world wide – free image hosting solution based on the chevereto engine. We are providing a tool for our users to upload images and share them online. With free image host you can use our API and forum/website plugin for seamless image upload, at no cost. Free image host also works with the desktop image uploader ShareX.
The chevereto engine is slightly optimized and tuned for the best user experience. We use two different domains, the second domain (iili.io) is used for direct image links "shortURL".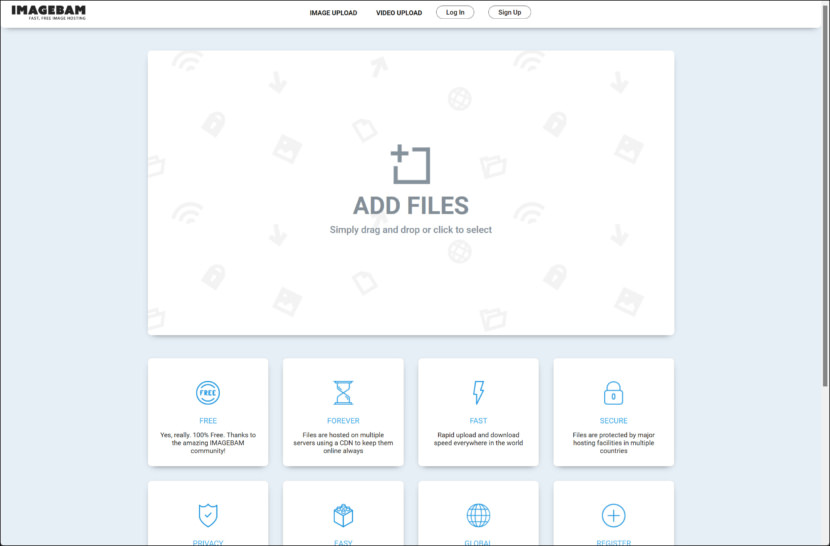 IMAGEBAM is a free service with more than 10 years of history, empowering people to upload, share and enjoy images online. Hosting millions of files requires massive resources and it simply became too big for our previous hosting platform to handle.
They are pleased to announce we have partnered with a new team that have extensive experience in large-scale hosting, our new gen hardware enables us to continue to provide the high standard of service that you are used to, while preparing us for many billions of files into the future.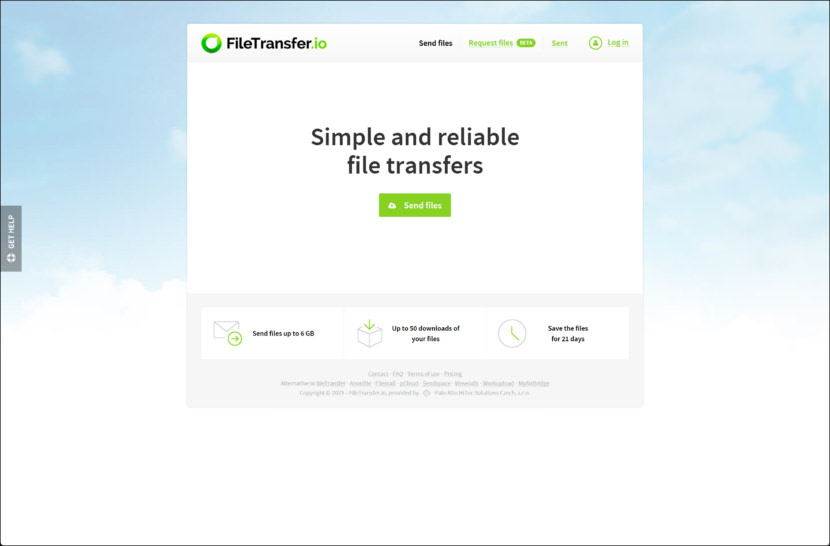 Their services including sending and receiving data packages are free of charge – in every data package you can send files up to 6 GB in size.