↓ Sponsored Links / Updated: January 28, 2014 / Home » Computer PC Software
AVG is giving out free edition of their Anti-Virus software; this is a 100% legal release, no more cracks, serial, or keygen that comes with virus and Trojans.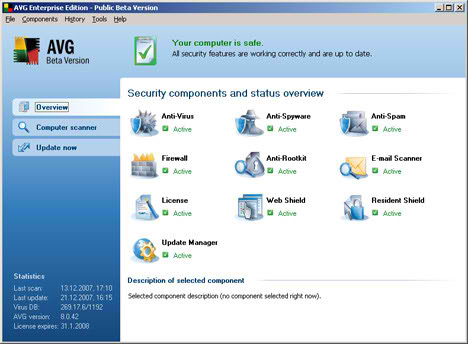 Now, you might be scratching your head and wondered what the catch is? There is no such thing as free lunch and like all free goods, there are always a catch and AVG's Antivirus 8.0 Free Edition is no exception.
AVG 8.0 Free is giving out free-of-charge for personal use; the only drawback is the limited functions. While using AVG 8.0 Free you might discover you would like to have access to further and extended functionality of AVG as provided within the AVG 8.0 products.
Not only the functionality is limited, it comes with a Yahoo Toolbar for your browser. The AVG Security Toolbar is designed to work with MS Internet Explorer (version 6.0 or greater) and Mozilla Firefox (version 1.5 or greater). Once installed the AVG Security Toolbar will by default be located just under your browsers address bar.

The antivirus software's scanning engine scans all files and file activities (opening/closing files, etc.) for known viruses. Any detected virus will be blocked from taking any action and will then be cleaned or quarantined. Most antivirus software also uses heuristic scanning, where files are scanned for typical virus characteristics, so called viral signatures. This means that the antivirus scanner can detect a new, unknown virus, if the new virus contains some typical characteristics of existing viruses.
The AVG Components included in this free edition are Anti-Virus and Anti Spyware, unfortunately the firewall feature is disabled. The lack of firewall can be compensated with ZoneAlarm firewall, its free for personal use.

Download AVG Anti-Virus 8.0 for Free (Official Website)
The important feature of antivirus protection is that no known virus can run on the computer! If that is your purpose of having an anti-virus, then AVG is the one and only anti-virus you need. Forget about Norton Anti-Virus 2009, Norton 360, or McAfee Anti-Virus, no crack and keygen required.