Which is the cheapest and cost effective color laser printer? There are many more brands other than the one listed below, they are Konica Minolta, FujiXerox, Panasonic, Oki and more. Remember to scout around and compare the actual print before purchasing. I suggest a visit to a shop that sells nothing but printers, bring along a copy of the document you want to scan or print and compare the output.
😭 😍 😂 6 Tools To Reduce 50% Printer Ink & Toner Usage – Save Money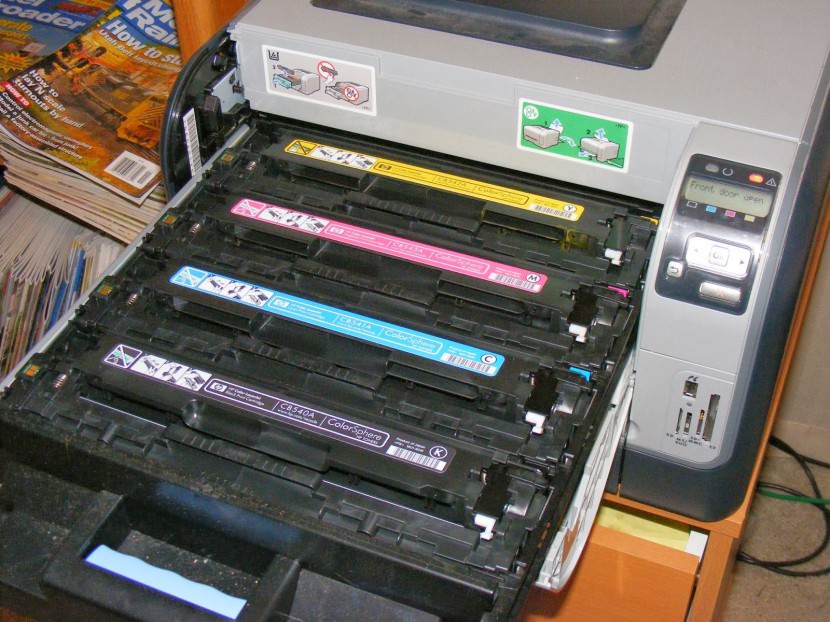 Note: The print color from a laser printer will always be duller than an inkjet, but sharper than an inkjet. I suspect this has something to do with preventing counterfeiting fake paper money. From what I understand, the yellow cartridge will print a hidden code on every printout, making the print traceable.
Resolution
- B/W
- Color

Duty Cycle



Speed
- B/W
- Color
Memory



Features




Brother
HL-4570CDW

2400 x 600
2400 x 600
60,000
30ppm
30ppm
128MB
Wifi
250 sheets
duplex

Brother
HL-4570CDWT

2400 x 600
2400 x 600
60,000
30ppm
30ppm
128MB
Wifi
800 sheets
duplex

Brother
HL-4150CDN

2400 x 600
2400 x 600
40,000
25ppm
25ppm
128MB
Wifi
250 sheets
duplex
network

Brother
HL-3070CW

2400 x 600
2400 x 600
25,000
17ppm
17ppm
16MB
Wifi
250 sheets

Brother
MFC-9010CN

600 x 2400
600 x 2400
25,000
17ppm
17ppm
64MB
250 sheets
network
scanner

HP Color
LaserJet CP3525n

1200 x 600
1200 x 600
75,000
30ppm
30ppm
256MB
Wifi Optional
250 sheets
network

HP LaserJet
Pro CP1525nw

600 x 600
600 x 600
30,000
12ppm
8ppm
128MB
Wifi
150 sheets
network

HP Color
LaserJet CP2025dn

600 x 600
600 x 600
40,000
21ppm
21ppm
128MB
150 sheets
duplex
network

HP LaserJet
Pro CP1025nw

600 x 600
600 x 600
15,000
17ppm
4ppm
64MB
Wifi
150 sheets
network

HP Color
LaserJet CP3525dn

1200 x 600
1200 x 600
75,000
30ppm
30ppm
384MB
250 sheets
duplex
network

HP Color
LaserJet CP4025n

1200 x 600
1200 x 600
100,000
35ppm
35ppm
512MB
500 sheets
network

HP Color
LaserJet CP2025x

600 x 600
600 x 600
40,000
21ppm
21ppm
128MB
250 sheets
duplex

HP Color
LaserJet CP2025n

600 x 600
600 x 600
40,000
21ppm
21ppm
128MB
250 sheets
network

HP LaserJet
CM2320nf

600 x 600
600 x 600
40,000
21ppm
21ppm
160MB
250 sheets
network
scanner
auto feeder
duplex
faxing

Canon
imageCLASS
LBP6650dn

600 x 600
600 x 600
50,000
35ppm
35ppm
128MB
Wifi
250 sheets
duplex
network

Canon Color
imageCLASS
LBP7200Cdn

600 x 600
600 x 600
40,000
21ppm
21ppm
16MB
250 sheets
duplex
network

Canon
ImageCLASS
MF8350Cdn

600 x 600
600 x 600
40,000
21ppm
21ppm
128MB
125 sheets
duplex
network
scanner
fax

Lexmark
C544dw

1200 x 1200
1200 x 1200
55,000
25ppm
25ppm
128MB
Wifi
250 sheets
duplex

Lexmark
C543DN

1200 x 1200
1200 x 1200
35,000
21ppm
21ppm
128MB
250 sheets
duplex
network

Lexmark
C544n

1200 x 1200
1200 x 1200
55,000
25ppm
25ppm
128MB
250 sheets
network

Samsung
CLP-315W

600 x 600
600 x 600
20,000
17ppm
4ppm
32MB
Wifi
150 sheets

Samsung
CLP-620ND

9600 x 600
9600 x 600
65,000
21ppm
21ppm
256MB
250 sheets
duplex
network

Xerox
Phaser 6010

600 x 600
600 x 600
30,000
15ppm
12ppm
128MB
160 sheets

Xerox
ColorQube 8570N

2400 x 2400
2400 x 2400
85,000
40ppm
40ppm
512MB
Wifi
625 sheets
network

Xerox
Phaser 6280N

600 x 600
600 x 600
70,000
31ppm
26ppm
256MB
Wifi
400 sheets
network

Xerox
Phaser 6500N

600 x 600
600 x 600
40,000
24ppm
24ppm
256MB
250 sheets
network

Dell
1350cnw

600 x 600
600 x 600
30,000
15ppm
12ppm
128MB
Wifi
150 sheets
network

Dell
3130cn

600 x 600
600 x 600
70,000
31ppm
26ppm
256MB
250 sheets
network

Dell
1355cnw

600 x 600
600 x 600
30,000
15ppm
12ppm
128MB
Wifi
160 sheets
network

Dell
2150cdn

600 x 600
600 x 600
40,000
24ppm
24ppm
256MB
Wifi
250 sheets
network
duplex

Dell
1250c

600 x 600
600 x 600
30,000
23ppm
10ppm
64MB
150 sheets

Dell
2155cdn

600 x 600
600 x 600
40,000
24ppm
24ppm
256MB
Wifi
250 sheets
network
duplex
scanner
fax

Dell
2150cn

600 x 600
600 x 600
40,000
24ppm
24ppm
256MB
250 sheets
network

Dell
1355cn

600 x 600
600 x 600
30,000
15ppm
12ppm
128MB
Wifi
160 sheets
network

Dell
2155cn

600 x 600
600 x 600
40,000
24ppm
24ppm
256MB
Wifi
250 sheets
network
fax
scanner
Inkjet vs Laser Printers – As Fast As Possible