How to connect your iPad to your TV? Just like all Apple's product, connecting the iPad to your brand new LED LCD TV or monitor is as easy as 1-2-3. No software to install, no setup, just plugs the HDMI connector to the TV and your iPad and everything will be mirrored seamlessly.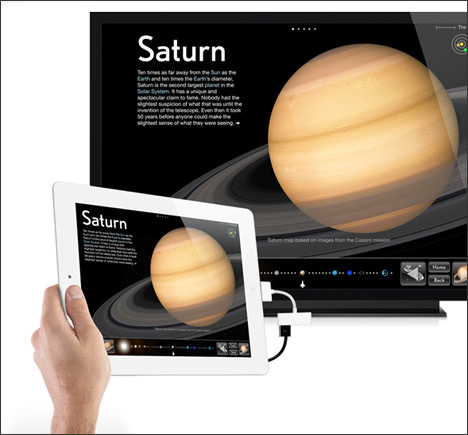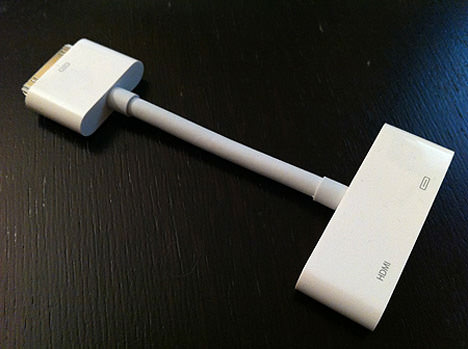 Put your slides, movies, photos, and everything else that fills your iPad or iPhone 4S screen on an even bigger screen — your HDTV. The Apple Digital AV Adapter mirrors exactly what you see on iPad or iPhone 4S so that everyone in the room can enjoy it on your widescreen TV, video projection screen, or other HDMI-compatible display.* The Apple Digital AV Adapter also supports video out for iPad, iPhone 4, or iPod touch (4th generation).
In all honesty, they should have included a build in mini HDMI into iPad together with a USB port. Then again, Apple being Apple, they have the tendency to exclude basic features while making a huge profit by selling add-on accessories.
The new video mirroring feature in iOS 5 uses the new Apple Digital AV Adapter/HDMI Adapter to display nearly all iPad output, in addition to mirroring the display.
HDMI 1.0 vs. 1.2 vs. 1.3 vs. 1.4
As shown in the table below, there are various quality and it is a good idea to get version 1.3 or 1.4 if you own an LED TV and watches Blu-ray movies.
| HDMI version | 1.0–1.2a | 1.3 | 1.4 |
| --- | --- | --- | --- |
| Maximum clock rate (MHz) | 165 | 340 | 340 |
| Maximum clock rate (MHz) | 1.65 | 3.40 | 3.40 |
| Maximum total TMDS throughput (Gbit/s) including 8b/10b overhead | 4.95 | 10.2 | 10.2 |
| Maximum throughput (Gbit/s) with 8b/10b overhead removed | 3.96 | 8.16 | 8.16 |
| Maximum audio throughput (Mbit/s) | 36.86 | 36.86 | 36.86 |
| Maximum color depth (bit/px.) | 24 | 48 | 48 |
| Maximum resolution over single link at 24-bit/px | 1920×1200p60 | 2560×1600p75 | 4096×2160p24 |
| Maximum resolution over single link at 30-bit/px | n/a | 2560×1600p60 | 4096×2160p24 |
| Maximum resolution over single link at 36-bit/px | n/a | 1920×1200p75 | 4096×2160p24 |
| Maximum resolution over single link at 48-bit/px | n/a | 1920×1200p60 | 1920×1200p60 |