3D rapid prototyping printing technology will be a big business in the near future, it will enable small businesses to come up with new ideas to solve small problems. One of the most amazing eye opening experience is the ability to print a tool in the event of an emergency, as seen when the International Space Station's 3-D Printer builds a ratchet wrench to complete it's first phase of operations. If you own a 3D printer for 3D printing, you will find these websites with their free 3D models very useful.
🤣😍😂 Download DIY 3D Hologram Template for Smartphone Created By GeckoandFly
However, like all things, there will always be duel usage, for better or worse. Here are a complete list of all 3D Printer Maker – Cubify, Makerbot, FlashForge, Afinia, mbot 3D, Airwolf 3D, and FelixPrinter.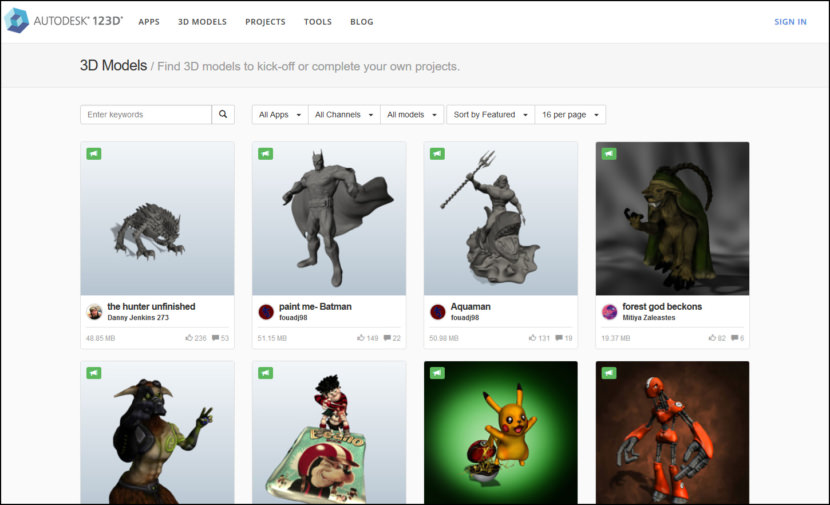 Created by AutoDesk for people who want to make things themselves, Autodesk 123D is free software integrated with content and fabrication services. Free products and services are subject to the Autodesk. The Autodesk 123D community is a place to design, create and share anything. No matter your technical skills and experience, you will always have a place to get the latest tools and information to support your adventures in 3D printing.
The Autodesk 123D community is growing every day, and now is the time to join. Get inspired by the thousands of 3D models and designs in our gallery, or do the inspiring by uploading your own files. In the spirit of 3D printing, share and learn with others to get where you want to be, faster.
↓ 02 – yeggi [ 3D Search Engine ]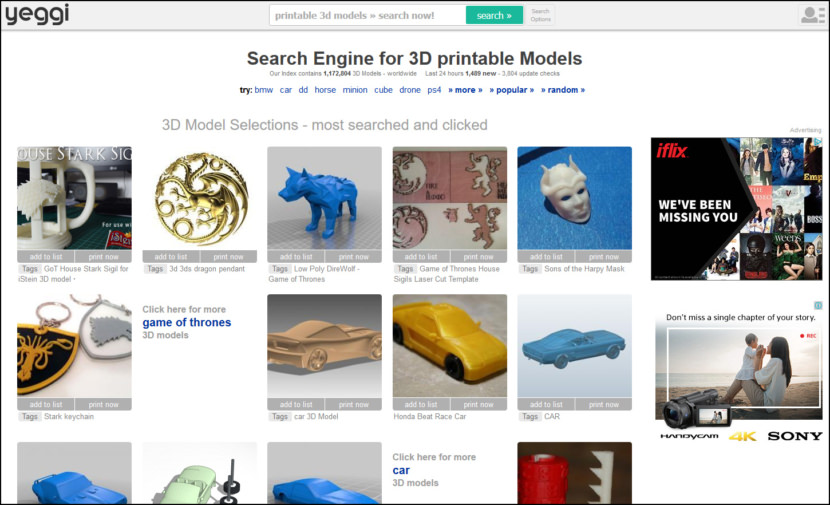 yeggi is a search engine for printable 3D models, they collect data from all 3D communities and marketplaces offering 3D models to print. They will give the best results to find 3D models on the internet – you will like it! Search Engine for 3D printable Models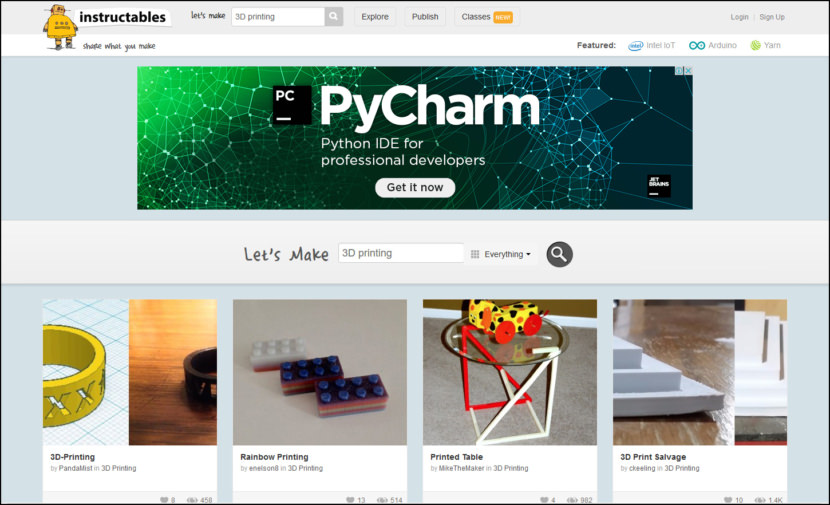 3D printing can be intimidating if you're new to it, but it's easier than you think! This class will give you the skills you need to make your own 3D printed designs using TinkerCAD- a fun, browser-based 3D modeling program that anyone can learn in no time. Join us and you'll be a digital maker in no time. Mainly DIY projects created by hobbyists, they are all free and come with no string attached. You are encouraged to contribute to the good of the community.
Discover, download and 3D print free and exclusive guaranteed 3D printable objects from a community of talented designers. At MyMinifactory we want to offer you the best user experience. Should you have any feedback on your print, should you have any request for a specific design you did not find on the platform, please don't hesitate to use the Feedback button or the Request an Object Function.
MyMinifactory.com is calling the world large community of 3D designers to upload their objects on the platform. Beautiful and/or functional printable objects will then be exposed to the large community of enthusiasts who visit MyMinifactory.com. Very soon designers will be earning cash based on the downloads of their objects.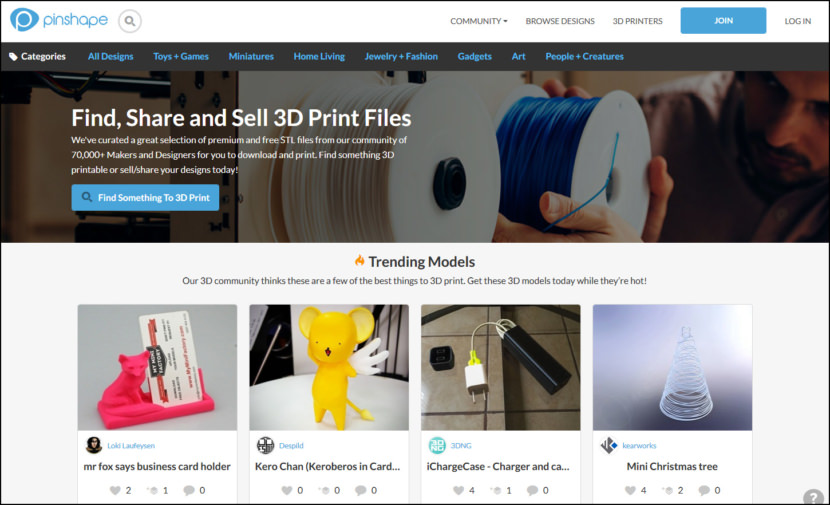 Find the best things to 3d print and download premium and free stl files and obj files to use with your own 3D printer. Our 3D community thinks these are a few of the best things to 3D print. Get these 3D models today while they're hot! We've curated a great selection of premium and free STL files from our community of 70,000+ Makers and Designers for you to download and print. Find something 3D printable or sell/share your designs today!
MakerBot's Thingiverse is a thriving design community for discovering, making, and sharing 3D printable things. As the world's largest 3D printing community, we believe that everyone should be encouraged to create and remix 3D things, no matter their technical expertise or previous experience.
In the spirit of maintaining an open platform, all designs are encouraged to be licensed under a Creative Commons license, meaning that anyone can use or alter any design. The Thingiverse community has uploaded over 717,020 3D models, and that number is growing every day. Check out all the incredible objects people have created, and get inspired to make your own!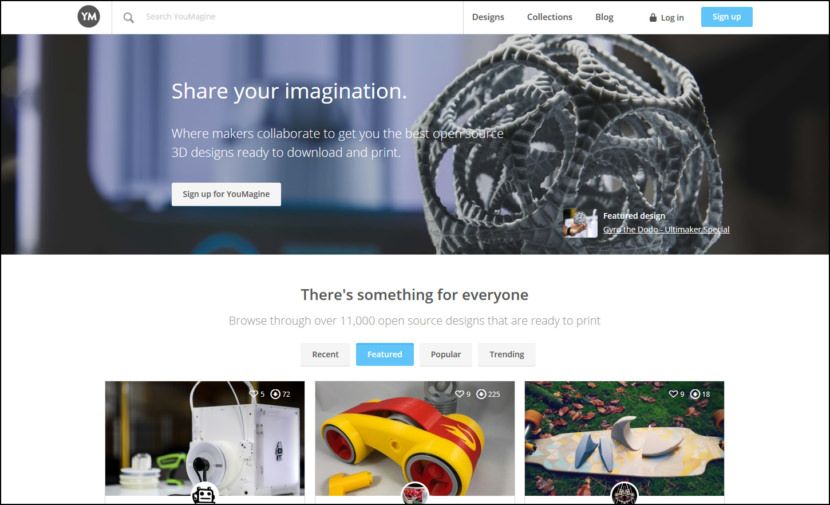 Where makers collaborate to get you the best open source 3D designs ready to download and print. Browse through over 11,000 open source designs that are ready to print. YouMagine is an online community of 3D printing enthusiasts who wish to work together to share, remix and make better 3D printed things. YouMagine facilitates this community, empowers and gives you the tools you need in order to improve, invent & make.
Uniquely YouMagine is primarily a vehicle for supporting open source creation and wants to be a force multiplier for the entire 3D printing community. Uniquely we are focused on building the entire end to end open source software toolchain to make things malleable.
YouMagine wants CAD & 3D files to be as easy to create, adapt, share and change as text is nowadays. We believe that through collaboration and sharing all of us can make all things better. Our community members help us each day chase these goals. Each day we iterate, improve and become a little bit better for you.
It is possible to get a printed 3D object through Cults even if you do not have a printer. To do this, it's very simple. Select the 3D model of your choice, download it and at the end of the downloading process, you have two additional options. The "Print with local" will allow you to locate a nearby home 3D printer that will achieve your object and the "Print professionally" will offer you the opportunity to order a professional 3D printing of your 3D model and then deliver it to your home.
↓ 09 – NIH 3D Print [ Prosthetic & Medical ]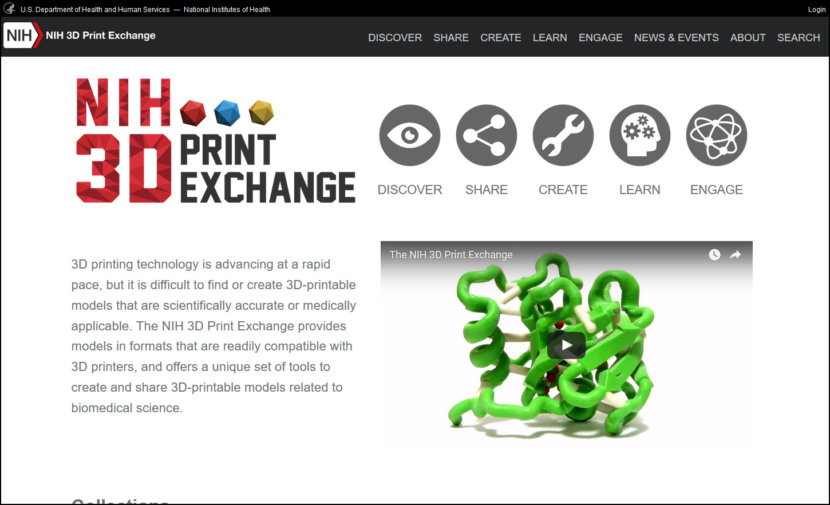 3D printing technology is advancing at a rapid pace, but it is difficult to find or create 3D-printable models that are scientifically accurate or medically applicable. The NIH 3D Print Exchange provides models in formats that are readily compatible with 3D printers, and offers a unique set of tools to create and share 3D-printable models related to biomedical science.
Few scientific 3D-printable models are available online, and the expertise required to generate and validate such models remains a barrier. The NIH 3D Print Exchange eliminates this gap with an open, comprehensive, and interactive website for searching, browsing, downloading, and sharing biomedical 3D print files, modeling tutorials, and educational material.
↓ 10 – 3D Part Source [ Discontinued / Industrial Part Sourcing ]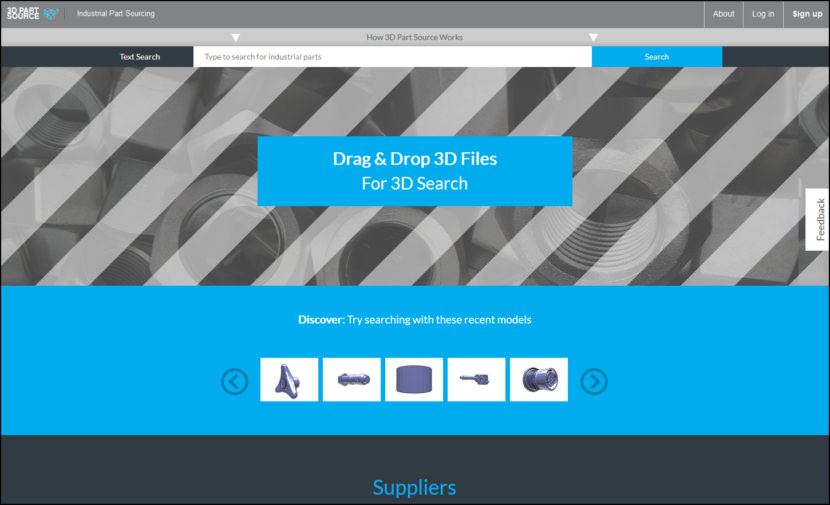 They are dedicated to simplifying industrial part sourcing by matching buyers to suppliers through 3D shape and geometry via their search engine, it is basically a reverse search engine. They are here to help you find designs to print easily and quickly. Searching by 3D shape is the simplest way to find what you want in 3d Printing.