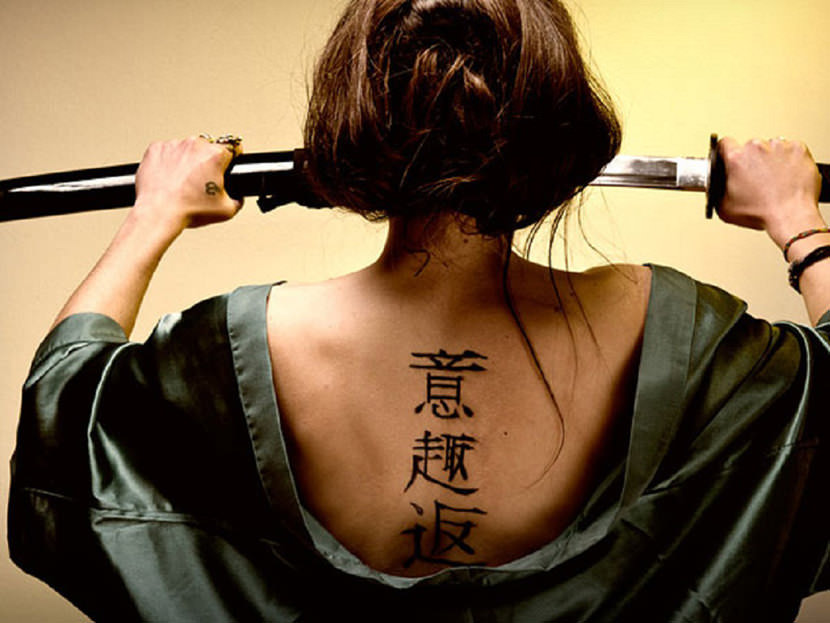 Chinese Tattoos vs Japanese Kanji Tattoos
The Japanese Kanji are essentially Chinese words, the ancient Japanese borrowed and adapted it into their Nippon-Go language, thus the words and meaning are the same, only the pronunciation is different.
The 'worm' like Japanese words are originally Japanese, but not the Kanji words. As for the Koreans, they've totally abandoned the Chinese words and reinvented their own words and language system. The Korean words can be easily identified by their strong use of 'box' symbols, lots of boxes. Nippon-Go is more worm-like.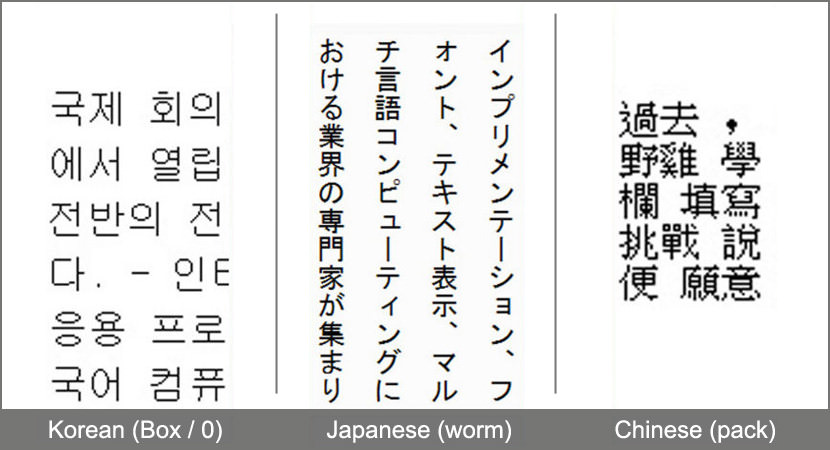 Chinese Zodiac
There are 12 Zodiacs in the Chinese calendar, same goes with the Japanese. The only difference is instead of a goat, the Japanese substitute it with a sheep. Since the Chinese calendar uses a different system compared to the Georgian calendar, you will have to look up birth-date on Wikipedia (Chinese Calendar) for your Chinese Zodiac. As usual, always double check before you ink the tattoo.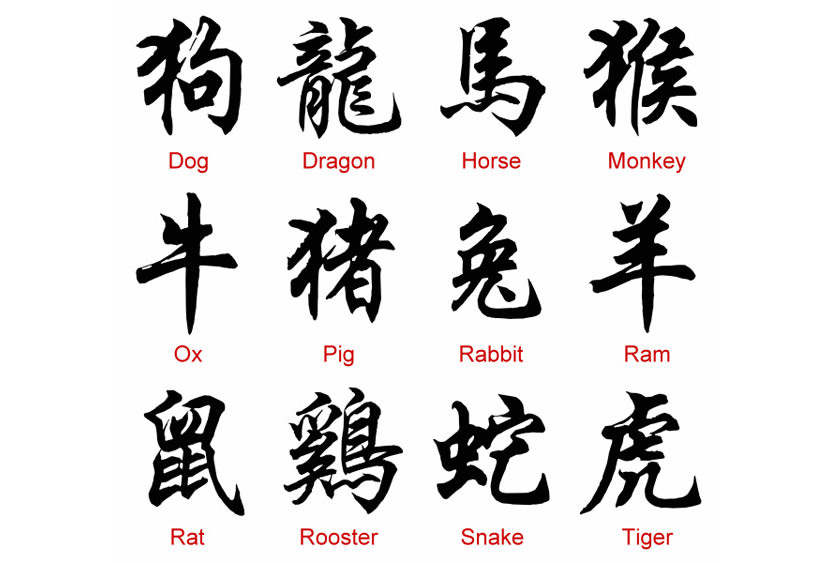 Our 4 Favorite Tattoos
Below are 4 of our favorite Chinese Tattoos, they are dragon, patience, book and peace. The Dragon and Patience are all time favorites, the 'Patience' word is more meaningful in the sense that it is a combo of 2 Chinese words, Knife (top) and heart (down). When combined, it creates a new word and meaning – Without patience, the knife will strike the heart. Click on image for a higher resolution.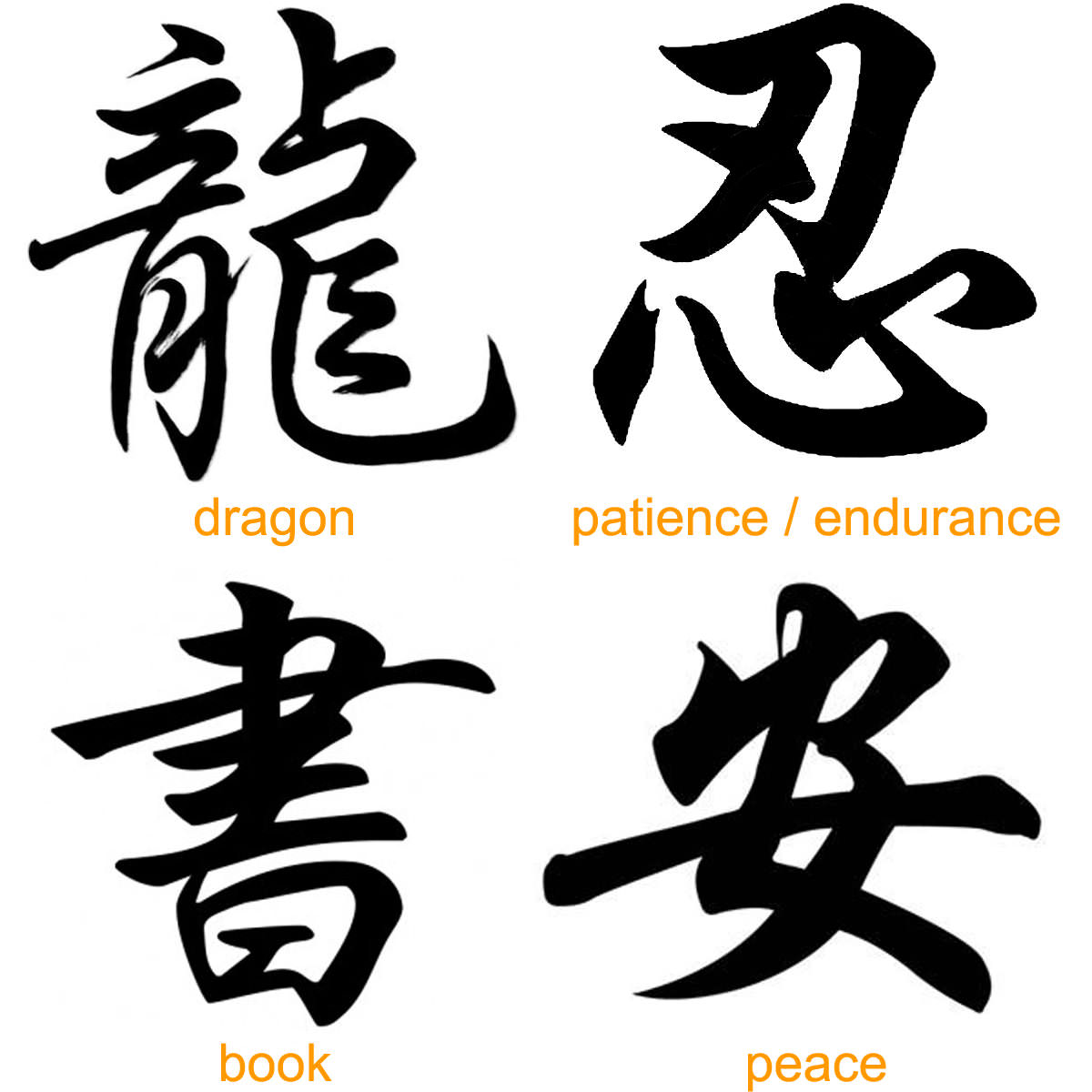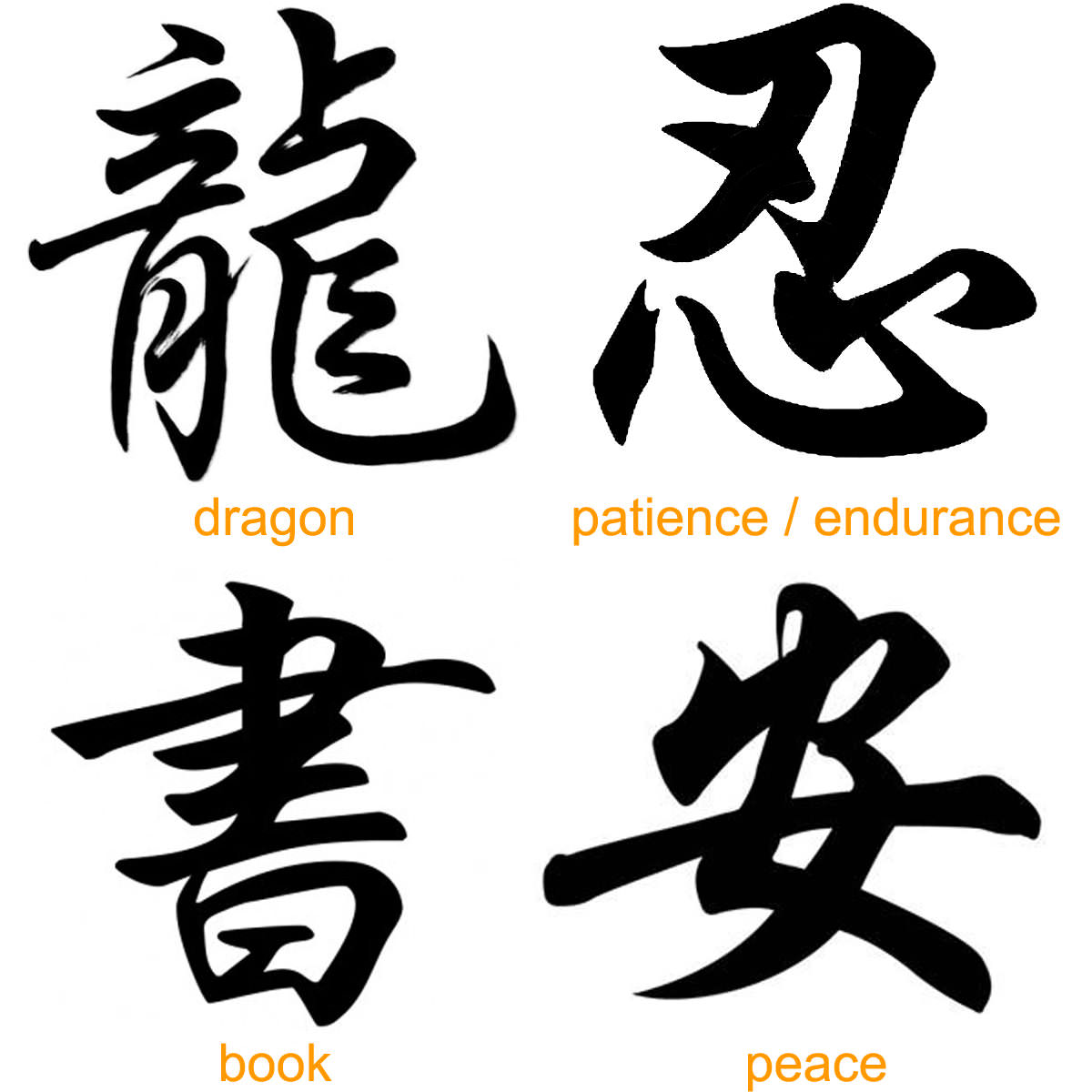 More Chinese Japanese Kanji Tattoos
Here are even more of the best Chinese Japanese tattoos symbols for men, women, girls, and more. From love to flowers, from koi to sleeves. Click on the image for the full resolution, to search for a specific word in English, hit 'Ctrl' + 'F' button on your browser. The search box will appear and you can perform a quick search for the word you've been searching for.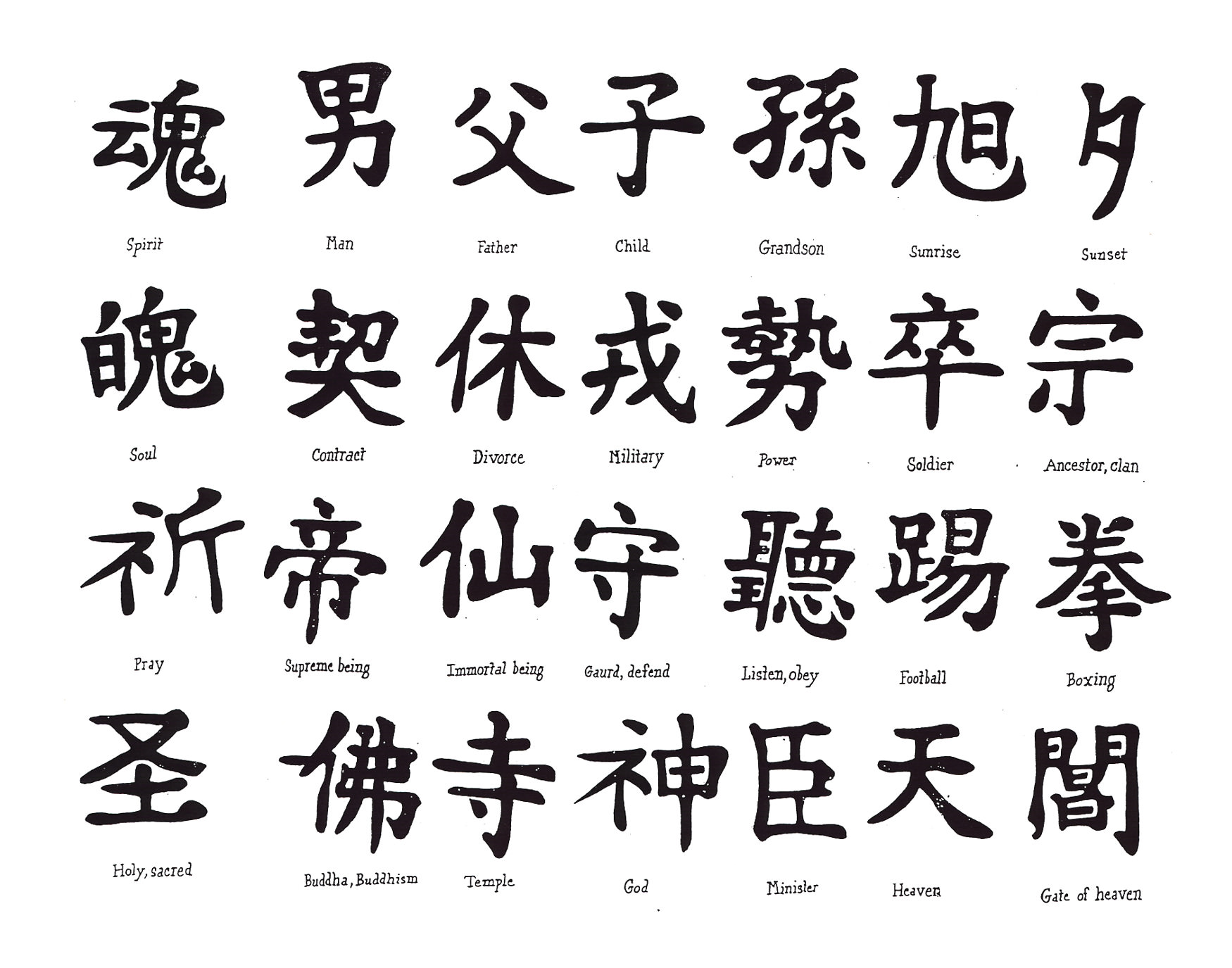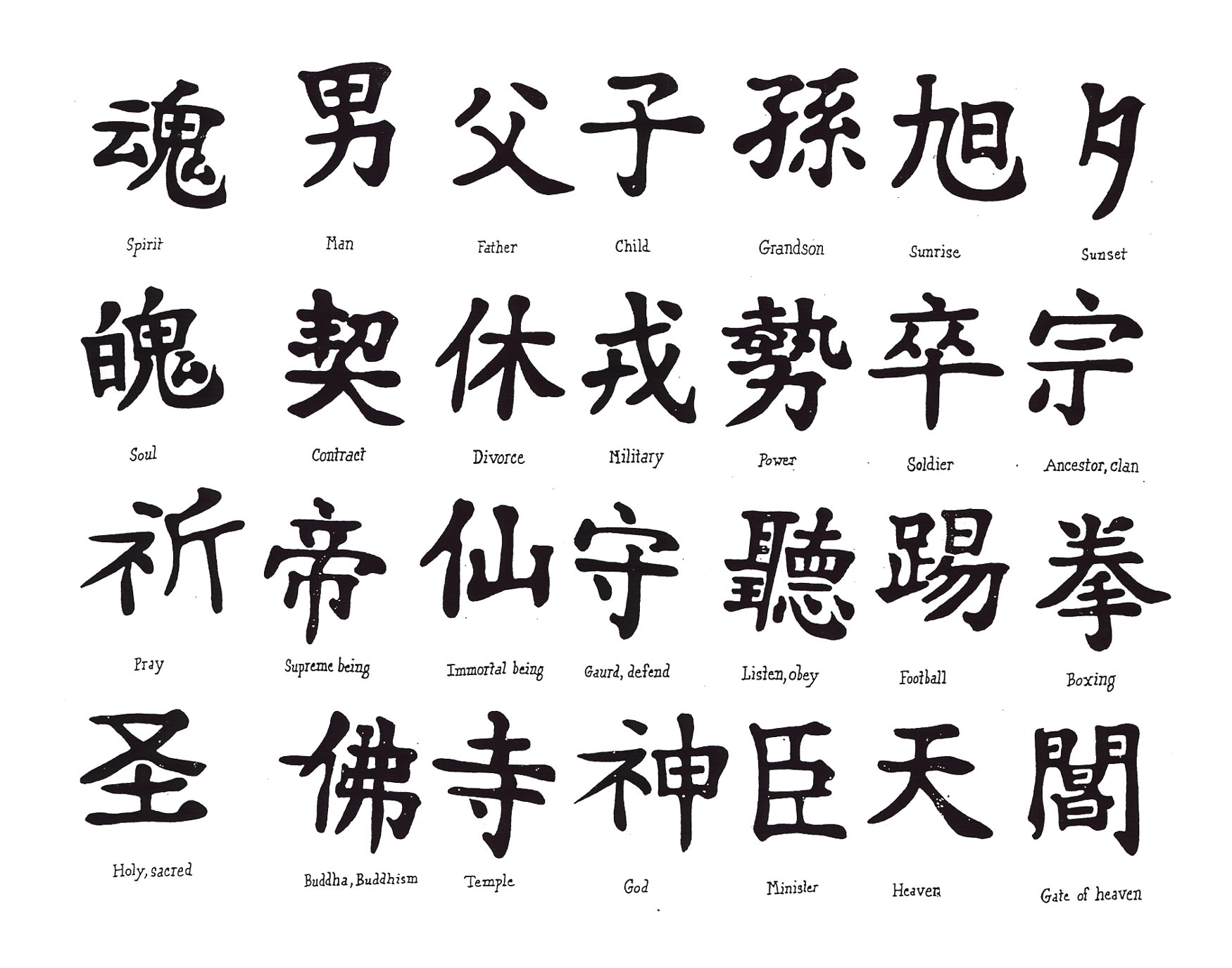 Spirit, Men, Father, Child, Grandson, Sunrise, Sunset
Soul, Contract, Divorce, Military, Power, Soldier, Ancestor / Clan
Pray, Supreme Being, Immortal Being, Guard / Defend, Listen / Obey, Football, Boxing
Holy / Sacred, Buddha / Buddhism, Temple, God, Minister, Heaven / Sky, Gate of Heaven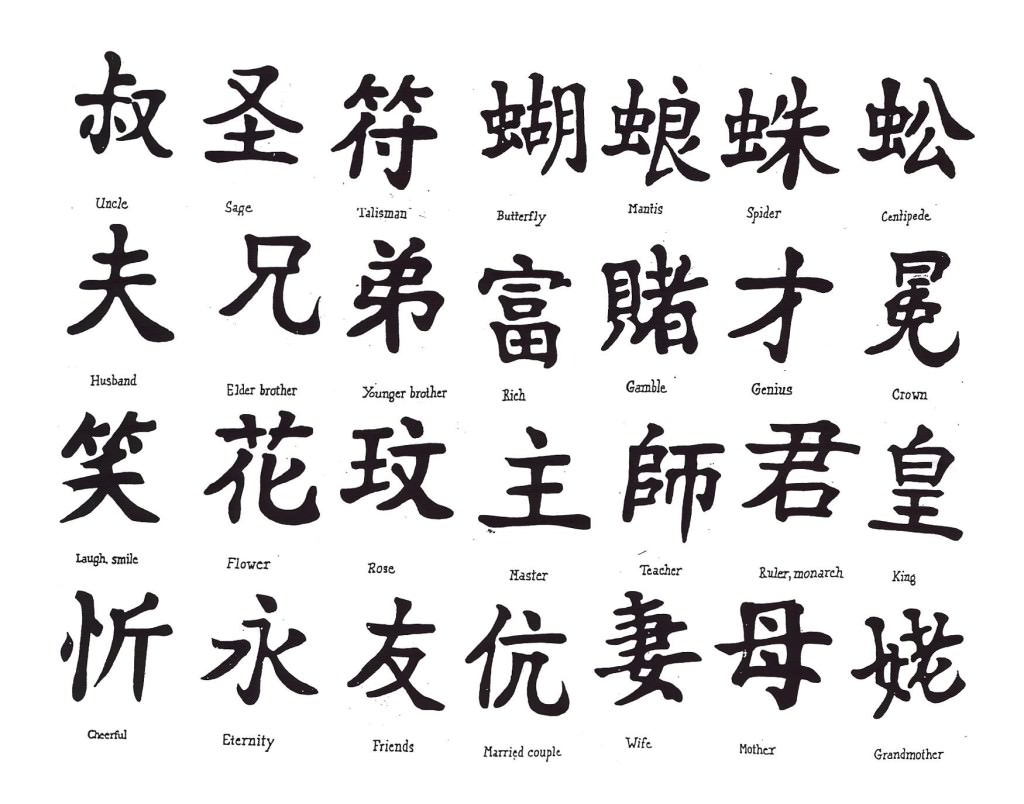 Uncle, Sage, Talisman, Butterfly, Mantis, Spider, Centipede
Husband, Elder Brother, Younger Brother, Rich, Gamble, Genius, Crown
Laugh / Smile, Flower, Rose, Master, Teacher, Ruler / Monarch, King
Cheerful, Eternity, Friends, Married Couple, Wife, Mother, Grandmother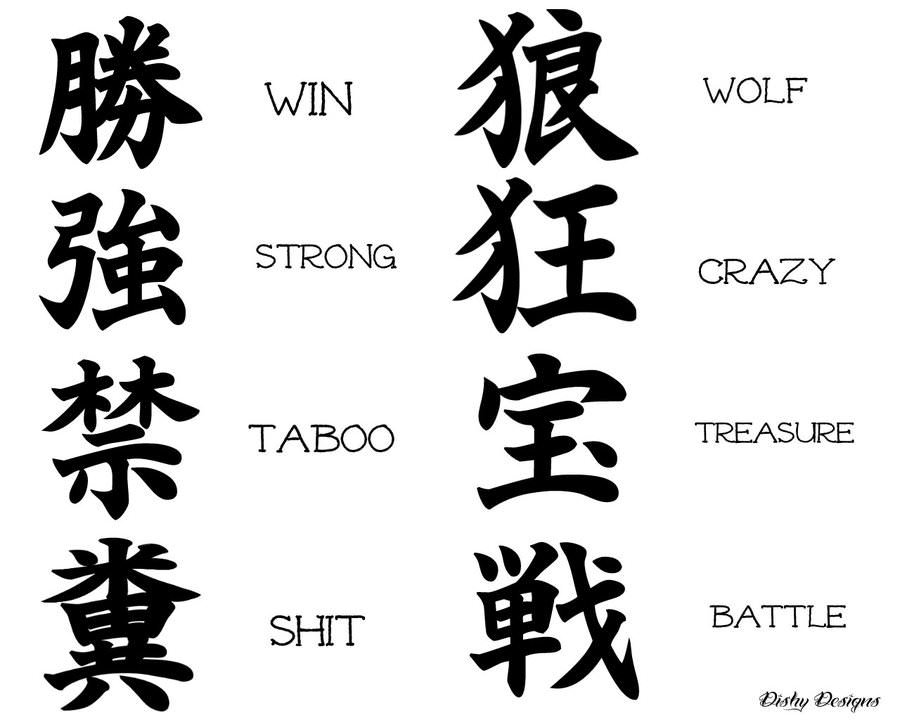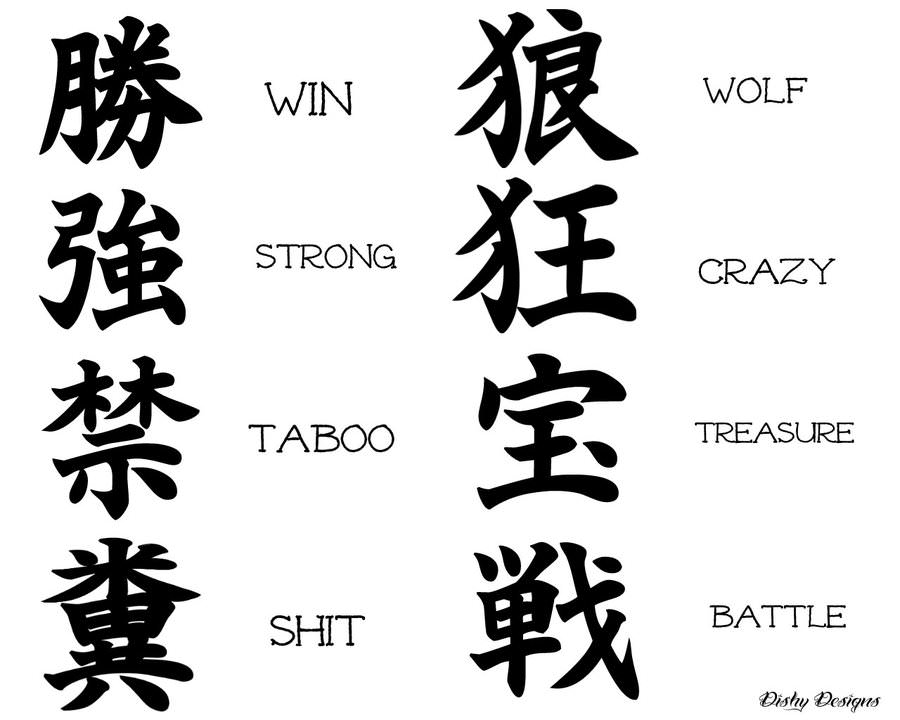 Win, Wolf
Strong, Crazy
Taboo, Treasure
Shit, Battle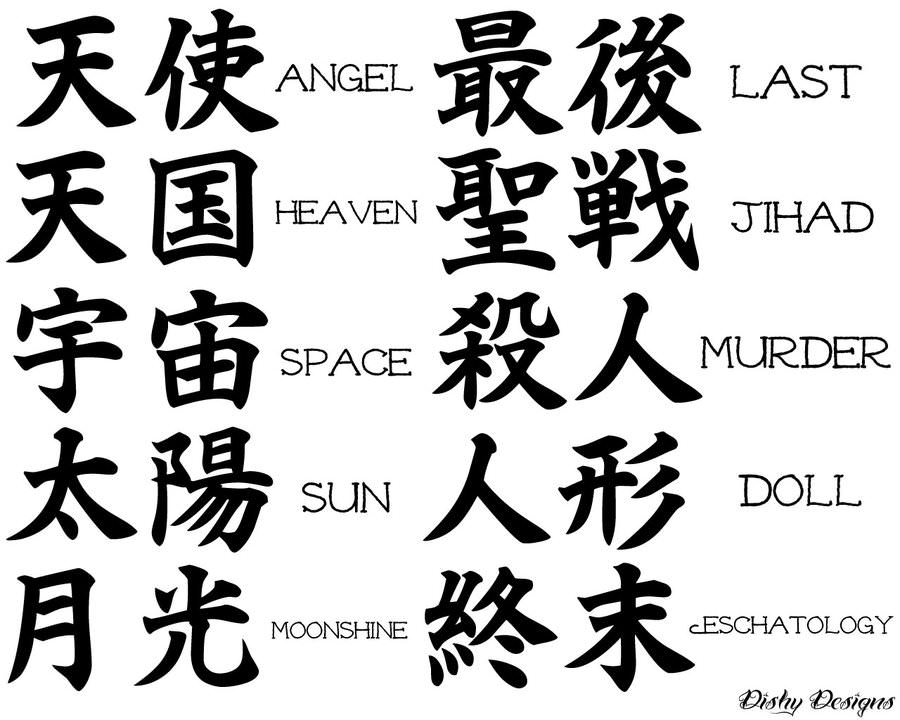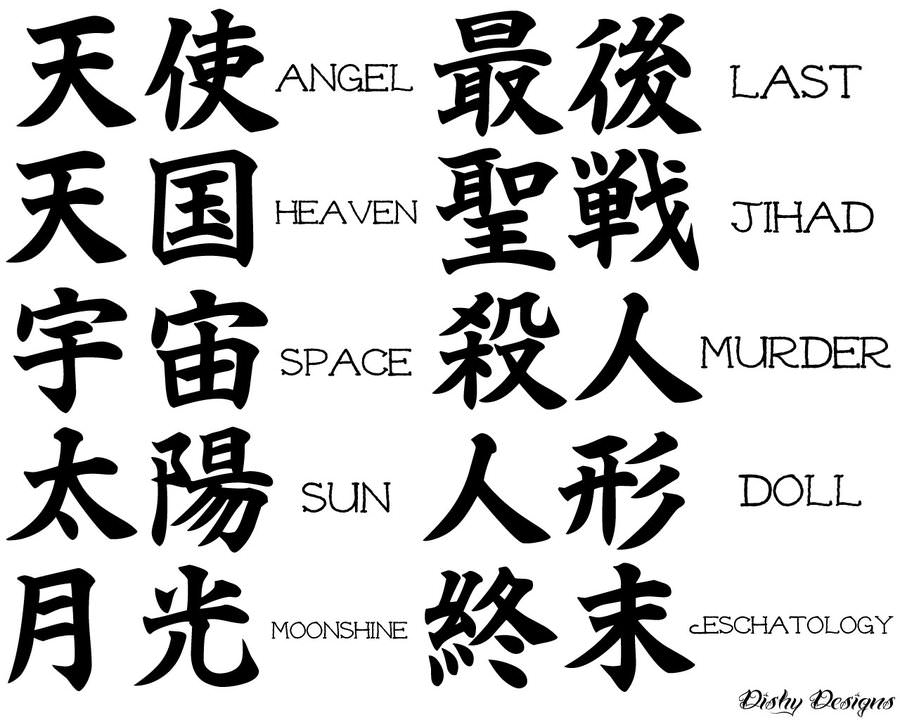 Angel, Last
Heaven, Jihad
Space, Murder
Sun, Doll
Moonshine, C eschatology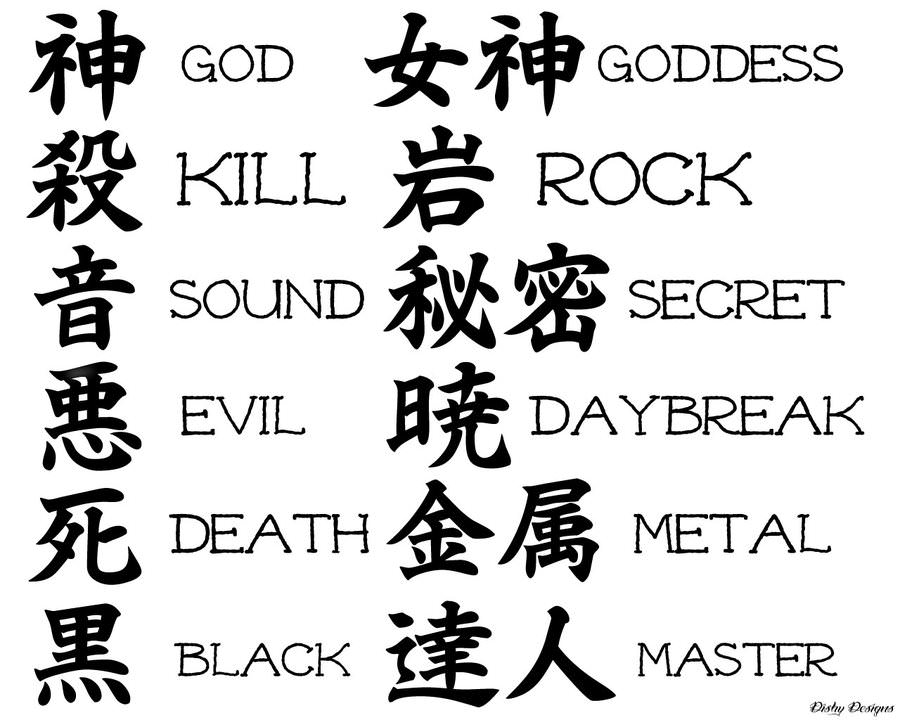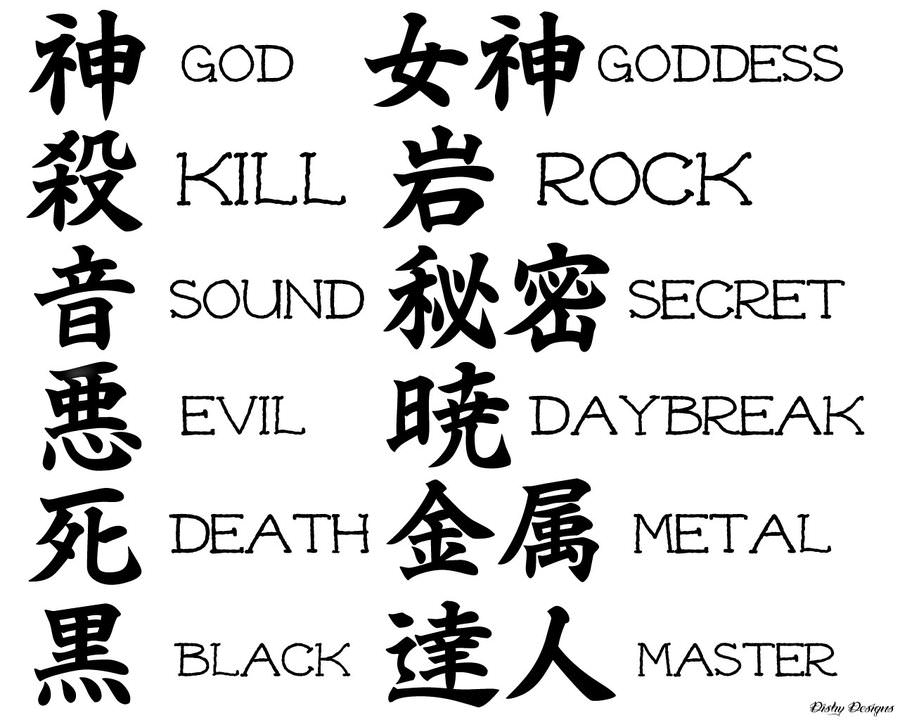 God, Goddess
Kill, Rock
Sound, Secret
Evil, Daybreak
Death, Metal
Black, Master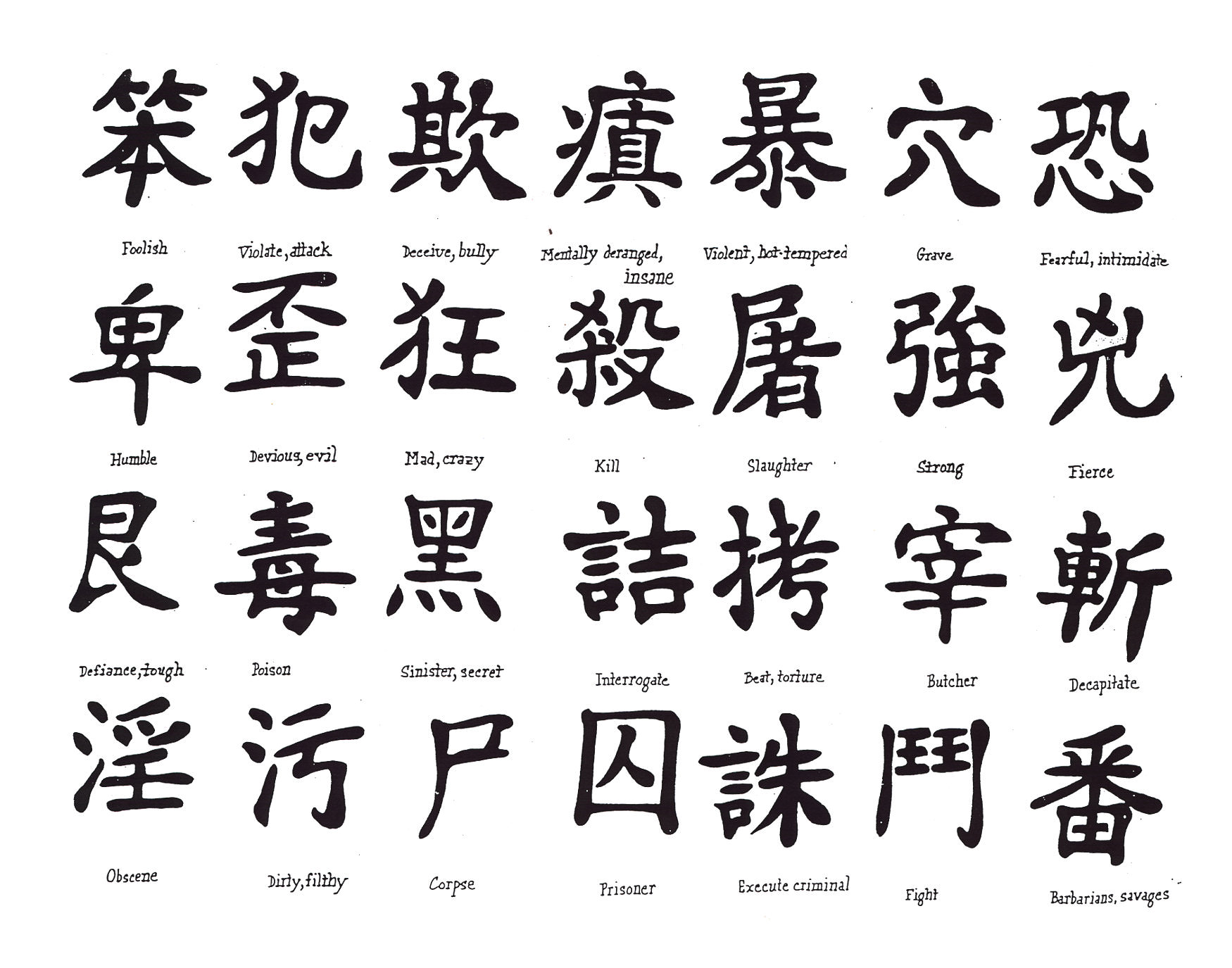 Foolish, Violate / Attack, Deceive / Bully, Mentally Deranged / Insane, Violent / Hot Tempered, Grave, Feareful / Intimidate
Humble, Devious / Evil, Mad / Crazy, Kill, Slaughter, Strong, Fierce
Defiance / Tough, Poison, Sinister / Secret, Interrogate, Beat / Torture, Butcher, Decapitate
Obscene, Dirty / Filthy, Corpse, Prisoner, Execute Criminal, Fight, Barbarians / Savages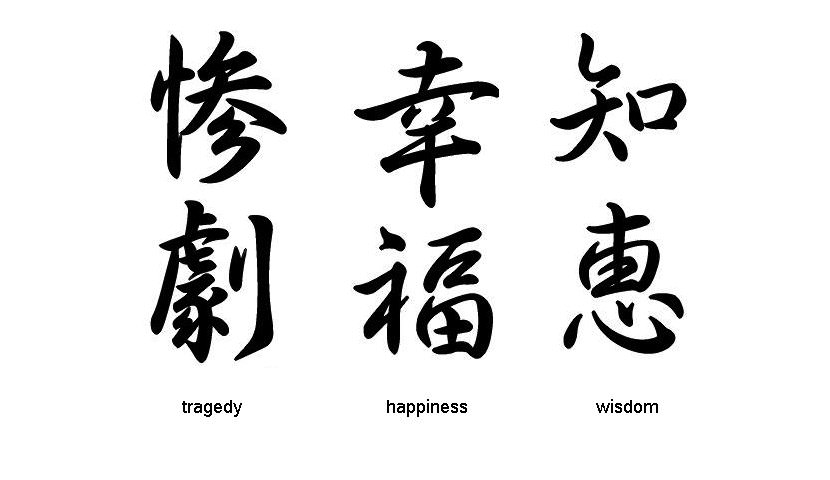 Tragedy, Happiness, Wisdom
Top 50 Popular Japanese Kanji Tattoos
If you are looking for basic kanji characters that are popular and meaningful, here are 50 of them. To search for the calligraphy font, Google the word in brackets under Google Images. Here is an example of 'The Code of Samurai (Bushidou)'
Ambition (Yabou)
Beauty (Bi)
Belief (Shinnen)
Bravery (Yuukan)
Buddhism (Bukkyou)
Courage (Yuuki)
The Code of Samurai (Bushidou)
Desire (Yokubou)
Dragon (Ryuu)
Dream (yume)
Enlightenment (Satori)
Eternity (Eien)
Freedom (Jiyuu)
Friendship (Yuujou)
God (Kami)
Happiness (Koufuku)
Honor (Meiyo)
Hope (Kibou)
Ideal (Risou)
Illusion (Gensou)
Justice (Seigi)
Legend (Densetsu)
Love (Ai)
Loyalty (Chuujitsu)
Meditation (Mokusou)
Moon (Tsuki)
Nature (Shizen)
Ocean (Umi)
Passion (Jounetsu)
Peace (Heiwa)
Perfect (Kanzen)
Power (Chikara)
Pride (Hokori)
Promise (Yakusoku)
Rainbow (Niji)
Respect (Sonkei)
Samurai
Secret (Himitsu)
Sky (Sora)
Shogun
Star (Hoshi)
Soul (Tamashii)
Spirit (Seishin)
Success (Seikou)
Sun (Taiyou)
Truth (Shinjitsu)
Universe (Uchuu)
Victory (Shouri)
Wisdom (Chie)
Zen
Some Interesting Facts About Tattoo
Some truth, history and facts regarding tattoos.