How to send free fax from the internet without a fax machine and credit card? Here are 5 web services that allow you to send free fax over the internet, they are free because it comes with ads or some other form of limitation.
🤣😍😂 Microsoft Fax Software – Send Fax Online Via Computer And Email
If the fax is not urgent, do give these free services a try, other than that, do note that a fax that comes with advertisement might not give a good impression to your clients. Without further ado, here are 5 of the best digital fax services for sending and receiving faxes without buying a physical fax machine.
↓ 01 – Fax.Plus [ The Best ]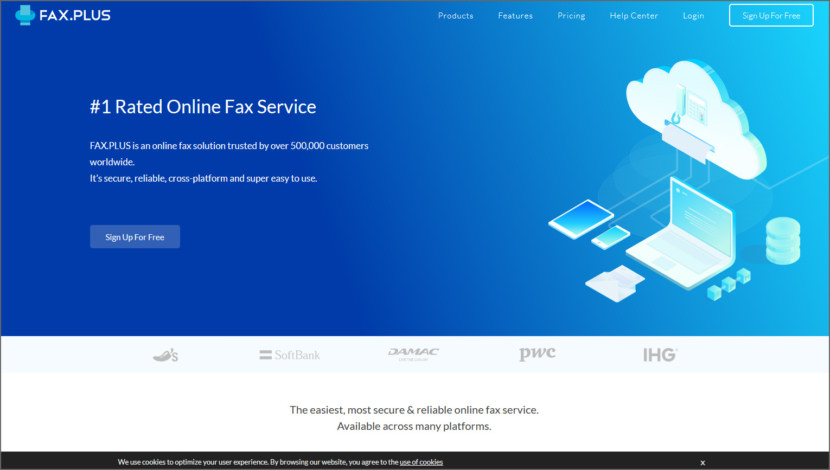 Possibly the best internet faxing company in the world, very reliable. Fax from Gmail, Yahoo, Outlook, Hotmail or any other mail server for free. Simply attach your files and they will be faxed to any machine in seconds. This feature can always be disabled from your FAX.PLUS panel for extra security measures. FAX.PLUS is an online fax solution trusted by over 500,000 customers worldwide. It's secure, reliable, cross-platform and super easy to use.
Their high performing, multi-tier faxing infrastructure allows large enterprises to easily transmit high volume faxes in no time. You can benefit from not only concurrent fax transmissions but also an extensive feature set that includes scheduled faxing, detailed reports, contacts import, automatic retries for failed faxes and much more.
↓ 02 – PamFax – Easiest way to fax worldwide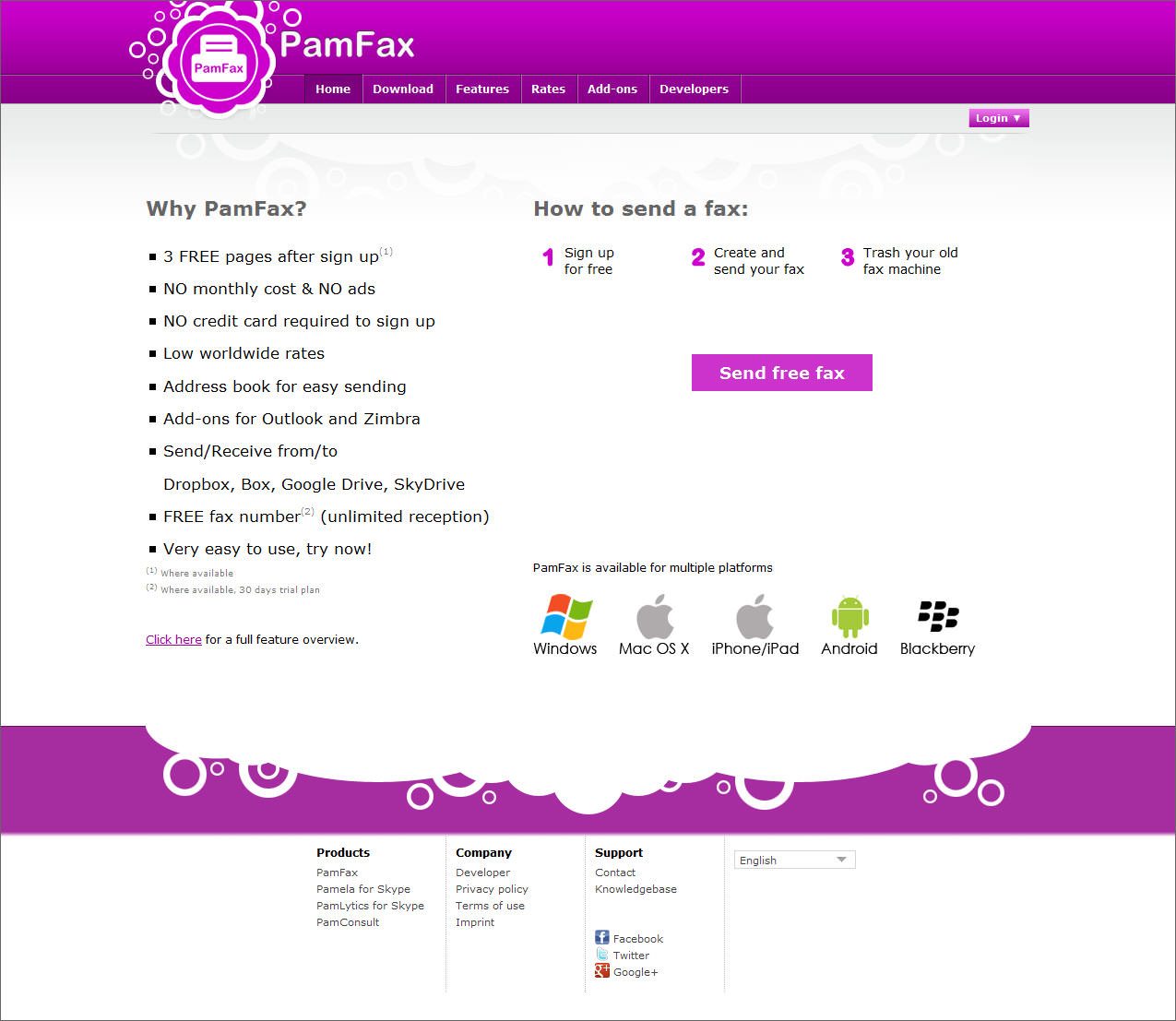 PamFax is probably the only internet fax service that works on Skype. The good thing about it is the prepaid credit does not expire, you can use PamFax from a Microsoft Windows PC (Windows XP or later), on macOS or on many mobile devices like Android, iPhone, iPad or WebOS.
Why PamFax? Because it is the easiest way to fax worldwide at attractive rates, it has an innovative document processing system and many other advantages. There are 236 countries in our availability list, including satellite, service and mobile numbers
3 free pages per month after sign up on selected location.
No monthly cost & no ads, no credit card required to sign up.
Send/Receive from/to Dropbox, Box, Google Drive, SkyDrive, Outlook and Zimbra
↓ 03 – MyFax – Faxing simplified. Anytime. Anywhere.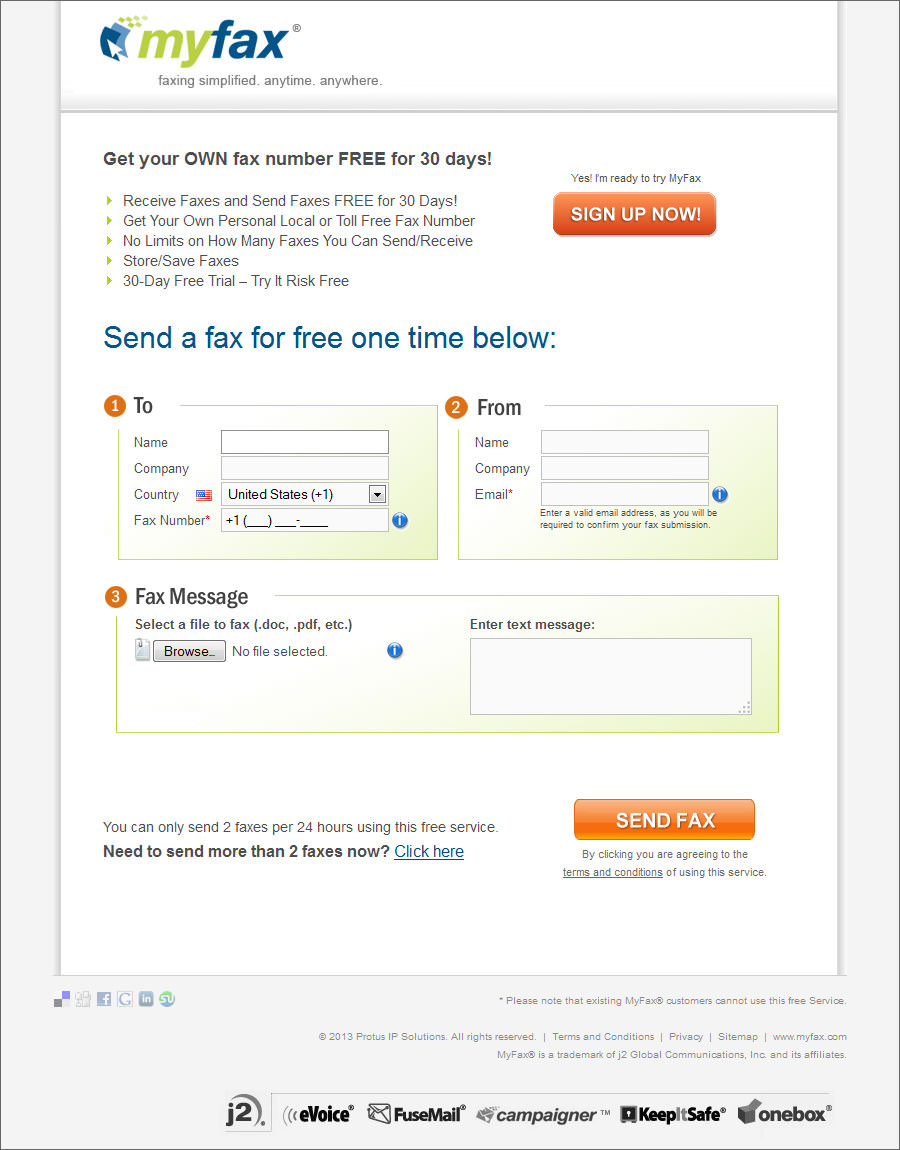 MyFax gives you your own fax number for free for 30 days! Now you can receive faxes and send faxes free for 30 Days! MyFax lets you send and receive faxes digitally – without printing, scanning, or the hassle of a fax machine. You can send faxes via email, the mobile app or our website. Whether you run a small business, travel for work and need to fax on the road, or just want an easy solution for occasional faxing, MyFax has you covered.
Get your own personal local or toll free fax number
No Limits on how many faxes you can send/receive
Store/Save faxes 30-Day
↓ 04 – GotFreeFax – Send Free Fax Online to the US and Canada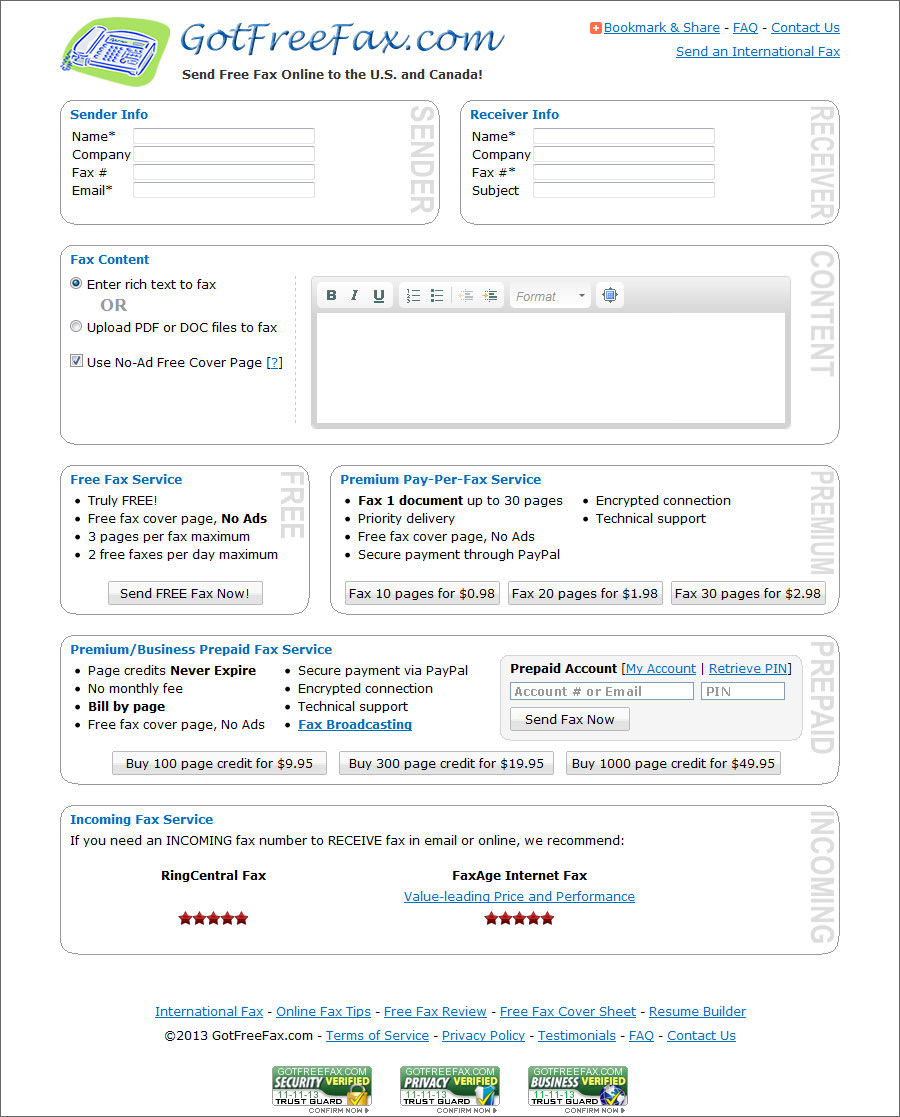 GotFreeFax is a very simple faxing service, it only allows sending, no receiving and it is only available for U.S. and Canada! GotFreeFax.com free fax service and US/Canada premium service support sending faxes to the US Continental 48 states, Alaska, Hawaii, and Canada only (off-shore and other international destinations are not supported).
You can have multiple pages in a single PDF or MS Word file. When you upload multi-page PDF or MS Word files to fax, all pages will be sent in one fax. Secondly, our online fax form supports up to 10 upload files per fax. For instance, you can upload 10 JPEG images to fax at once. If you have more than 10 JPEG image files to fax, you can insert them into a MS Word file and then upload the Word file to fax.
↓ 05 – FaxZero – Send a fax for free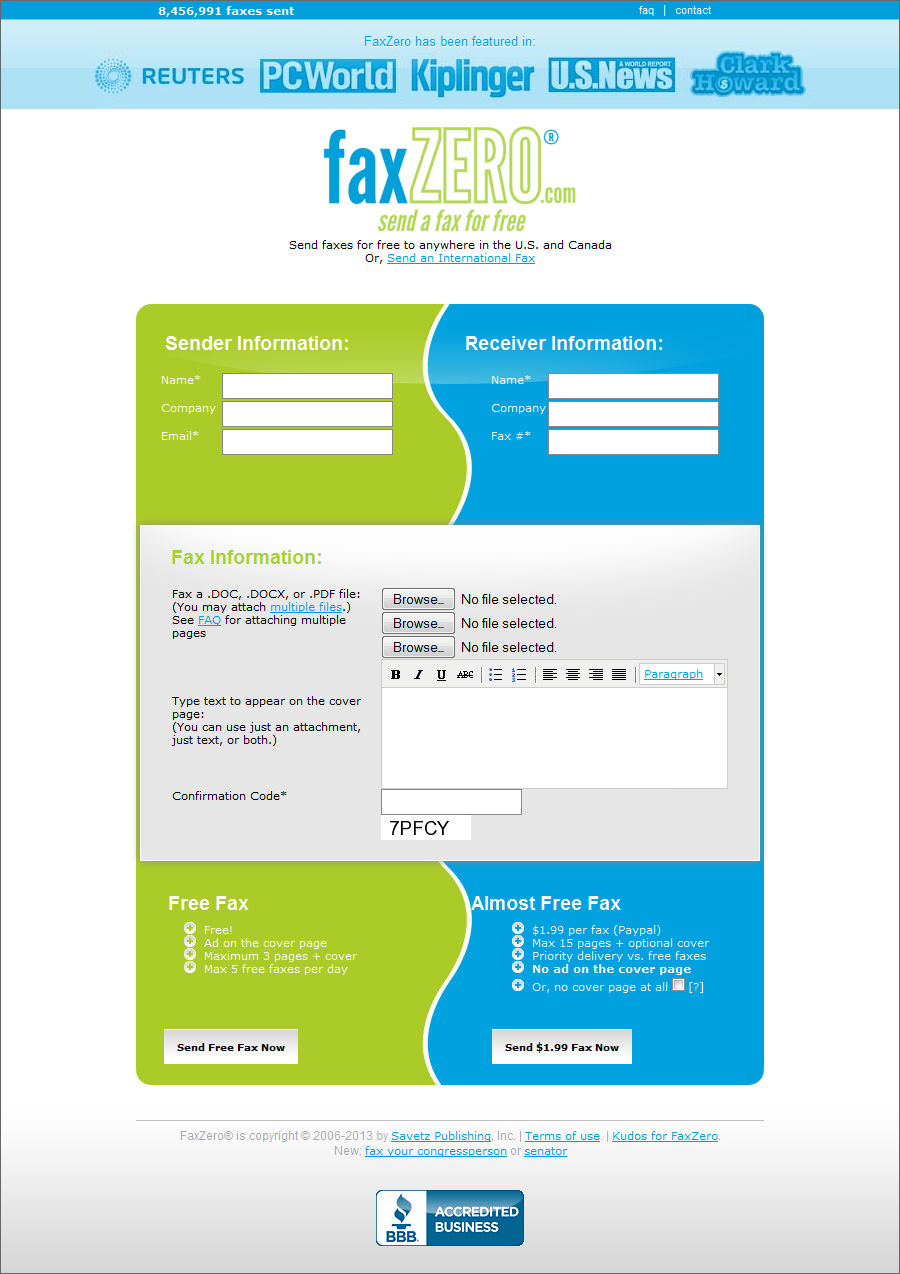 FaxZero is perhaps the most famous and most reliable fax service. The paid version cost $1.99 per fax via Paypal. Send faxes for free to anywhere in the U.S. and Canada, or, Send an International Fax.
100% Free but with Ads on the cover page
Maximum 3 pages + cover
Max 5 free faxes per day
↓ 06 – hellofax – Easy. Reliable. Online Secure Faxing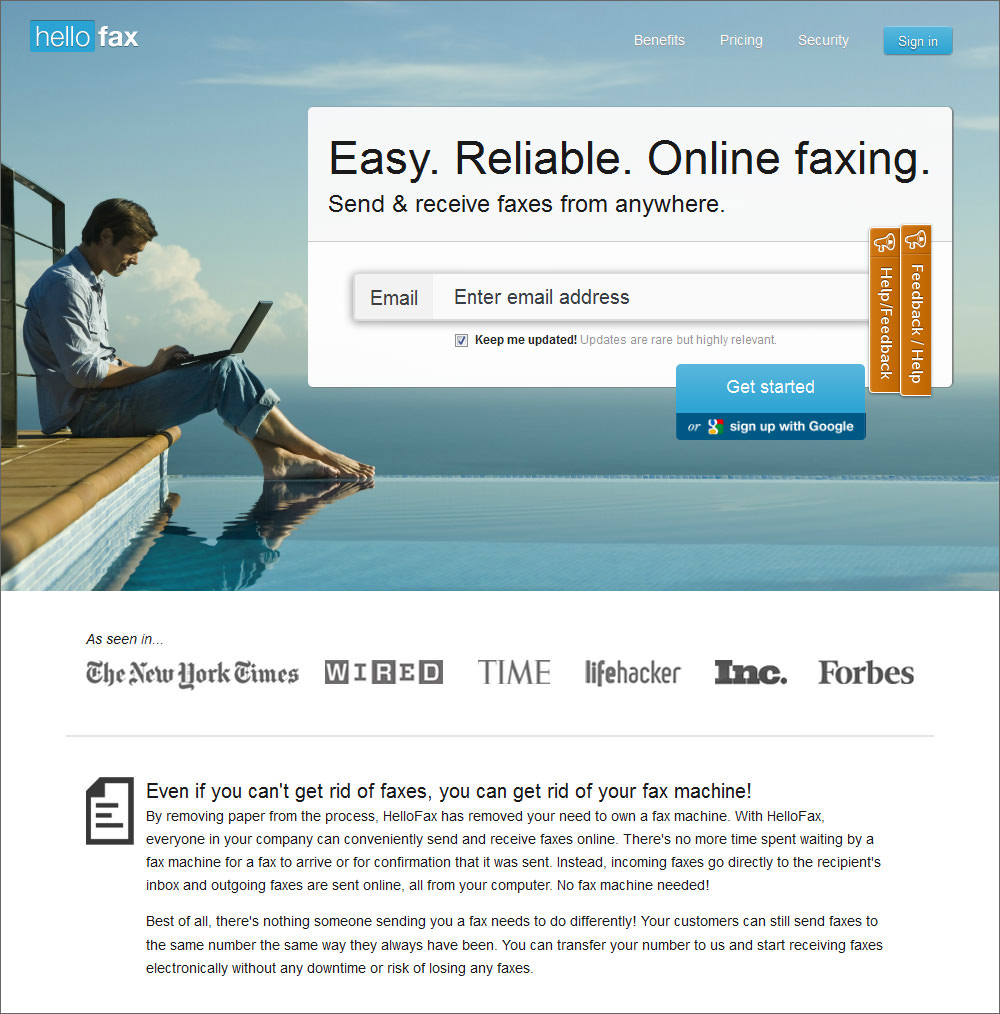 Faxes don't have to be a headache. hellofax faxes arrive directly in your inbox as a PDF, where you can view, download and share them. You never have to worry about missing a fax or not knowing when it arrives. It comes straight to you. You can access your faxes from anywhere and unlimited storage is included.
5 free fax per month
Integrates nicely with your existing number
Email to fax
Send and receive faxes online
Fax multiple recipients at once
Edit and sign faxes electronically
International coverage. Fax to 70+ countries
Sign in using your Google credentials. (No new password needed)
Sync and manage your faxes from Google Drive, Dropbox, Box, SkyDrive and/or Evernote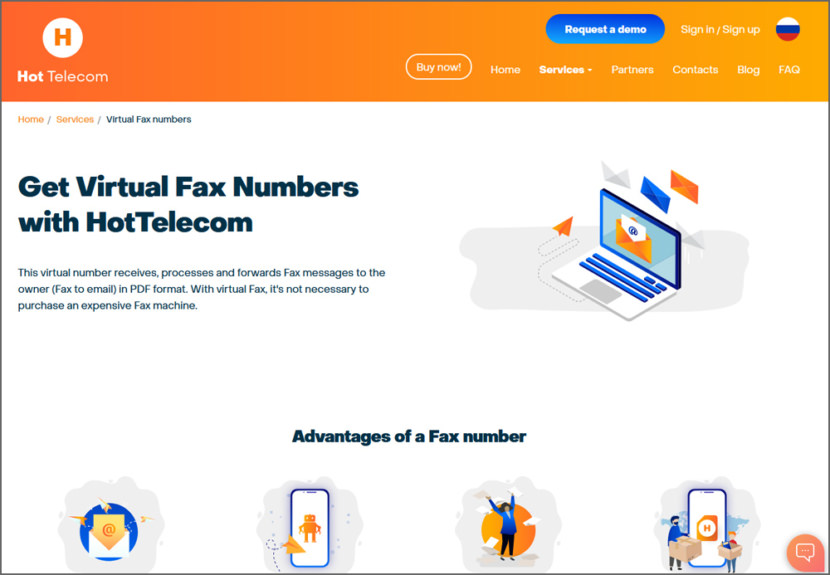 This virtual number receives, processes and forwards Fax messages to the owner (Fax to email) in PDF format. With virtual Fax, it's not necessary to purchase an expensive Fax machine. All Fax messages to a virtual number are automatically sent to your specified email address.
There is no human error, because Faxes are received automatically. There is no outside line to worry about, no paper documents to load, and no risk of employees getting your correspondence out of order or lost. In the event of a change of physical address or a move to another country, you keep your number. It will always receive Faxes.
Available in Austria, Argentina, Belgium, Bulgaria, Brazil, UK, Hungary, Germany, Gibraltar, Hong Kong, Greece, Denmark, Egypt, Israel, India, Ireland, Spain, Italy, Canada, Cyprus, Latvia, Lithuania, Luxembourg, Malaysia, Mexico, Nigeria, Netherlands, New Zealand, Norway , Peru, Poland, Russia, Romania, Singapore, Slovakia, Slovenia, USA, Taiwan, Finland, France, Croatia, Czech Republic, Chile, Switzerland, Sweden, Estonia, South Korea, and Japan.
All documents send to the Fax number you purchased are forwarded to your personal email ;account;
The user can print the document at any time, not just at the time the Fax was received.
A history of all Faxes received is available to the user.