You may disagree with their lifestyle choices, but you have no right to impose your view, be it religious or personal opinions on gay people's everyday life. How they lead their life is none of our business, you are not a spokesperson for God, neither are you the guardian or a moral police appointed by God.
🤣😍😂 31 Beautiful Holy Bible Verses On Strength, Faith, Hope, Healing And More
If you believe LGBT is wrong because your religion says so, I have bad news for you. According to another religion, it is ethically wrong to eat meat, you are now forbidden from consuming meat and will lead a strict life of vegetarianism. Don't like this idea? Then do not impose your Godly view onto others.
Have you heard of Alan Turing? Yes, he is a gay. Alan Mathison Turing was a pioneering English computer scientist, mathematician, logician, cryptanalyst and theoretical biologist. He was highly influential in the development of theoretical computer science, providing a formalisation of the concepts of algorithm and computation with the Turing machine, which can be considered a model of a general purpose computer. Turing is widely considered to be the father of theoretical computer science and artificial intelligence, the guy that cracked the unbreakable Engima code used by the Nazi, and also the father of modern computer.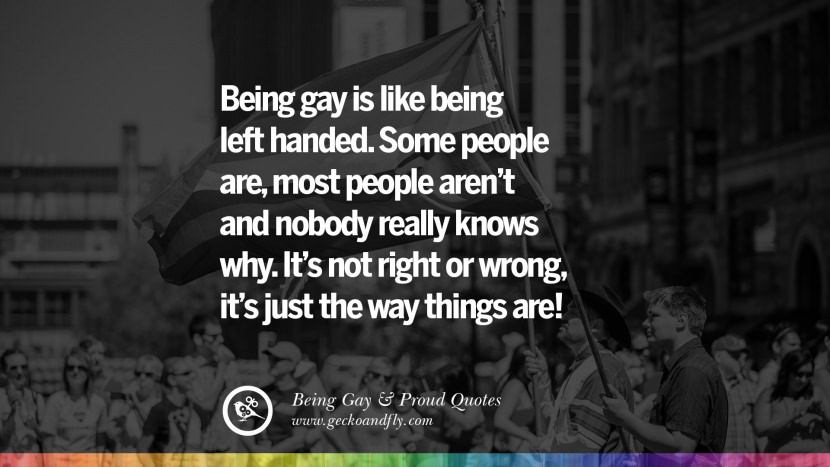 Being gay is like being left handed. Some people are, most people aren't and nobody really knows why. It's not right or wrong, it's just the way things are!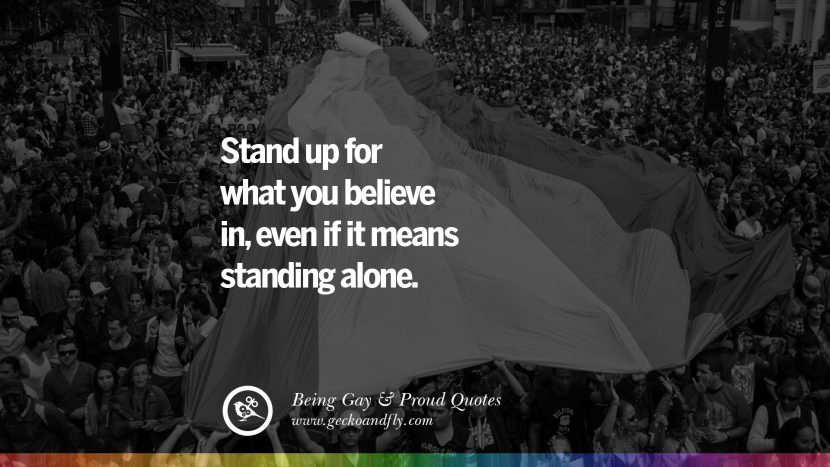 Stand up for what you believe in, even if it means standing alone.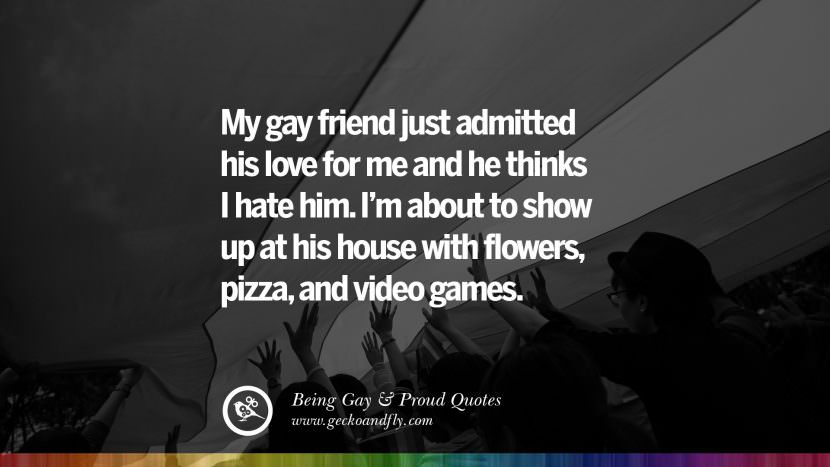 My gay friend just admitted his love for me and he thinks I hate him. I'm about to show up at his house with flowers, pizza and video games.

No one in America should ever be afraid to walk down the street holding the hand of the person they love.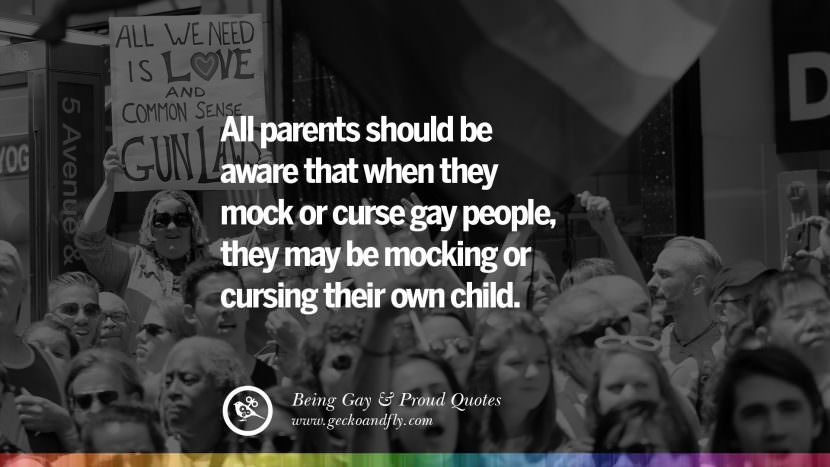 All parents should be aware that when they mock or curse gay people, they may be mocking or cursing their own child.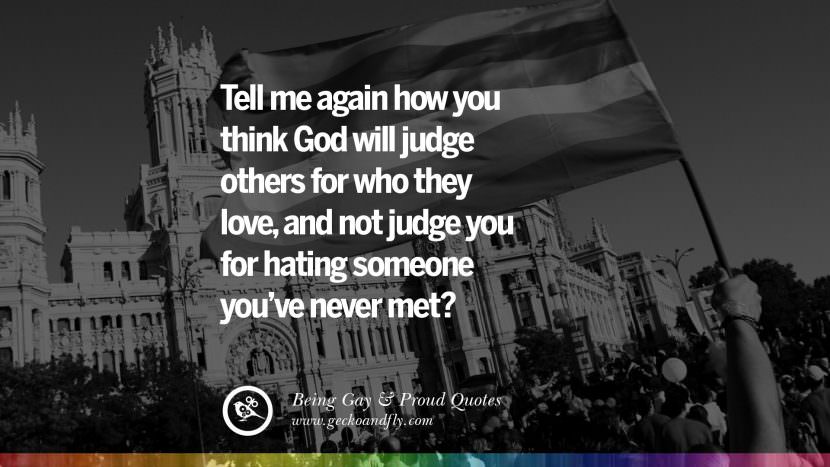 Tell me again how you think God will judge others for who they love, and not judge you for hating someone you've never met?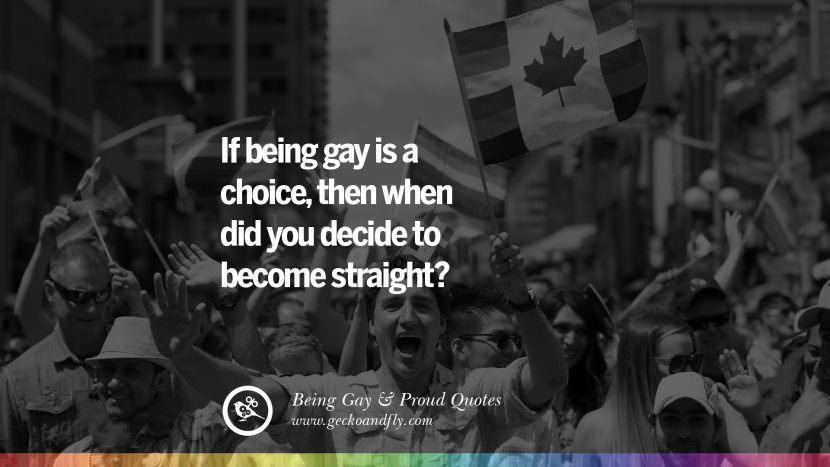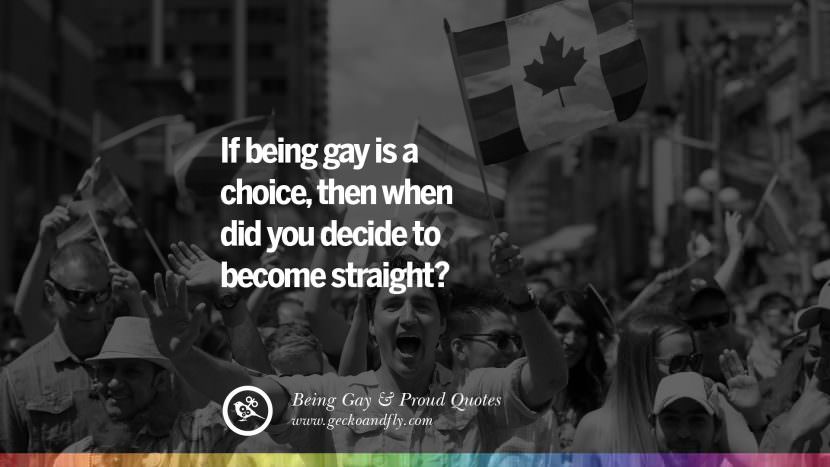 If being gay is a choice, then when did you decide to become straight?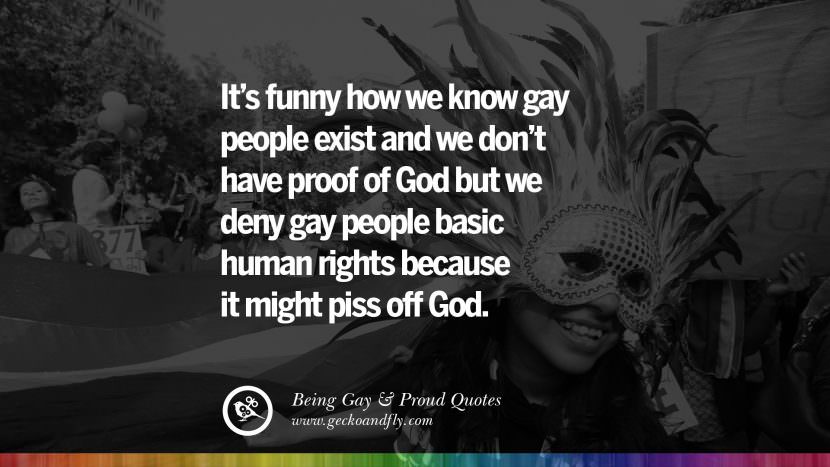 It's funny how we know gay people exist and we don't have proof of God but we deny gay people basic human rights because it might piss off God.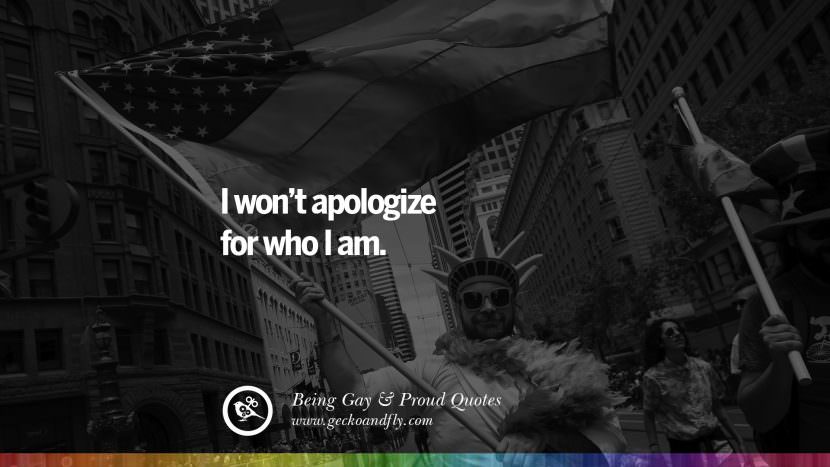 I won't apologize for who I am.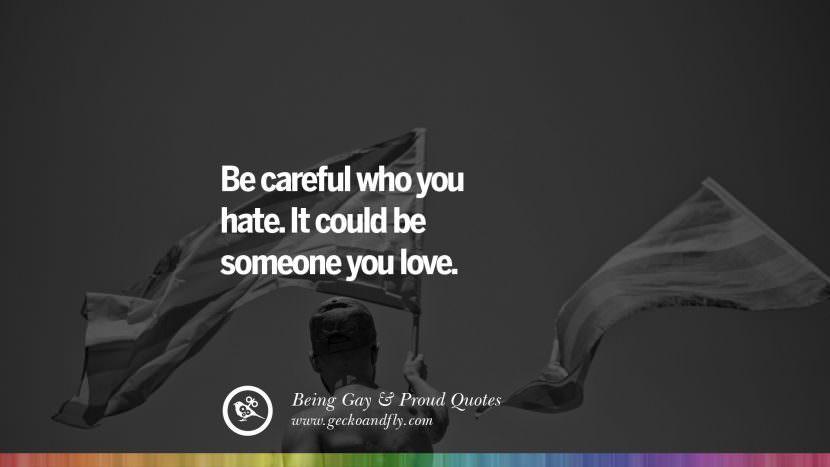 Be careful who you hate. It could be someone you love.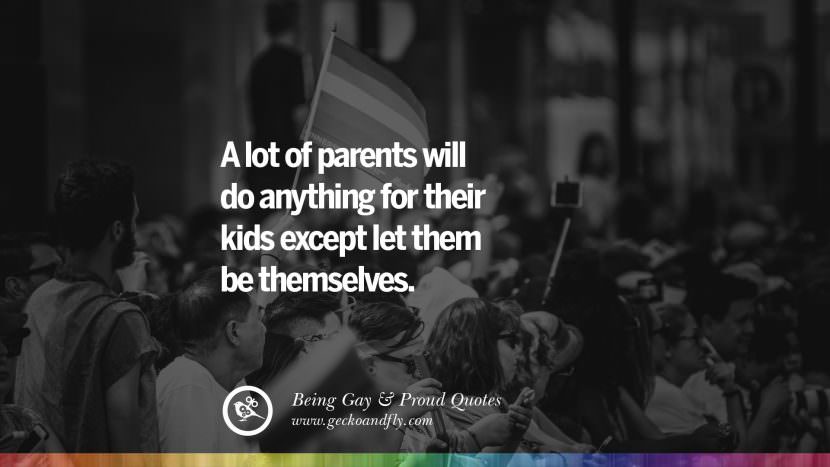 A lot of parents will do anything for their kids except let them be themselves.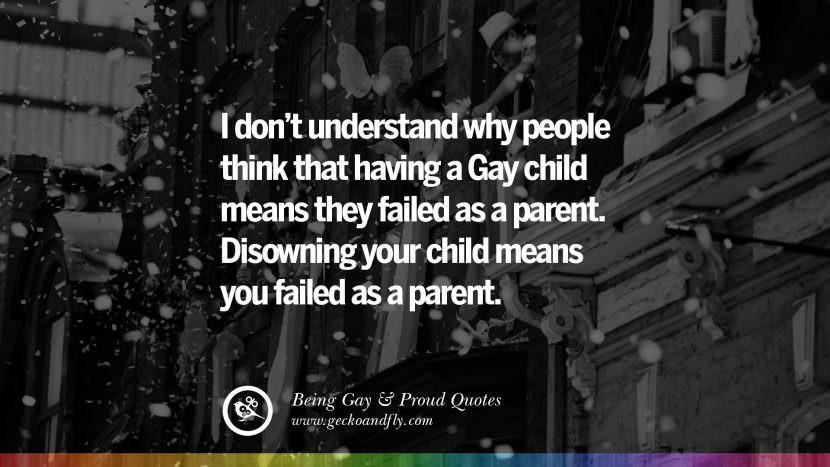 I don't understand why people think that having a Gay child means they failed as a parent. Disowning your child means you failed as a parent.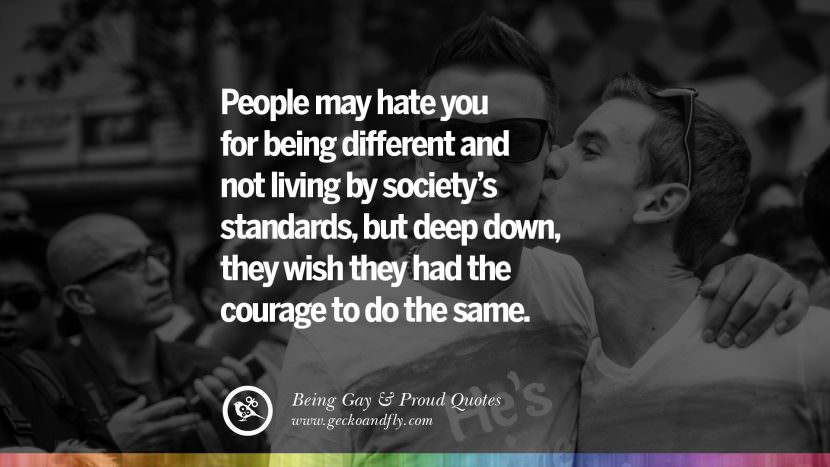 People may hate you for being different and not living by society's standards, but deep down, they wish they had the courage to do the same.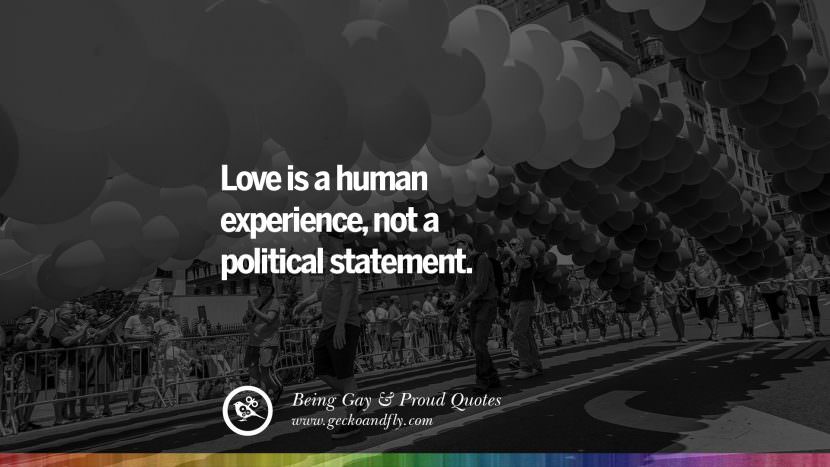 Love is a human experience, not a political statement.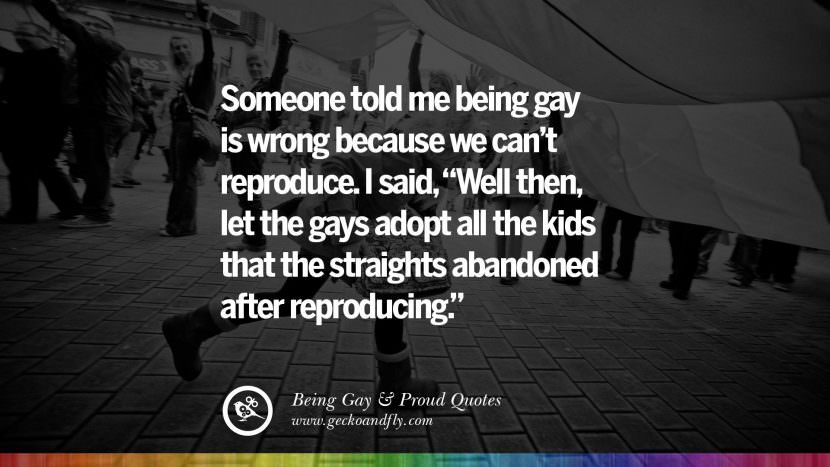 Someone told me being gay is wrong because we can't reproduce. I said, "Well then, let the gays adopt all the kids that the straights abandoned after reproducing."

I didn't realize who I was until I stopped being who I wasn't.

Some people are gay. Get over it!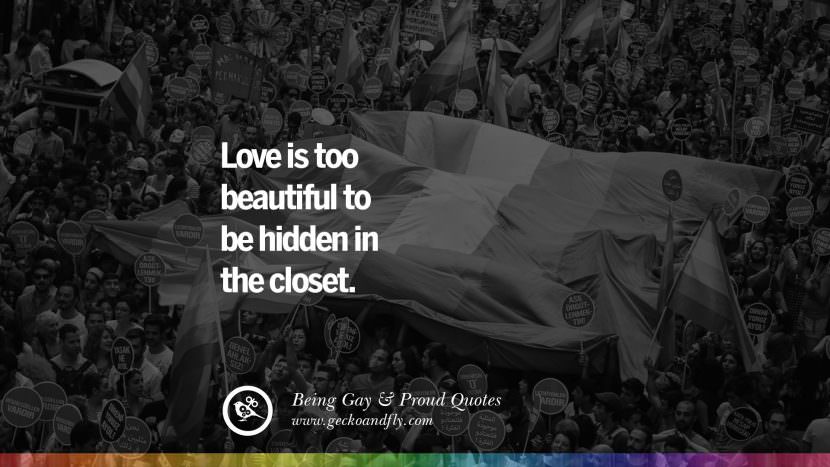 love is too beautiful to be hidden in the closet.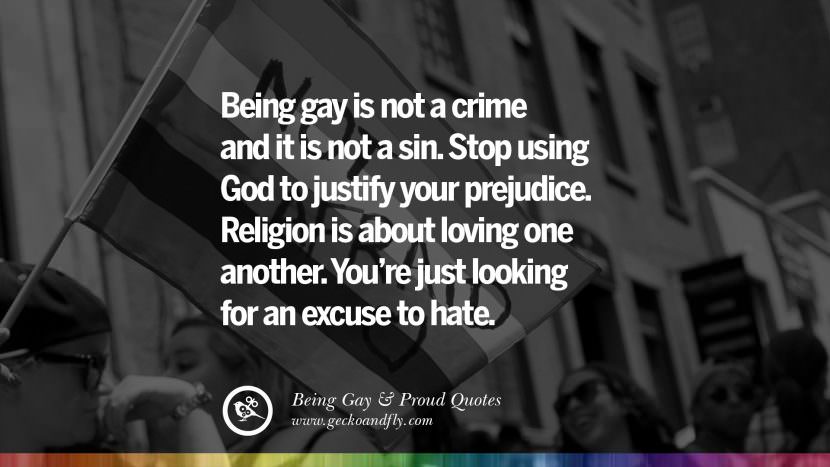 Being gay is not a crime and it is not a sin. Stop using God to justify your prejudice. Religion is about loving one another. You're just looking for an excuse to hate.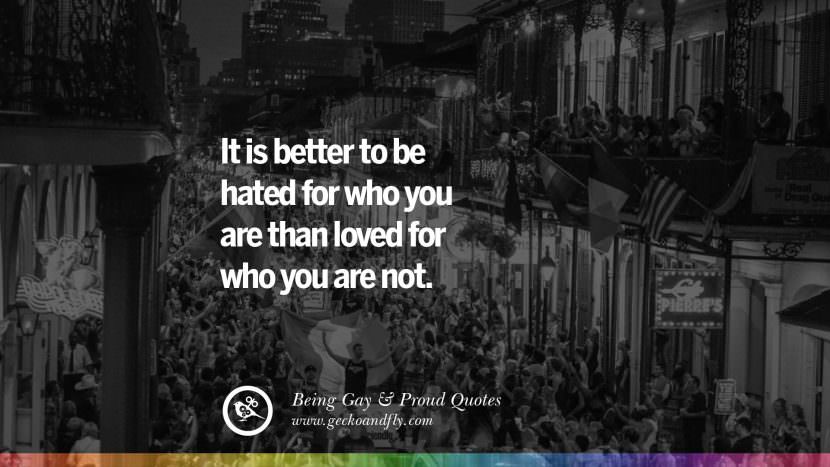 It is better to be hated for who you are than loved for who you are not.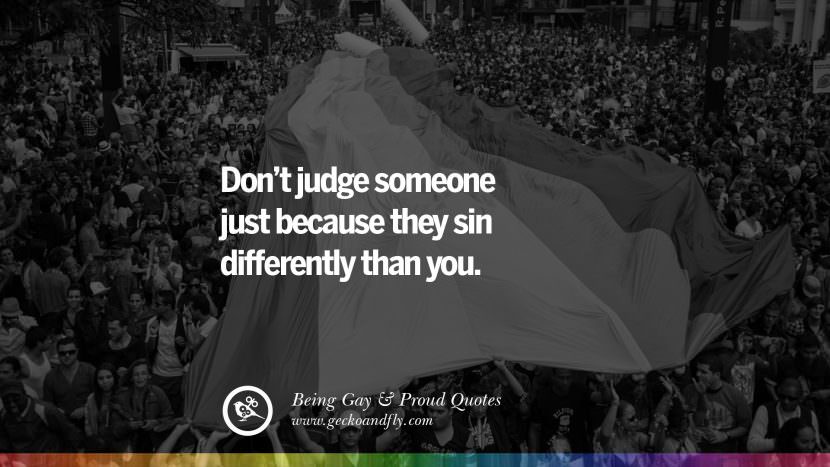 Don't judge someone just because they sin differently than you.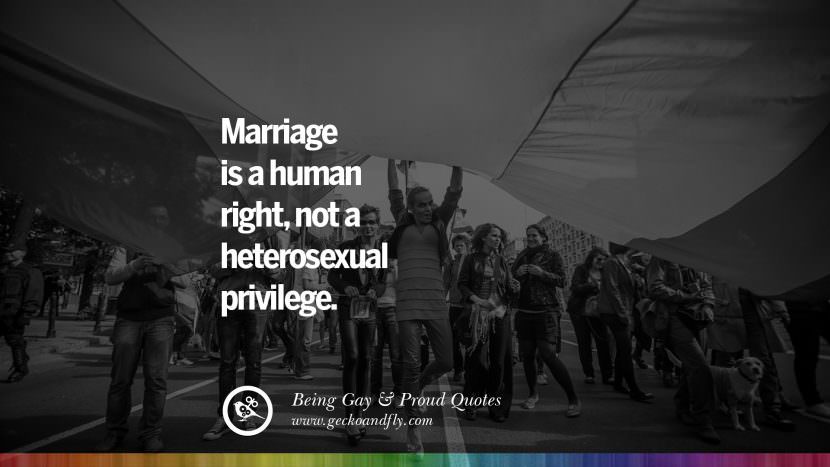 Marriage is a human right, not a heterosexual privilege.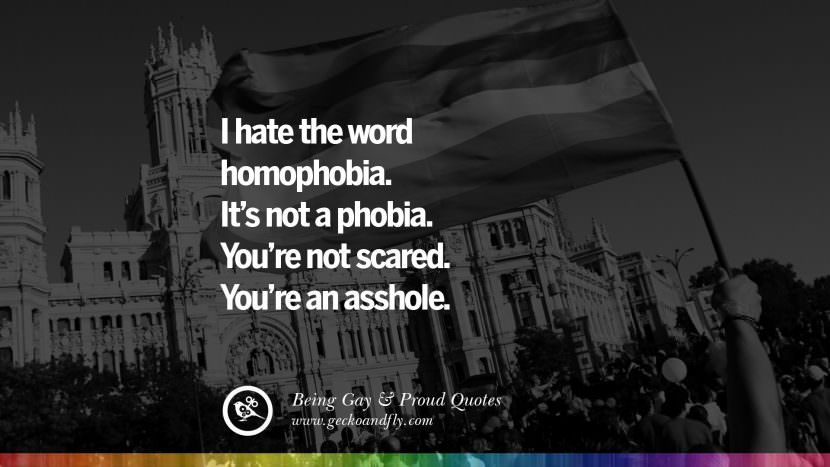 I hate the word homophobia. It's not phobia. You're not scared. You're an asshole.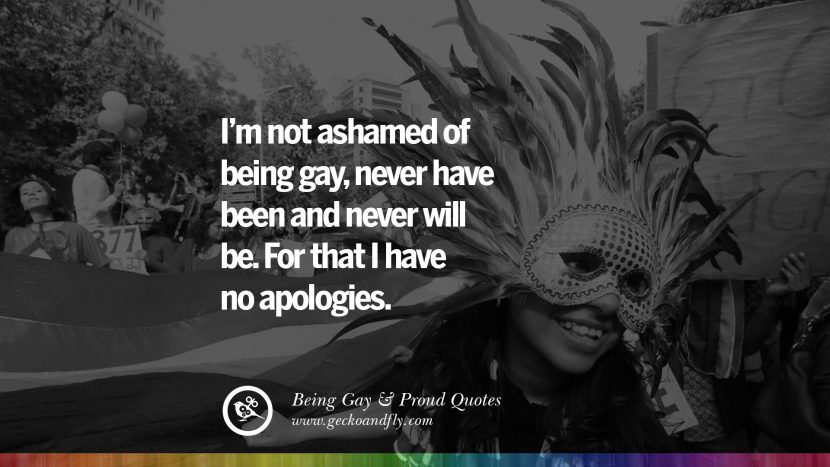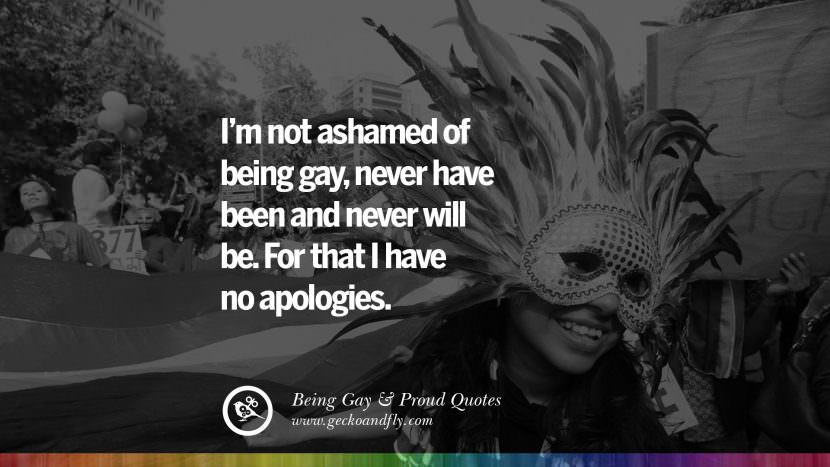 I'm not ashamed of being gay, never have been and never will be. For that I have no apologies.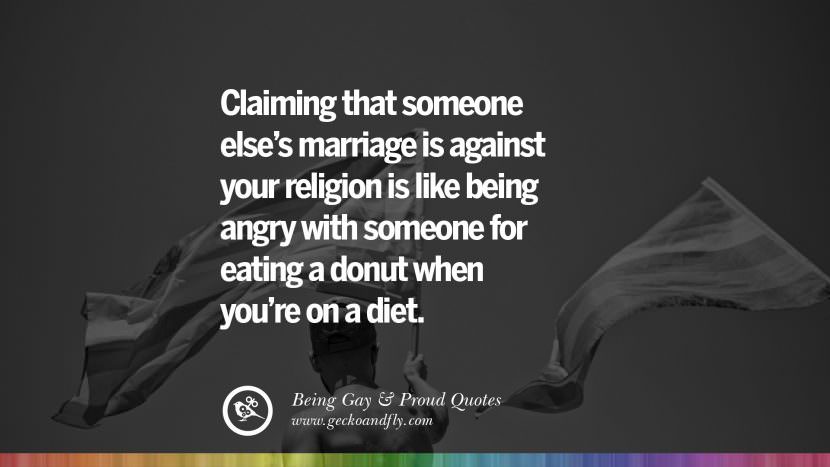 Claiming that someone else's marriage is against your religion is like being angry with someone for eating a donut when you're on a diet.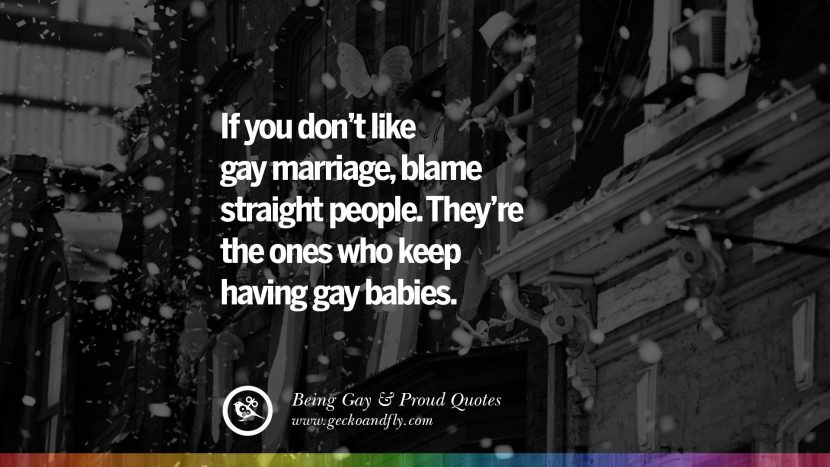 If you don't like gay marriage, blame straight people. They're the ones who keep having gay babies.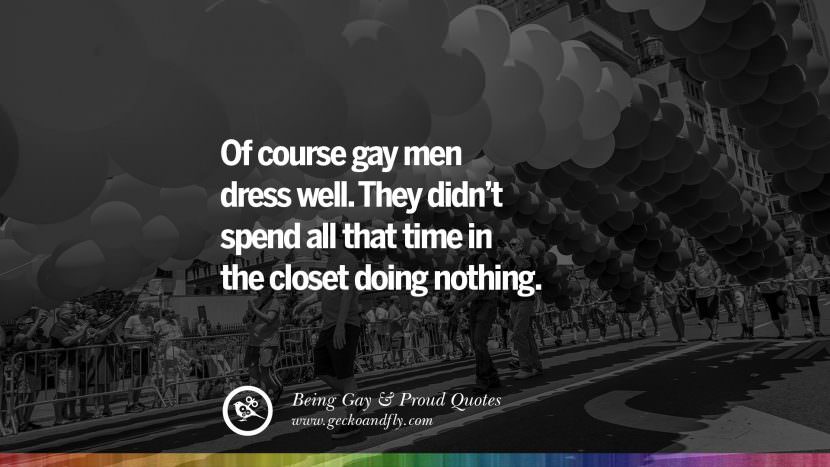 Of course gay men dress well. They didn't spend all that time in the closet doing nothing.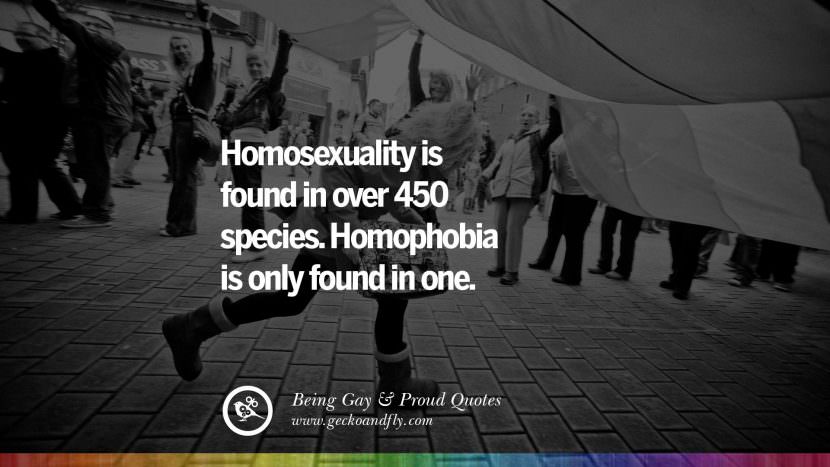 Homosexuality is found in over 450 species. Homophobia is only found in one.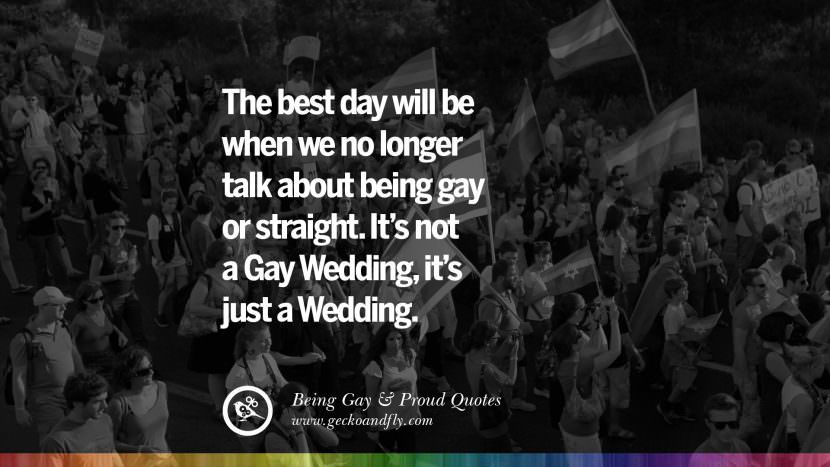 The best day will be when we no longer talk about being gay or straight. It's not a Gay Wedding, it's just a Wedding.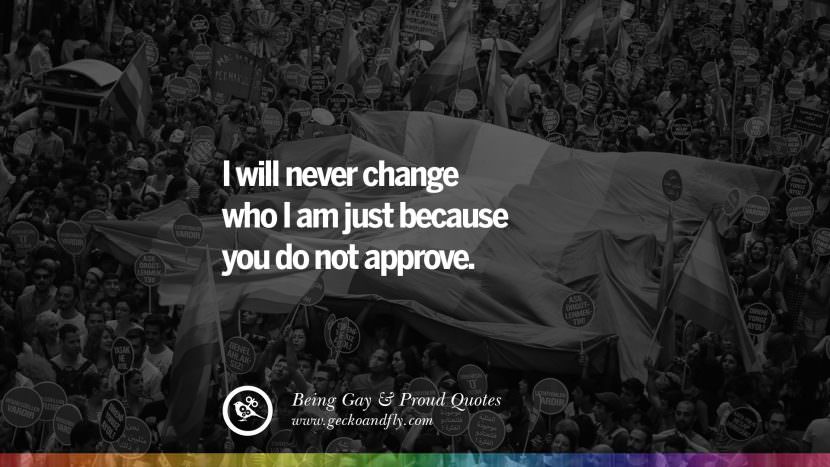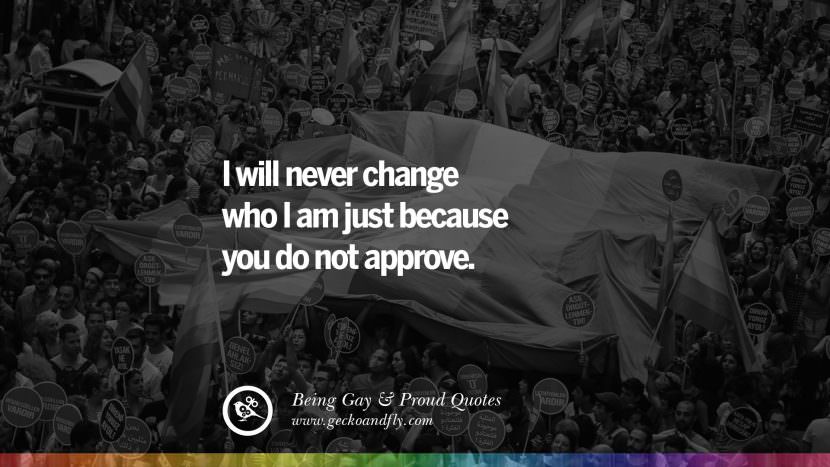 I will never change who I am just because you do not approve.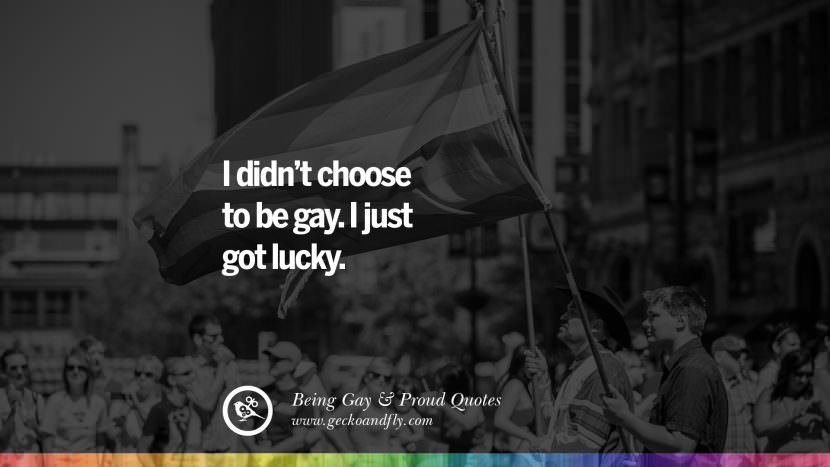 I didn't choose to be gay. I just got lucky.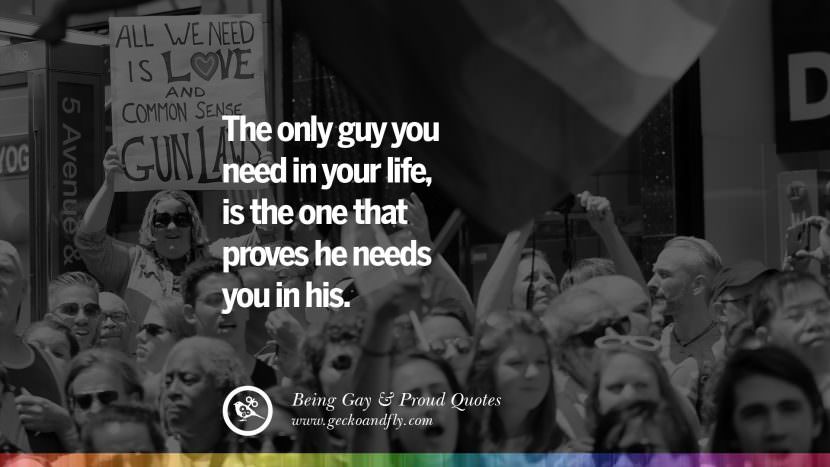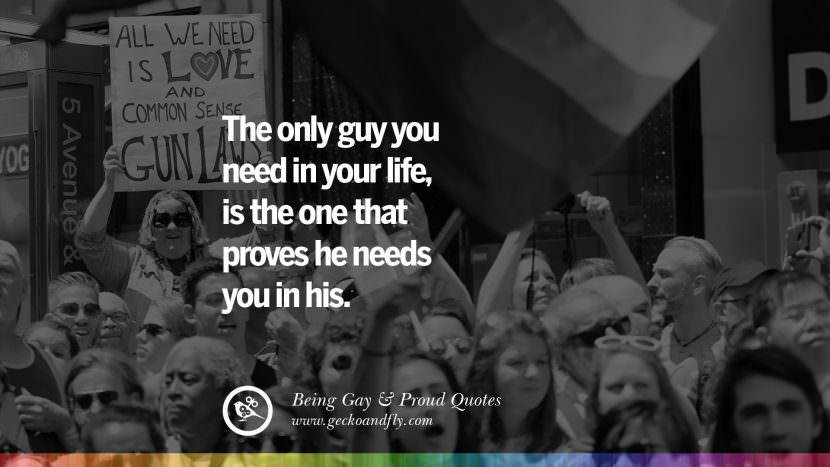 The only guy you need in your life, is the one that proves he needs you in his.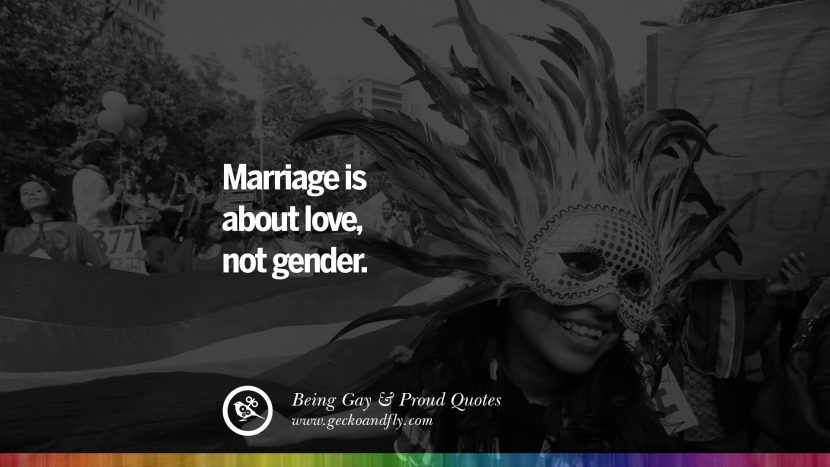 Marriage is about love, not gender.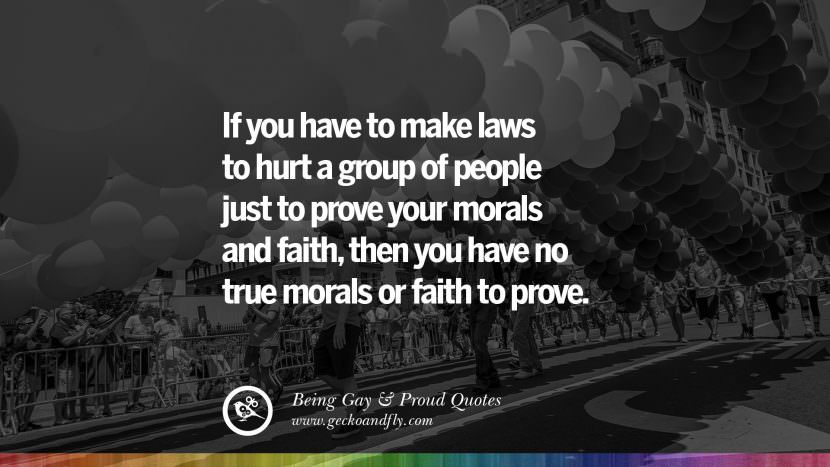 If you have to make laws to hurt a group of people just to prove your morals and faith, then you have no true morals or faith to prove.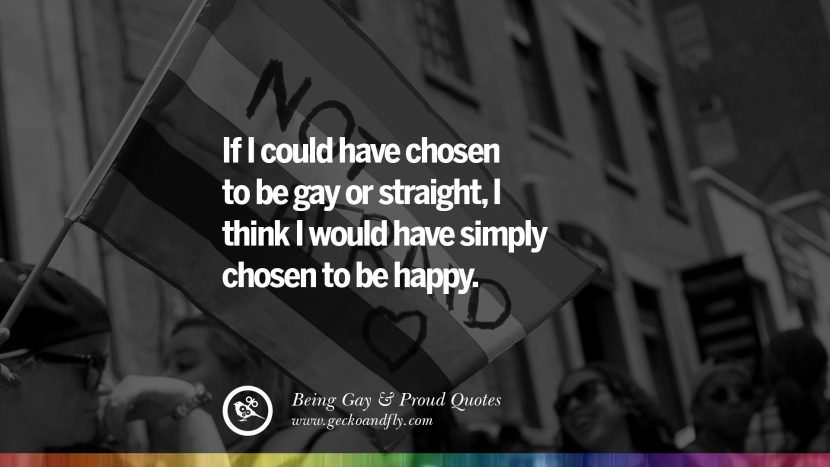 If I could have chosen to be gay or straight, I think I would have simply chosen to be happy.